2019.12.11
Increasing exposure to provide solutions that suit the times we live in."Traditional products that meld into daily life."
Increasing exposure to provide solutions that suit the times we live in."Traditional products that meld into daily life."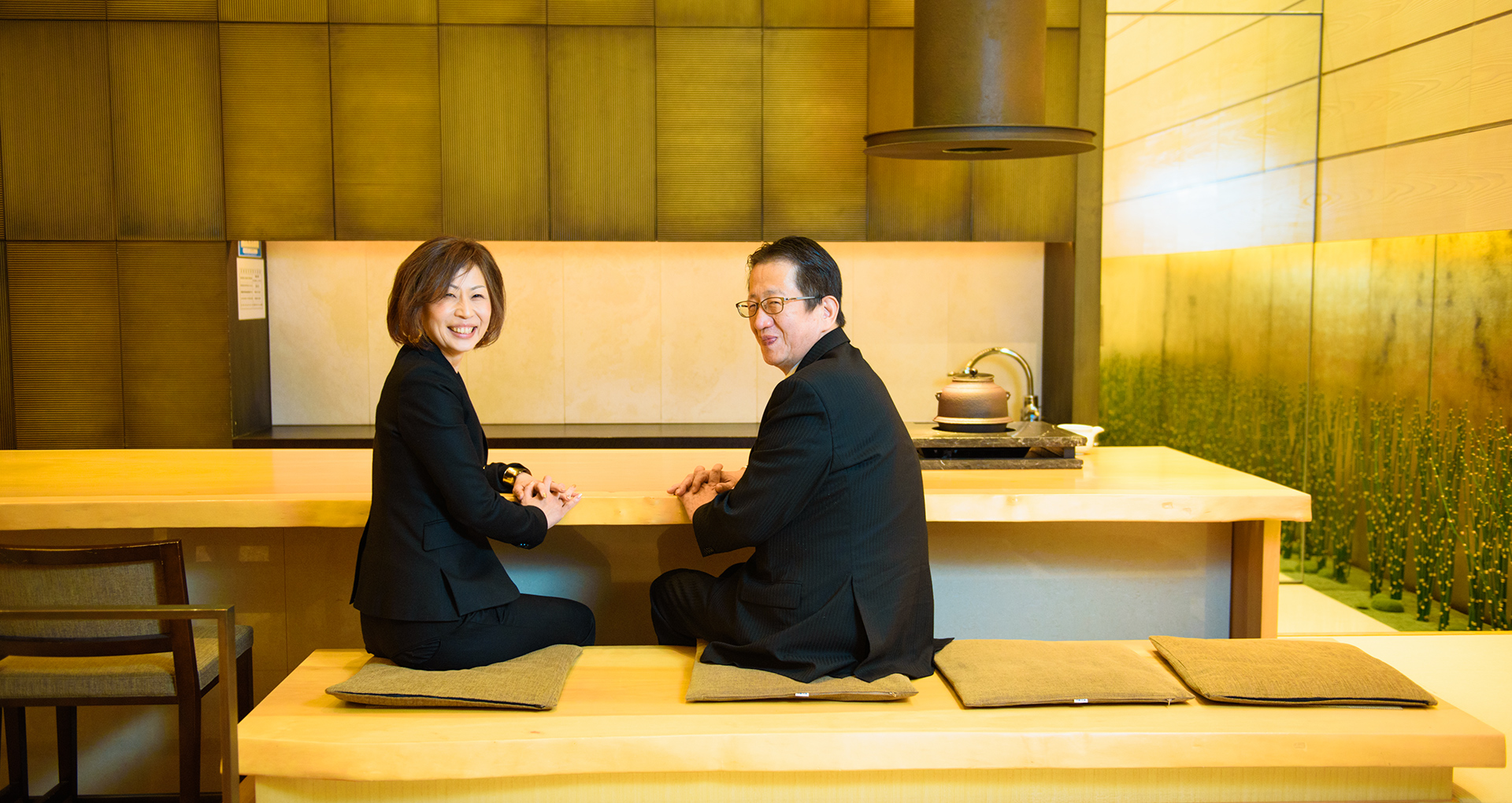 The number of stores in Muromachi, Nihonbashi, that introduce products born from traditional techniques from all over Japan continue to increase. Many of these stores are abuzz as they remain faithful to the old methods of production and utilize them to create products for this day and age. Among these, we're here with Mr. Katsuji Nousaku, president of NOUSAKU, which runs the "NOUSAKU - COREDO Muromachi Terrace" store, and Ms. Mina Takaoka, president of HAKUZA and operator of "HAKUZA Nihonbashi" to talk about traditional industries and their place in modern times, the city of Nihonbashi and the future the two envision there.
Pursuing new possibilities from current materials and applying them to a variety of avenues.
-To begin with, could you tell us about your stores?
Nousaku: "NOUSAKU" revolves around "Takaoka Copperware," the traditional industry of manufacturing castings since the 5th year of the Taisho period (1916) in Takaoka city, Toyama prefecture. The company itself serves a role as manufacturer of Takaoka copperware and materials, but now we are mainly focused on the manufacturing and sales of our original 100% suzu (tin) products, which we sell at our Nihonbashi store.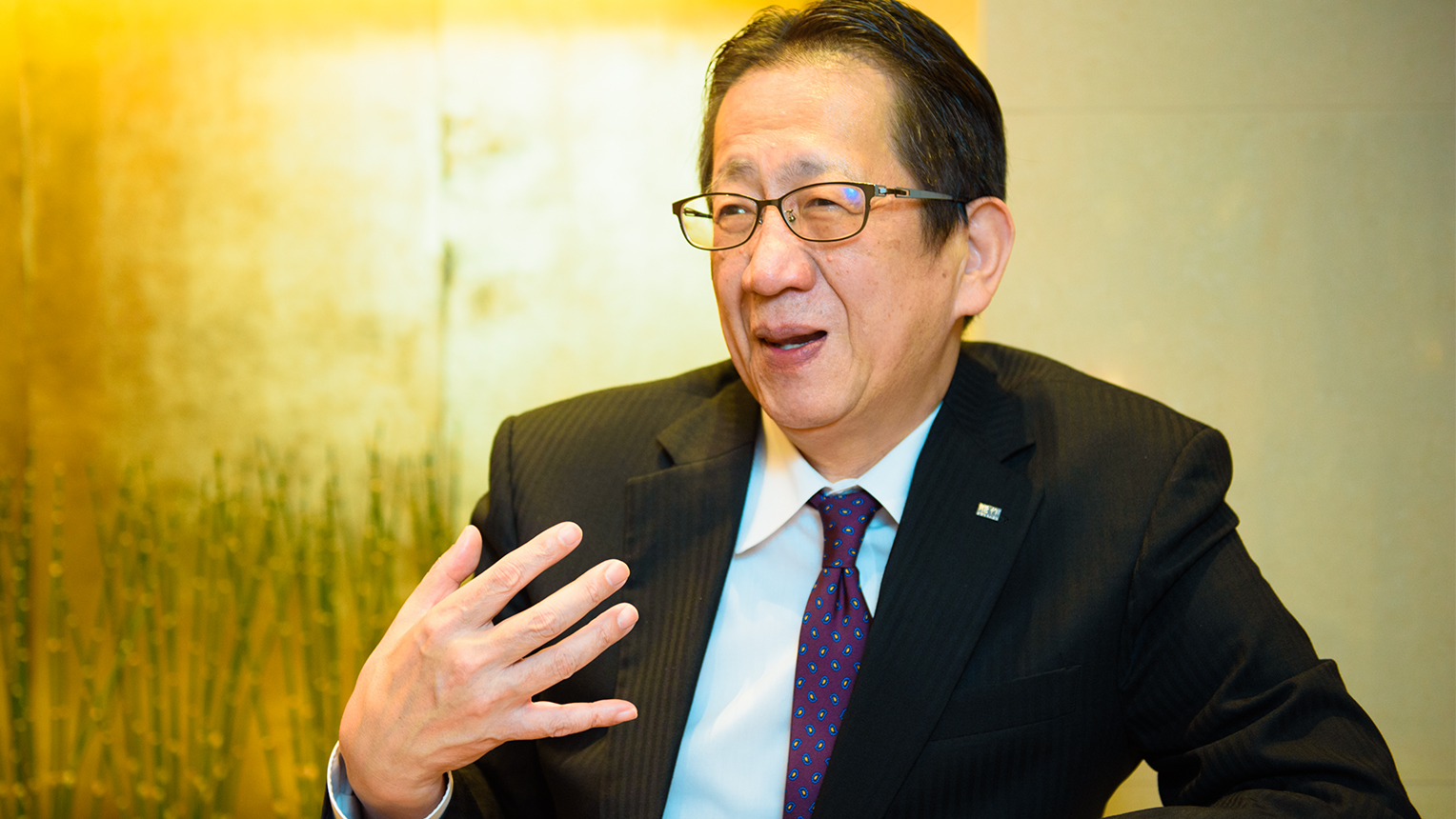 Mr. Katsuji Nousaku, the 4th president in the 103 years of NOUSAKU's history. Having joined the company at 18, he now puts his experience in the pursuit of casting to expert use.
Takaoka: HAKUZA is a specialized manufacturer of Kanazawa haku (foil), which engages in the production of haku materials and processed products utilizing them. Writings of Lord Kaga issuing the order to make Kanazawa haku in the Edo-Bakufu period still exist, and since then for over 400 years the manufacturing of kinpaku (gold foil) has been conducted in Kanazawa, making it a deeply rooted traditional industry. "HAKUZA Nihonbashi" was born as the flagship for conveying the beauty of Kanazawa haku through a variety of approaches.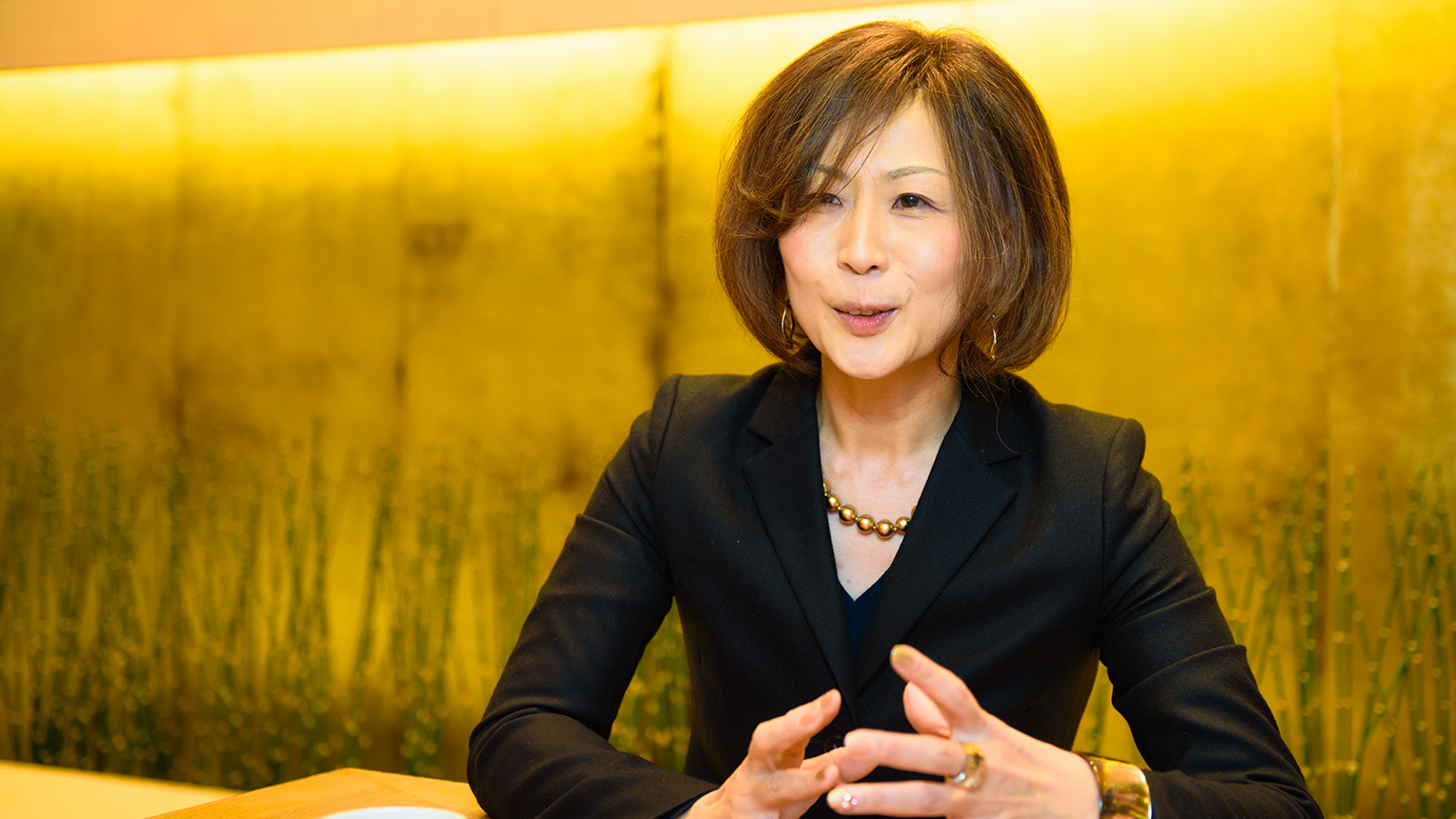 Ms. Mina Takaoka, 3rd president of HAKUZA. The company was started in 1953 by her grandfather, the 1st president and a craftsman of kinpaku himself.
-Both of your companies utilize your materials and mediums in a wide variety of ways. Could you tell us what you consider to be your classic products, or ones that are especially popular?
Nousaku: Our most popular item for a long time has been our beer cups, which along with other cups for drinking alcohol have been popular with various tiers of clientele. Our collaboration products with HAKUZA have also been quite popular and are often purchased by customers overseas. The color gold is particularly popular in China and other Asian countries.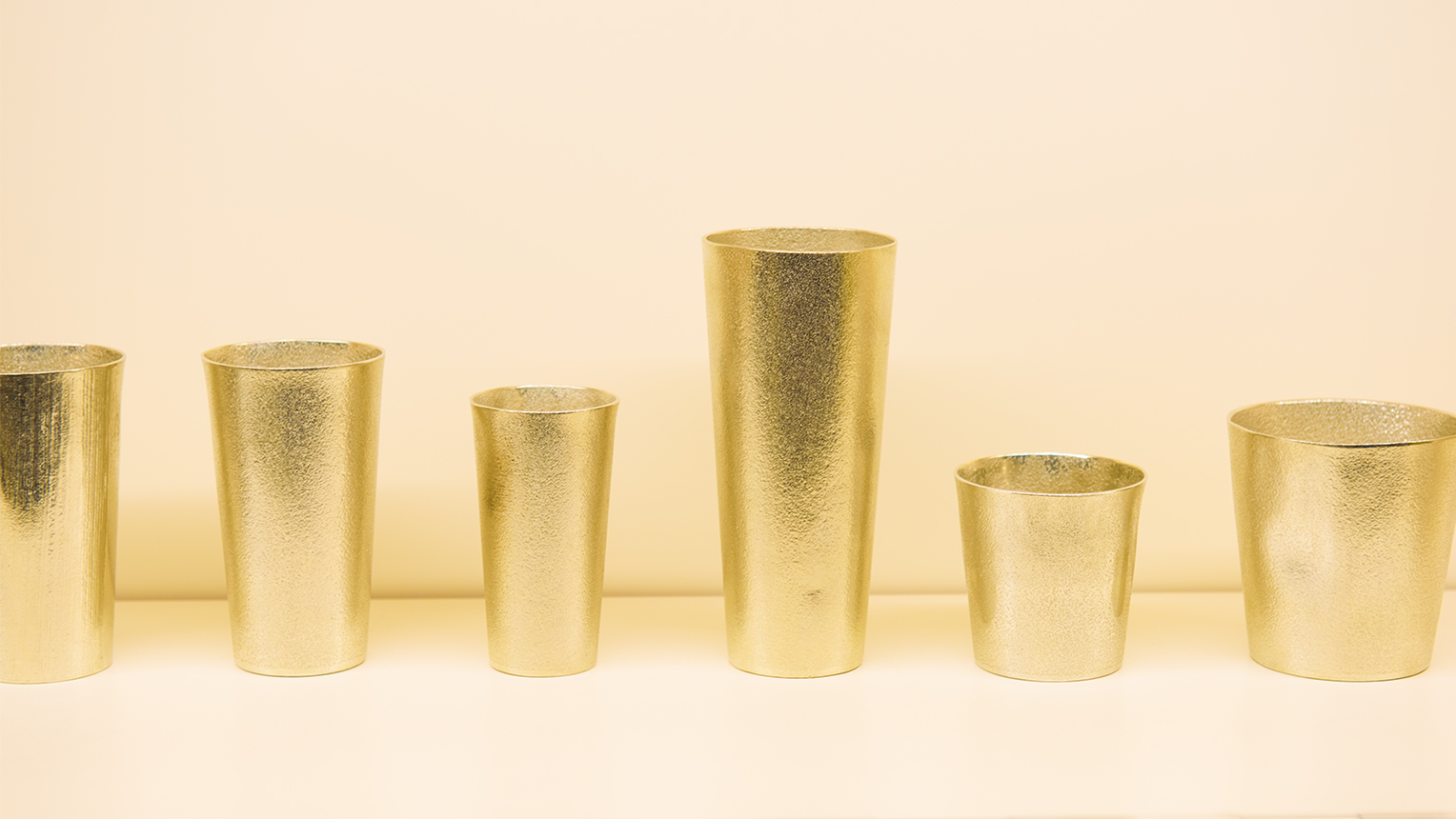 With ease of use due to their highly antibacterial properties, the smooth metallic casting and gentle bubble-like texture have made these beer cups a regular favorite with customers.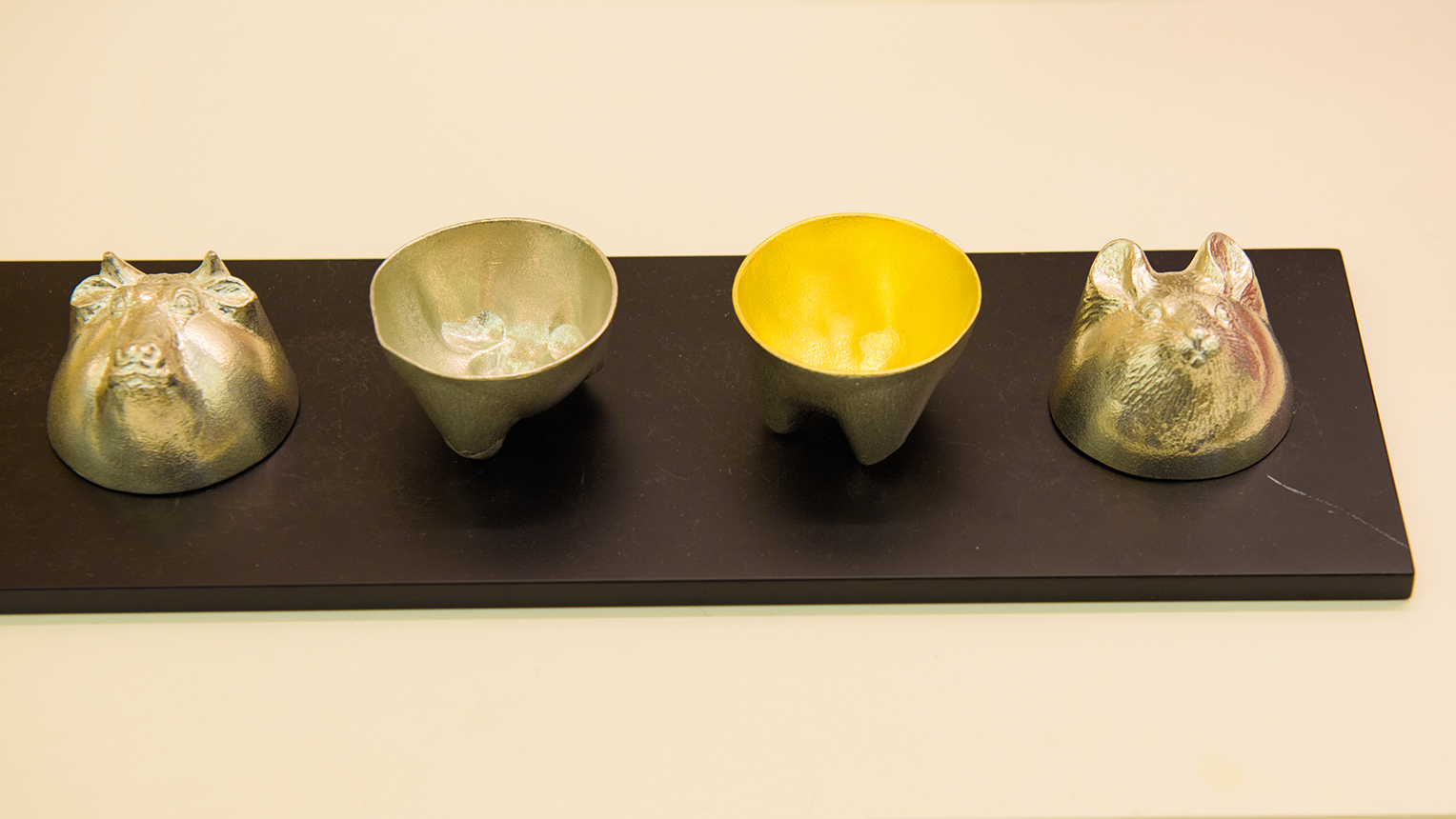 Ochoko cups of the zodiac symbol for next year, the year of the mouse. The inner surface of the cups is lined with kinpaku.
Takaoka: At HAKUZA, we make two kinds of original foils we call "junpaku purachina haku" (Pure gold & platinum foil). kinpaku is traditionally made with a small amount of silver and bronze mixed into it, but our junpaku purachina haku is the result of replacing those metals with platinum. The different melting points of gold and platinum were the biggest challenge for us, which made this quite a difficult task, but we accomplished it together with the help of our craftsmen. We approached this challenge knowing that wouldn't be able to create any innovation without overhauling the materials of the foil itself, and not just the processed products.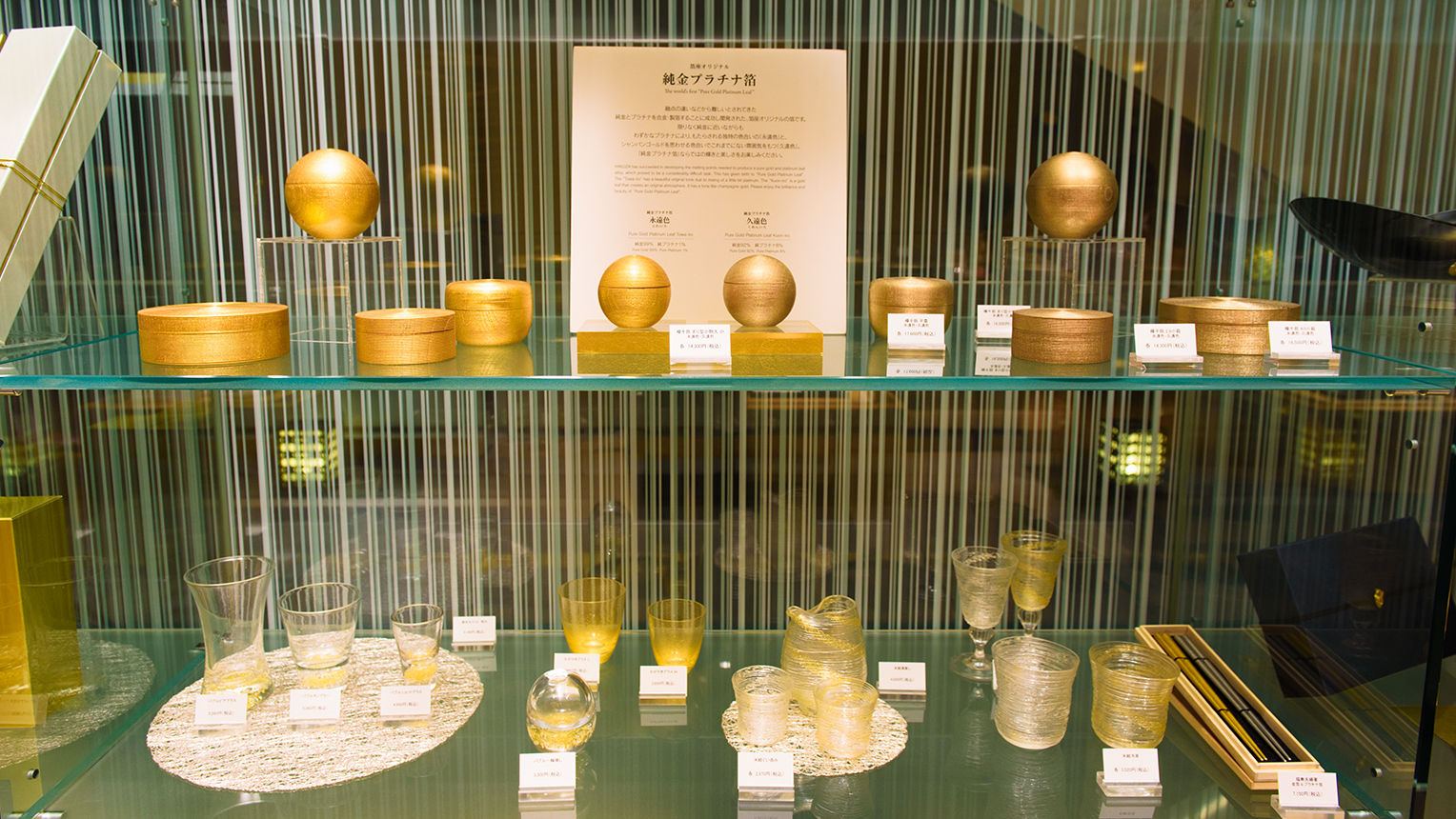 The original junpaku purachina haku products from HAKUZA, the "Towa Iro," comprised of 99% gold and 1% platinum (left) and the "Kuon Iro" comprised of 92% gold and 8% platinum (right) both present delicate differences in color and texture.
Our junpaku purachina haku bangles, which were made during this challenge we undertook, have become so popular that some clients purchase multiple of them for differences in tint, texture, and thickness of the bangle itself. We've received lots of feedback telling us that unlike regular gold, clients have felt that the bangles have been easy to match with a variety of fashions.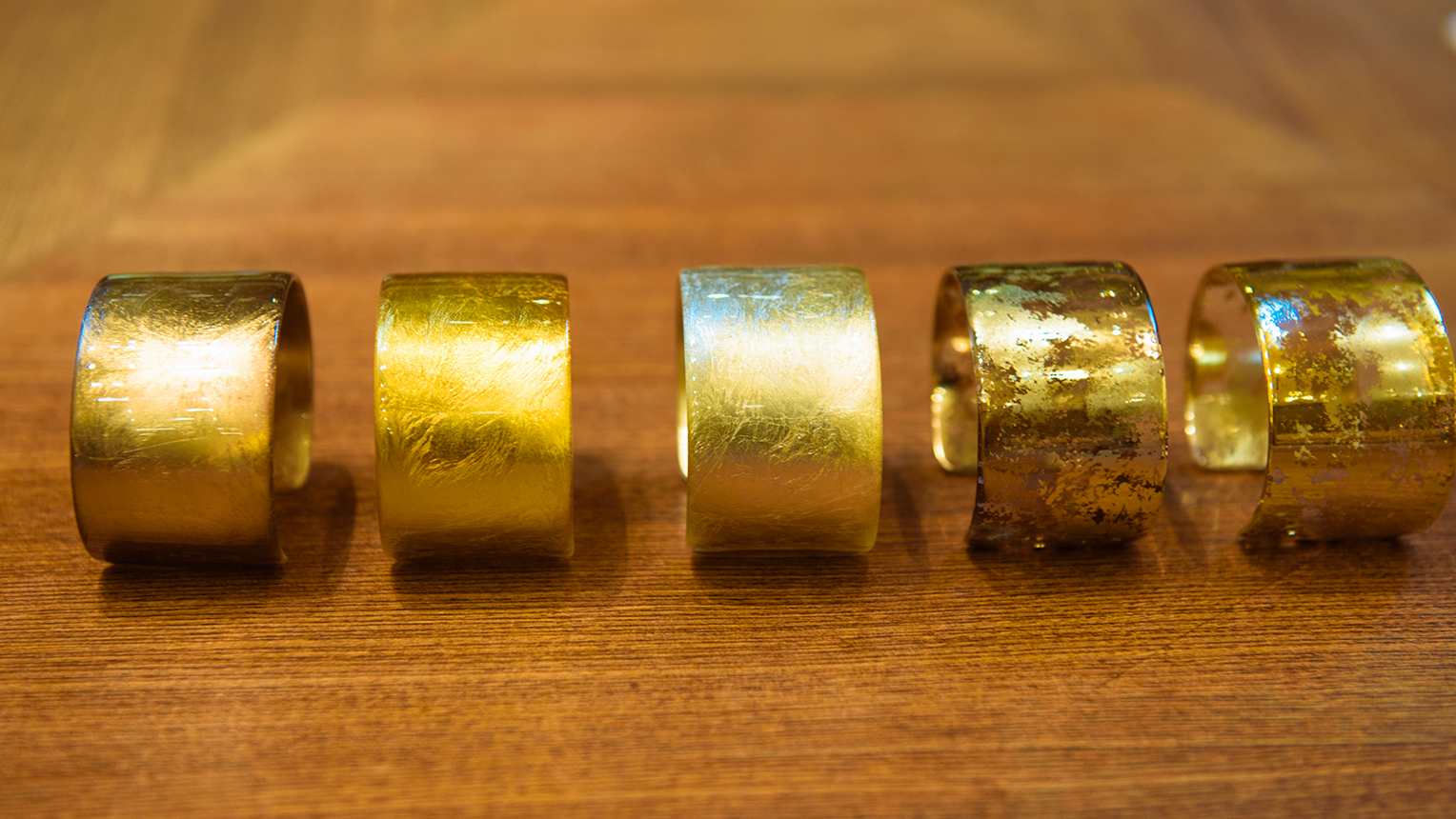 HAKUZA's most representative haku accessory, the acrylic bangle series. The refined presence of the haku charms many customers.
Nousaku: This naturally applies to the junpaku purachina haku as well, but the traditional industries cannot be maintained without their craftsmen. Their highly proficient techniques cannot be attained in just ten or twenty years. I imagine we are going to experience increasing difficulty on the issue of successors, but these traditional techniques exist because of the people who practice them, so it is both our calling and our task to work out how ensure their existence.
-It goes without saying that you manufacture things by utilizing traditional techniques, but I understand you create products that pursue the utmost potential of your materials.
Nousaku: We are actually putting a lot of our efforts into the medical field at the moment. There is an affliction known as Heberden's Nose, which causes the end joints of the fingers to become red and swollen, or even crooked. We are commercializing a "Heberden Ring" to stabilize that end joint. You may be wondering what the connection between traditional industries and medicine is, but we create all of our products with the fundamental idea of wanting to make people happy, so we believe that medical devices are the greatest extension of that. The improvement of medical treatments leads to peace of mind and greater quality of life, after all.
Also, another big reason is that such devices draw out the full potential of the antibacterial and bendability properties of suzu. We were surprised to at the unexpected level of the positive responses we received to the Heberden Ring, which came about after roughly three years of research. It made us all realize that suzu still has a lot of potential in it as a material.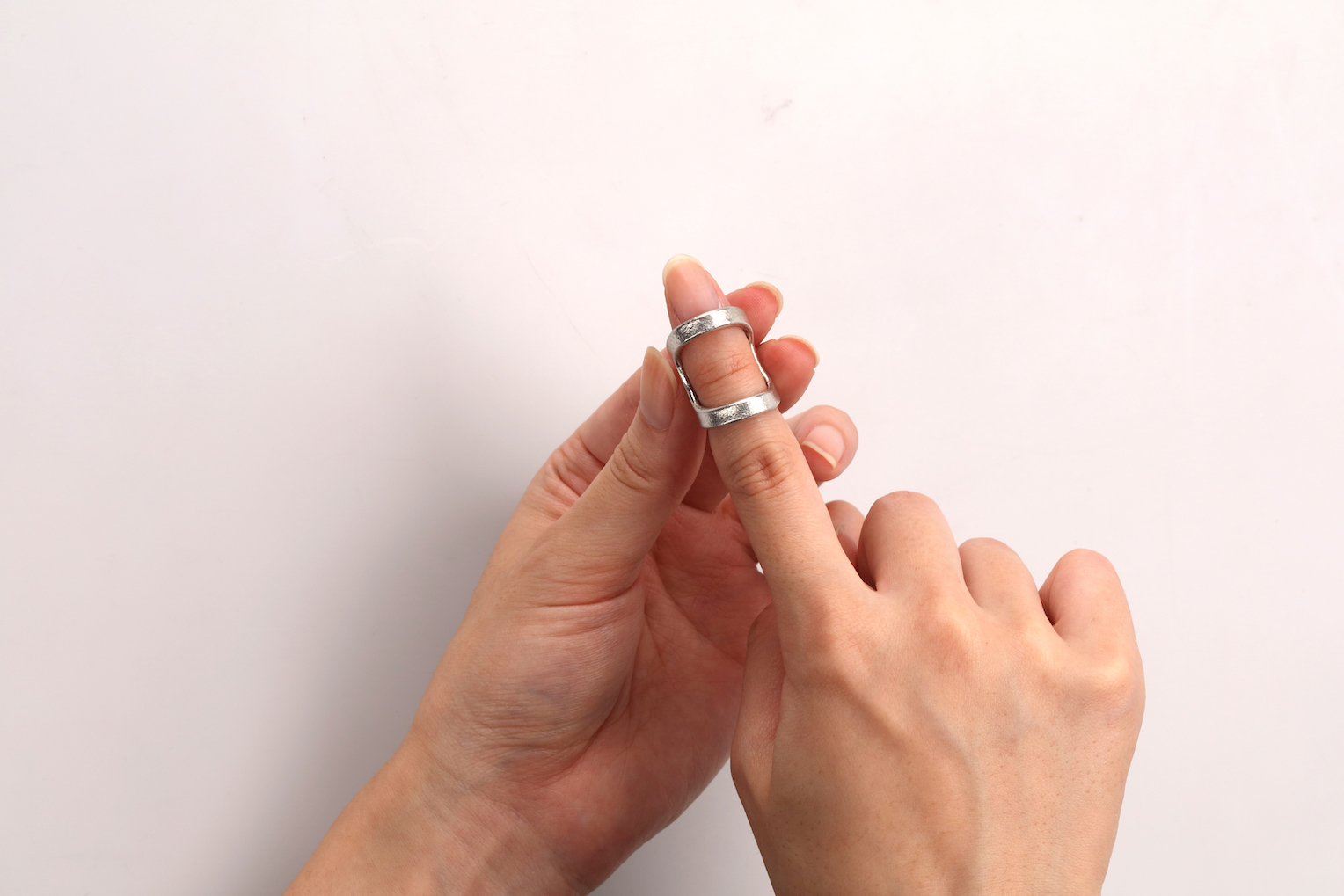 The Heberden ring, jointly developed with orthopedists. One of its unique properties is the way it provides greater stability than standard taping. photo:editorial department
Takaoka: What a wonderful endeavor! I think it's incredibly important to have the mindset of constantly pursuing the potential of the materials we use. For us as well, we don't only just process haku, we focus on its various avenues of potential and provide a wide range of uses for it.
For example, the beauty products we sell in our store that contain haku. With light beginning to be shed on the efficacy of gold on beauty recently, we've decided to put thought to other forms of appeal other than the classic "rich and gorgeous" image that gold has. I think the applications of a material broaden as we delve further into the properties they possess.
Furthermore, these days I feel that kinpaku has potential for spatial expression, as well. Recently at an event called the "Meguru Noren Exhibition," we exhibited a Noren store curtain that was completed layered in ginpaku (silver foil). As the theme was to "design the identity of one's company," so we decided to take an all-out approach using haku, which was met with a great reception, and realized that haku as an element of spatial expression also has potential.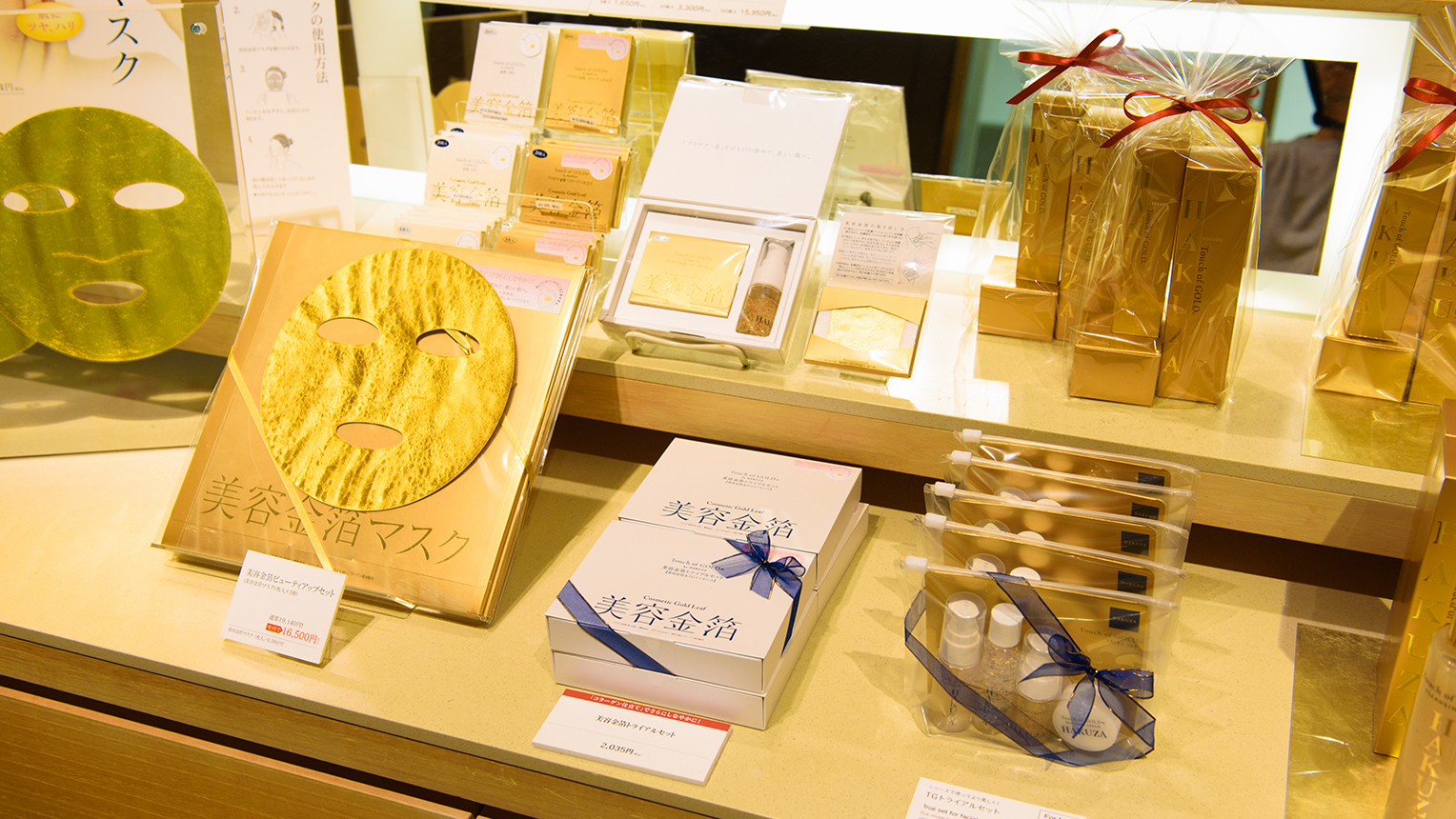 Kinpaku facial masks, serums, and toner are popular. The eyeshadows and lip glosses also contain kinpaku.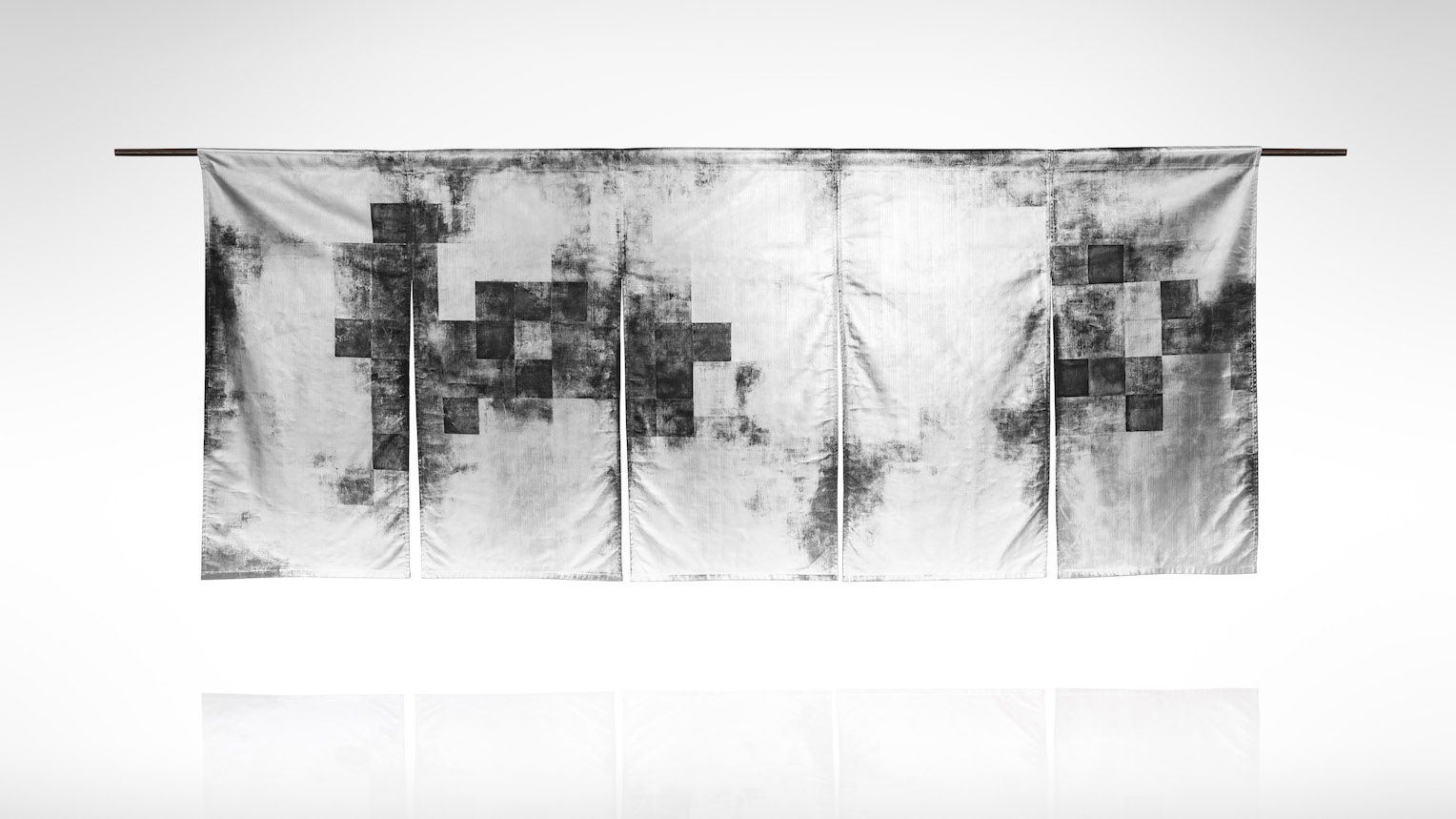 A Noren shop curtain designed named "Reimei no Maku" (Sheet of Dawn). Designed using monotone colors and foils to express formless existence that can't yet be seen with the eye, representing the first stages of new beginnings. photo:editorial department
Nousaku: In regard to our endeavors besides those related to physical products, we've been putting efforts into "suzukonshiki" (Tin Wedding Ceremony) events. As ten-year wedding anniversaries are known as suzukonshiki in Japan, we now provide this as an event package to our customers. For couples who reach their ten-year anniversary, we have them perform their wedding ceremony anew, take anniversary photos, enjoy a banquet, and take part in a suzu crafting experience to make anniversary mementos. Recently we have received many applications for this from people in other prefectures. What's interesting, however, is that the people who learn about NOUSAKU because of our suzukonshiki seem to often think that we are wedding planners (laughter). We've decided that it's a good thing to have a variety of avenues for people to learn about NOUSAKU.
Aiming to achieve the application of various cultures and customs to create "traditional products that meld into daily life."
-Where do you find the source of your ideas and creative starting points for your products?
Nousaku: I don't think we need to be conservative just because we deal in traditional industries, so I'd say a lot of those things come from incorporating a variety of cultures and customs. For example, the inspiration to line alcohol cups with kinpaku came from an exhibition we went to observe over ten years ago in Paris. Three colors you often saw over there were gold, red, and blue. Quite different to white, black, and silver colors that are preferred in Japan. It made we realize that we weren't going to stand out with only the silver suzu that we'd brought with us. From there we turned the idea of lining the cups with kinpaku a reality and displayed them at the exhibition.
-So, it's a product that was the result of the ideas derived that countries culture and customs?
Nousaku: That's correct. However, there's something else we learned from that experience. A restauranteur bought a katakuchi (lipped sake cup) from us at the exhibition, so I went to visit them later to express my thanks. When I did, I saw that they were using the katakuchi as a finger bowl (laughter). I was really taken by surprise, but it was also a painful indication that Japanese culture isn't well known overseas.
I realized that proposing products that suit the culture and customs overseas is important, and that the same can be said for suiting the times and the characteristics of the intended user. I strongly felt that thinking of products that suit a variety of people's characteristics can lead to the expansion of our own potential.
Takaoka: I completely agree. There are people among our customers at HAKUZA Nihonbashi who don't know at first that we are a kinpaku store, only to later exclaim later when they realize what we do. However, that's also a good thing. We're grateful when someone buys these goods because they are traditional products, but we think it's ideal when people learn about suzu or kinpaku through simple reasoning such as simply just wanting to give it a try. We want to make things that meld into daily life as much as possible, while still expressing the qualities and beauty of haku.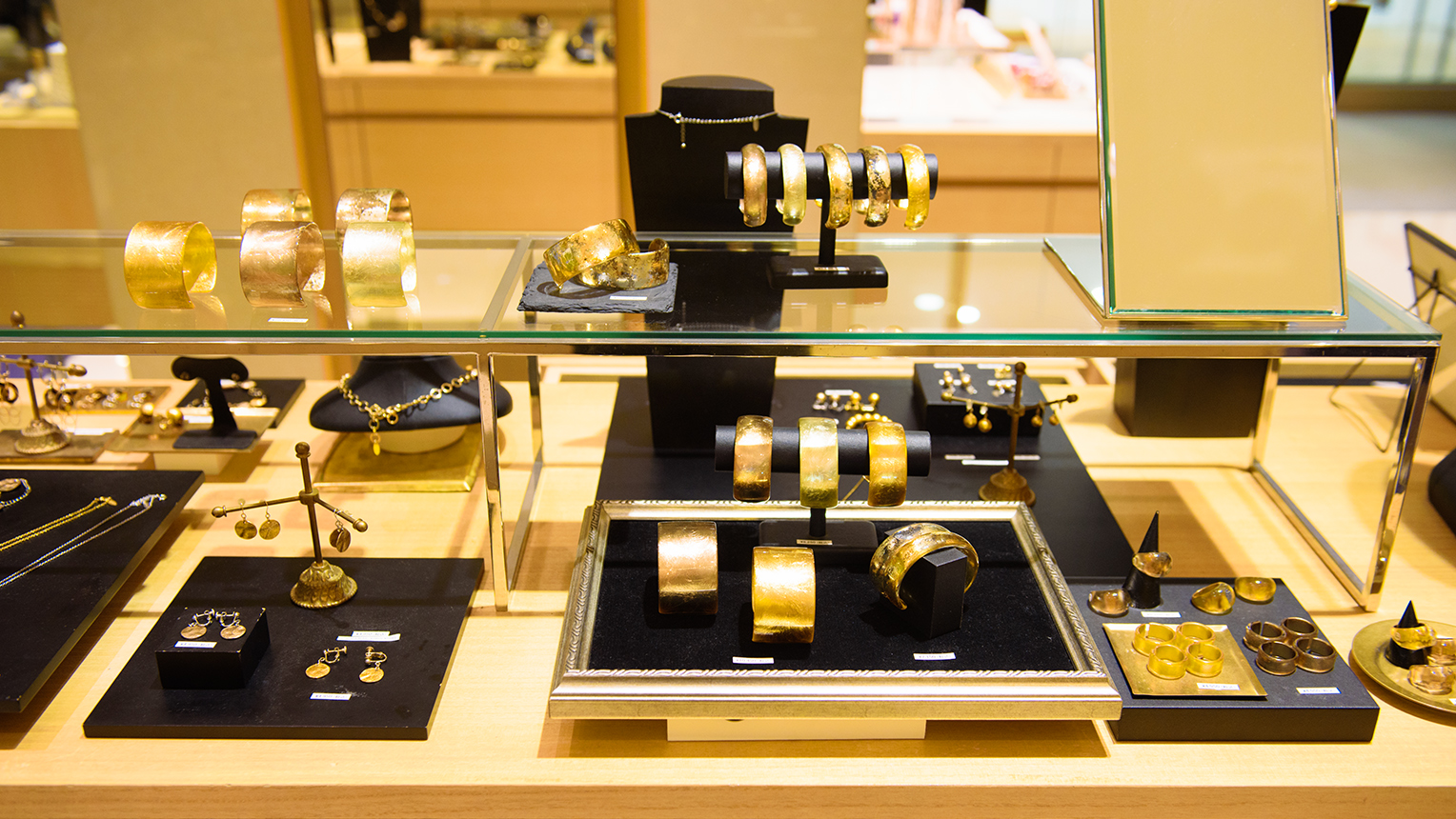 Rings, earrings, necklaces and other haku accessories feel trendy and are attractive due to their versatility as both casual and formal items.
-The idea of "melding into daily life" must be an extremely important mindset for spreading the word of traditional products.
Nousaku: I think it is, yes. It's ideal for us that people find traditional products attractive in a natural way. In that sense, I think HAKUZA has many products that respect the beauty and proliferation of the kinpaku material, while also being easily accessible to people who casually visit the stores, as well. When I first visited, I immediately felt that people would definitely take a liking to their products.
Takaoka: Thank you for your kind words! To tell the truth, I actually use NOUSAKU's most popular item, the beer cup, and I've always thought that it's exactly what I consider an ideal item that "melds into daily life." It's attractive for how its functionality draws out the qualities of the suzu, but I also like how the design makes you want to use it on a daily basis.
The new challenges and collaborations that led to store openings in Nihonbashi.
-I understand that you expanded to Nihonbashi one year apart from each other (NOUSAKU's Mitsukoshi store opened in 2009, HAKUZA's COREDO 1 store opened in 2010), but could you tell us about your impressions of Nihonbashi at the time?
Nousaku: When we opened our first store in Mitsukoshi, it had a unique atmosphere due to the bustle from its special, economically comfortable customers. People who wouldn't even look at the price tag of a 12,000-yen item and say "This looks lovely. I'll take ten," customers like that. But, to be honest it was only the Mitsukoshi department store that thrived in such a way. Other parts of the area were not as lively as they are now.
Takaoka: That's true. When we first opened our store, I was surprised to see that the Starbucks next door was closed on Saturdays and Sundays (laughter). That's how quiet it was on weekends there.
-What made you decide to open shops in Nihonbashi?
Nousaku: For me, it simply just seemed like an interesting challenge. Mitsukoshi was special kind of place at the time, so I thought I'd like to try taking on the discerning customers that frequent the department store.
Takaoka: We were extremely unsure about what to do at the time. However, we felt we had a connection to Nihonbashi. In the Edo Period, "hakuza" referred to an institution which controlled the selling and manufacturing of kinpaku, which is also what our name is derived from. The successor of hakuza's authority, "Ginza", used to be located where the Bank of Japan is now. Due to this historic connection, and the also the ardent encouragement from Mitsui Fudosan, we decided to take the plunge and open our store.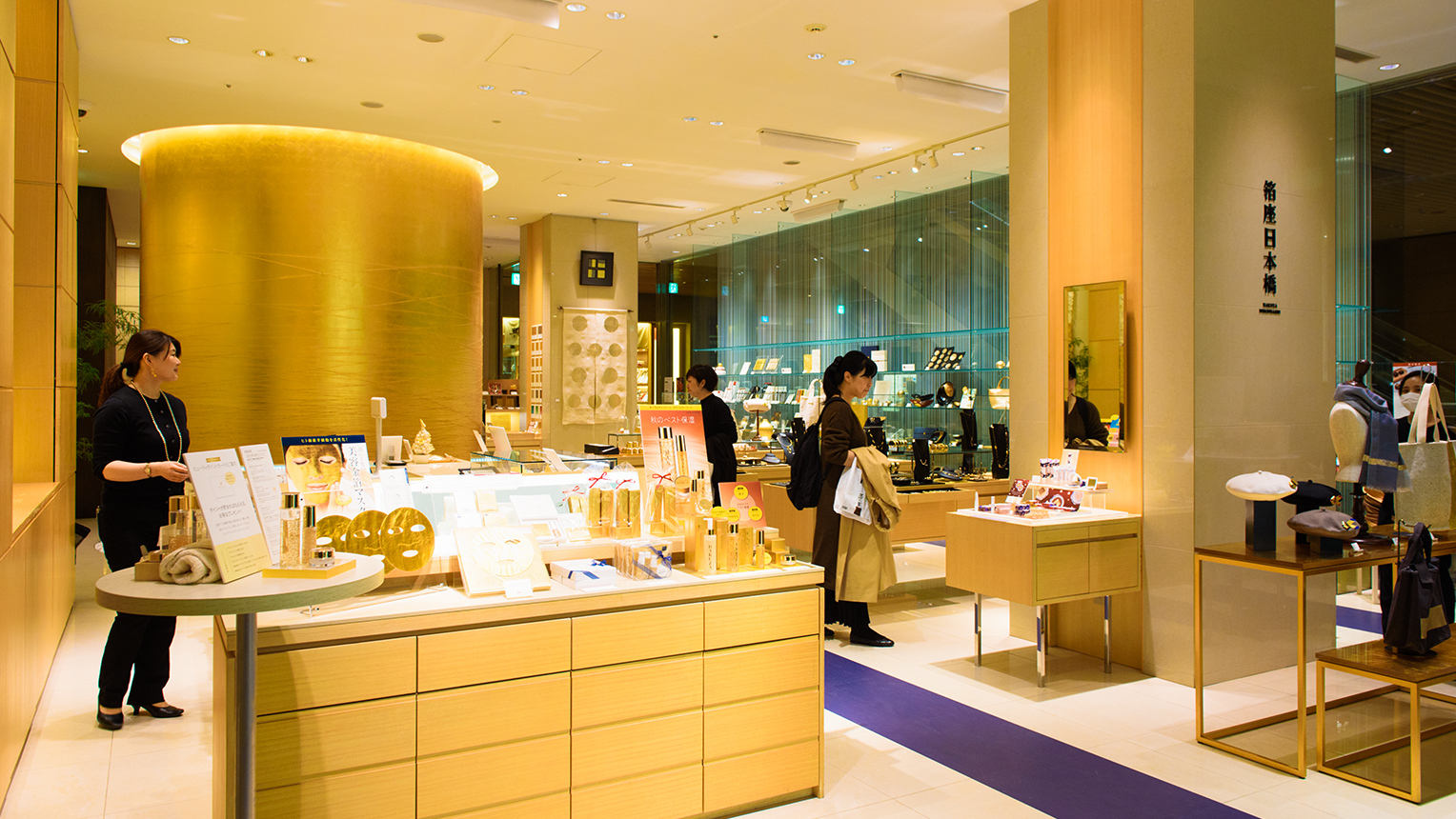 The store interior of HAKUZA Nihonbashi. A tea area is located further inside the store. With roughly 16,000 sheets of kinpaku used in the "Ougon no Tenkuu" (Golden Expanse), the interior of the store is almost considered to be a power spot.
Nousaku: We recently expanded to COREDO Muromachi Terrace and now have a store on the main street as you do with HAKUZA, but expanding there is a whole new level of status, isn't it?
Takaoka: That's right, and with it comes a certain sense of pressure, too. Expanding to Nihonbashi means being in league with the other long-established stores in the area, so I feel we need to make sure we don't betray the trust or standards of the customers who frequent there.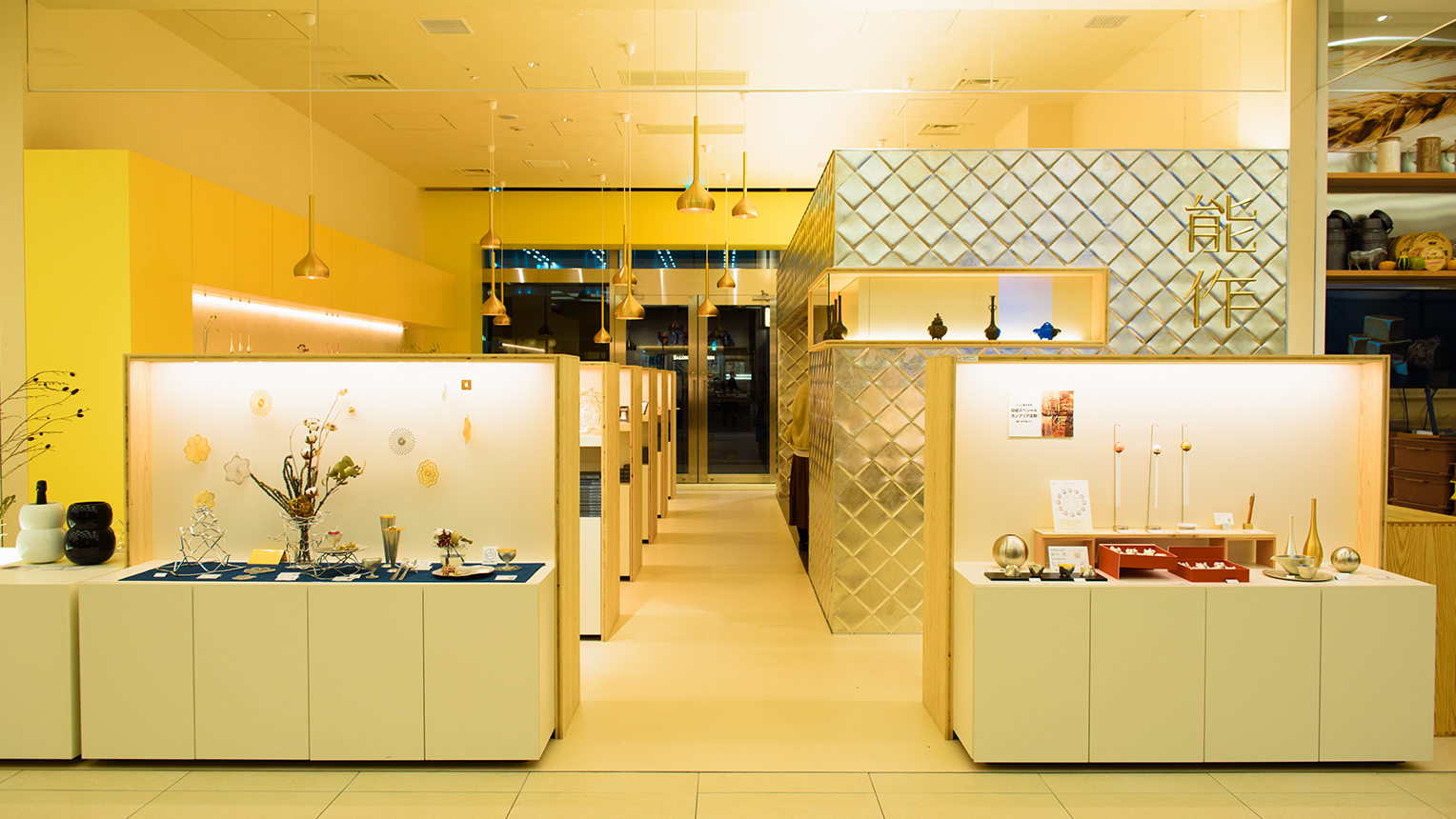 The NOUSAKU COREDO Muromachi Terrace store which just opened in Fall 2019. The spacious store interior includes their popular tableware and collaboration products. A movie showing the manufacturing floor can also be watched here.
-Is your impression of Nihonbashi different now in comparison to when you first opened your stores?
Nousaku: The amount of people in Nihonbashi is far greater than before. The area has started to overflow with people in the last ten years.
Takaoka: That's true. We also see a lot of visitors from overseas now. The quiet atmosphere we used to know has changed completely now.
Also, before we opened our store in Nihonbashi, I used to think that the overall hurdle of the area was quite high, but that changed for me as well. The long-established store owners were welcoming of newcomers like us and provided a sense of working together. We were actually even able to create collaboration products with some of the most representative stores in Nihonbashi, "Ninben" and "Eitaro Confectionery." I feel that it's quite a welcoming area now. In the future I hope we can continue to create collaborations with a variety of companies.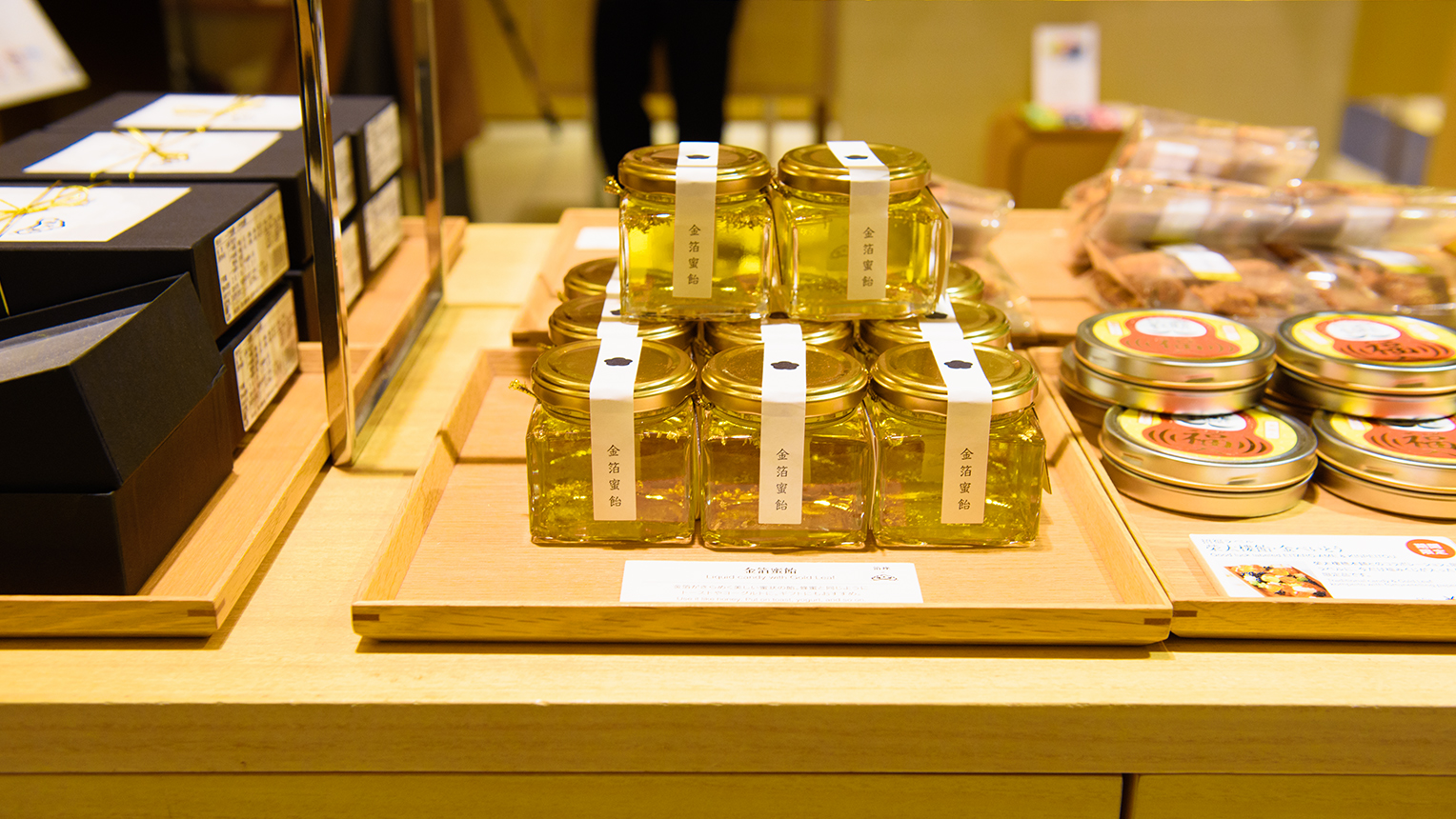 HAKUZA and Eitaro Confectionery's limited-season only collaboration product.
Nousaku: Nihonbashi is an area with traditions, but the long-established stores and the area itself don't come across as trying to just be conservative of these traditions. I think the thing that makes Nihonbashi unique is how it tries to revolutionize tradition and develop in a way that suits the times.
The path to becoming a 100-year store in Nihonbashi.
-I feel that your mindset for taking on new challenges and the mentality Nihonbashi has for innovating tradition are quite well matched. Do you have any future challenges you want to embark on in Nihonbashi?
Nousaku: When we opened our NOUSAKU COREDO Muromachi Terrace store, we sold collaboration vases that used HAKUZA's junpaku purachina haku. In the future, I'd like to do try more collaborations like that. We are located so close to each other now, so I think there's many things we can do.
Takaoka: I agree! I think we can make the most of each other's positive attributes to create things that represent what makes our crafts attractive.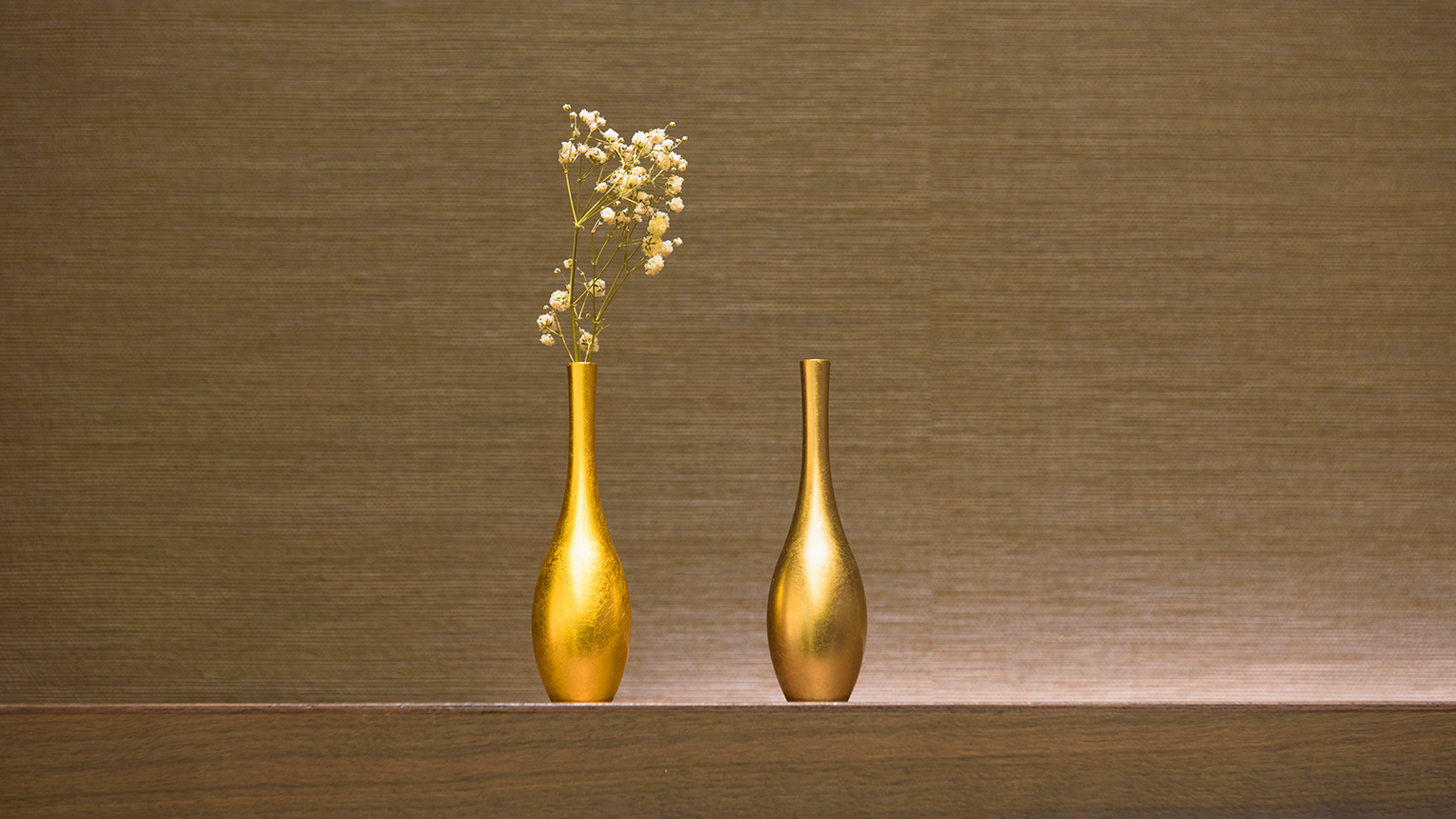 Flower vases sold to commemorate the opening of NOUSAKU's COREDO Muromachi Terrace store, which incorporate HAKUZA's junpaku purachina haku.
Nousaku: As just mentioned in regard to the collaborations with long-established stores, we recently planned collaboration events such as stamp rallies with Nihonbashi Toyama-Kan (an antenna shop in Muromachi for Toyama prefecture) to promote the prefecture. I think being in the center of Tokyo is the very thing that makes it possible to promote Toyama so widely.
Takaoka: I think the approach of bringing energy to an area is wonderful. The mentality of empowering the area is something I'd like to pick up myself.
Nousaku: I always think it's important to have lots of opportunities for the stores and the area itself to be seen and to be known.
Over ten years ago we received an offer to do a collaboration with Sanrio's Hello Kitty, but we turned it down as we felt NOUSAKU and Kitty wouldn't work well together. Later, we received an offer from Bandai to do a Gundam collaboration. We decided to give it a try and came up with a collaboration guinomi (large sake cup). It ended up selling like hotcakes (laugher). Because this, people who had no exposure to NOUSAKU learned who we were. This made me realize the important of creating this kind of connection with people.
Takaoka: Just having a love for these things won't stop them from going stagnant, after all. In that sense, I can really relate to the approach of innovating traditions and having an open mind to urban development that one can feel from the entirety of Nihonbashi. In the same way we took part in the "Meguru Noren Exhibition," if there are more opportunities in the future to enliven the area, we'd like to actively take part in them.
Also, we'd like to become a store than is loved for many years to come. I often recall being told to "become a store that lasts 100 years" after we opened our store in COREDO Muromachi 1. This is something I want to continue taking on challenges in order to achieve.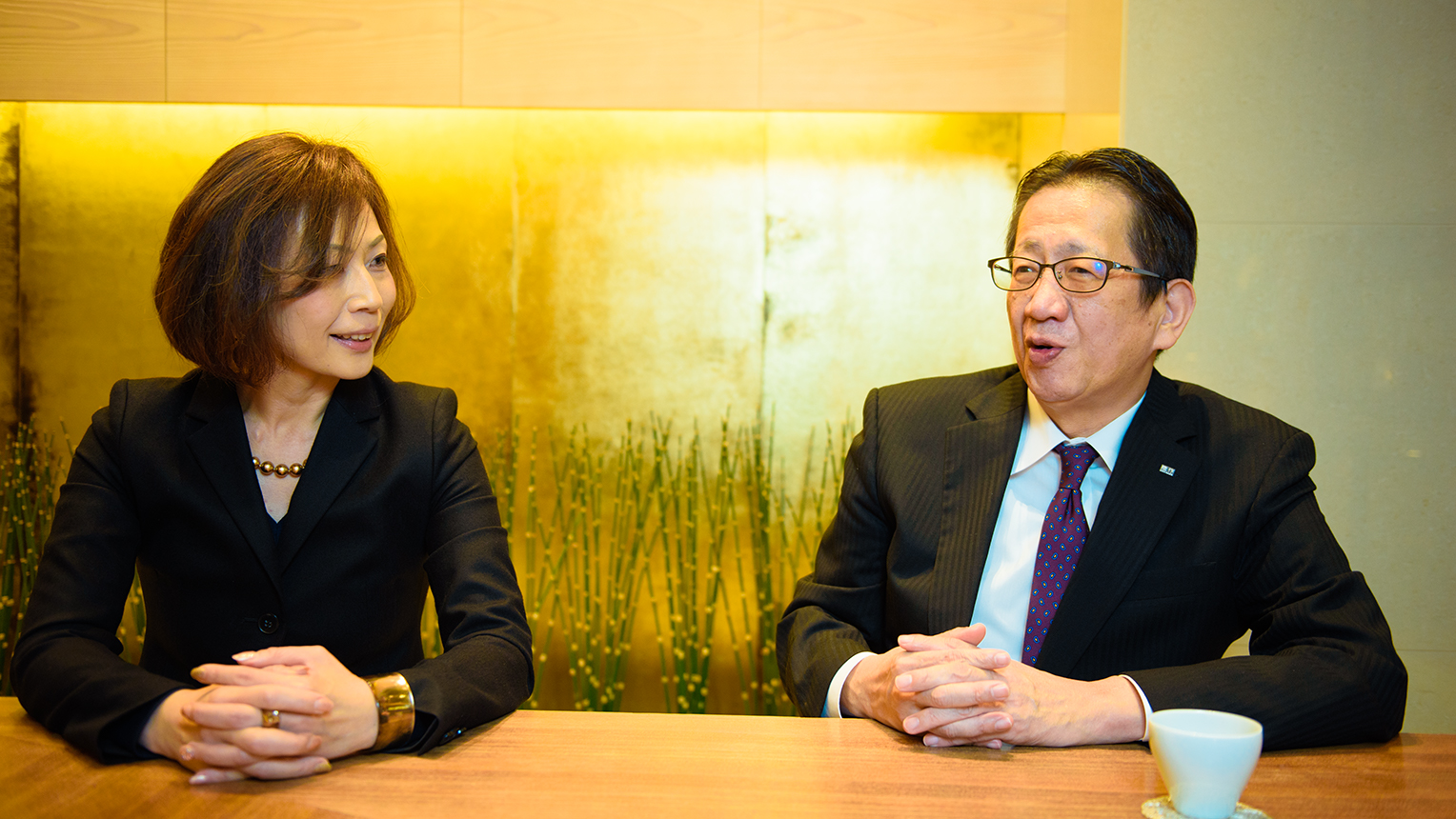 Interview & Words: Kei Furuta
Photography: Daisuke Okamura
NOUSAKU COREDO Muromachi Terrace Store (COREDO Muromachi 1st floor)
Sellers of tableware, interior, accessories and so on with beautiful designs and functionality only made possible through casting. They also boast a lineup of a variety of collaboration products.
HAKUZA Nihonbashi (COREDO Muromachi 1st floor)
Seller of original products showcasing the potential, beauty and strength of haku. They have also collaborated with various long-established stores in Nihonbashi to make collaboration products. HAKUZA's flagship store also includes haku installations, a tea area, and a space for experiencing the beauty of haku.