2019.11.06
Bringing the excitement of cruisers into daily life. An old-established boating company's challenge to redefine their trade.
Bringing the excitement of cruisers into daily life. An old-established boating company's challenge to redefine their trade.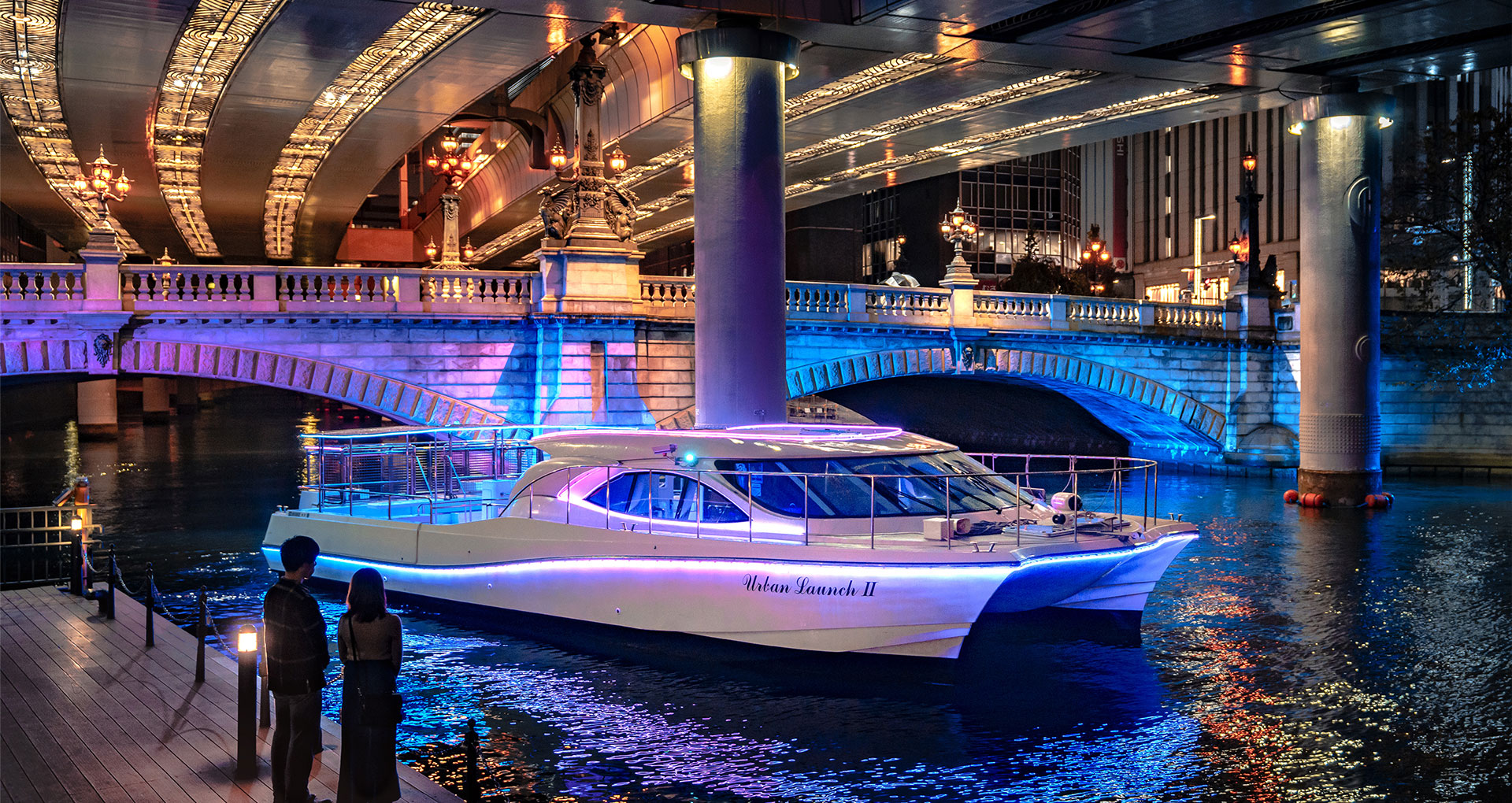 Held from September 27 to November 20, the "NIHONBASHI MEGURU FES" has been drawing crowds with the lights and sounds that personify its "Nihonbashi Light Cruise." The company running the cruisers for the event, Urban Launch, is known for providing new and exciting ways to add cruisers into regular life. We interviewed CEO Shinichiro Moriya of parent company Tokyo Cruise and Kanko-kisen-kogyo manager Daisaku Kinoshita and asked them about the attractions of new forms of boating such as the "Nihonbashi Light Cruise," the story behind the development of the water taxis designed by legendary manga artist Reiji Matsumoto, and the vision behind their commitment to challenging new things.
Transforming Tokyo into a "City of water" that rivals Venice.
- First of all, please tell us about the company's history and what it is that you do.
Shinichiro Moriya, CEO (hereinafter referred to as Moriya): The business was founded in 1885 running regular steamboat services along the Sumida river. A trip through one zone cost one "sen" at the time, so we ended up the nickname "Issenjouki" (One Sen Steamer). Back in the Taisho period, there were no bridges across the Sumida river and overland transport was underdeveloped, so boats played an important role as a method of transportation. Due to this, we also ran large passenger ships at the time. Now we run regular services for people to enjoy the Sumida river or Tokyo bay, charter cruises, water taxis and the like.
- Could you tell us how the "Nihonbashi Light Cruise" event that you are running in Nihonbashi came to be?
Moriya: 2011 was the 100th anniversary of the construction of the bridge in Nihonbashi, and to mark this a wharf was built at the base of the bridge. Boats cannot connect with the land if there is no jetty or pier, so even when we wanted to create a connection with Nihonbashi, it was impossible for quite a long time. Once that became possible, we came up with the concept of the "Limousine Boat," an 11-seater water taxi that would connect the center of Tokyo, Nihonbashi, with the gateway to Japan, Haneda, in the fastest way possible.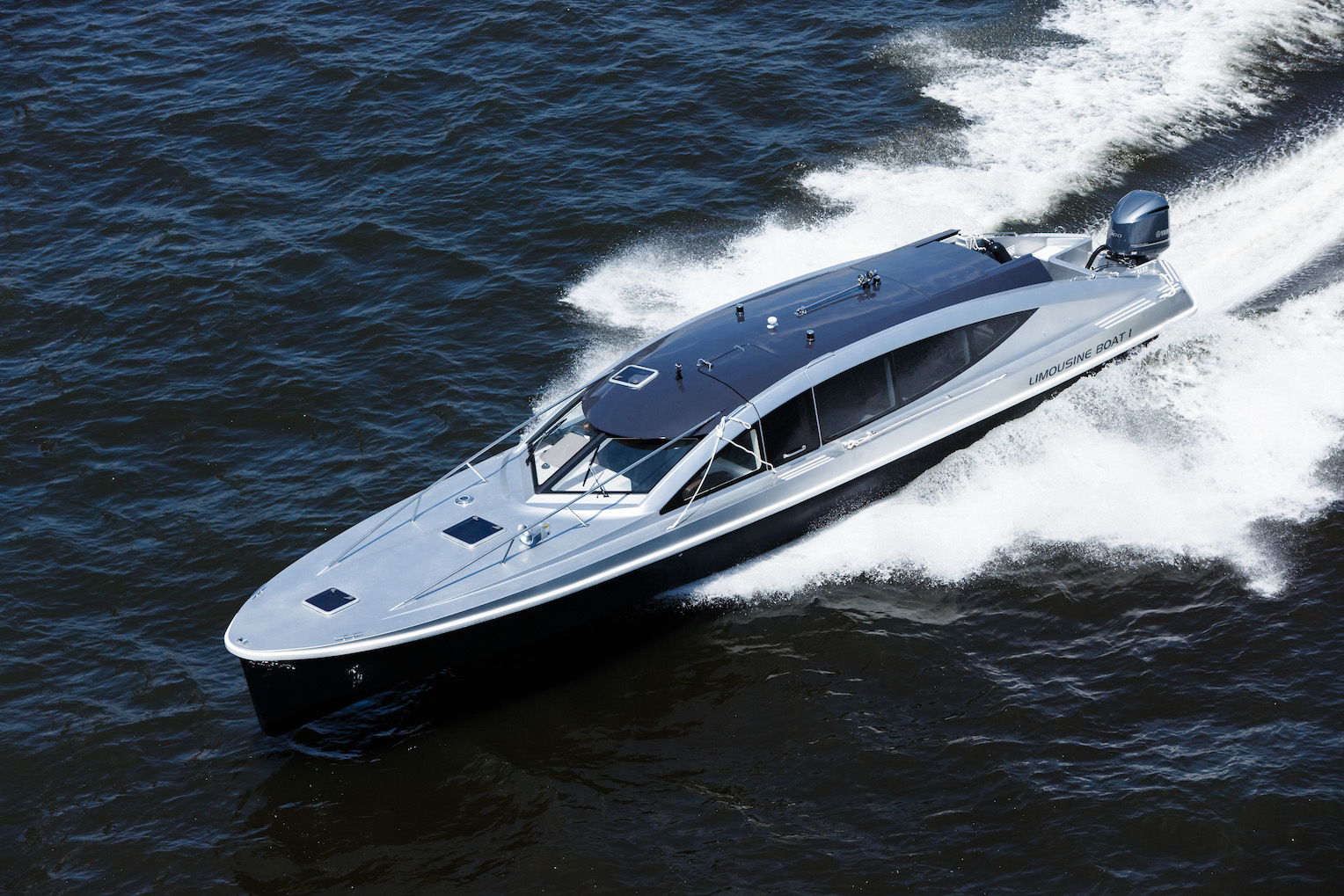 The Limousine Boat on route
- The Limousine Boat began service in 2013. There was a period of two years between the construction of the Nihonbashi wharf and the boat entering actual service.
Daisaku Kinoshita (hereinafter referred to as Kinoshita): That's right. This was because there were a number of physical limitations on the water route from Nihonbashi to Haneda. The bridges on the Nihonbashi river were so low that the hull of a regular boat would collide with them. On the other end, the mouth of the river near Haneda was shallow, which would result in boats running aground. It was so shallow, in fact, that when the tide is out, the water depth can be a mere 60 centimeters. It took quite some time to design a cruiser that could work around these problems.
Moriya: Despite these setbacks, we were all driven to make the service a success. We wanted to take that opportunity to use the Limousine Boat to create a buzz around the idea of Tokyo being a city of water like Venice.
In Edo times, when transportation by water was at its peak, we really did thrive as a city of water, but nowadays the world doesn't view the city that way. Yet, Venice is a popular tourist destination. They have water busses and water taxis connecting the airport to Venice itself. We wanted to connect Haneda and Nihonbashi in a similar fashion and do something to restore Tokyo's image as the city of water it once was.
Kinoshita: Seeing a wide range of usages of our service, such as people using it for sightseeing during layovers, or companies using it to pick up VIP clients, makes me feel that the efforts we went to in development were worth it.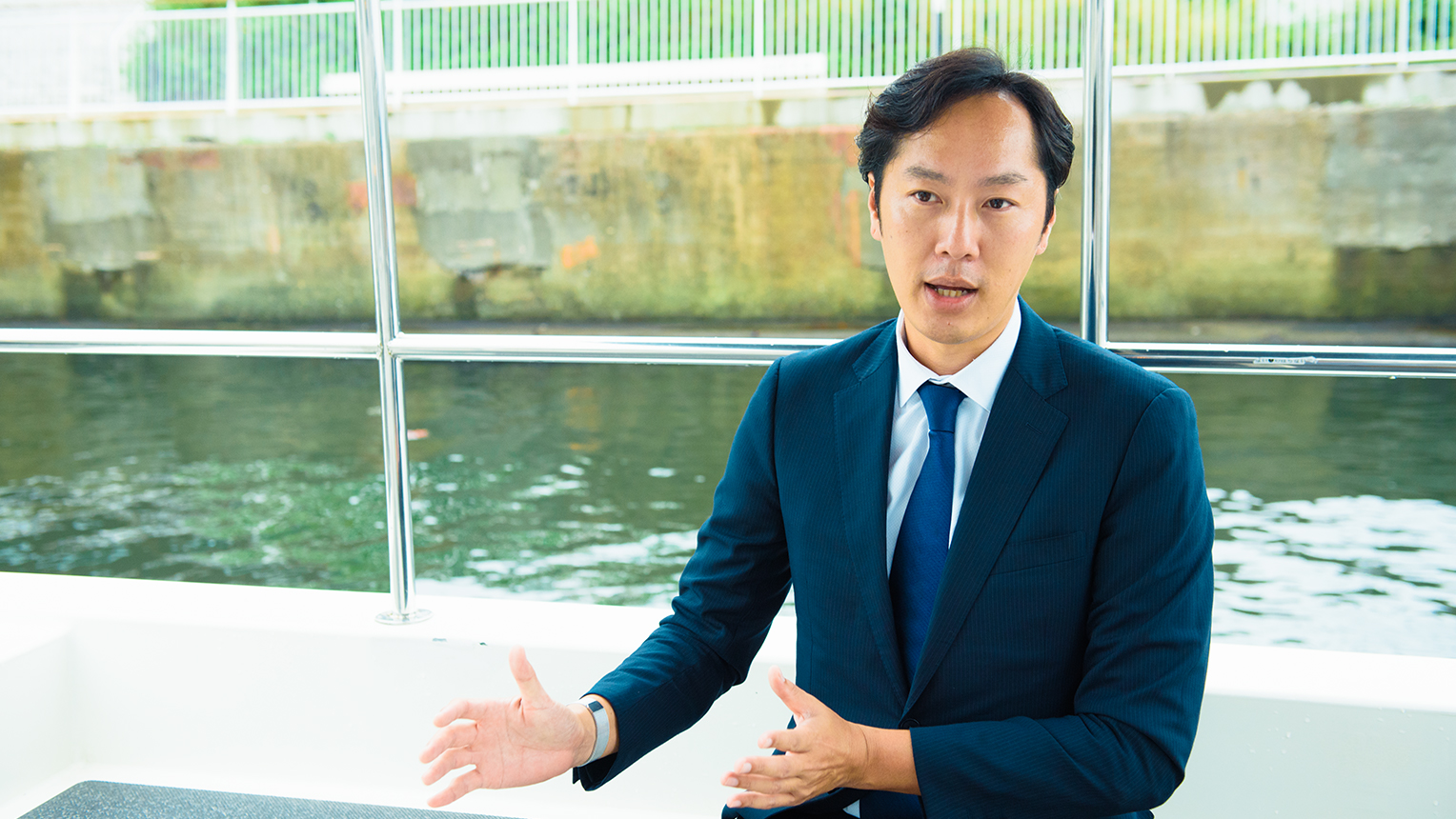 Mr. Daisaku Kinoshita, manager of Kanko-kisen-kogyo
- What services other the Limousine Boat do you provide?
Kinoshita: As a concept for enjoyment in daily life, we have a regular service for our 41-seat cruiser "Urban launch" which can be accessed from places such as Nihonbashi, Toyosu, and Odaiba. What we like to call it "small living," but it's basically the idea of taking a comfortable space like that of a living room and creating it onboard to provide a unique experience involving cruisers in one's daily life. Also, so that it can be used as an extension of transportation infrastructure in our regular lives, it is designed so that passengers can bring their pets or load their bicycles directly on with them. People who live in the Rinkai area can use it casually as a new form of public transport when going shopping or the like.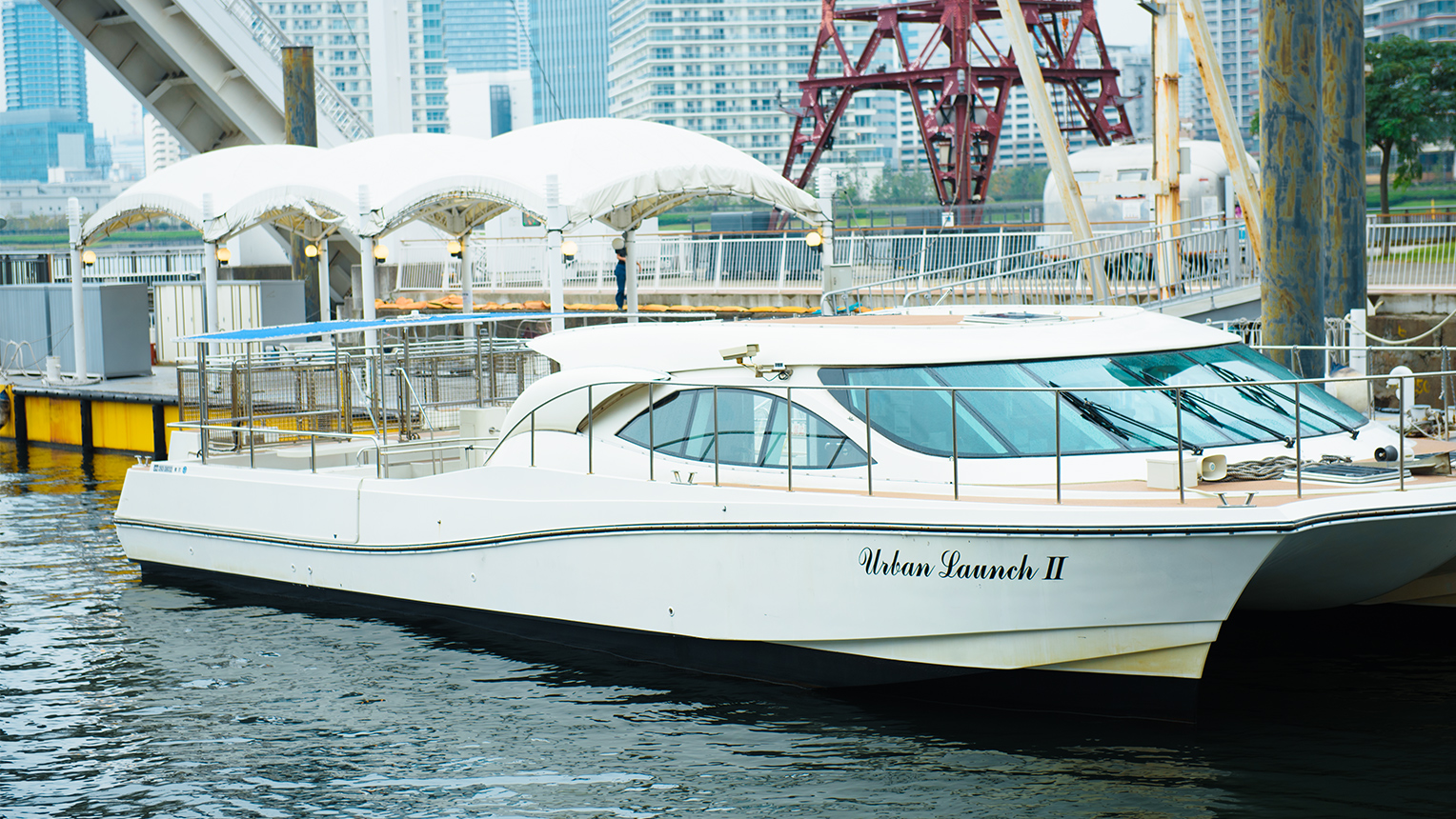 The Urban launch moored at a pier
Boats are not a part of daily life, so we want to highlight their existance again.
- Recently, proof-of-concept tests are being performed to see whether boats can be used as a means of commuting. What kind of potential do you think cruises have in this regard?
Kinoshita: We would like them to be used as a tool for commuting and going to school, but the current reality is that there are a lot of issues to resolve first. Earlier, we mentioned the problems of low bridges and shallow waters, but there are other obstacles besides those. For example, if we make the boats bigger in order to transport more passengers, we won't be able to perform U-turns due to the rivers being so narrow. In which case, using a greater number of smaller boats would be the solution, but then the issue of finding a space big enough to moor them arises. Boats have a lot of such constraints.
Due to this, they always end up requiring more expensive fares in comparison to land-based methods of transportation such as trains. This makes them a difficult option to choose for daily commutes, which is where we stand at the moment.
Moriya: If we could create a system using digital technology to treat a variety of public transportation methods as a single service, boats may become more commonly recognized. In any case, it's a fact that boats are receiving attention now due to the comfort and joy of travel, and their potential to alleviate rush hour traffic, so this is something our company would like to follow up on.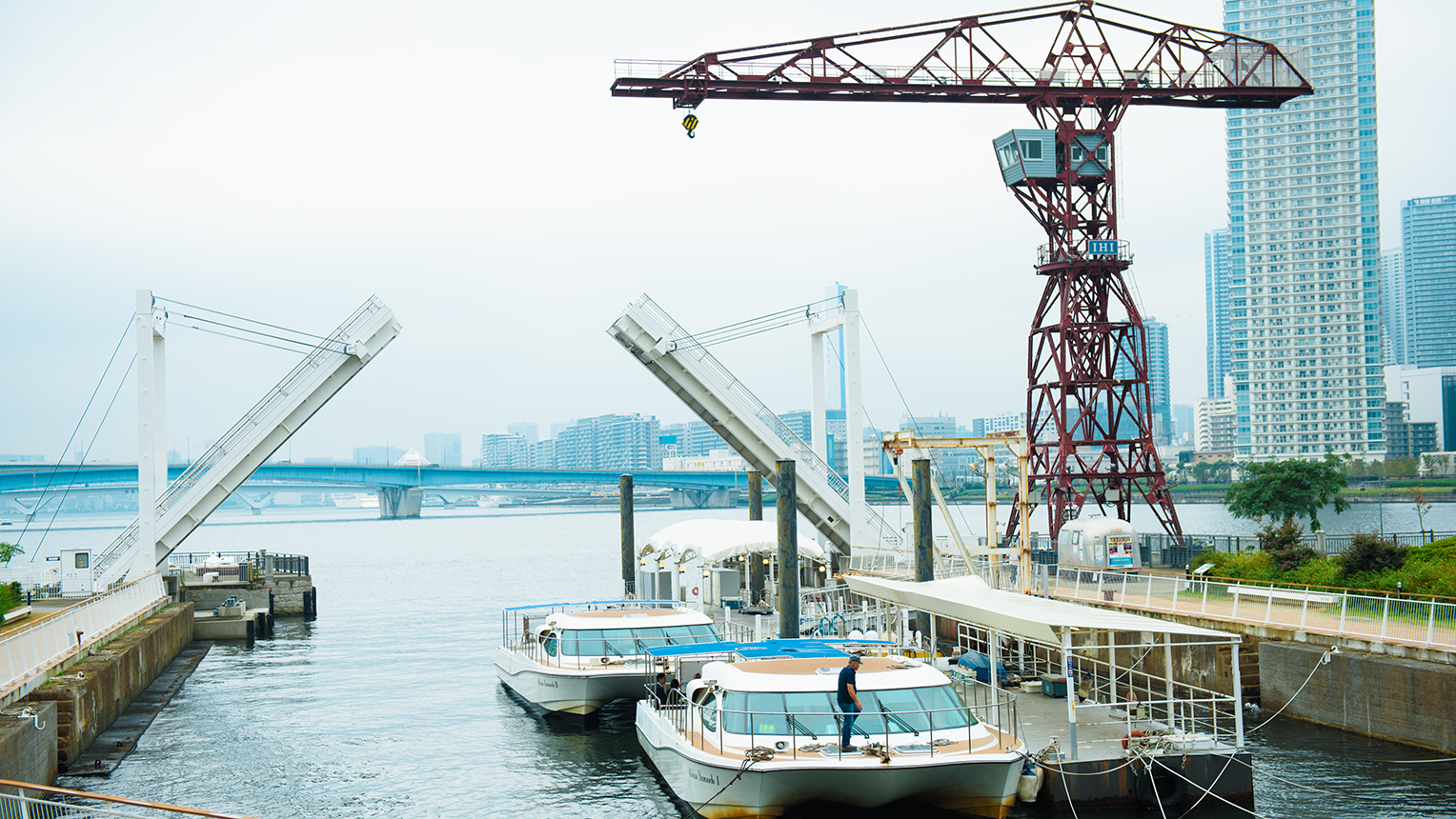 One of the docks for Urban launch at "Urban Dock LaLaport Toyosu," which used to be a shipyard. The crane has been kept as a monument
- A long time ago, boats used to be an important method of transportation, but with the development of land-based transportation networks and the passage of time, their role seems to be changing.
Moriya: That's correct. As a means of transportation their relative value has gone down, leaving transportation companies wondering how they will survive. This has been an ever-present issue for us over the last couple of decades. The idea that we came up with as to have people learn of the existence of our boats and services before they become passengers.
One of the ideas that we brainstormed was the water taxi "HIMIKO" which was designed by legendary manga artist Reiji Matsumoto. Tokyo Cruise began its service in 2003, which was followed by sister ship "HOTALUNA" eight years later, with the third in Reiji Matsumoto's series of designs "EMERALDAS" coming into service just last year.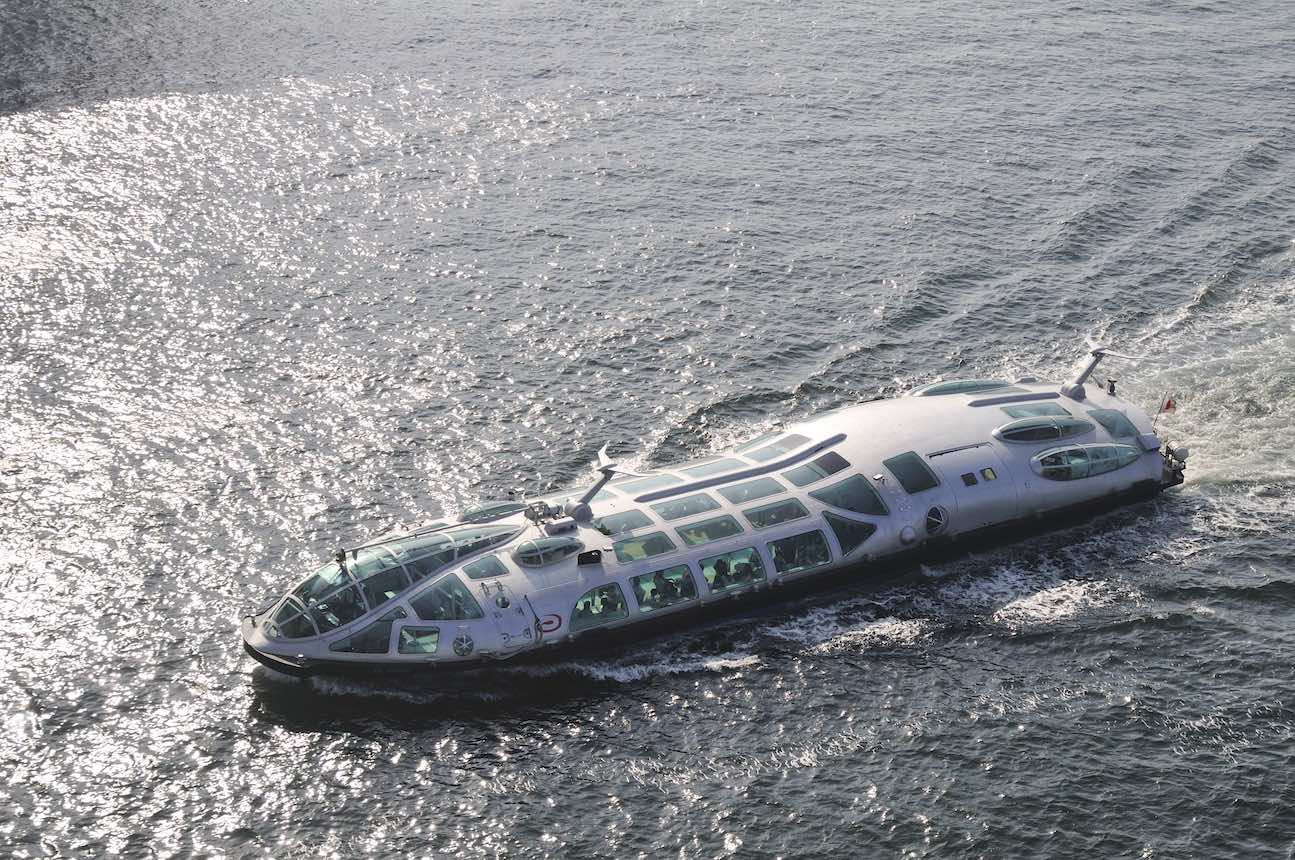 The HIMIKO was designed with the concept of the hull resembling a teardrop
The beginning of a project that would bring manga to life.
- Why did you ask Mr. Matsumoto to do the designs?
Moriya: Our goal was to create a boat that people would want to ride the moment they saw it. What does everything think of when asked to imagine a boat? A box-shaped boat with a pointed bow, a mast sticking up like a chimney, a pirate ship at an amusement park, or classic Yakatabune boats. Even though we can come up with these different shapes, boats tend to end up falling into a limited number of archetypes. We realized that we would not succeed in our mission of inspiring people to try out boats by simply using pre-existing design concepts.
From that point in time, we began to focus on children. We felt there would be no future potential in our designs if our children, who bear the torch for the future, didn't want to ride the boats we came up with. Also, we wanted to collaborate with someone who has designed vehicles before. We concluded that the only person for the job was the man behind Space Battleship Yamato and Galaxy Express 999, Mr. Reiji Matsumoto.
- So, you had no prior connection to him before asking for his help?
Moriya: We had never even met. It was simply a one-sided idea. So, the first step was to find out his contact and send him a fax (laughter). It was a bold, reckless move at the time, but the next day he responded with a phone call and said that he was interested. The news had the entire office really excited. It steeled our resolve to make this project a success no matter what.
- Could you tell me more about the development process?
Moriya: It took over two years from start to completion, but it didn't take very long for us to receive the design from Mr. Matsumoto. I was moved the moment I saw what he had designed. The streamlined metallic silver teardrop design made it look just like a spaceship. It was more impressive that anything I had imagined. However, this was also the beginning of our difficulties. The majority of the body was glass. There were no glassmakers who could create glass in three-dimension curves like this. We considered joining small pieces of glasses together in a way similar to stained glass, but in order to be faithful to the original design we needed 36 large sheets of curved glass. Even after we finally found a company that was willing to help us, they didn't have the type of furnace required for making large sheets of curved glass. We searched all over Japan for a company with the right furnace, and a company that could do three-dimensional shapes... It was only through the passion and cooperation of so many people that HIMIKO was finally completed.
- The body was the product of various technologies and dedication. Speaking of the HIMIKO, the way the boat itself appears to be glowing is quite impressive.
Moriya: It was supposed to be a design with no precedent, so we decided to do the same with the lighting and made the floor glow, as well. We also used LEDs, which were rare at the time, to make the lights change red or blue and give a sense of being in outer space. The shipyard was in Kobe, so I have memories of heading to Kobe at sunset to check how they glowed and then returning to Tokyo in the same day.
After spending over two years in development, HIMIKO was finally completed. I can still remember the speech Mr. Matsumoto gave at the launch ceremony. After he said "Mom, are you watching?" he continued by saying something along the lines of "I have spent my life launch imaginary ships, but it has been a true joy to design a real ship for the first time." It made me proud that we accepted no compromise and recreated his design faithfully.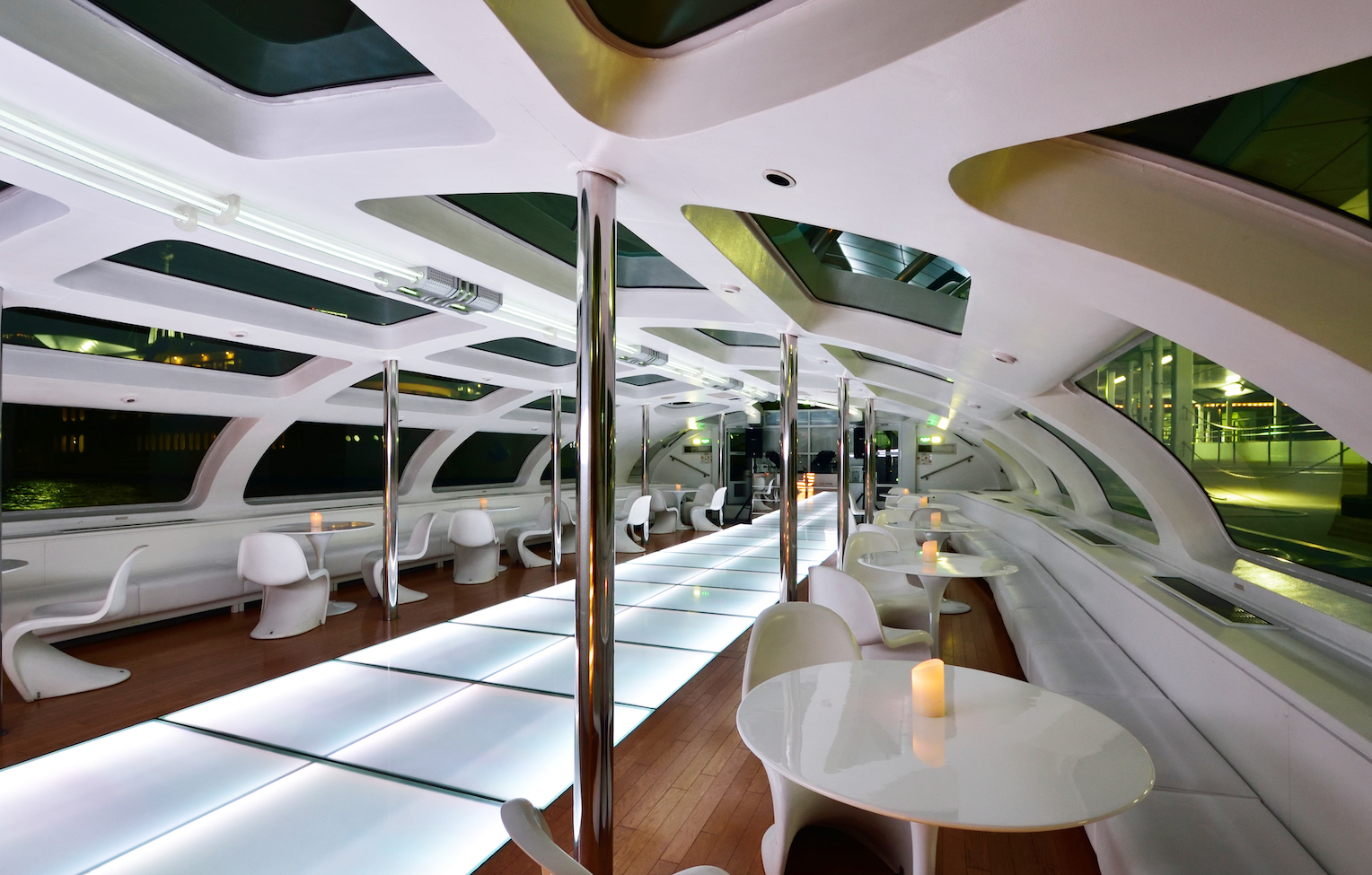 The interior of the HIMIKO, with LEDs lighting the floor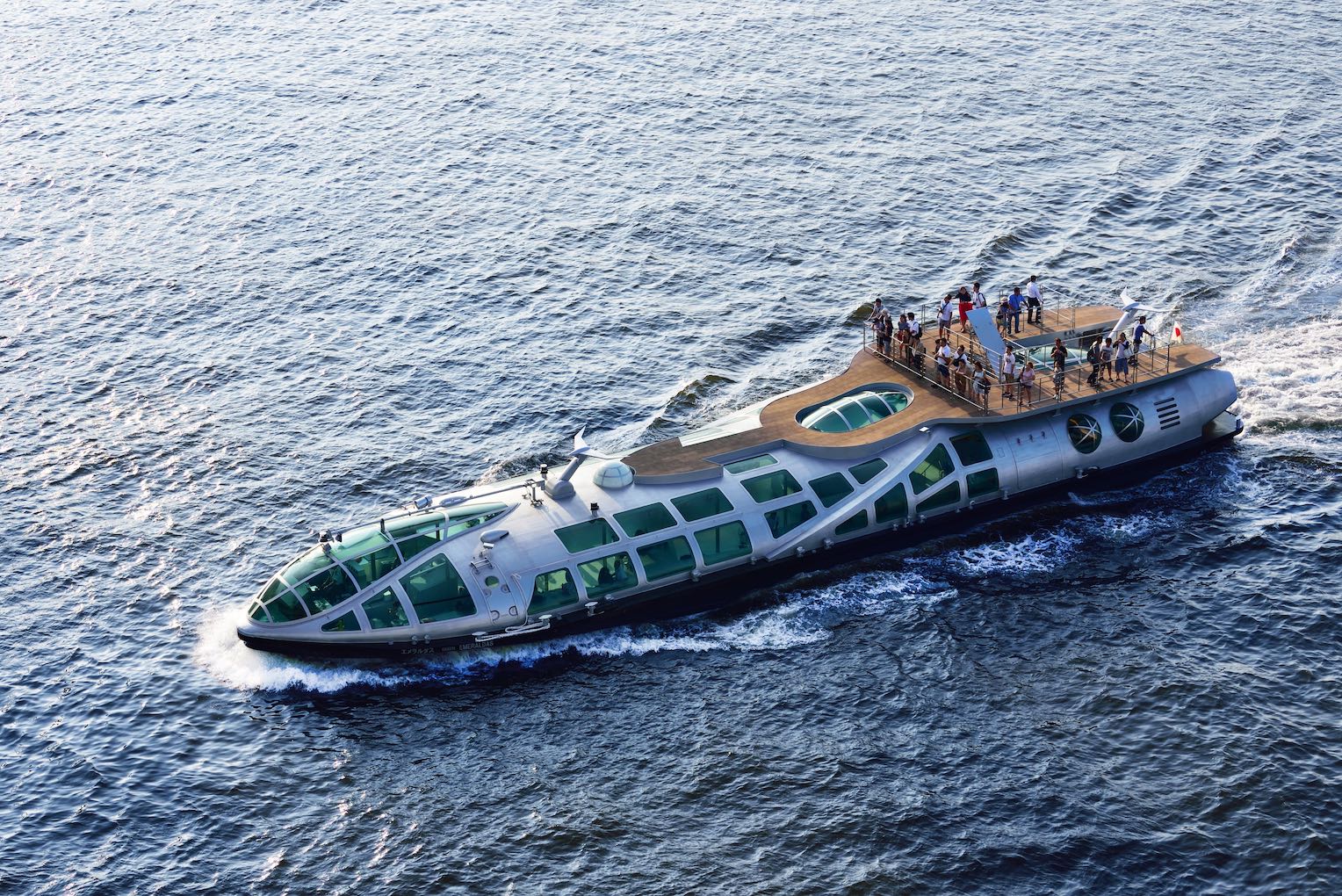 The EMERALDAS designed by Mr. Reiji Matsumoto, which entered service last year
A reason to always take on new challenges.
"Nihonbashi Light Cruise" is being held as part of the "NIHONBASHI MEGURU FES." Could you tell us more about the background to this?
Moriya: We want people to be able to enjoy our ships with ease and comfort. We hope that for the younger generation and people from certain foreign countries that don't have any connection to boats, it will be an opportunity to experience the joys of boating in Nihonbashi. During the event, the river lights up in different ways based on the boat's location and augmented reality voice overs provide guide information. It's a completely new form of night cruising. Seeing the famous bridges and the river itself look magical under the illumination is an exciting experience in itself. In fact, I was excited about the prospect even from the stage when we were still planning with the team for the event (laughter).
"Nihonbashi Light Cruise" promotional movie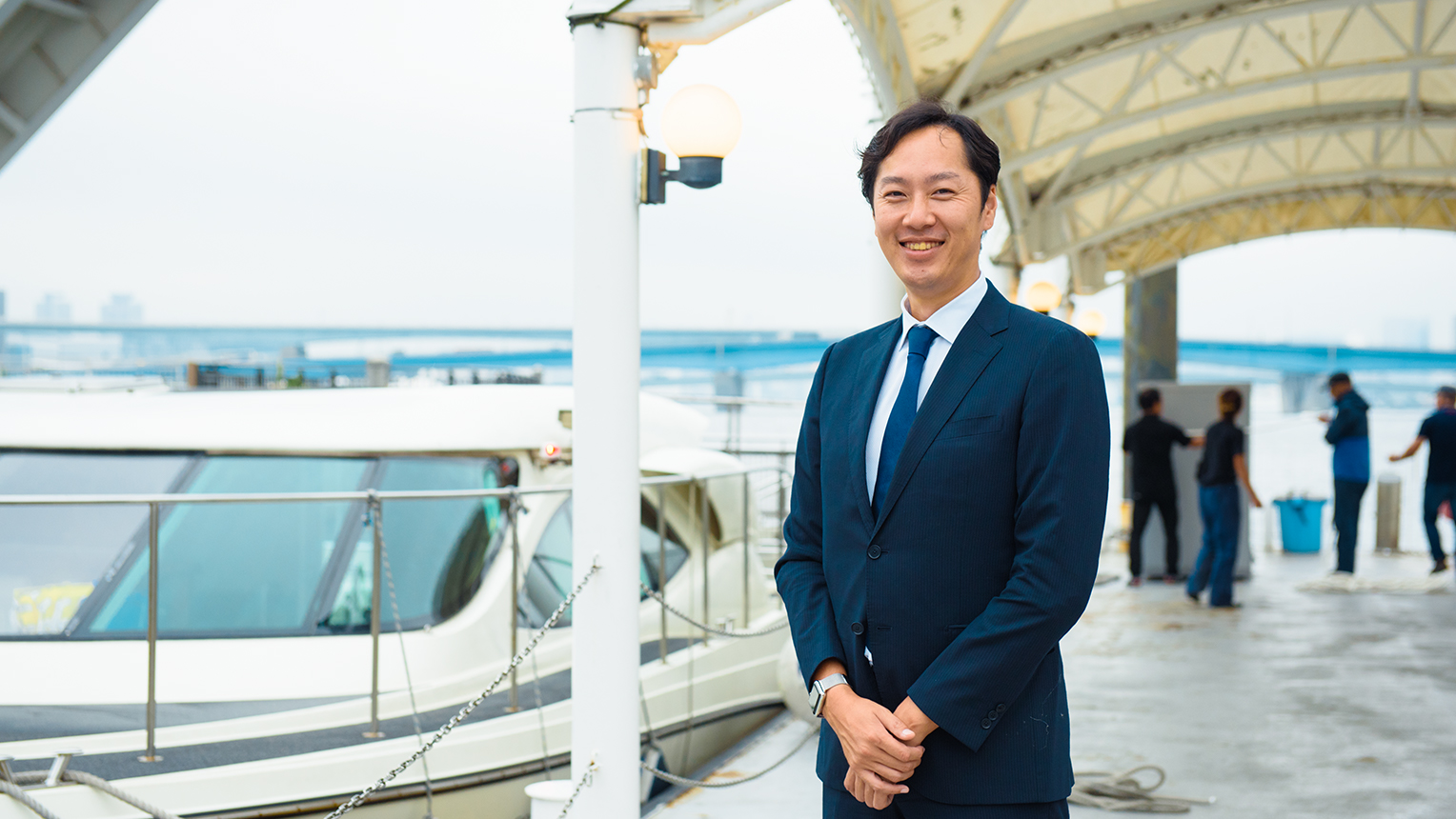 - The cruise starts from Nihonbashi and passes through the Sumida river and Tokyo bay. Do you have any sights you recommend?
Moriya: Definitely the Nihonbashi bridge itself. There's no other bridge quite like it. It's a structure with over 100 years of history melded with the scenery of a modern city. The idea that it allows us to feel the past and present at the same time is moving. This is just my personal opinion, but I think the bridge looks best when viewed from the river. You can't see it like that when you cross it yourself. Boats can allow us to see sights we normally never get to see.
I mentioned earlier that the bridge across the Nihonbashi river is low, but it's so low that you can almost reach up and touch it when passing underneath, which makes for a powerful experience. In other words, by changing your limitations and perspectives, things can be taken in a positive manner. Running a boat transportation business in Tokyo is far from easy, but we plan to coexist with those limitations and difficulties and continue to come up with ideas to provide cruises that everyone can enjoy.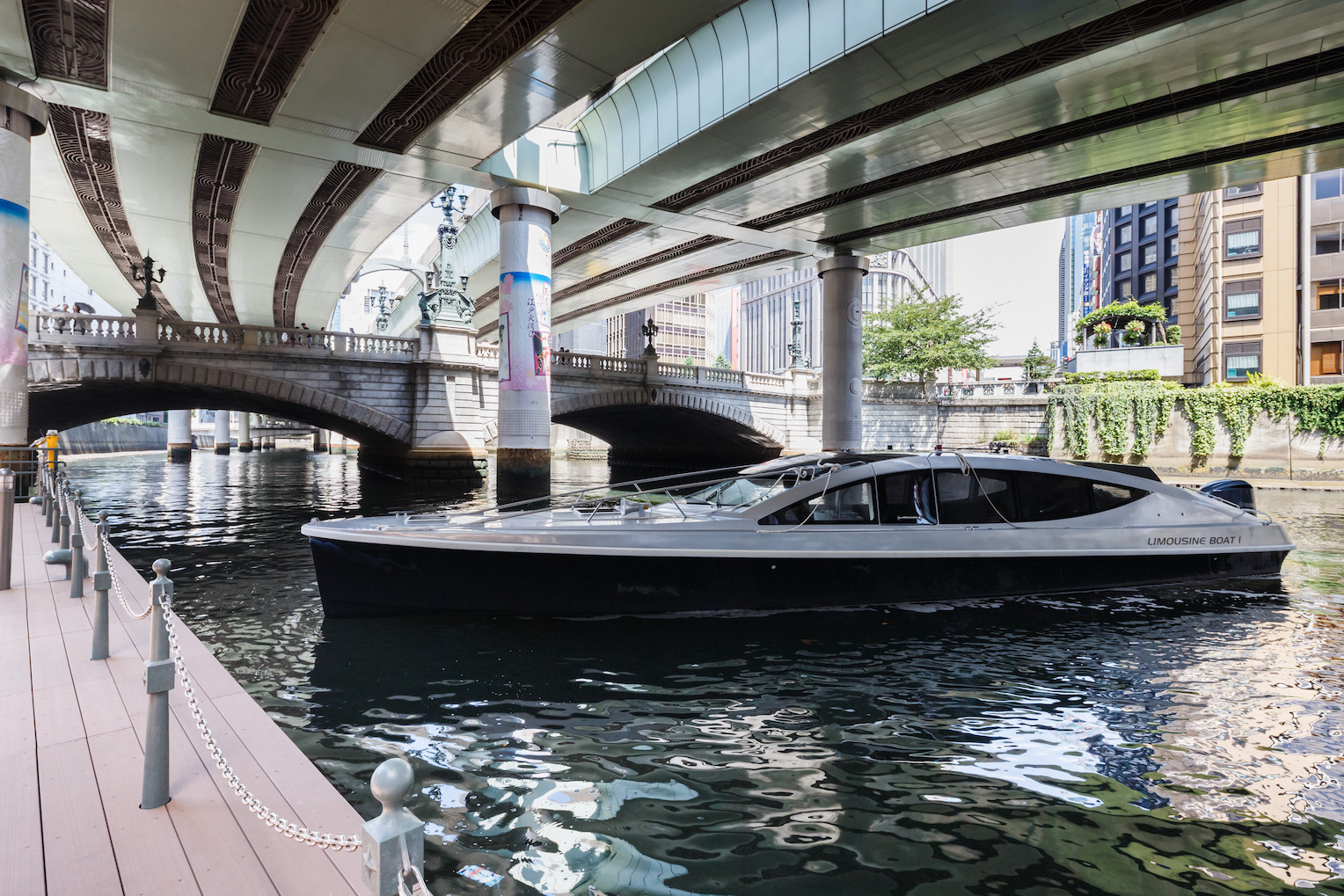 A Limousine Boat passing under the famous Nihonbashi bridge
- Boat transportation is an experience that has been around for a long time. Taking a creative approach to it seems to be Kanko-kisen-kogyo's strength.
Moriya: It may be more accurate to say that we see things as a "challenge" than in a creative way. Japan is an island country and was once known as a maritime powerhouse due to its number of water-based transportation companies. The truth is, many of those companies did more than just provide transportation for people. For example, a ferry would transport cargo along with its passengers. Or, there might be a case where a company running restaurant ships also has restaurants on land, or a boat rental company that is also in the lodging industry. Many of businesses had other sources of revenue besides the transportation of people. But, in the case of our company, we only engage in transportation business, so the reality is that we have to keep taking on these challenges. It's both our strength and our weakness. Our only way forward is to make the most of that strength while not letting ourselves get behind the times.
- That kind of resolution is part of Kanko-kisen-kogyo's mentality to always challenge things. Are there any other challenges you wish to undertake in Nihonbashi?
Moriya: We'd like to commercialize a cruise with non-Japanese guides for non-Japanese travelers. Local guides can end up sounding like they are just boasting about their country, and can be unable to accommodate to travelers' interests. We want to investigate and ultimately commercialize what the travelers in Nihonbashi are interested in and what they want.
In time, we also want to be the company that runs the best cruisers in Japan that people will say "I want to go on one of those" when they go to Tokyo. There are so many exciting things to do and delicious places to eat at on land. We're hoping our boats become an option among those that people want to choose.
Interview/Text : Shin Abe (Aritorism Editorial Department)
Photography : Daisuke Okamura
Kanko-kisen-kogyo
A water-based transportation company that provides regular services for enjoying Sumida river and Tokyo bay, charter cruises, and water taxis. During the "NIHONBASHI MEGURU FES" they are running the cruisers for the "Nihonbashi Light Cruise."
Limousine Boat Webpage
https://www.limousineboat.com
Kanko-kisen-kogyo Webpage
https://www.urbanlaunch.net