2019.02.08
"nihonbashi β," a joint development project bringing a new style to Nihonbashi, an intersection of people, things, and situations
"nihonbashi β," a joint development project bringing a new style to Nihonbashi, an intersection of people, things, and situations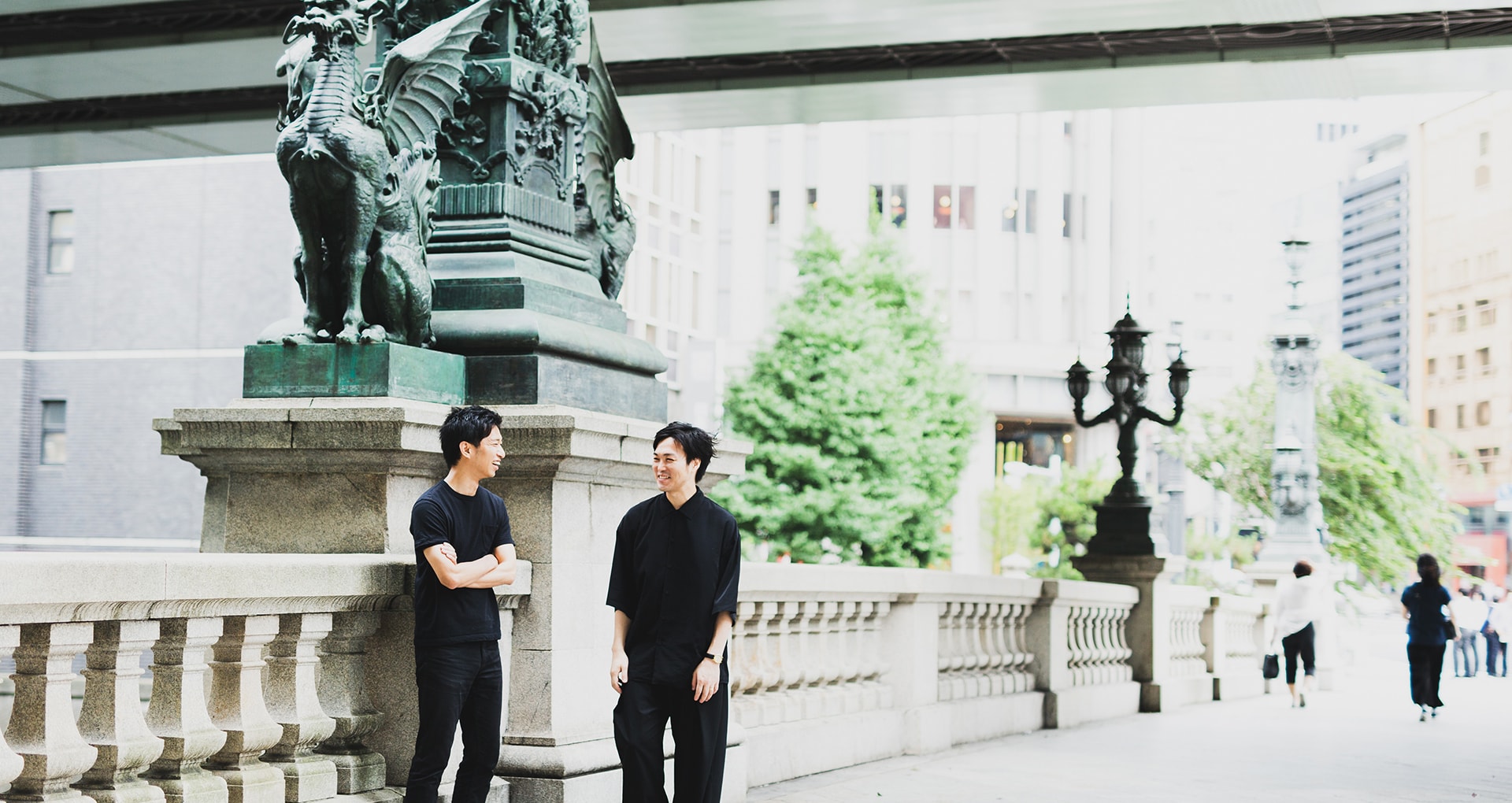 Known as the first out of the fifty-three stations of the Tōkaidō (a highway linking Edo-Tokyo and Kyoto during the Edo era), Nihonbashi is still adorned with milestones that mark itself as the starting point of the roads of Japan. In this town with a history of people, things, and culture being interconnected since the Edo era, a new project called the "nihonbashi β" is scheduled for launch this August, under the theme of bringing new life into Nihonbashi.

As the first project of the initiatives to incorporate joint development of the town's future by connecting young creators with Nihonbashi, a workshop program was held inviting various creators who are at the forefront of their respective industries as lecturers. The mission of the program? To utilize art and technology to design and create a "Noren (traditional Japanese store curtains)," the symbol of the town, for famous and well-established stores of Nihonbashi and to provide a new experience for visitors of this town.

Prior to the start of this program, we have joined for a stroll through Nihonbashi under the guide of Ms. Aya Sakamoto from Mitsui Fudosan, the producer of this project, and the art director, Mr. Naonori Yago and Mr. Akinori Goto, an artist and designer who also will be lecturing for the workshop. Afterward, we invited Masayoshi Boku of Bascule who is also involved in the production of this project to discuss the possibilities of Nihonbashi as a town and the meaning behind this project.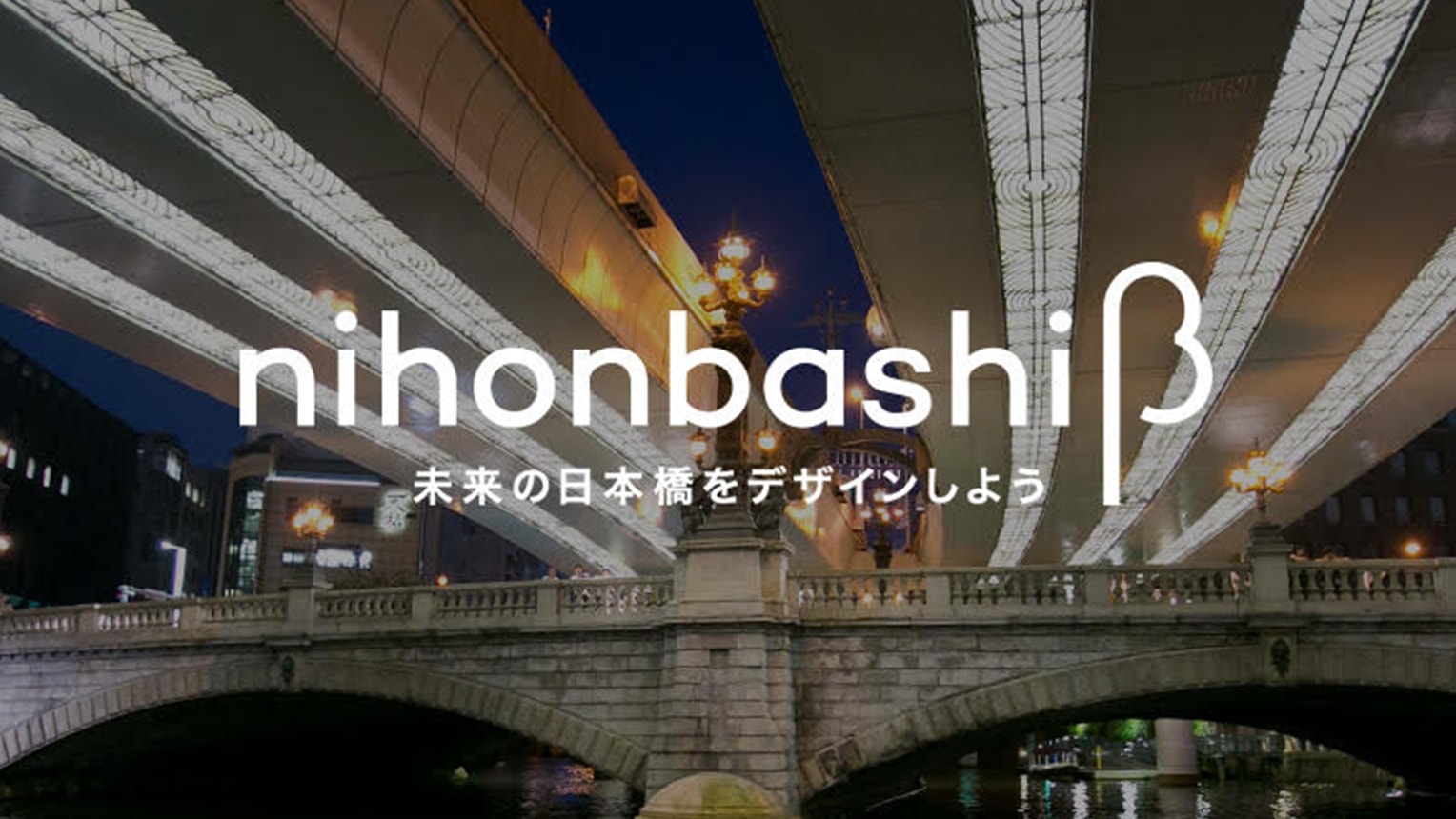 Nihonbashi, a Town in-midst of Transition
Aya Sakamoto (hereinafter, Sakamoto): So we just took a stroll through Nihonbashi, but what did you think?
Akinori Goto (hereinafter, Goto): My impression was that of a pretty imposing town full of stone buildings. I also feel that in addition to the stores that have been continuing since the Edo era, there are also new buildings such as the Coredo Muromachi, making the town an interesting with the mixture of the old and the new.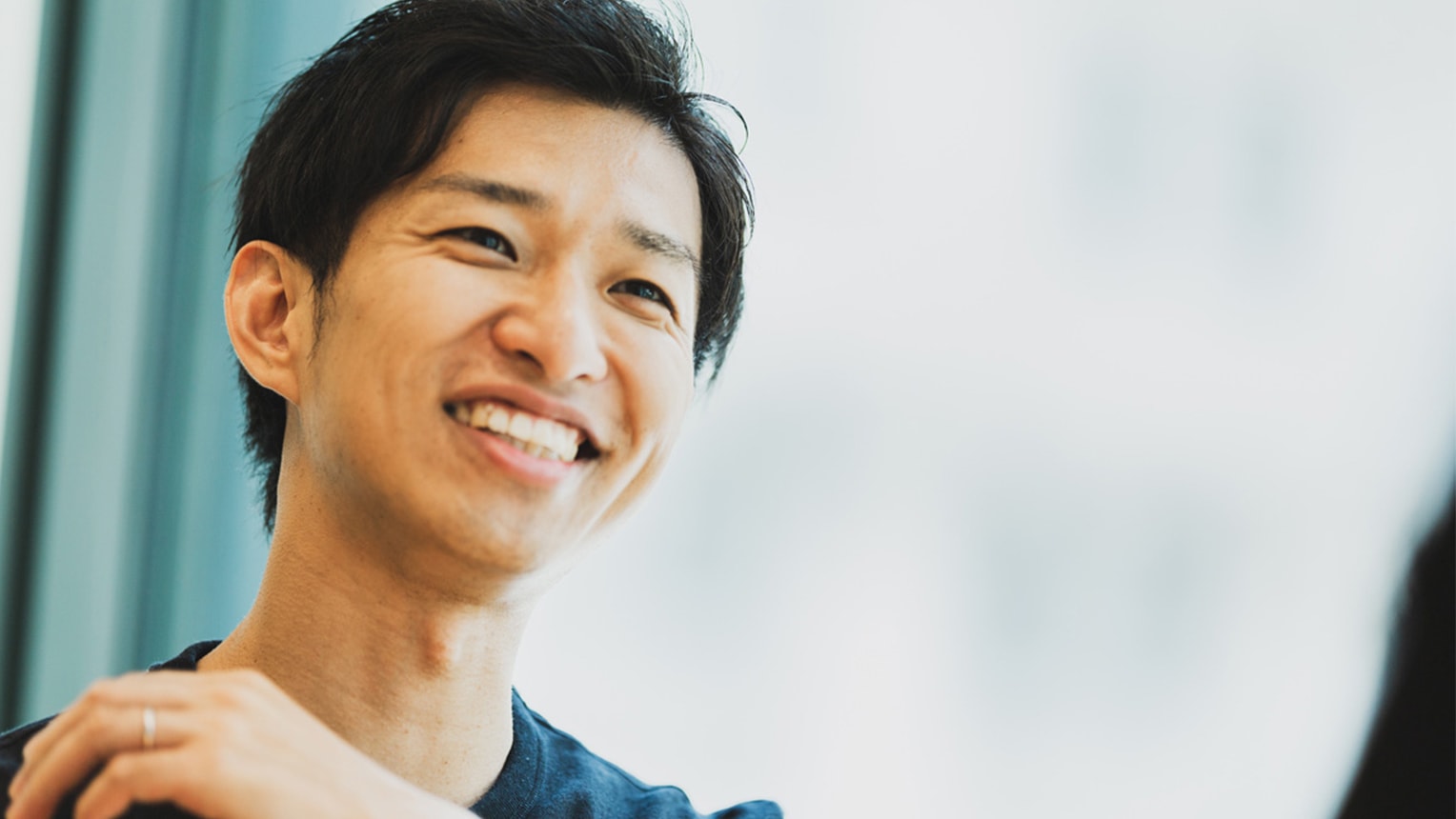 Akinori Goto Born in 1984 in Gifu Prefecture. Artist and designer. Graduated from the Department of Visual Communication Design, Musashino Art University. Famous work includes his sculptures of time, the "toki-" series. Recent exhibits include shows at the SXSW ART PROGRAM (USA, 2017), the Ars Electronica Festival (Austria, 2017), and THE DORAEMON Exhibition TOKYO (Tokyo, 2018). Major awards include an Honorary Mentions at the PRIX Ars Electronica, the Grand Prize at the Japan Sign Design Association, Good Design Award, and more.
Naonori Yago (hereinafter, Yago): This is actually my first walking around Nihonbashi like this, but I did have this vague image of downtown. So I was surprised at the amount of traffic especially along the main street. But once you take a step in the streets, there are calm areas and Jinja-shrines between buildings. Such contrast made the town more endearing. I also feel that in addition to the stores that have been continuing since the Edo era, there are also new buildings such as the Coredo Muromachi, making the town an interesting with the mixture of the old and the new.
Sakamoto: The Nihonbashi area was very prosperous during the Edo era since it was the starting point of the Gokaido (the Five Highways) and was a center where many people and things gathered.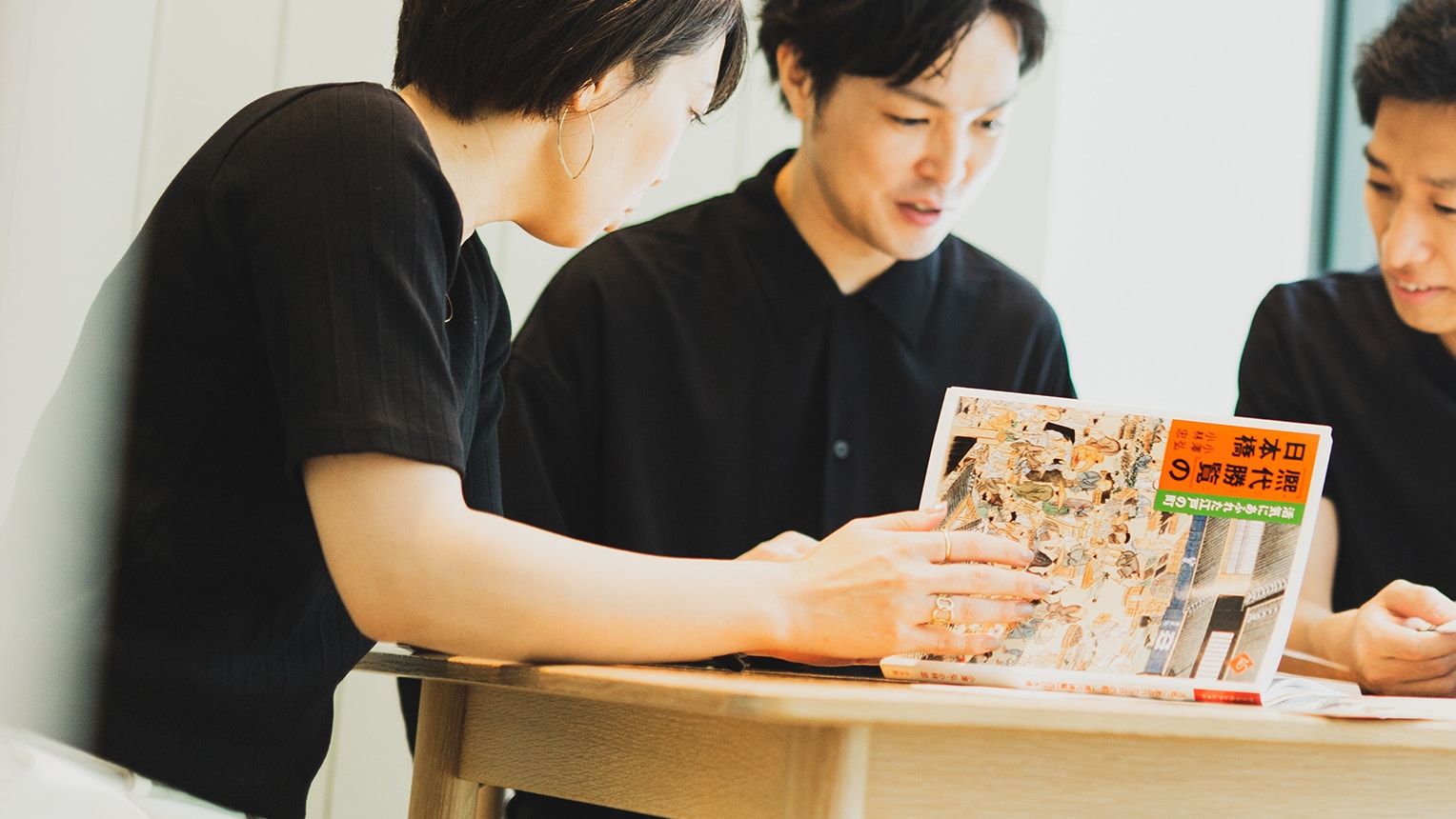 Looking at the reference materials) This is an almost 12 meters long picture scroll showing what it was like back then. A replica of the scroll is displayed near the underground center entrance/exit of the Mitsukoshi Main Store in Nihonbashi.
Yago: That's a lot of people. A lot of them are wearing hats and everyone is well-dressed. Now that's something I would have liked to see with my own eyes.
Sakamoto: Most of the parts in Nihonbashi was lost to fire during the Great Kanto Earthquake, but the area was formerly a castle town centered around various stores during the Edo period. During that time, there were waterways all across the town, and many of the resources were shipped over water using these channels.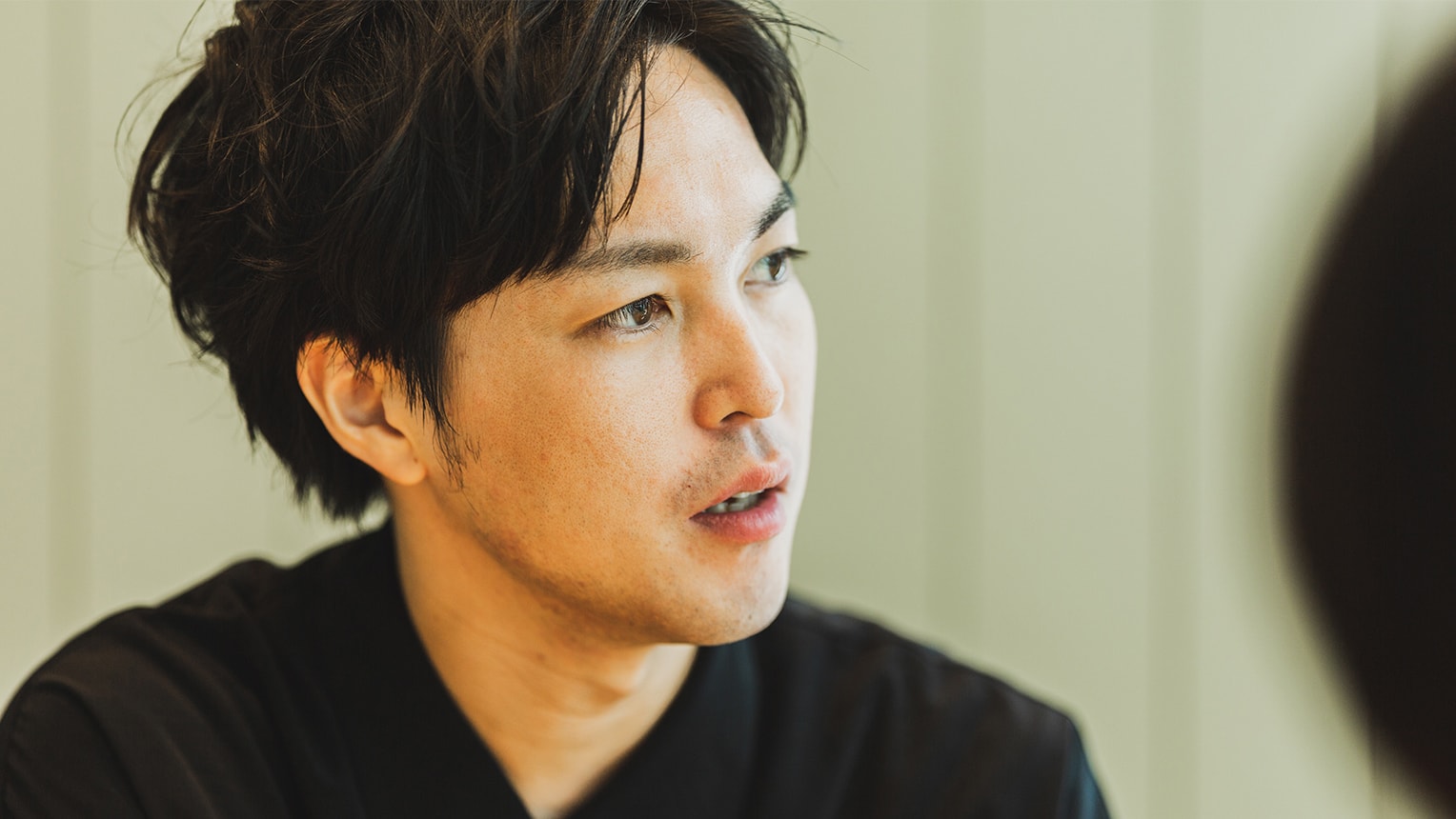 Naonori Yago Born in 1986 in Shizuoka Prefecture. Graduated from the Department of Visual Communication Design, Musashino Art University. Began his career at HAKUHODO Inc. in 2009 and moved to SIX Inc. in 2013. His works include visual arts of LAFORET HARAJUKU, FINAL HOME, JOSEPH, and NHK's Guardian of the Spirit (2016) television drama series; CD album covers and music videos of RADWIMPS, Chara, Masaki Suda, Shudan-Kodo, Natsume Mito, and other artists; live production of MAN WITH A MISSION; and art direction of Mikiya Takimoto's "crossover" exhibition at the LAFORET MUSEUM. Awards include the Tokyo ADC Award, D&AD, New York ADC.
Goto: It was literally the center of Edo, being the starting point of various factors from logistics to culture. It's interesting how I think of Nihonbashi back then as a place for the townspeople, but now as a high-class town.
Sakamoto: The fact that there are many department stores that began from Gofuku-ya (kimono fabric shops) here may be one reason for the town's high-class image. After the riverside fish market of Nihonbashi, which handled the food distribution of Tokyo, was devastated from the Great Kanto Earthquake, the market was relocated to Tsukiji, and the town experienced a long period of stagnation. If you ask the people of some long-established stores, they say that there were even times when it was so deserted that you couldn't even find a cat wandering around. Nowadays, it seems like there has been a significant increase of visitors in the town regardless of a weekday or a weekend. Although the area has an image of being in development, from the Showa-dori street to the east side of Nihonbashi, there are many new stores such as coffee stands and galleries opening in renovated buildings. There is so much uniqueness in each area that makes even a simple walk around the town an enjoyable one.
Noren as the town symbol
Masayoshi Boku (hereinafter, Boku): The town of Edo was considered as one of the most prosperous towns in the entire world back then, and at its center was Nihonbashi. In "nihonbashi β," we want to continue thinking about the roles of Nihonbashi as a town of traditions when considering its future.
Yago: Because of its deep history, I feel that this town can be interpreted in so many different ways depending on the person. I mean, if you try studying the history from the very beginning, that would probably take almost a year (laughs). So as they might say, "use your feet and walk the walk." I think it will be better to find something interesting on the walk and focus on understanding that part of history.
Boku: Even in this workshop program, we are planning to walk around the town of Nihonbashi at our first meeting. By doing so, we want everyone's views to be on an even playing field, and only then do we want them each to dig deeper into what they are interested in.
Goto: When we were walking around the town, there was a grandpa who petted the lion statue at the entrance of Mitsukoshi. That is the kind of information you can't find from researching documents and an important factor in the town.2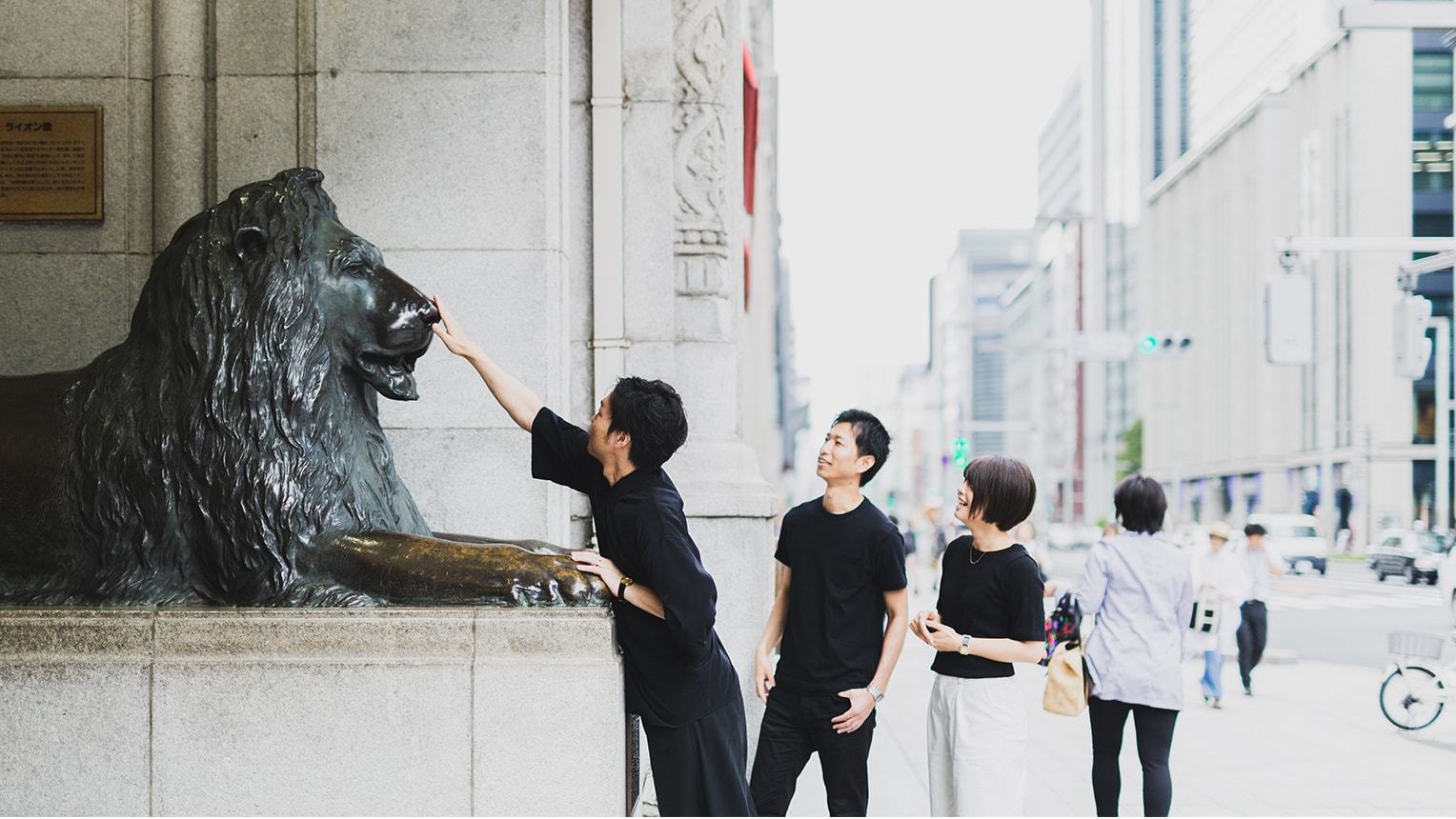 Yago: I've been working with LAFORET HARAJUKU, and I feel that it has a symbolic presence of the town. Every time the billboards of that building changes, it feels as though the atmosphere of the Harajuku intersection also changes. On the other hand, since you really don't notice any advertisements in Nihonbashi, I had an impression that this town was guided by something else. In that sense, I saw many noren in the town which is also the theme of the current workshop. They may be playing an important role in creating the atmosphere of the town.
Sakamoto: Indeed, noren is an important factor of the town. We, too, created an original noren to commemorate the opening of the Coredo. It's not that there is a regulation, but most of the new stores that open in Nihonbashi hang norens at their store openings.
Goto: Norens communicate the intangible things such as the credibility and dignity of the store. So when we were thinking of the theme for this event to be "an update to the noren," it made sense to take an approach that appeals not only to our eyes but also to all of our five senses. When you walk around a town in a foreign country, the sounds you hear may be different from what you would hear in Japan. That kind of factors shape the atmosphere of the town. Walking around Nihonbashi, it was an unexpected discovery that I heard more car noises than I had imagined, and focusing on such parts of the town may be interesting.
Boku: I agree. A standard noren would be a navy blue fabric with a symbol that's outlined in white, but I believe we can come up with other styles.
Goto: I think that what used to be the most functional and easy to handle became the standard noren. We might even come to a new type of fabric or interaction if we really question the essentials of the functions and significance of noren in modern times.
Yago: From my point of view as an art director, I felt that adding an interactive experience while maintaining the aesthetic beauty and dignity of the noren would be interesting. Also, norens sway with the wind, and it may be necessary to think of an ideal form by also considering such features and the surrounding environment.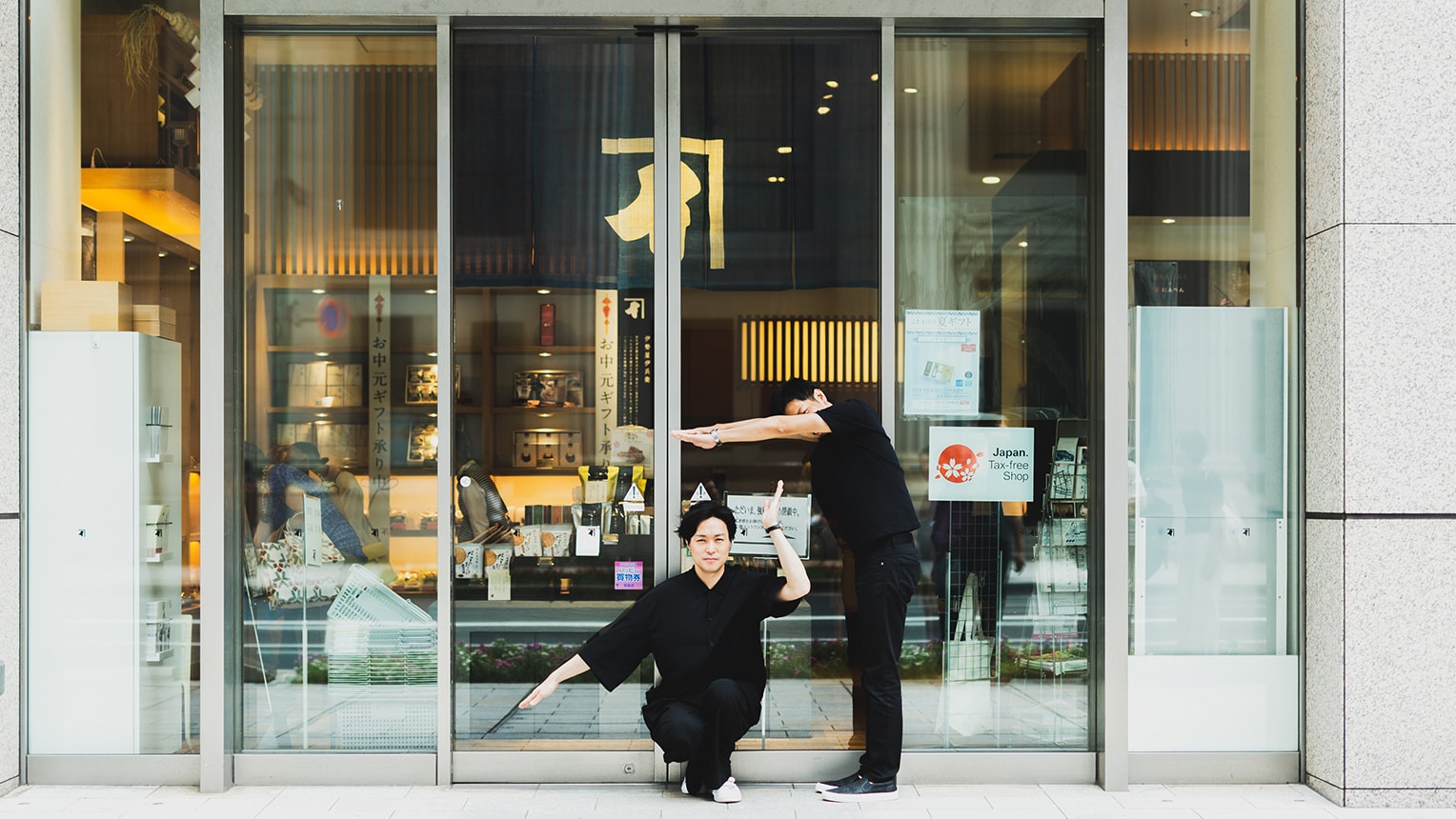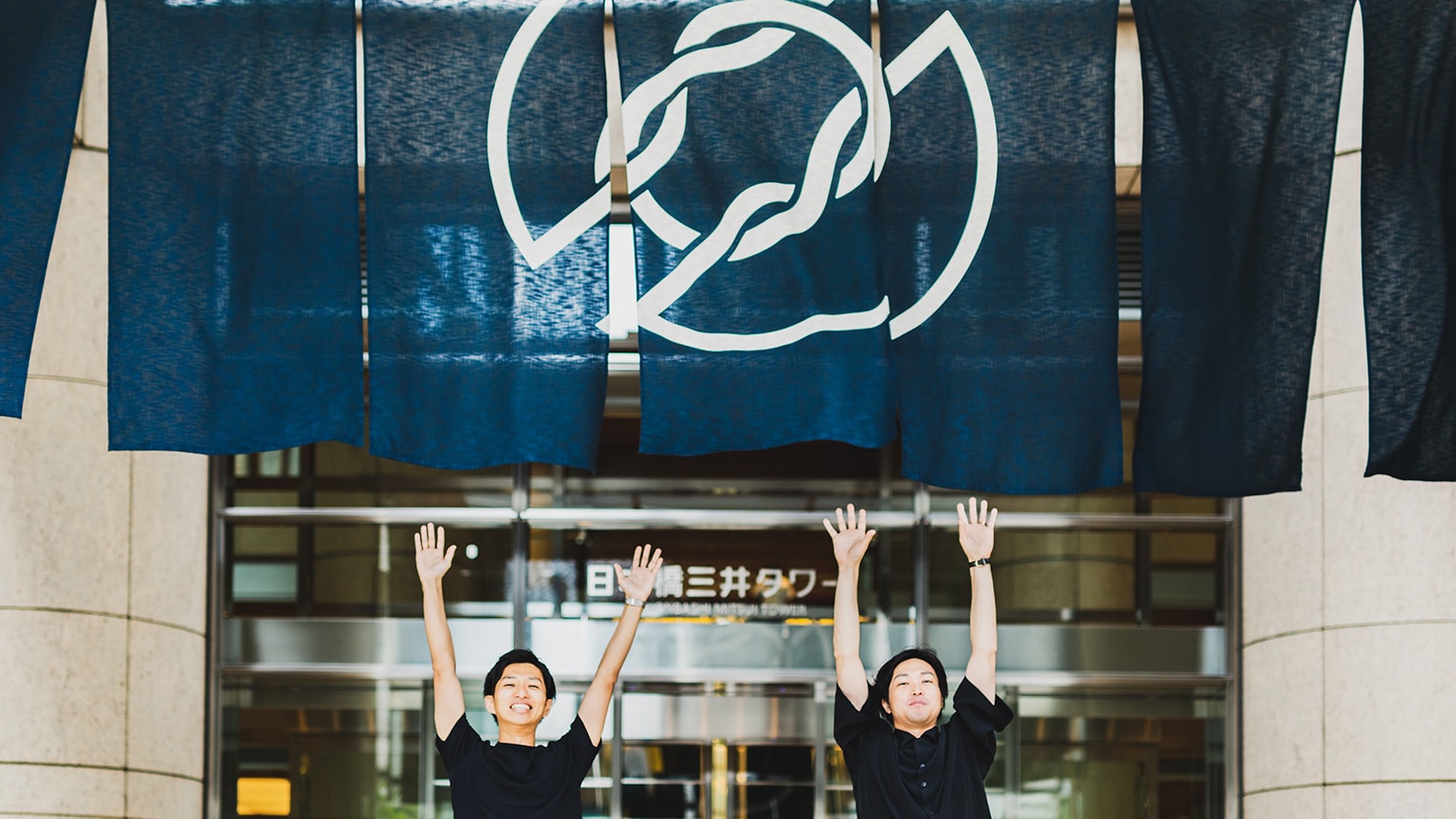 A Chemistry through Collaborative Production
Boku: A major feature of this project is that it is a collaborative production of multiple creators, all with different backgrounds. Both of you were involved in a similar creator training program that we operated called the "BAPA." What do you think are the pleasures of being involved in a collaborative production?
Goto: Everyone has different views and ideas which makes it interesting, almost like a mixture of various martial arts. In our ordinary work, we are all given responsibilities and titles so it's kind of difficult to have an opportunity to create something with others on an equal stage. In fact, at BAPA, we were all serious and honest with each other and had this mentality that "Even if I were to die, I don't want to make something boring" (laughs).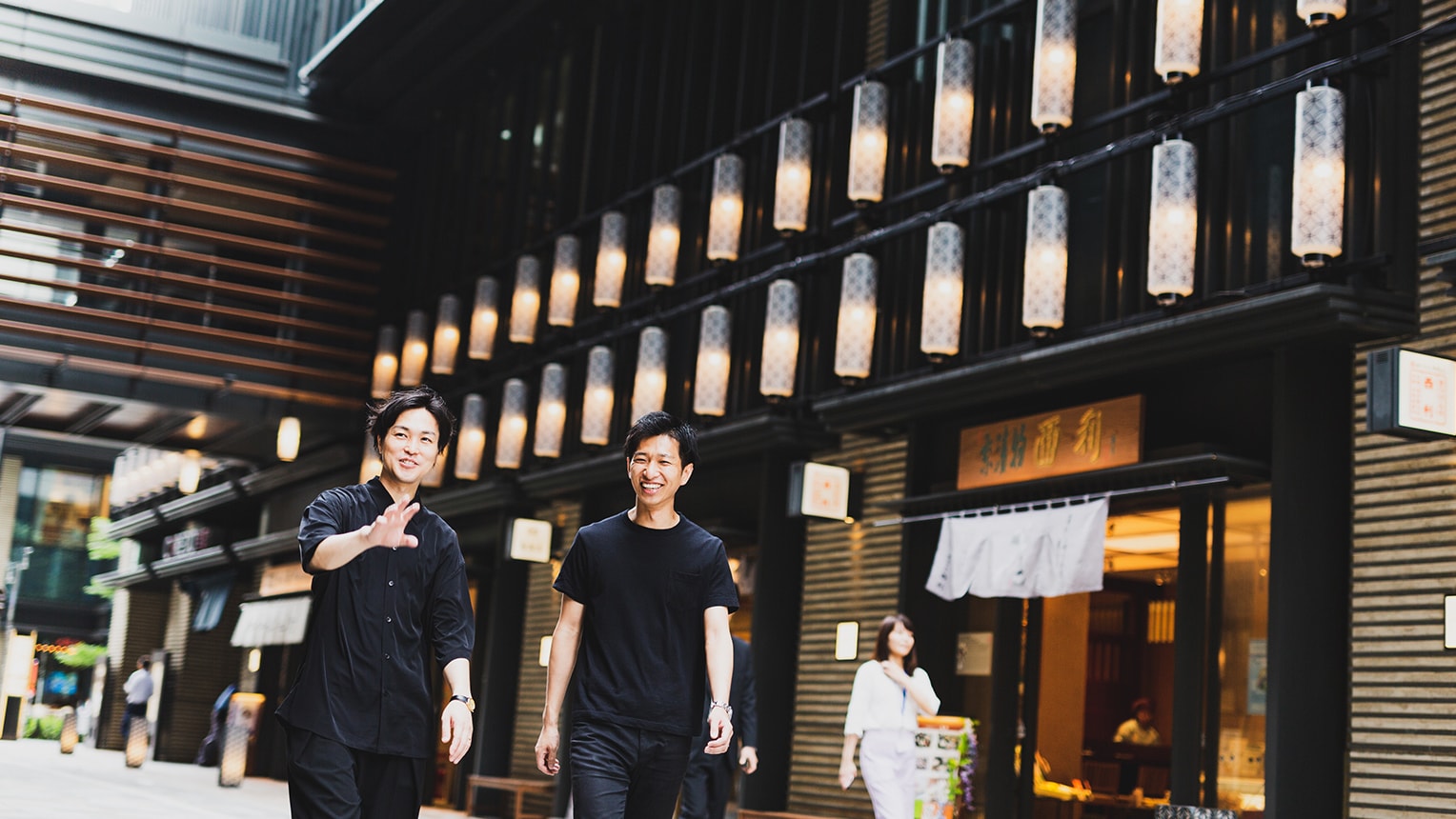 Yago: Oh, and another thing. I saw the member of the same team during BAPA who was a student at the time working at a production company which I visited for a meeting. At the time, we weren't working together, but I would want to one day. It's such a valuable opportunity to meet comrades who we can share empathy with which doesn't happen often during work.
Boku: Another important point of this program is to create something into shape while getting connected with the townspeople of Nihonbashi. Are there anything you two treasure when working on a project related to the region?
Yago: I believe that the most important thing to have is to want to contribute to the region. It will probably not work if you just think of expressing yourself through such opportunities. It is important to have an attitude of thinking about the future of the town through questioning the messages the town needs now and the ways to solve its issues.
Goto: When you research about the characteristics and history of the town in your best ways possible, there are times when you see something else more appealing than what the town itself wish to highlight. The factors that make up a town are spread out in so many different locations. So, if you can become conscious of approaching them from a slightly different way, new discoveries and never-before-seen ideas could be found.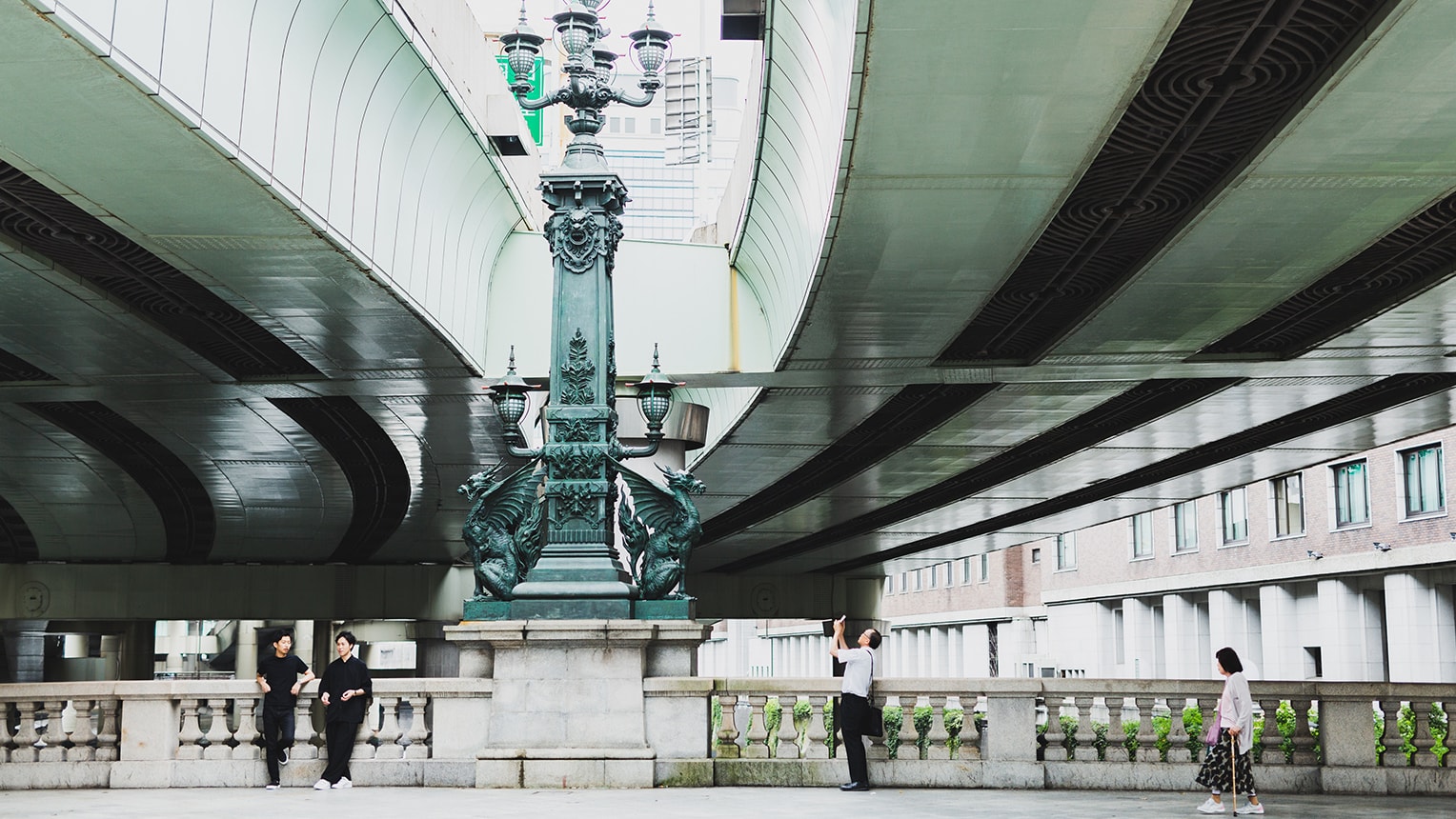 The Future of Nihonbashi Created by its People
Boku: When we began discussing this project with the Mitsui Fudosan team, we started talking about wanting to create a town where everyone can greet each other, which I truly agreed. I am hoping that these initiatives could lead to building such a future of the town.
Sakamoto: Nihonbashi is a town created by the people. Through disasters and air raids, the tangible shapes may have been lost but the culture, history, and the spirit are all definitely handed down within the townspeople. People might think of Nihonbashi as having a high threshold, but the reality is that the town has a comfortable and a kind community. Connecting with those people is another appeal of Nihonbashi, and I feel that it's a town that gets even more interesting as you have deeper conversations.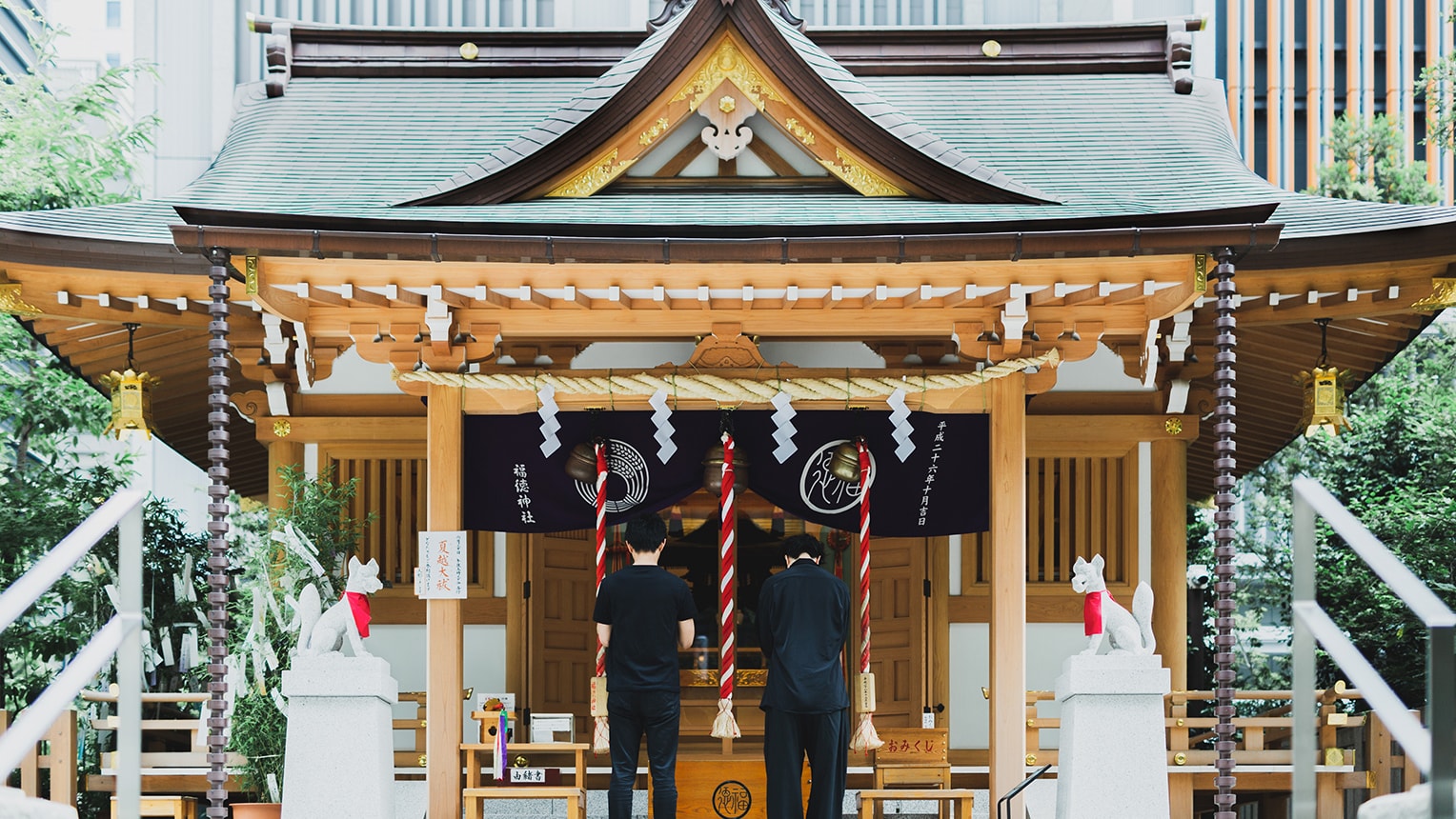 Goto: Having someone you want to meet and talk to is all the more reason to go there. In this age when we can buy almost anything over the internet, people you can only meet and the experiences you can only feel and taste through visiting the place is becoming ever more important, and I believe that Nihonbashi is a place that consists of many of those experiences.
Yago: Personally, I really don't want a town like Nihonbashi to become too touristy. And though there are some fantastic architectures that are specified as important cultural properties, I want people to continue using them rather than having those architectures become a mere tourist attraction.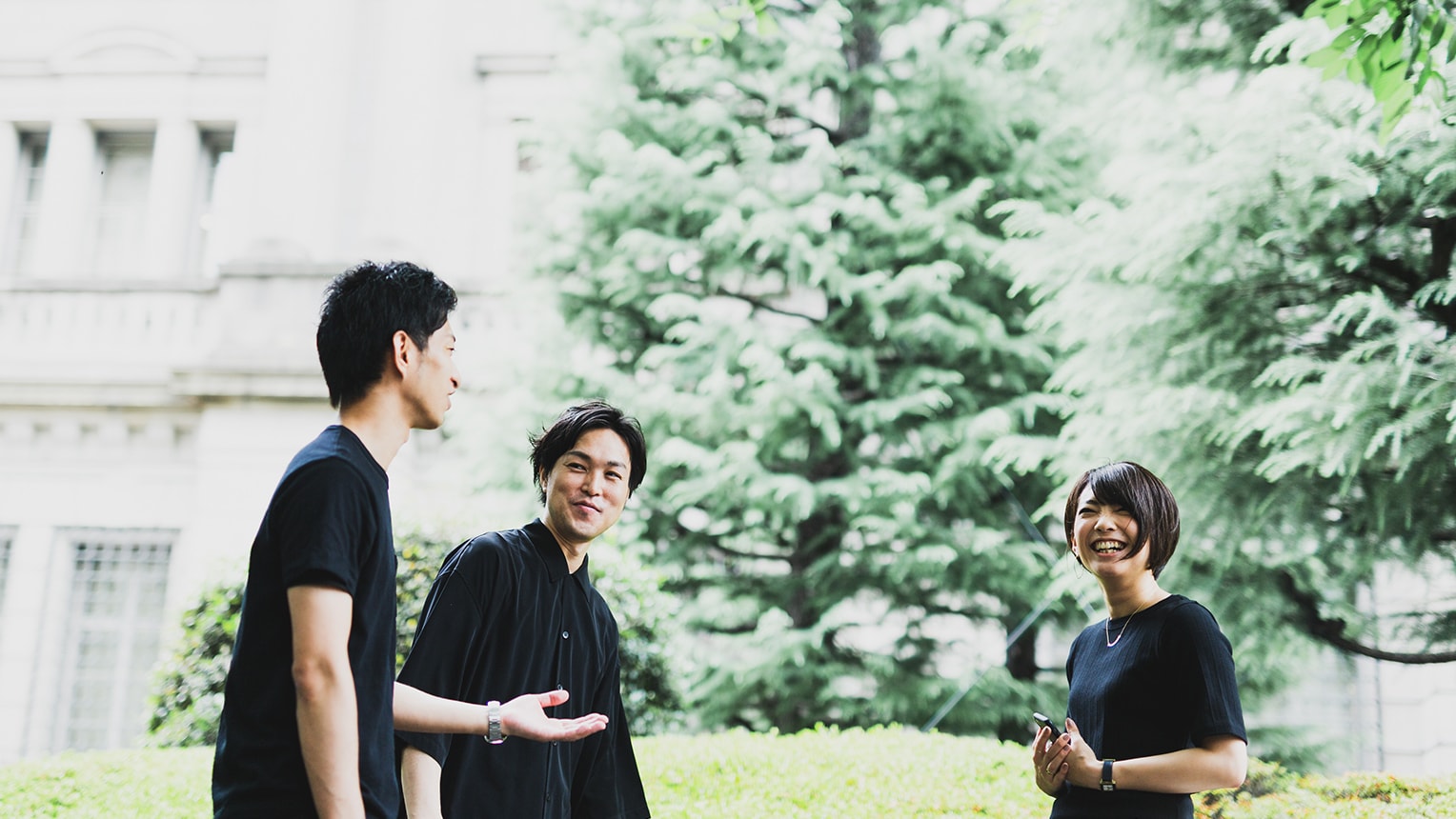 Sakamoto: That's true. A building is not simply a box, there are live people inside. The people of Nihonbashi, in addition to having a generational link where traditions and cultures are handed down, also has a strong link between neighbors. For example, eel restaurants and sushi restaurants have a good relationship with each other. Also, everyone here is all so active and full of energy that they all have the mindset of continuing to find new challenges.
Boku: It's great to see that even people in their 70s and 80s are still in the front lines working hard in Nihonbashi. On the other hand, I hope that we can offer opportunities for the younger generation to get involved with the town to find something challenging through this project, and hopefully, we can start a phenomenon where the younger generation can create something new together right here in Nihonbashi.
Yago: It really is fascinating to have young creators join the town and have those initiatives come into shape. I hope that this won't just become a one time project after this one, and continuing with this project, I believe, would bring about a bigger significance to it.
Goto: It would be very great if new norens could be created that brings back memories of the time when we look back 10 years from now. If we can find a way to successfully combine a traditional medium like the noren with current technology, we might create an entirely new format for the noren. That in itself, I think, will be a reflection of the features of Nihonbashi, a town with a mixture of the old and the new.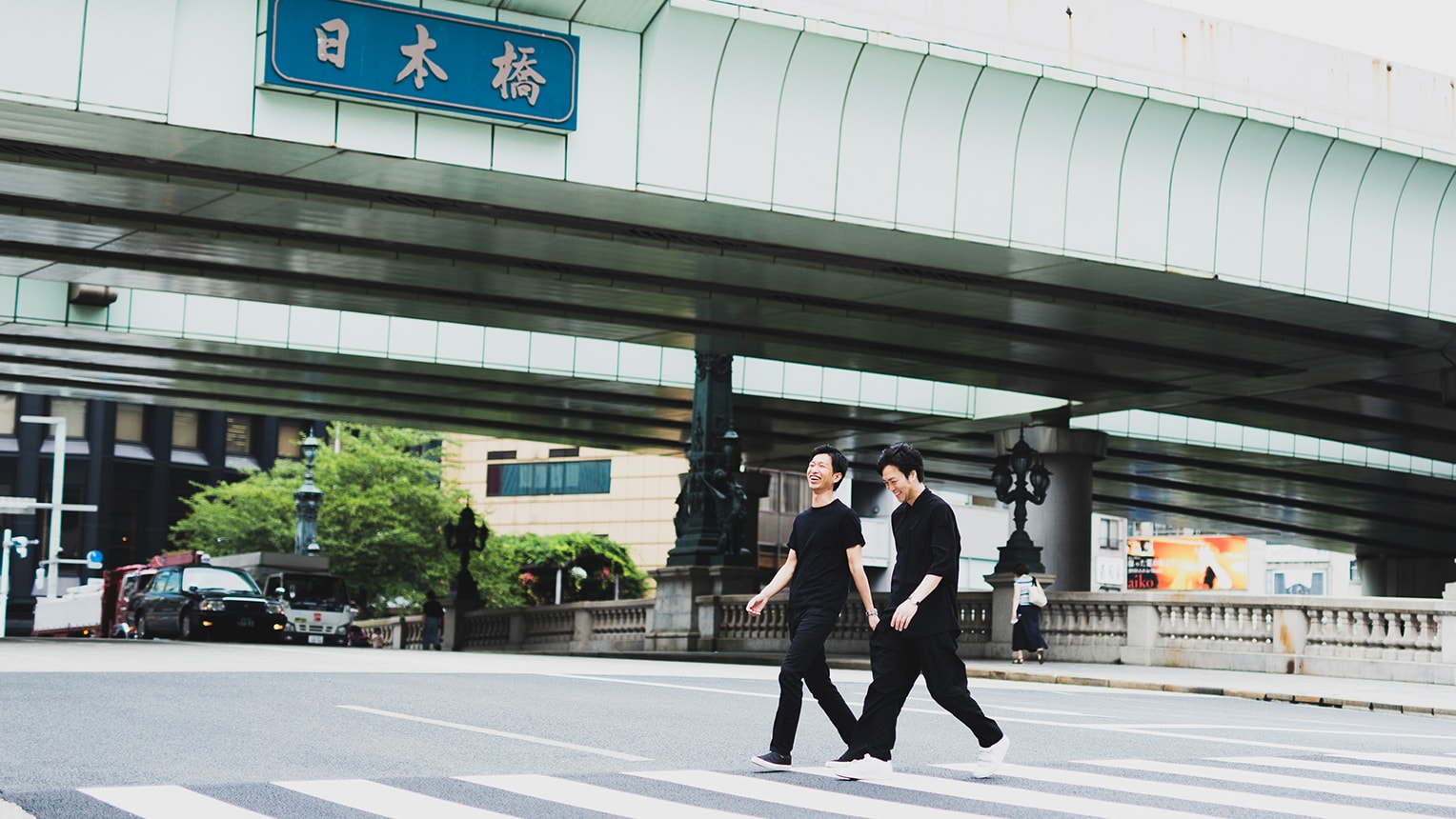 Article: Yuuki Harada / Photos: Yurica Terashima
First Appearance: JDN
nihonbashi β
"nihonbashi β" is a joint project to connect young creators with Nihonbashi to create the future of this town. As the first in its series, we invited creators who continue to take on new challenges in their respective industries as instructors, and together with the famous stores in Nihonbashi, held workshop programs to create a new experience in Nihonbashi.