2020.03.17
SAKURA FES NIHONBASHI / OFF TO MEET Short Report: Background on Original Souvenir Production.
SAKURA FES NIHONBASHI / OFF TO MEET Short Report: Background on Original Souvenir Production.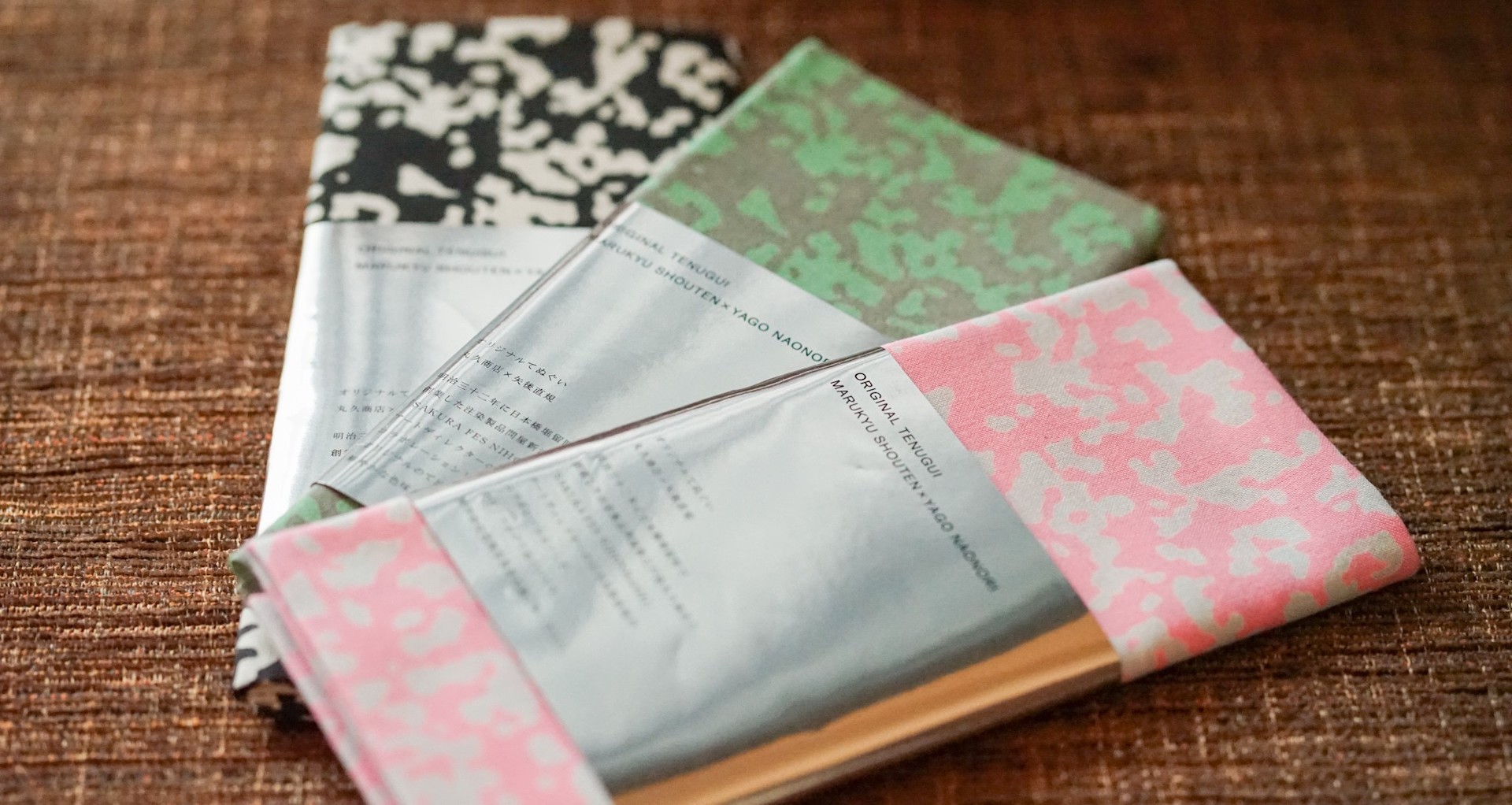 The co-creation project "nihonbashiβ" connects the city of Nihonbashi with young creators in a variety of fields.The nihonbashiβ project has developed a wide range of collaborative projects up to this point, and also worked on collaborative product development with "established business x creator" teams for SAKURA FES NIHONBASHI, which began on March 15th (Sun). We spoke with SAKURA FES NIHONBASHI art director Mr. Naoki Yago for this short report about the background to production of the original hand towels for the event, which were designed by Marukyu Shouten (founded in 1899).
Learning About Dye Techniques and Expressions.
Marukyu Shouten is a wholesaler founded in 1899 who agreed to join in for the current collaboration, and is also a producer of "chusen"-style dyed apparel, hand towels, and more. The project gained the approval of Ms. Misako Saito, the fifth in the family line to head the business, and began to move forward.
First, everyone met for the first time at Marukyu, a store filled with rows of original hand towels. The talks began with Ms. Saito explaining the dying techniques and perspectives on colors and patterns involved in their production for Mr. Yago.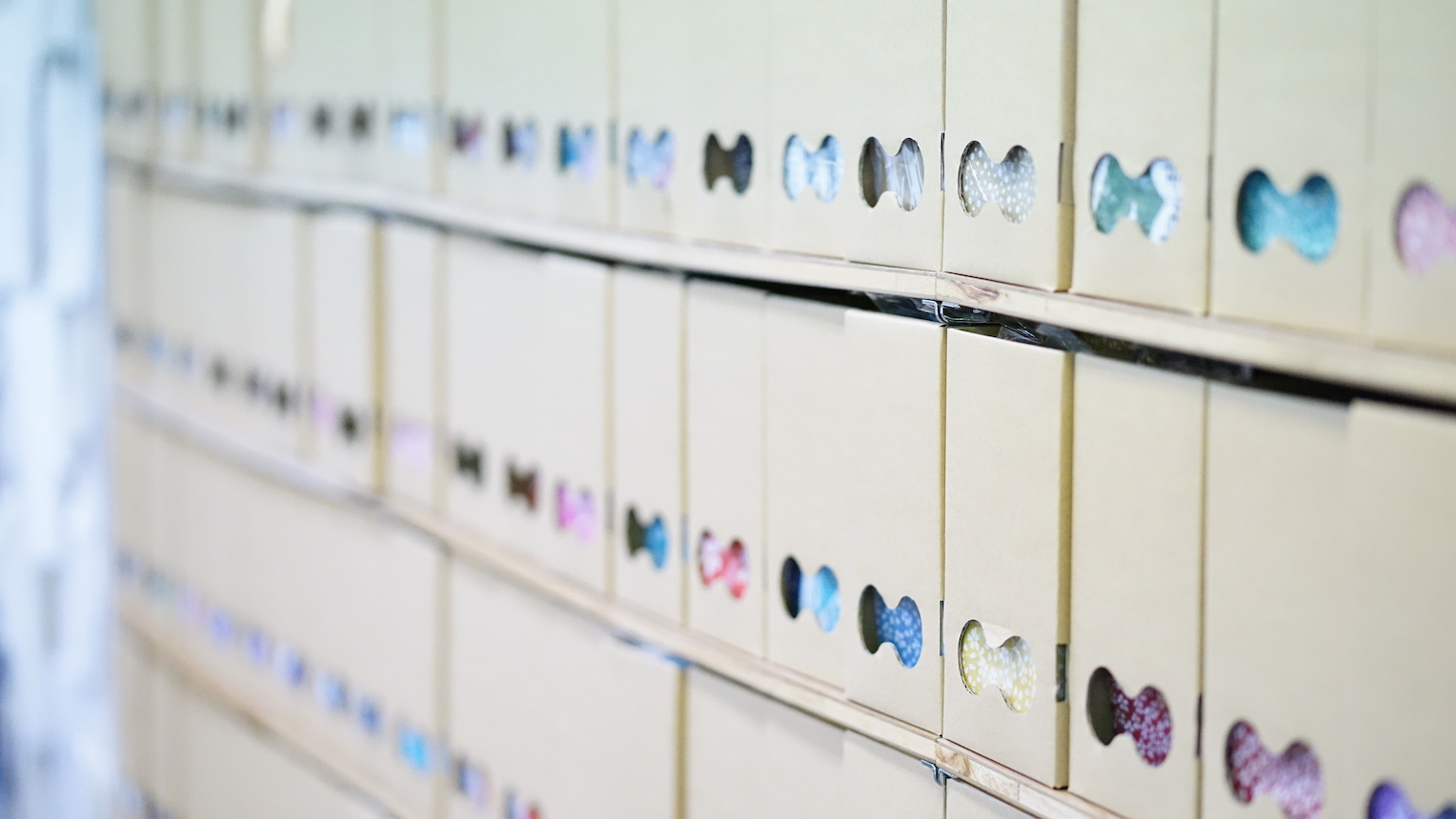 The Marukyu store, filled with rows of original-patterned hand towels. It's fun just to window shop and see the rows of diverse colors and patterns, from new concepts to revivals of past designs. (Image provided by: SAKURA FES NIHONBASHI)
The first thing the visitors saw was the pattern paper used in chusen dye techniques. The intricate patterns are beautiful on their own, to the extent there are even collectors outside Japan. Chusen dyes use patterns for placement of a setting starch (made by mixing mochi rice with seaweed). This means chusen-dyed colors emerge in the opposite order from the silk screens frequently used for printing on fabrics. Mr. Yago listened, seemingly fascinated by this uncommon knowledge about chusen techniques.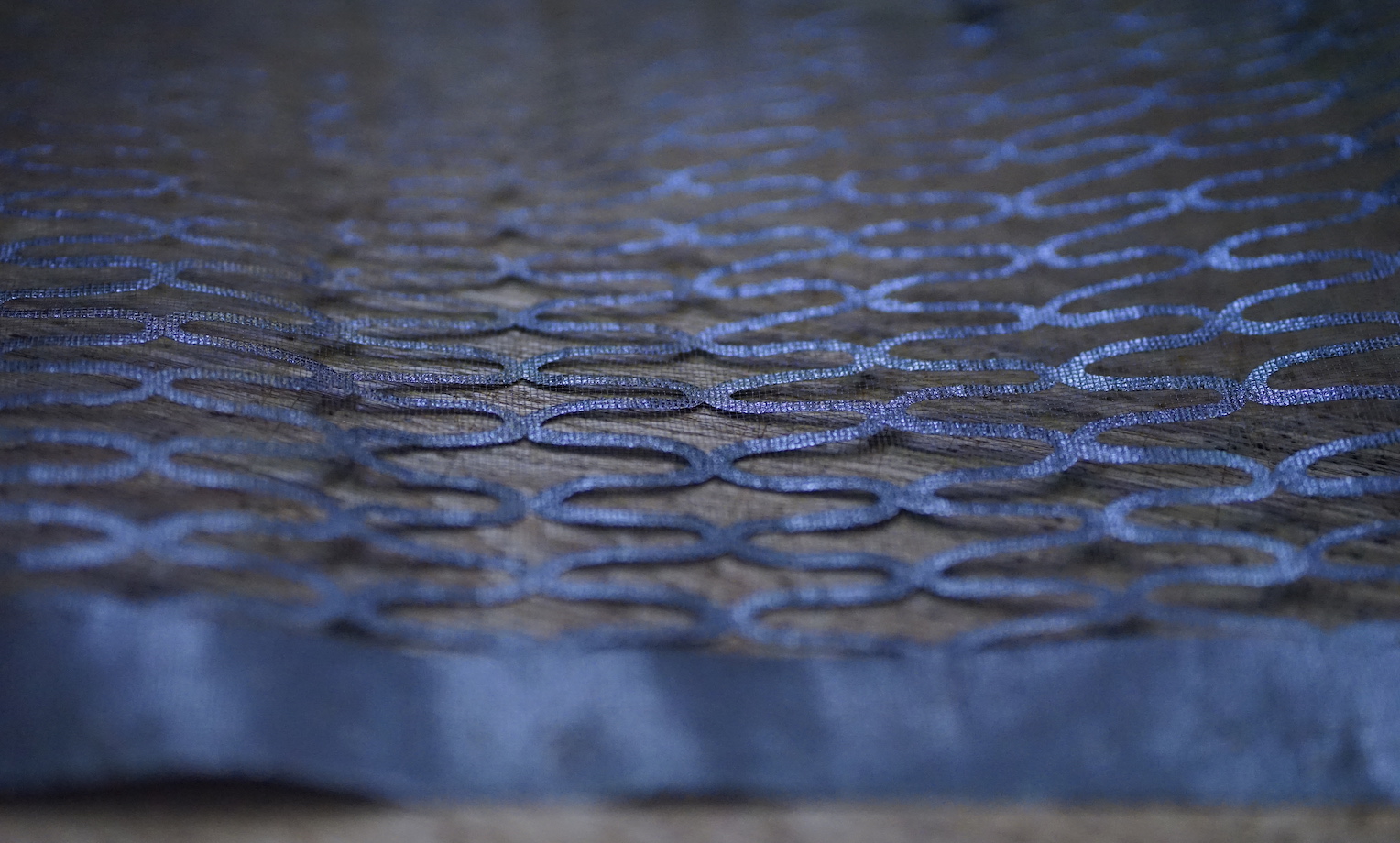 A pattern for lacquer work. The parts that look like a mesh are called "sha," and are made of silk. This "sha" allows for expressive patterns even with space between them. (Image provided by: SAKURA FES NIHONBASHI)
Next, the visitors got to see finished hand towels produced with this dye technique. Ms. Saito gave a precise explanation of the uncontrollable ways dyes mix, and their capacity for serendipitous expression, both unique to dyes as a medium. The visitors got to see the inevitable mixtures of colors – which occur even if artisans try to prevent them – on actual fabric.
Mr. Yago gazed intently at these spontaneously expressive, uncontrollable works, before suddenly turning his eyes toward the "nukizome" or discharge printing style.
"These fine white lines are very pretty," he noted.
"Nukizome" printing doesn't pour dyes over colorless fabric; instead, it pours over discharge agents, generating patterns by removing fabric colors. Meanwhile, chusen techniques pour on dyes after this removal with discharge agents. Sometimes, delicate white lines emerge between colors due to tiny variances in dye areas when re-dying areas that have been stripped of base colors. This distinctive trait fascinated Mr. Yago.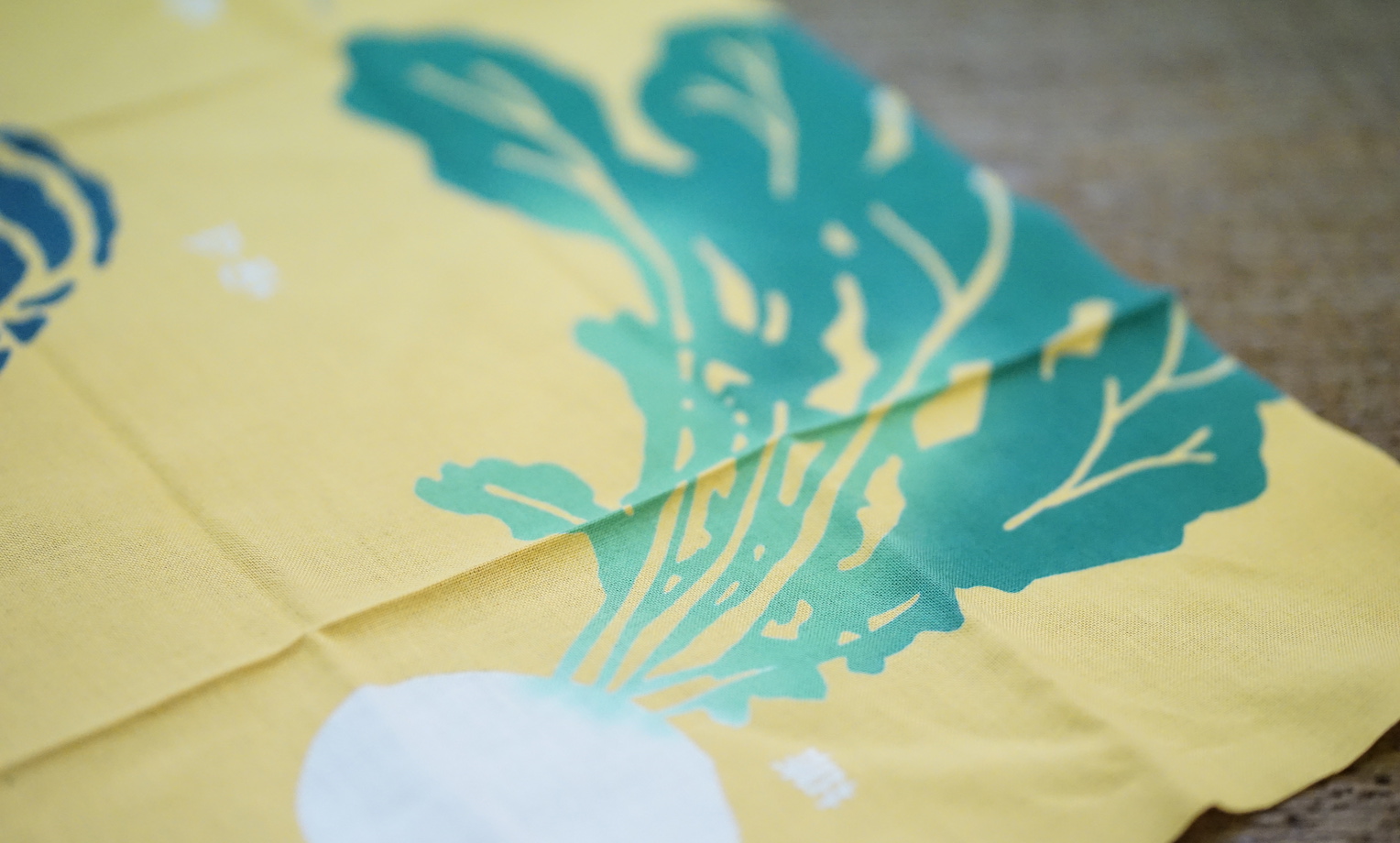 Thin white lines are visible where the yellow base color was removed to add green dye in the same sections. (Image provided by: SAKURA FES NIHONBASHI)
SAKURA FES NIHONBASHI's Key Visuals Developed With Color Variations.
After the initial meeting, Mr. Yago produced a rough draft design. His proposal was to develop three color variations with the SAKURA FES NIHONBASHI key visual. Based on the rough draft with its detailed depiction, Ms. Saito began by confirming it was an attainable goal with pattern-making and dye techniques.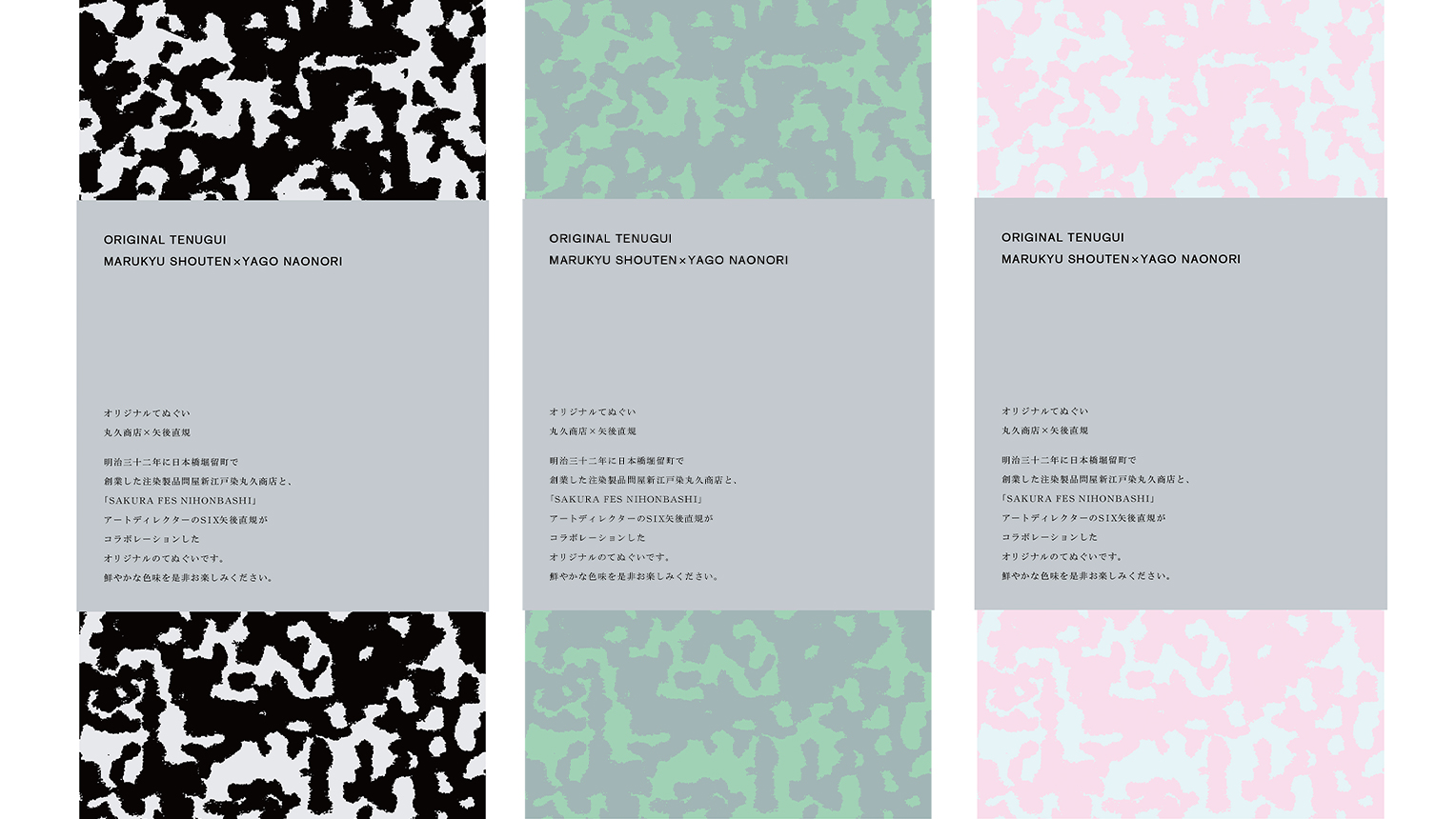 The design sample Mr. Yago produced. (Image provided by: SAKURA FES NIHONBASHI)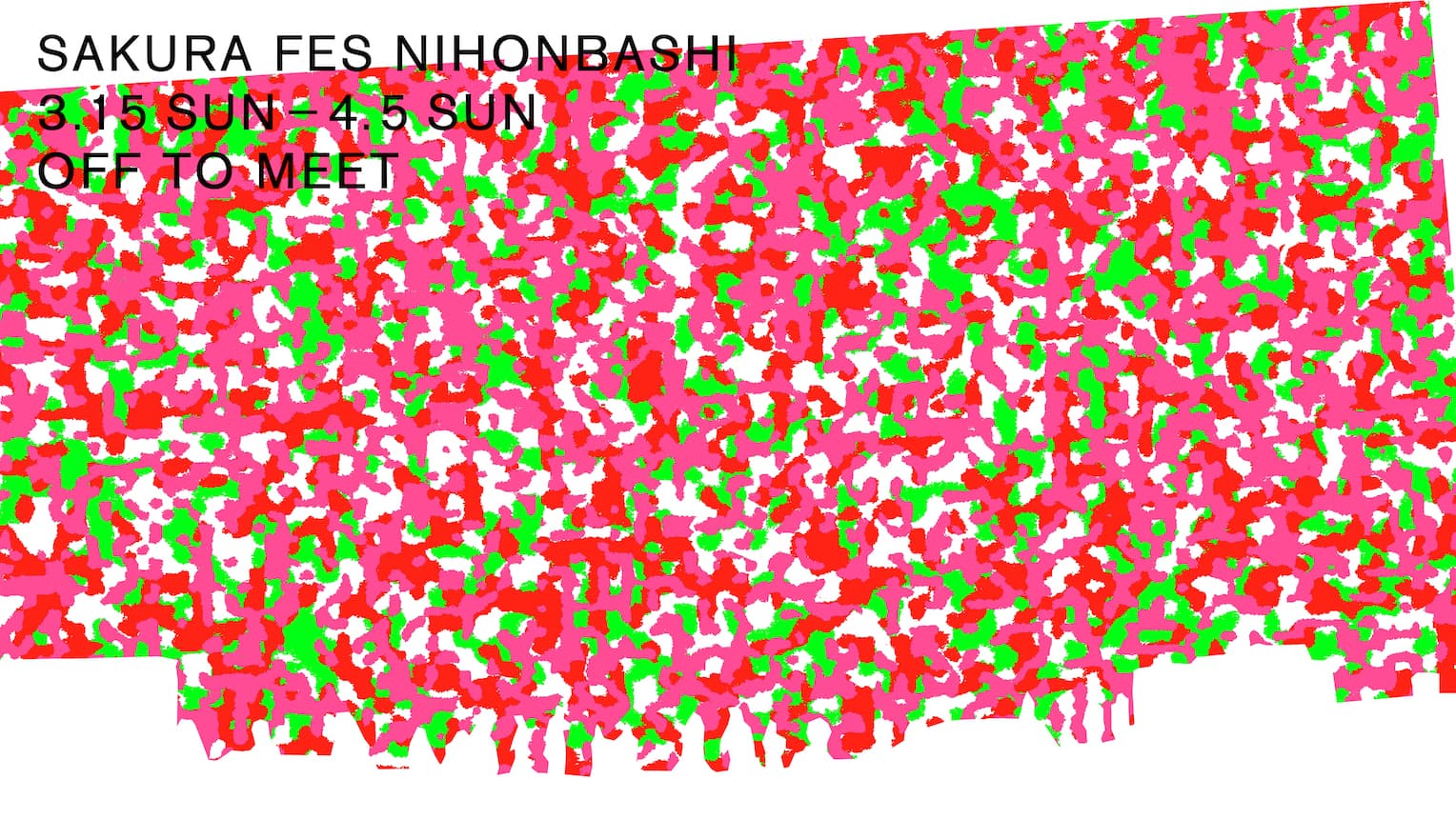 The SAKURA FES NIHONBASHI key visual (Image provided by: SAKURA FES NIHONBASHI)
Her response was that while the pattern was quite intricate, it was realistically possible. She also replied that the fine white lines from nukizome that Mr. Yago liked were "spontaneous, and thus likely to vary."
The concept for this year's SAKURA FES is "OFF TO MEET". One of its themes is experiences and spontaneous encounters only possible at the event. This spontaneous expression that arises during the dying process yields entirely unique products, and also produced high hopes of something that fit perfectly with the event's theme.
The Appeal of Spontaneous Chusen Expressivity, With No Idea of the End Result Until It's Ready.
The project finally moved into production. Given the intricate pattern, they used machine-cut pattern papers for production. Even those have limits on their precision, however, so they had to carefully scrutinize the design data based on advice from the pattern workshop. Mr. Yago made adjustments with the workshop in several stages, eventually finalizing the design data before the project at last moved into the actual dye stage.
Ms. Saito's choice for the workshop was "Asahi-ko," a business located in Adachi City, Tokyo, with skilled designers and numerous orders from a large clientele of wholesalers as a chusen dye workshop. Visitors to the workshop tend to be struck first by the number of artisans working there. It is a site where techniques are passed down over generations, and is lively with its high number of younger artisans.
Here, we will give a simple overview of the production process.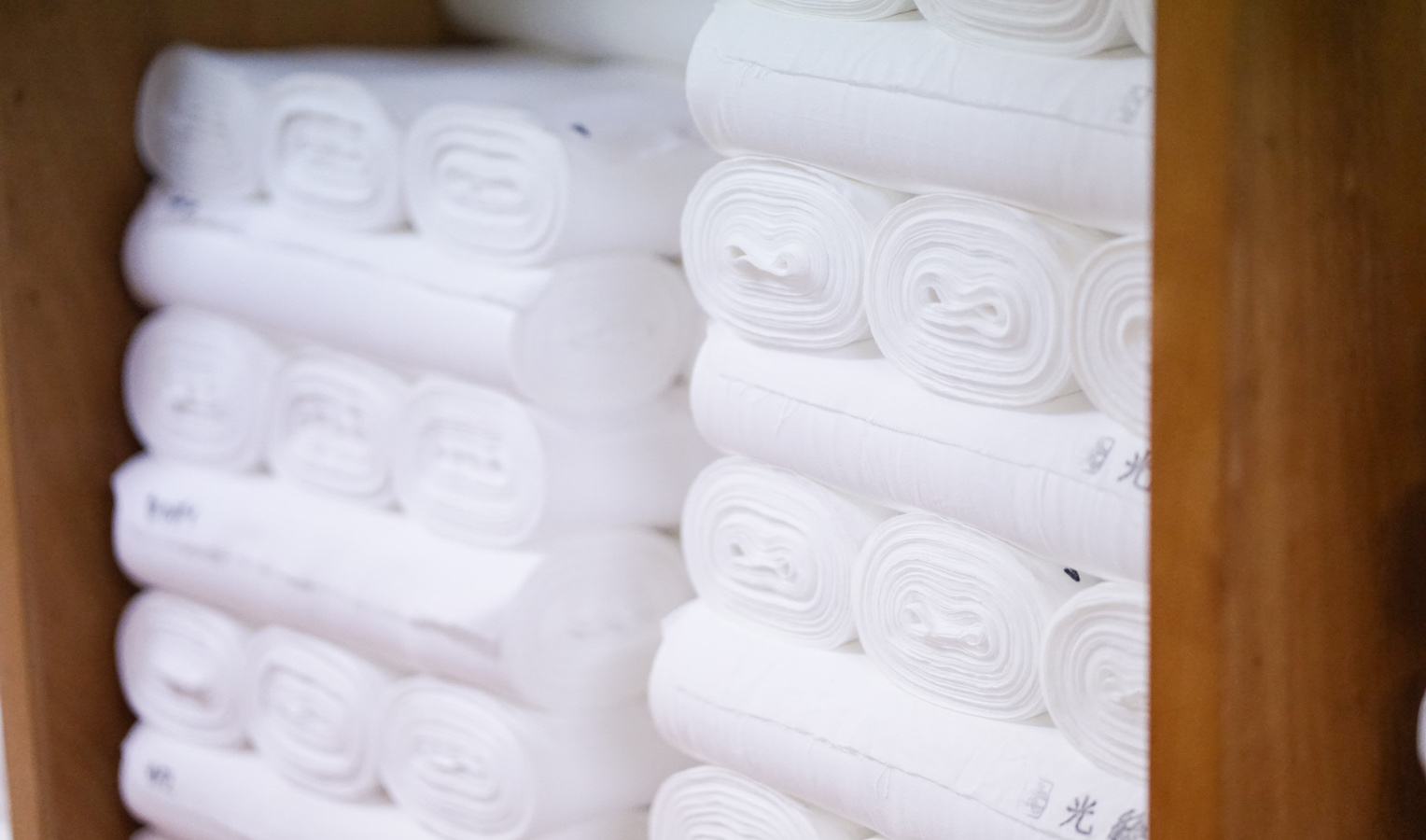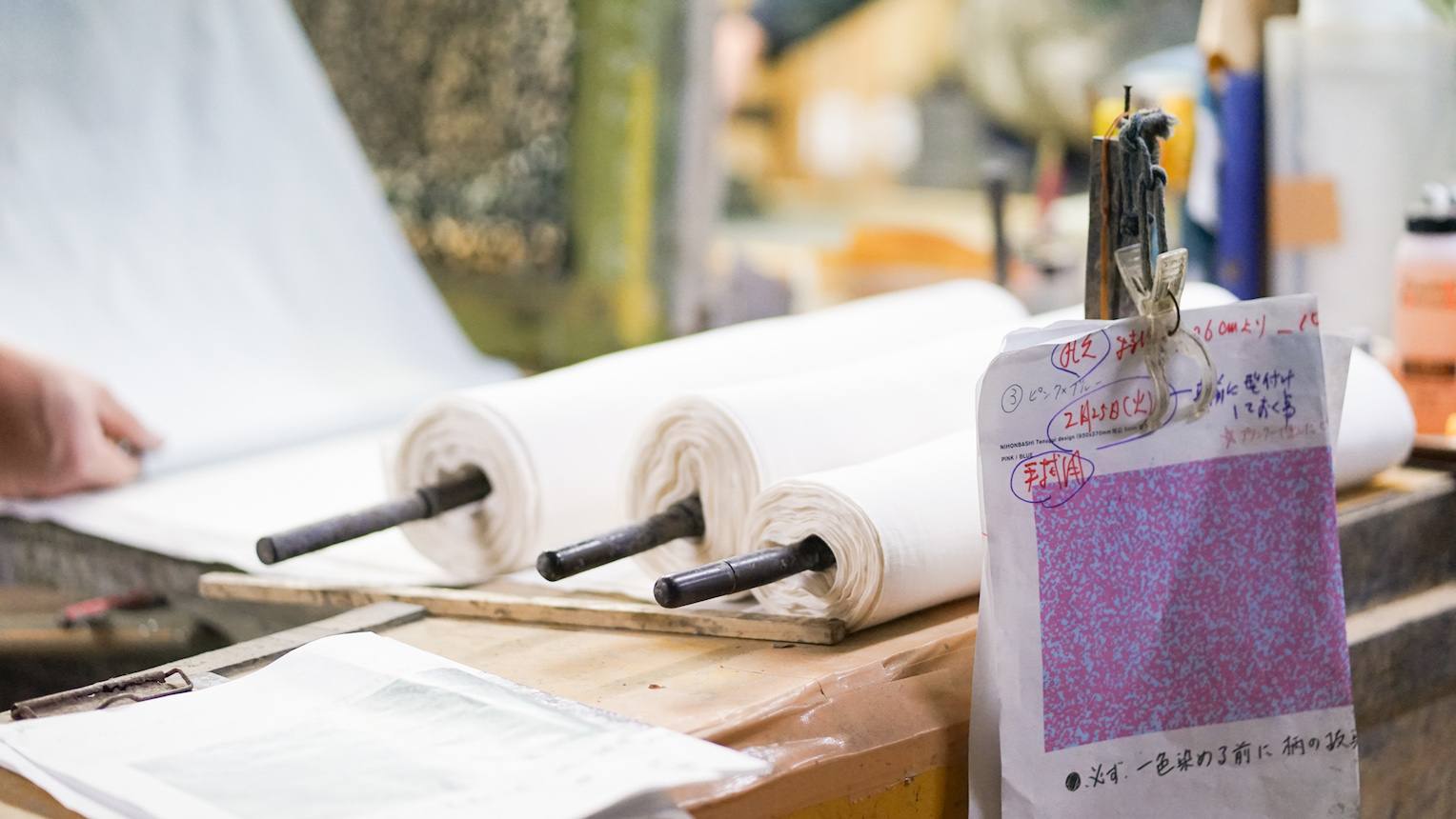 Before being dyed, fabrics are washed with water > sun-dried > wound into bolts. Finally, the fabric is allowed to settle for 2-3 days in order to smooth out wrinkles. (Image provided by: SAKURA FES NIHONBASHI)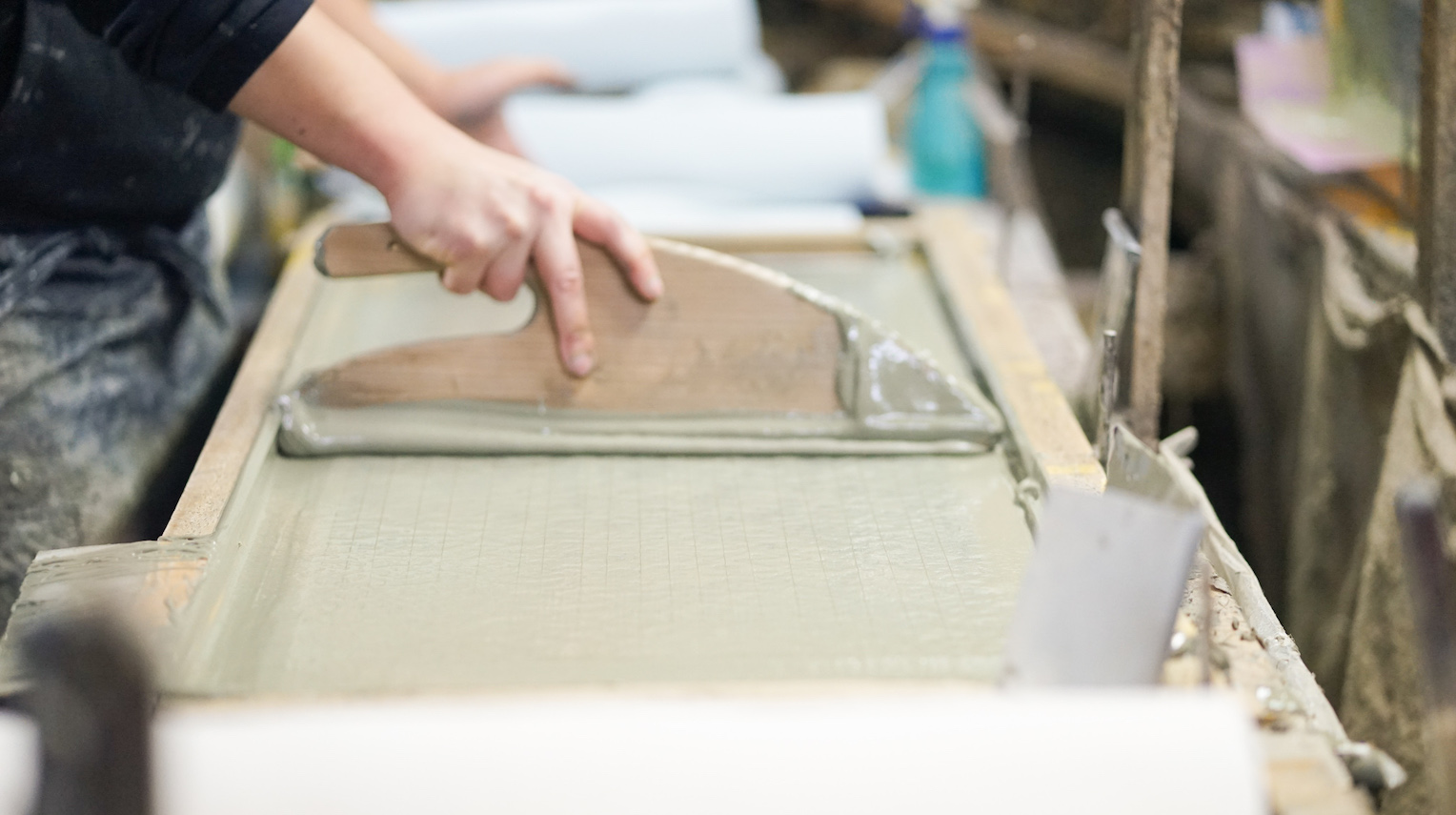 Fabric is carefully starched a single sheet at a time using wooden frames fitted with pattern paper. (Image provided by: SAKURA FES NIHONBASHI)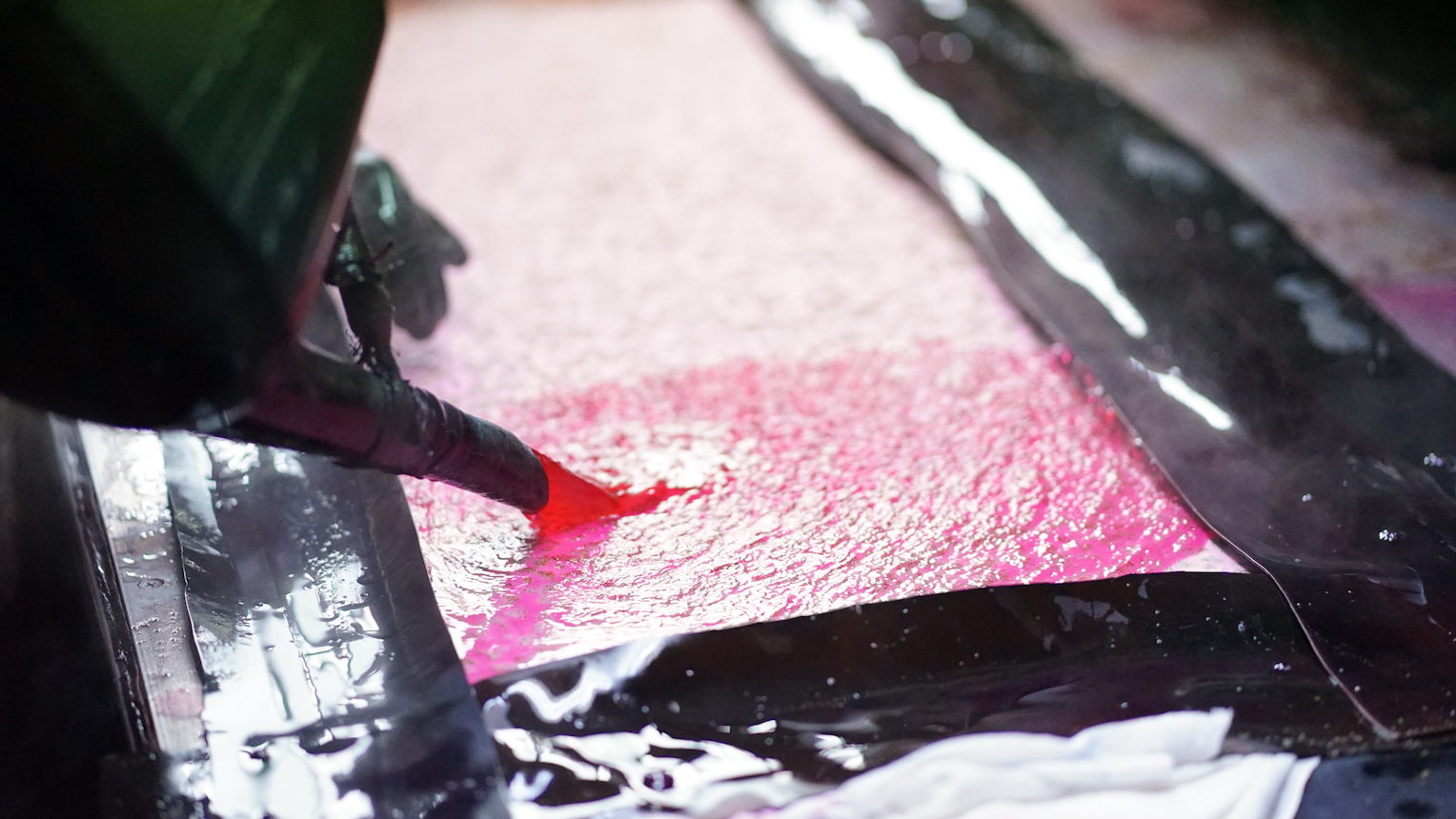 Next, dyes are added to dye unstarched sections. The dyes are mixed by artisans based on recipes the company president writes down while viewing samples. (Image provided by: SAKURA FES NIHONBASHI)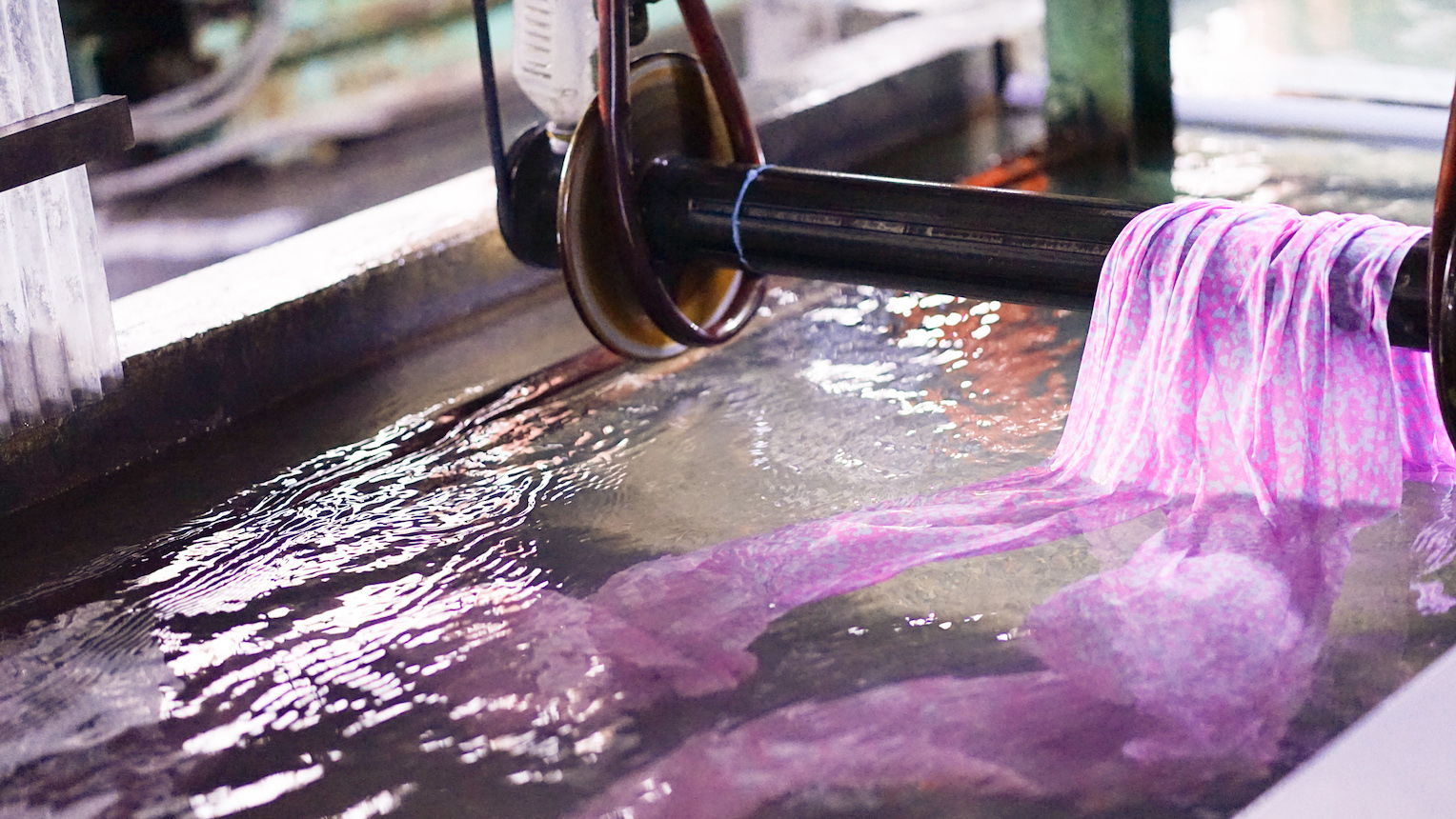 Starch is removed in a washing basin. Afterwards, the fabric is dried in the sun outdoors. (Image provided by: SAKURA FES NIHONBASHI)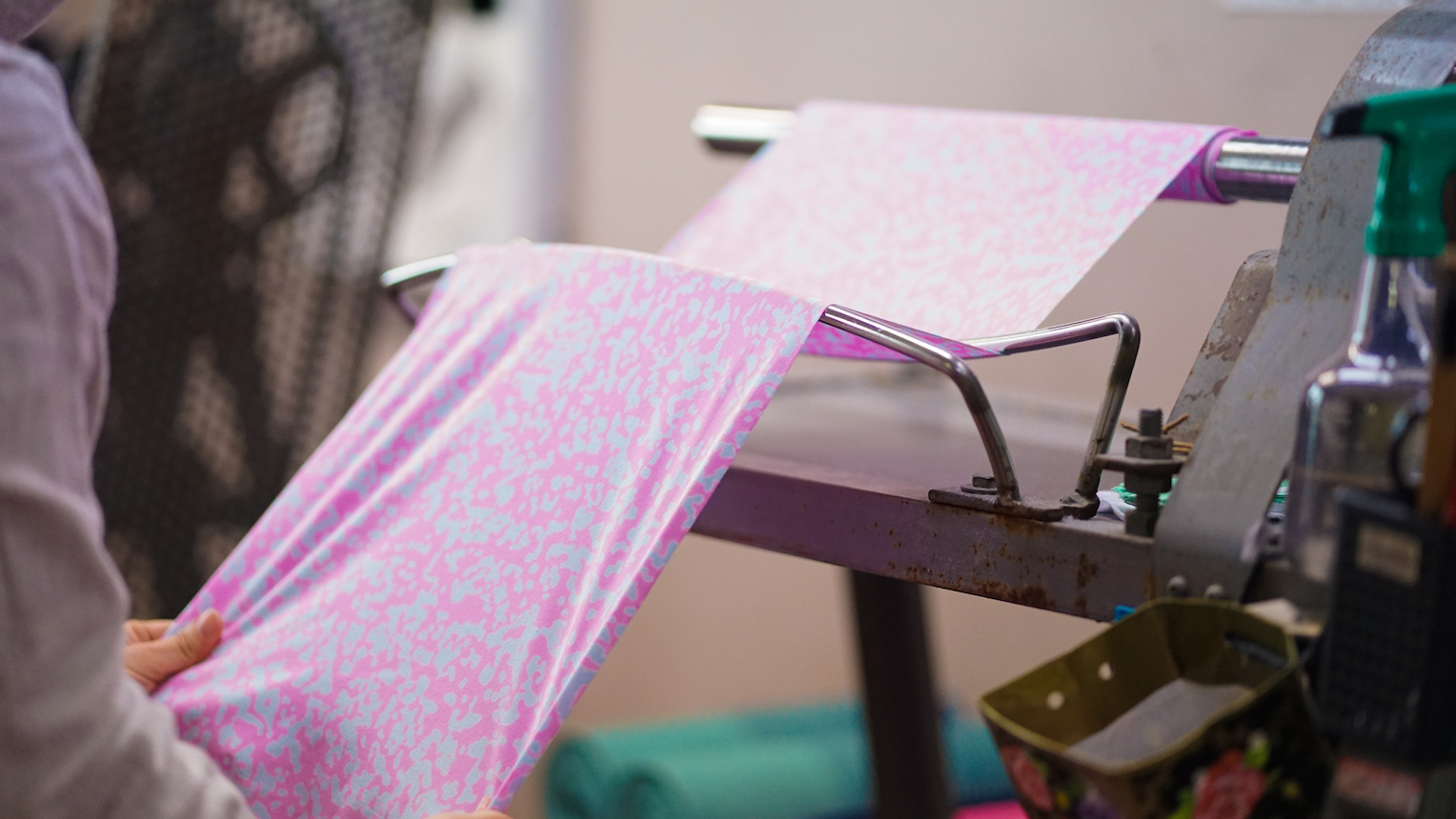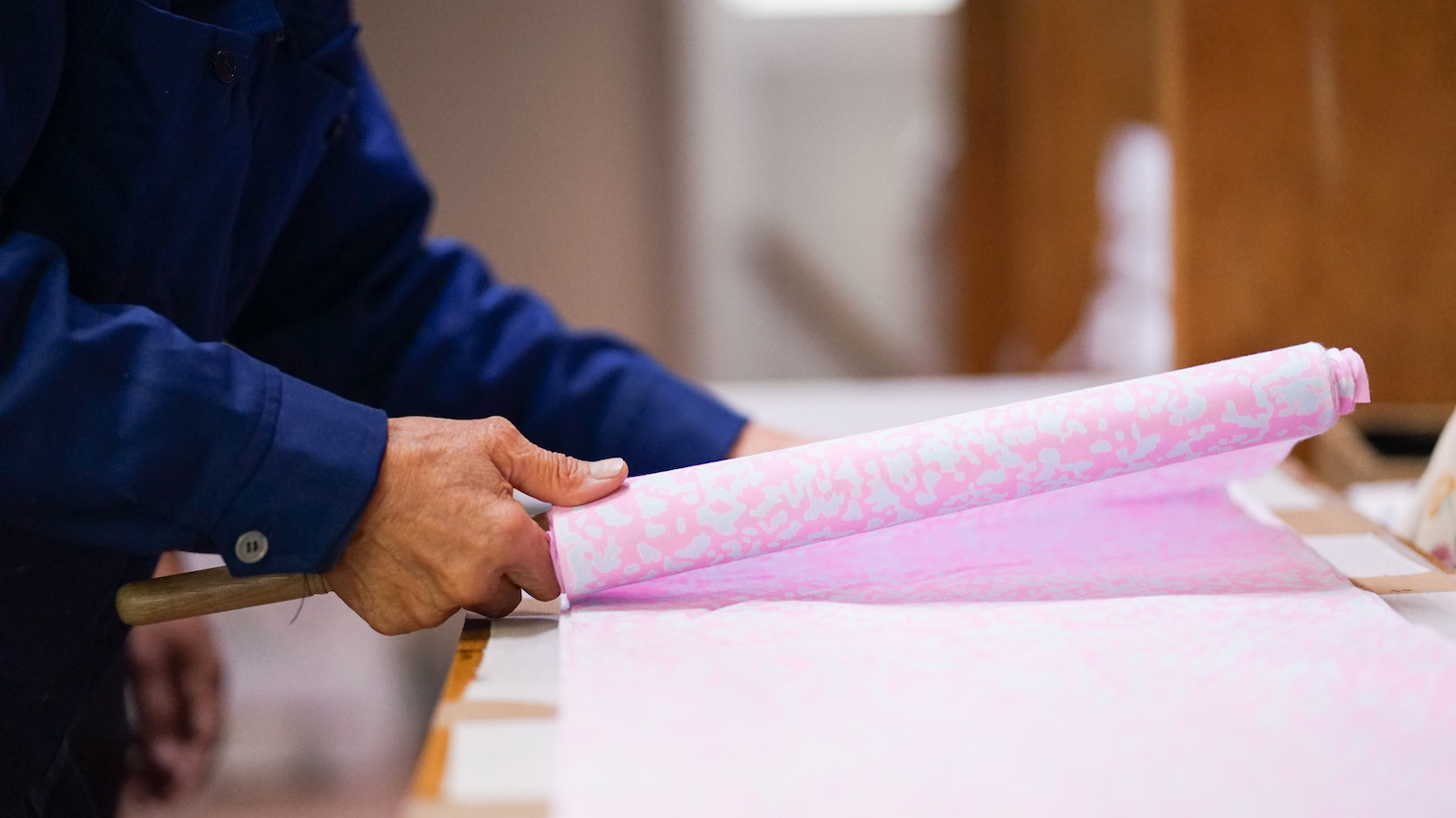 The dried fabrics are then rolled into bolts and folded down to hand towel size. Afterwards, both edges are cut one single piece at a time. (Image provided by: SAKURA FES NIHONBASHI)
Thinking back on the scenes of the items in production at the workshop, Ms. Saito states:
"I don't get to see the production process at the workshop that frequently, but each time I do, I discover something new."
And on seeing the finished hand towels, she adds:
"There were new discoveries and realizations even in this collaboration with Mr. Yago. We often incorporate a large draft for hand towels, so this was my first time taking on such an intricate pattern. I was nervous until they were done, but on seeing them turn out well, even I was amazed. It made me realize 'we can get this level of beautiful, expressive work done.' It also all reminded me of how the deep expressivity we feel from finished chusen work is its real appeal."
The collaborative hand towels made by Marukyu Shouten and Mr. Yago went on sale starting March 15th (Sun) at the Nihonbashi Information Center (B1F of COREDO Muromachi 1). Feel free to check one out if you happen to be nearby.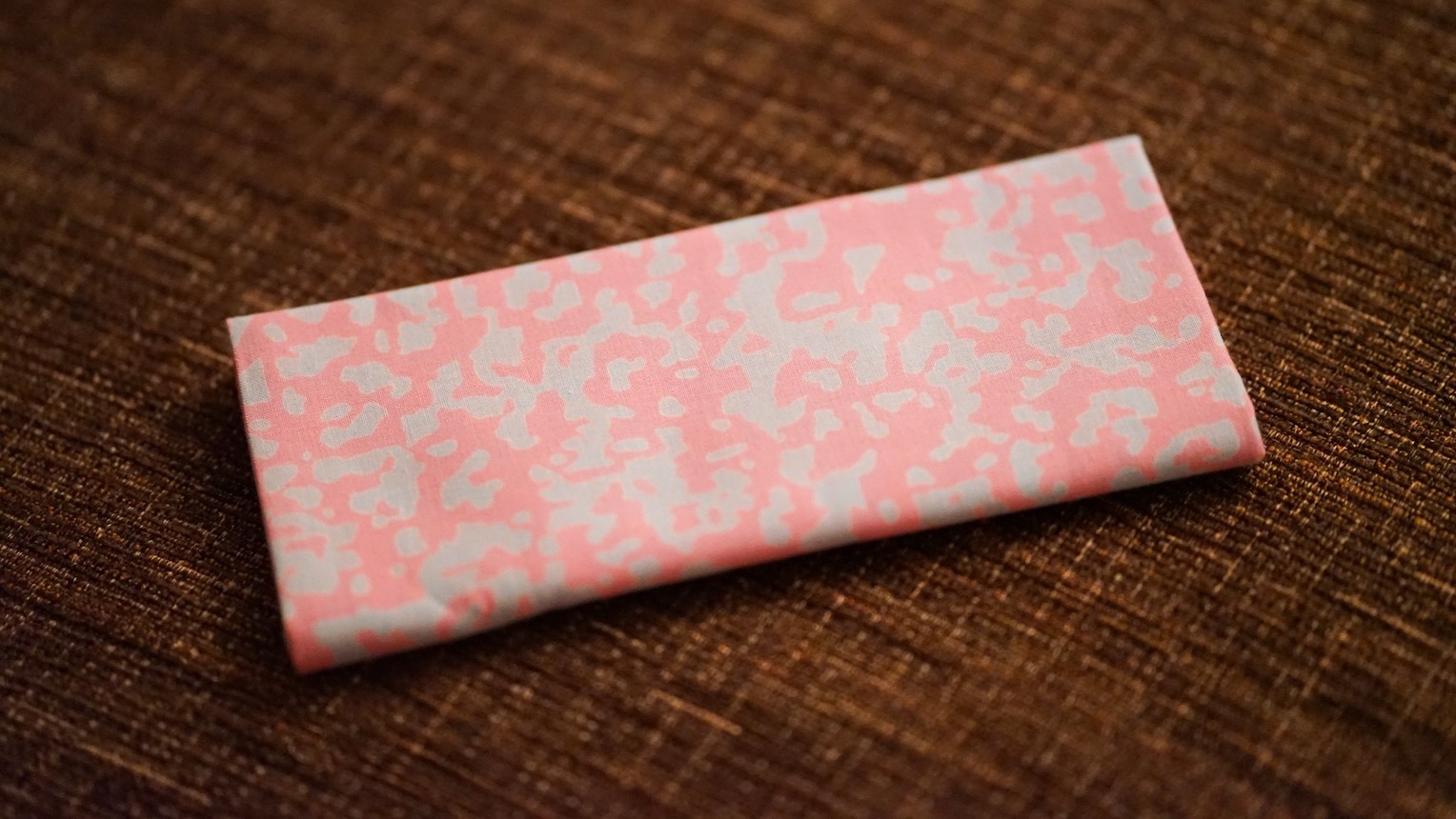 The SAKURA FES NIHONBASHI ORIGINAL TENUGUI hand towel, even showing the expressive, delicate lines from nukizome Available in three color variations/ ¥1200 each (tax included). Sold via the Nihonbashi Information Center (B1F, COREDO Muromachi 1) (Image provided by: SAKURA FES NIHONBASHI)
- - - - - - - - - - - - - - - - - - - - - -
The "nihonbashi " co-creation project between "Collaboration Magazine Bridgine," the city of Nihonbashi, and various creators plans to continue promoting collaborative projects across the city. We welcome inquiries from businesses and retailers that are interested in collaborating.
- - - - - - - - - - - - - - - - - - - - - -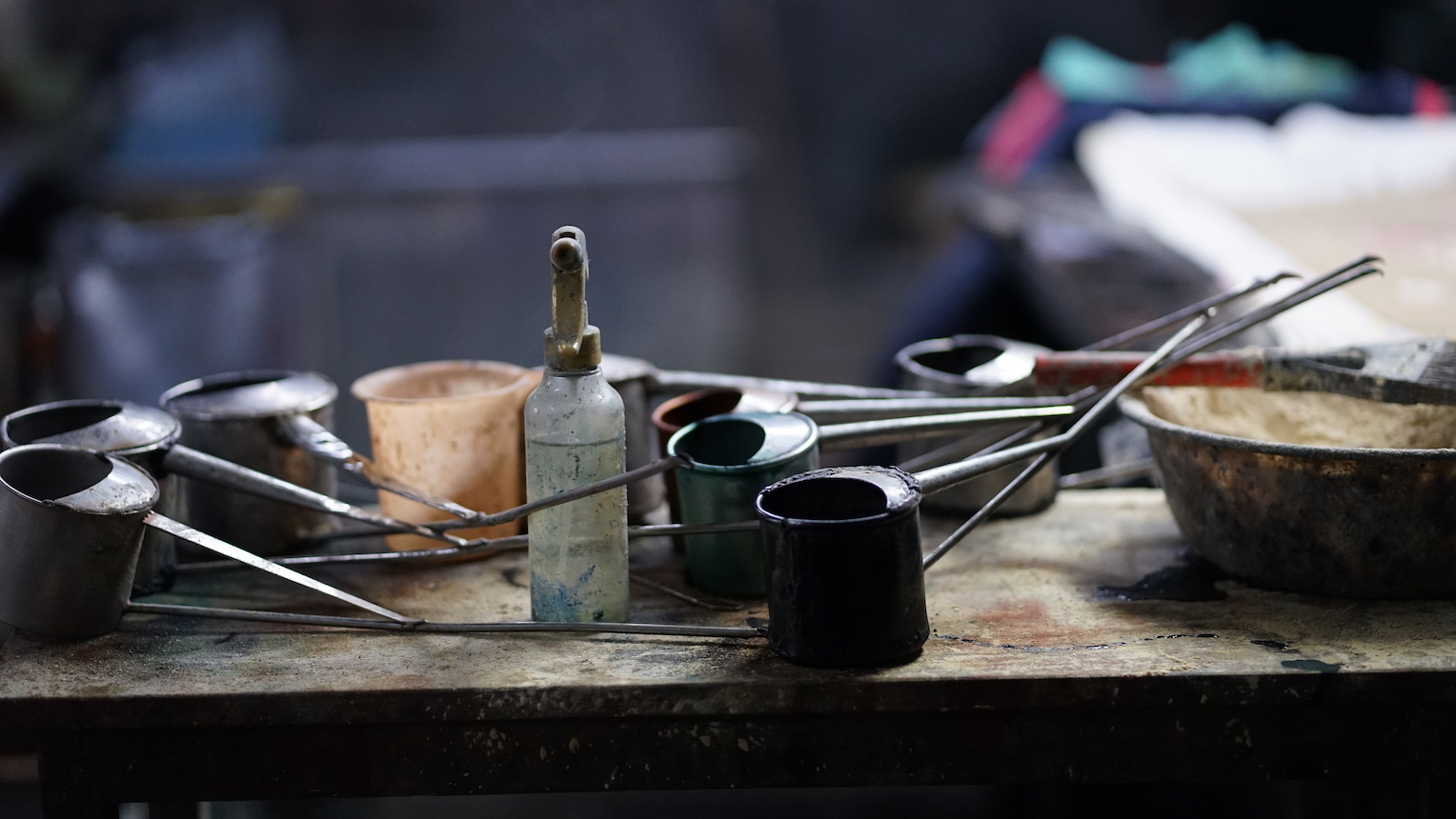 (Image provided by: SAKURA FES NIHONBASHI)
Reporting and Article: Aya Sakamoto (Bridgine Editorial Department)
SAKURA FES NIHONBASHI / OFF TO MEET
SAKURA MENU WALK
Duration: March 15th (Sun) – April 5th (Sun)
Location: Participating businesses in Nihonbashi, Yaesu, and Kyobashi
170 businesses in the Nihonbashi, Yaesu, and Kyobashi areas will be offering sakura-themed original products. Purchasers of qualifying products will also receive original novelty items designed by Naoki Yago.