2020.03.11
From Origins in a City Gallery: The Expressive Activities of the "Bakurocho Band" as They Break Down Tradition Through "Fun."
From Origins in a City Gallery: The Expressive Activities of the "Bakurocho Band" as They Break Down Tradition Through "Fun."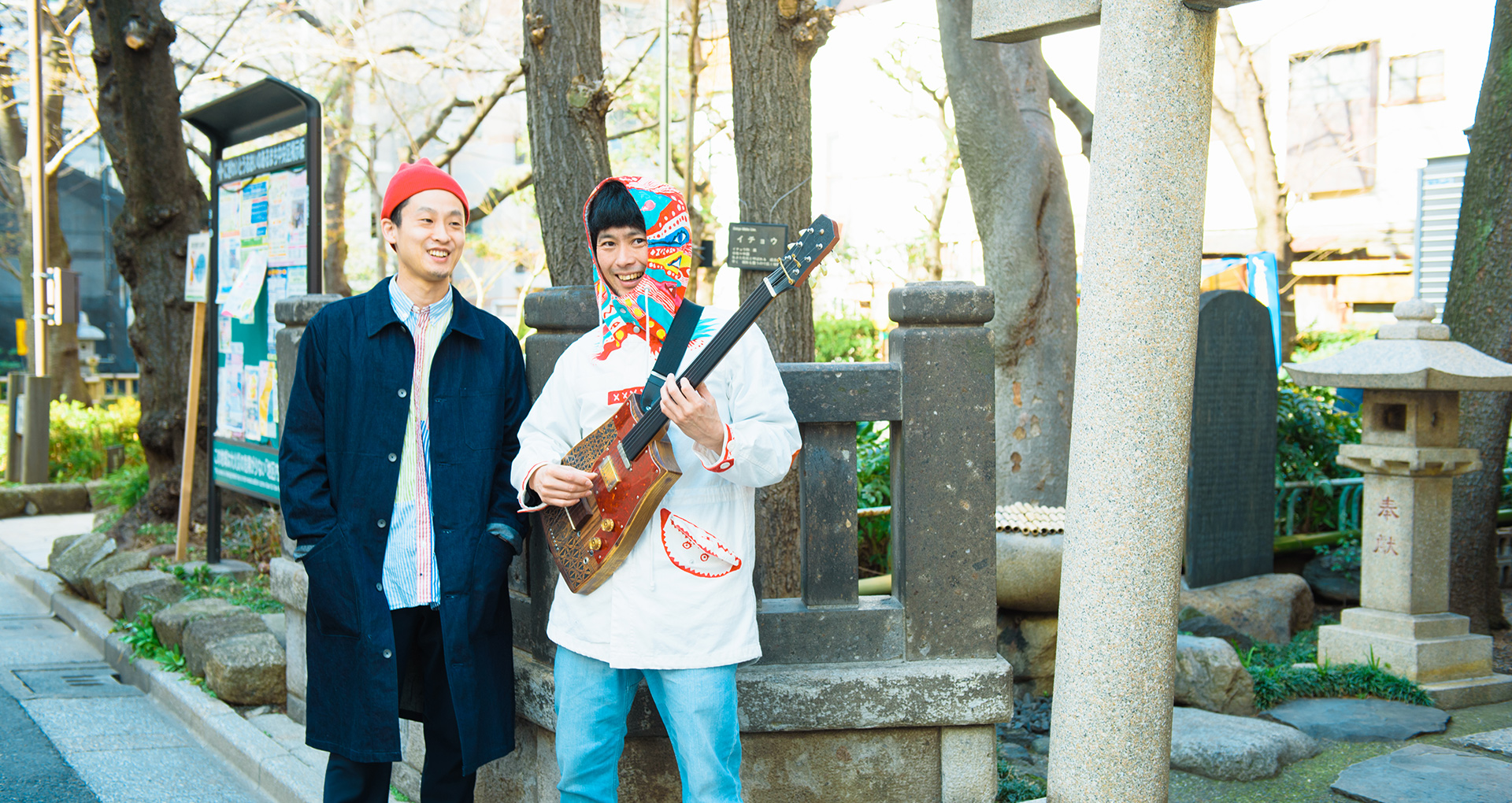 The "Bakurocho Band" is a band that also actively engages in a variety of other projects. They got their start at the dearly-missed "Bakurocho ART+EAT" gallery and diner, which closed down just last year. In addition to their live performances across Japan, the band members are also involved in everything from planning to art on their new "Festival Talk" segment of the NHK Educational TV program "Shakin!" The segment exudes the band's atmosphere and attitude as a result, which has helped it draw widespread attention. Today, we spoke with Mr. Tetsutaro Take and Mr. Yosuke Oda on the concept of "folk music starting from zero," investigating where they get their expressive knack for deconstructing traditional culture from a unique perspective, and their activity style – which blurs the lines of personal and band life.
The Story Behind the Name "Bakurocho" Fit Us Perfectly.
-Please tell me about your journey so far as the Bakurocho Band.
Mr. Yosuke Oda (Hereinafter referred to as Oda): Mr. Take and I were originally in different years at Tama Art Institute, and actually had a band together in the past, although it was completely different than the one we have now. Mr. Take was a team member at "Bakurocho ART+EAT" starting from its opening in 2007, and we first took the stage as the Bakurocho Band when the establishment asked us to perform for the opening. At first, we mostly did covers in the Gypsy jazz style (a fusion of Romani music and swing jazz).
But then we started to feel a growing sense that something was off about improving on music that had no connection whatsoever with us, ourselves. That led us to put our own spin on Japanese folk music and nursery rhymes and perform those. That fit us perfectly, but it also made us feel a bit off seeing bright, smoothly-produced professional singer approaches being taken offhandedly as so-called folk songs.
Then, as a band we discussed how folk music was originally meant to be sung by people with roots in the area, from children to old ladies. And how that meant we should be freer with interpreting them for performances. Since everything from pop to jazz to hip-hop undergoes continuous updating where it originates, as modern fans of all of this music, we should treat Japanese traditional music the same way as an equal style.
-And that ties into the Bakurocho Band concept of "folk music starting from zero," doesn't it?
Mr. Tetsutaro Take (Hereinafter referred to as Take): Yes, it does. When we started to mix all sorts of music together and pin down our own style of folk music, I started creating original instruments that incorporated elements of all sorts of world instruments. This is a fretless guitar called a "rokusen" with the structure of a Japanese shamisen, and I have a few other original instruments, too.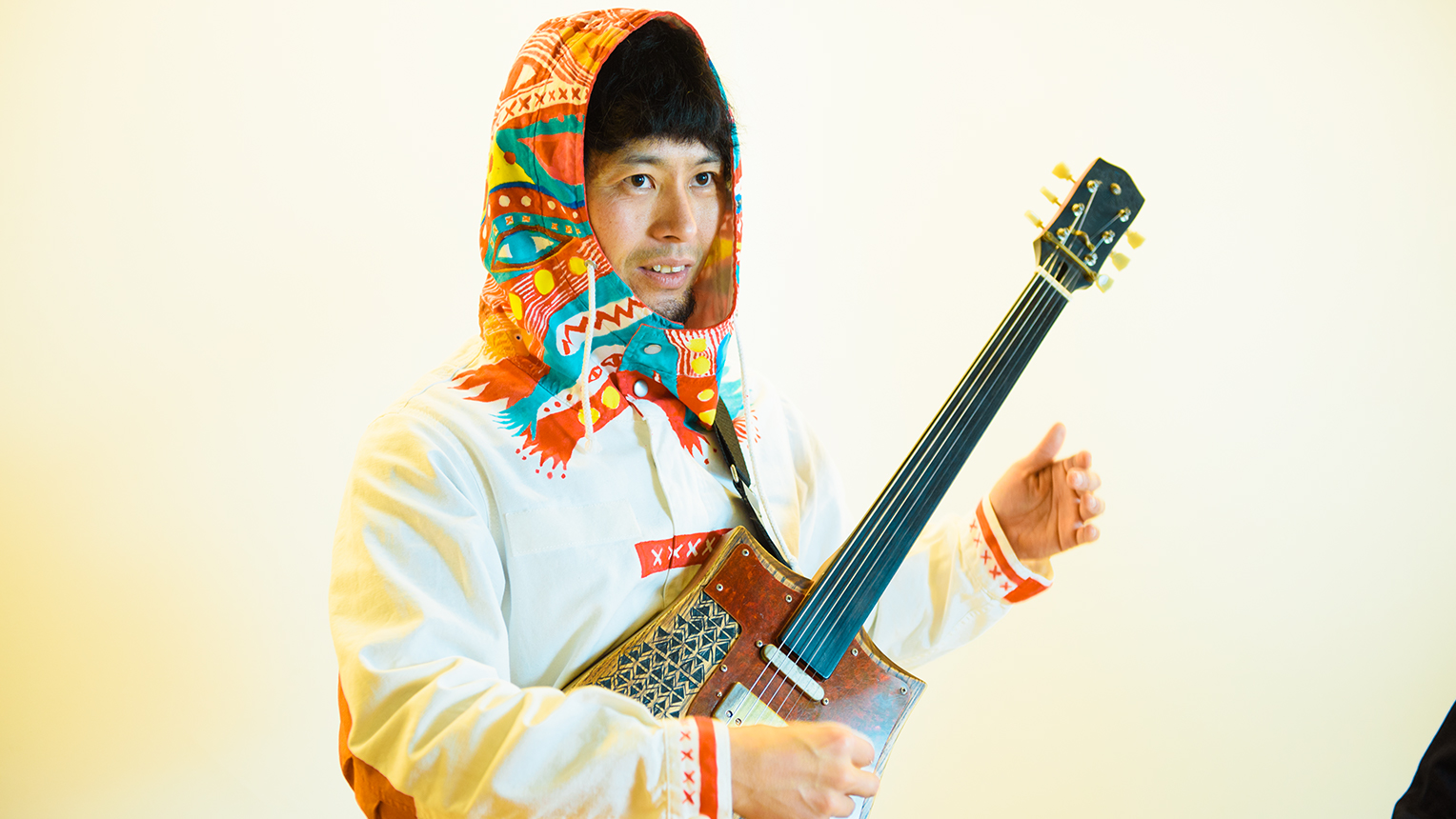 Mr. Tetsutaro Take, singer, rokusen (original instrument) player, and guitarist. He also takes roles as an artist and paper puppet playwright.
After that, the rough draft for the current Bakurocho Band developed when our percussionist Hiroshi Habu joined up, with his in-depth knowledge of traditional cultures around the world. We started to incorporate "polyrhythms (music performed with a simultaneous, separate rhythm distinct from the primary rhythm)," which are a common trait in things like African music and Japanese Bon dances. We steadily found our interest drawn to Japanese music drawing on ancient traditions. I even traveled around Japan to research it in more depth.
-Is the name Bakurocho Band rooted in the area somehow, too?
Oda: Well, at first we thought of all sorts of names, and even considered a cool English name. But none of that fit. Neither of us had a long-running connection with Bakurocho, but we liked how the name of the trade "bakuro" (a trade that marched in the processions of Daimyo lords, and served as horse brokers and veterinarians) was part of the city's name. It's modest, you can feel people's industriousness in it, and it has impact. We were suited for a name with a sense of Japanese history and stories, and felt like it fit us well. So we went with it as our band name. The name was also a factor that led us to develop even more interest regarding indigenous cultures.
-What kinds of projects are you actively working on at the moment?
Oda: We normally work in a team of two, just me and Take, but we've had up to a five-person band, with original taiko drum types, shakuhachi and original gamelan players, and a woman doing vocals. We often do three-piece concerts with our drummer, lately, but it seems like it might be vital for the Bakurocho Band style to treasure our musical encounters as they happen, and not set a fixed form.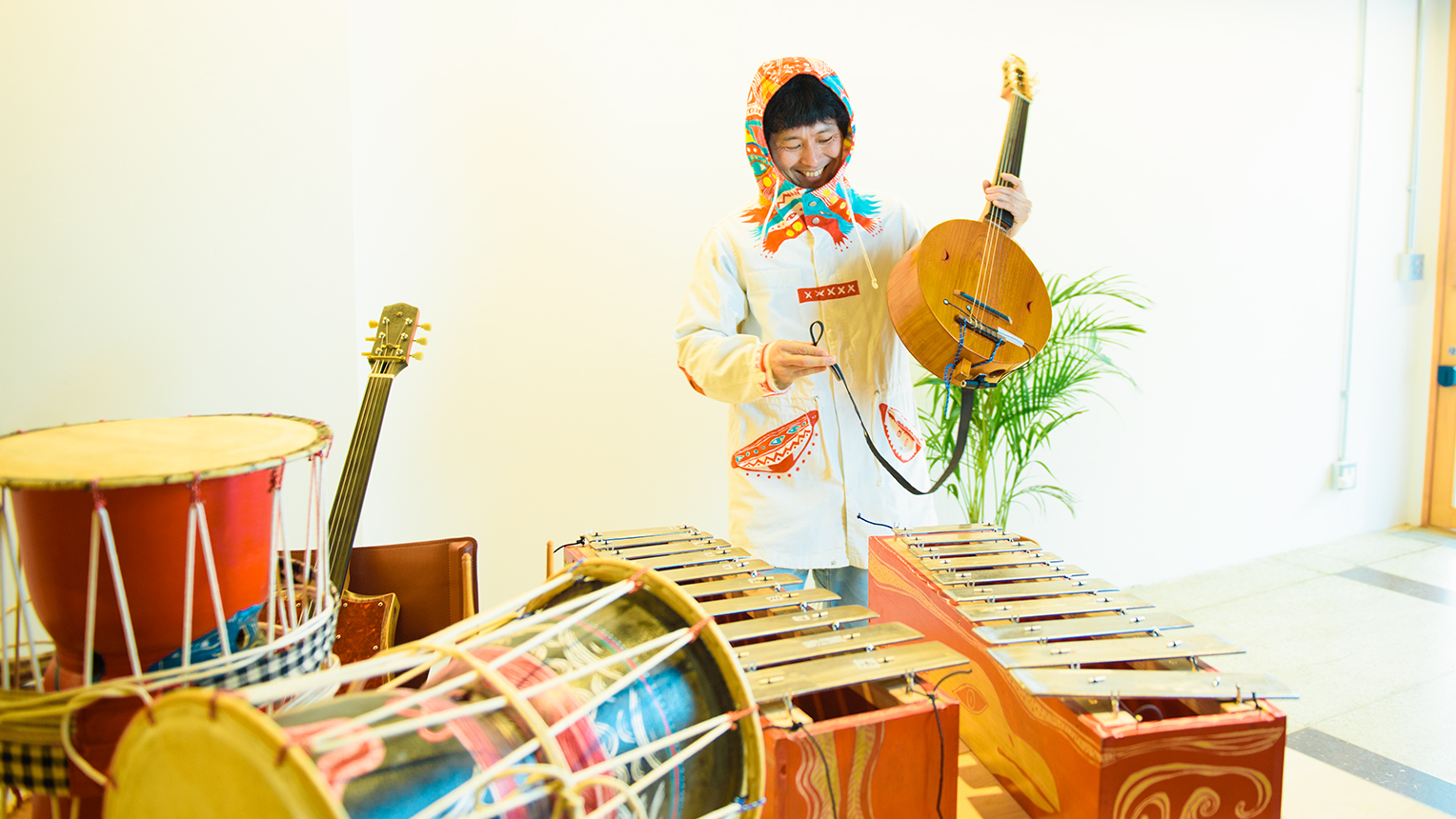 Original instruments mede by Mr.Take.
Take: We sometimes perform at live music venues, but festivals and events approach us a lot, so we perform outdoors and in restaurants, at venues of all shapes and sizes. Also, I have another career as an artist while Mr. Oda has one as a designer, so we also do our own things in parallel with the band, rather than just music.
Researching, Discovering, and Creating Work With Locals.
-Next, please tell us about your creative process. You've drawn attention with the "Festival Talk" segment you run on NHK Educational TV's program "Shakin!" It's a show for children, but it feels like it's an outgrowth of your interest in folk music.
Take: The "Festival Talk" segment uses animation to introduce the background and music of festivals from all over Japan, and we've always been fascinated by local festivals and fairytales. So it's really something we proposed and planned because we wanted to. We discussed ideas with the program representative, and it was agreed that we should present festivals in an easily-approachable, fun way since it's a program for children. In the end, we worked with Ms. Mari Inaba, the animator, to make it. Thanks to her, the segment has been quite positively received, and has been running for two years now.
-What sort of process do you follow when creating works?
Oda: First, we start by researching festivals that we've always been interested in. It's rare for provincial festivals to be neatly summarized in documents, so we consult with traditional arts organizations, or head to the local library or museum to see if they have any information. We also visit local city offices and preservation societies, and trace things one step at a time, sometimes chain smoking as we do (laughter). It's not glamorous work, and takes determination. Sometimes the people we want to talk to only have faxes and never reply no matter how long we wait, and sometimes we get our sequence or approach wrong and upset them.
Take: We use the information we gather that way to write lyrics inspired by the original story and background, then envision art to suit them. For example, when we used the "Kiraigo" masked play held in the Musho area of Sanbu District, Chiba Prefecture as a topic, we created a work based on the saying that "when the witch holds a baby and the baby cries, it purifies her spirit" and on a morality play about sin and retribution. We filmed it as a colorful paper cutout play with multiple layers atop glass, shooting one frame at a time. It produced a very nuanced, expressive piece.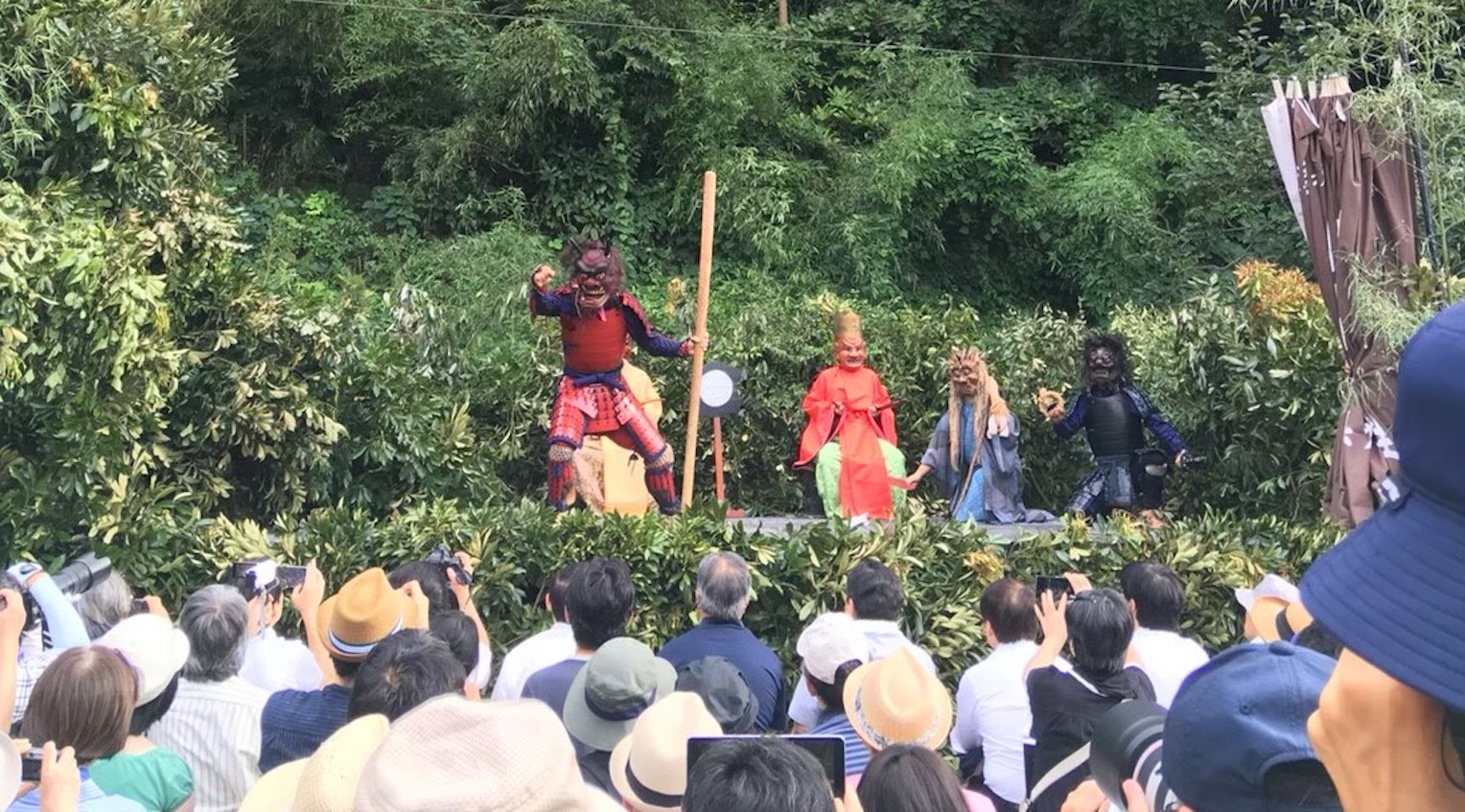 A scene from the "Kiraigo" masked play. It draws numerous visitors from all around Japan (Photo provided by: Bakurocho Band)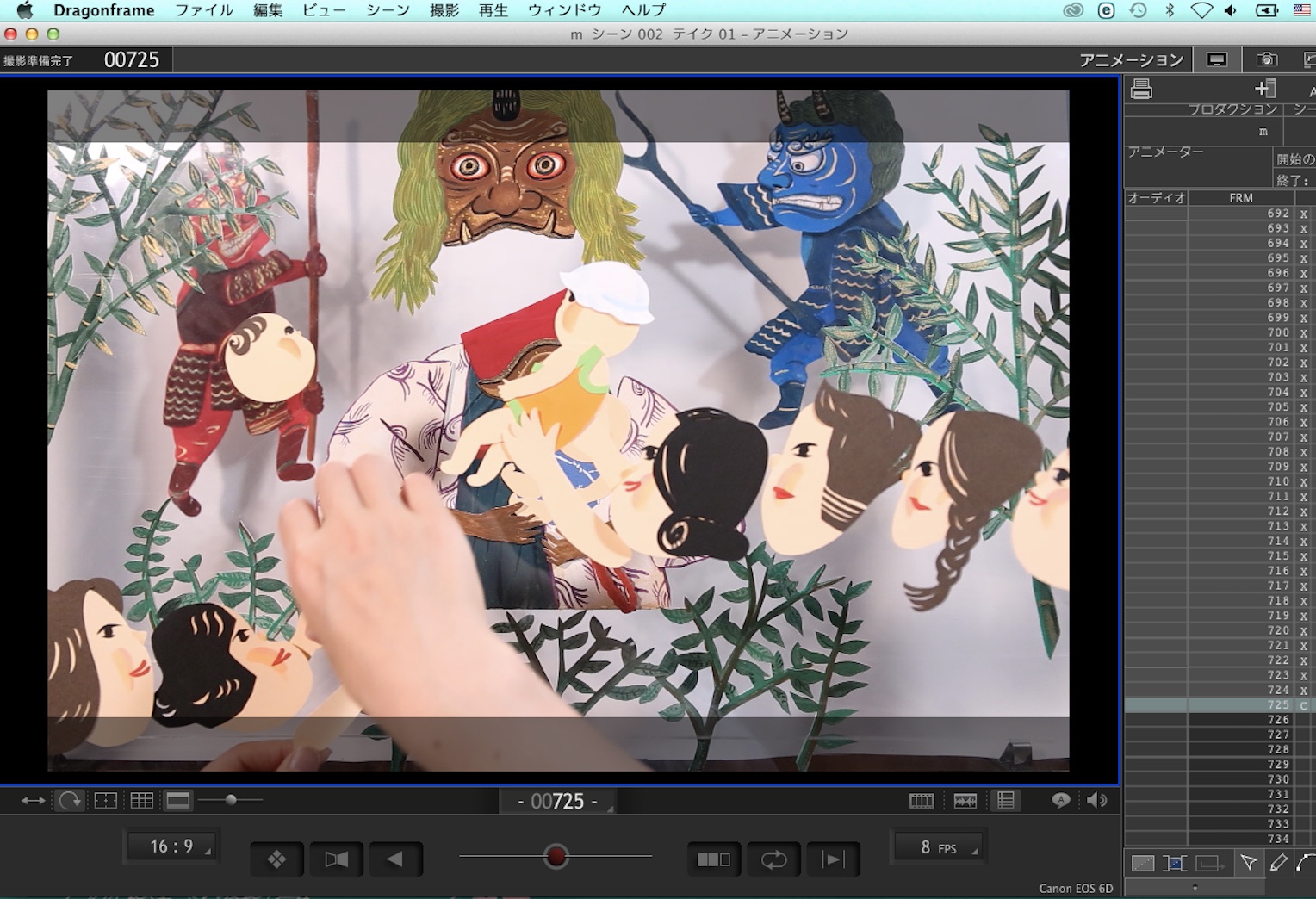 Scenes of the segment based on "Kiraigo" during production. The animation was made by making slight adjustments to the paper cutouts' positions (Photo provided by: Mari Inaba)
-How do people in these regions respond to your finished works?
Oda: As you might expect, they enjoy knowing that "they're showing an animated segment on our town's festival on NHK!" Also, it's often very impactful for them to see the segments in motion. Having your region's festival animated and put to music then aired nationwide tends to draw attention in the area itself.
Take: We've even seen it announced once over the town-wide emergency broadcast system, saying it "will be showing in the Festival Talk segment of tomorrow's Shakin!" (Laughter)
Oda: Exactly. People involved in design and crafting like us are used to visualizing, but people who aren't often struggle to visualize things without an example. Even if we ask permission to investigate, they can be cold and say things like "oh, it's not that interesting," or "you've investigated this other place before, and it's basically the same." But "Festival Talk" uses original music instead of covers, and our animation style is refreshing, too. So people are surprised to see "this is how we looked," and gain a new awareness of their own cultures.
-So you draw out charms that even local people were unaware of.
Take: Well, maybe. I wonder, do we really draw out new charms? We do a lot of research on what the local people value in order to at least get that correct, since they might see us as just mass media from Tokyo who've come to steal their best parts, no matter how respectful we are. But festivals are perplexing things, and the more I learn about them, the more I see mysterious parts to them.
If you read up on them in books, festivals are held to pray for rich harvests, for local guardian deities to watch over the departed, to gather people from outlying villages, and so on. But honestly, none of that really fits. I understand them less and less (laughter), but that only makes me more obsessed with them by the day.
We Want Viewers "Because It's Fun" and Not Because "It's a Tradition"
-What got you into festivals and traditional Japanese music in the first place?
Oda: Neither of us is from a family that lived on the same land for generations, so honestly, we're a bit envious of regions that have exciting festivals that bring everyone together. In that sense, I feel kind of like an "outsider" in regard to Japanese traditional culture, even living here.
I'm also driven by sincere questions, like why people don't know about all the amazing cultures around them, and why I'm disconnected from those cultures in this era, even though they're only a few hours away? It's as exciting as going to a music festival once you get into reading up on and visiting these events. So recently, I'm into festivals and traditional music simply because "it's fun."
Also, we feel that our personal value might lie in giving form to something we find entertaining, and "creating something other people will enjoy seeing." In saying, "hey, it's fun to look at it from this angle! Check it out!" The people who put on festivals are definitely the ones carrying that torch, but I feel that we carry the torch as well, in our own way.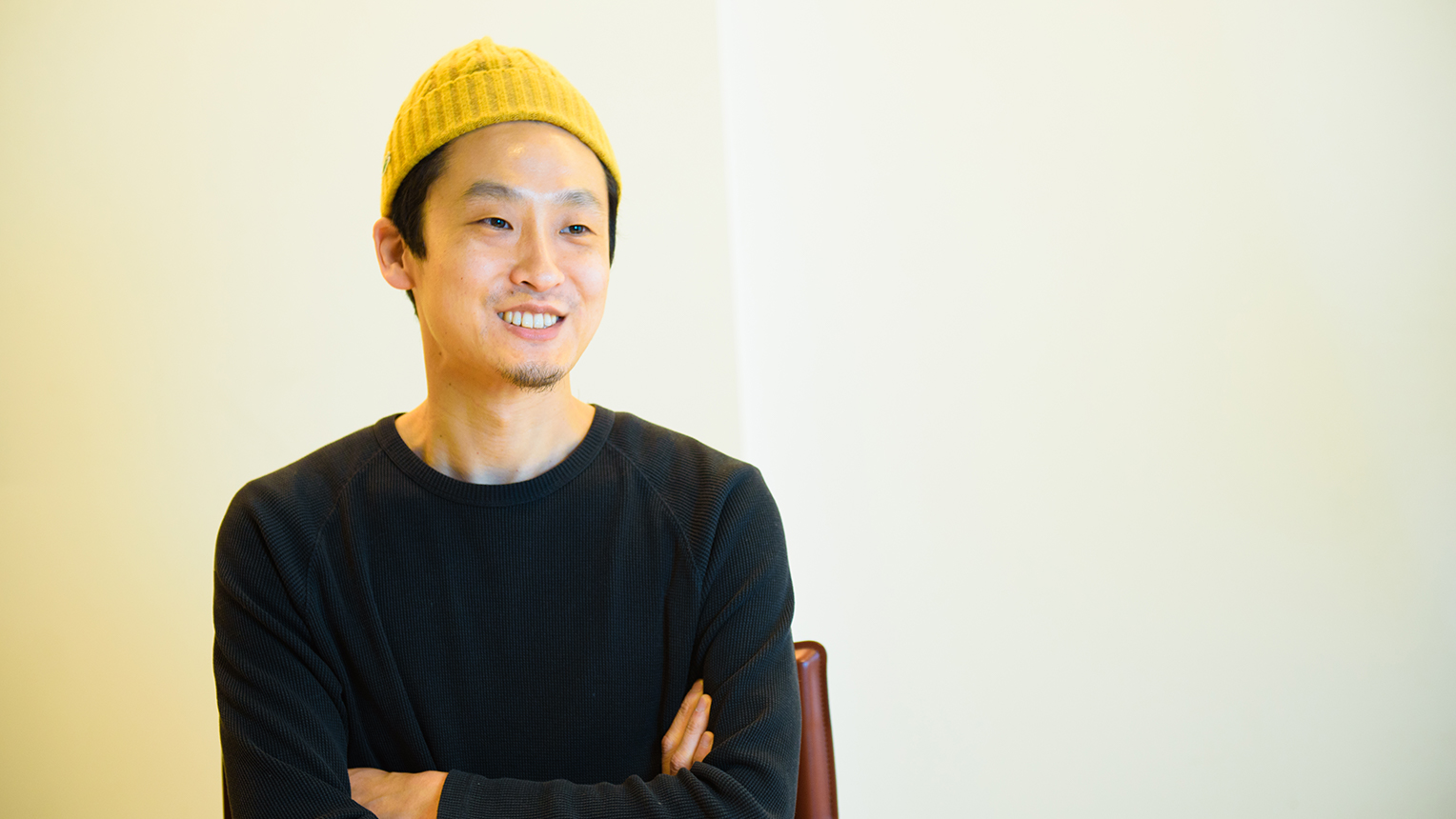 Singer and bassist Mr. Yosuke Oda. He also has another side as the manager of the Design and Web Business Department at TASKO Inc.
Take: It's not quite that "I want to communicate with people" about something. I think what drives me in my current work is that since festivals and traditional music are enigmatic, I want to know how they came to be as they are. I want to know more about these mysterious worlds, and peek into the otherworldly.
-You used the word "torch," but do you feel a sense of duty to pass the torch of tradition down to people in the future?
Oda: No, not really, to be honest. It's simple for me. I'm not doing it because these things need to be passed on to our descendants. I'm doing it because it seems fun and I'm curious, and I'm sure other people would be interested, too.
When something that has run for a while ends, it's because it "wasn't fun" or "wasn't important," in some way that was timely for the local people. Traditions never end because people tried to end them.
It sounds a bit overblown to say I'd give up the country to preserve and share our traditions, but I do feel that things a lot of people resonate with will survive, even if we don't go wild trying to preserve them. So we're just trying to share what we find interest in the ways that we can.That has naturally resulted in people who like the Bakurocho Band and approve of Festival Talk, which has given us the chance to broaden the audience for our means of expression.
I said a bit ago that it's fine for festivals to change, and I hope that the world sees more of the attitude that culture should be in flux, without any weird fixations. I think it's fun to see traditions interpreted by and shift thanks to people without local roots or from generations that have never experienced them, and unexpectedly survive that way. We in the Bakurocho Band enjoy that kind of cultural experimentation.
Paying Returns that Connect to Creative Work, Work as Artists, and Music.
-Mr. Take, you work as an artist, and Mr. Oda, you're a creator at TASKO Inc. You each have your own separate titles as members of the Bakurocho Band; how do you each switch between your two roles?
Take: I don't really intend to do so many things, and think of myself as just a musician, but I make instruments because I want a certain sound, or make costumes for performances, and end up splitting it off from music over time. Lately, I've been expanding the scope of my activities, and it's chaotic, with me making musical paper puppet plays I write and perform, or painting giant murals.
Oda: I was originally a factory worker for Maywa Denki before going freelance for a while. I thought about making either music or art my focus back then, but ultimately things continued in a way where I could give both 100%. There was never a time when I felt I had to cut one out. I was talking to several other people I knew from the Maywa Denki years at the time, and that gave me the simple motive to "incorporate as a freelancer in another field and do bigger jobs," which led to my current place at TASKO. The company has grown, and it inevitably takes up more time than the Bakurocho Band I've always worked with, but TASKO and the band come together sometimes, which expands the range of things I can do.
-What have you worked on with TASKO?
Oda: For example, the Bakurocho Band once performed at "GOOD PARK!", an event in Shinagawa City that TASKO helps arrange, working on everything from content planning to venue space composition. Also, in the other direction, the Bakurocho Band has hired TASKO and borrowed equipment for things like event planning, art, and stage technologies, since the company handles all of those. A lot of us at TASKO are veterans of the music industry, so we've got the footwork down in that capacity.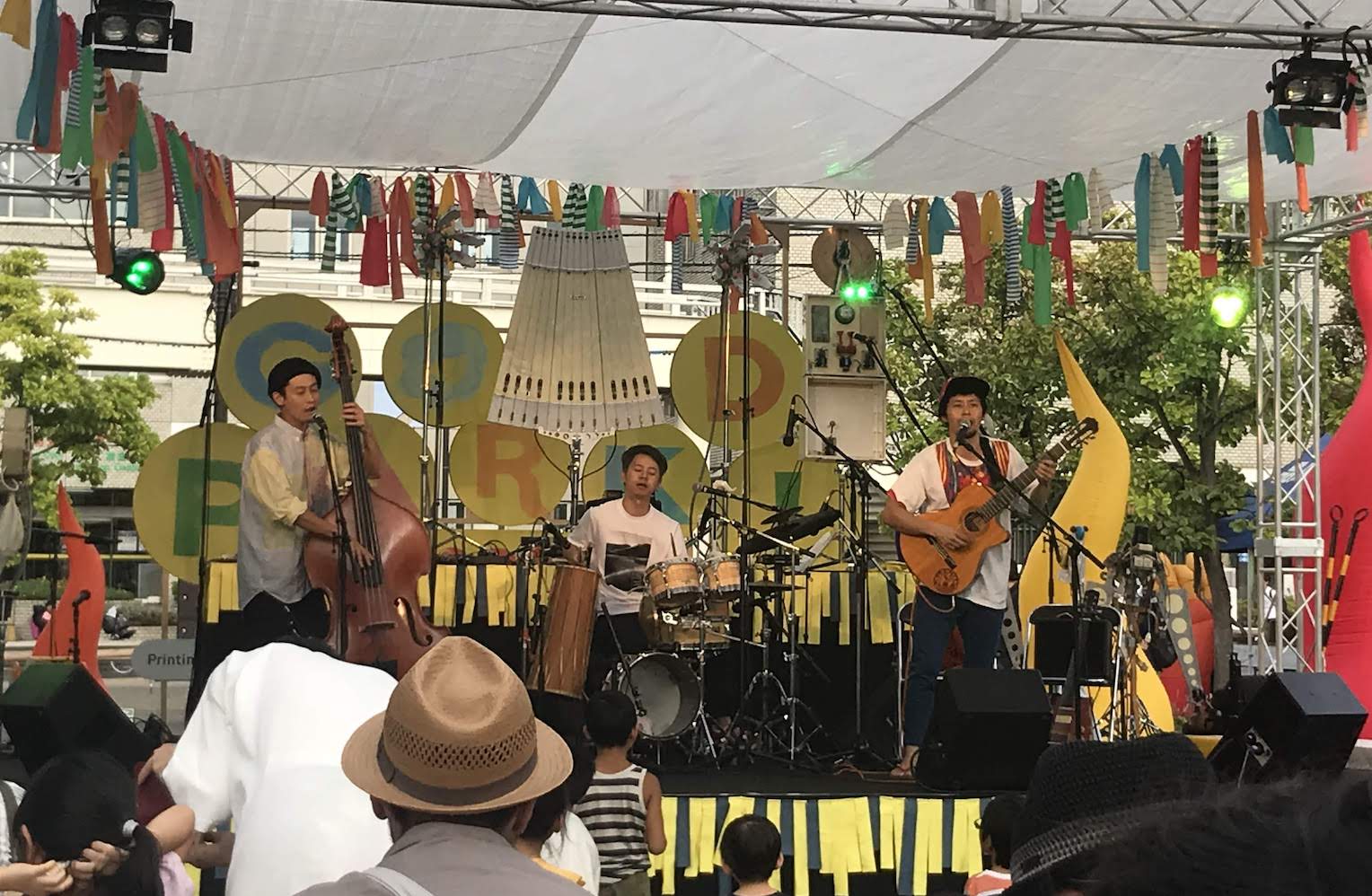 A scene from the Shinagawa City event "GOOD PARK! 2019". The event is popular, and centers on themes of art, music, fun activities, and discoveries (Photo provided by: TASKO)
-TASKO seems to do a lot of work in the digital sector, which seems antithetical to the Bakurocho Band. How does that actually work out, though?
Oda: Surprisingly, it's really not like that. I definitely do a lot of web- and digital-based graphic work, but TASKO also values craftsmanship by nature – something we inherited from Maywa Denki, and across the company, we love things we can actually touch and experience. So even on the graphics-oriented jobs I handle directly, we're good at developing equipment for special printing, or analog or three-dimensional setups if them might be better than amazing but flat graphics, when it comes to show window installations.
Since the Bakurocho Band gives me a lot of opportunities to learn about folk arts and traditional crafts and so forth that inspire me, I find a lot of chances to draw on that as input for TASKO design and planning ideas.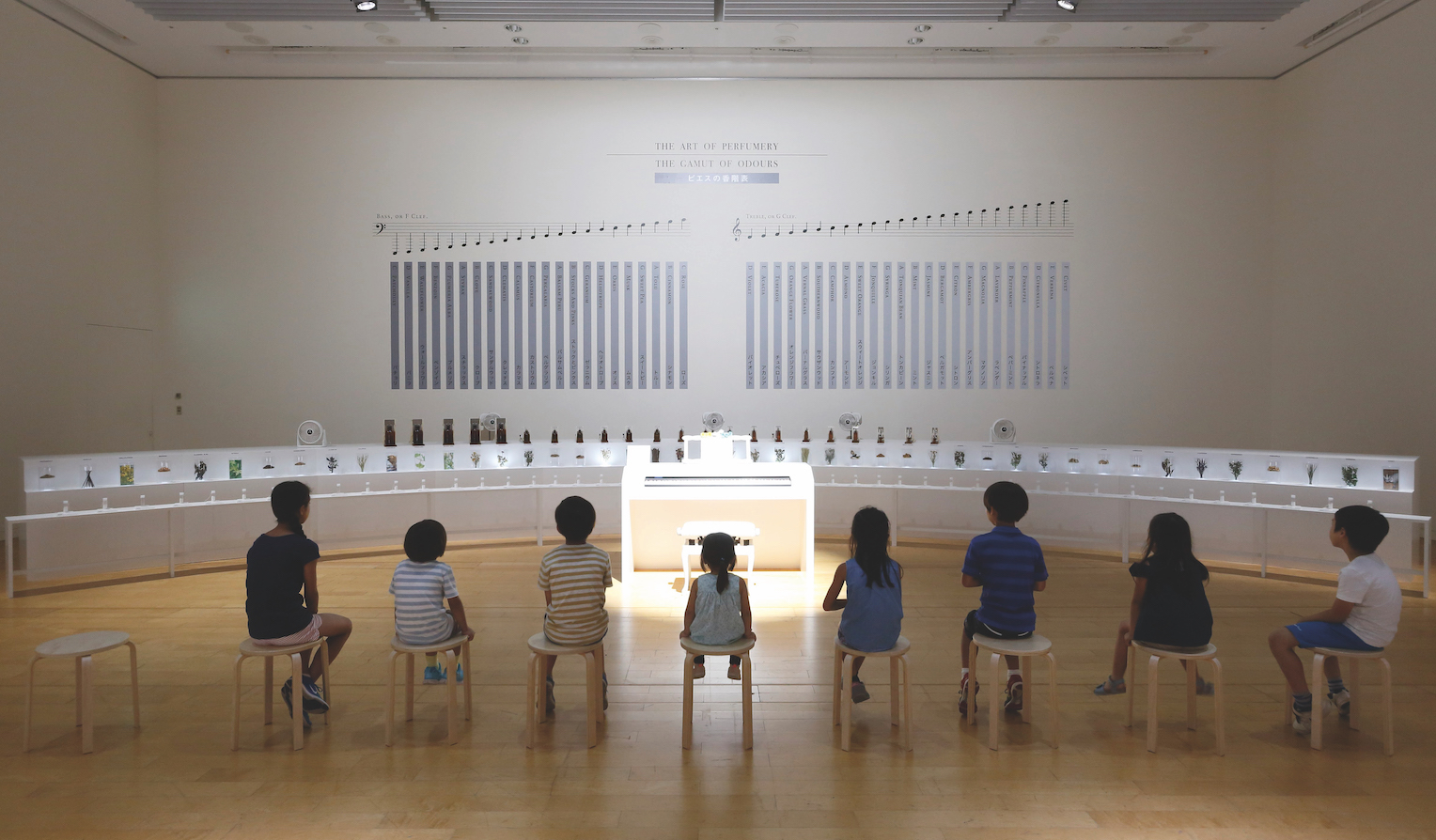 The perfumery_organ, an organ that emits aromas based on an "aroma scale" alongside notes, the presentation of which Mr. Oda participated in with graphics, etc. (Photo provided by: TASKO, Photo by Keizo Kioku)
-How does the company view the way you handle your activities, Mr. Oda?
Oda: I think TASKO is generally very permissive regarding individual activities. A lot of others aside from me are also active as genuine musicians, and we have someone who developed a robot band, and people doing all sorts of other things.
I think that since there are major benefits when individual activities feed back into the company, nobody says anything unless you can't keep your lives balanced and cause trouble for other people. It sounds like the ideal type of "work style reform" that we talk about in Japan, but we're just doing things "because they seem fun" in our business and personal lives. We don't really think of it as a work style, particularly.
-Have you ever felt glad about doing such a wide range of things, or felt a special potential because of it?
Take: It's great that we each have our own skills, and can handle everything between us. For example, for "Festival Talk" together we handle everything including research, editing video, drawing pictures, and producing music, and we can also handle everything from album production through setup for a performance. Being able to keep things within the team without needing help lets us make what we want the way we want, and also gives us a minimalist, high-purity style that suits the times very well.
Oda: We go at it like it's natural for us, since we see it as all connected, but most people wouldn't do it that way. It took us time, but I feel like with TASKO and each of our solo roles, everything has finally come together here.
A Parade as an Integrated Artwork, Out of Hopes for Prosperity in Business for Nihonbashi, the City of Commerce
-Is there any challenge you want to take on in the future, as a band?
Oda: I want to do something like a "staged" piece as an integrated artwork. Something with performers, lighting, and stage settings, and something I could set to music would be nice. Mr. Take is getting more room to express himself in his solo career, and that makes me feel like it would be great to do something that connected everything I've done so far. I feel like the time is almost right for it.
-That does sound interesting. If you were to do it in Nihonbashi, what would you want to do?
Oda: I'd like to use the main street for a parade, combining music, dancing, art and so on. There would be lots of headgear types on display, and structures with major visual impact like regional festivals have, and music. I'd like to march along with all that. Nihonbashi – and particularly the Bakurocho neighborhood – has always been a city of commerce, with sprawling wholesale businesses. I think people would be into it if we resurrected the kado-zuke style (a form of art performance conducted outside the entrances of homes) of parade, where we'd tour the businesses and homes of the city and pray for business prosperity. Tokyo still has traditions like kumade rake talismans and daruma figurines of Bodhidharma, so I feel like it might be surprisingly easy to spread the kado-zuke culture.
Currently, having Bakurocho as our home turf and having been active under this band name is really tying a lot of things together for us. So I want to hold a big staged event here someday, in the city I have such deep ties to, where it all started.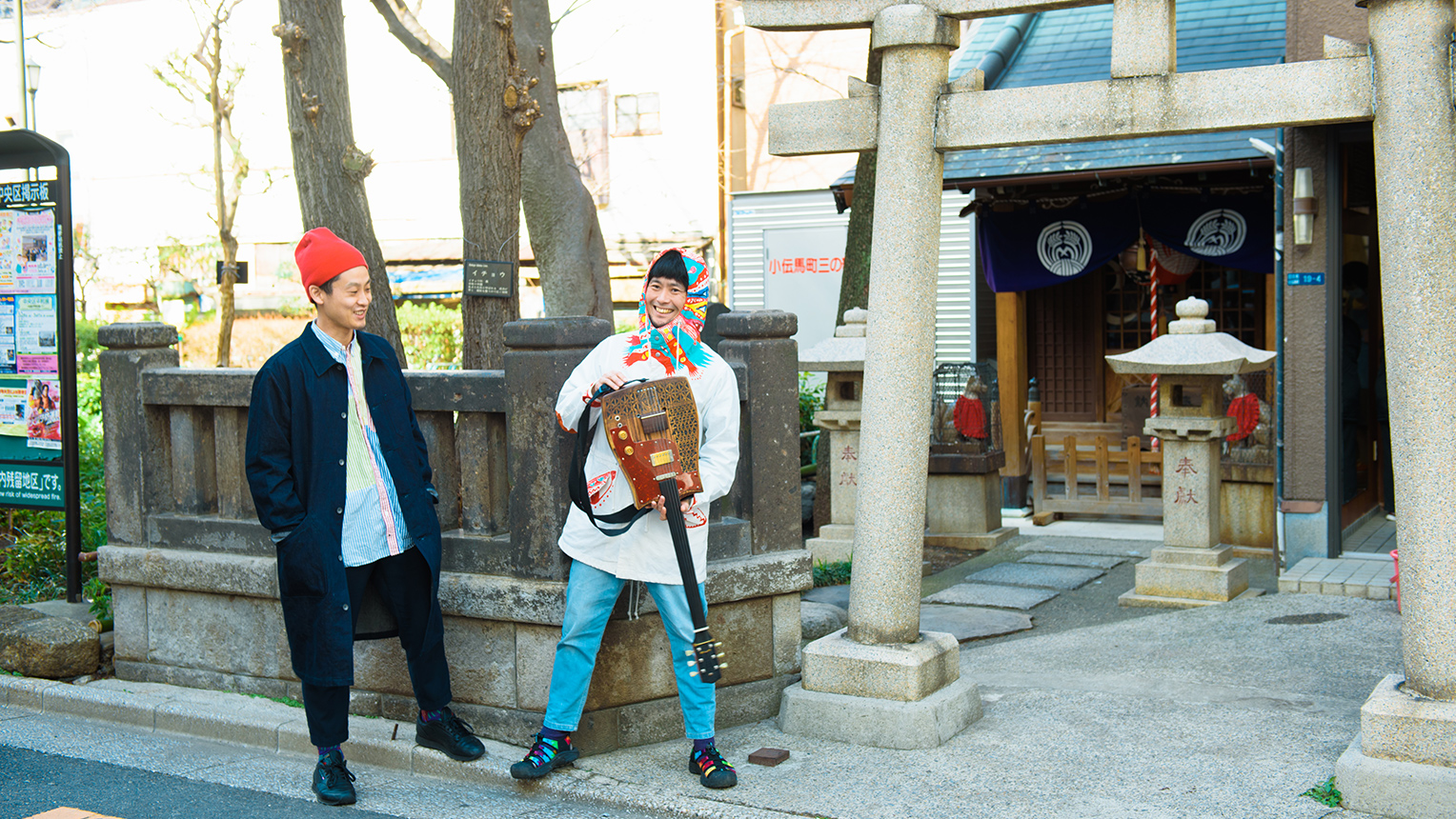 Interview and text : Minako Ushida (Konel) Photography : Daisuke Okamura
Bakurocho Band
Founded on a concept of "folk music starting from zero," the band searches for its roots in all forms of artistic expression from ancient to new and around the world, engaging in expansive projects in a personalized style encompassing everything from instrument development to expressive video. They have frequently provided video and music for television and film in recent years, as well, and began the "Festival Talk" segment on NHK Educational TV's program "Shakin!" in 2018, handling all planning, reporting, video, and music for the segment in conjunction with animator Mari Inaba.