2019.03.13
New products created from being playful and standing at the perspective of a customer?
Looking into EITARO Sohonpo's source of embodying ideas one after another.
New products created from being playful and standing at the perspective of a customer?
Looking into EITARO Sohonpo's source of embodying ideas one after another.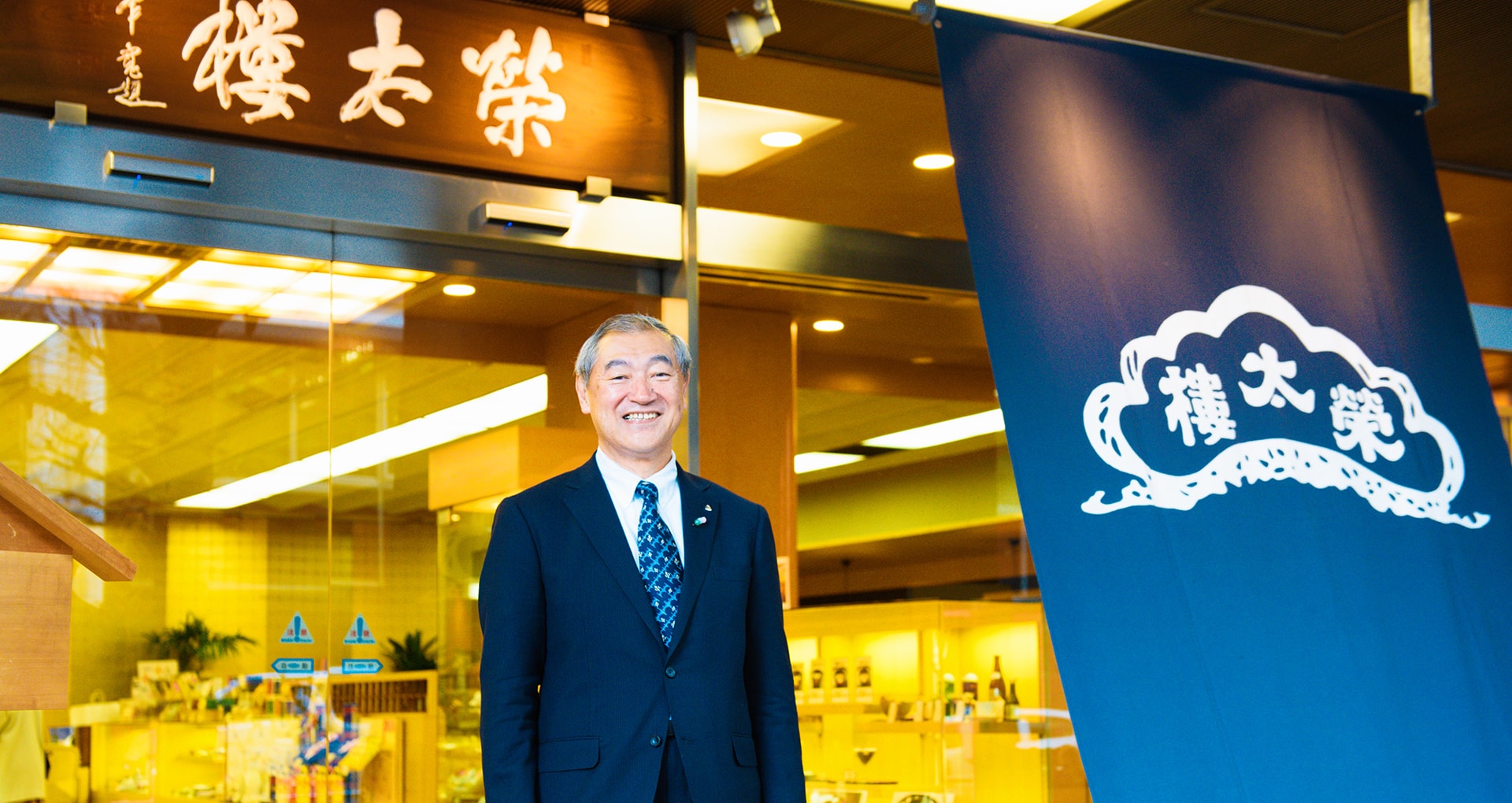 EITARO Sohonpo is a Japanese confectionery shop that celebrated its 200th-anniversary last year, a recently familiar name which you will find at the candy aisle of convenience stores. Where do the innovative ideas that led to the creation of the variety in its products and development of the brand come from? To find out the secret, we interviewed their 8th president, Mr. Makoto Hosoda, about the corporate culture and its future challenges.
"Eitaro challenging to enrich the mind" The heart behind the company policy.
―So tell us about the roots of EITARO Sohonpo.
The founder Tokube Hosoda originally ran a confectionery shop in Hanno, Saitama. The origin dates back in 1818 when he moved to Tokyo with his 2 grandchildren and opened a Japanese confectionery shop called Izutsuya around Kudanshita. Eitaro, the great-grandchild of Tokube, sold Kintsuba with his father at a street stand in Nihonbashi since his childhood and was loved very much by the people in the fish market. From his popularity, the name of the shop was changed to his own name, Eitaro, and it was relocated into the current location, where it stands till today.
―Are there any traditions or disciplines that have been passed down?
It may be a surprise but there was nothing special like that. We made our first corporate slogan "taste lies in thoughtfulness" with a suggestion by the former president about 30 years ago since we did not have any such thing. There are many different ways we can interpret this, one of which is providing high-quality products at a reasonable price and pursuing the best taste by bringing out the material connects to the thoughtfulness towards the customers. Evolving from the original slogan, we created a new one, "Eitaro challenging to enrich the mind," last year. I believe it connects to the Eitaro who enriched the minds of the people in the fish market with delicious Kintsuba during the Edo period.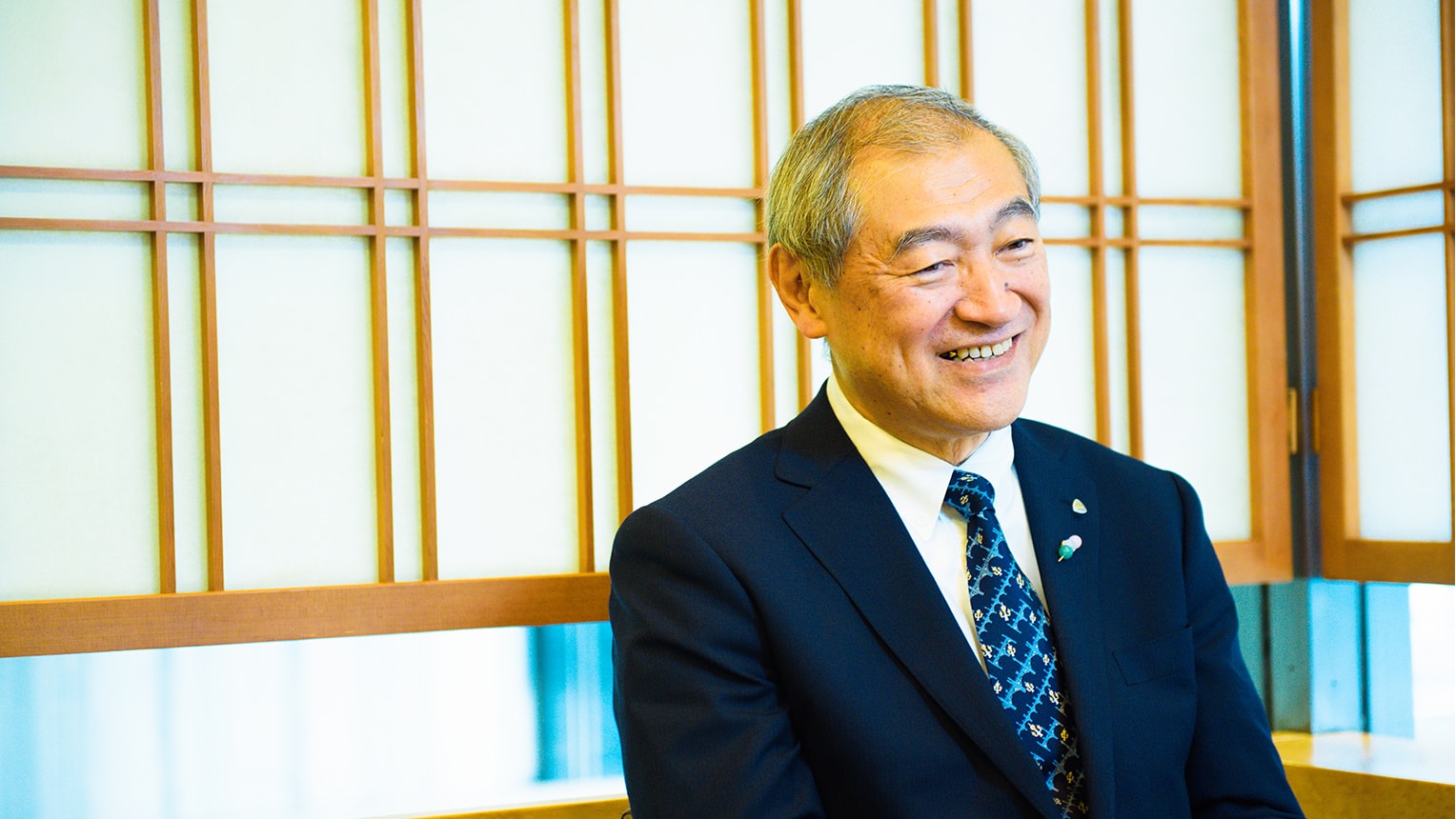 Many of the original products were created from the perspective of the customer.
―In the 200 years of history, the shop has created various original sweets one after another such as Amanatto and canned Mitsumame. Where do those ideas come from?
Amanatto is called Amana Natto at our company, and it was created by the founder. Azuki beans were expensive during the Edo period so they used a type of grain called Daruma Sasage bean to make products available to everyone. Amana Natto was born from multiple elaborations of plans to make it delicious and provide it at a low price. This became popular within the common people, which became the roots of Amanatto. At the same time, I also think that they are the origin of snacks.
―Indeed, the thoughtfulness towards the customers brought about the product.
Yes, indeed. I have also heard that they went through many struggles in inventing the canned Mitsumame. Each can was double layered; one layer with sweet syrup and the other with the ingredients for the Mitsumame. You take out the ingredients first and turn the can over to pour the syrup so that you can enjoy the fresh taste, but it was considered unbelievable from the can technology around 1965. To make a double-layered can, they needed to place a plastic cup inside the can to separate the syrup and the ingredients, but it was treated as a "contaminant". It was not even approved as canned food in those days in the industry (laughs) and could not even be exported.
―The pursuit of taste transcended the ideas of the canned food business.
I believe that "confection is all about technology". More of the containers and wrappers are being made with machines, but originally, those were made by highly skilled craftsman. How we have the machine replicate this is very important. That's why it's more of "improving the machine according to the contents" rather than "creating the contents according to the machine's capability." To provide delicious Mitsumame, we improved the machine to make a double layered can. If it isn't feasible, we cannot make new products and not take the easy way. Such philosophy has been consistent since the old days.
New plans are created and improved across the department, and ideas are to be shared.
―Recently, there have been many products launched in collaboration with others. How did these start?
First, it started with a collaboration with Takehisa Yumeji Museum. We made a product with Eitaro's candies in a package that can be mailed like a postcard with a Takehisa's work on the surface. This became a hit as a souvenir of the museum and spread to many other museums and theme parks. We have made about 200 types of product in total.
―200! That is definitely a great hit.
Candies are good for small gifts. So, we thought of an easy way to send candies and came up with the idea of combining it with picture postcards.
Isn't it more delightful to get a postcard with candies rather than a normal one? Small twists like this must have matched with the demands for a souvenir.
―Where do these ideas come from?
We have a Planning Division, and the members of the team mainly come up with new projects. For fresh sweets, there are times when we receive a proposal for a plan from the production site. We head towards developing the product by first holding a meeting within the division, then with the Sales Division, and finally with the executives. We brush up the plan during the meetings rather than scrutinize it.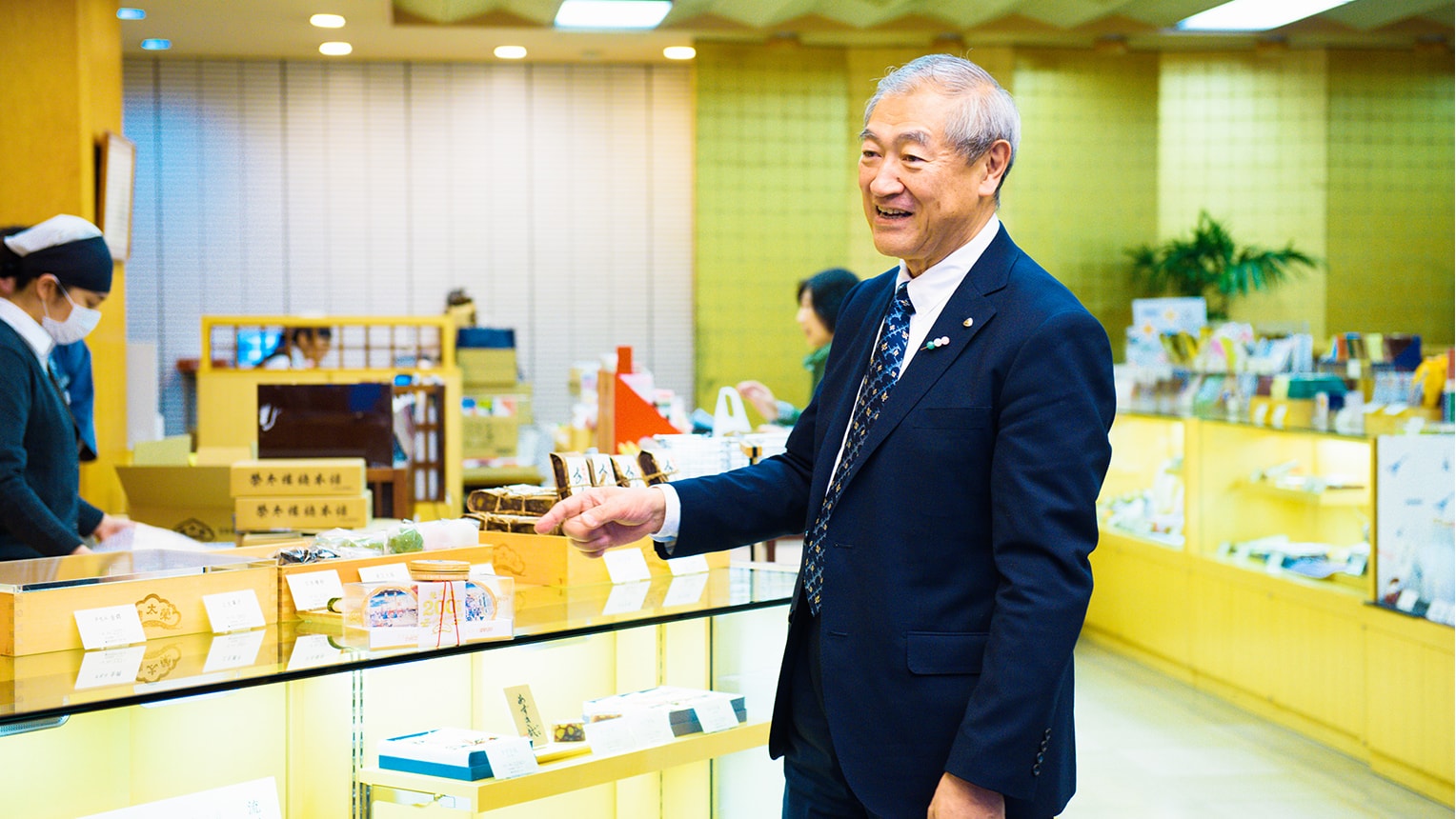 ―Tell us other secrets of coming up with ideas if there are any.
We don't really have a special organization or unusual rules. But in general, the staff is positive about the ideas that come up. There is a culture of encouraging them by thinking of how it can be done and the different ways it can be presented. In realizing ideas, they discuss across different departments. There is an atmosphere and an open environment for each of the them to propose new plans or give their opinions.
―Does it mean that the executives are also open-minded about new challenges?
It's unlikely that the plan will be declined if it comes up to the executives.
But actually, there was an exception when the chairman said, "the product won't sell," when a plan to sell pop candies with a brand came up. The female staff who came up with the plan insisted and "I will take all of the responsibility, we are launching the product !" and started selling them... And it became a big seller... The chairman couldn't say anything (laughs).
―That's amazing (laughs). The staffs is eager to take on new challenges.
We always tell them to insist and propose what they want to do.
Also, the executive members are conscious of sharing the information they heard from clients and other sources. We don't know where the hint for new development hides. It's important to make ideas open.
"Ameya Eitaro" started from a playful spirit?
Enjoying trials, not fearing mistakes, and creating things anyhow.
―Eitaro has multiple brands but the start of the Ameya Eitaro left an impression. It's like a stylish jewelry shop appeared in the food section of a department store.
The brand was created from a request of Isetan to make a new brand for a reform of the stores. At first, we proposed sweets that used Anko (sweet bean paste) and beans but we were told to create something more that can only be done by Eitaro. We searched for anything that suits the request from sweets at the prototype stage in the Planning Division and the factory. What we proposed as a trial is the current "Hane Hitoe," a tabular candy. This caught the eyes of Isetan, and we were offered to merchandise.
―It was a great promotion from a prototype.
I was in charge of the factory at the time and knew that we would have to overcome hardships to produce it in mass volume. "We can't do it even if you give us an offer..." That was my honest thought at that moment (laughs). We thought of better production system in the factory and was able to create a certain amount of the product. Fortunately, the product sold very well that the factory couldn't catch up even with the system.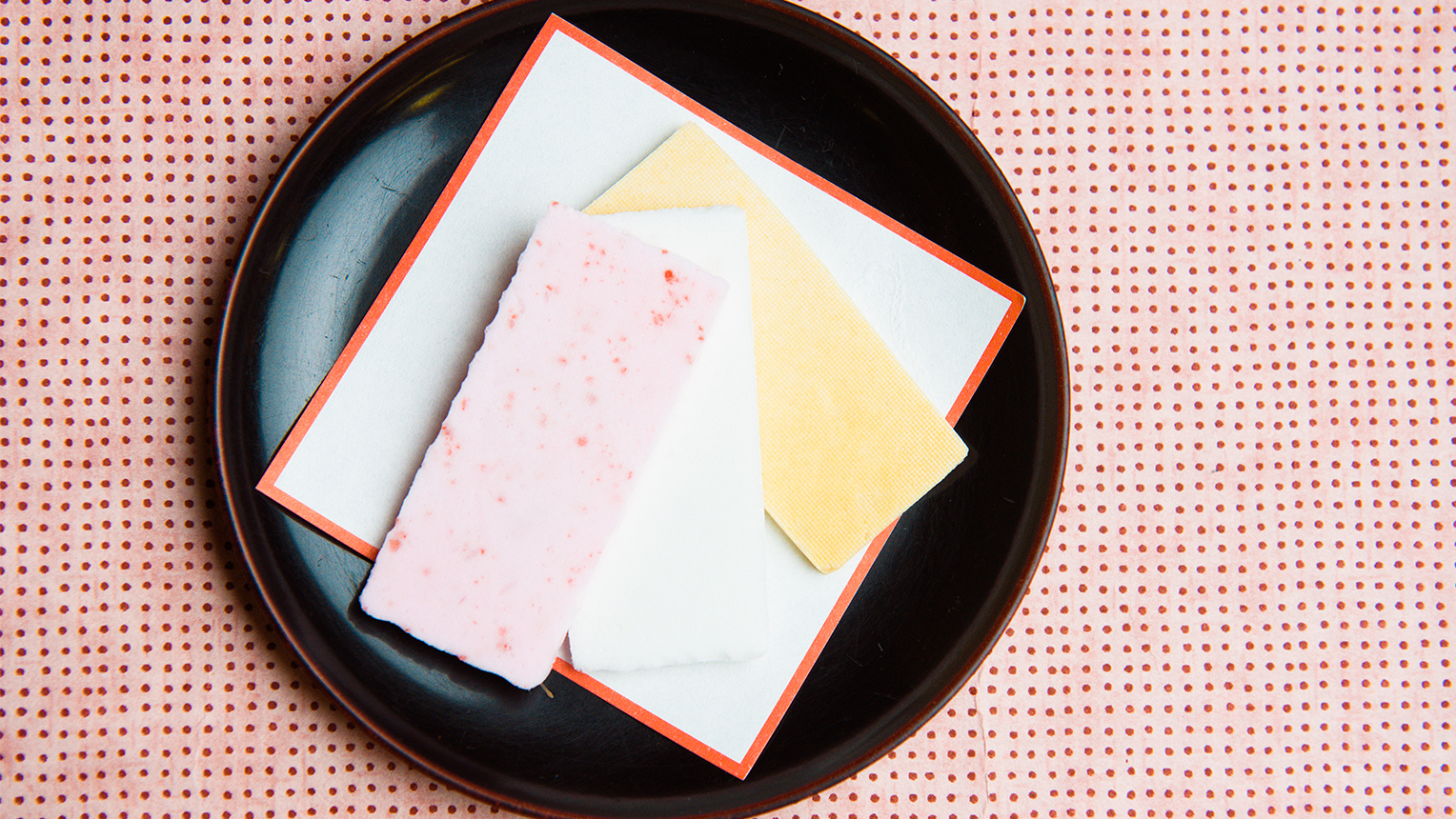 Tabular Candy Hane Hitoe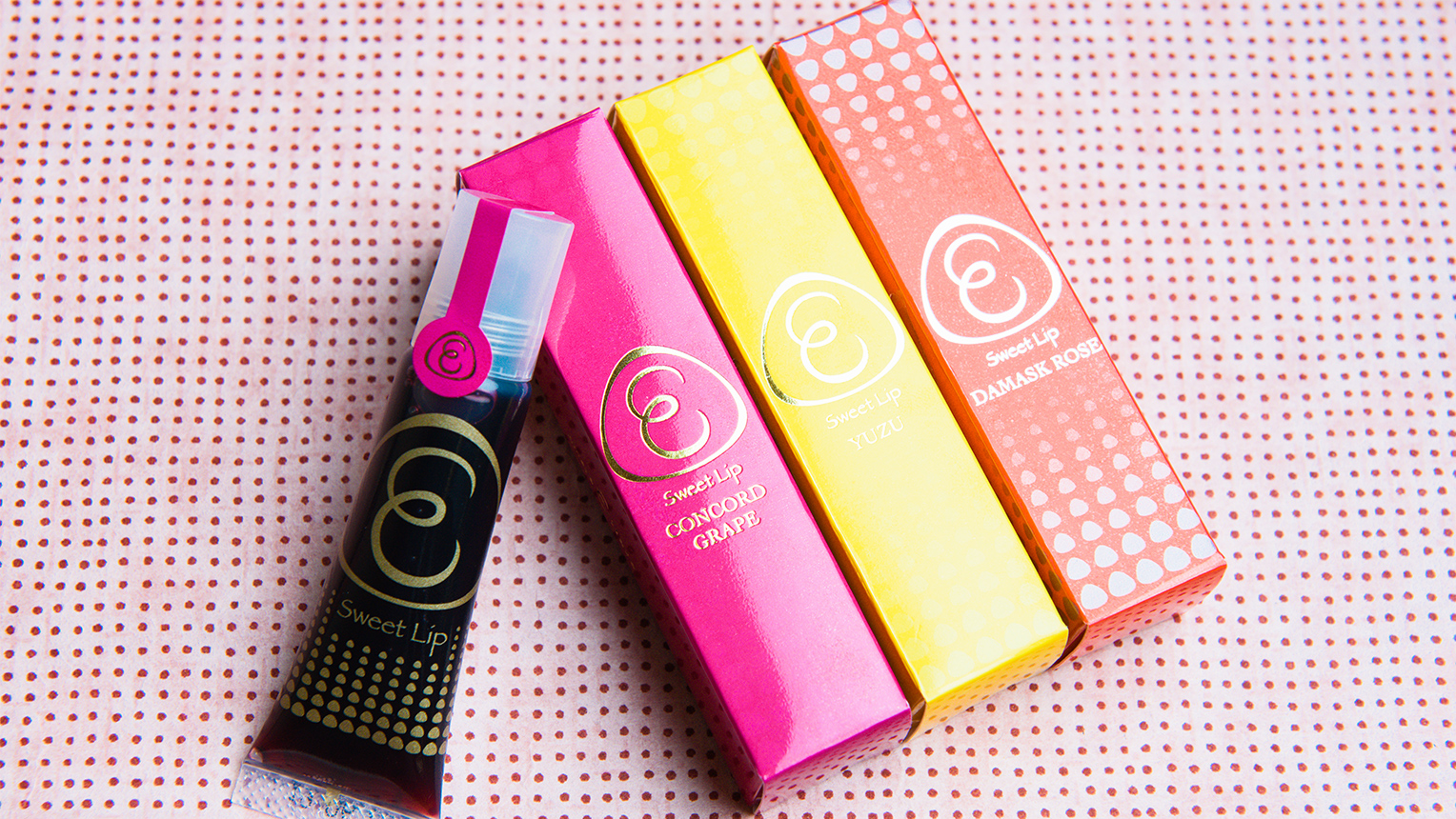 Sweet Lip
―Do you make prototypes regardless of whether it will be merchandised or not?
Right, indeed. We play around while making the prototypes and make different things when we find the time. We call it "playing tricks" or "storing it in a drawer." In doing so, we don't really think about selling the product and casually make something thinking, "it'll be fun if there's such thing."
―It must be fun to play around with prototypes. This easiness I think is what creates fun products.
I believe so. We try not to forget to enjoy even after producing the product. For instance, Sweet Lip originally was packaged in a glass bottle and was not selling well at the time. After a while, a female staff of the development team thought of putting it in a lip gloss type container so that young ladies can be more familiar with. This little twist turned the product into a big hit.
―It seems like there are many successful cases, but were there any cases when a product failed?
So many. Since we started selling our products in convenience stores and supermarkets 20 years ago, we have experienced many failures because we make new products more often. For instance, we made candies called "Men's Hard Ginger" and "Candy Too Sour" but they were gone from stores in an instant (laughs).
―I did not know Eitaro had such unique products (laughs). The challenge of launching such products even once is amazing.
There are occasions when we make mistakes but we want to tolerate them. It's impossible to be 100% successful. Rather, it's unwise to not take actions because of the fear of failures. We want to encourage the attitude of taking actions first, like the case of the prototype.
The next challenge lies in the overseas market and health. Approaching them with deliciousness.
―We look forward to what kind of challenges Eitaro will be tackling. Is there anything you plan to challenge?
First is to launch our stores for overseas market. Japanese food has been recognized as a cultural heritage, and Japanese confections are included in it. There are many varieties of Japanese confections, and they are probably sweets that have the most variety in the world. Also, they are known to be safe and delicious so we want to promote their goodness to the world.
Japanese sake has become a worldwide boom but it all owes to the promotional efforts of the Japanese sake association. Japanese confections industry should learn from them.
―Next year is the year of the Olympics and a chance to promote the Japanese confections. What is the other challenge you plan to take on?
The other challenge is to further pursue the goodness for the body. Food is the only thing that can make a human healthy and, at the same time, unhealthy. That is why we take pride in our ingredients, sourcing the main ingredients such as brown sugar, adzuki beans, and mochi rice grown in designated places.
―That's amazing. As people are getting more conscious about their health, they would be curious about healthy sweets.
Two years ago, we established a brand called "Karada ni Eitaro" holding "low-carb" as its theme. Making low-carb sweets are quite difficult in the first place so it is a big challenge. For instance, the main ingredients for a Daifuku mochi are sugar, adzuki beans, and rice, and they are all carbohydrates (laughs). Other than low-carb sweets, we are planning to expand the variety of products by making confections with low calories or with beauty nutrients. However, what we want to prize the most is its deliciousness. Sweets must be something that can make people feel happy and fulfilling, so we always think about their taste.
Continuing business in Nihonbashi. Town for work = town for life. Such a mindset creates a town with a warm atmosphere.
―Eitaro focuses on the overseas market while treasuring its Nihonbashi local communities.
We have been able to run a business for 200 years since our founding on this land, so we treasure Nihonbashi. My favorite words of the current advisor are "Nihonbashi does not have luxury products but have first-class products." Candy is not expensive by no means but is first-class; that makes Nihonbashi great.
―That's a great way to put it. You have made various collaborations with other long-established stores.
We made "Nihonbashi Mochi" together with Ninben and Yamamoto Noriten, long-established stores of Nihonbashi and "Tokyo Noren Meguri (rice snack)" with 4 other stores with a long history. Every one of them is a culmination of the stores' pride. These products are reasonable and easy to purchase but it embodies the "first-class content."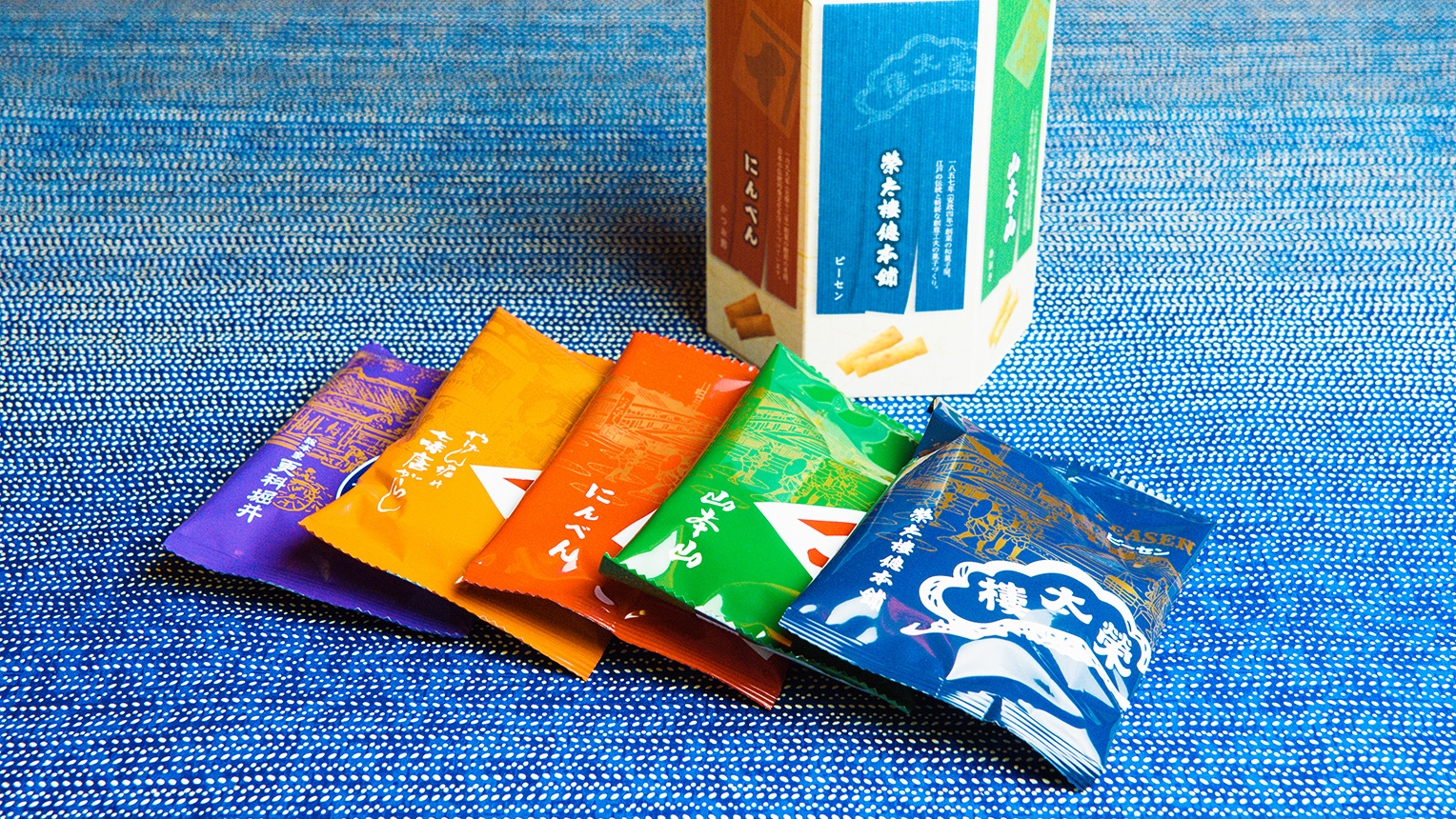 Tokyo Noren Meguri (Assorted rice cracker with peanuts)
―What do you expect from Nihonbashi in the coming years?
Nihonbashi has always been a town of many changes since the old days, so I don't have any hesitation against the changing landscapes; although, I don't want it to become a boring town. Many festivals and events are held even in the middle of Tokyo, but this is supported by not only the local people but the participation of companies. The population difference during the day and night around this area is large, and it cannot hold itself just with the local people. I hope that the people working in Nihonbashi can have a sense of a local resident that this is a town they live in during the day. I believe that the town would be even more energetic and warm if more people can feel that way.
―Thinking that the town you work in is also a town that you live in (while working) would bring about more closeness.
Nihonbashi is a very down-to-earth community as it has been a town where people all over Japan gather since the old days. If there are people who are planning to work or have a connection with this town, I hope that they would utilize such culture, challenge various things, and love the town. I am looking forward to new collaborations with the daytime residents.
Interview/Text: Minako Ushida (Konel)    Photographs: Daisuke Okamura (Konel)
EITARO Sohonpo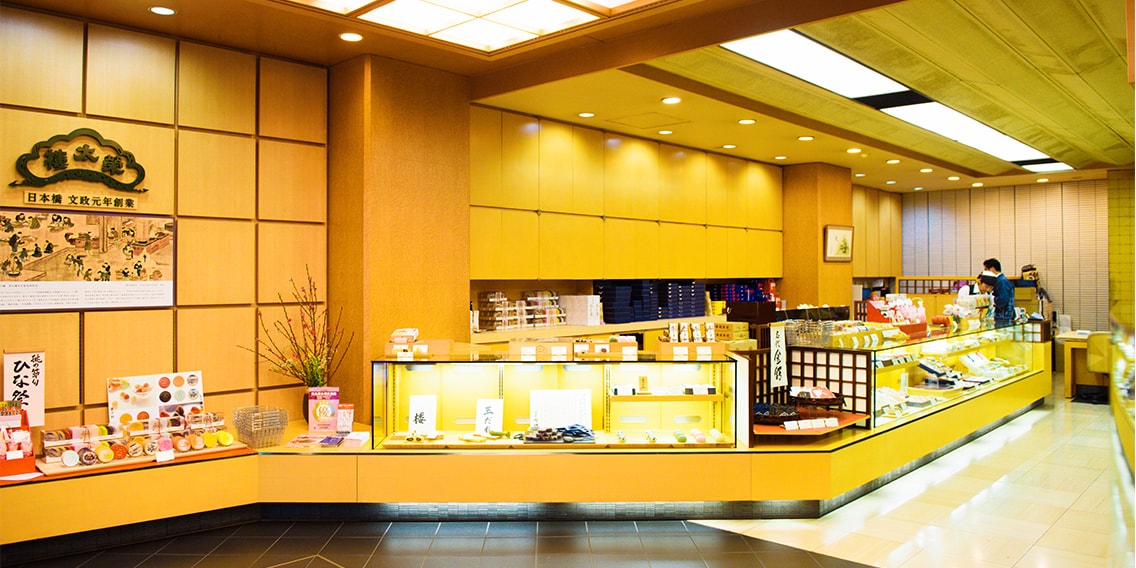 Address: 1-2-5, Nihonbashi, Chuo-ku, Tokyo, 103-0027 
TEL: (+81) (0) 3-3271-7785
Open Hours: [Monday through Saturday] 9:30 - 18:00 
Closed on: Sundays and holidays