2019.07.11
Yukatas, Windchimes, Fireworks, Goldfish…Taking Photos of Summer Motifs. ECO EDO Nihonbashi, a Hands-On Photography Event .
Yukatas, Windchimes, Fireworks, Goldfish…Taking Photos of Summer Motifs. ECO EDO Nihonbashi, a Hands-On Photography Event .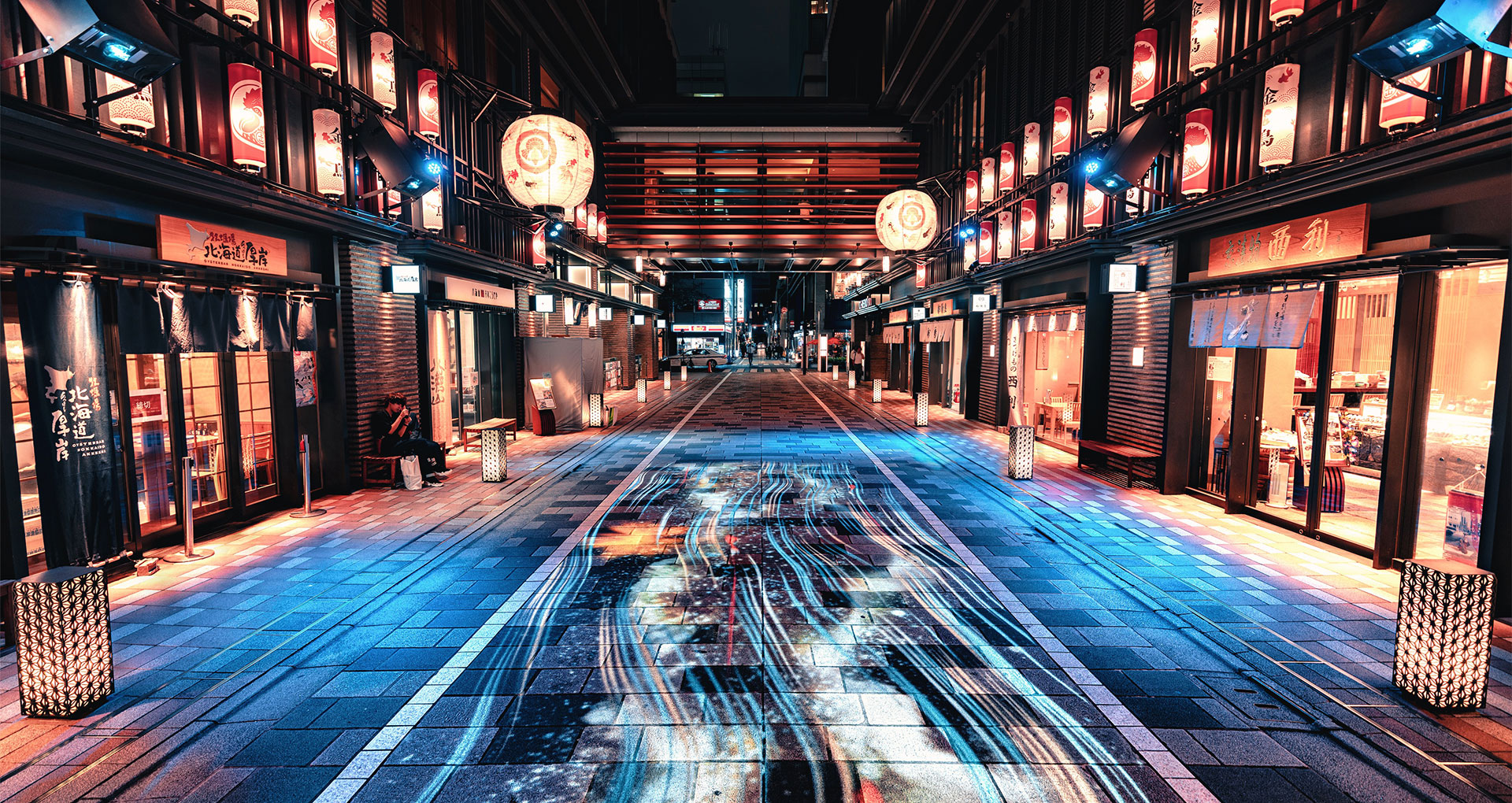 ECO EDO Nihonbashi, a summer tradition at Nihonbashi, has been opened to the public again this year starting Friday, July 5th. In addition to the ECO EDO Nihonbashi Art Aquarium 2019, a popular annual aquatic art exhibition featuring goldfish, many different events with themes that symbolize summer in Japan such as yukatas, windchimes, and fireworks will be held. So don a yukata and come visit Nihonbashi to take pictures of the streets steeped in the spirit of summer.
The Streets of Nihonbashi, Updated for Summer.To Embody the Summer of Japan, and Creating a Place to Stroll Wearing a Yukata.
The key visuals for this year, ECO EDO Nihonbashi were created by flapper3, a creative studio with its office located in Nihonbashi. Under the theme of "strolling around in a yukata," they have created a "Flow of the River" to express the idiosyncratic asset of the town Nihonbashi, depicting the powerful spirit and energetic vitality that flows through its streets.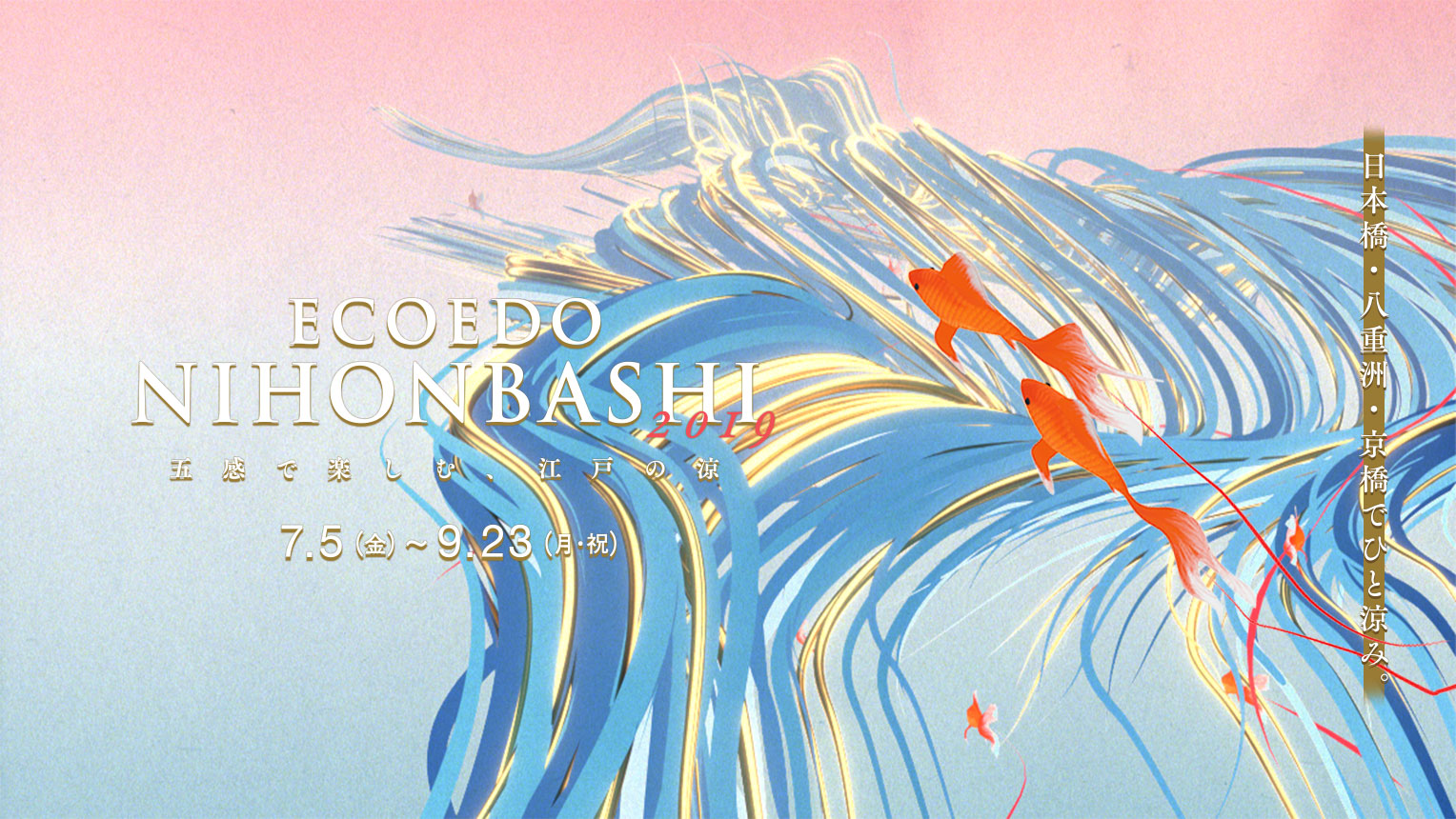 Key visuals based on motion graphics that were created by flapper3. The adorable and playful, yet unassuming appearance of the goldfish, a motif of ECO EDO Nihonbashi.
Created under the same concept as this key visual is the Summer Scroll that lights up Naka-dori, the street leading to the Fukutoku Shrine. On the streets decorated with giant lanterns every year, projection mapping was displayed to highlights the seasonal shift towards summer. All of these are to depict the theme of summer in Japan, and for a very photogenic environment. Even the roads are slightly tweaked to imitate the surface of a river and creating a cooling effect.
This piece here incorporates changes to the production in accordance to the seasons, and to the ECO EDO Nihonbashi which have been held for many years. After O-Bon (Festival of the Dead), the production will change to create the atmosphere of late summer, with the sound of crickets and more. We hope visitors will don a yukata and come to enjoy these various faces of summer.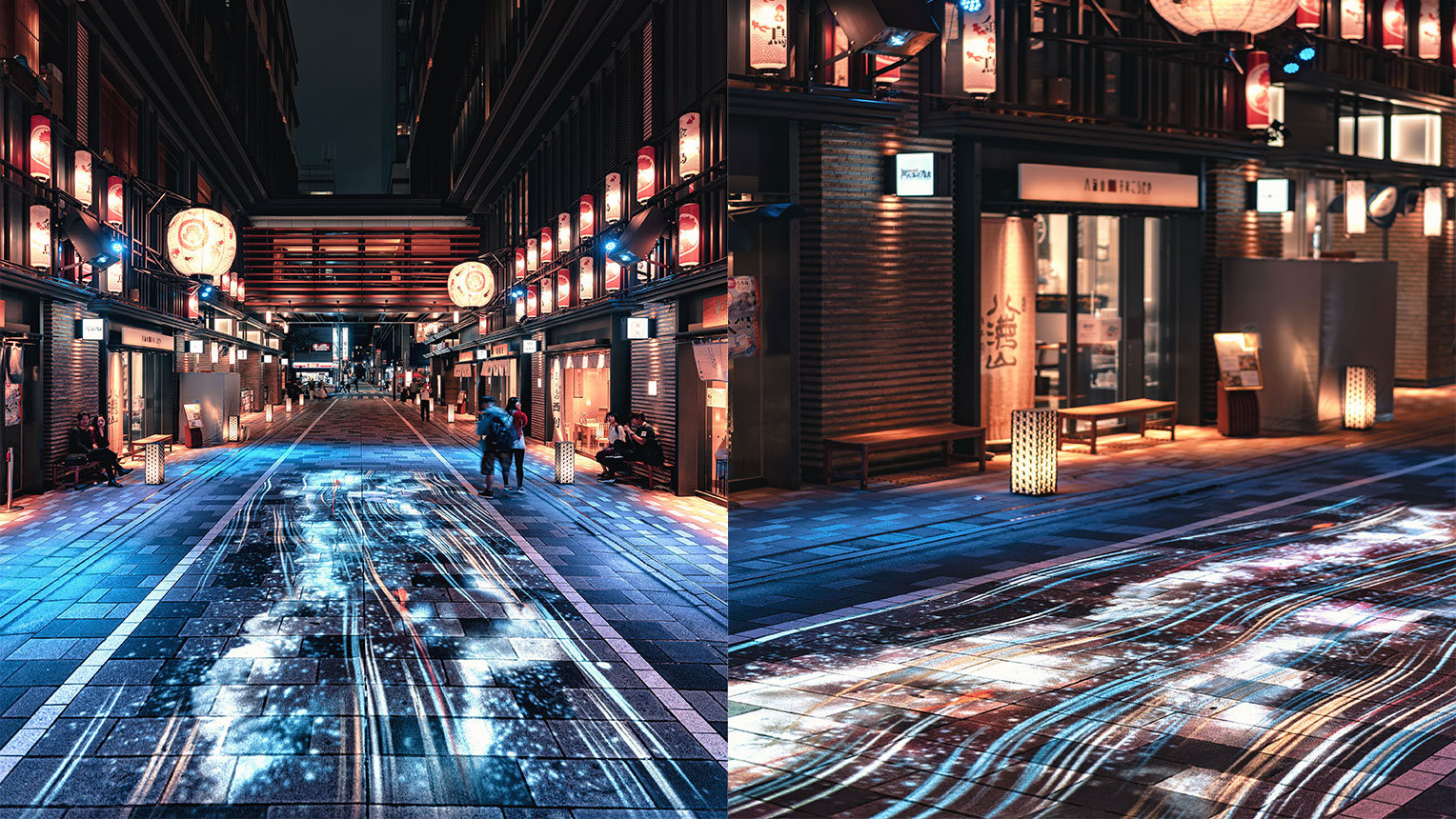 The Summer Scroll is a projection mapping effect that depicts the shift towards summer on Naka-dori, a street decorated with giant lanterns.
Enjoying the Streets Through Photography."Summer in Nihonbashi," a photo taken by photographer Naohiro Yako.
In addition, for the first time this year, a photo exhibition entitled "Strolling Through Nihonbashi in a Yukata," will be held. Just like the key visuals and the production to the Naka-dori street from flapper3, Mr. Naohiro Yako's photography will also feature the themes of yukatas and the streets of Nihonbashi. Photos taken at all 15 locations, including the digital signage of the Edo Sakura-Dori underground path, have been uploaded via the event's social media.
A panel exhibition at Coredo Muromachi 1 is scheduled for opening by the end of July as well.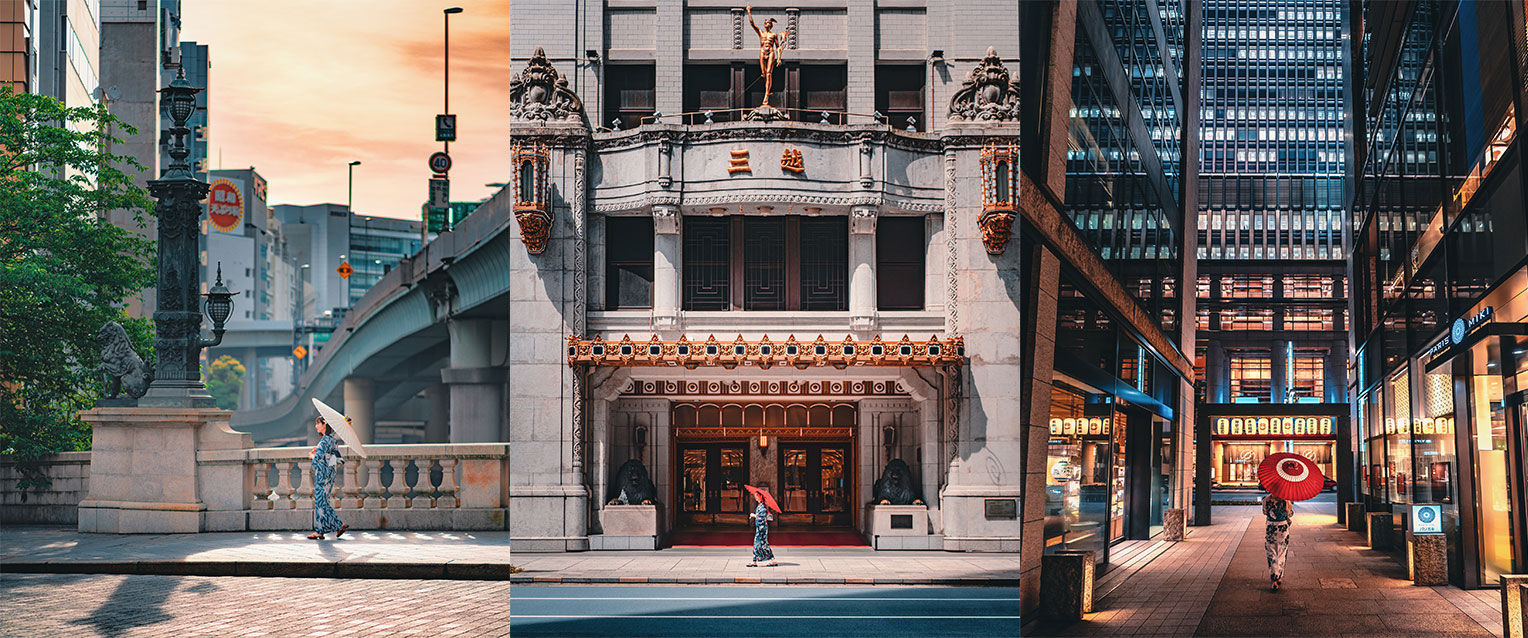 A shot of the town by Mr. Yako. Yukatas has been provided by Toray Industries, Inc., with its headquarters in Nihonbashi.
Viewing the scenes of Nihonbashi and its matching yukatas, as seen through the eyes of a photographer, may give you a new insight into these streetscapes.
An interview with flapper3, the company who worked on the projects featured at this year's ECOEDO Nihonbashi, is scheduled for release in late July. So keep an eye out.
Bigger and Better Again This Year.ECO EDO Nihonbashi Art Aquarium 2019, a Summer Tradition in Nihonbashi.
During the Edo era, goldfish watching was a popular past time in the lively merchant town of Nihonbashi. The Art Aquarium aims to bring back this past time to the present day, along with its particular way of keeping cool during summer. This will be the final year for this event, an annual summer tradition that lasted since 2011, and will be held at the Nihonbashi Mitsui Hall. According to Art Aquarium Artist Hidetomo Kimura, this year will be a culmination that will bring together all of the best works from the past few years.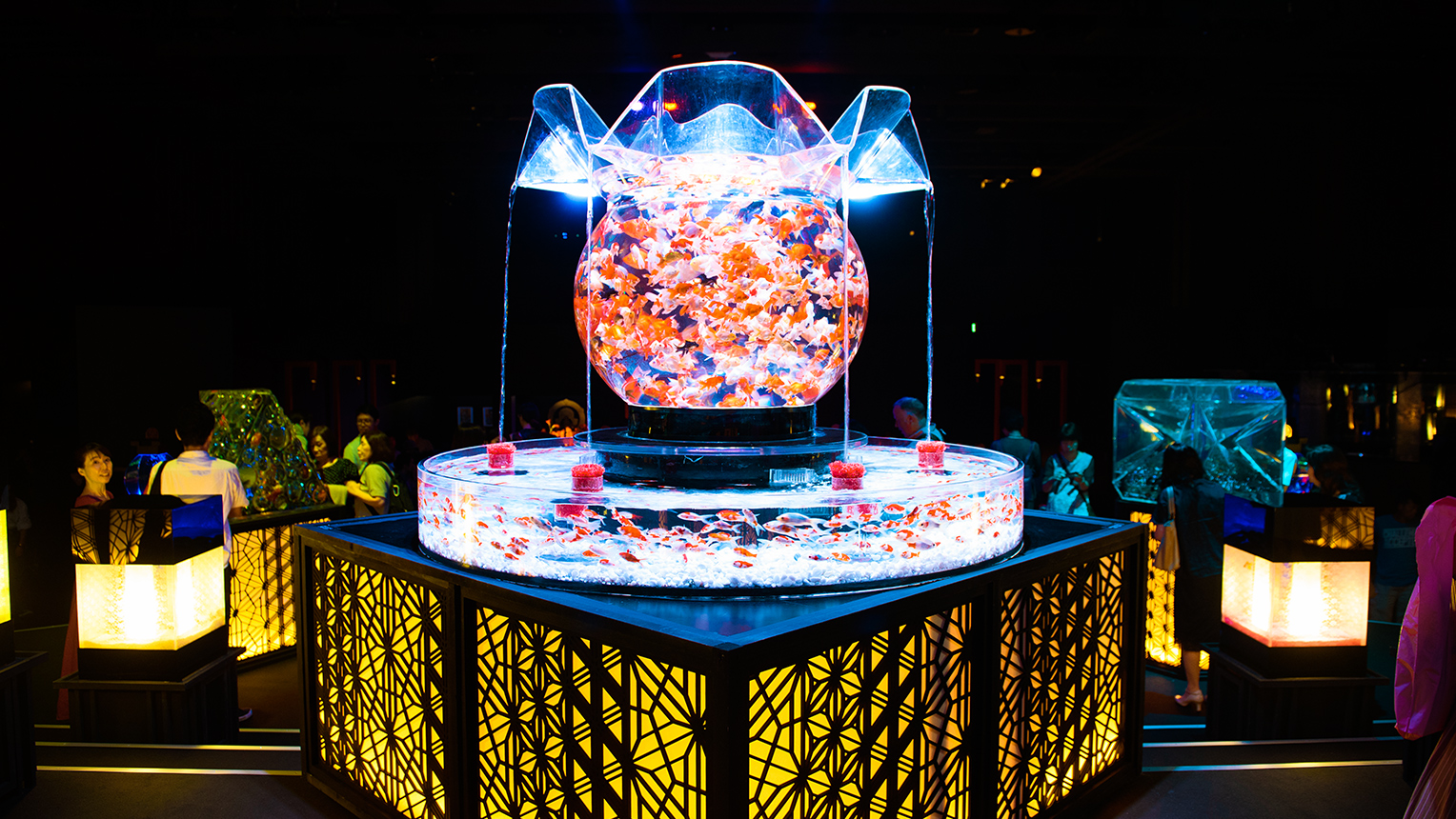 For this final year held at Nihonbashi Mitsui Hall, many of the best works from the past few years will brought back together.
Mr.Kimura also added that "Since this will be the final year for this event at Nihonbashi Mitsui Hall, many people have contacted us. We've heard stories about how some couples had their first date at the Art Aquarium, who later went on to get married, and had thanked us. I'm deeply grateful that I've been able to be a part of helping create memories for people with this summer tradition." he says.
The Art Aquarium, which began in Nihonbashi during the early phases of its redevelopment, drew many visitors and has taken root as a summer tradition that helped revitalize the town.
So come and see for yourself, and create some summer memories of your own.
See, Eat, and Photograph the Summer Chill.Summer in Japan at Nihonbashi.
The event will also feature the annual "Goldfish Sweets & Bar Stroll," in which people stroll around eating goldfish-themed sweets. Refreshing to the eye as well as the tongue, these sweets are definitely photo-worthy. You'll make sure to visit as many shops as you walk around and taste everything.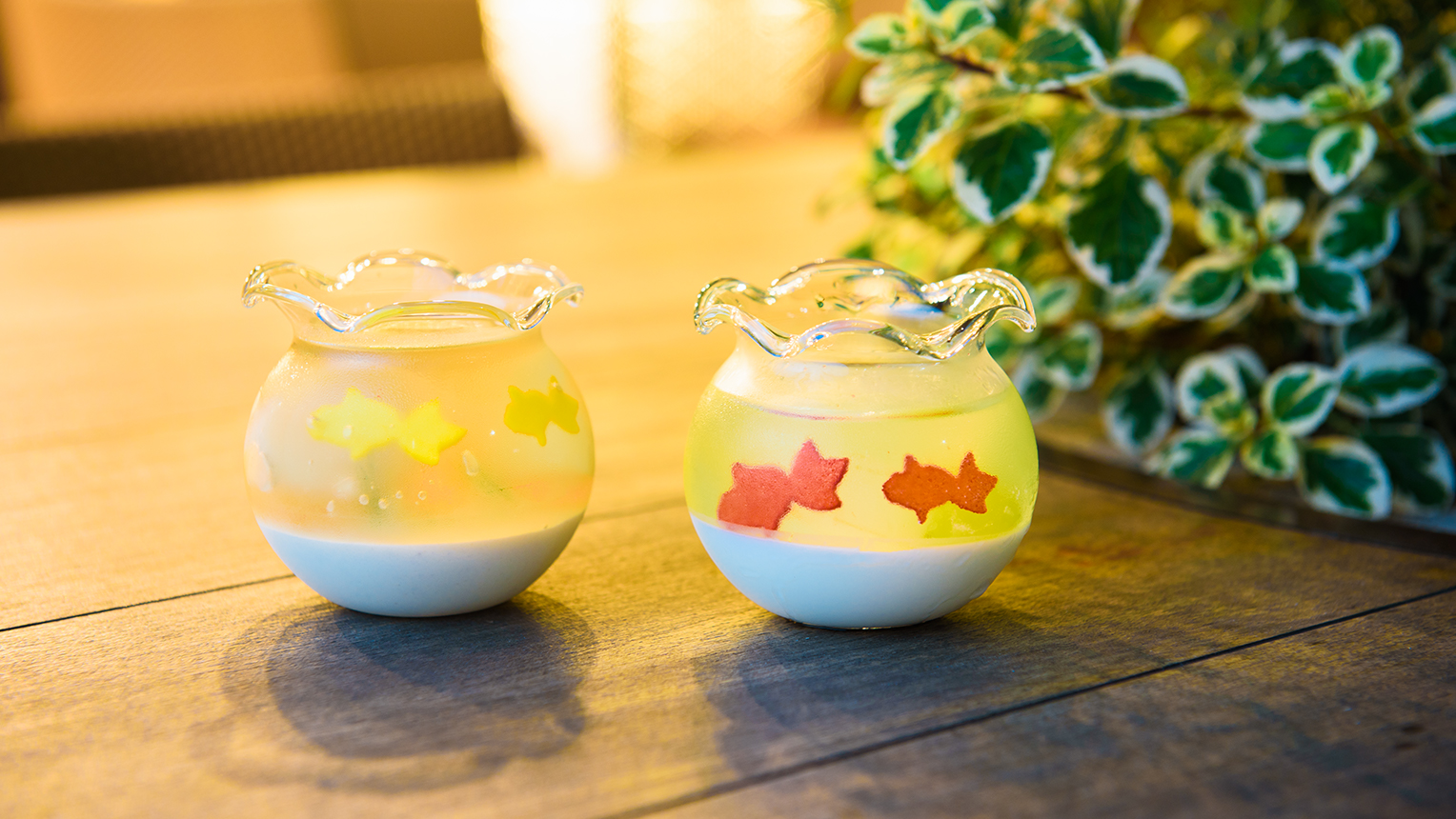 Furthermore, the "Forest Wind Chime Path" is a pathway that connects Fukutoku Shrine to Fukutoku Forest, and will be appearing again after popular demand from last year. Enjoy taking photographs and listening to the sounds of summer in this cool and greenery-lush environment.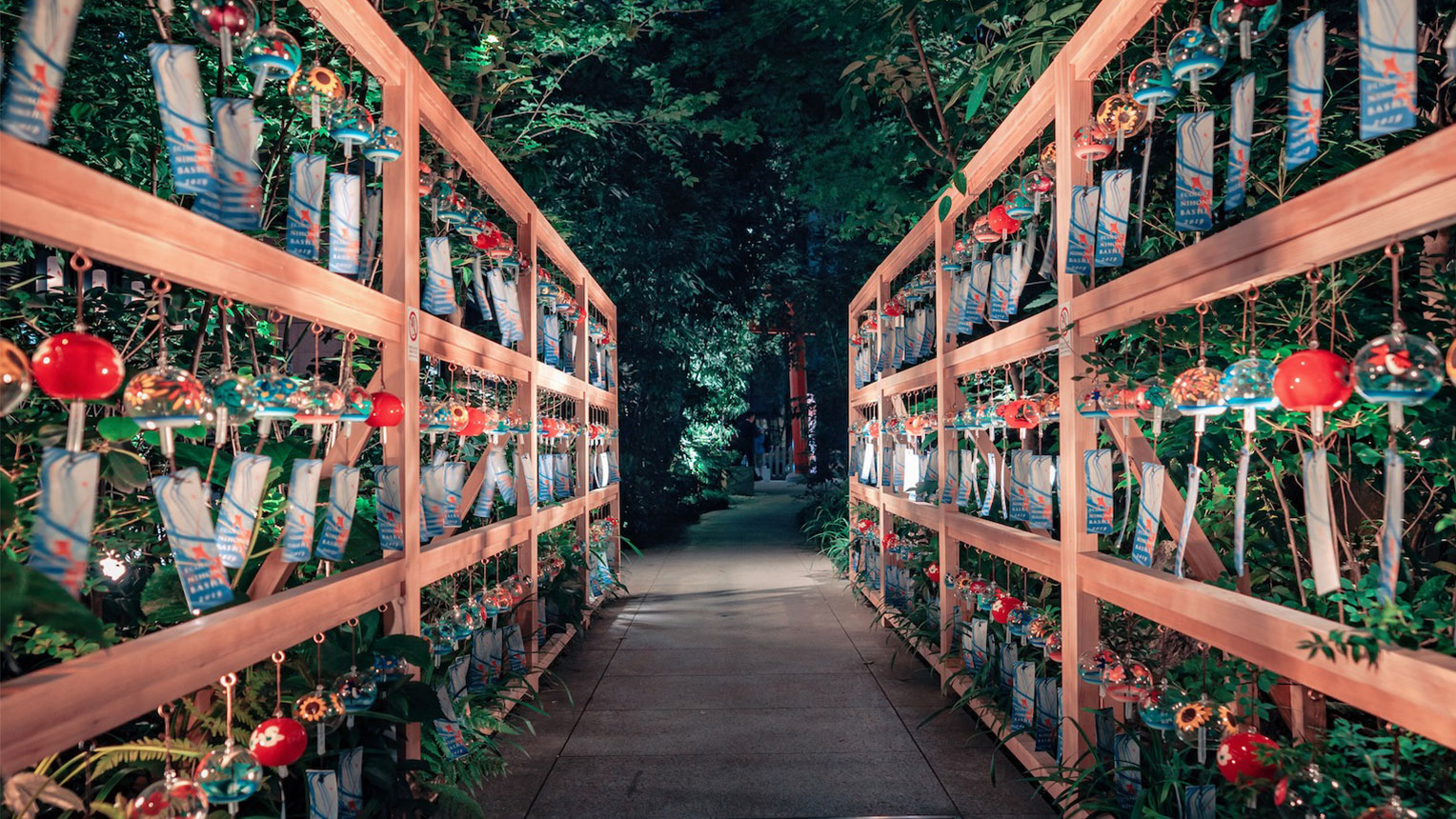 Nighttime illuminations will be held again this year as well.
ECO EDO Nihonbashi will be held until the end of summer in September 23rd. So don yourself a yukata and come visit us.
Reporter and Article: Aya Sakamoto (nihonbashi β project) / Photography: Naohiro Yako / Daisuke Okamura
ECO EDO Nihonbashi 2019: Using All Five Senses to Enjoy "Cool Edo" --Taking a Break in Nihonbashi, Yaesu, and Kyobashi.
Hosted by: The ECO EDO Nihonbashi Executive Committee and the Meikyo Nihonbashi Preservation Society
Dates: Friday, July 5th, 2019 to Monday (Holiday), September 23rd, 2019
WEB:
■ Japanese Version http://www.nihonbashi-tokyo.jp/ecoedo2019/
■ English Version http://www.nihonbashi-tokyo.jp/en/ecoedo2019/
Inquiries: Nihonbashi Information Center (+81) (0) 3-3242-0010 (Fri., July 5th to Mon. / Holiday, Sept. 23 from 10:00 AM to 9:00 PM)
Special Sponsor: Mitsui Fudosan Co., Ltd.
Sponsors: ART AQUARIUM Executive Committee, COREDO Muromachi 1-3, Sony PCL Inc.,
DAINIHON JOCHUGIKU Co., Ltd. (KINCHO), Tokyo Tatemono Co., Ltd., Nihombashi Takashimaya, Nihonbashi, Nihonbashi Mitsui Tower,
Nihombashi Mitsukoshi Main Store, Nomura Real Estate Development Co., Ltd., Mandarin Oriental Tokyo,
Overall Producer: Hidetomo Kimura (Art Aquarium Artist)