2020.02.27
The Theme is "OFF TO MEET" And They Have a Message for Modern Society.
The Theme is "OFF TO MEET" And They Have a Message for Modern Society.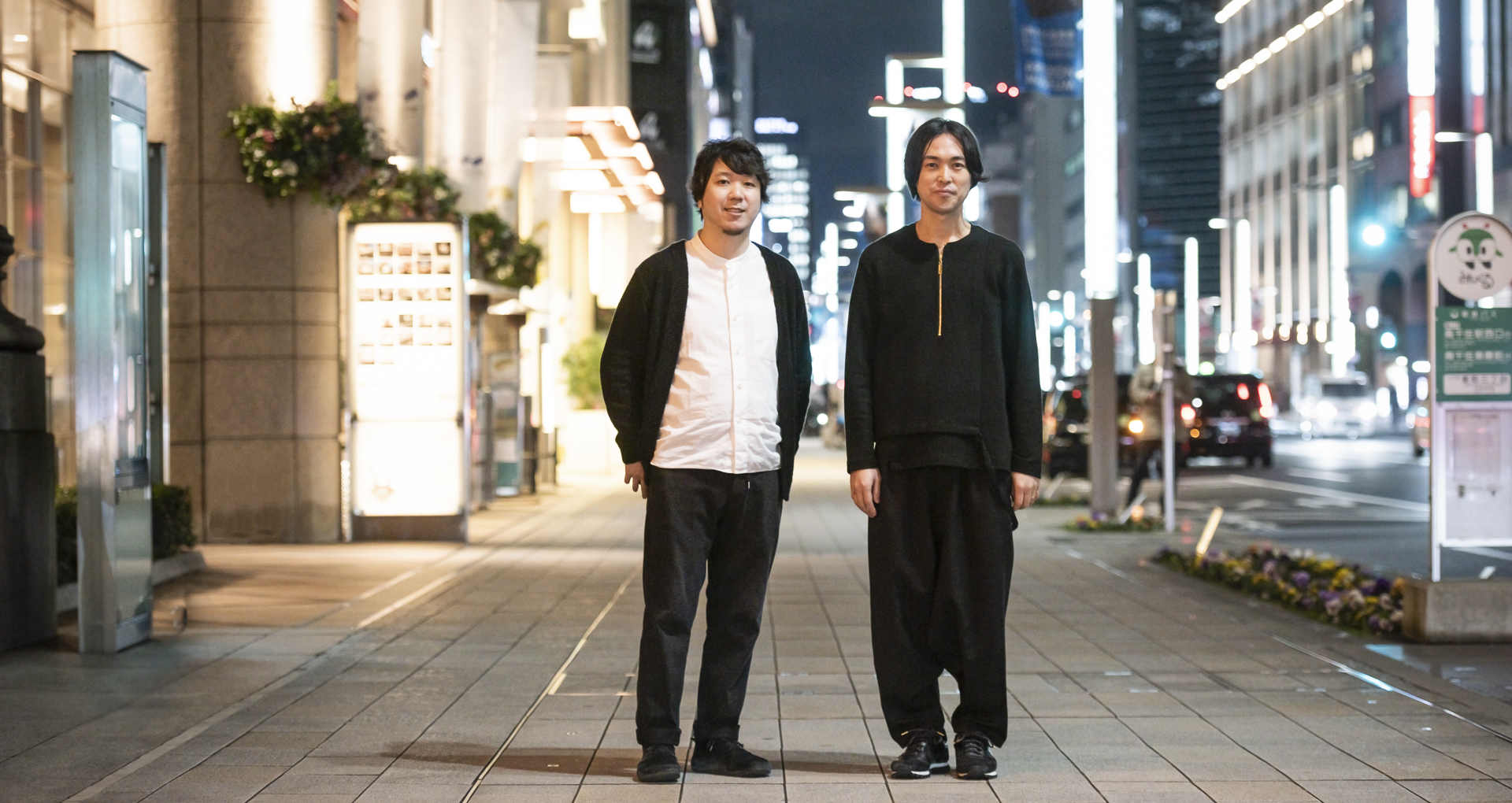 The "SAKURA FES NIHONASHI" takes place over a period of about 20 days from March 15th to April 5th over the Nihonbashi, Yaesu, and Kyobashi areas. With this year making up the event's seventh instance, there are plans to roll out a wide range of content and experiences only available "then and there" under a theme of "OFF TO MEET." This will be under the creative direction of Mr. Naoki Ono, whose many facets include acting as chief editor for the magazine "Kohkoku" (meaning advertising), monom representative for Hakuhodo, and president of the design studio "YOY". Here, we will ask Mr. Ono and Mr. Naonori Yago – also a veteran creator from the "SIX" creative agency under Hakuhodo, and a person with deep ties to the city of Nihonbashi through nihonbashiβ and other projects - about the message incorporated into this event as it welcomes Mr. Yago aboard as art director.
An Unusual Pair at an Advertising Firm.
-I hear that you both joined Hakuhodo at almost exactly the same time.
Mr. Naoki Yago (Hereinafter referred to as Yago) : Yes. I first met Mr. Ono at a mixer for Hakuhodo team members who were headed to Cannes (for the advertising festival).
Mr. Naoki Ono (Hereinafter referred to as Ono) : Mr.Yago had just graduated from a run as an assistant at the time, and I didn't know him well, but I knew his reputation as someone who made delicate designs.
Yago : I think Mr. Ono mostly works as a creative director, lately, but he has also been president of the YOY product design unit for some time, and at the time my impression of him was as a designer who made fun products. He also had credits as a copywriter, which put him in a unique position.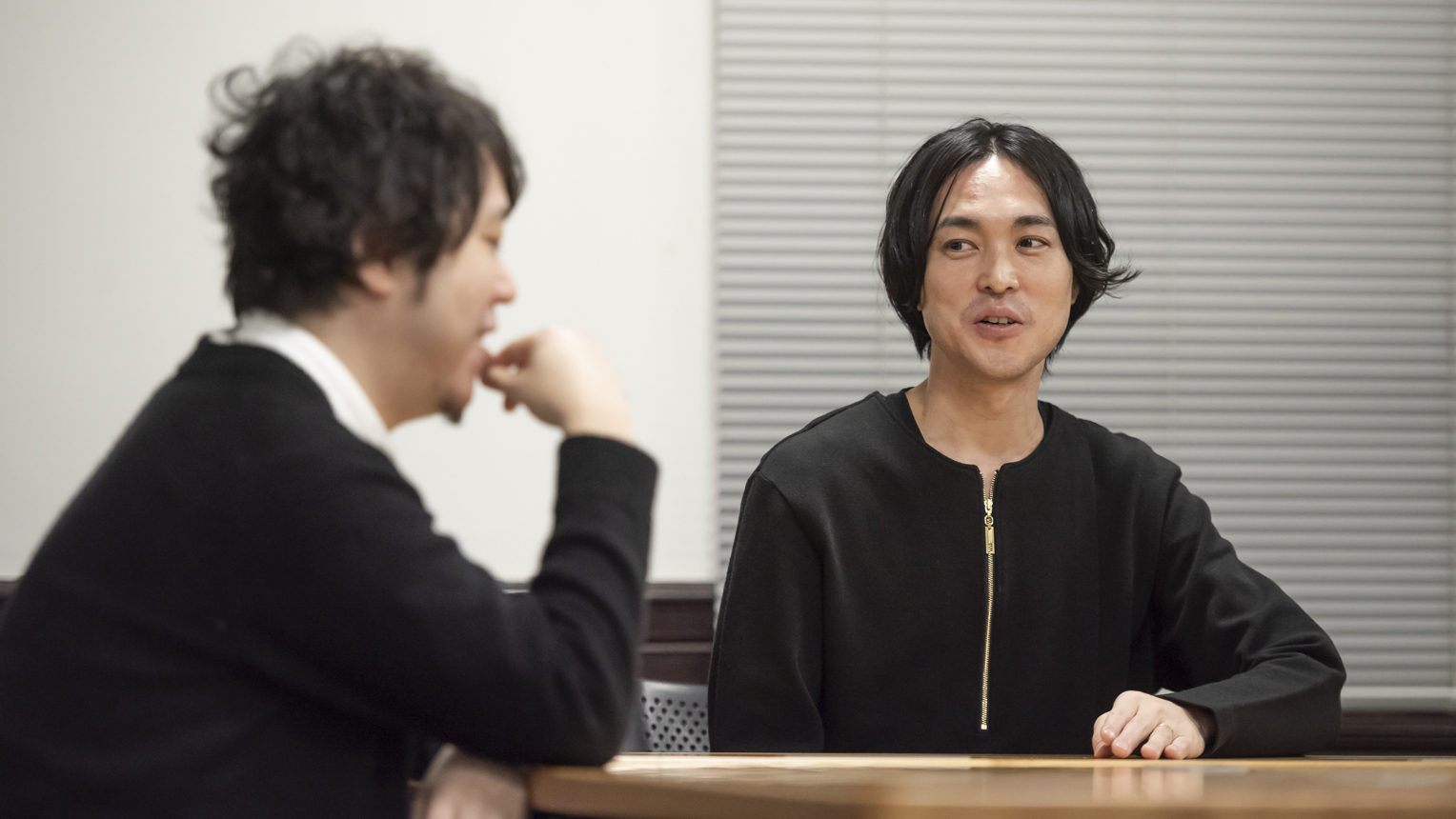 Mr. Naoki Yago (right), who handles art direction, such as production of key visuals for "SAKURA FES NIHONBASHI/OFF TO MEET".
Ono : I've heard that the term copywriter has a strong overtone of concept creator in France, and that might be close to what I do. More than moving people with words like a normal copywriter, what I do is more like using words sometimes, but also converting that to design or editing approaches. I don't really limit my abilities in my role.
-Did you ever get any chances to work together, before?
Ono : We worked together just once, on an event, and I felt that he had a strong, stubborn will behind his delicate output. Since then, I've wanted to work together and asked him about it, but he always refuses (laughter).
Yago : My schedule just doesn't line up with yours, that's all (laughter).
Ono : Mr.Yago's designs are a bit distinct from advertising-type communication that puts a strong message out in an easily-comprehensible form. You can feel a bit of a critical tone toward stereotypical advertising in his work, which is a stance I like. While keeping that, he's also been working on advertising and branding jobs lately, and it's funny to me that this would be his final hurdle to grow past.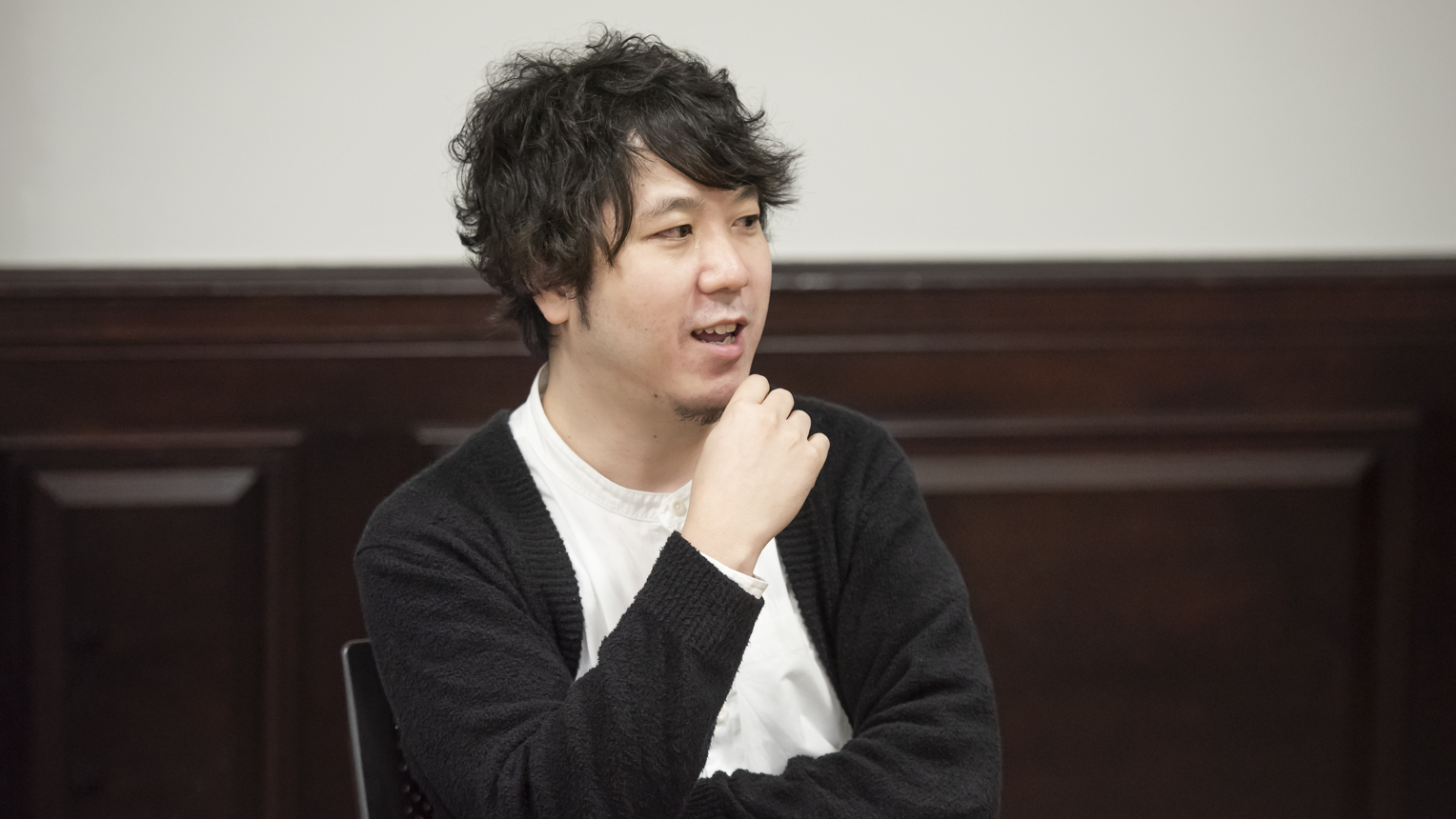 Mr. Naoki Ono, who provides creative direction for this year's event
Yago : Work at an advertising firm tends to produce a situation where you put out a project as big as possible, but it doesn't really reflect the unique thinking of the designer behind it. I sometimes find designs I can't manage even when I try, and have worked to increase my level of performance one step at a time. For example, I wanted to get the text typography on the back of brochures right as a first step when I was an assistant, and that taught me how to organize information. Then I wanted to try incorporating graphic designs. After that came photo direction, then branding. I could only manage it over a step-by-step process.
Presenting Alternatives to Modern Society.
-Please tell us about how you came to be involved in this year's SAKURA FES NIHONBASHI.
Ono : I'm currently primarily working on new product and business development with Hakuhodo's monom team, and given that the mission here wasn't client work, I was worried it might not be possible when I was approached. I didn't have any leeway on timing, and I didn't want to do it if I couldn't do it right, but I was told to go ahead by all means even so, and ended up taking it on. And then I approached Mr.Yago about a role as a discussion partner on conceptual work, and in giving it form.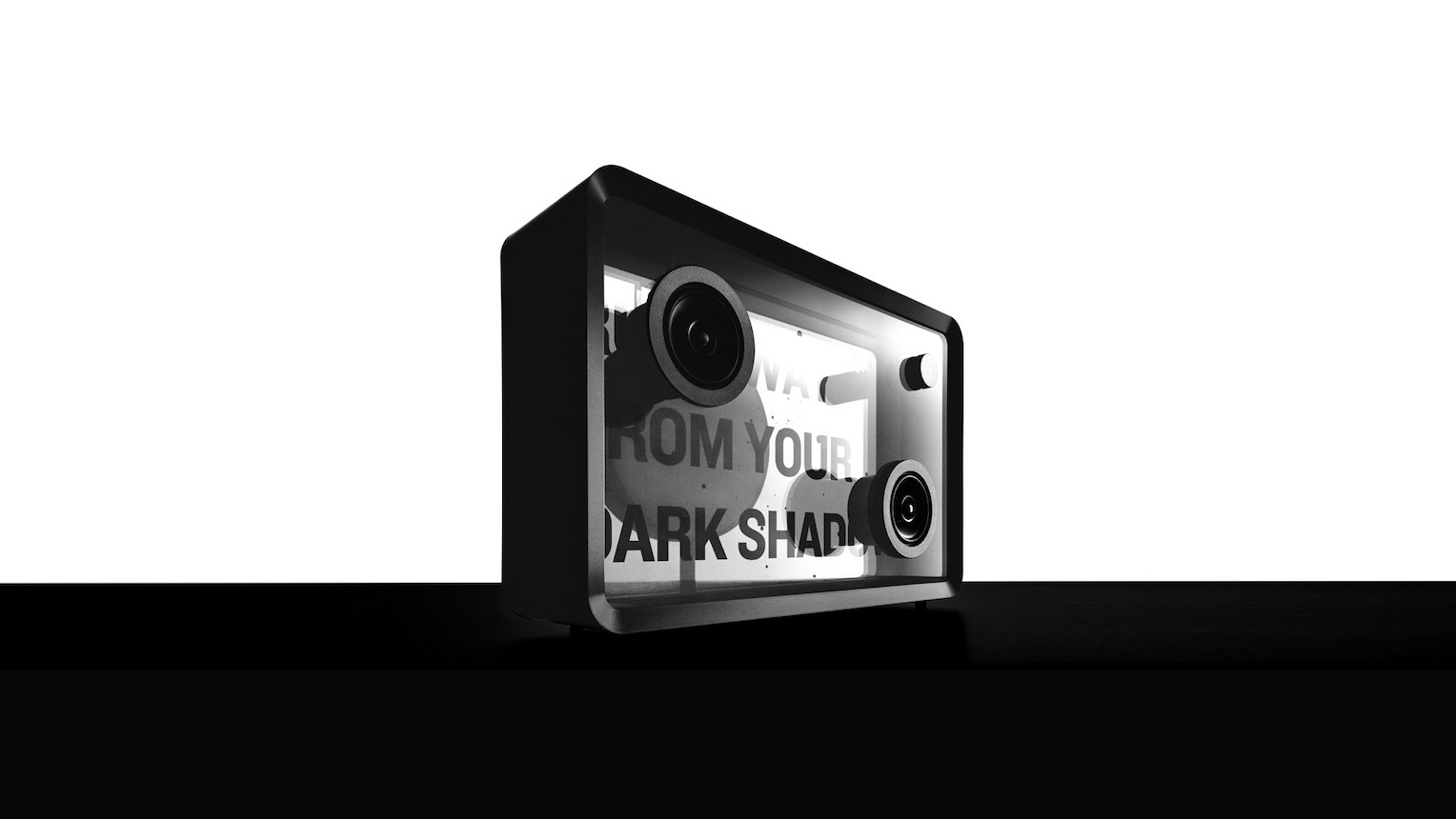 The "Lyric speaker," an item developed by Mr. Yago's SIX and with contributions to product design and more from monom. It displays lyrics on a transparent display in synch with music (Image provided by monom)
Yago : We first talked about it over sake at an izakaya pub in Sangenjaya, and even the way we got into the job was positive. The organizers, city, and residents come together to build up events like this one, so it's important for the team to be unified in a way that transcends a businesslike relationship. I think that allows for expressive work that touches on deeper concepts, so I was quite aware of the parts that related to setting an atmosphere.
Ono : I also conveyed that we wouldn't be making a presentation for this, from the start. Rather than communicating by organizing creator-side concepts into documents to present to a client, we wanted to share as much time as we could with the event organizer side and consider plans and concepts while catalyzing each other's creativity.
-What sort of discussion did you have to firm up the event concept?
Yago : After the two of us first talked, Mr. Ono sent over a list of various keywords, like "return to origins," "irrationality," "criticism of the modern era," "alternative," and "expansion," by Messenger.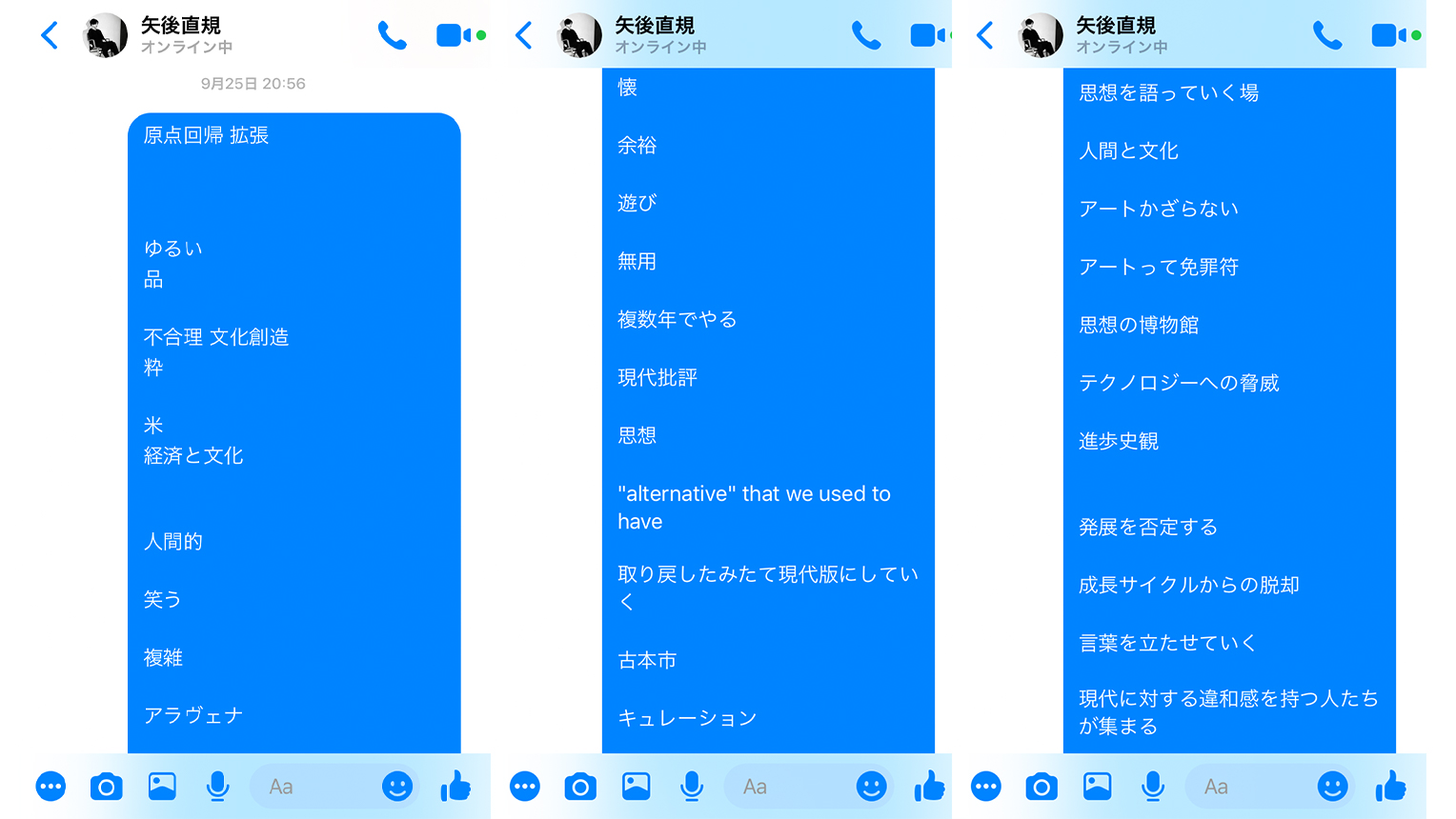 Keywords Mr. Yago mentioned Mr. Ono sending over Facebook Messenger (Image provided by Mr.Ono)
Ono : As a city, Nihonbashi has a side that is wildly distinct from Shibuya and Roppongi and so on, which have always moved in lockstep with economic development. They've always made new things and seen new people move to Nihonbashi, but rather than focusing solely on rationality, they've also always carefully preserved things that are continued on from the past. The world is experiencing sudden, dramatic change at the moment, but a lot of people also feel uncomfortable with that and want a moment to handle it. The late cultural anthropologist Claude Levi-Strauss questioned the "progressive view of history" that held that humankind had developed in a linear fashion from the past to the present, and I think it's significant to broadcast that message from the Nihonbashi area right now, in particular.
Yago : I've heard a story in the past about how Japanese people laughed themselves silly at just the sight of a cat stealing a mackerel pike from a fish merchant, in the Edo era shown in the "Kidai Shoran" painted scroll. From that time on, Japan experienced recovery from the war and focused on efficiency in pushing for economic growth, and I think that the process involved fostered a diligent national character. I felt that if there hadn't been any technology driving this social efficiency increase, hypothetically, then modern Japanese people might have different characters and attitudes.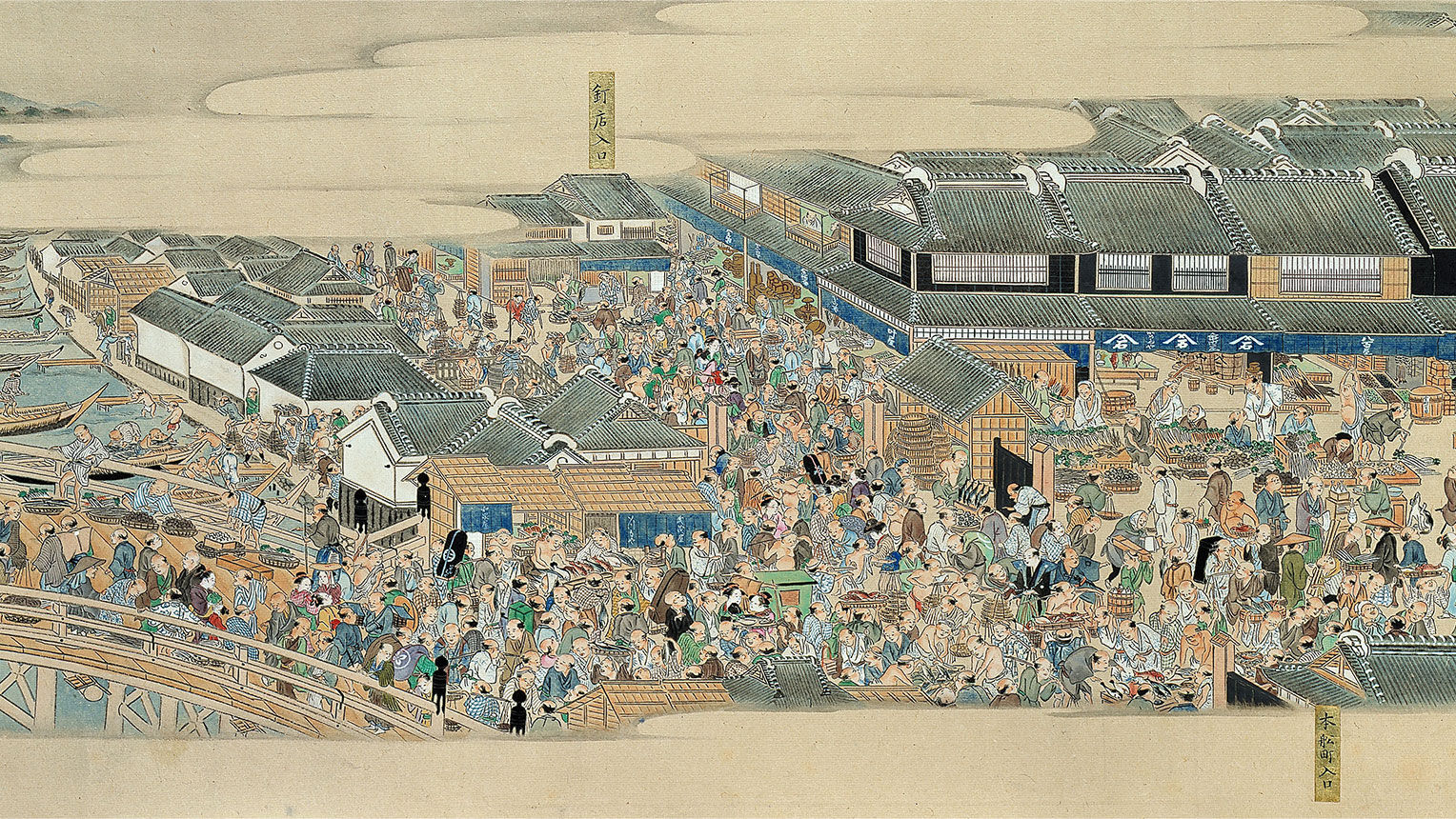 A section of the "Kidai Shoran" painted scroll depicting Nihonbashi in the Edo era (1603-1868). It depicts everything from bustling streets to individual expressions in lush detail. (Berlin State Museum of Asian Art, Photo AMF/DNPartcom/c bpk/Museum fur Asiatische Kunst, SMB/Jurgen Liepe)
Ono : I think it's important to show another vector as an option to the direction the world is currently progressing in, or in other words, alternative behaviors and attitudes. On that point, we focused on smartphones, which you could say are a phenomenon with an emphasis on efficiency and ease of use. The spread of smartphones has made major changes to our lifestyles, allowing us to get information and services efficiently. But in contrast, they also produce side effects, like smartphone addictions and social media burnout. With that underway, we've recently seen people working suggest finding new luxury in digital detoxes – where we take a step back from technology – and in being offline. Since my life is actually completely dependent on smartphones, as well, this is something of an internal inconsistency for me. But I thought it would be interesting to propose values that weren't entirely focused on efficiency and rationality, by using time without smartphones precisely because so many people are subordinate to their smartphones in this era.
The Thought Behind "OFF TO MEET".
-So that ties into the event concept of "OFF TO MEET"?
Ono : Yes. If we assume people live for 100 years, they have only 24 hours by 365 days by 100 years. The message is about putting down your smartphone for a few of those hours and encountering something unique to a place. From an advertising firm perspective, we often think about tricks for taking "glowing" shots at events in recent years. But I think it might be better if we considered how to get people to appreciate the real experiences and sights around them, rather than how to present those same things beautifully on a smartphone. Over the 28th and 29th of March, during the event we'll be holding a special event called "Out of Service NIHONBASHI" with a theme of experiences only available then and there. We're thinking about giving out 10,000 "Out of Service Sacoche" saddle bags that block smartphone signals.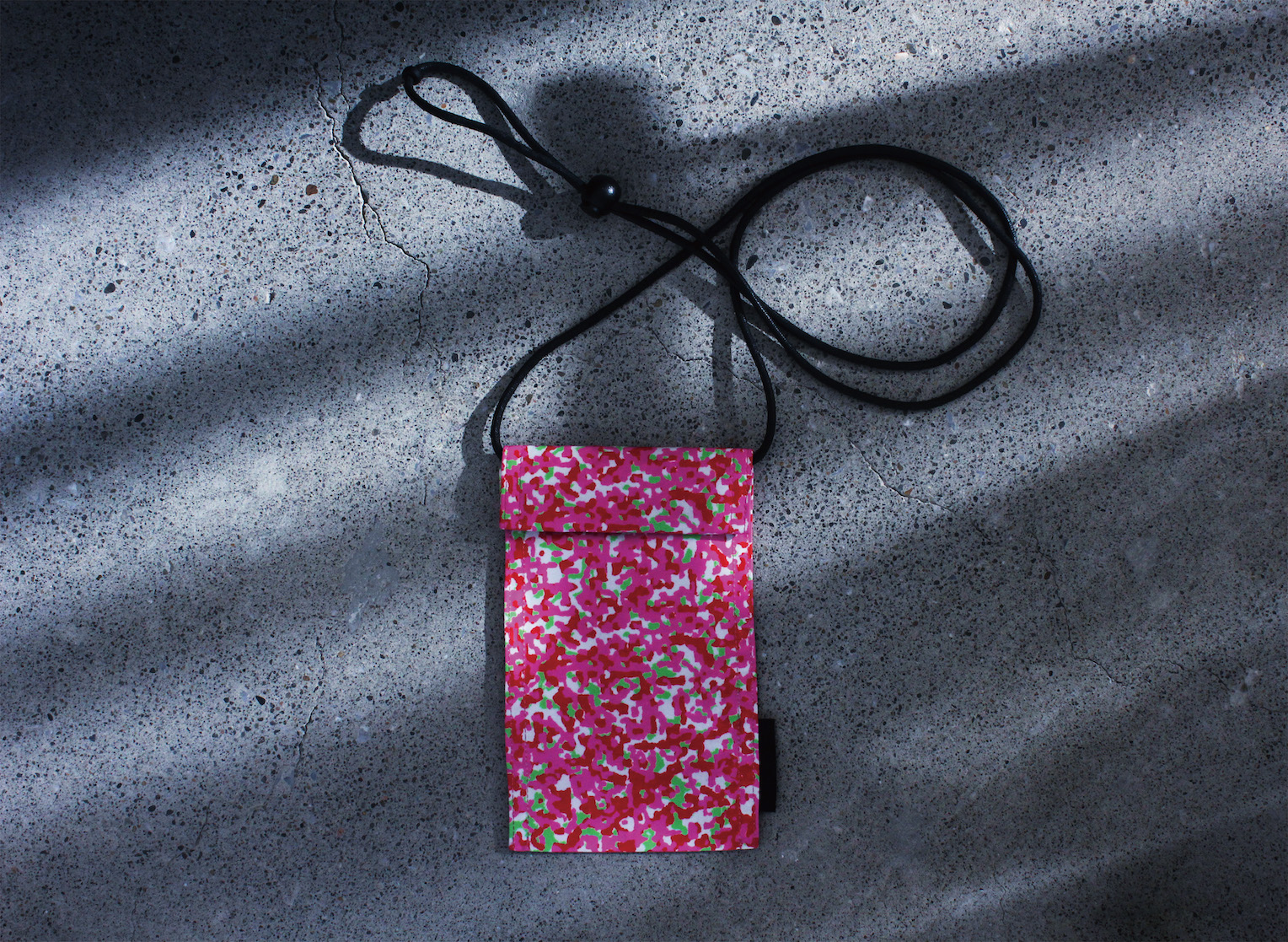 The original "Out of Service SACOCHE" saddle bags to be given out for free over March 28th and 29th(Image provided by NIHONBASHI SAKURA FES executive committee)
Yago : This also relates to the topic of smartphones, but I think modern people overuse their senses for reading exclusively. My specialty is graphic design, which you could also call visual communication. Text isn't the only tool we have for sensor communication. While it isn't limited to visual elements alone, I feel like we use our senses exclusively to get easy-to-access information with fixed meanings – like text – recently. I feel certain that it would improve human creativity and sensitivity to change that even a little, and think of this event as an effort in that direction.
Ono : I'm not that interested in art, and up until now I rarely had chances to get to art exhibitions and so forth. I think that's probably because I didn't have a mindset that allowed me to take the proper time and face up to things until now. Advertising firm creatives tend to look for "glowing" and "buzz-generating" expressive work, and to put it briefly, there's an emphasis on the ability to create interesting things that get across the message at a glance. Having been in that world, I wasn't really able to see value other than the immediately-accessible kind. But after becoming chief editor of the magazine "Kohkoku" last year, I've been getting more chances to think on things over time, and have come to accept the idea of expression that doesn't seek to communicate, or expression that seeks to make the viewer think.
Yago : The modern design philosophy is to make things that are easy to use and easy to explain. We've come to see design as something we use to solve problems, and that seems to have meshed well with economic and social progress. But Japan has already left its development phase, and I feel that not only do we need designs that ask questions, but that it will also be a vital mission for creators of the future to raise issues for society.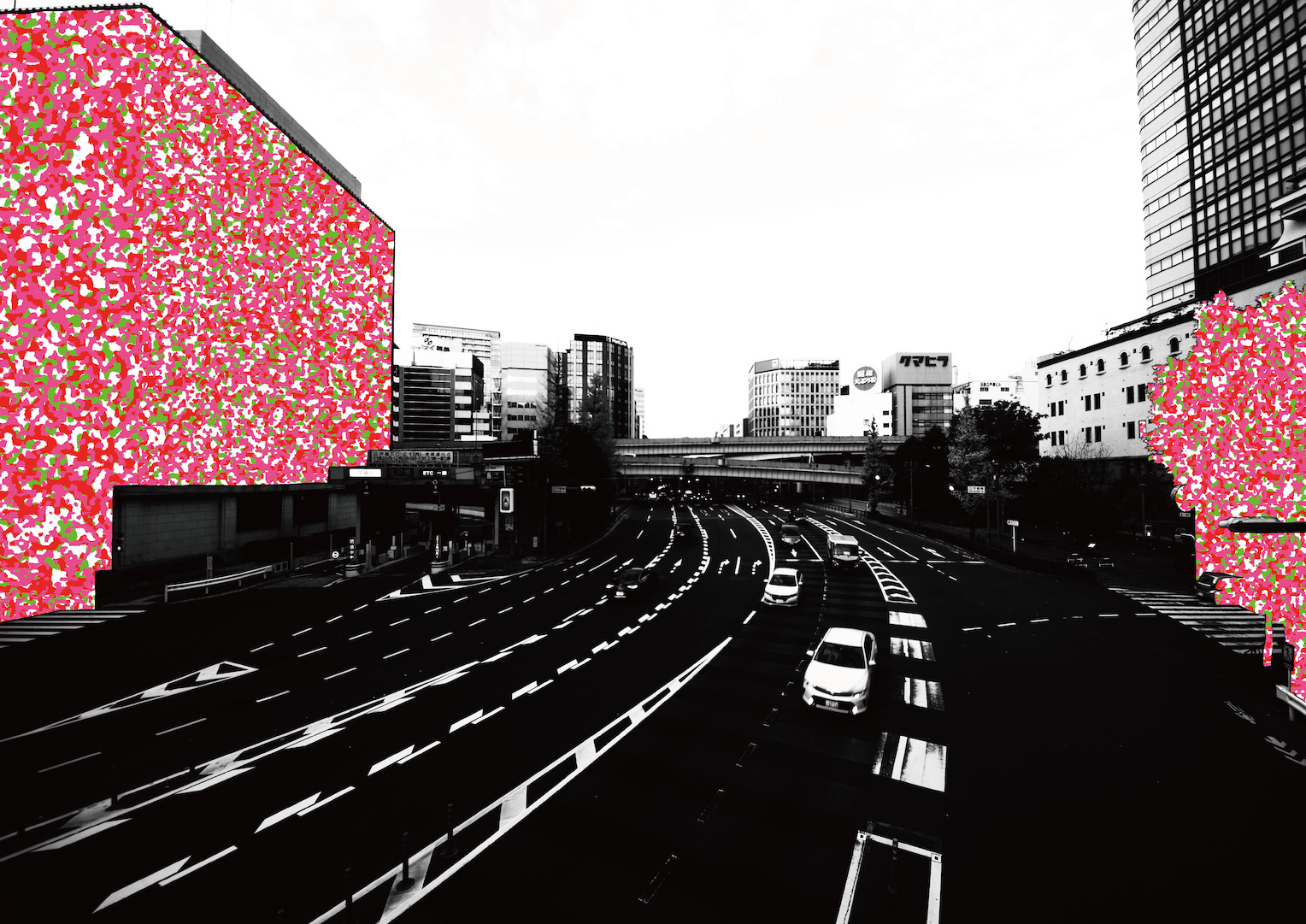 A key visual made up of a picture from photographer Riku Ikeya overlaid with "Noise" artwork by Mr. Yago.(Image provided by NIHONBASHI SAKURA FES executive committee)
-I would think that generally, the key visuals you made for this event would demand ease of comprehension for event concepts and details, Mr. Yago. What were you thinking of when you worked on them?
Yago : Those were precisely the area where I started from an easy-to-grasp, iconic visual like the no cellphones symbol. When I showed those to Mr. Ono, his feedback was that they felt like "yelling at" or "giving orders" to the city. So when I was experimenting with other means of expression, I saw white noise on my TV screen. Now, white noise itself isn't iconic at all, at a glance (laughter). But it fit perfectly with the theme of "out of service = no cell phone signal." I felt the balance was just exquisite, and that it would be an unforgettable image for people who understood the connection, precisely because it was confusing at a glance.
A Time When the City's Character and Individuals Question One Another.
-By the way, Mr. Ono, were you involved with Nihonbashi as a city before this point?
Ono : Actually, the first job I handled at Hakuhodo was the Nihonbashi-Kyobashi Festival. I remember that the only new building that really suited the city was COREDO Nihonbashi, and there were a lot of places still under construction. The city has changed a lot since then, and I'm not an expert on the current Nihonbashi, so I expanded my mind on the shape of Nihonbashi and its potential over the course of discussions with the real estate team at Mitsui Fudosan, since they do know a lot about the city. And I wanted to create something expressive and honest by linking that with my own personal themes.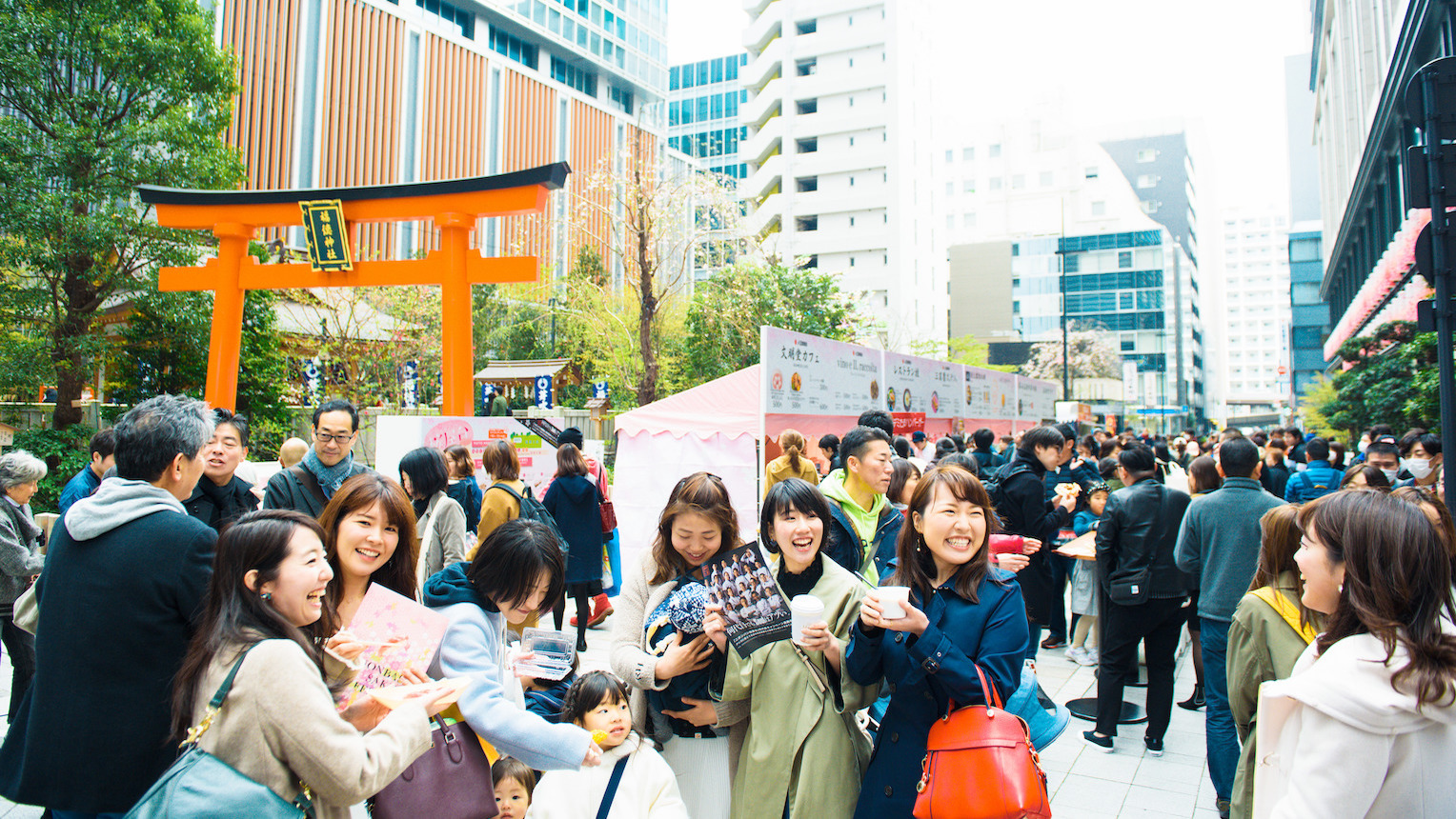 The vendor stall events to be held over the duration of NIHONBASHI SAKURA FES will draw a wide range of participants from among restaurants and bars around Nihonbashi. These photographs show the 2019 event. Mr. Yusuke Oono of DOMINO ARCHITECTS will be engaged in spatial design for this year's event(Image provided by NIHONBASHI SAKURA FES executive committee)
-So they key point was overlaying your individual awareness of the issues with Nihonbashi's history and character, then?
Ono : Yes. The city itself is the main organizer for this event, but I feel that it's significant having me and Ono involved as people with our own individual filters, since it's not that interesting for the people here to decide everything among themselves. This came up at the very start of the interview, but it's common for advertising firm designs to show little of the individuals who worked on them. While some creators are at peace with the idea of not showing themselves, attempts to trace what is best for society and the city tend to end up as discussions of what society and the city are in the first place. Rather than doing that, I think it's better to consider things only the specific individual involved can do. I think that produces stronger output.
Yago : I don't really feel like themes and concepts for my creations just naturally well up from inside me, starting from absolute scratch. I think that the environment plays a major part in the development of that sort of thing. I don't live in Nihonbashi, but I've been involved in Nihonbashi-related projects continuously for the past several years, and feel like it's seasoning my philosophy on design. I think you could say that the concepts and means of expression for this event that I've come up with together with Mr. Ono were things that grew out of my ongoing relationship with Nihonbashi. Also, I want to update the things that I've come up with this time bit by bit, going forward.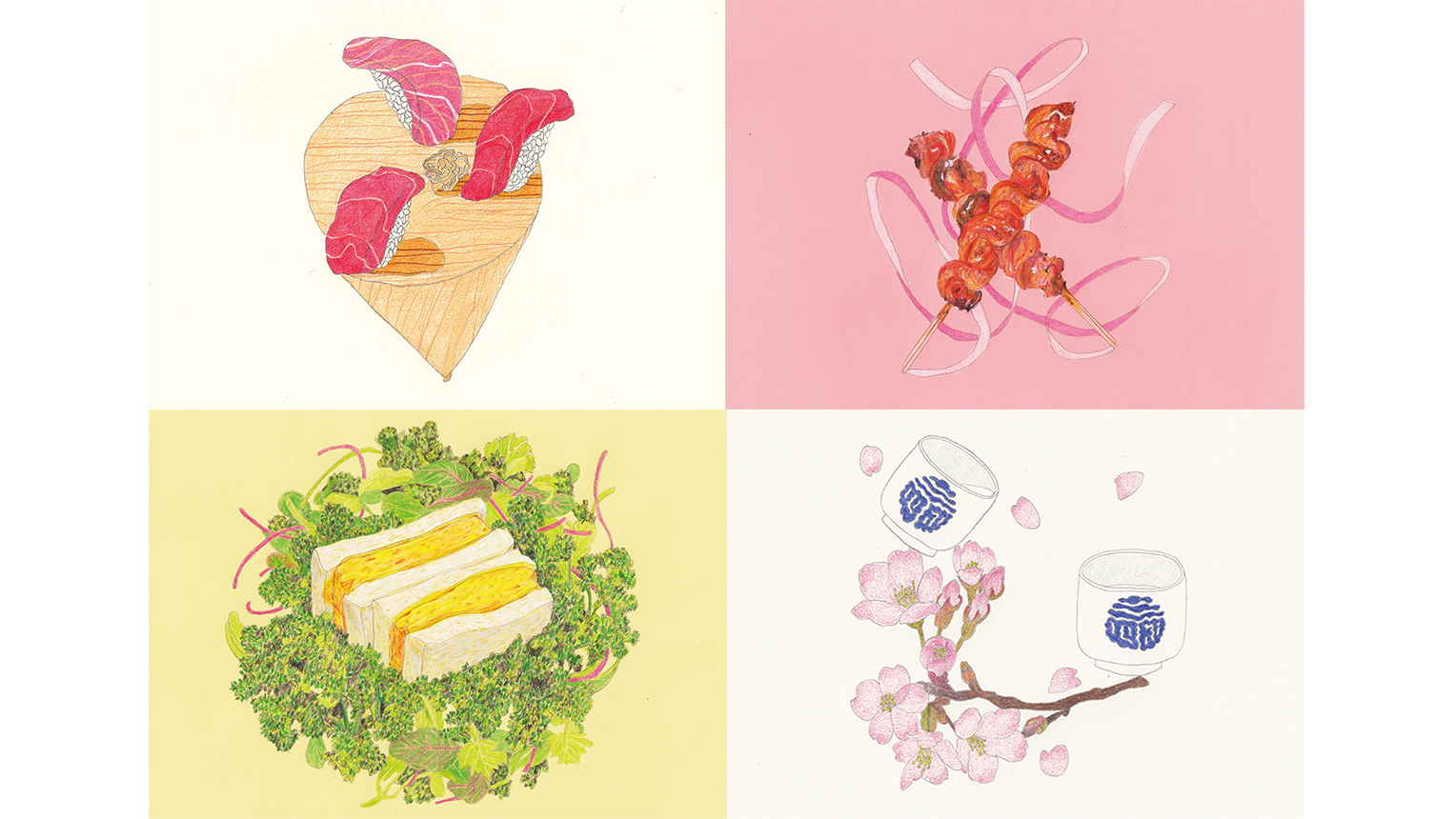 A rough draft visual design supervised by Mr. Yago for the "SAKURA FOOD MARKET" scheduled for March 28th and 29th. (Illustrator: Mirin Shishido)
-Finally, I'd like to ask you to share messages for the people who come to SAKURA FES NIHONBASHI.
Ono : My smartphone is already basically a part of my body, but when I look back on it, I entered the workforce almost at the exact time smartphones gained popularity. It shocks me to think that my entire life as working adult has had smartphone support, and that's precisely why I've come to think it's important to spend time without a smartphone. I'm looking forward to turning my phone off and seeing what I experience on the scene when we hold the event, and I'd be delighted if our attendees also actively enjoyed everything without their smartphones.
Yago : Being without a smartphone might be something like getting into an onsen hot spring batch. In an onsen, your clothes and money are out of the way as well as your smartphone (laughter), and I want people to experience that vaguely mysterious, relaxing sensation. We have lots of delicious food for everyone, and I hope everyone can enjoy some time that is uniquely a part of this place, without worrying about the outside world during the event.
Interview and Text: Yuki Harada (Qonversations) Photography: Takashi Ishimaru
Naoki Ono
Representative for monom at Hakuhodo, and chief editor of the magazine "Kohkoku." Joined Hakuhodo in 2008. Founded the "monom" creative team specialized in product development after working as a spatial designer and copywriter. Outside of Hakuhodo, president of "YOY," a design studio focused on furniture, lighting, and interior design. Winner of a Grand Prize in the Japan Media Arts Festival held by the Agency of Cultural Affairs, a Good Design Best 100 award, a gold medal in the Kukan Design Awards, and numerous other awards. Became a part-time instructor at Musashino Art University's Takanodai Campus in 2015. Began serving as chief editor of the magazine "Kohkoku" (published by Hakuhodo) in 2019.
Naoki Yago
Art director/graphic designer. Born in Shizuoka Prefecture in 1986. Works at SIX Inc. Major jobs include advertising and invitations for Laforet Harajuku, logo typography for JAL's LCC ZIPAIR, symbol markings, airframe designs, brand design including apparel direction, visual and book design for ROPPONGI HILLS FASHION, CD jackets for Akiko Yano, THE YELLOW MONKEY, RADWIMPS, Masaki Suda, Chara, and more, as well as book designs for Mikiya Takimoto, Kishin Shinoyama, and Yoshiyuki Okuyama, among others. Held his first major personal exhibition – "Basara" – at the Laforet Museum in February 2020.
NIHONBASHI SAKURA FES