2019.02.08
Raising the "Mirai-no-Noren" in Nihonbashi to build new experiences! "nihonbashi β" Production Report
Raising the "Mirai-no-Noren" in Nihonbashi to build new experiences! "nihonbashi β" Production Report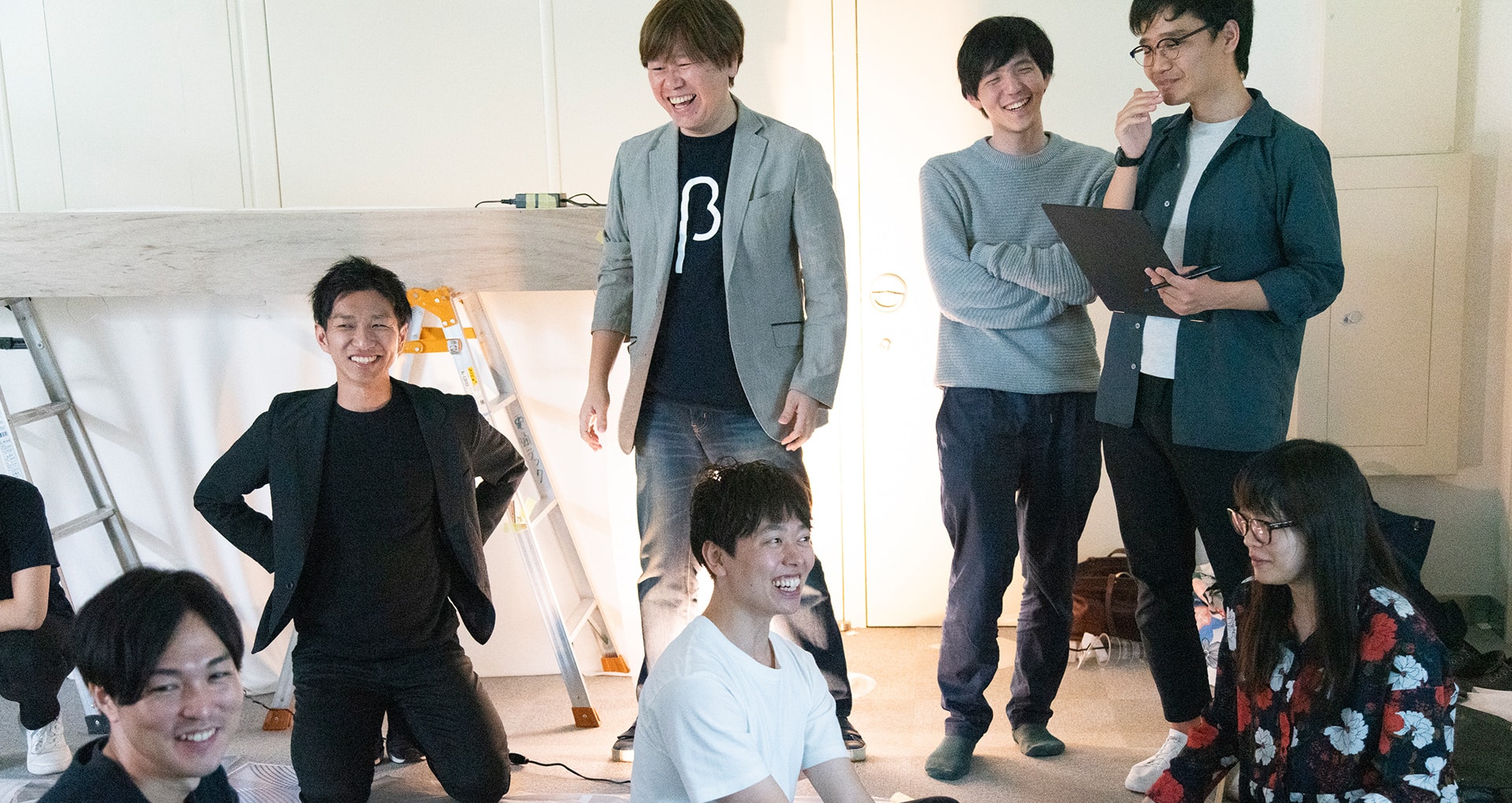 "nihonbashi β" is a joint project launched for the purpose of connecting the town of Nihonbashi with young creators. Under the concept of "Designing the future of Nihonbashi," the theme for the first of its efforts is in creating a "Mirai-no-Noren (future of traditional Japanese store curtains)" using the "Noren," a familiar staple of this historical town.

We have been closely reporting on this endeavor since its project launch in June, and finally, the "Mirai-no-Noren" from the minds of the young creators will be revealed. The "Mirai-no-Noren" created from this workshop will be displayed under the title of "Mirai-no-Noren Exhibition" at the following stores from November 1st to the 11th, 2018: the COREDO Muromachi, the Ninben Nihonbashi Main Store, the Mandarin Oriental Tokyo, and the Mitsui Garden Hotel Nihonbashi Premier. Please come and visit. For this article, we would like to report up to the completion of the "Mirai-no-Noren" that each teams have been working on through the trial and error process.
First Round: Production Check
September 22, 2018 @ Clip Nihonbashi
Young creators, all 16 participants from various occupations, including designers, directors, and programmers, have been carefully chosen and selected from the open call invitation. All three of the workshop programs have been completed as of the previous article. The workshop comprised of discussing ideas with the team and a representative from each store, and then a final presentation of the results.
This latter half, the Production Check, will be held a total of three times, every two weeks. The participants, all whom are expected to go on to success in their relative fields, are to challenge for the difficult theme of "Mirai-no-Noren" to improve the branding of a store.
From here on forth, after lectures conducted by established creators who are successful in various genres, each team will go through a strict and intense production check of their ideas and progress status, courtesy of the instructor team.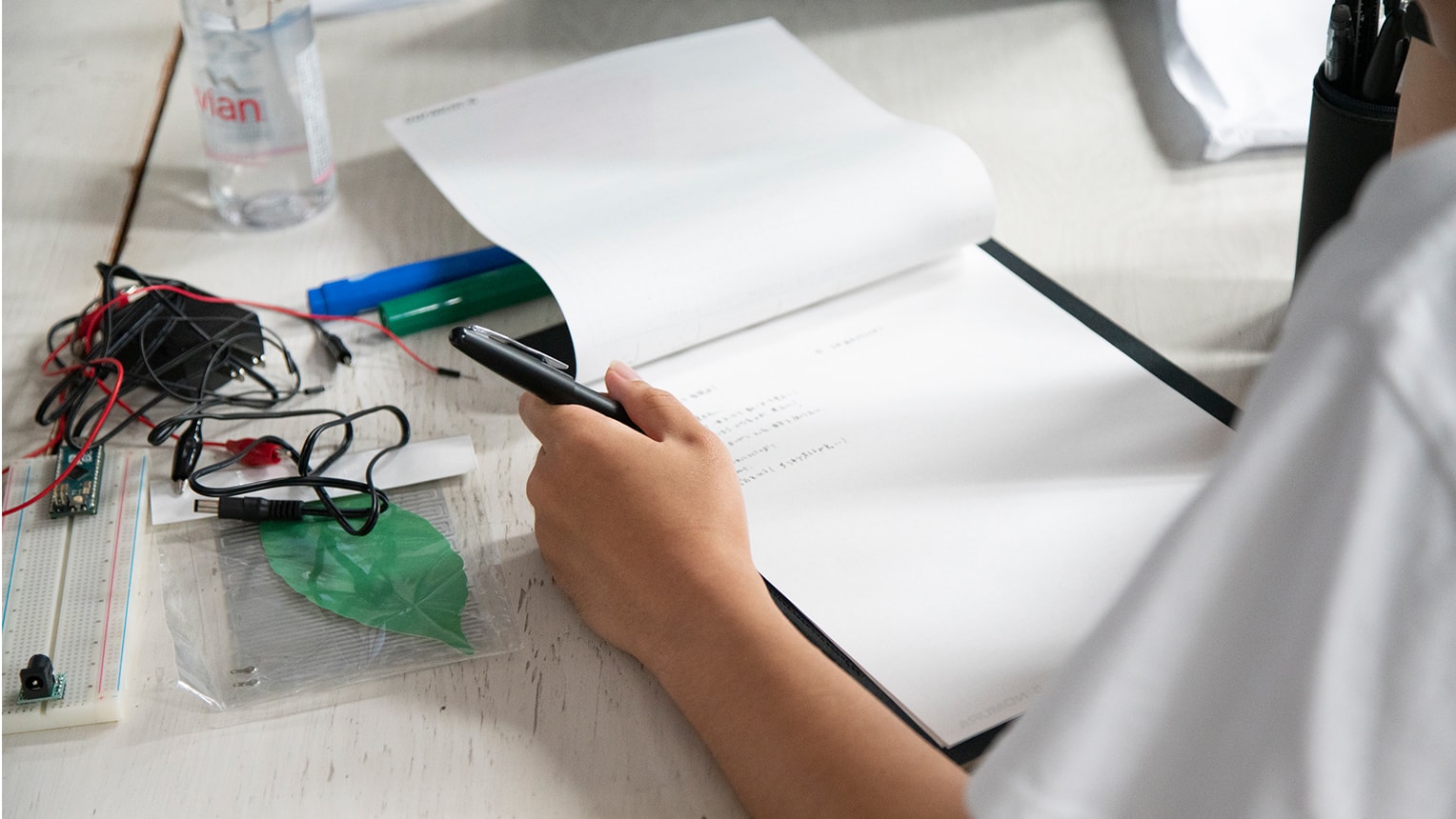 We began today with a lecture helmed by Akinori Goto, a prolific media artist. Working full-time and creating on the weekends, his position is similar to that of the participants who also create in-between their regular jobs.
Under the theme of "Thinking 3D," his lecture explained how to output 2D ideas into 3D ideas. Due to the very nature of Norens waving against the wind, the notion of time cannot be ignored. Mr. Goto had long been attracted to movement. As there are timelines in video editing software, he began thinking that the factor of time played an important aspect in structuring movement. In terms of the creative process he added the following. "I want to see. Otherwise I can't. I want to surprise everyone, as well as emotionally move them"
Mr. Goto is a graduate of "BaPA," a school to train the next generation of creators, which is a project by PARTY and Bascule, the latter of which also organizes "nihonbashi β." His strong conviction in "Never creating anything boring," encouraged and invigorated many of the participant.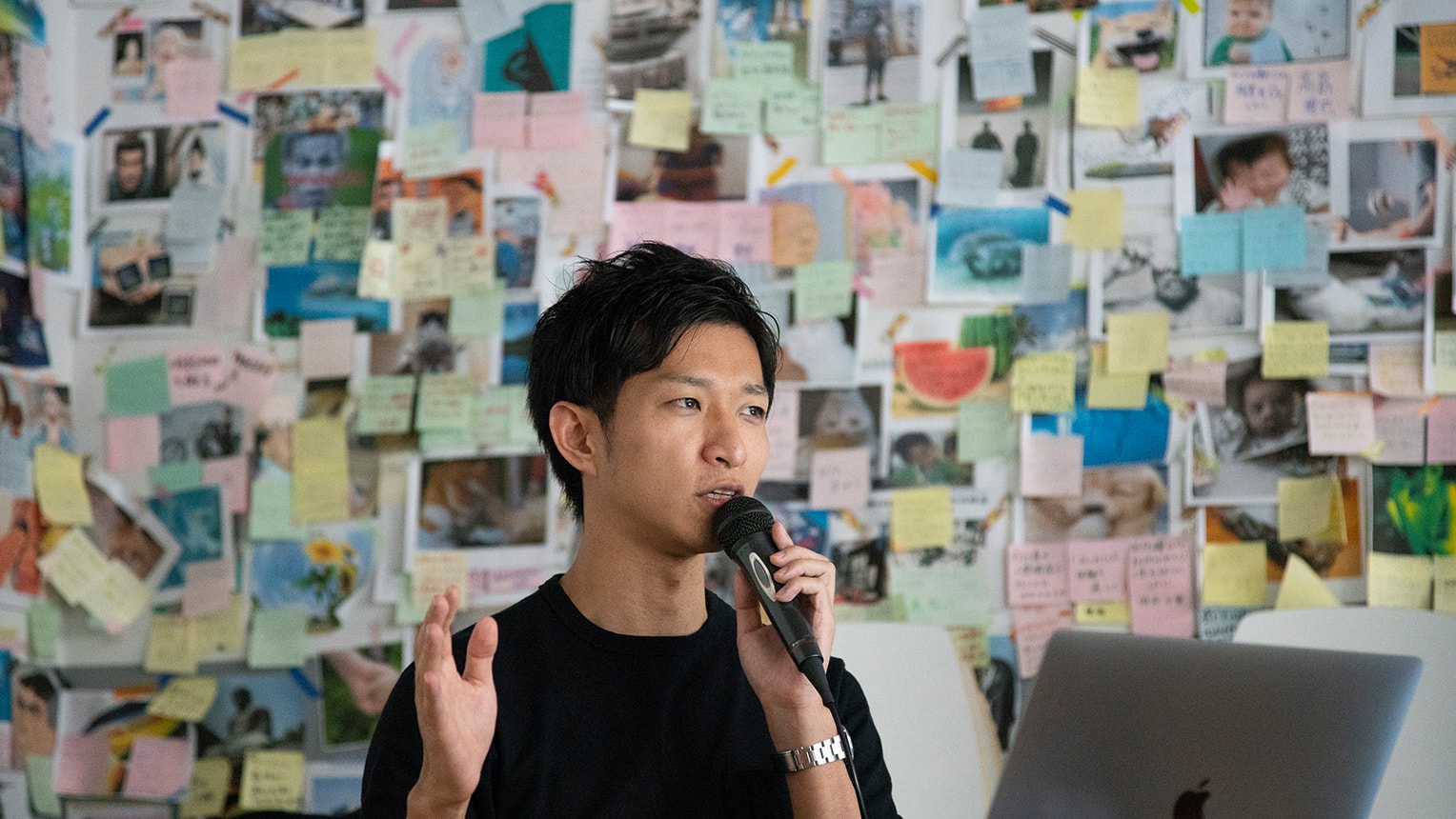 Mr. Akinori Goto
After a presentation by each team, we next moved on to their evaluations by Bascule's head representative Mr. Masayoshi Boku, Mr. Goto, NAKAMURA's Mr. Shin Nakamura, and SIX art director Mr. Naonori Yago.
Each teams, after re-reviewing their creations from previous ideas, presented highly unique and free-form ideas, such as a "Noren that changes color depending on the heat of a person," "Hanging a Noren with a QR code on a moving truck," and a "Noren made completely out of bonito flakes." Faced with these ideas, the instructor team then added their own appropriate direction for modification and revision. At this stage, many of the ideas were still in need of revision due to branding balances with the stores where the noren will be hung, and other technical issues.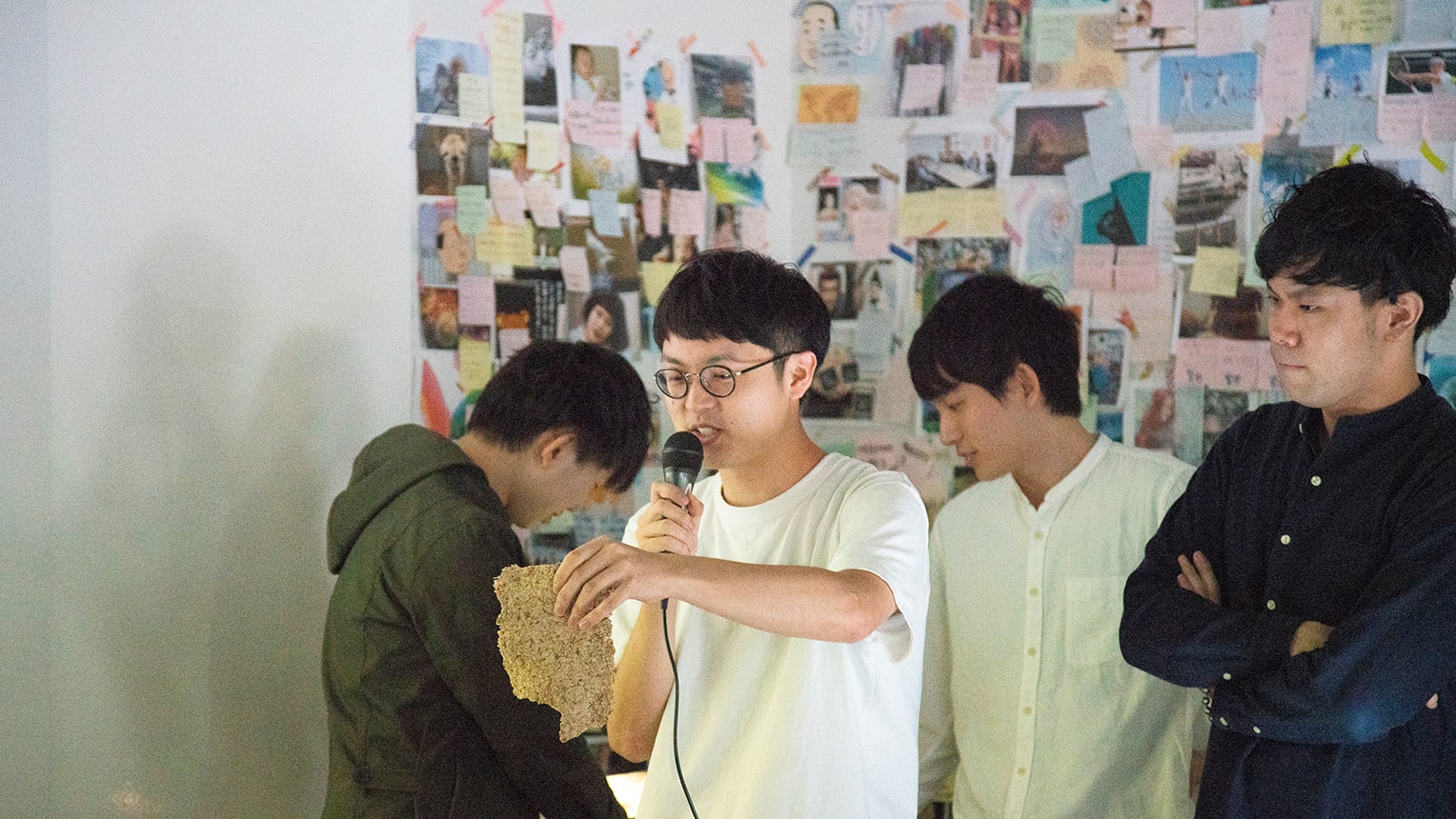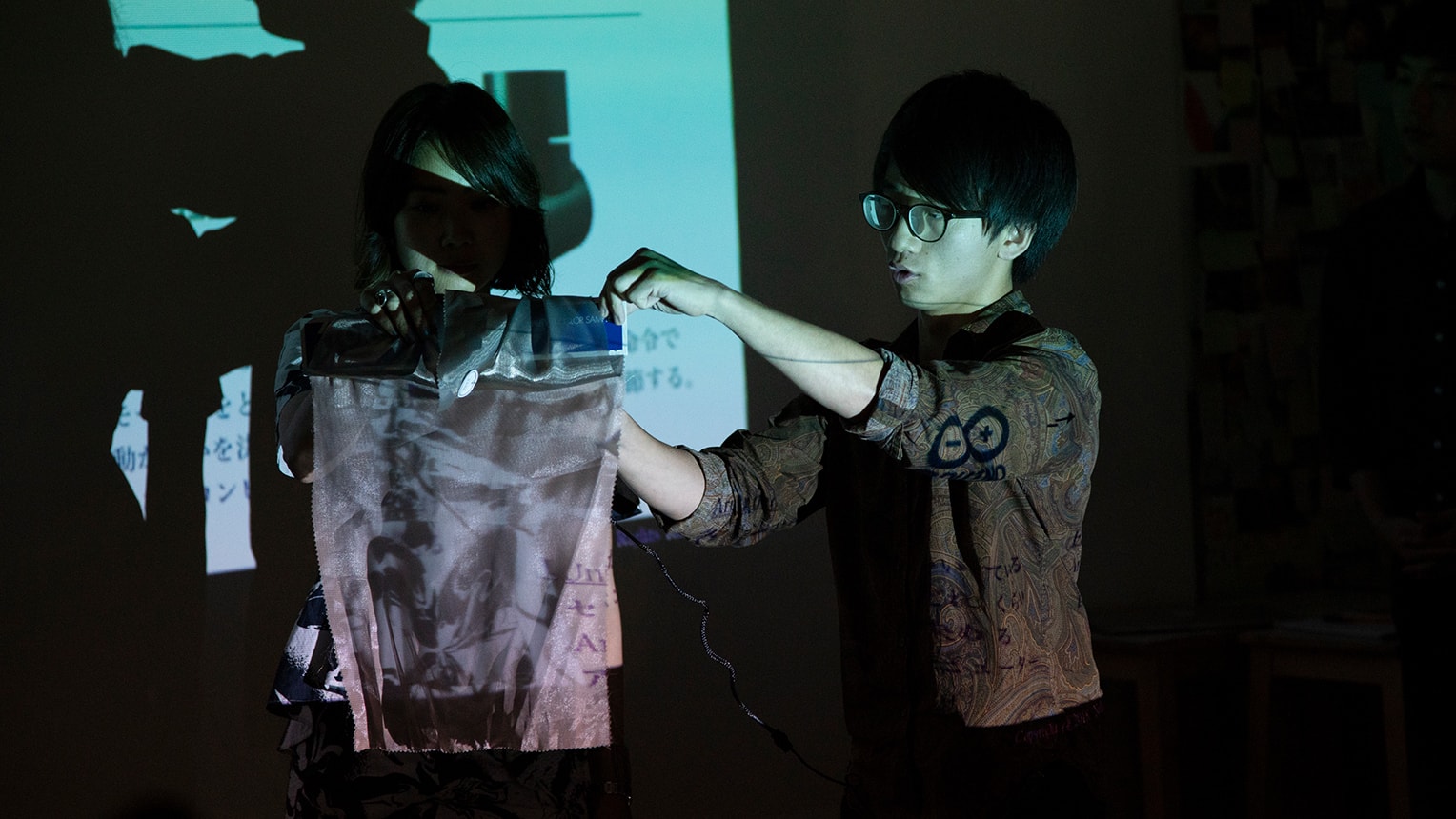 Even after the evaluations, each team were interviewed in another room with the instructor team. Though there were many hard and stinging critiques, this was an important step in creating a well-made product. Some teams, upon hearing the critiques looked as if they were told home truths.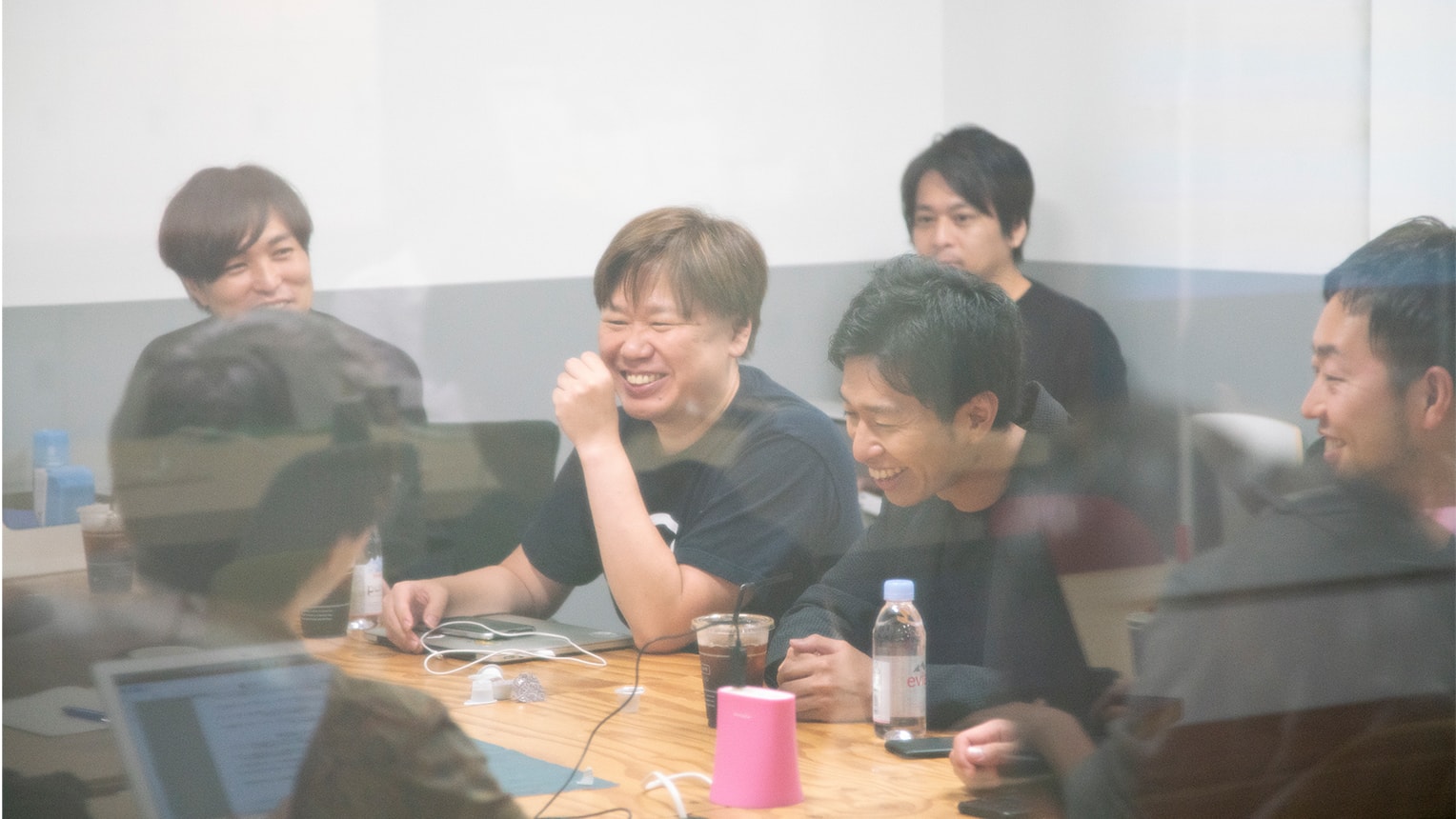 Necessary for building teamwork
For this creative process, most participants formed teams with relative strangers. So when we asked Mr. Goto and Mr. Yago, on how to set common goals for when members of different backgrounds gather together, they each shared from their own experiences and knowledge
"Initially, you might be tempted to focus on the methods of expression, but that will usually end up not taking shape. It's crucial that you first have an opinion about the theme. And in order to do that, you have to put time into the research. Once everyone in your team has a well-formed idea, that's were your idea should be centered around" (Mr. Naonori Yago)
"You have to constantly communicate. And not communicate as in things like Messenger apps, but it is vital that you "meet someone face to face". Previously when I was a participant in the BaPA project, one of the member was a person of few words so I only could see through their actions. But even then, I knew that person had own passion. I myself am not a talkative person (laughs), so communicating by showing your ideas and creations could lead to understanding each other" (Mr. Akinori Goto)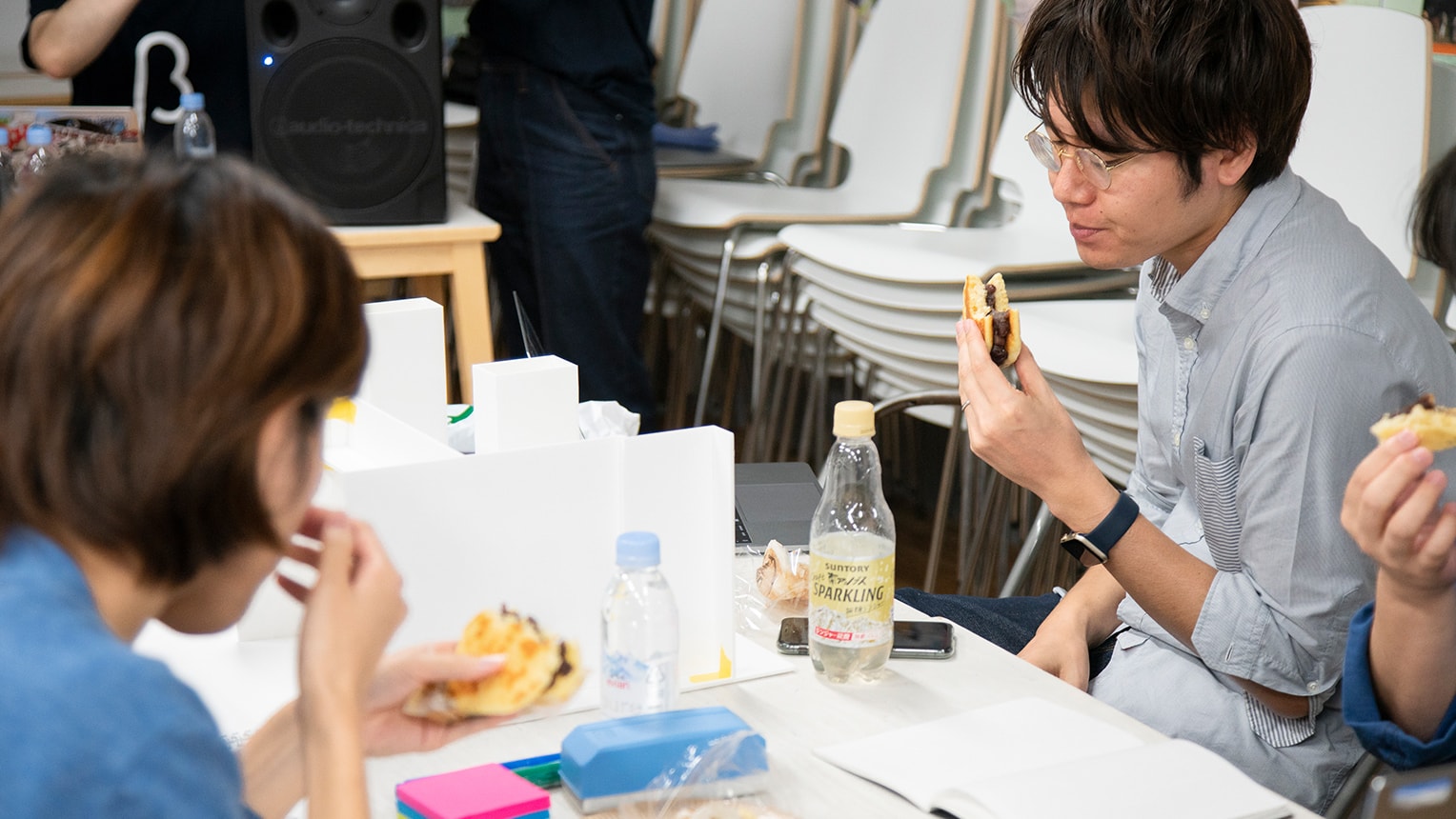 "Mogu-Mogu Time (Munchies Time)" is a brief moment where participants can relax and enjoy the tasty treats of Nihonbashi
Second Round: Production Check
October 6th, 2018 @ Clip Nihonbashi
There is a growing amount of tension in the air as the deadline draws closer, and as more and more equipment and mock-ups begin to pile up in the production. Today began with a lecture on "How to Travel the Future," courtesy of Mr. Masayoshi Boku.
Raising a flag to display who and what you are will lead to a better future. Due to Mr. Boku himself being famous as the "go-to-guy for anything about baseball and space in the digital creative industry," he has been able to be involved in the activity to promote baseball as an official event in the 2020 Tokyo Olympics, and the recent "#dearMoon" project by Mr. Yusaku Maezawa of ZOZO, Inc. He further added that "finding your purpose in life is the best way" to demonstrate creativity, and that rather than "having balance in work and in life", it is better to shift towards finding your life-work. In order for such, he made sure to tell the next generation of creators that "to be ready to accept the future, you have to build your own idea of the future while pouring your passion into your theme."
Recently, Mr. Boku took special notice in the world of technological evolutions from the input side. Through these evolutions, it has now become possible to creatively incorporate data in addition to previous sources such as texts, images, audios, and videos. This not to mean we are to utilize data more efficiently, but rather to think of it in terms of highlighting people and the natural day to day activities. By dynamically combining data with technology and design, Mr. Boku advocates for the new creation of "DATA-TAINMENT" for a way to provide new thoughts and experiences.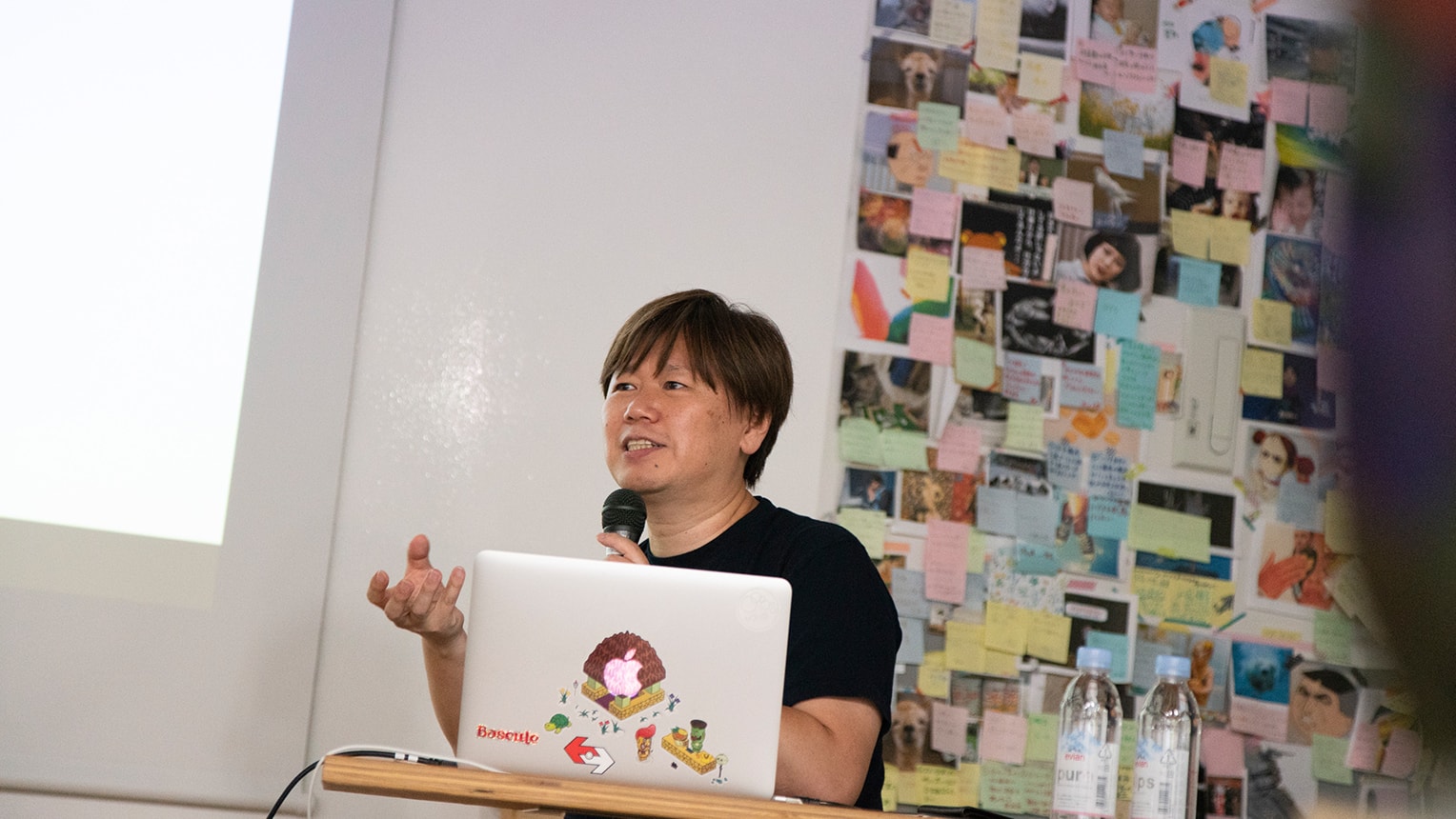 Mr. Masayoshi Boku
Constantly changing ideas...concepts slowly taking shape during the production process
Even after the completion of the main work, each teams kept in daily contact with each other and continued to meet for work on the project. What did they discuss, and how did they build their team? We listened in on the honest production process of each team.
Team A: Nihonbashi Karakuri (Mechanical) Dai-Noren (as of October 6th)
Updated the act of "turning over" the noren. Turning over the noren will activate a mechanical gadget to add more flourish to the people passing by.
―What were the changes to your ideas since the last time?
"We just started without a clear focus and with varying schedules and research, we just did not know which ideas to pursue... and the evaluation pointed out that our team was not unified... So after getting advice from the instructors, we decided to re-start and come up with fresh new ideas. Although we went ahead with this project thinking we had an interesting idea, there was a disconnect with the brand concept. So we decided to be more upfront and straight ahead in our idea to feature the large size of the noren for the COREDO Muromachi, since it was going to be the largest noren hanging in Japan. That is when our idea became clear"
―What were the issues in terms of the exhibition?
"It was mainly to do with whether or not we could safely install, and how we could improve the satisfaction experience. As much as we wanted to focus on the technical aspects, we also wanted to focus on the visual too"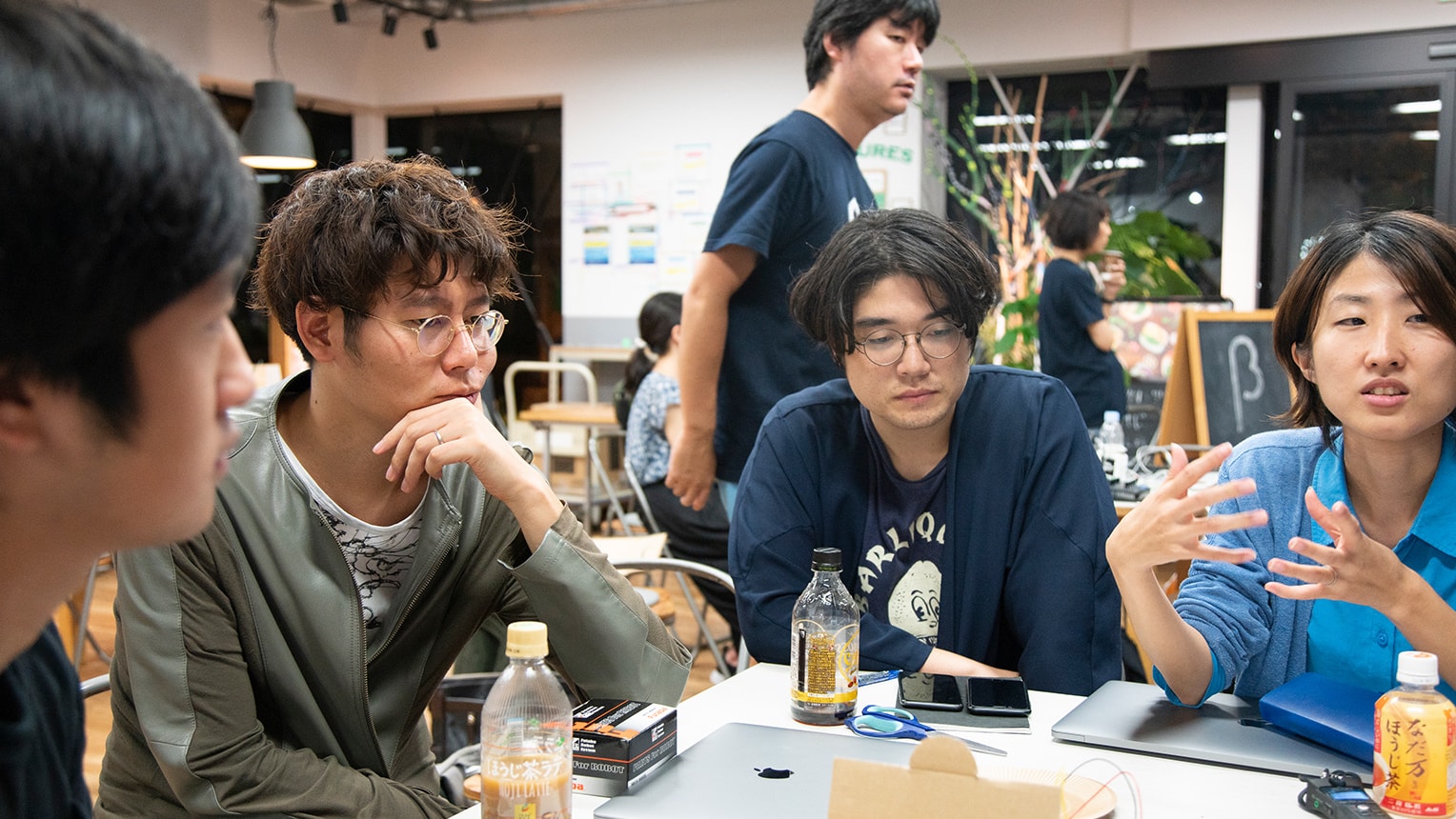 Team B: REVERB (as of October 6th)
The glowing and rejuvenated townscape, alongside the well-established stores. By choosing the moiré pattern to emphasize how various factors combine together, they expressed how Nihonbashi contains a mixture of change and tradition. A curb in a similar shape of the bridge over Nihonbashi was cut out to be used in the moiré pattern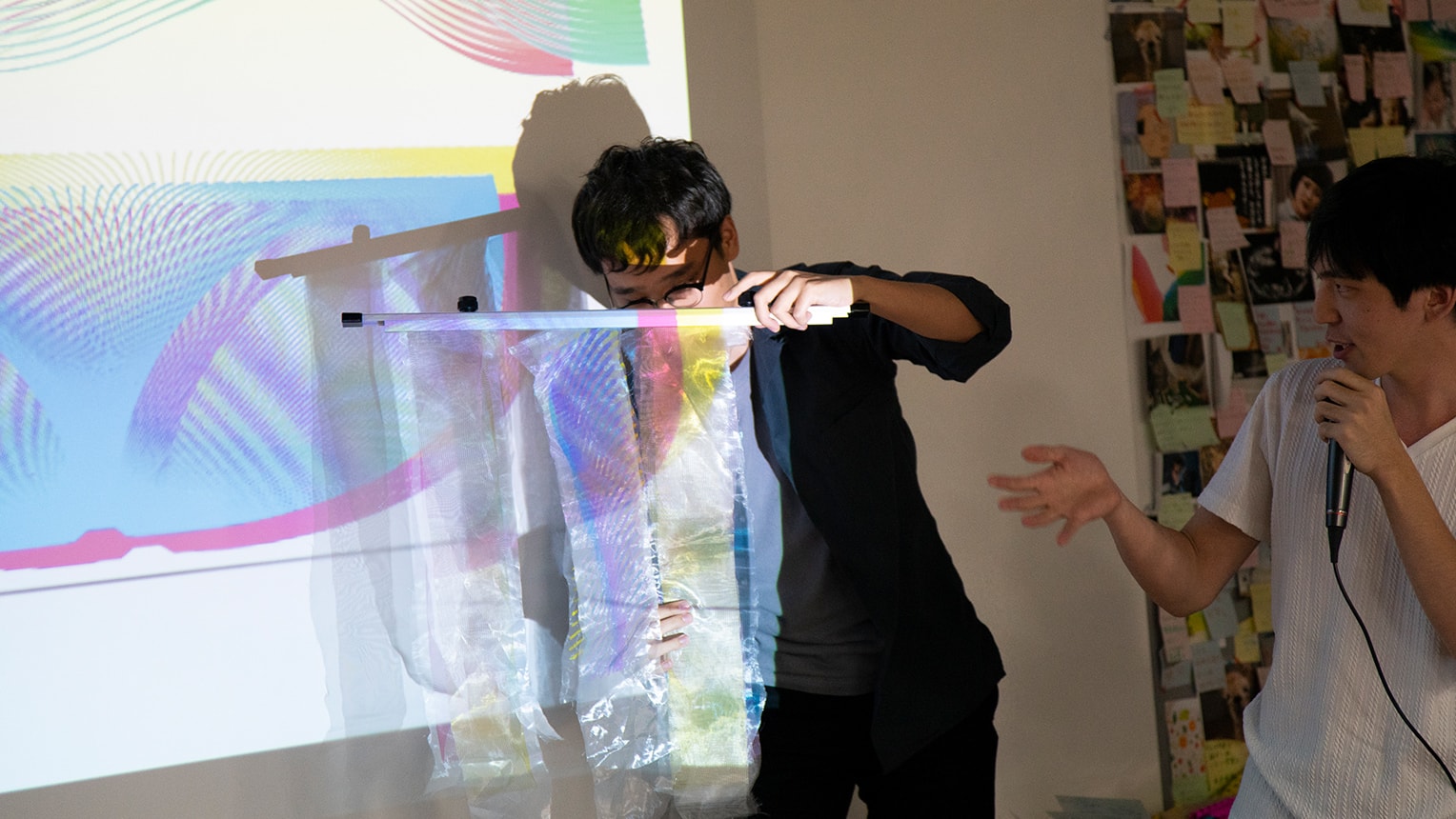 ―How did you end up with this idea?
"When we were researching on any interesting phenomena on cloth, we came across the moiré. We discussed that we could establish a moiré pattern by printing various designs into the transparent organdie materials. From there we fine-tuned the size and colors of the fabric in accordance with the production costs. Of course, to get to that point, we held meetings every day at a diner in Tokyo. In essence, it was a daily grind of working your normal job till 9:00 PM, and then work on this until midnight"
―What were the issues in terms of the exhibition?
"Too many to count (laughs). To make the moiré patterns appear, it is not about moving back and forth, but moving up and down or left to right in parallel are better. And you have to prepare several fabrics and make them stick firmly. How you move them is the issue going forward"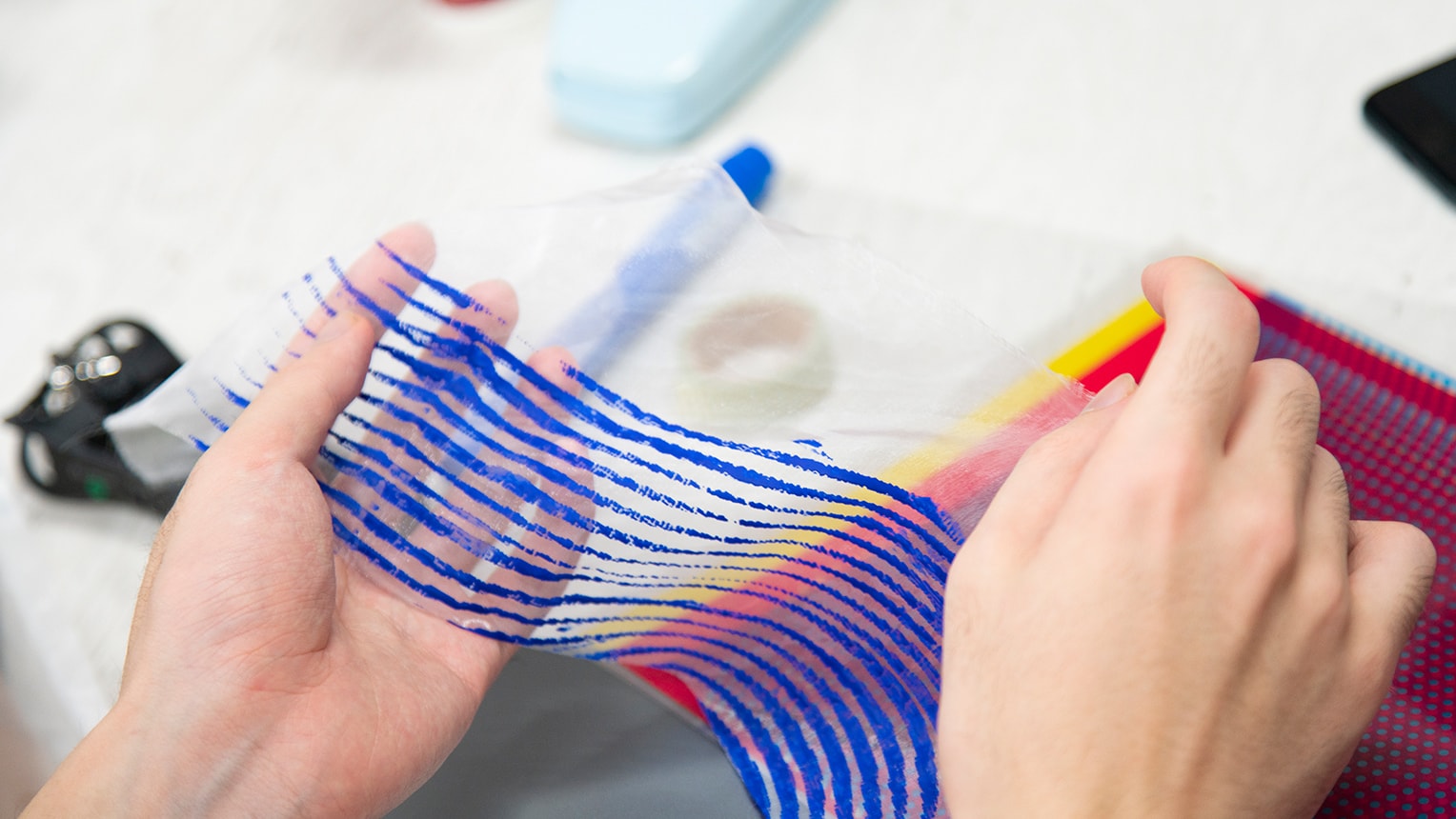 Team C: Nihonbashi Oto-no-Ba (as of October 6th)
Ninben's tried and true, authentic dried bonito. It recalls its own beauty and tastiness using our senses other than taste. They have created two norens; one using Onomatopoeia (vison) about food, and the other providing sounds that are linked to certain words by way of directional speakers (hearing).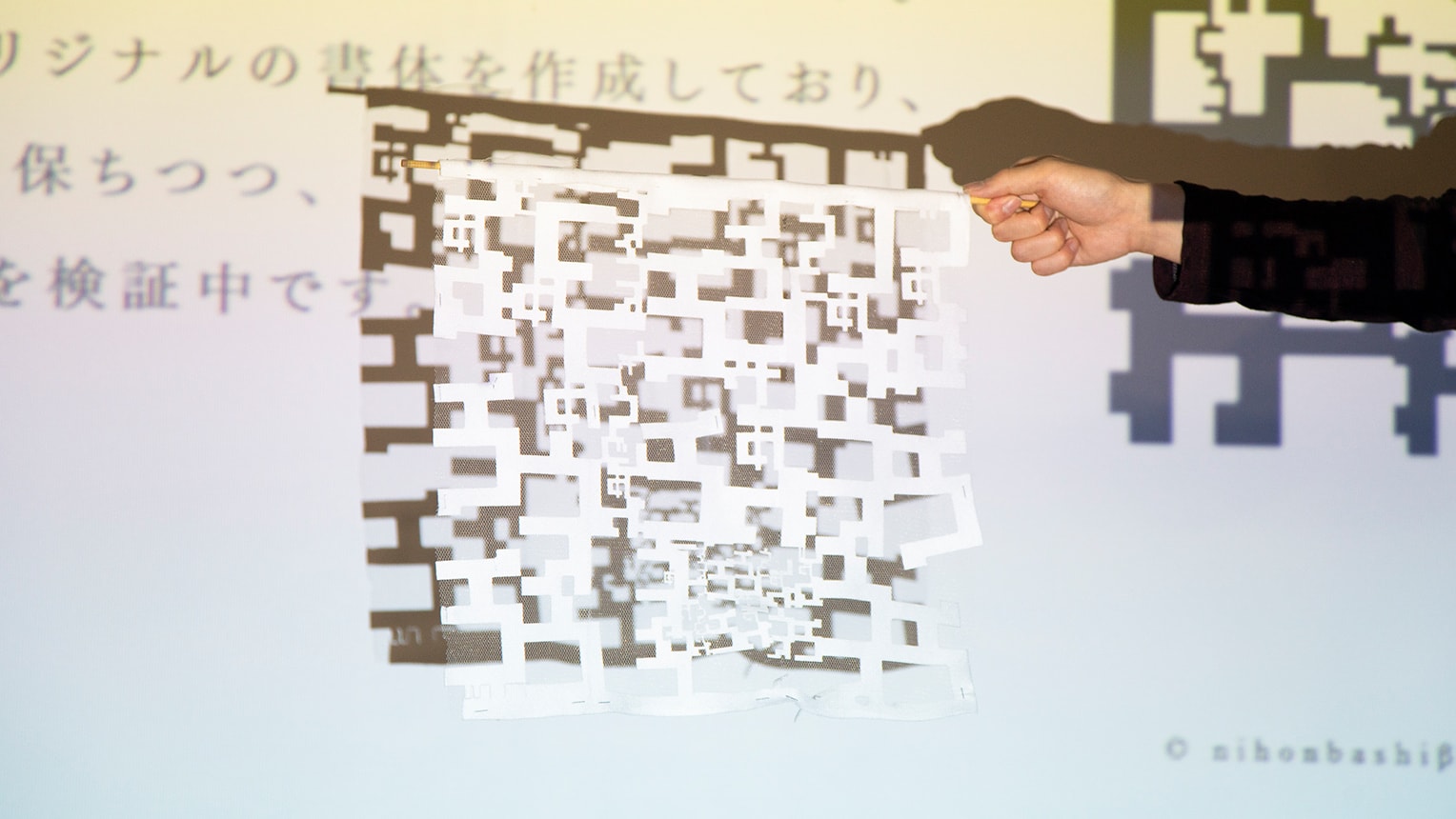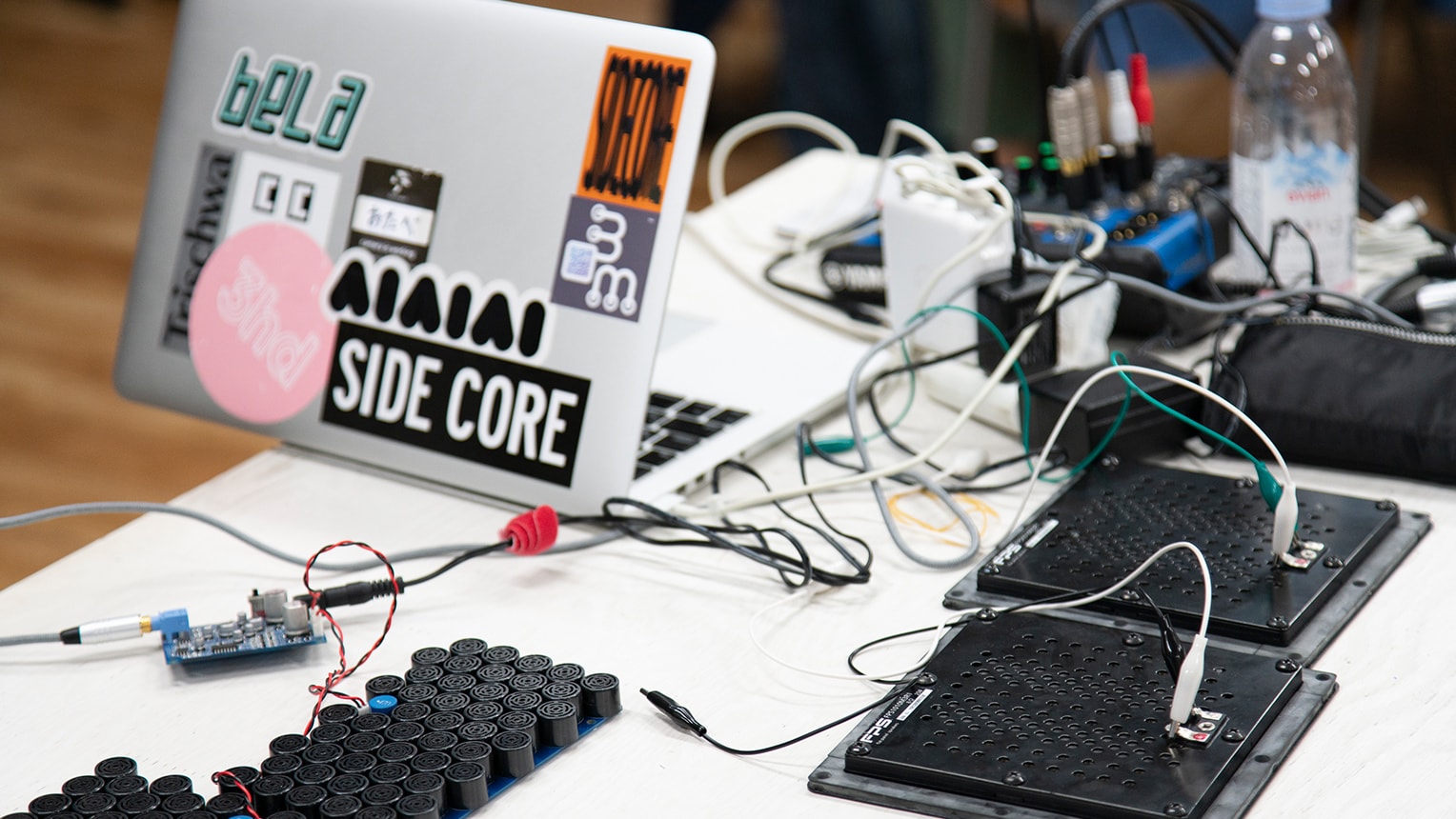 ―What were the changes to your ideas since the last time?
"We bounced around many ideas, and instead of experiencing noren, we placed too much on making something that has never been seen before, which resulted in us finding difficulty in linking together what was great about Ninben as a company. So instead of what we had established up until that point, we decided to shift towards something visual"
―How about building teamwork?
"We fought a lot (laughs). Everyone here had pretty strong opinions so we were literally toe to toe, even at a cafe. But we've finally began to see the core brand image of Ninben, and that was when we started to distribute the work responsibility"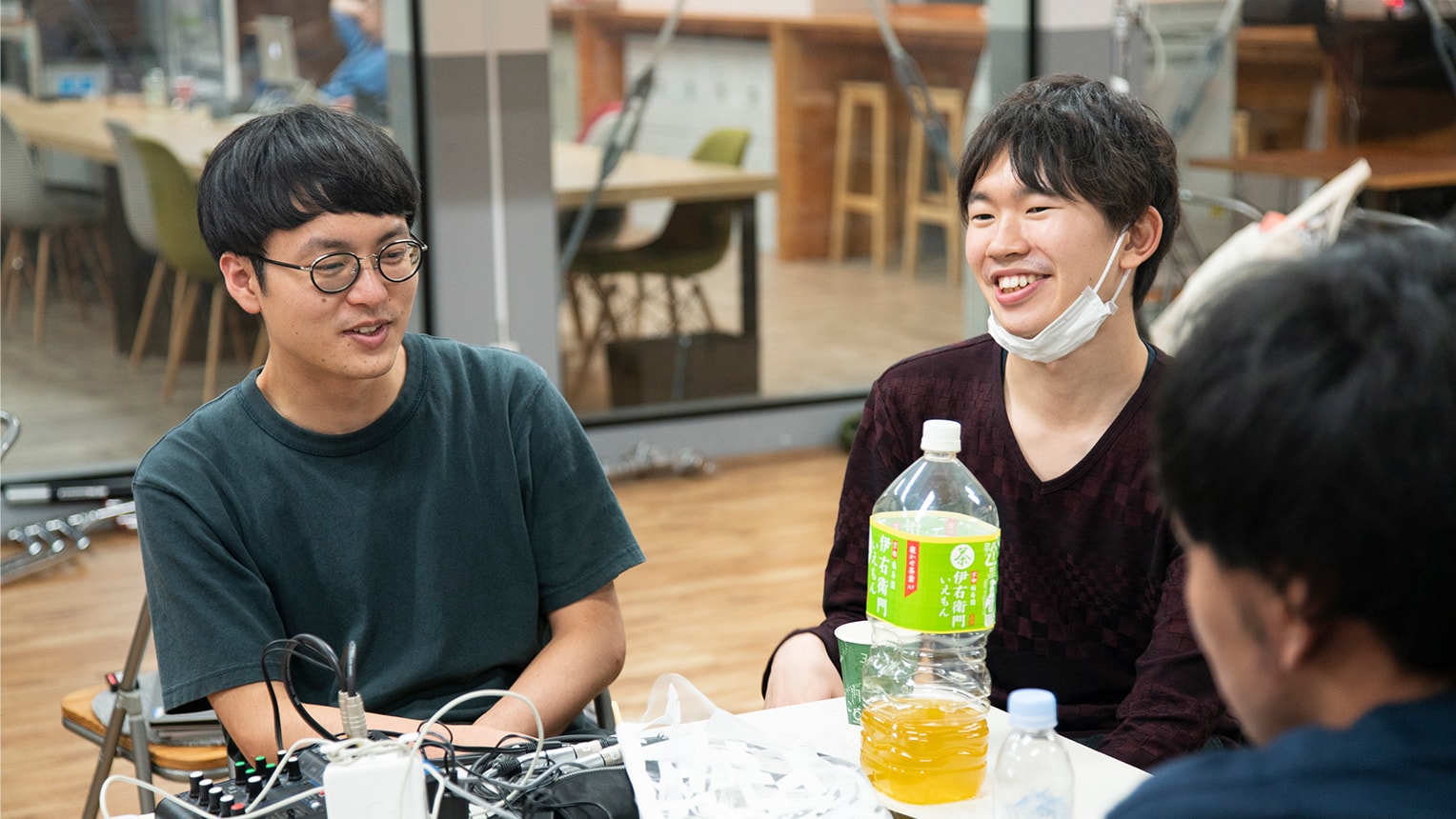 Team D: Mandarin Oriental, Tokyo-no-Kaze (as of October 6th)
In accordance with "Forest and Water," the concept behind Mandarin Oriental Tokyo's spatial design, this noren utilizes transparent and white organdie material to express "Wind." Controlling wind through the use of the latest technology.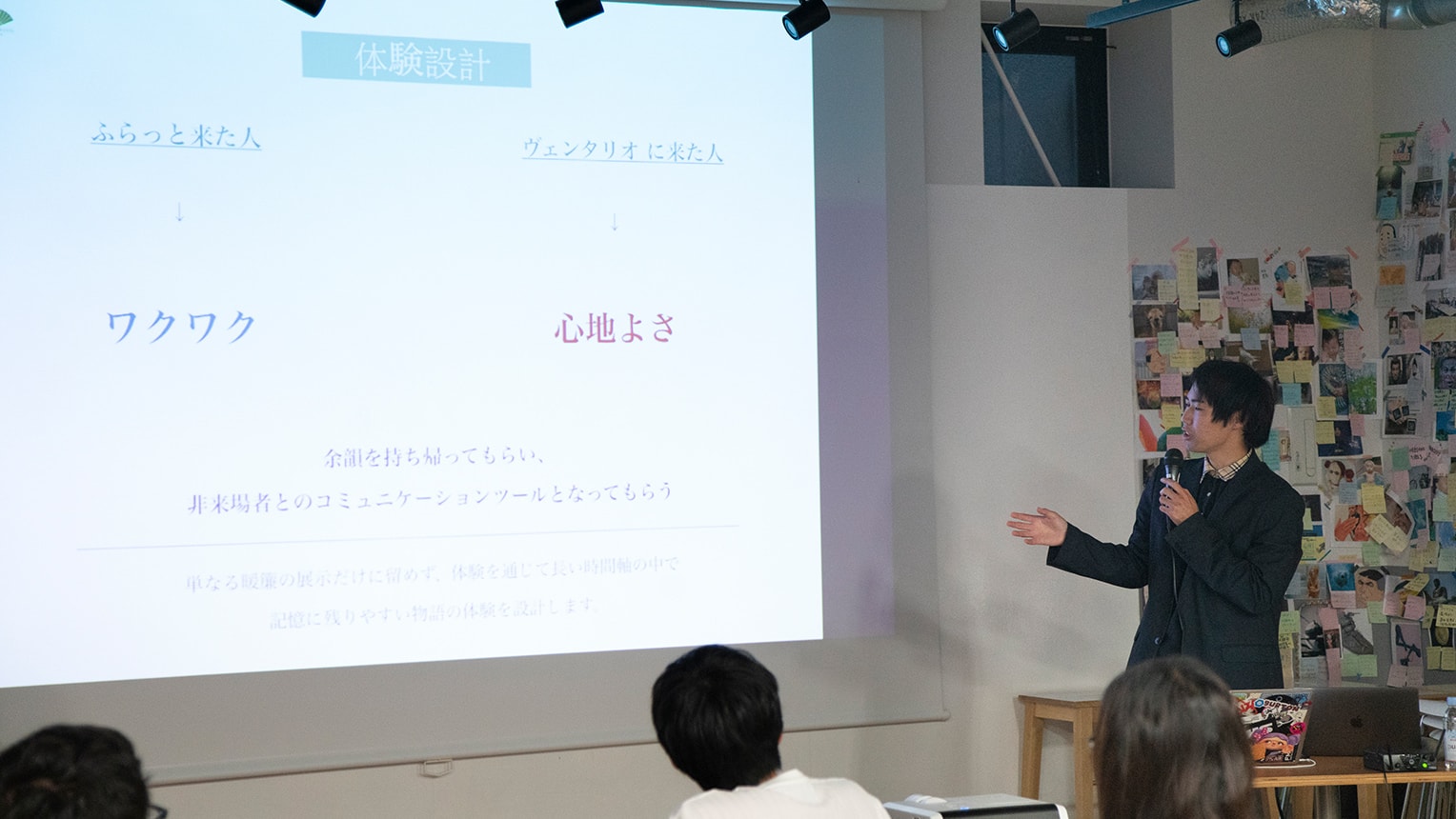 ―What are the parts you have brushed up on from the previous round?
"Although some of the design had been confirmed, we were still not finished with the designing the interactive portion, how to let visitors into, so we had to brush up on how we could pin that part down in terms of hardware. At this point we had still not determined whether the power source to move the fabric should be a motor or a fan, but we did find the answer to where we should place it"
―What were some points that you paid close attention to?
"We each had pretty distinctive skills, so if we were able to share a visual image, then bouncing ideas off of one another would be easy. So building an atmosphere for free-form discussion was crucial. We had some members participate all the way from Kyoto, so we made sure we all cooperated to not waste each other's time"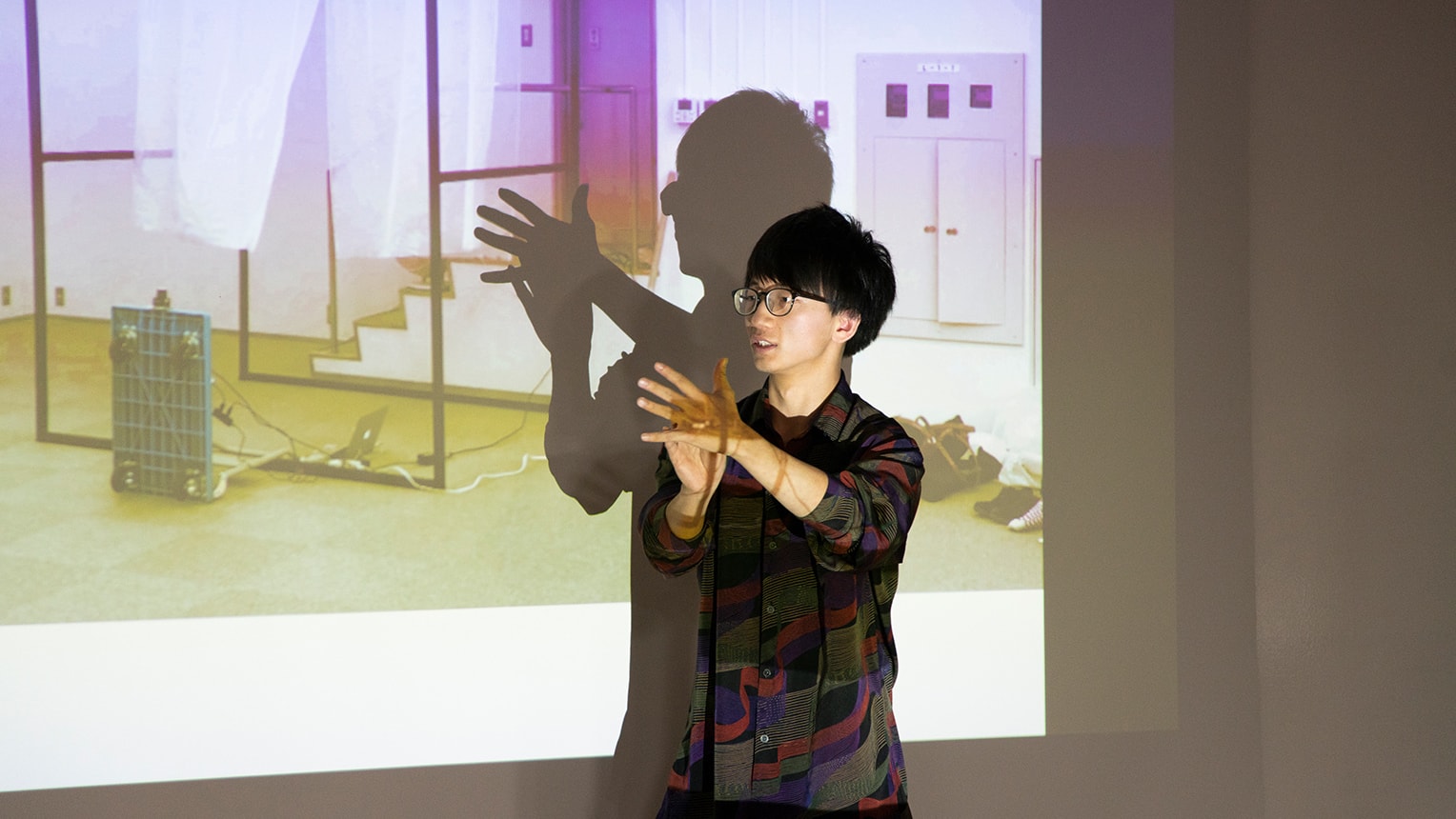 Third Round: Production Check
October 20th, 2018 @ Clip Nihonbashi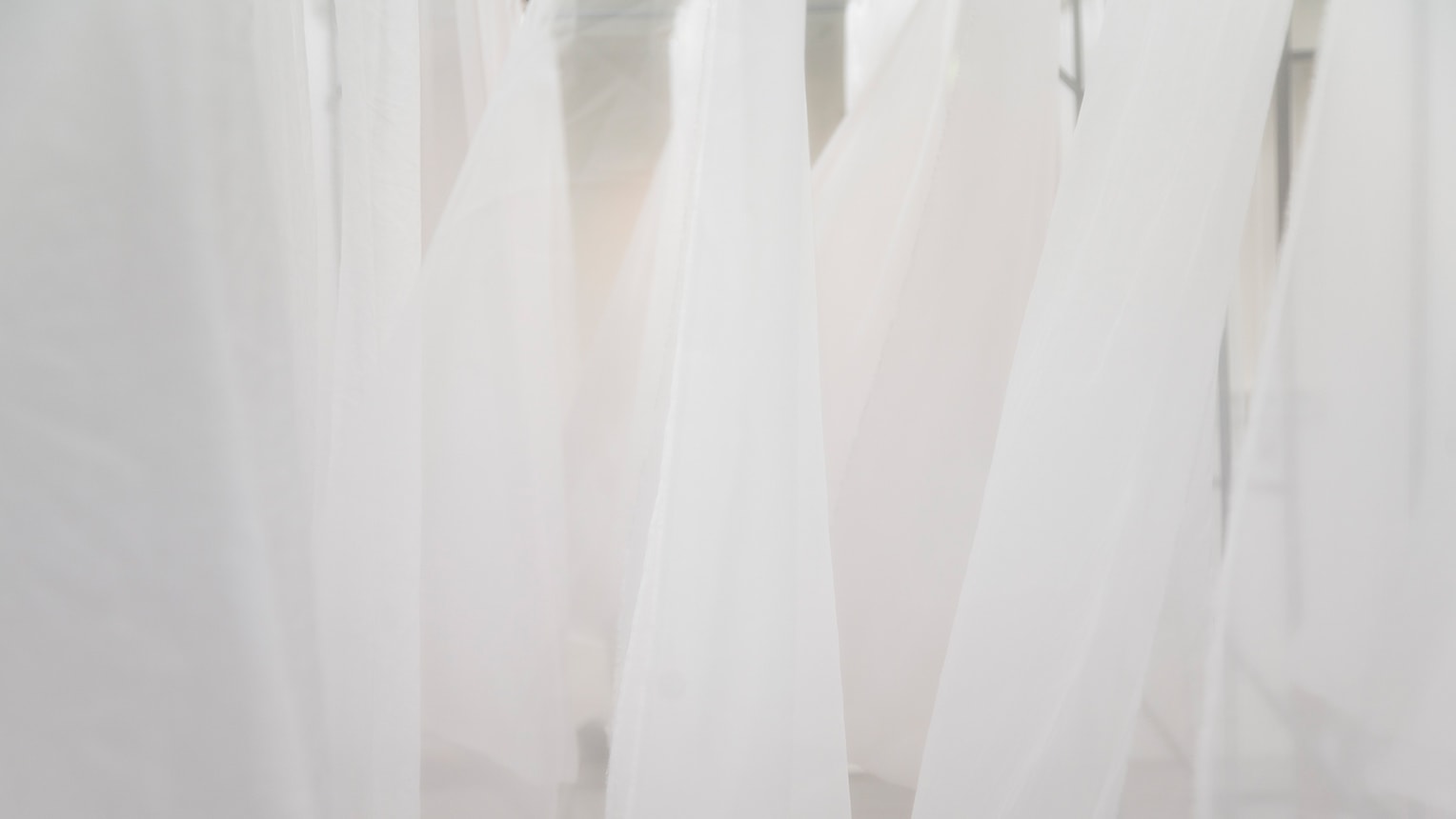 The only thing remaining for the final installment of this program was to complete the projects on their own. The day began with art director Mr. Naonori Yago's lecture on the "Trial and Error of Design." A turning point came for the visual image of "LAFORET HARAJUKU." Through the creation of this graphic, he came to realize the importance on thoroughly understanding the concept to reach the masses, and not just placing priority on what he personally wanted to design. Beginning with presentations of his past creations, he also expanded his lecture on how to incorporate your surroundings.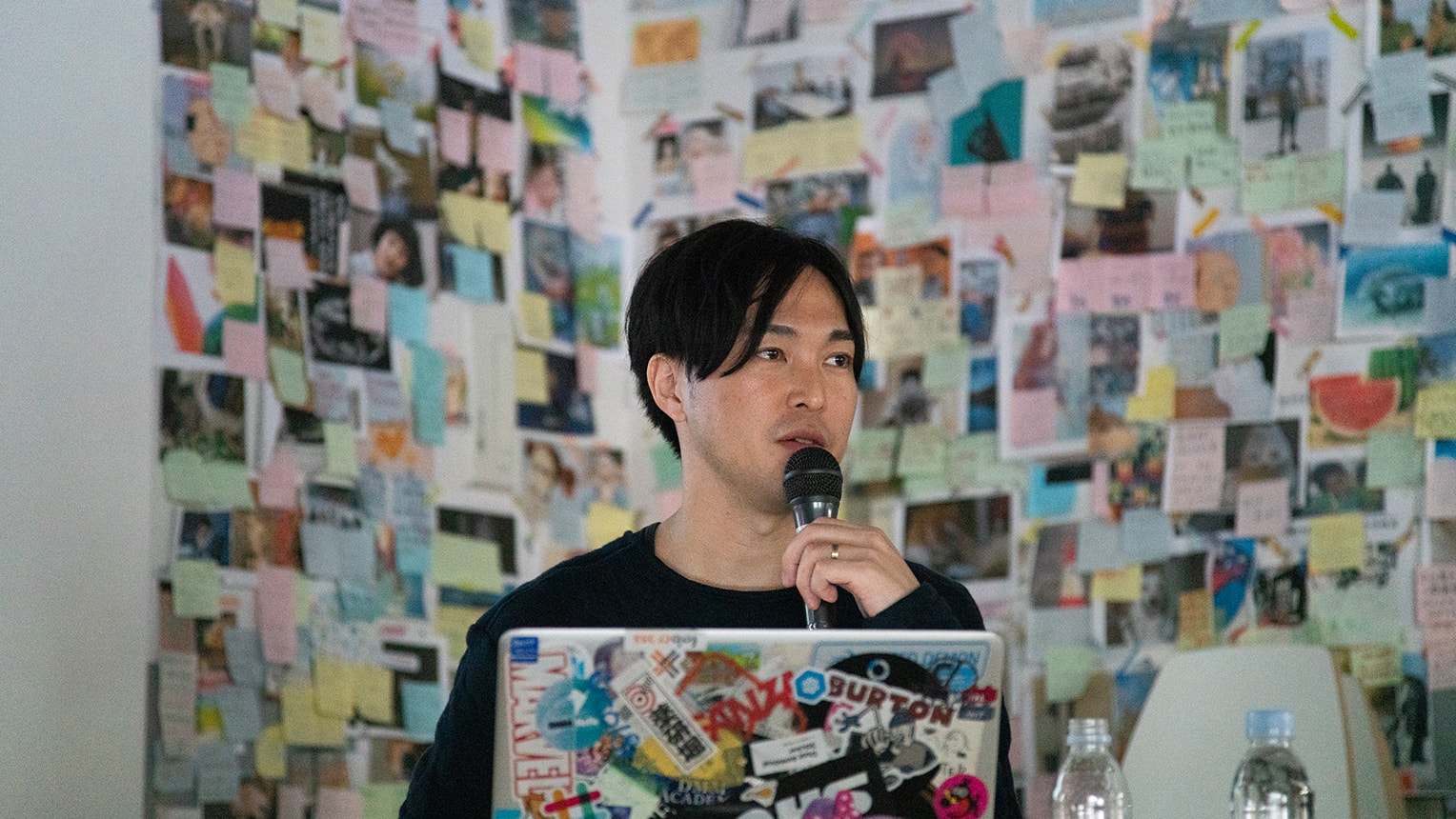 Mr. Naonori Yago
Next, we moved on to the final evaluation check of the design and operation of the full-sized mock-ups. The day's instructors were Mr. Boku, Mr. Kampei Baba from Bascule, Mr. Nakamura, Mr. Goto and Mr. Yago. Since the completed images needed to be finalized by this day to be ready for the event, the evaluation checks today were especially hard and strict. Both the instructors and young creators were all serious in their production, with one team even working throughout the night. Some of the participants understandably could be seen being feeble from the harsh critiques...
Team A: Noren-Sama (Note: sama is a formal way to address somebody, in this case, a noren)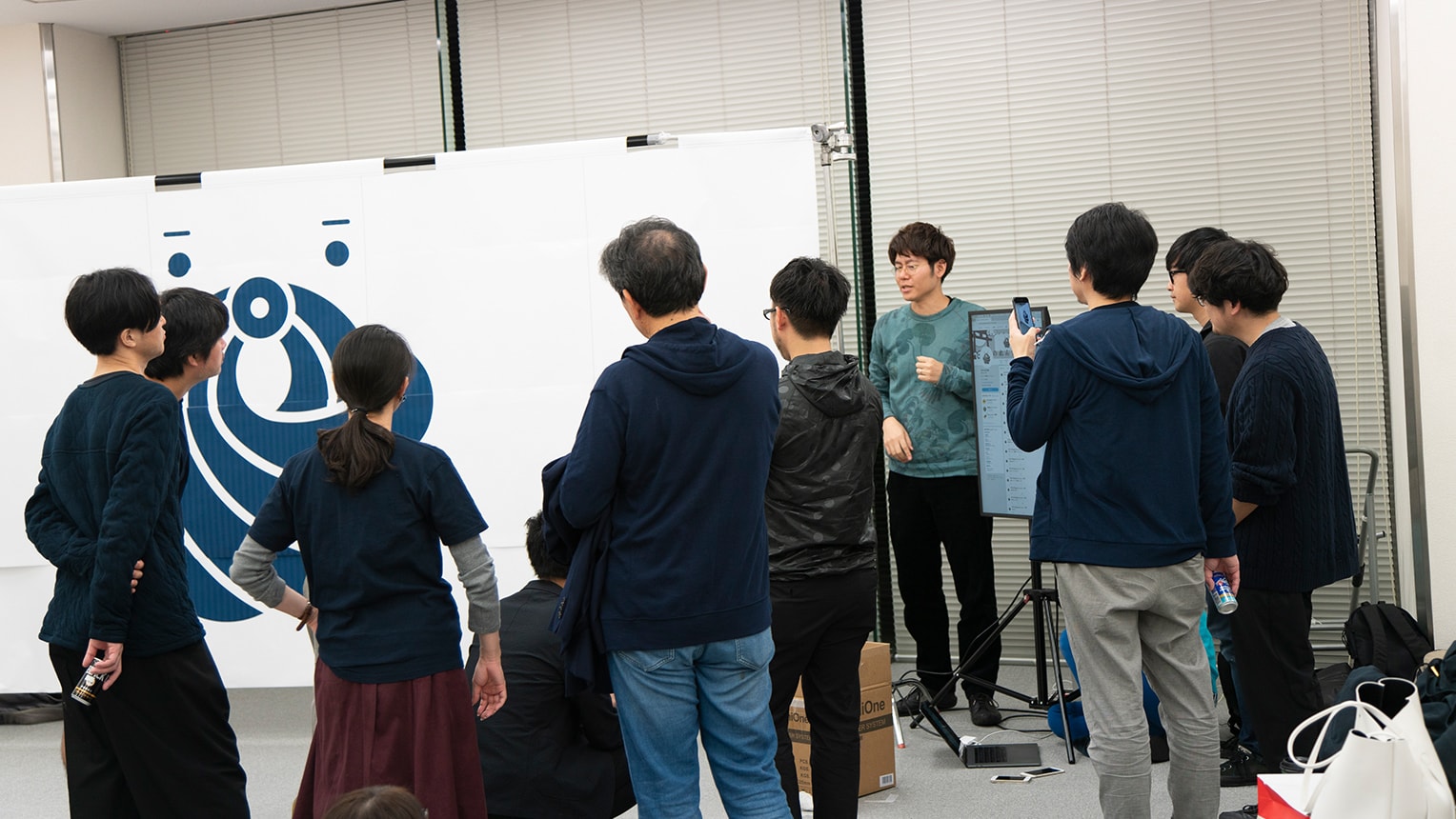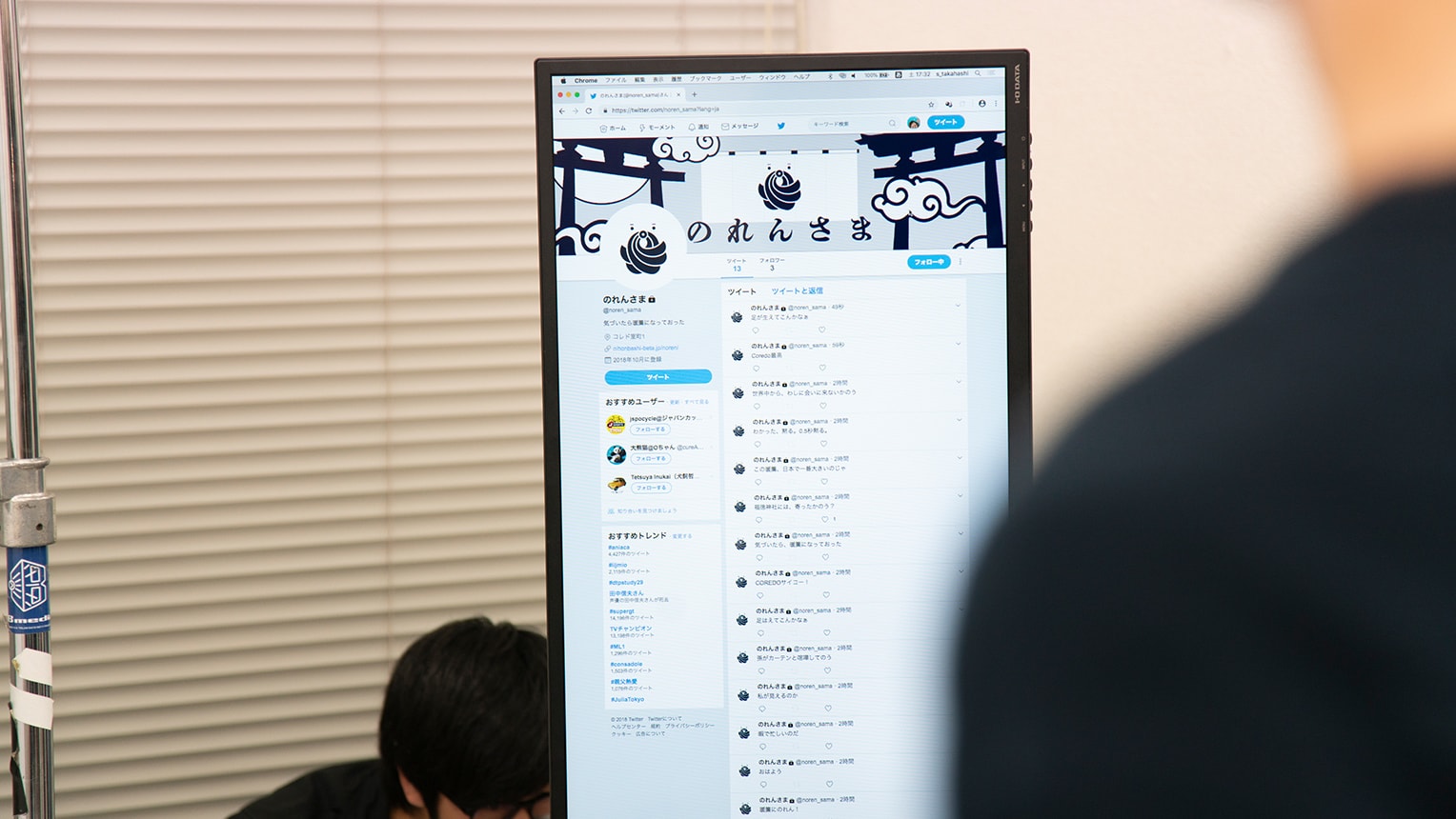 At COREDO Muromachi hangs Japan's largest noren. And drawn by turning its logo upside down with eyes and brows is the old man character of "Noren-Sama." Inside the noren is an acceleration sensor that makes a slightly funny synthetic audio voice of the Noren-Sama out of a speaker in accordance to the difference of how much the noren wavered. In addition, the noren in linked with its very own Twitter account, uploading random grumblings from Noren-Sama. Laughter ensued from the instructors and staff every time the Noren-Sama joked about his "shoulders hurting, but I have no shoulders" to "being so bored I'm busy." Visitors to COREDO include families, and this noren was effective in expressing how this facility invigorated the town.
Team B: Reverberating Together, Now and Then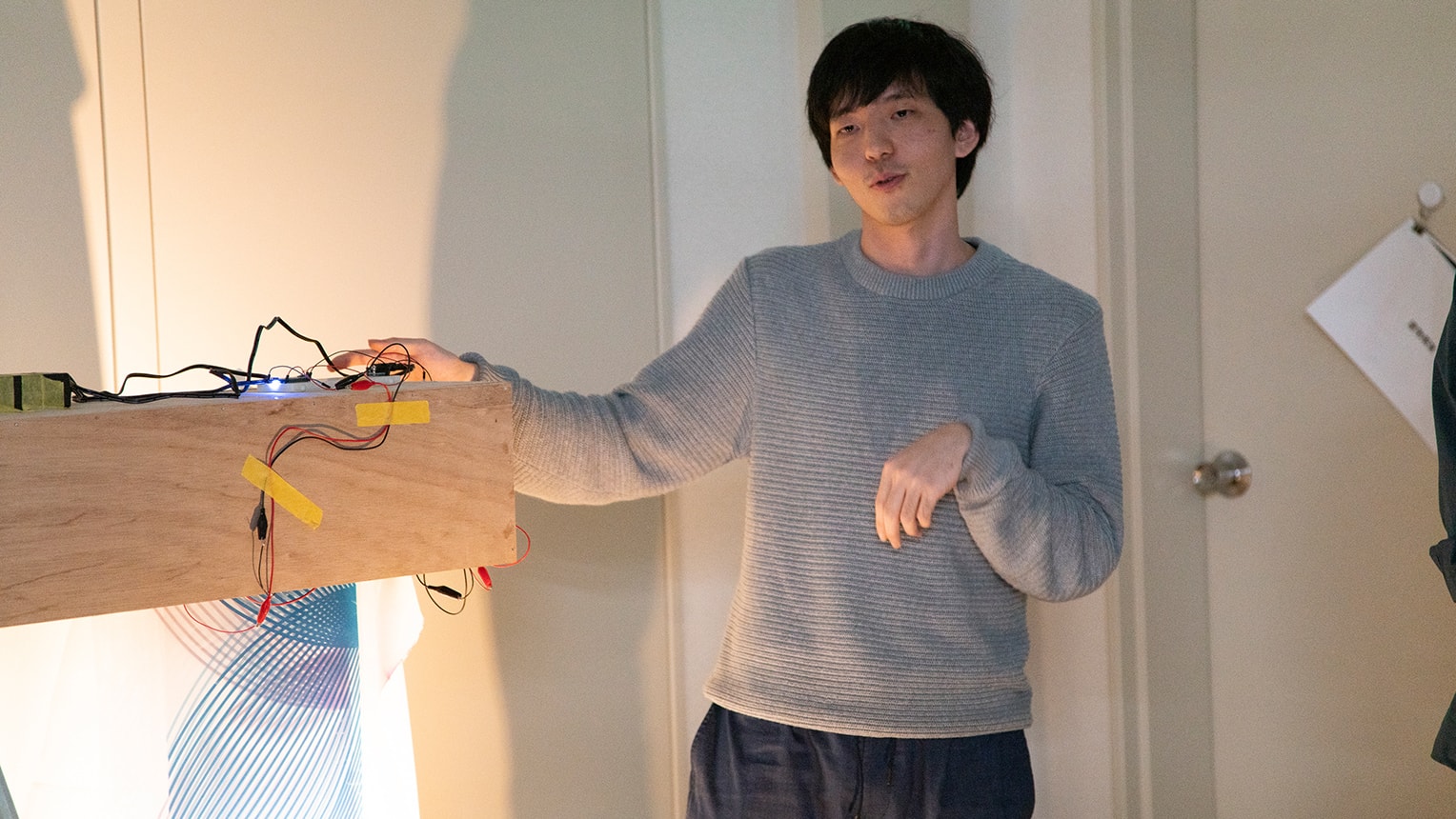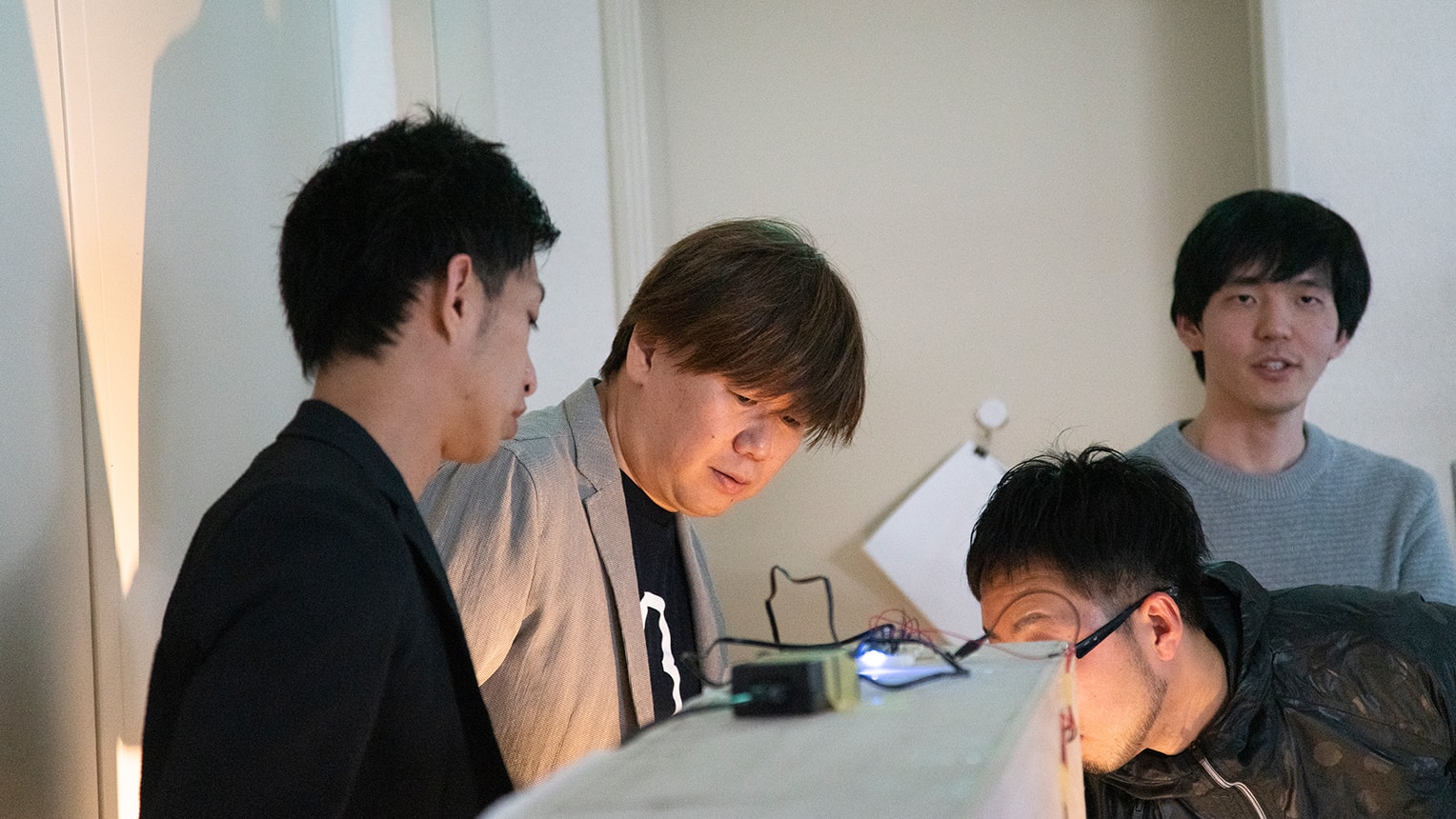 Decorating the Mitsui Garden Hotel Nihonbashi Premier is a noren that utilizes the moiré pattern. Using the moiré pattern to show the regional features of Nihonbashi as a place where tradition and culture meet, the design incorporated the stripe-pattern of the abstract arch of Nihonbashi. In order to automatically generate the moiré pattern, for the power source it uses a bio-metal coil that contracts when applied with heat. Using only minimal circuit boards and power sources, it generates a contraction of coils to slide two norens. As such, it creates the visual effect of a moiré pattern. There is still adjustments required for how the moiré pattern will be affected when going through this noren.
Team C: Nihonbashi Oto-no-Ba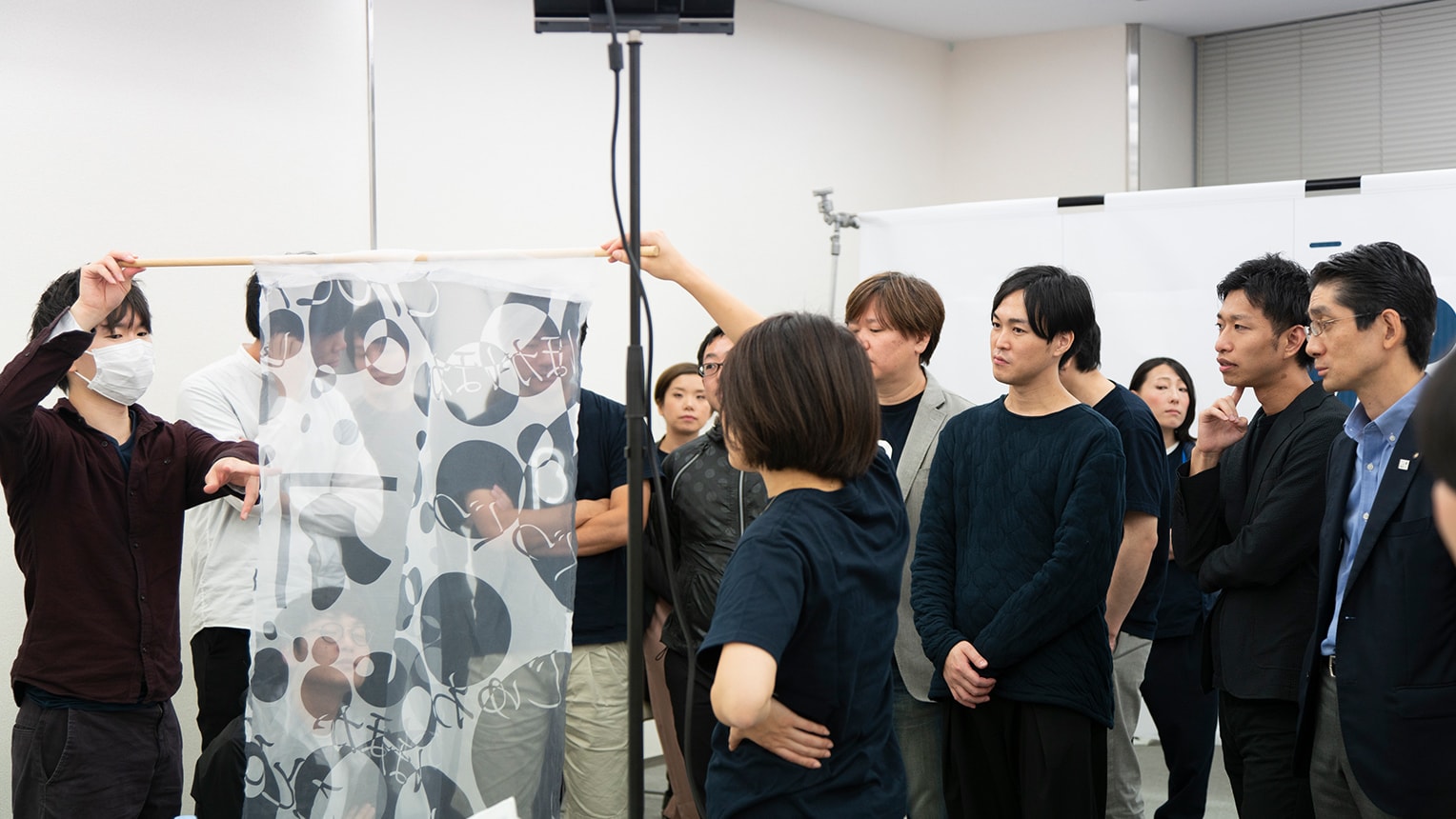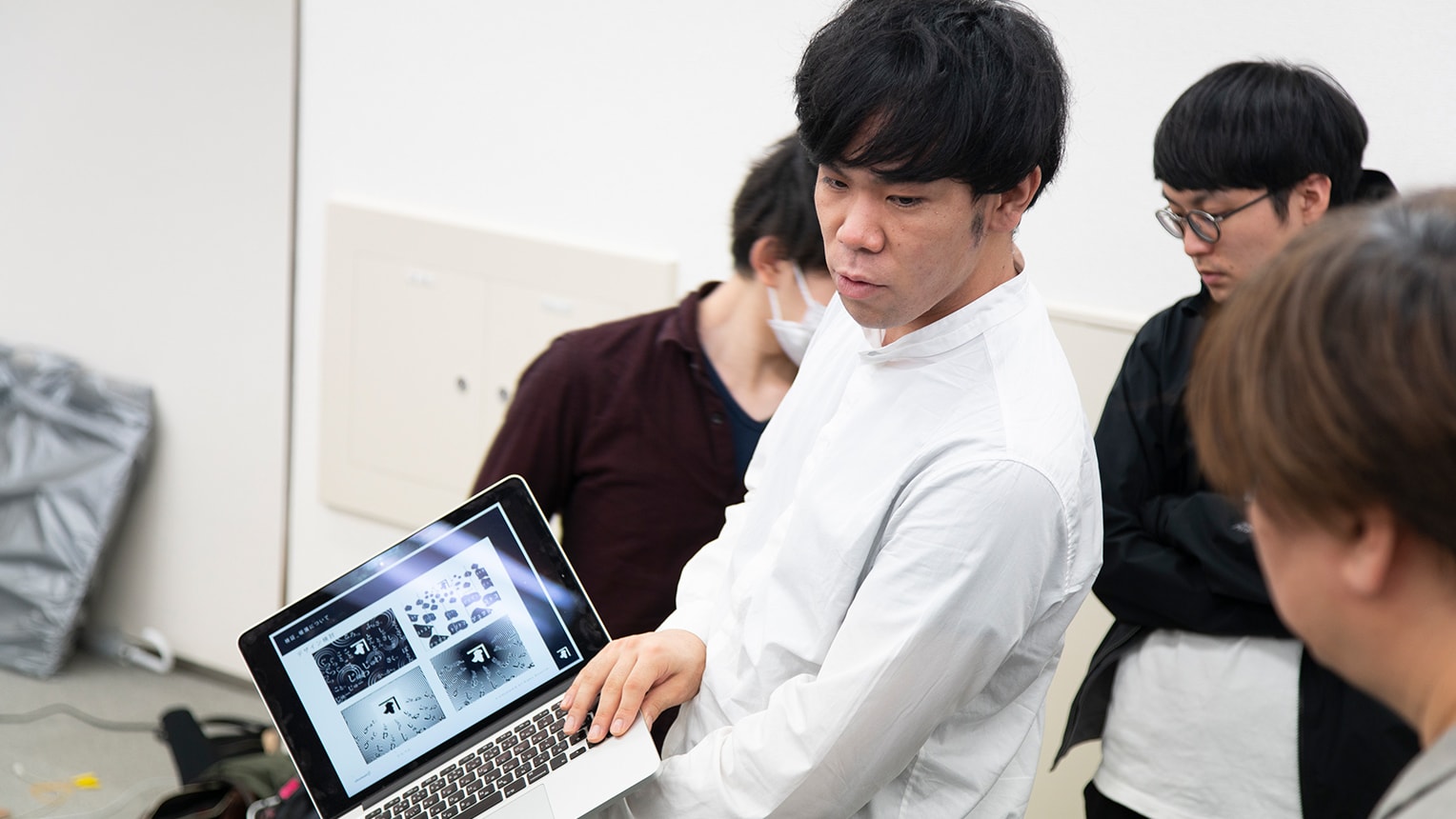 A noren hung inside the Ninben Main Store, a specialty store of dried bonito. In addition to one noren designed to visualize Onomatopoeia of sounds during dining, there is another that provides the sounds of the origin of the Onomatopoeia from limited places inside the store. However, the instructor team has pointed out the weak link between the speaker and noren, and of placing too much focus on sound and not on the branding. Further review has been recommended. To be ready for the exhibition, further sharpening of the idea is necessary.
Team D: Mandarin Oriental, Tokyo-no-Kaze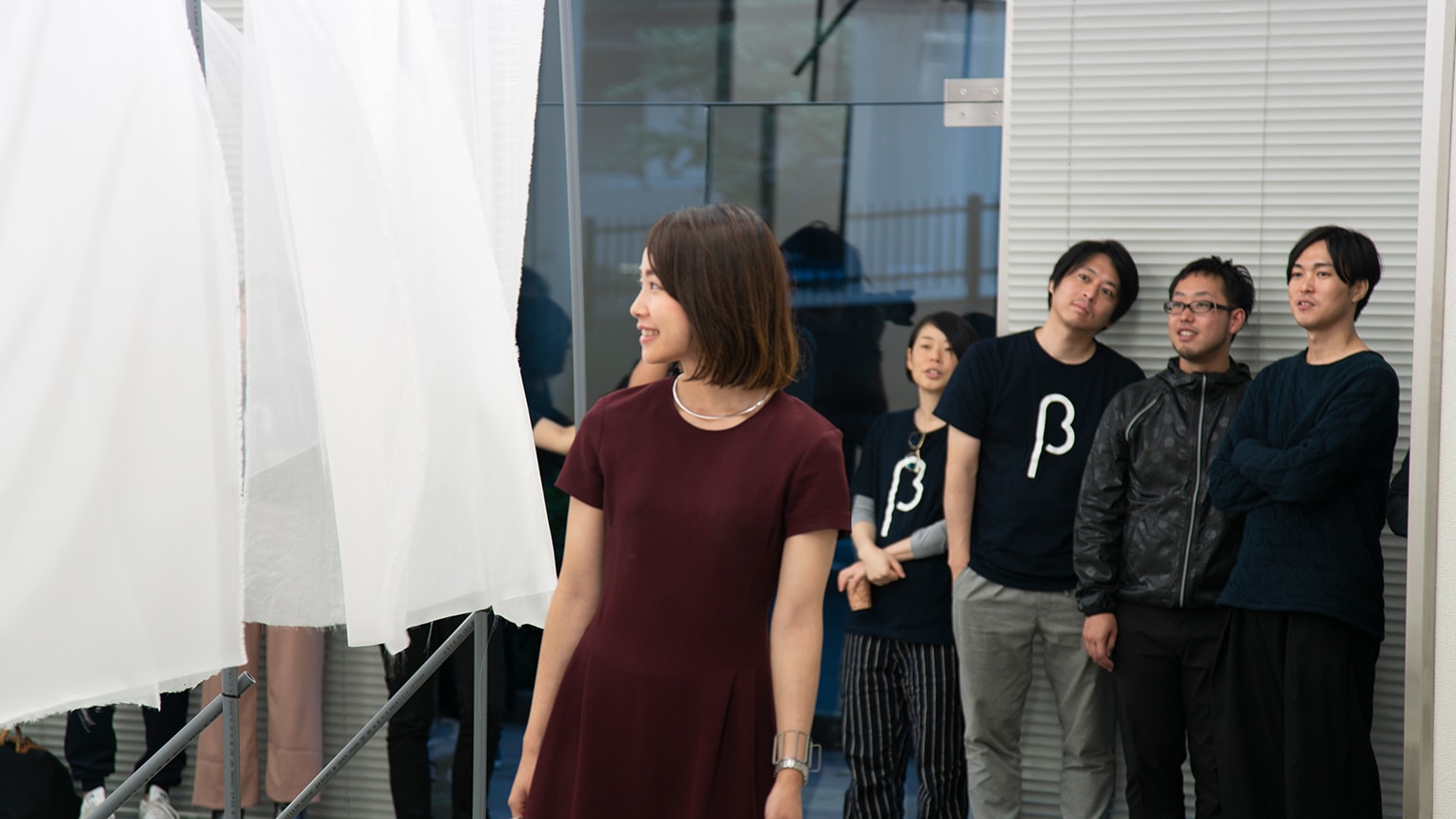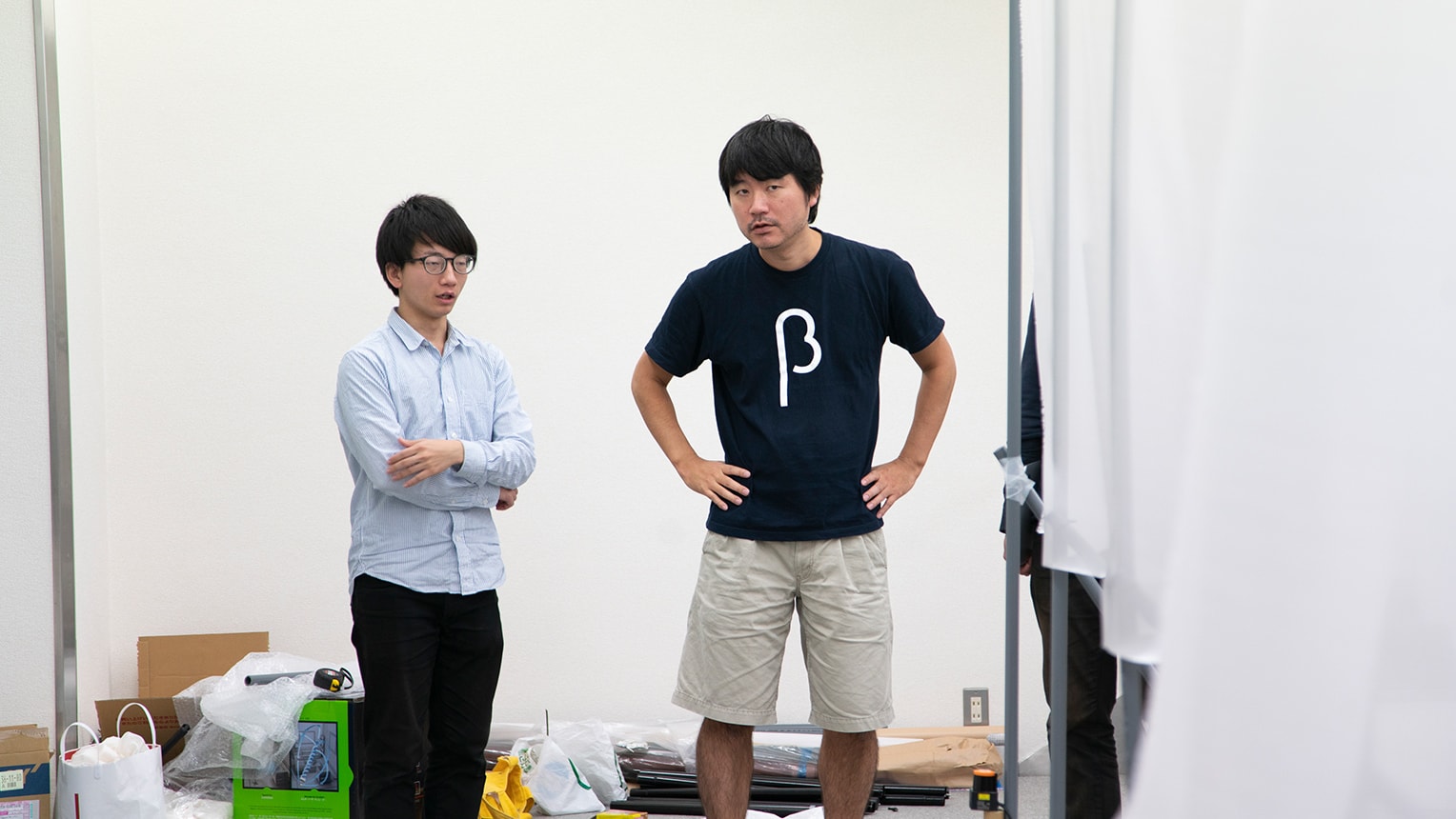 In accordance with "Forest and Water," the concept behind Mandarin Oriental Tokyo's spatial design, there are 5 thin sheets of noren that waver whenever people pass by. The mechanism involves the sensors to generate wind from a fan placed at the further end of the viewer. In addition, sounds of the forest, water and birds from the speakers are currently being considered. This was a noren that placed importance on gathering the atmosphere of a location to highlight visitor's experience by appealing to the five senses.
It will be interesting how much they will be able to raise the quality until the exhibition
Presentation and evaluation check per team has been completed. The teams have to clear any issues of their works required by the instructor team and complete the project by the exhibition. This is the crucial moment.
This project has been ongoing for the past 3 months. We asked Mr. Masayoshi Boku, head representative of the nihonbashi β project to building a connection between the youth and the town, and what we can expect to see right now and here on forth.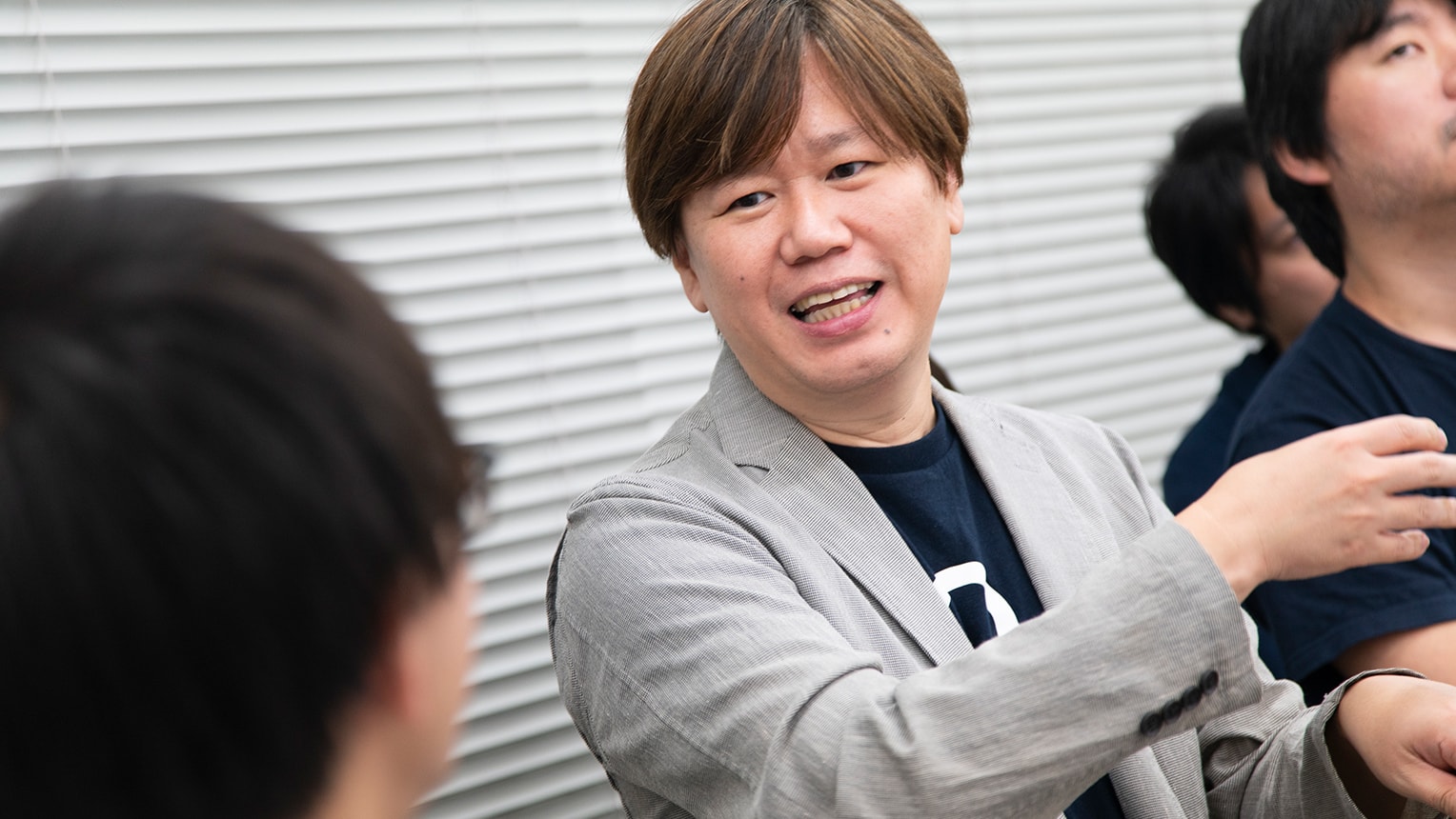 "For a subject like 'Creating a Noren of Future' that no one has ever thought of, I must admit that I was hopeful, but also worried about what type of creators and stores would participate, let alone what kind of workshops we would need to prepare for this project. Spatial designs, construction, major manufacturers, advertisement, robot development, software development...various young creators and industries of Nihonbashi came together to challenge in creating a noren of future. Although terms like 'joint collaboration' and 'innovation' have now become buzzwords, each team have all put in serious work in trying to understand what it is about Nihonbashi, and what a Noren of Future would look like, regardless of the methods in design and technology. There have been clashes and differences in opinion, but all are working hard to move forward in this creative endeavor with as much passion as the BaPA project. Myself personally am looking forward to what kind of experiences they can provide to the visitors of Nihonbashi. We are also nearing an announcement about another new nihonbashiβ project so to all creators, please come and visit Nihonbashi!"(Mr. Masayoshi Boku)
The exhibition will be held in each store from November 1st through the 11th. Just what kind of reactions could we hope to see from the people visiting Nihonbashi? What would they think about these new norens created from scratch? Please come and see them for yourself and experience the "Mirai-no-Noren" that have been created through hard work, trial and error. Through these artworks full of stories and landscapes created with passion by young creators who previously had no ties to Nihonbashi, you will begin to see another side to the town of Nihonbashi.
Interview and Article: Kentaro Takaoka / Photos: Kohei Kawatani
First Appeared: JDN
Mirai-no-Noren Exhibition
Date: November 1st to the 11th, 2018
Place:  COREDO Muromachi / Ninben Nihonbashi Main Store / Mandarin Oriental,Tokyo / Mitsui Garden Hotel Nihonbashi Premier

"nihonbashi β" is a joint project to connect young creators with Nihonbashi to create a future of this town. As the first in its series, we invited creators who continue to take on new challenges in their respective industries as instructors, and together with the famous stores in Nihonbashi, held workshop programs to create a new experience in Nihonbashi.

The theme of the initial program was "Mirai-no-Noren (Norens of Future)." Using the "noren" of the famous stores in Nihonbashi as the subject matter, by combining with the latest technologies and free-form ideas, this project is to produce an installation that provides new experiences to the visitors of this town. Works from the workshop will actually be submitted and displayed at famous stores in Nihonbashi, as well as being scheduled to be shown at the "nihonbashi β Mirai-no-Noren Exhibition."