2019.05.16
Building a Relationship with the City, Reflecting a "SENSE OF PLACE" The Culture of Japanese Cuisine and Nihonbashi seen through the eyes of the Executive Chef at Mandarin Oriental, Tokyo
Building a Relationship with the City, Reflecting a "SENSE OF PLACE" The Culture of Japanese Cuisine and Nihonbashi seen through the eyes of the Executive Chef at Mandarin Oriental, Tokyo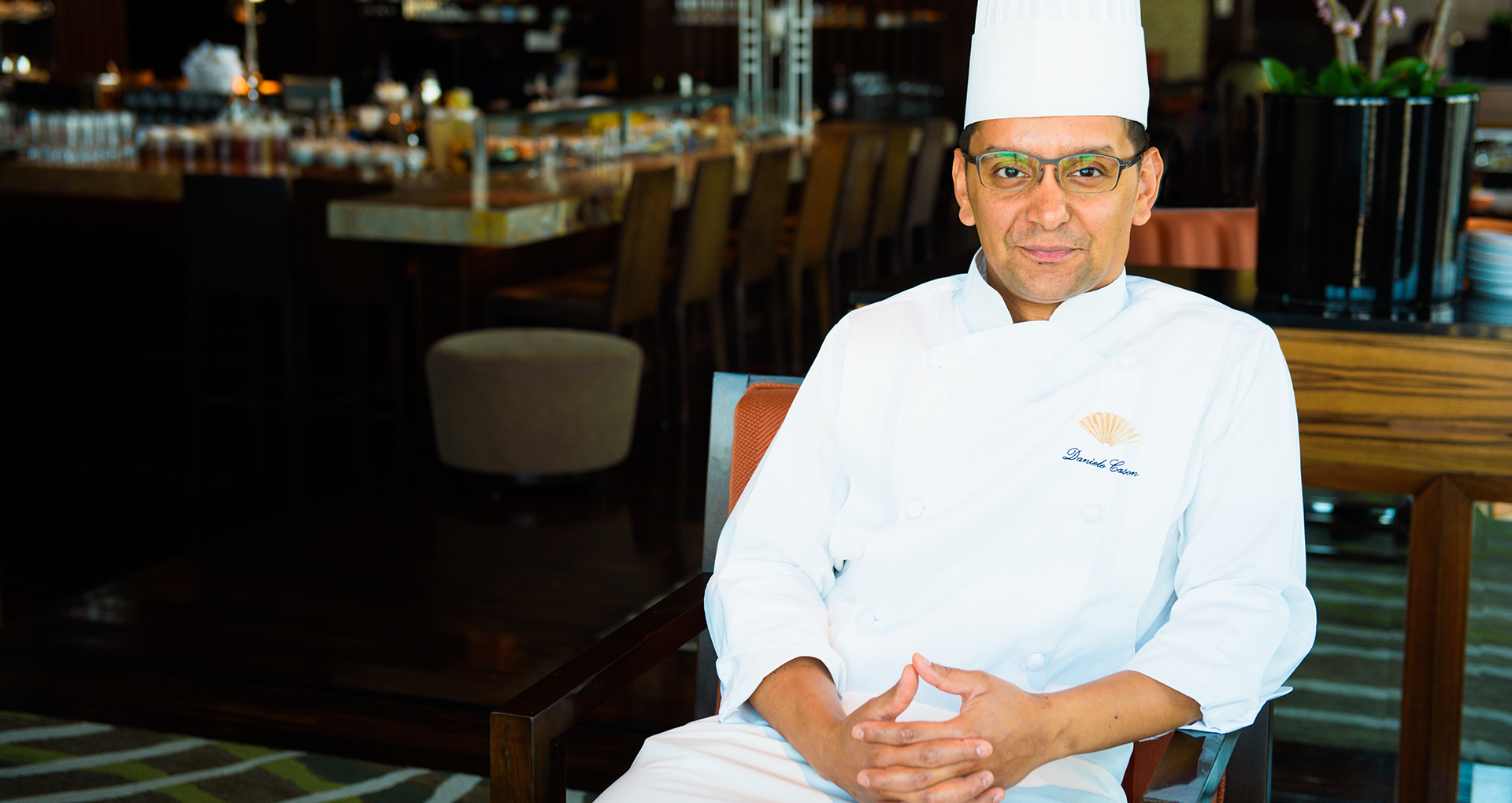 In recent years, we have seen a boom in the number of foreign businessmen in the Nihonbashi area. This time, we have interviewed one of them, Mr Daniele Cason, Executive Chef at Mandarin Oriental, Tokyo. Mr Daniele Cason, who has worked at some of the world's top restaurants, shared his thoughts on various topics ranging from his insights into the culture of Japanese cuisine and the restaurant industry to recommended spots in Nihonbashi. The interview was held while taking a walk in Nihonbashi surrounded with fresh greenery. Please enjoy it together with the atmosphere of the city.
Similarities between Rome and Nihonbashi? Discovering the Charms of the City by Food-Hopping
—Although you have your roots in Rome, Italy, you have extensive experience in restaurants in various parts of the world, including England, Egypt and Thailand.
What is Nihonbashi like for someone like you?
Ever since around age 20, when I was training as a chef, I had always wanted to come and work in Japan. Japan is a country with a rich history and culture with a good number of well-established shops that are still in operation. You can feel that, especially in Nihonbashi, by just walking around. I was truly happy when my dreams of coming here finally came true, and I feel truly happy to be living here right now.
Maybe I have this familiarity with cities with a rich history as I am from Rome.
—Do you mean you feel there are similarities between Nihonbashi and Rome?
As cities, they are completely different. But they are similar in that they each have a long history and well-established traditions. Also, in terms of food culture, both cities place passion in simple and high-quality cuisine, which I think is wonderful. Additionally, both of them don't employ too many ingredients and place strong emphasis on their quality. So I feel some similarities between them somehow.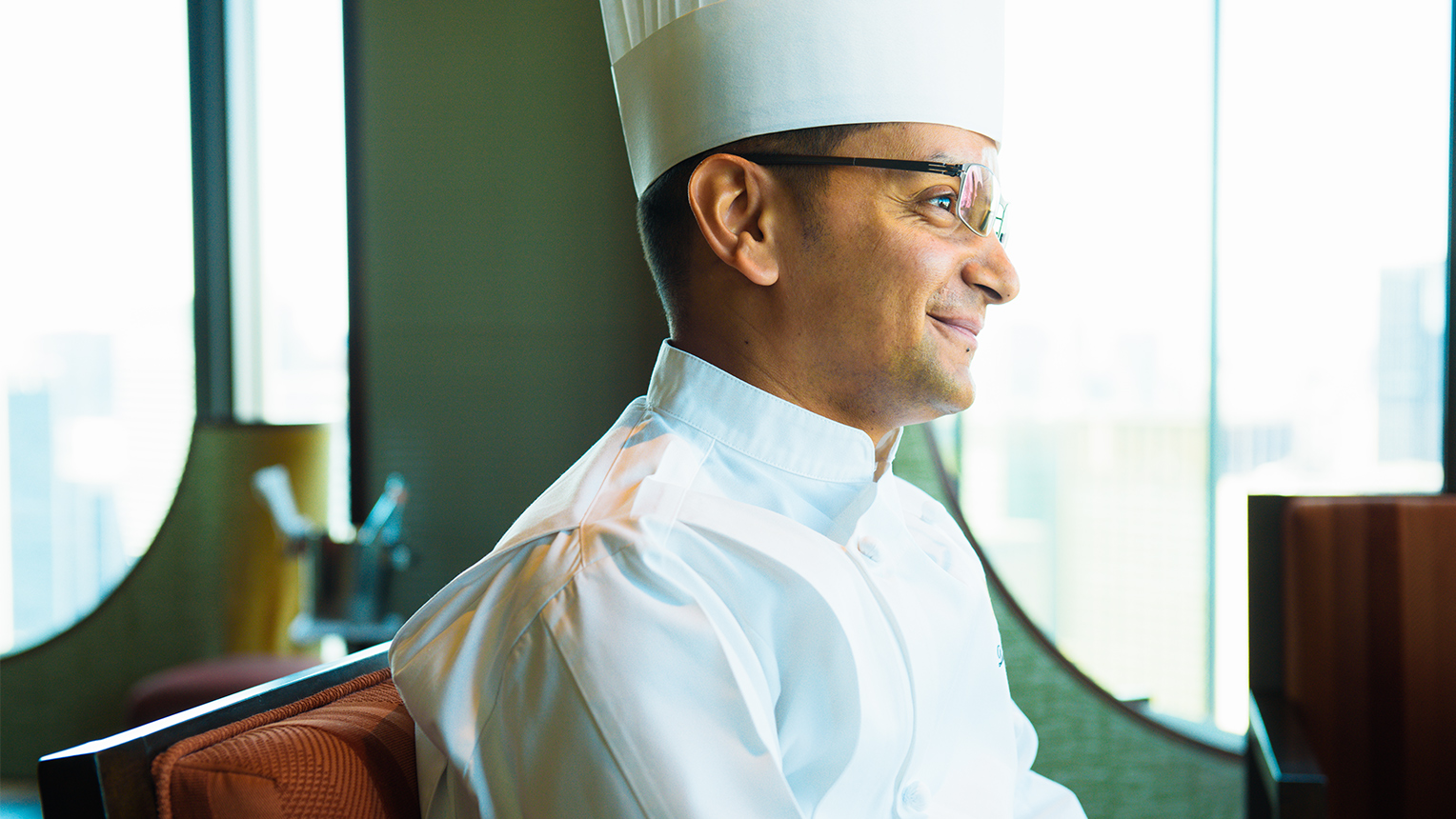 ―I see. They do seem to have similarities. How did you learn about Nihonbashi, including the things you just mentioned?
I think it is important to "experience the city and its restaurant business." So when I first arrived, I made it a point to go to a variety of restaurants to learn about Nihonbashi. For example, when I visited a well-established Unagi (eel) restaurant, I was stunned to learn that the place had roots stemming from a fish market back in the Edo period (period between 1603 and 1868). One of the great things about this city is that each dish has a story to tell, all because the city has a long history.
Had a "Journey" Through a New Project Whilst Learning Japanese Food Culture
―Did you experience any culture shock or issues at work when you first arrived in Japan?
Well, I didn't feel a language barrier so much. I studied Japanese for three months prior to my arrival because I wanted to have thorough communication with my team at work. I especially made it a point to learn kitchen terminology before I came, so that helped out immensely.
Having said that, there were, of course, difficulties when moving ahead with my work. Immediately after arriving in Japan, I was appointed to lead a renewal project of restaurants and had to make many "CHANGES," such as the opening of a Pizza Bar and re-conceptualization of restaurants. During those times, I did feel there were some difficulties when orchestrating rapid changes in Japan. But if I made some changes to an established restaurant, courtesy of my brilliant colleagues, it was imperative that I take the time to explain the projects to gain everyone's agreement. Drastic changes are not easy, and it is perfectly natural to feel hesitation towards them.
―How did you overcome the resistance to the changes?
With numerous advice from my colleagues, I deepened my understanding of Japan and made efforts to take in their opinions. In moving ahead with the project, learning "what Japanese customers think and want" was extremely helpful.
For instance, I learned that they place importance on "colors". After learning that colorful presentations are preferred in Japan, instead of just incorporating traditional Italian cuisine as is, we made sure to add vividness to our dishes. I also learned they have a sensitive "palate" (sense for flavors and textures). I found out they prefer soft, smooth textures rather than hard, chunky textures.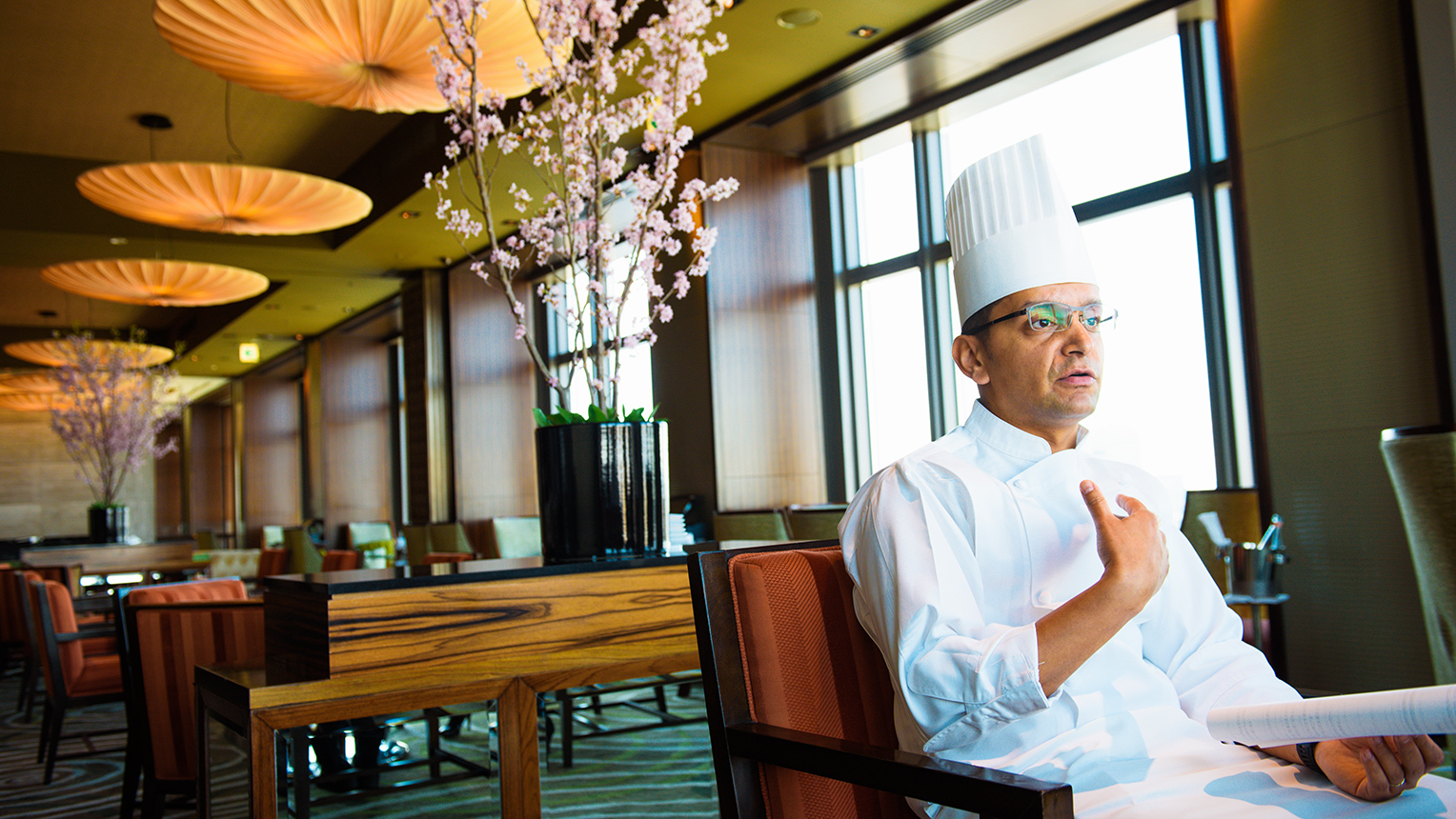 ―Now that you said that, I think we do have those tendencies. As restaurants are located within a hotel, I presume many use them for business purposes. Did you notice anything in that regard?
There are many things that are uniquely Japanese. For example, in Japan, it is preferred to serve food on to each diner's plate rather than serving one large plate, to make it easier to eat. And customers have difficulty choosing if we offer a wide selection, so limiting appropriate choices is important. I also find the "Omakase-style (Chef's Choice)" ordering system interesting.
―So "Omakase" style is uniquely Japanese. I think your understanding of such food cultures of Japan led you to the current success of the hotel (*), including the success of the new project.
I believe the most important factor in the success of restaurants is to find what delights guests. There are chefs who place great importance on projecting their own identities, but for me, it is imperative that I care about how guests feel. So it was great that with the cooperation of my team, I was able to learn about Japanese customers in the initial stage.
The project was like a very interesting "journey". At first, nobody knew how to proceed, but realized the project by learning various things along the way.
*The hotel highlights what is called "Art of Dining" as it is the only hotel in Japan with three restaurants awarded with a star in the Michelin Guide Tokyo.
Becoming a Key Figure in Introducing the City to Foreigners Through Connections with Local Restaurants
―As you became more knowledgeable of the city and guests, did your dishes change, influenced by the district of Nihonbashi?
Rather than changing dishes themselves, I developed them further by establishing relationships and collaborating with the local shops. For example, we bake An-Pan (bread with sweet bean paste filling) using bean paste from Eitaro's main store. This An-Pan is available at The Mandarin Oriental Gourmet Shop, located on the 1st floor of the hotel.
We also hold various Nihonbashi-themed events. In the past, we incorporated elements that feature the district of Nihonbashi and its history at an event held for our foreign company guests at our banquet hall. We served dishes using nori seaweed from the Yamamoto-Noriten and dashi broth from Ninben. Our live cooking station that served Japanese omelette made with dashi broth was very popular among our foreign guests. We make it a point to provide "something that only we can offer here in Nihonbashi".
―That sounds very enjoyable. Incorporating and featuring ingredients from Nihonbashi provides opportunities for foreigners to learn about the city.
Incidentally, we also offer our own original "Nihonbashi Guide." It is an original guidebook created in hopes to have our guests enjoy the city by introducing local foods, cultures and experiences that our concierges recommend. Of course, my favorites are included as well.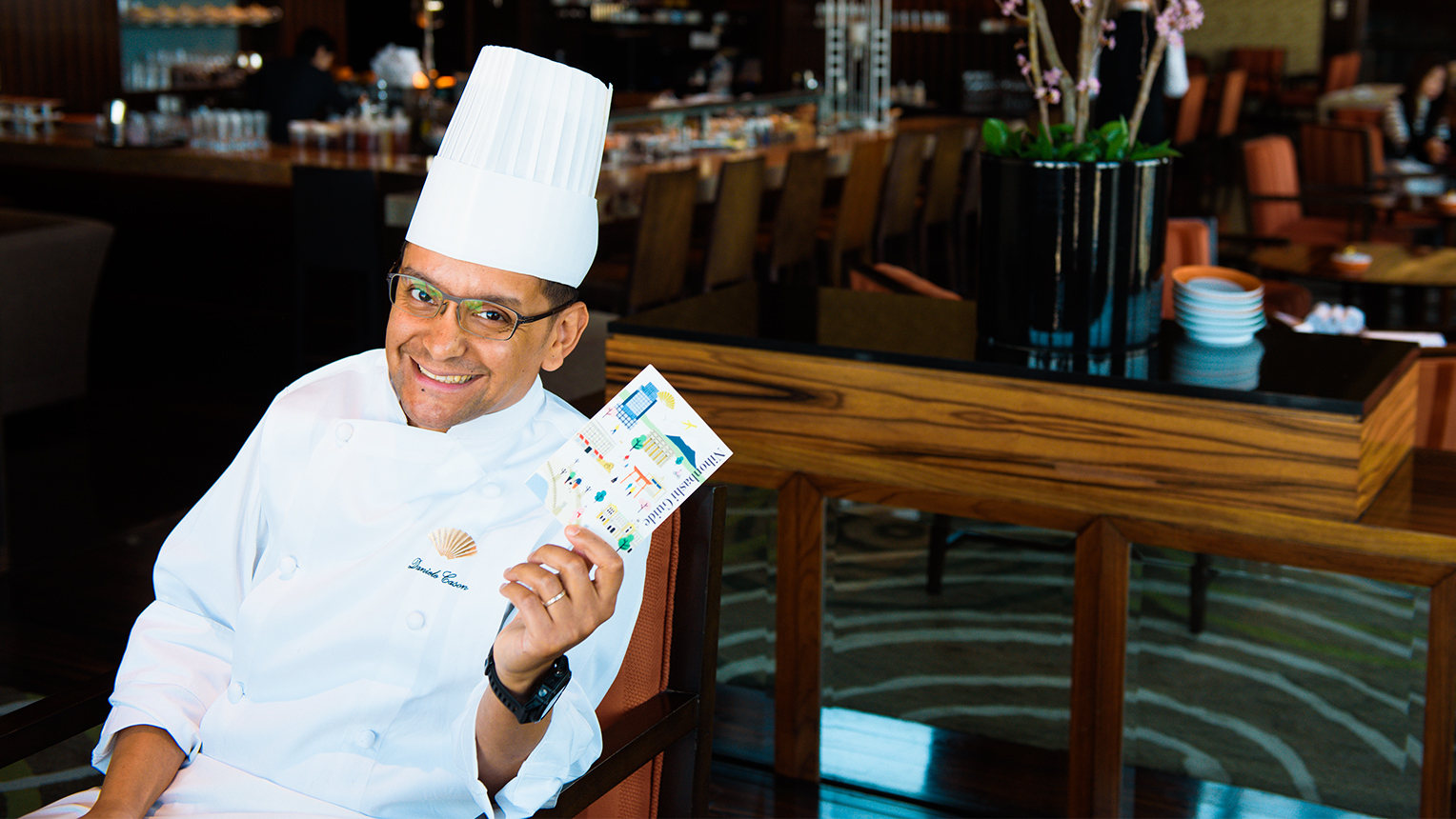 Mr Daniele Cason with the "Nihonbashi Guide"
―It's great that a hotel is making an effort to introduce the city.
Mandarin Oriental hotels are built on the philosophy of "Sense of Place," and created to reflect the very best of the place in which they are located.
As a chef, I want to take a proactive part in activities that are in line with this vision.
Personal Favorites are: "Edo-Sakura Street", "Ninben" and "Yamamoto-Noriten"
―We asked you to choose three recommended spots in Nihonbashi for this article. What makes them your favorites?
First, the "Edo-Sakura Street" is right by our office and can be seen from our windows. Every spring, the street turns pink with blooming Sakura flowers, and it will be full of beautiful green leaves in the coming season. The street is lit up at night, and we can sense the coming of Christmas in winter. I love this street as it always reminds me of the changing seasons through the scenery.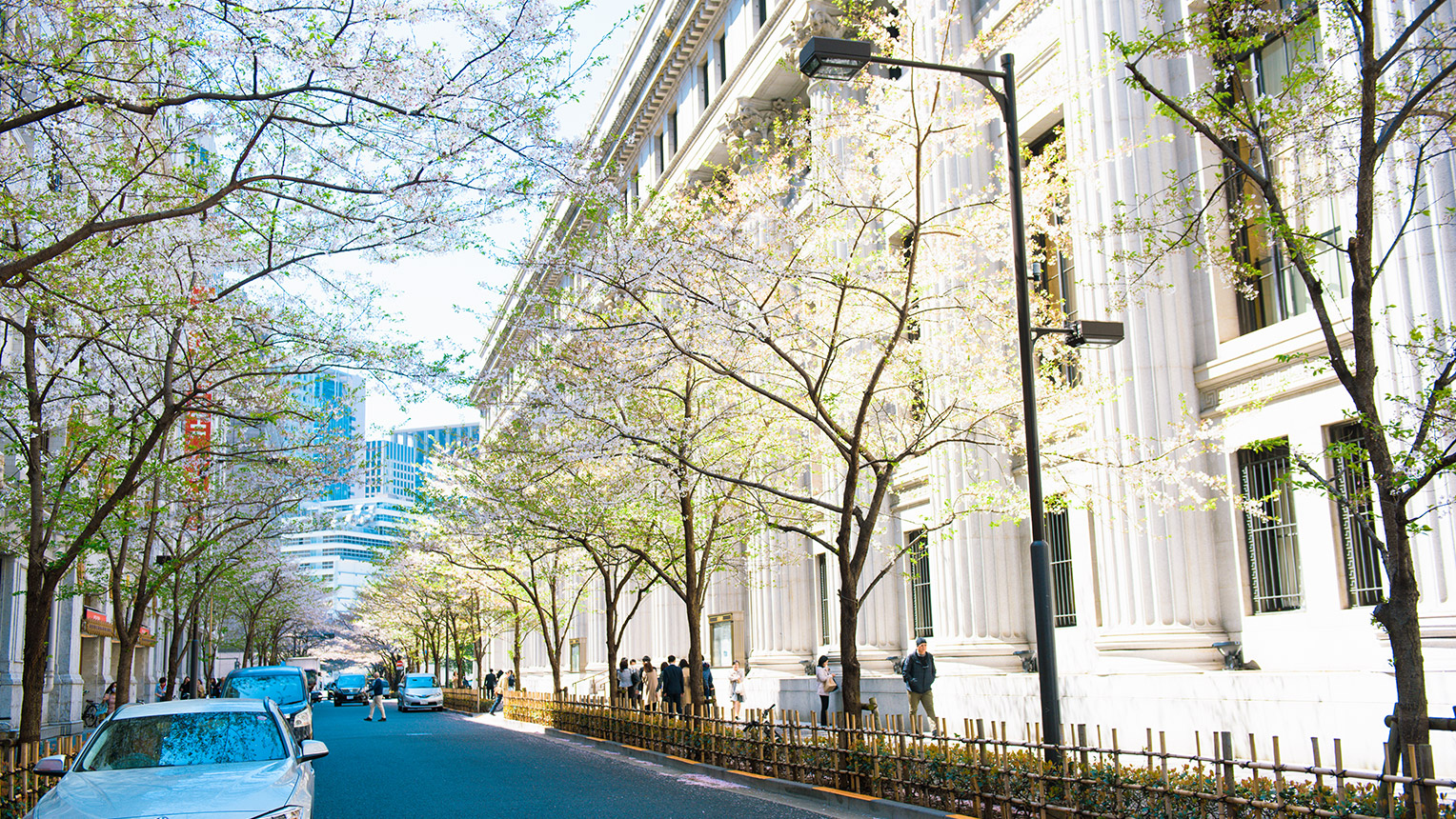 "Edo-Sakura Street"
―Today, it is especially pretty with a carpet of both Sakura leaves and flowers. I have to admit, I envy you for having an office view like this. Why did you choose "Ninben" as your second choice?
I am so fascinated with "dashi broth." Typical staples of Japanese cuisine are the likes of sushi, tempura and teppanyaki. However, I found the dashi broth, which is the base of Japanese cuisine, profound and amazing. Ninben store offers so many varieties of dashi broth alongside dried bonito-shaving performances, and you can learn a lot. It is a very fascinating place to visit as a chef.
―Have you ever shaved dried bonito flakes before?
Yes, I have! We have our own dried bonito shaver in our kitchen at the hotel, too.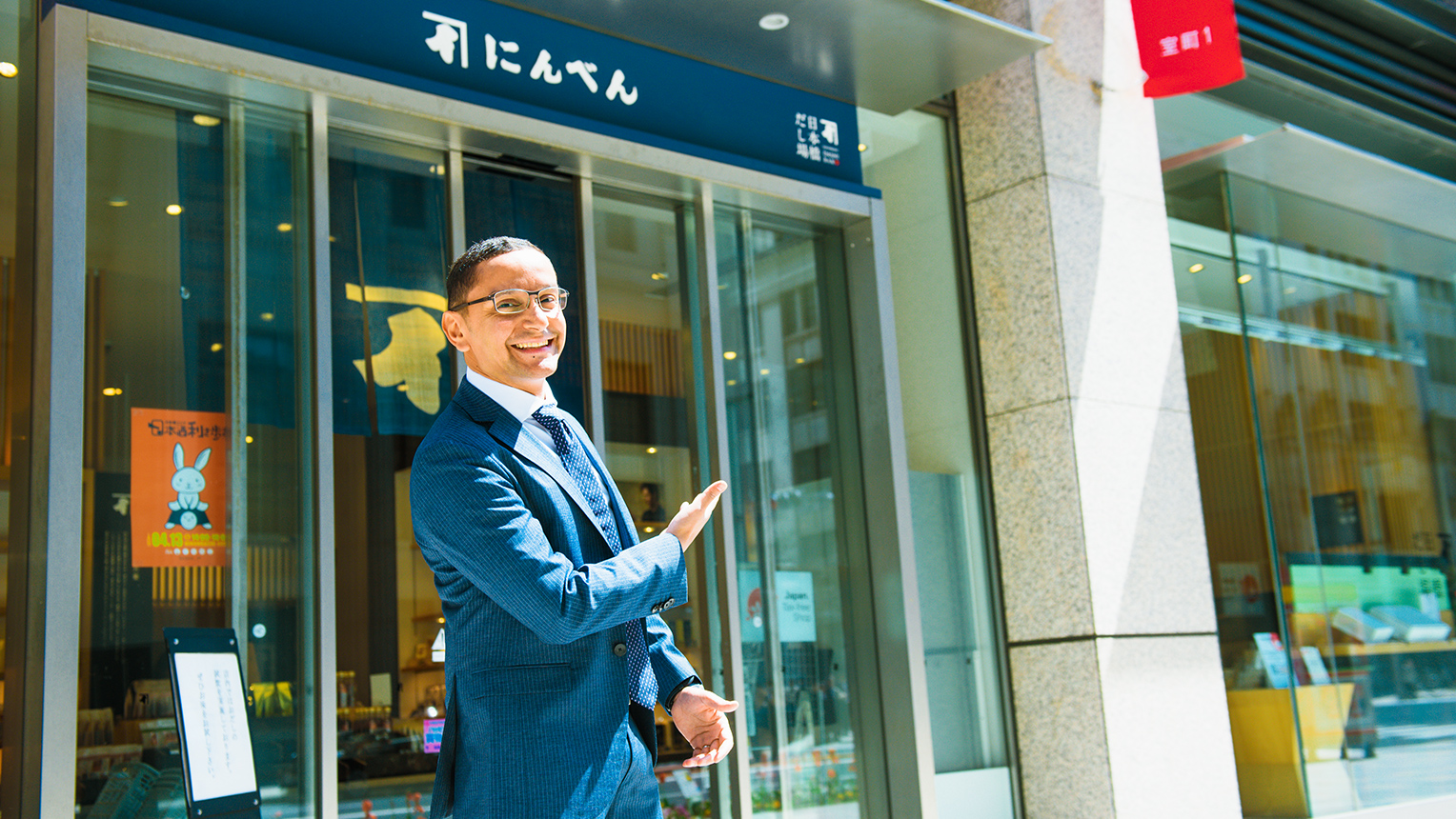 "Ninben" Main Store in Nihonbashi
―What can you tell us about "Yamamoto-Noriten?"
This store deals with an important ingredient that becomes the base of Japanese cuisine, just like dashi broth. Nori seaweed is a food enjoyed by all across Japan, and is used in a variety of places, from lunch boxes sold at convenience stores to top-of-the-line Japanese restaurants. I am fascinated by the way they painstakingly continue to create nori seaweed, which is used almost universally in many dishes from sushi, tempura, udon and soba noodles to oyako-don (chicken and egg rice bowl).
Although both nori and dashi are simple ingredients, their qualities are the key elements that determine the overall level of perfection of dishes. I think being highly meticulous about such ingredients is very Japanese.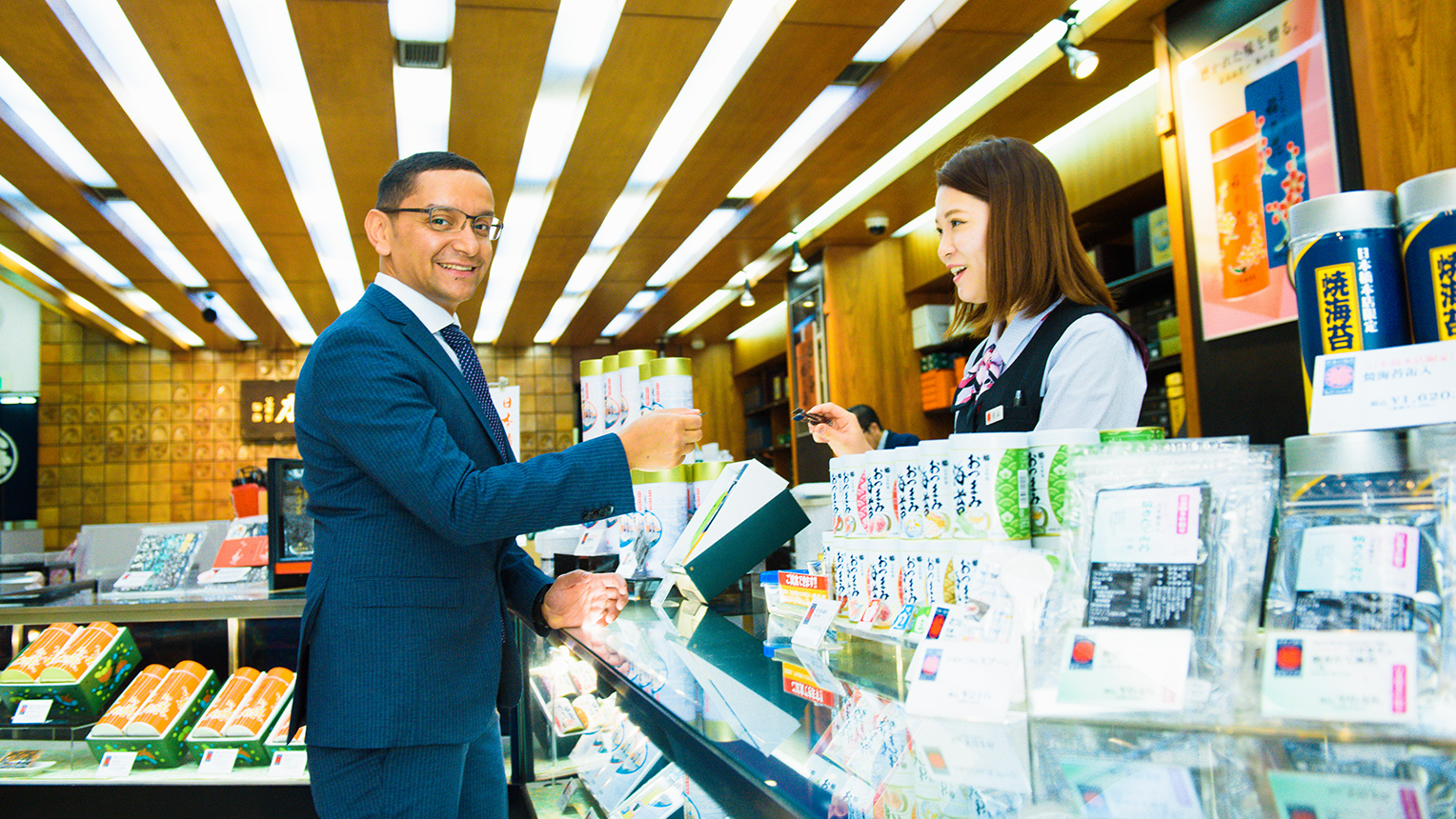 Main Store of "Yamamoto-Noriten"
Nihonbashi offers many opportunities to be a part of the city, even for those working within a corporation.
―In recent years, we have seen an increase in foreign businessmen in the Nihonbashi area. As "one with experience and knowledge" of Nihonbashi, could you tell us your tips on how to enjoy this city?
Come to Mandarin Oriental, Tokyo (laughs)! We offer a "Nihonbashi Guide" and can be of help. The first step to be a part of the city is to walk around, stop by at stores, and enjoy meals at restaurants. There are also opportunities to be involved in local activities even for those working in companies because Nihonbashi is a close-knit community. Utilizing these opportunities is a great idea.
―Do you recommend any of the events you have participated in?
I recommend the "Sakura Festival" which was held until just recently. It is a fun, casual annual event held every spring. Our hotel opened a food stand and offered original items such as spring cabbage soup and cotton candy. Time-honored "Bridge Cleaning" is held yearly to clean the symbol of the Nihonbashi area, and city cleaning is held every month. So being proactive in these might be a good start. There are many great opportunities, including a chance to carry omikoshi (portable shrine) at festivals.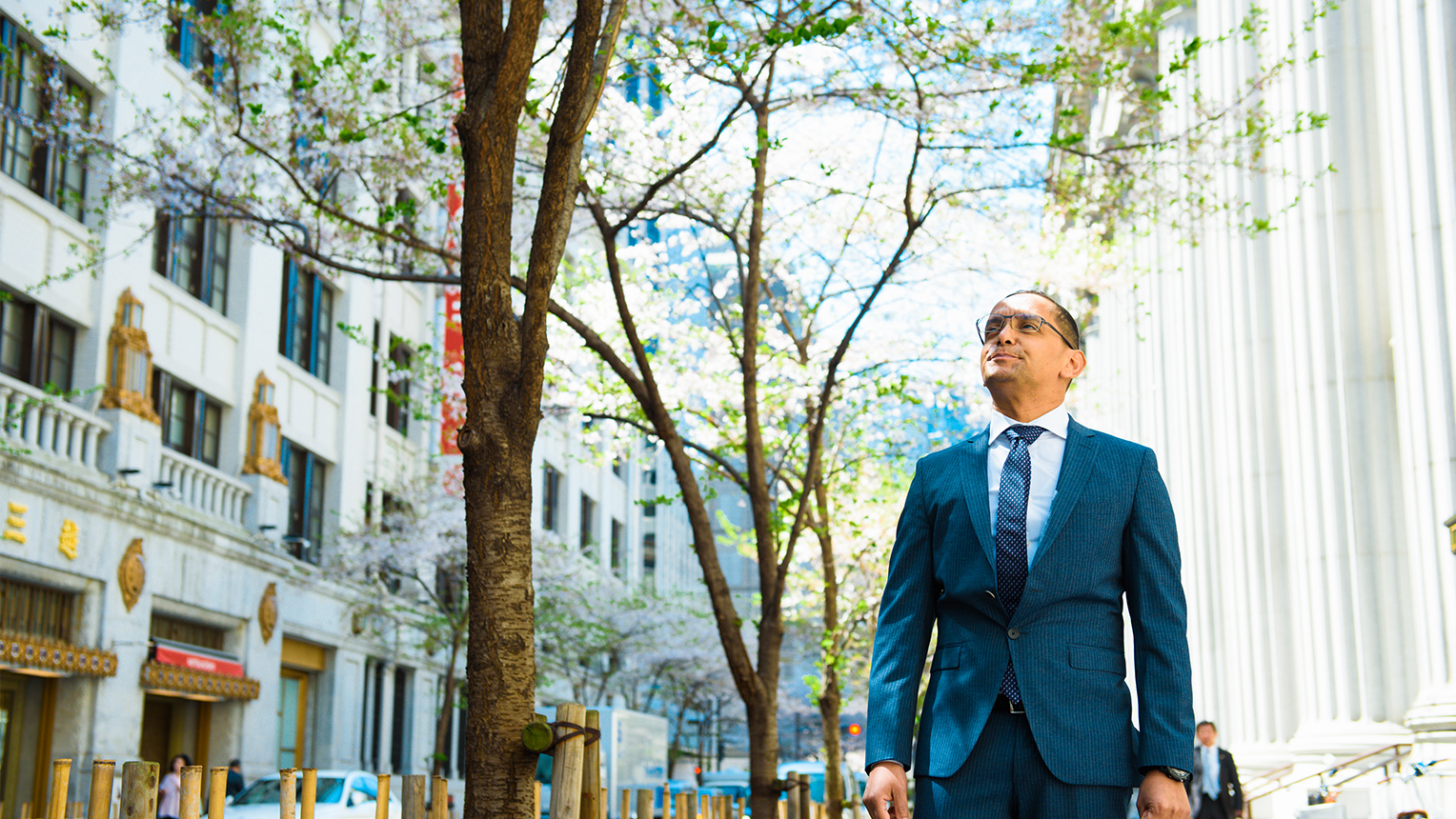 ―Finally, could you give advice on how businessmen in Nihonbashi, including foreigners, can enjoy this city?
"I'd say, "Don't work too hard. Go outside!" They're in such a fascinating city. They might as well enjoy it instead of focusing on their work.
I enjoy running, so if they're like me, I recommend them to jog around the city. A lot of people jog in the morning. A jog from Nihonbashi to the Imperial Palace and back again is absolutely splendid!"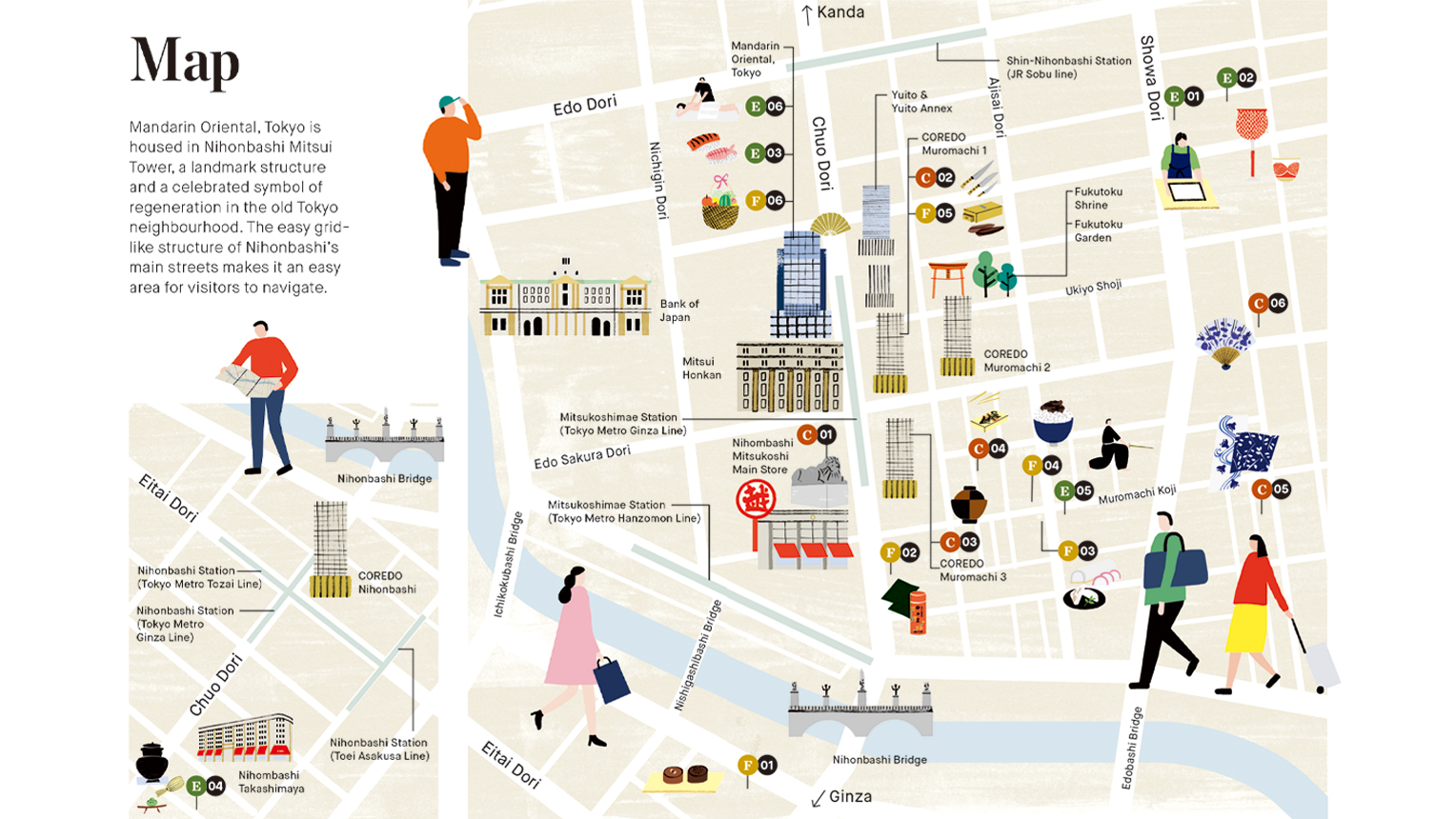 A portion of the "Nihonbashi Guide" (in Japanese and English) offered at Mandarin Oriental, Tokyo. A comprehensive guide that covers various information on Nihonbashi. It is available in all guest rooms, at the reception, and other areas.
Interview and Article: Minako Ushida (Konel)  Photo: Daisuke Okamura
Mandarin Oriental, Tokyo
Address: 2-1-1, Nihonbashi-Muromachi, Chuo-ku, Tokyo
TEL: +81 (03) 3270 8800