2020.07.15
The Single Diner Connecting East Tokyo with Yamagata: The Loyalty to the Community that Fukumori Embodies.
The Single Diner Connecting East Tokyo with Yamagata: The Loyalty to the Community that Fukumori Embodies.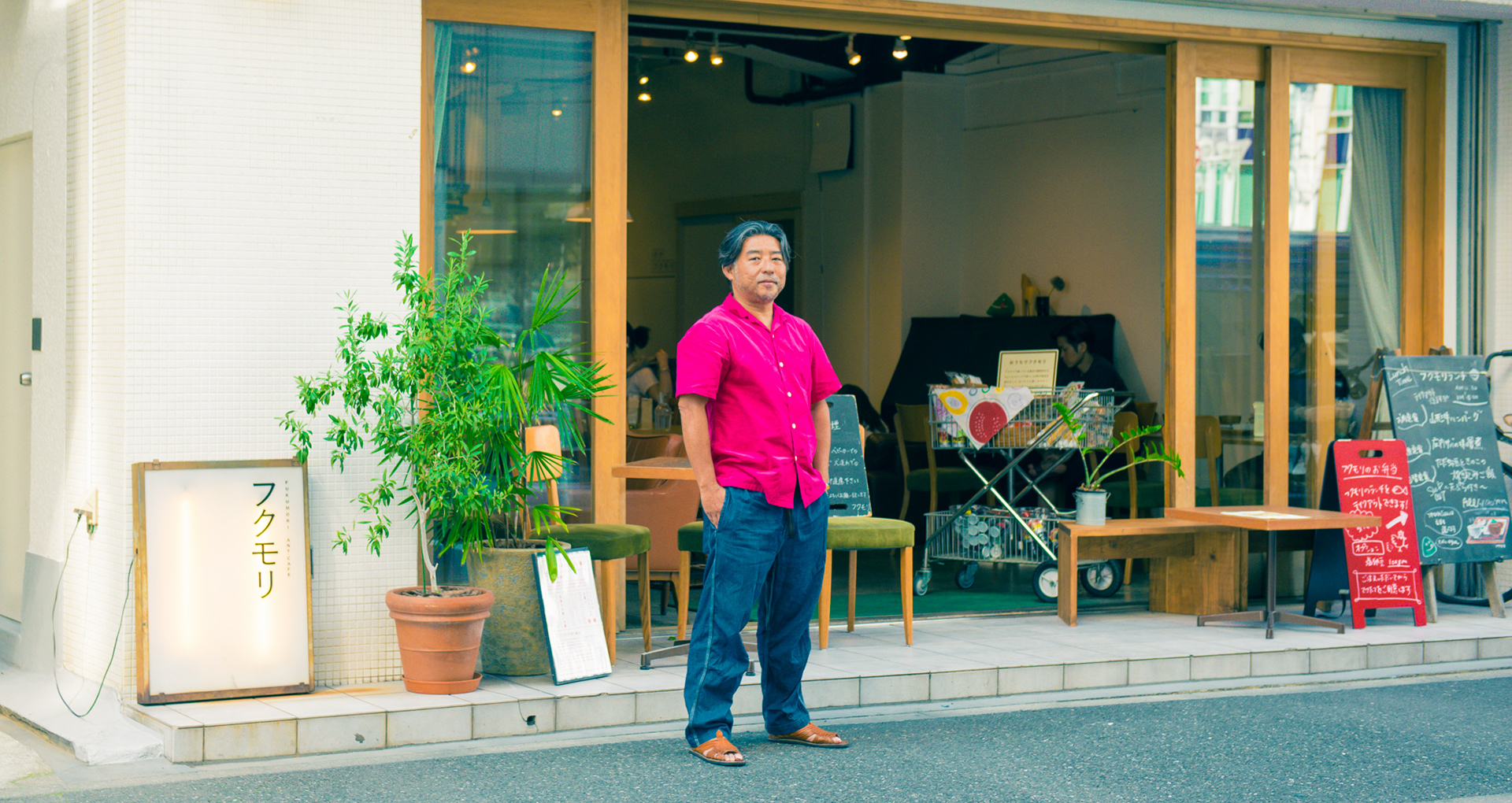 The Bakurocho neighborhood of Nihonbashi: an area filled with rows of stylish shops and eateries located in aging, renovated buildings and warehouses, now drawing attention for its diverse charms. Yet just a few decades ago, the area was uniformly a wholesale district, with streets lined by rows of textile wholesalers. The area was first the focus of a movement to breathe new life into its empty buildings – which were prominent at the time – with the diner "Fukumori" serving as a portent of the current city's creation. The diner serves simple, delicious fare made using ingredients from Yamagata Prefecture, and while it is a fond presence that has satisfied numerous guests, we must ask why its owner choose this location, and ingredients from Yamagata? For this issue, that's what we spoke with Hiroyuki Komatsu Co., Ltd. president Hiroyuki Komatsu about, as his company runs the diner.
"Fukumori" was born from an encounter with the city's leadership.
-Could you please tell us about your history and how you came to know this city, President Komatsu?
After graduating from a college of the arts, I hired on at a textile company called Unitika as a textile designer. Unitika was headquartered in Nihonbashi at the time, and I also visited the textile wholesalers here, so I've been familiar with it for quite a while.
After that, I moved to Adidas and worked as at their in-house creative department for about 11 years. I managed promotions as marketing director at one point, and even planned a promotion that used the old buildings scattered around east Tokyo for Adidas, once. That gave me cause to visit the Bakurocho area frequently again.
Someone I know at Tokyo R Real Estate told me that, "there are more artistic people there now, and the city is changing," and I definitely got a sense the area was changing from when I was at Unitika. At the same time, the good, old side of it hadn't changed, so I get a fresh sense of what a fascinating plan this city is.
-So you've always had ties to the city. What made you decide to build your office and Fukumori here?
I was always thinking of going independent, so I asked my acquaintance at Tokyo R Real Estate to show me any intriguing places that might serve as an office. That got me a showing of the building where our office is now.
This is one building of a structure that an established Bakurocho towel wholesalers – Nitto Towel – owns, and their affiliate Nitto Living used this place as a warehouse. Then I was introduced to Nitto Living President Kazushige Toriyama, and we talked. Mr. Toriyama was extremely community-minded toward the city, and even served as a promotion committee member for the local annual art event, "CET (Central East Tokyo)." He told me that they used this space as a reception area for "CET" each year. Artists from inside and outside Bakurocho had started gathering right here by that point, seven years after CET began. So he wanted to lease it to someone who would use it as a hub for "revitalizing the city," he said. But he couldn't find anyone like that, and it had been empty for seven years except for during CET.
-So was he looking for the ideal tenant the whole time?
Yes, he was. In addition to physical terms for leasing both the first and second floors together, it had to be a place that tied into "revitalizing the city." He had fairly high barriers to clear, honestly (laughter).
But when Mr. Toriyama expressed his feelings about the place to me, I really wanted to use the design and branding I worked on at the time to help the city, and wanted to give my experience form. So I told him not to just lease me the building as a simple office, and said "I want you to let me draft a revitalization plan for Bakurocho as a city." And that was the first exchange in the process of creating Fukumori here.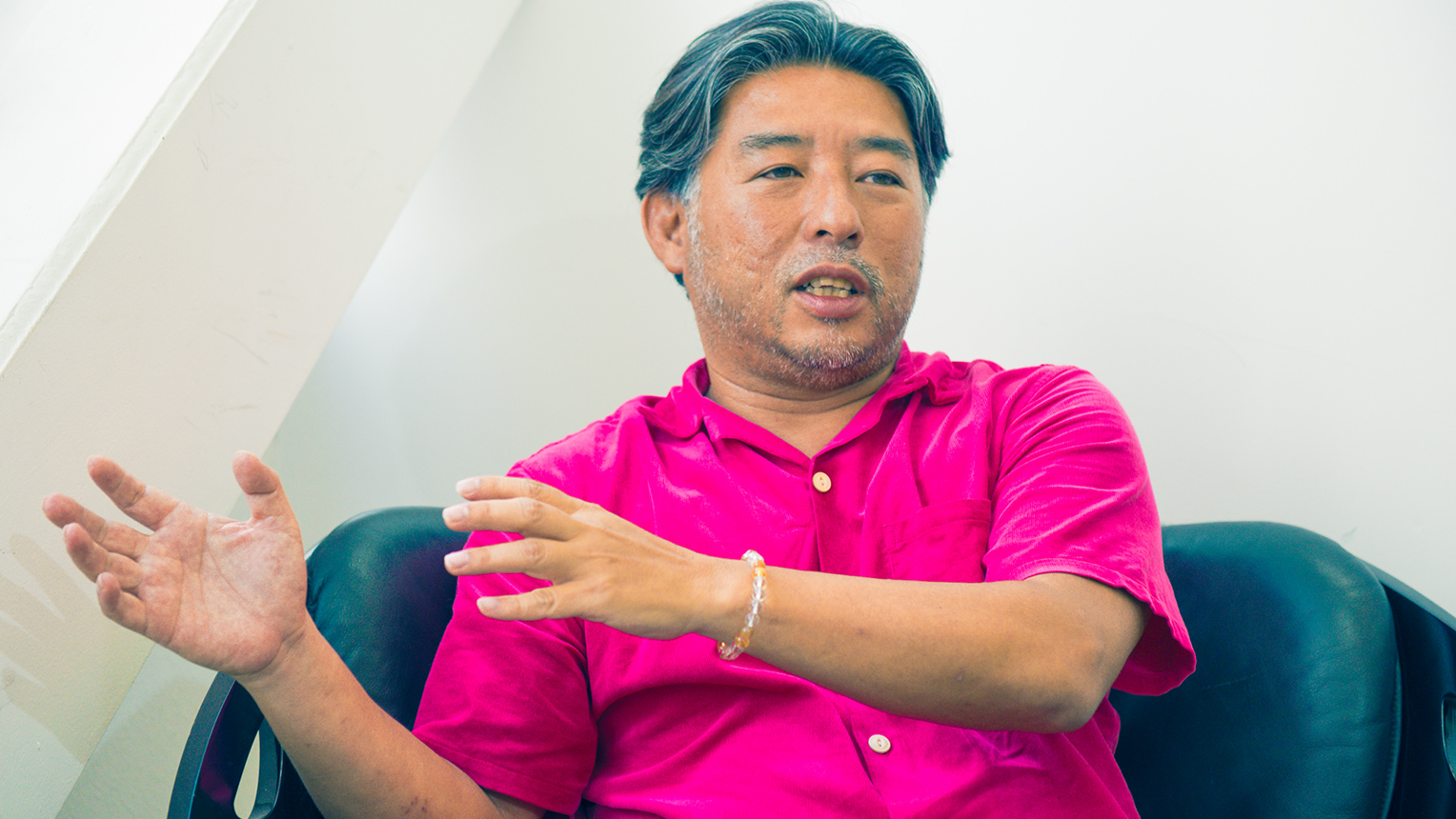 Mr. Hiroyuki Komatsu, owner of Fukumori. Founded "Hiroyuki Komatsu Co., Ltd." in 2009 and opened Fukumori at the same time
"The city" is my client. How do I stay true to Bakurocho?
-How did you think about how you'd use this place when you made your proposal to Mr. Toriyama, President Komatsu?
I've felt this way since working at Adidas, but it's actually easy to propose solutions with completely new perspectives and methods for company and brand issues. But that usually doesn't produce a fundamental solution for the issue.
Japan is usually quite competitive, so the agencies to partner with change frequently when judged on freshness or current trends, and you can see scattered cases of policy that only goes as far as a surface-level solution. In contrast, US and European brands and agencies have built longstanding partnerships since their agencies have a concept of long-term loyalty. I think that the western style is what we should be doing in essence, as creators and agencies. That's why I thought to offer to show Mr. Toriyama how we would stay true to the city over the long term, with him acting as the representative for the city of Bakurocho.
Also, I wanted to create an "urban diner" that could blend into the area and revitalize Bakurocho.
-It does feel like Fukumori has blended into the city naturally, as a presence.
It's simple to create something that's appealing on the surface and draw people in, but doing that creates distance between you and the people who have always lived and worked there. Rather than doing that, we looked for a way to energize the entire city while blending in with the people who have always been here, without leaving anyone behind. You get a sense of standoffishness when you get sort of snobbish businesses moving into an area with history and culture, just because it's booming.
So it's no wonder that I proposed something as simple and settled, but still as open as this place. Mr. Toriyama was very happy about it. He came to see things all the time during the construction (laughter), and he's visited every day since we opened.
-How did you build relationships with the people in the area?
Fukumori opened on May 8th, 2009, and Mr. Toriyama was also involved in that. May 8th is the day before Kanda Matsuri, and it was the day of a ritual Horen procession by the Shinto priests and Miko maidens through the city. He said that "if you're able to make it to opening by that day, I'll have them change the route for the Horen procession to pass in front of the restaurant. That will let you meet the city's residents." Then he made it happen. We started to get a lot of local residents as guests after that. Mr. Toriyama was a very big factor in getting the people in the area to accept us.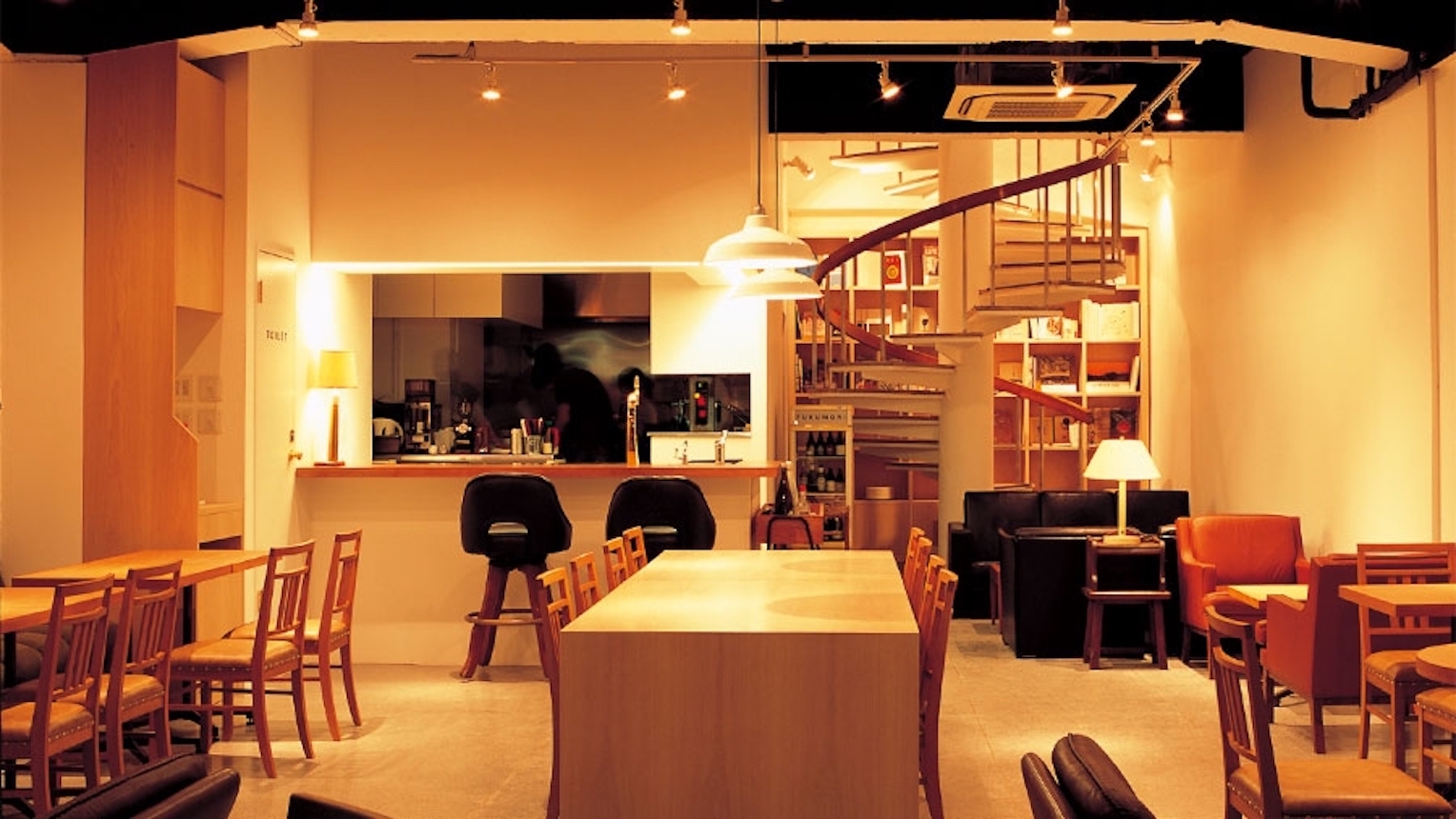 The restaurant's interior makes heavy use of wood for a warm setting people unconsciously want to stay in(Image provided by Fukumori)
A role as a press office for Yamagata.
-And you serve Yamagata cooking in this Bakurocho diner. What led up to that decision?
I've known Mr. Manabu Mizuno of the good design company for some time, and he ended up working on a revitalization project for an onsen ryokan inn located in Yamagata, once. I was in charge of general concept making at the time, so he approached me. I got to know the people behind three longstanding ryokan inns through that project, but the ingredients themselves are always amazing there, whatever season I go in and whatever I eat. It left a major impression on me, with how rich the food culture is in the area.
At the same time, what you might call "stylish cafes" were taking off as a trend in Tokyo. But even if the food there looked good, it was surface-level only, and honestly wasn't anything special. I often felt their atmosphere and flavor were out of step.
Having experienced those two extremes, I thought that customers would definitely love it if I could serve delicious ingredients like the ones I'd eaten in Yamagata, in a simple form. And I could also help people learn about Yamagata through food while I was at it.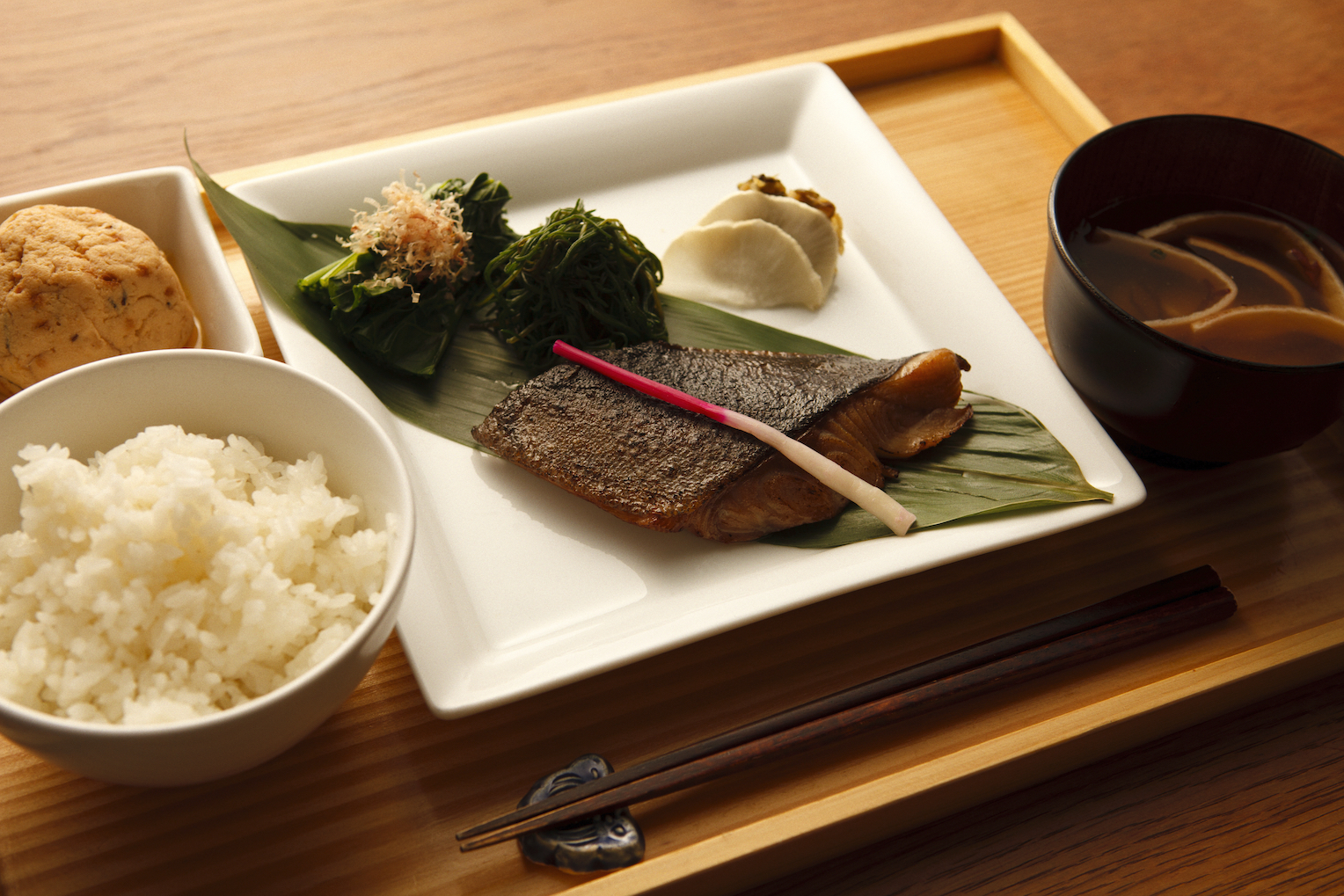 The restaurant serves meat and fish lunch sets made with Yamagata ingredients, making choosing part of the fun(Image provided by Fukumori)
-I'd guess you get a lot of people who see the appeal of Yamagata after eating at Fukumori. Am I right on that?
Our customers encounter new ingredients through the dishes at Fukumori. If you ask our staff about them, they can tell you where they come from, the recipe for the dish, and so on, as well as the names. We can even give you a pamphlet for the ryokan inn, so people might even go there because they dined at Fukumori. Spreading information that way gives us a role almost like a Yamagata press office, I guess. I felt like a positive connection of that sort would bring added value for this location, too. While it's an "urban diner" that serves to energize Bakurocho, Fukumori should also remain a Yamagata press office. Telling that story might have been one of the reasons that Mr. Toriyama liked me.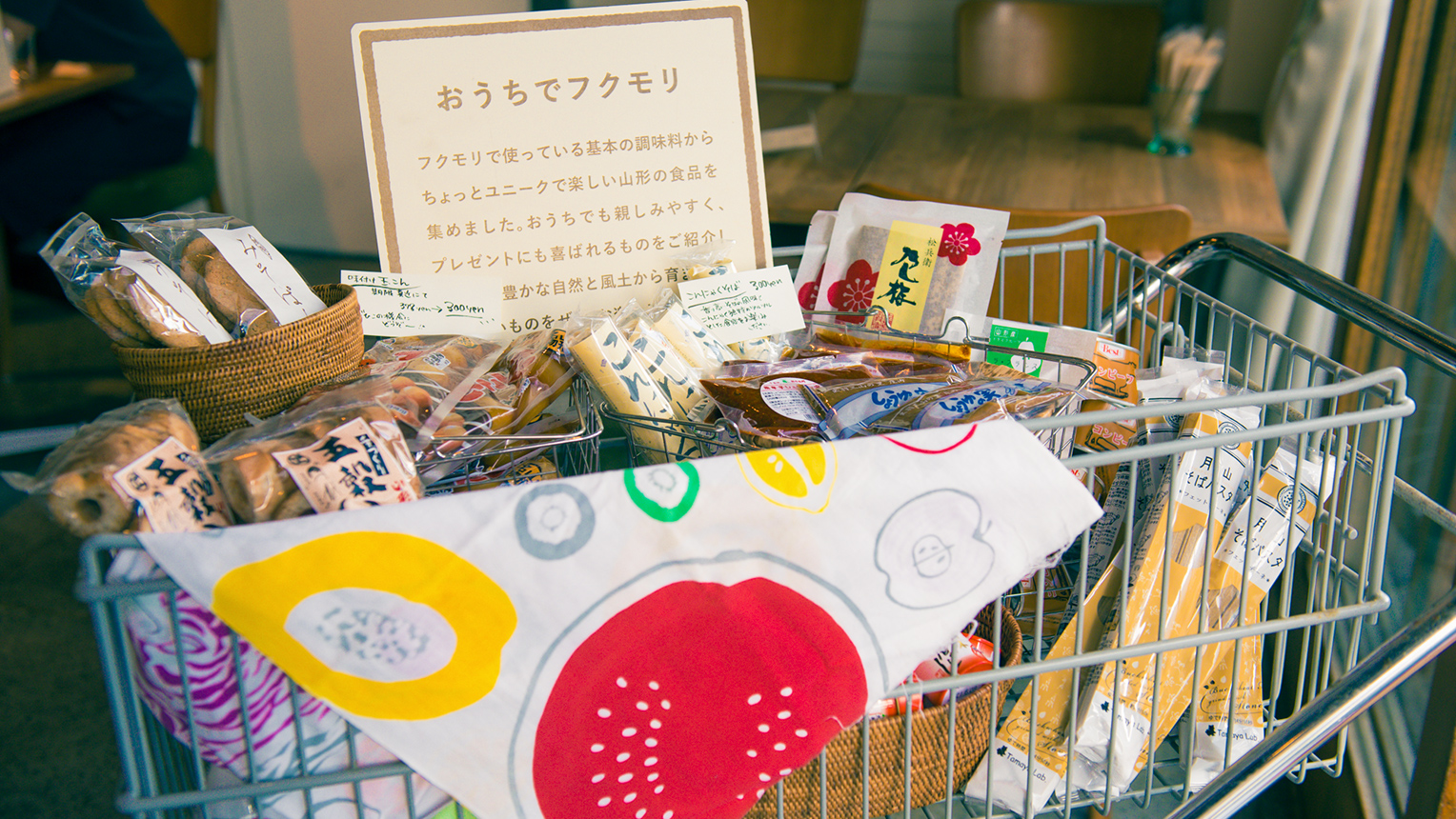 They also has lots of Yamagata ingredients at home
Creating "crossroads in a story" to generate connections gradually.
-Was there anything you tried to keep in mind as you shared information about the appeal of the countryside, in Tokyo?
I mention that we serve dishes made to use Yamagata ingredients well" when we get reported on for publicity and so on, but we consciously avoid showing off a lot of "Yamagata style" on the surface. When you say "it's Yamagata-made…" then preconceptions come into play no matter what you do, and the image people get ends up restricted. But this place is ultimately just a Bakurocho urban diner. Having that aspect to it, and then branching off into Yamagata ingredients, or music, arts, and crafts or other events all lets us connect people who are into the separate branches, and bring them together. Basically, using Yamagata ingredients is just one branch, and I think that's precisely why we can show people how good they are in a natural way.
For example, when they put lot of links in a single paragraph on Wikipedia, it all comes together bit by bit, right? You could say Fukumori has that same sort of Wikipedia intrigue, or that we value creating a story that generates connections gradually and are just happy to have a variety of people come together with us.
-How do you feel now that it has been 10 years since Fukumori opened?
We're still an urban diner, and we still serve delicious Yamagata ingredients. That will never change, and we'll keep doing the rest while changing how we stay true to the city from time to time. After 10 years, that's finally taken form as the brand for this location, and I feel like a lot of customers are finally starting to notice us. Cafes and diners make the city, and can even be leaders in local life. If we can produce a single case study like this, then other people might do the same thing in other prefectures. I hope they do.
Changing the role of a place as the city undergoes a transition.
-Is there anything you're working on for the city, right now?
Bakurocho's style has changed over the decade, too. Since the area has gained more apartments and residents, there has been a summer festival the past few years, and the families of the city come out for fun. Our staff members each run a stall of their choice, doing goldfish catching and fan-making workshops. We have a fun time each year.
We had also been planning live music, rakugo comedy sessions, and other active cultural communication, but have shifted to a more friendly and casual communication style over the last few years. With Mr. Toriyama having passed away five years ago, the number of people who never knew the city with him in it is on the rise. I could feel that we're in the phase where we have to be the driving force for the city. When that struck me, I started thinking about how to stay true to the people in the area again, and what we would need in order to connect with the area.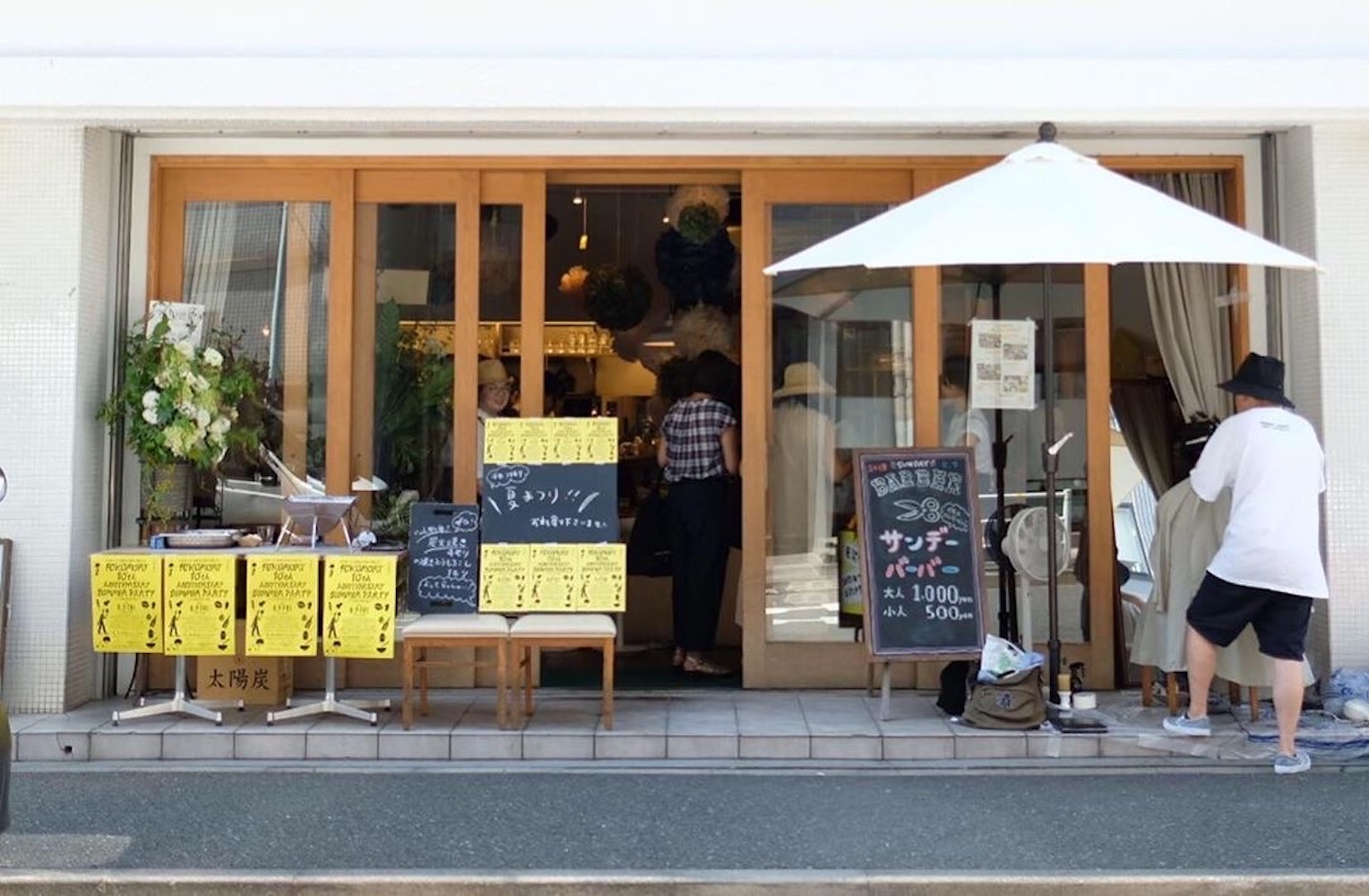 The summer festival held before the Obon holidays each year sees a lot of visitors with children from the neighborhood. The restaurant celebrated its tenth anniversary along with the festival last year(Image provided by Fukumori)
-What sort of things are you doing, specifically?
We're trying stamp card rally events with other local restaurants like Kitade Shokudo and Butterfly Effect, collaborating with restaurants in Bakurocho, Asakusabashi, and Kuramae to create an "East Tokyo" walking map, and so on. We're working to share the positives of eastern Tokyo, not just Fukumori. Rather than consciously building a network, we have casual connections, but either way I'll be glad if it conveys the appeal of eastern Tokyo to its residents and visitors.
-Is there anything you'd like to organize in the future, using the city as a setting?
Historically, Tokyo developed from its eastern side. I hope we can show the entire city that level of energy again. Mr. Toriyama's philosophy was similar to London's East End  and New York's SOHO in leasing an empty building to a tenant that would be helpful later, without restoring the space. I think it was a very appealing project. I think it would be great if we could start producing ideas with a new sensibility little by little, amid the old value that the existing buildings in the area are the most prominent part of. For example, it's interesting to think of making them into individual working spaces for the rising number of people doing telework or working from home. If you could showcase that in the right way on portal sites and social media, I think it could energize the entire city a bit.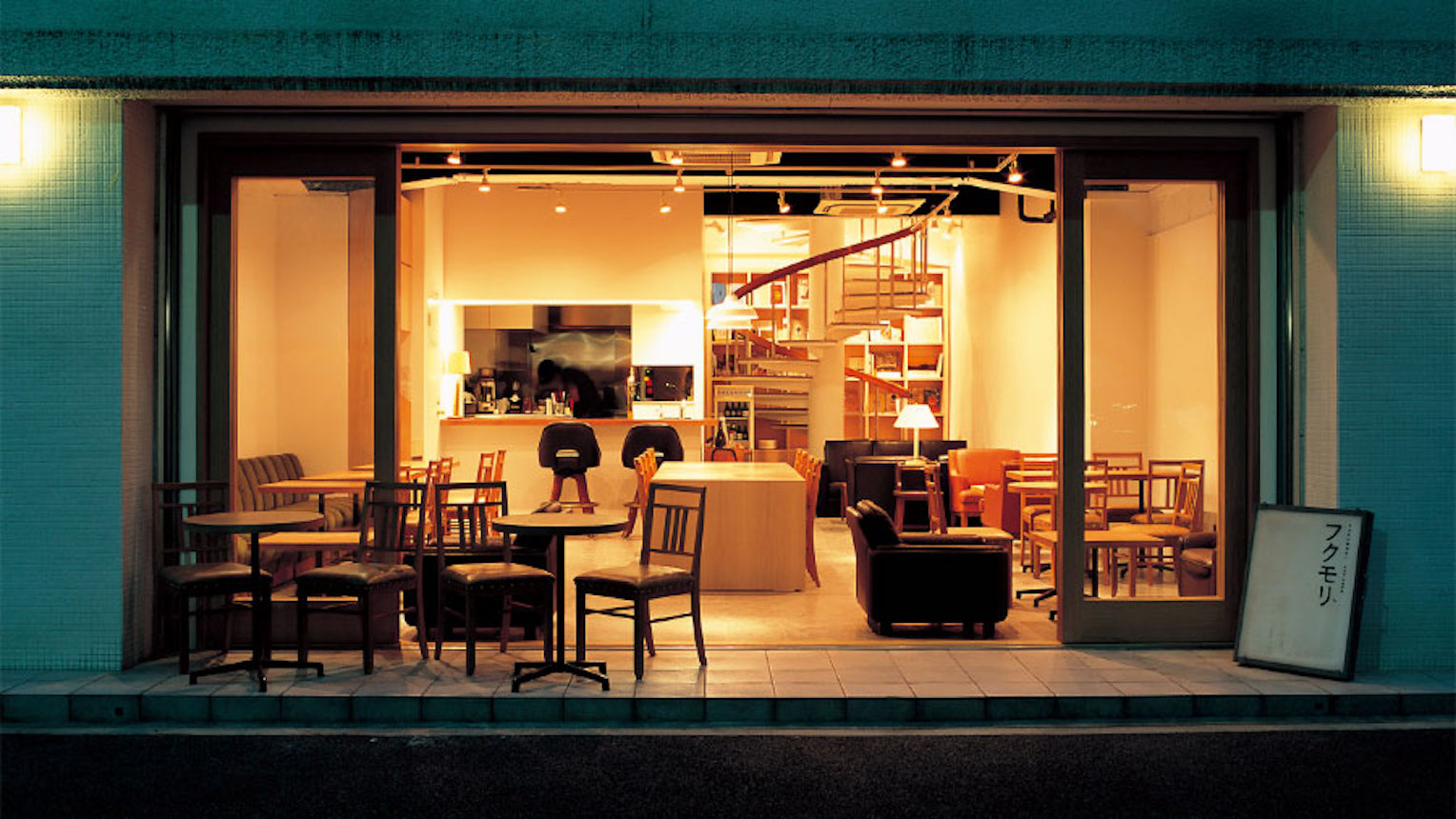 The restaurant frontage has an open atmosphere that invites casual drop-ins. It is lively and full of people who work in the neighboring offices on weekdays, and with people enjoying walks nearby on weekends and holidays(Image provided by Fukumori)
Interview and text: Kei Furuta (Konel) Photograph: Daisuke Okamura
Fukumori
A diner based on a concept of a "café and set lunch restaurant" guests would feel comfortable visiting alone.
Fukumori serves "café meal sets" that use ingredients from the rich natural setting of Yamagata and Japanese cuisine expertise from three Yamagata ryokan inns: "Kameya" in Yunohama, "Takinoyu" in Tenryu Onsen, and "Hayamakan" in Kaminoyama Onsen. The restaurant also serves as a press office for Yamagata through its food.
At lunch, the restaurant serves a daily rotating menu of set dishes, and delicious coffee and sweets during café hours. At night, it offers reassuring, delicious full meals made with Yamagata-grown ingredients and local sake to accompany them.