2019.07.24
Designing Content through shared experiences in VJ-ing. What does flapper3, a creative studio, think about when expressing a city?
Designing Content through shared experiences in VJ-ing. What does flapper3, a creative studio, think about when expressing a city?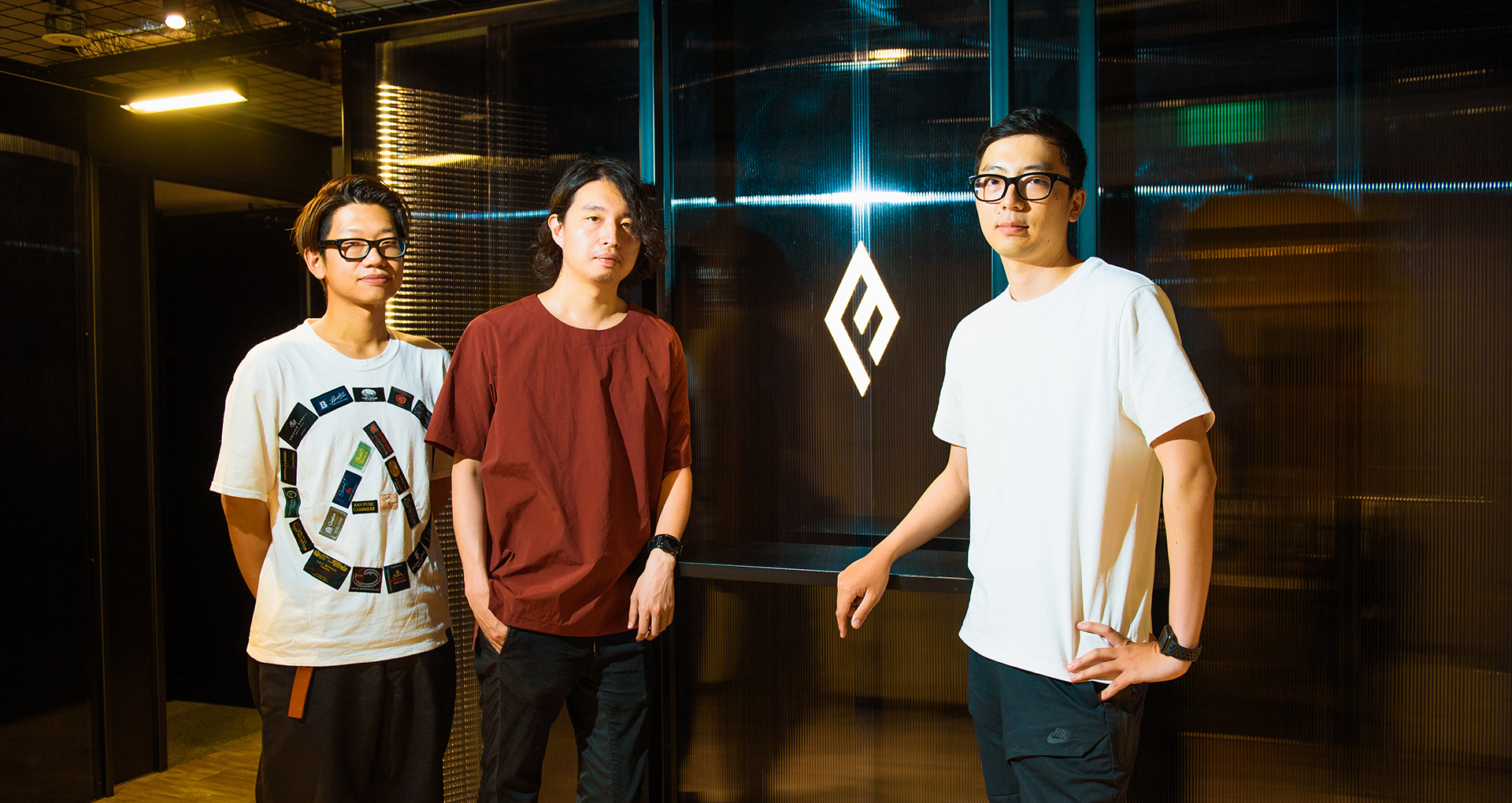 "flapper3" is a creative studio that provides designs based around motion graphics in a wide range of areas, including GUI and interaction, regardless of the media or form of expression. "flapper3" is a creator group formed by three classmates from high school. It was there they first started in VJ (Visual Jockey) and image production activities, which was later incorporated. Mr. Naohiro Yako, one of the founders and director of the company, also works as a photographer through Instagram, attracting over 70,000 followers from all over the world. In 2018, The company relocated to Nihonbashi. They will handle the creative aspects of the "ECO EDO Nihonbashi (*1)" this year, a staple event of the summer season in Nihonbashi. We interviewed the members of flapper3, who through this project expressed their attraction to Nihonbashi, with a new and different point of view.
(*1) Click here for the featured article about ECO EDO Nihonbashi
Everything started from VJ activities in high school
−First of all, tell us about the project that flapper3 is currently handling.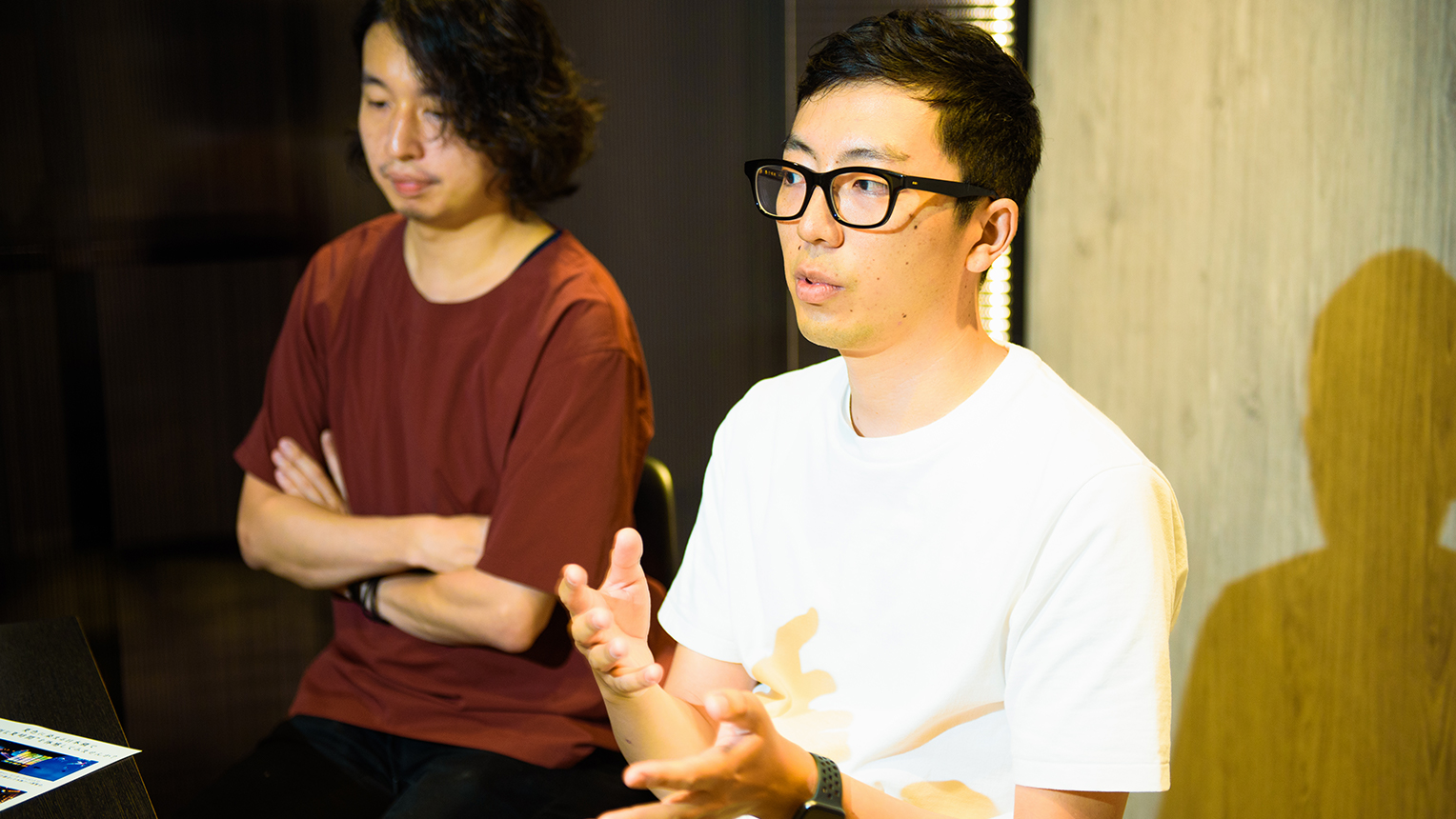 Mr. Keiichi Nakamura, Representative Director of flapper3. Founded the company with his high school classmates including Mr. Yako
Keiichi Nakamura (hereinafter Nakamura) : Although producing video images account for more than 80% our main business, we have been producing other designs in a wide range of areas including web graphics and in the interactive field. Major examples include the movie "EVANGELION: 3.0 YOU CAN (NOT) REDO.," the monitor graphics design of the game "ACE COMBAT INFINITY," and concert footage of various artists such as Hatsune Miku's "Magical Mirai," and Mr.Children. We had been involved in Mrs. Namie Amuro's live shows for about 5 years, right up until her retirement.

Live-Hatsune Miku's "Magical Mirai" Hatsune Miku,Magical Mirai (©Crypton Future Media,INC.)
Mr. Naohiro Yako (hereinafter Yako) : We are especially good at producing images in the entertainment field such as movies, games, and music. The origin of our company is the core team formed by me and my high school classmates Nakamura and Suzuki. We focused our work on image production or VJ activities at the time, so these activities still affect our works in the present day. Even the company name, "flapper3" was the name of our team at that time. We named the company "flapper3" after the servant characters that "reminds people" from [Gulliver's Travels]. This was from our desire to "create things that would remain in people's memory."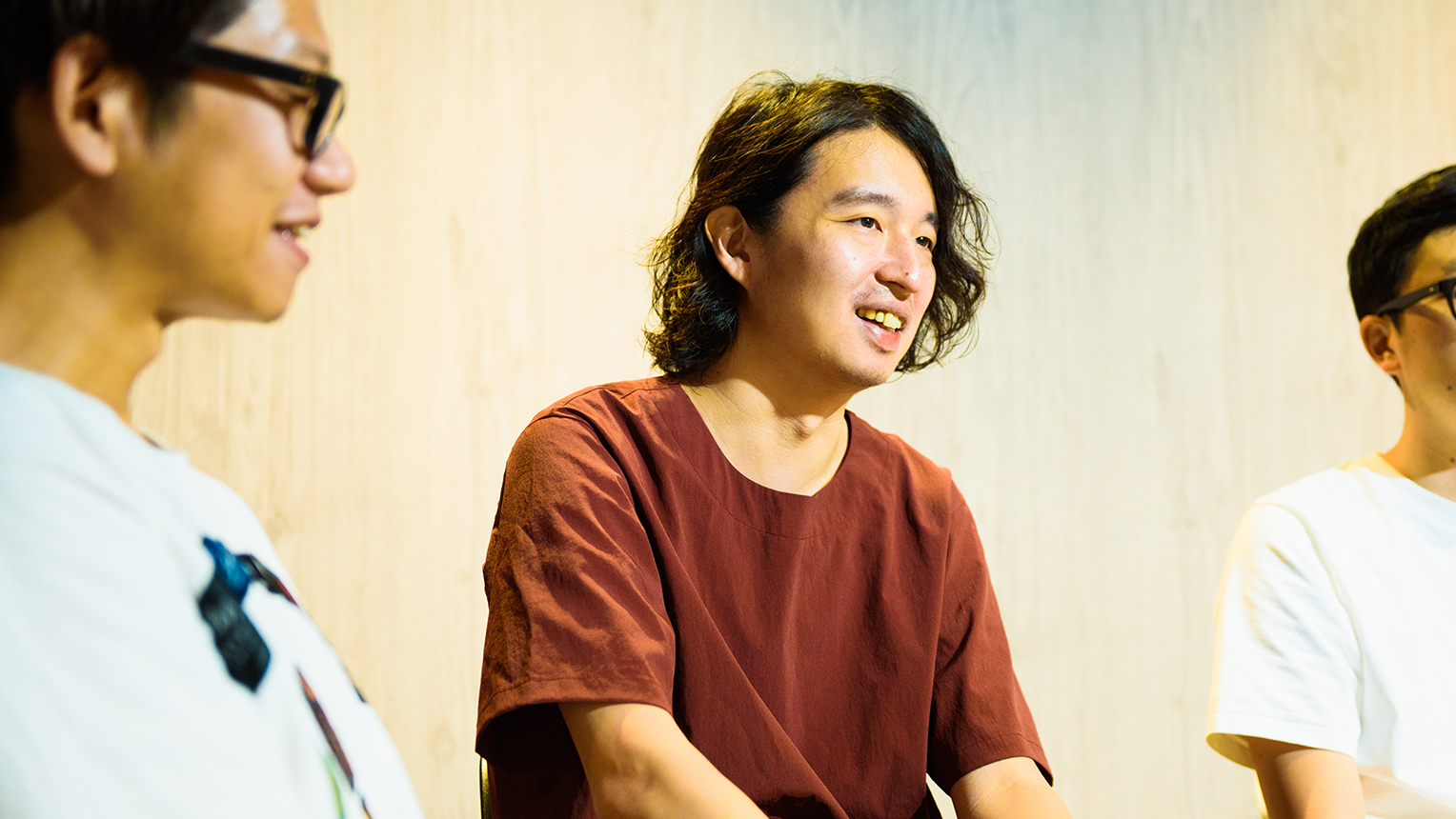 Mr. Naohiro Yako, Director and Creative Director Began VI activities at the age of 17, and has been presiding over an online label "Bunkai-Kei records" since 2010
− You two have been close friends since your teens.
Nakamura : Yes, we were. Myself and Yako took part in the art club that Suzuki belonged to, and we produced images to submit to contests, or performed VJ activities during our high school days. Those activities gradually developed into a business, and led to the founding of our company in 2009. We met most of our current employees through VJ activities, and Yamamoto, who is responsible for the creative aspects of ECO EDO Nihonbashi right now, is also an active VJ right now.
Taiyo Yamamoto (hereinafter Yamamoto) : I joined after the company was founded, but since every employee here had a similar background and a common language, I think the employees are able to easily communicate with each other in terms of creativity. I especially think that the minds of many employees here have their roots in "matching Images to Sound," just like a VJ.
Yako : One of our first creations that the industry first took notice was not in visual works or VJ activities, but a Web design that incorporated interactive images. But even for this case, the roots of our VJ activities can be seen. The fact that we needed to switch images in response to sound in real time is proof of this. At the time, using images on websites were not common yet, so it received quite a bit of attention.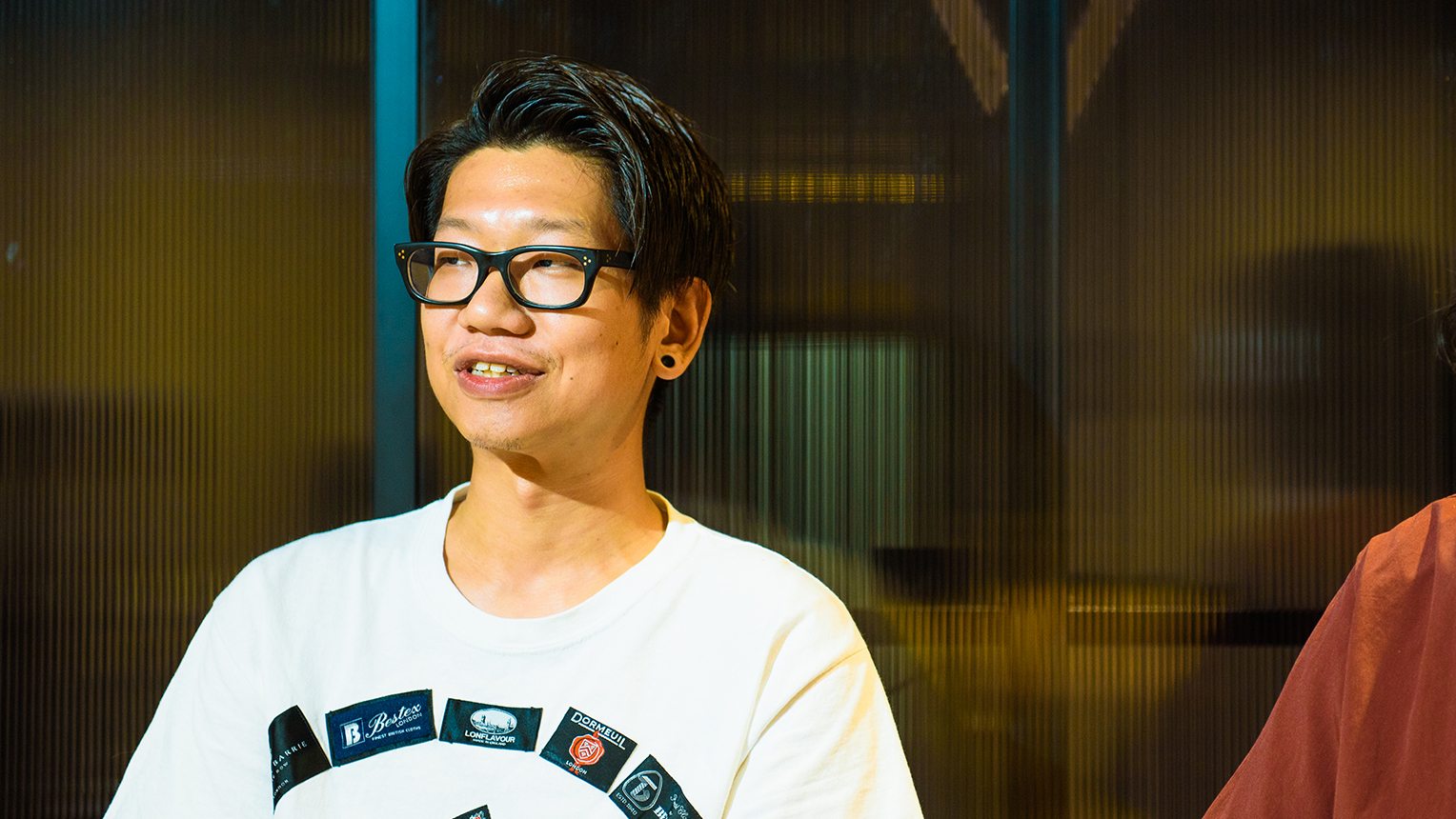 Mr. Taiyo Yamamoto, Director. Mainly responsible for the key visuals of ECO EDO Nihonbashi and producing the Nakadori illumination this year
Yako : I think that we focus on promoting projects not as art, but more towards about understanding design. For example, during a live concert, the artists should be the focal point. We devote ourselves into enhancing their performance through the directing of such space and environment. When we create content, instead of expressing our own style, we focus on designing a proposal that is the optimum result from our comprehensive understanding of what the client or audience desires. After that, we might add a little bit of our flair, and if that results in being valued as art, we will be fine with that.
This way of focusing on design rather than art, may be due to our backgrounds in VJ. After all, VJ's think similarly about images against music.
Expressing "familiar" cityscape into "the unfamiliar" through a camera
− Mr. Yako has been working as a photographer mainly on Instagram since 2016. What was the reason behind your start?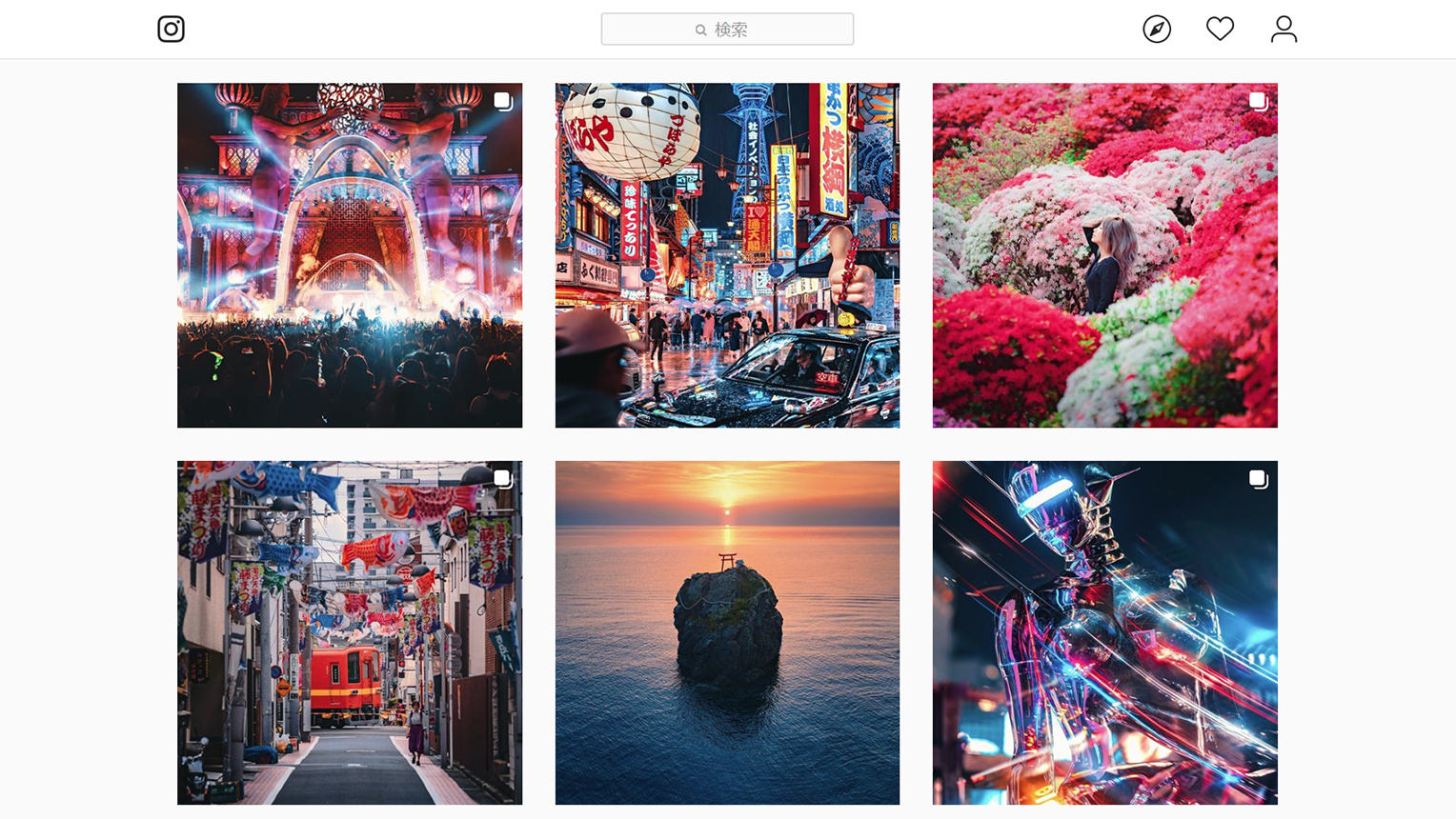 Photos by Mr. Yako. Highlighting the brilliant and futuristic cityscapes throughout the world such as Tokyo and Osaka. Cited from his Instagram (@yako_flpr3)
Yako : Today, we can get many beautiful images just by browsing the Internet. We live in a time where I felt there was very little meaning if I simply just took pictures. Again, if you need images, just search the Internet, and that should be enough as far as keeping records. But once I bought a camera two and a half years ago and I started taking pictures of my travels, I found it appealing in "expressing the fantastical" through photography. I realized I could express in my own individual way through the utilization of Apps to edit and process the photos. That was when taking pictures got very interesting.
− Certainly, your photos give us a littlie bit of an impression of the near-future.
Yako : Yes they do. My photos are enormously influenced by the animation and graphic elements of VJs, so there are some who say these are unorthodox. My photos do depart from the general understanding of pictures, but I do think people enjoy the feeling of detachment from familiar landscapes of their daily life.
− Are there any reasons that you take many cityscapes?
Yako : Since I am personally attracted to expressing the detachment between the ordinary and the extraordinary through photography, I think I have a habit of trying to find how much I can detour away from the ordinary whenever I look at my subjects. For this reason, I think a city is where we can best find this detachment from the ordinary. Therefore, I find cityscape to be interesting.
In addition, cameras themselves are also familiar devices in our daily lives. In an age where everyone carries a camera, albeit mostly through smartphones, I think that the "ordinary" itself is a form of media. Through such a device that we have in our daily lives, I try to cut out something out of these familiar cities. But I find that I am very interested in the possibility of expressing the separation from the ordinary in my outputs.
ECOEDO Nihonbashi's creativity. Expressing the town full of lively people through the flow of water.
− This year, flapper3 produced the key visual components of ECO EDO Nihonbashi and the Nakadori illuminations. Could you tell us about the production process?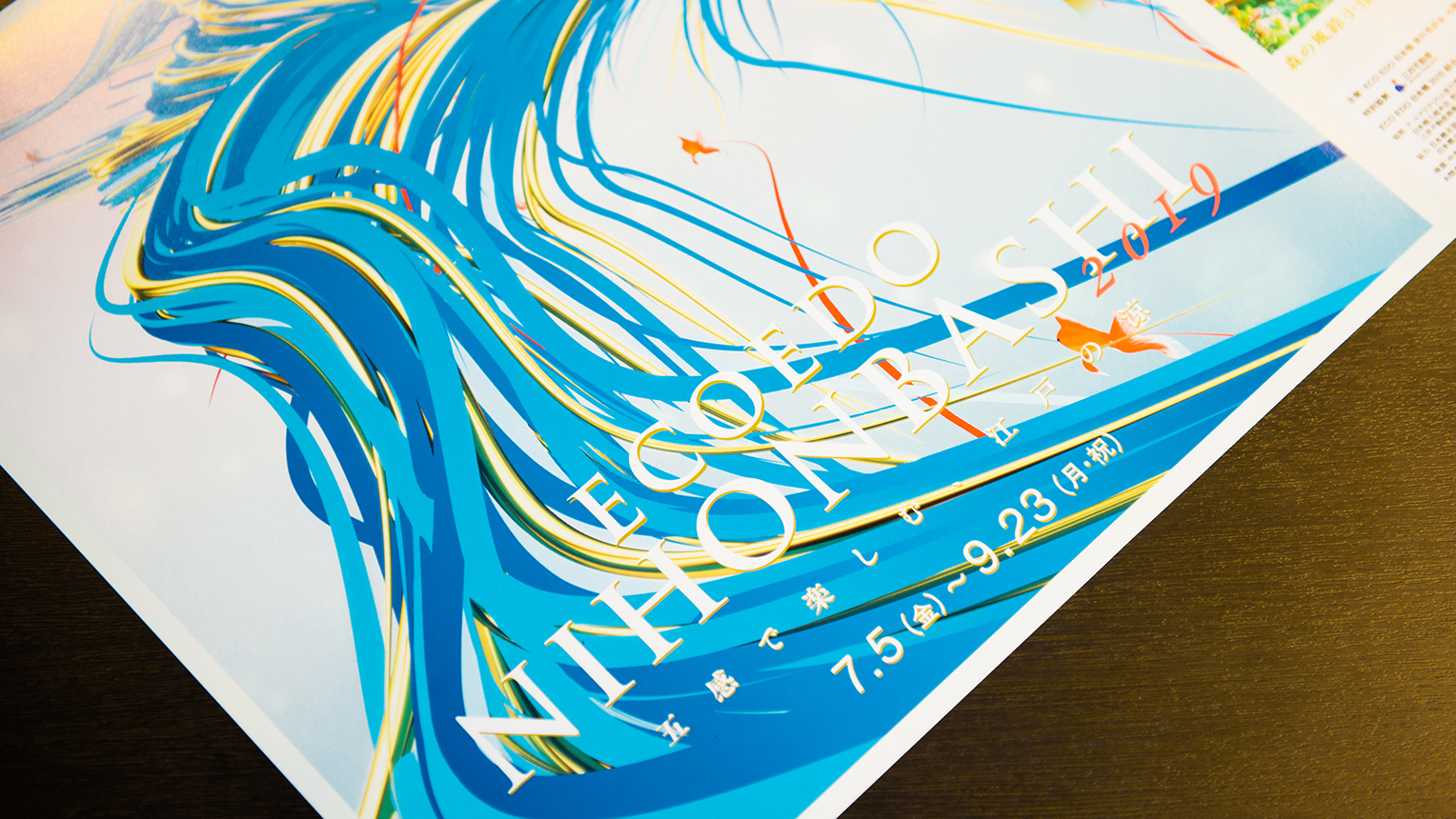 Key visuals designed by Mr. Yamamoto
Yamamoto : "The Summer Chill" and "A Town You Want to Stroll in a Yukata" were the themes we were presented with. I first decided to fully understand the town's history by reading books related to Nihonbashi, and visited the Edo-Tokyo Museum. While reading through these various materials, I learned that Nihonbashi once flourished due to waterway logistics, and after associating Nihonbashi with the word "bashi (bridge)," I decided to express the "river flow." For the key visuals, I incorporated the concept of gradation colors found in the Japanese expression technique of ukiyoes (Japanese woodblock prints), and tried using the color gold as an accent, and indigo blue as the base color. In addition, to define flapper3, we incorporated motion graphics in our method of expression.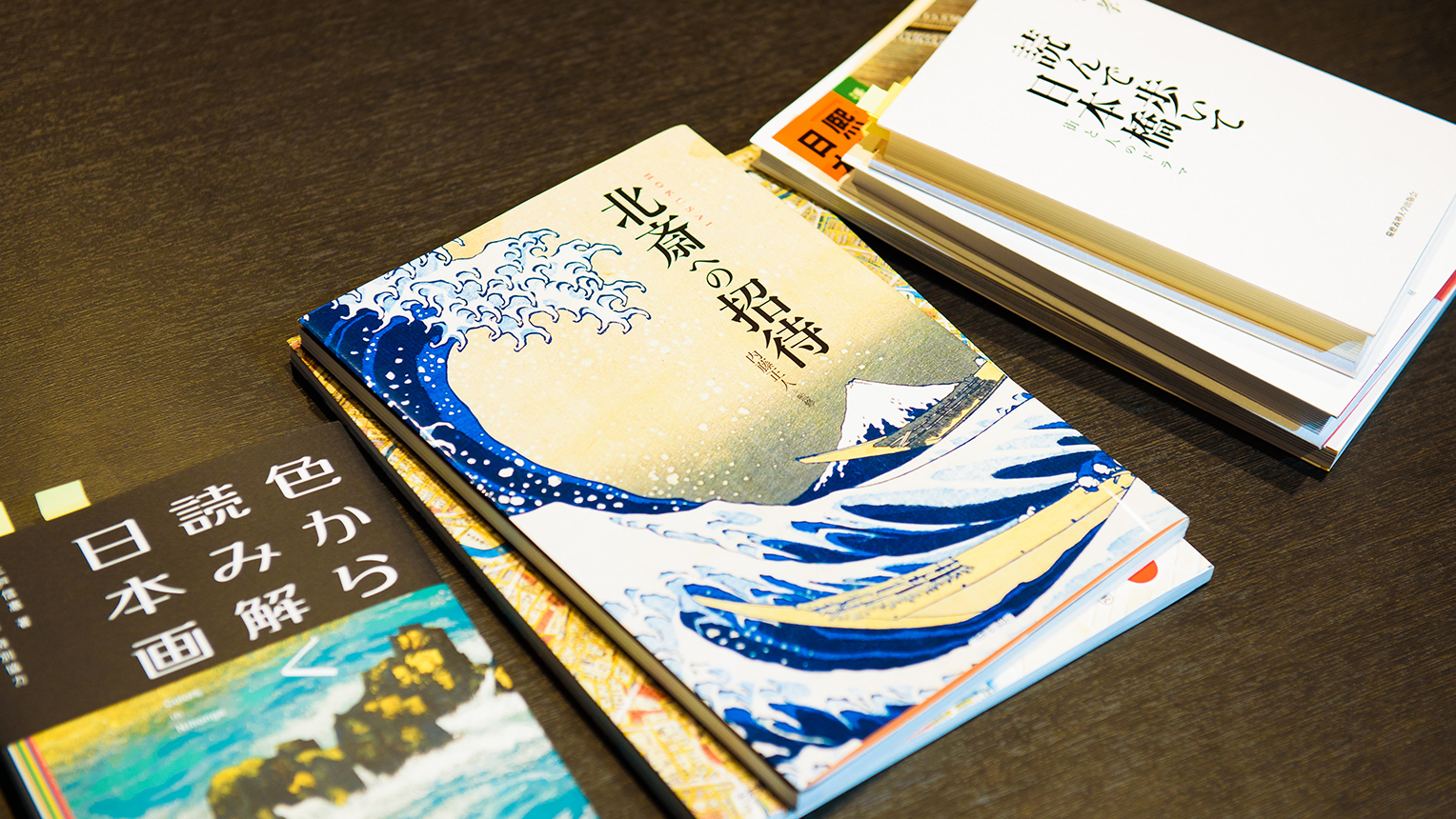 Materials that flapper3 referred to in the creative process for ECO EDO Nihonbashi. For expressing the tones for the key visuals, he gained inspiration largely from ukiyoes
− Although this design expresses something refreshing and cool, there definitely is something dynamic about it.
Nakamura : Through reading various literatures of this time, I focused on the factor that Nihonbasi is a town for the "people" In most of the landscapes of Nihonbashi drawn in ukiyoes, the bridge is drawn symbolically as well as the lively people engaged in business there. I felt that the landscape was an important element to support Nihonbashi. I felt that the reason the town had flourished was because of the lively and interesting people gathered there. Therefore, I wanted to express the liveliness and energy of the people for this theme of "the river flow."
−Even the "Summer Scroll" lighting of Nakadori gives off a cool effect.
Yamamoto : I also try to be conscious of producing a space where people in yukata would want to take pictures, and created such using similar concepts from the key visual. I expressed "the river flow" on the surface of the road using projected images, and expressed summer in Japan utilizing sounds and projected motifs. In addition, the ECO EDO Nihonbashi is a summer event that lasts for three months, so I incorporated various tricks into the performances that make people feel the changes during summer. I added features such as the sounds of crickets that people hear at the end of summer and the arrival of fall after the Obon holiday (August 13th to 16th). I wanted people to feel the seasons while strolling through Nakadori.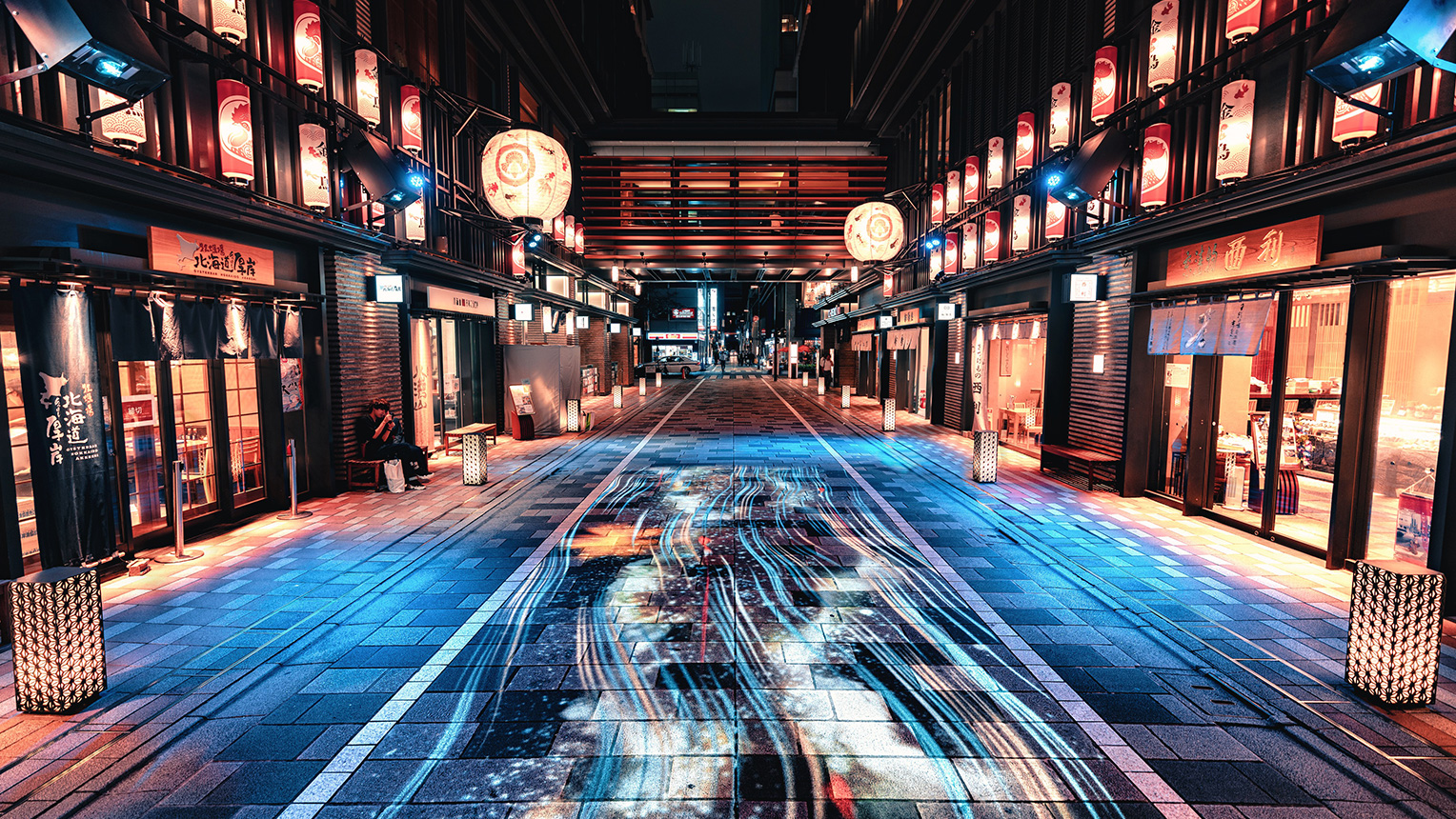 "Summer Scroll" draws summer in Japan by utilizing sounds, images, and writings
−Displaying directly onto the street is a pretty rare feat. Did you have any difficulties doing this?
Yamamoto : Trying express liquids, or "the flow of a river" was quite difficult. I had to repeatedly stare at my screen through a process of trial and error, where I and gradually reached my ideal design by patiently omitting parts that I was dissatisfied with.
Nakamura : To make passersby on Nakadori take notice, we of course had devoted a number of motifs and arrangements to the projected videos. We also finely adjusted color tones and lighting expressions that control the performance of the entire space. For example, when the firework motif is projected as an visual, we controlled the color tones of the lighting and timings to produce the brightness of the fireworks, as if they are set off in the distance. We would be happy if people enjoy this summer-like experiences at Nakadori.
−Mr. Yako, you took photos of a total of 15 places under the theme of "Strolling around Nihonbashi in yukata" when planning for this ECO EDO Nihonbashi project. Did you notice anything after taking photos of Nihonbashi?
Yako : Whenever I take photos of cities, if the city is Tokyo, I usually try to find a focal point for my subject, such as the Tokyo Tower or the Tokyo Skytree. It was difficult to compose something like that at Nihonbashi, but I found interesting aspects about the buildings and streets of the town. They all have the feelings of traditions, while being modern at the same time. For example, the Nakadori street connecting to the Fukutoku Jinjya Shrine. There are rows of lanterns on the stone-paved street, and high-rise buildings built on each side. Its as if the shrine exists in the atmosphere of the Edo era, while being in the future at the same time. This is a landscape that is rare in other towns, and is an attractive subject. I feel there are contextual commonalities between the cityscape of Nihonbashi and the yukata. This is because Nihonbashi has been updating its landscape to the modern age, whilst also accumulating traditions, whereas the yukata has been handed down as a traditional form of clothing, but has been changing its style to follow the current trend of the times. I feel something special when taking photos of both subjects simultaneously.
I also found taking photos around Bakurocho to be especially new and refreshing. Although it might feel jumbled, there is so much energy here. And It was interesting to feel the Japanese atmosphere amongst the chaos. In addition, after taking these photos, I got a feeling that Nihonbashi was going to be popular internationally in the future. The reason being is that Nihonbashi has the typical image of both the traditional and near-futuristic atmosphere of Japan.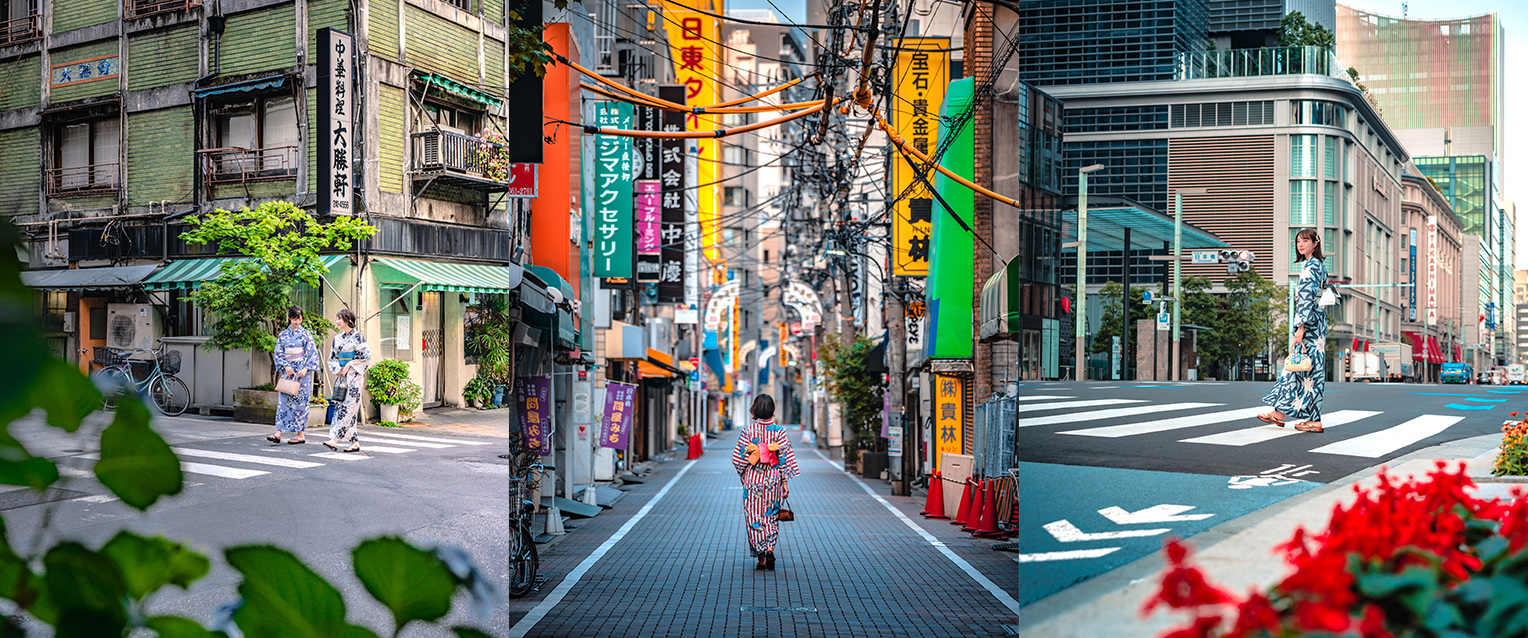 Challenge in contributing to rediscover new attractions.
−A year has passed since you relocated to Nihonbashi. What do you think are attractive about this town now?
Nakamura : I appreciate that Tokyo Station is nearby and having convenient access across town. In addition, there are commercial facilities and movie theaters such as the COREDO, so it is a great place to spend my leisure time. However, the best thing for having our office at Nihonbashi is its "catchiness," everyone knows the town's name.
Yako : I think this is a feel-type of thing, but when we are asked "Where is your office?", I like the rhythm of replying "Nihonbashi". And the town's atmosphere is totally different from Shibuya and Aoyama. Another attractive feature is that it has a relaxed and comfortable atmosphere. And all in all, I just feel that "there are interesting people in the town." Being an aficionado of events, I also appreciate that many festivals are held at Nihonbashi. I personally enjoy the "Bettara-ichi." Using the bettara-zuke (pickled daikon radish) as an excuse to go drinking with everyone in the town makes this event a slightly edgy, yet somehow personal event. (laughs)
− I find it very interesting that everyone at flapper3 all have a unique perspective about Nihonbashi. Finally, could you tell us about any challenges that you would like to work on in the future?
Yako : Last year, we conducted a creative production to mark the 150th anniversary of the Meiji Restoration in Kagoshima and Fukushima. During the production process, I had an experience where after uploading photos taken in Kagoshima on my Instagram, it became widely shared. It was said that the photos brought a great reaction because they placed a new, fresh perspective that were different from the perspective of the local residents. I hope that I could try more activities like this. Discovering attractive features of local areas from the perspective of an outsider. Gaining new ground and noticing features that long time residents may miss. By doing so, even the local residents will enjoy knowing about these new things. I thought it would be great if I could engage in such works at various places. I think that Nihonbashi also has even more undiscovered landscapes because of its long history and vibrant images.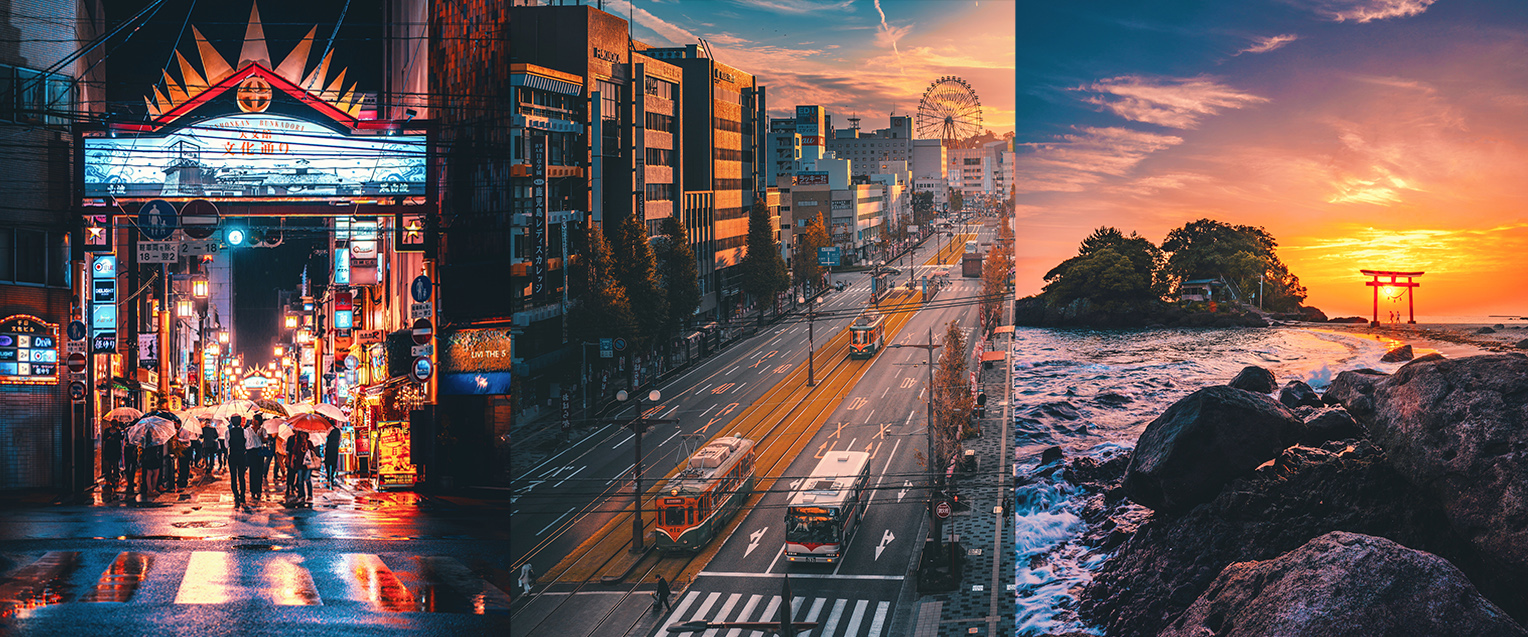 Landscapes of Kagosima taken by Mr. Yako. Cited from (@yako_flpr3)
Nakamura : We have been mainly working on contracted businesses until now, but we are going to take a more proactive approach and work on activities that generate new added-values. Last year, we held a joint-event with a creative company near us. We would like to increase such opportunities to jointly create something with various people, instead of only presenting content created by ourselves. In addition, through this ECO EDO Nihonbashi project, I felt attracted to the idea of working together with the town. I believe this is a town for the people, and it would be great if I could take part in the town's creative activities by being more engaged with the people. There are a lot of things that we should learn, but as Yako has mentioned, we would like to highlight more of these attractive features of this town that even the local residents haven't noticed yet.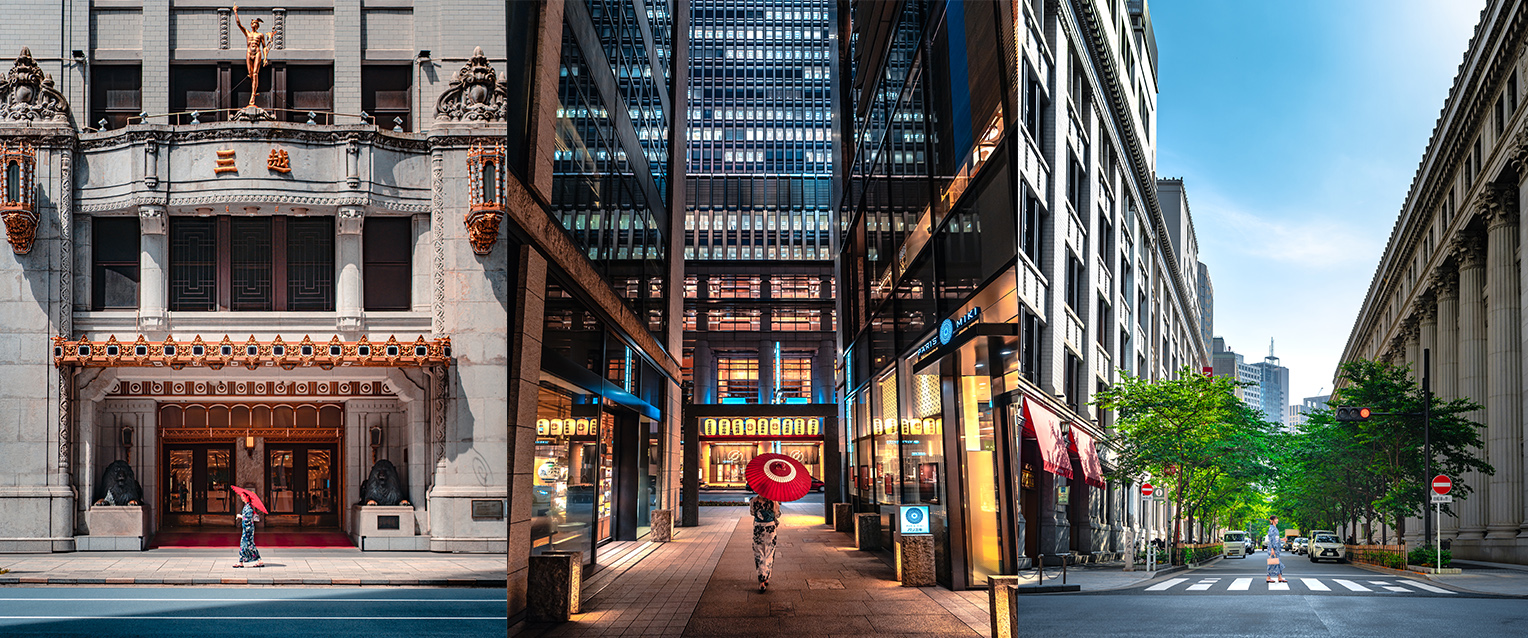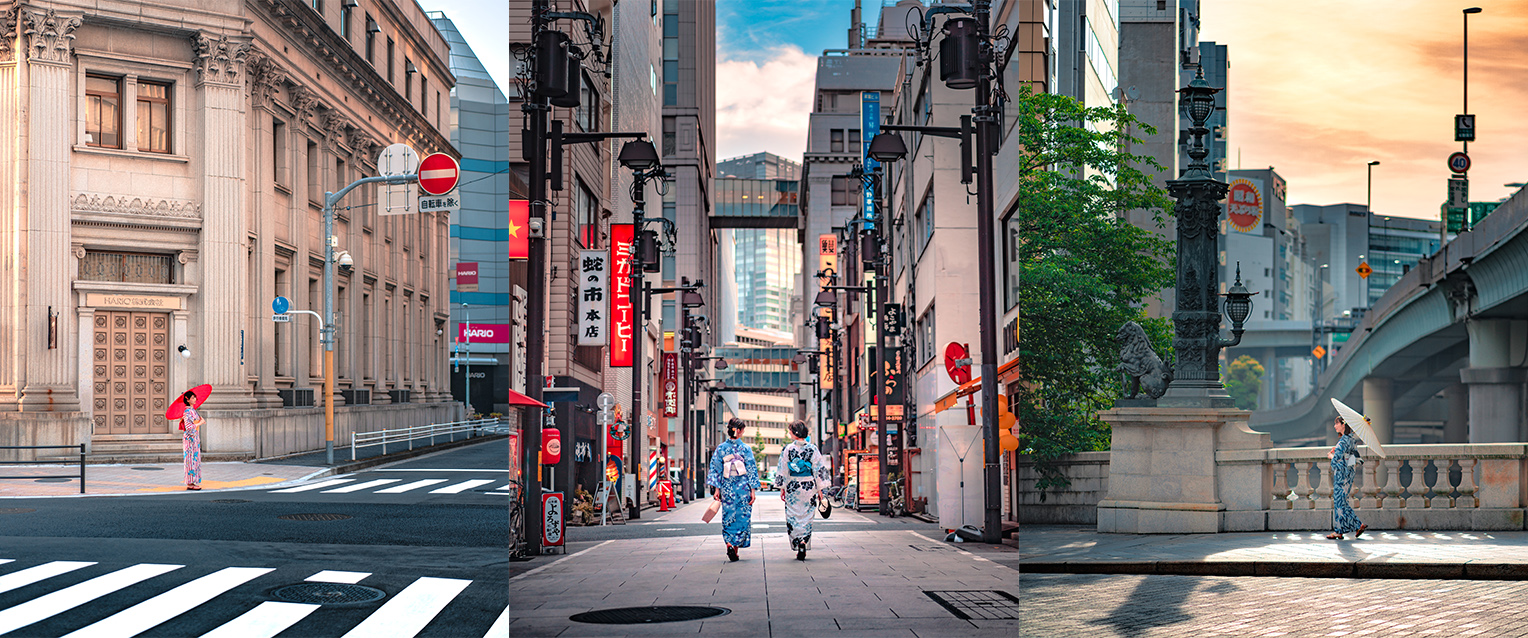 Interview and Article: Rui Minamoto / Photos: Daisuke Okamura
flapper3
Established in 2009. A Tokyo-based Creative Studio. Centering around motion graphics, the company designs in a wide range of areas including producing images in the entertainment industry, GUI, and interaction, regardless of the media nor form of expression.