2019.09.17
A Collaboration between Top Creators as they Challenge in Redesigning Conventional Fields. "β Lounge" Vol.1 Talk Session Report
A Collaboration between Top Creators as they Challenge in Redesigning Conventional Fields. "β Lounge" Vol.1 Talk Session Report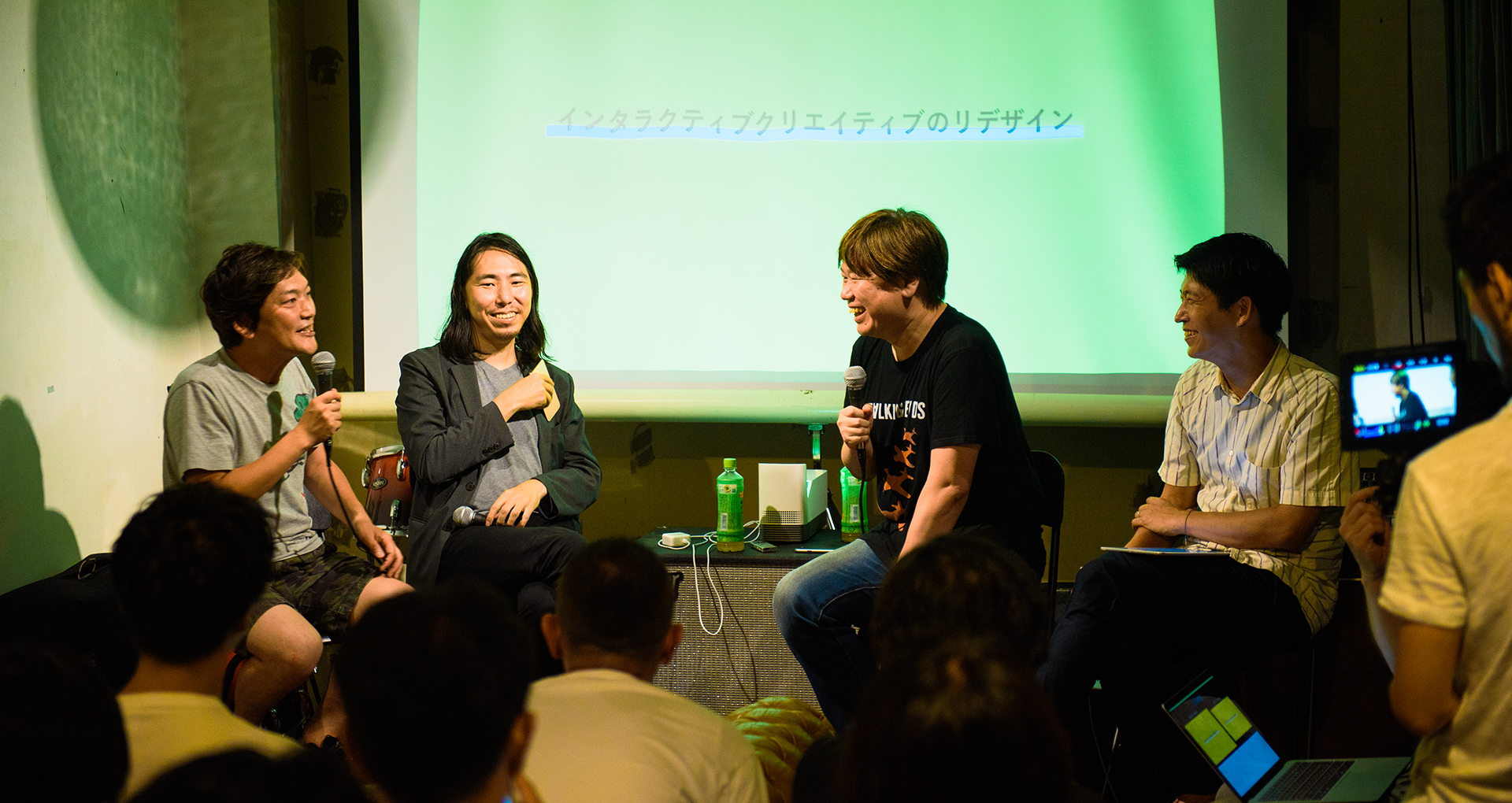 Hosted by "nihonbashi β," the "β Lounge" series of events started on July 31st of this year as a joint project to create the future of Nihonbashi by connecting young creators with this town. Under the concept "ReDESIGN" which involves the redesigning of existing ideas and matters through new concepts and technologies, the commemorative first-ever theme for "β Lounge", where creators who are working on updating various fields would gather, was the "Redesign of the Interactive and Creative." Sharing common roots, the creators that have gathered for this event are from different fields and across organizational borders, all having pioneered in their respective fields via own individual approaches. We invited 3 guests for a talk show session at THE A.I.R BUILDING in Nihonbashi; Mr. Hiroyuki Nakamura, the creative director of PARTY, to Mr. Takayuki Fukatsu, the representative of THE GUILD, and Mr. Masayoshi Boku, the representative director of Bascule. Here is an excerpt from that event.
So What was Flash?
- Everyone on this panel today all share the common trait of having gained recognition in the web/interactive industry using Flash technology. So could we begin by having each of you describe what Flash was like for you personally?
Nakamura: To me, Flash was something that was extremely easy to get a handle on. At the same time, it was so much more than that. I was creating a lot of pretty ambitious banner ads around the year 2000, and compared to the older generation who were making television commercials that involved great cost and labor, you only needed 1 or 2 persons to quickly make these banners using Flash. So in terms of creating things by ourselves and having the experience to see the reaction of the public at the forefront was all thanks to Flash. I have nothing but appreciation for that and I do believe it made me into the person I am today.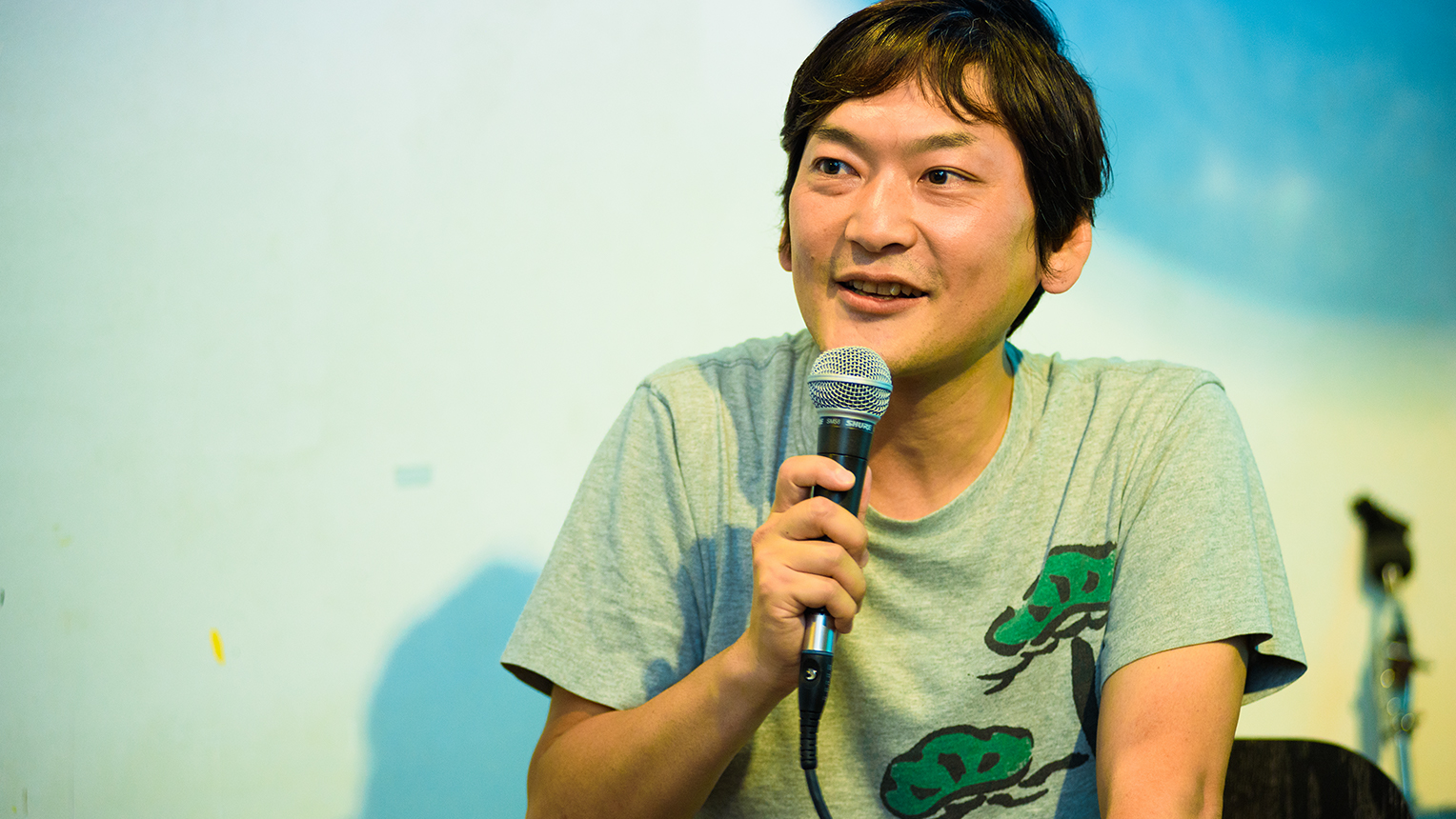 In addition to taking part in various projects as the creative director of PARTY, Mr. Hiroyuki Nakamura currently also works as the executive creative director of the Marketing Solutions Headquarter Group at Yahoo.
Fukatsu: Around 2000, I was studying product design in London because I had in interest in the interface between user behaviors and things. I started putting out the newest trends and technologies like Flash on a blog at that time. That lead to me collaborating in creating Flash content with "tha," a group led by Mr. Yugo Nakamura. Through this I was involved in quite a lot of work that required various factors to be moved at the fastest speed on screen. When I look back now, Flash to me is like MMA. It's not just programming, but animation, visual design, direction, usability, etc. This is a field where you are required to be knowledgeable in a variety of fields.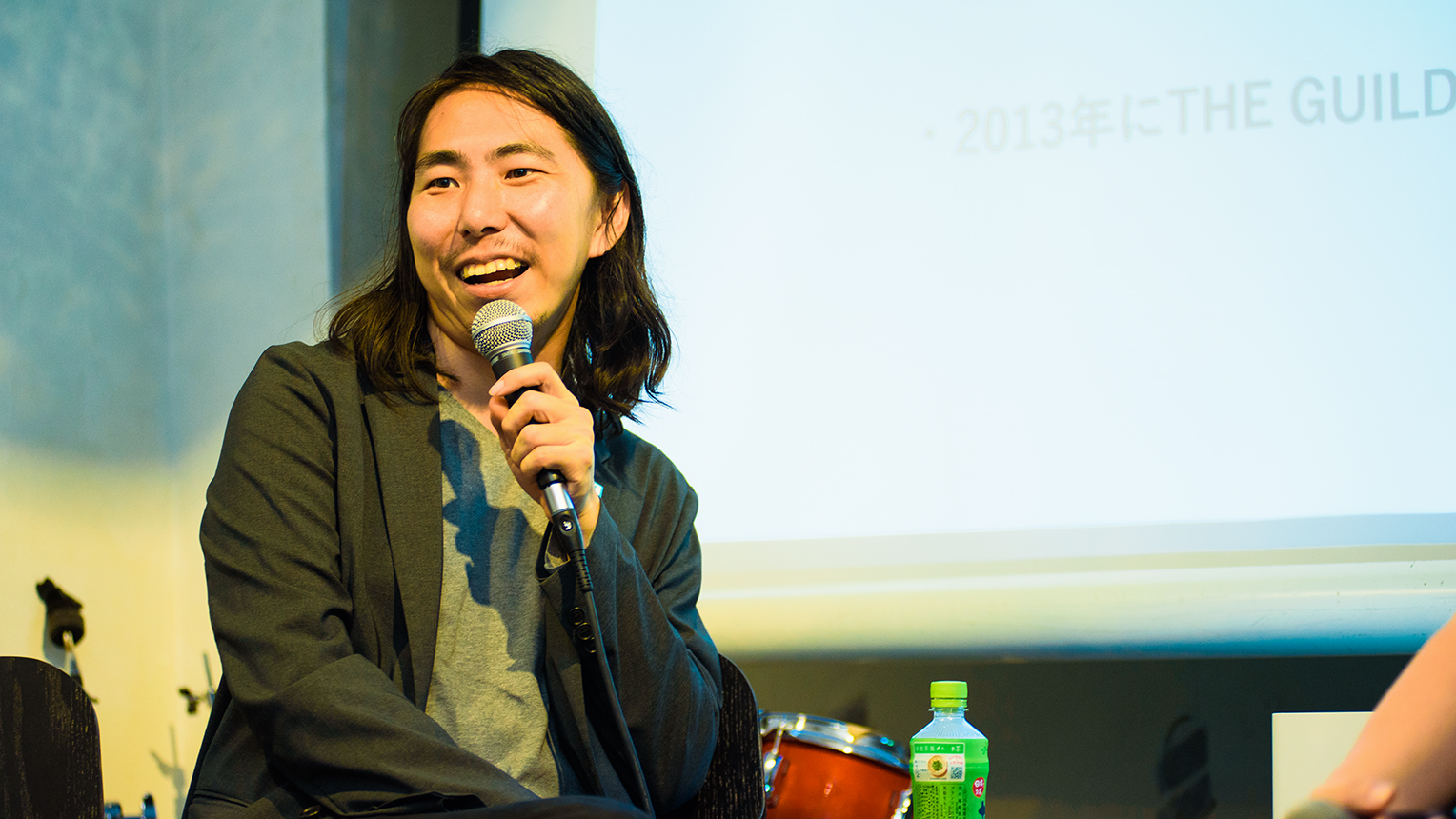 Mr. Takayuki Fukatsu, representative of the THE GUILD, a unit of freelance creators, as well as being the CXO (Chief Experience Officer) at "piece of cake", a company operating the media platform "note."
Boku: Bascule too made a mountain-load of Flash content using the latest technologies after 2000, and received many awards. I believe that Flash was the greatest proto-typing tool. At the time, my work was mainly in advertising and providing multiple ideas to a client was the industry norm. Since you could easily shape a prototype using Flash, I made use of its strengths and proposed ideas before getting the green light to proceed with the job. In other words, a reason that some guy like me that just "had the opportunity to meet industry titans using unconventional approaches" was because of Flash.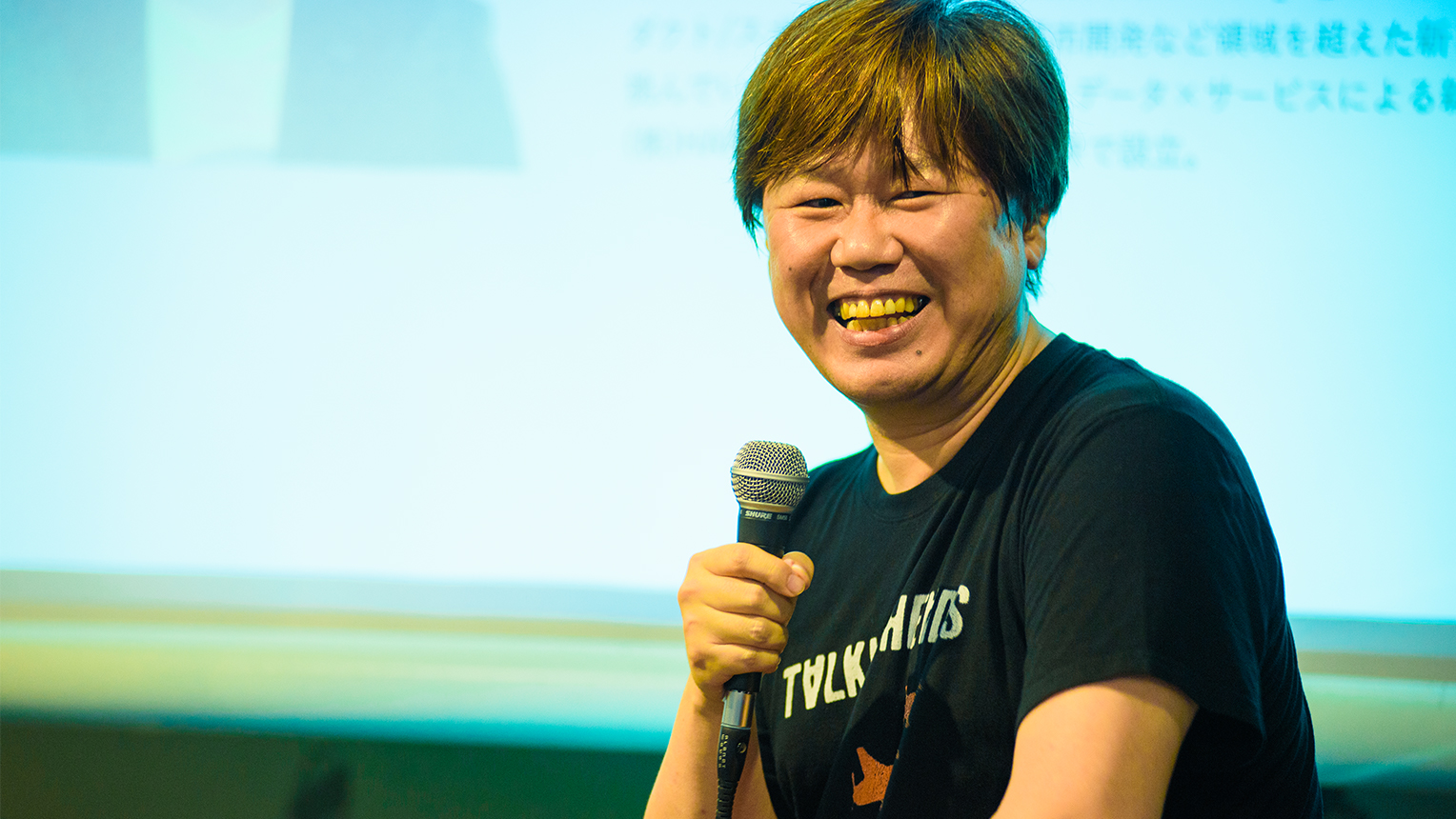 As the representative director and creative director of Bascule, Mr. Masayoshi Boku has handled projects in various fields such as products, sports, space, etc. He is also the originator of the "nihonbashi β Project" that held this event.
Fields in Design that have Changed over Time
- The presence of Flash has gradually subsided due to the emergence of the smartphone, how has your work changed in this regard?
Nakamura: During a campaign for the "SLAM DUNK" comic, we created interactive message boards and held exhibition events. The experience we gained through such has left a deep impression on me and has become one of the turning points for me. I left my job at Dentsu (Note: Japan's largest and famous advertising firm) in 2011 with the idea to take part in something that I wasn't able to do during my advertising days. This was when we also started creating platforms and services. Now, I take part in the acceleration program of startups along with Dentsu. In addition, I also work as the executive creative director of the Marketing Solutions Headquarter Group at Yahoo!.
Boku: I had always held the belief in wanting to talk more about the coming influence of interactive media, and how it would eventually be equal to those of television and film. That is why even after Flash programming has largely subsided, I have continued to pursue the possibilities of web creativity through projects like shooting smartphones into space to send user messages. After creating the special site to attract people, I started thinking that more people could be influenced if you created something close to a platform or media where people gathered around. That is why I created a joint venture with MIXI (Note: a Japanese social media company) in order to work in combining television with the interactive. In addition, recently there are more and more opportunities to create content to provide not only fictional, but new and real experiences by utilizing the data from shooting stars and professional athletes.
Fukatsu: Around 2008 was when the iPhone appeared. This here is a device that is the culmination of all the fields that I took part in, from the interface that I studied at London, to the interactive aspects of Flash. By that time I had separated from "tha" to develop iPhone apps, and camera apps that I created during this time were sold over 1.5 million times. But due to more and more major companies entering App development, I felt the limitations of being a single developer and decided to establish THE GUILD as a way to add scale and merit to freelancing. THE GUILD provides startup support for services and consultations through "Guns-for-Hire," or experts with various skills. Along with this, I also work as a CXO of piece of cake, a company that operates "note."
The Current Landscape of the Interactive-Creative
- With the emergence of social media and smartphones, it seems that the way and shape of the interactive and the creative have largely changed.
Nakamura: Previously, the interactive features that I created through banner advertisements were pretty basic stuff. You point and click using a mouse and something happened. Even then, it still had something different from other advertisement media so it received attention. But the most interesting thing in the field of interactivity is that I personally believe was that by creating a new rule, people who were previously unrelated became users and started creating communities among themselves.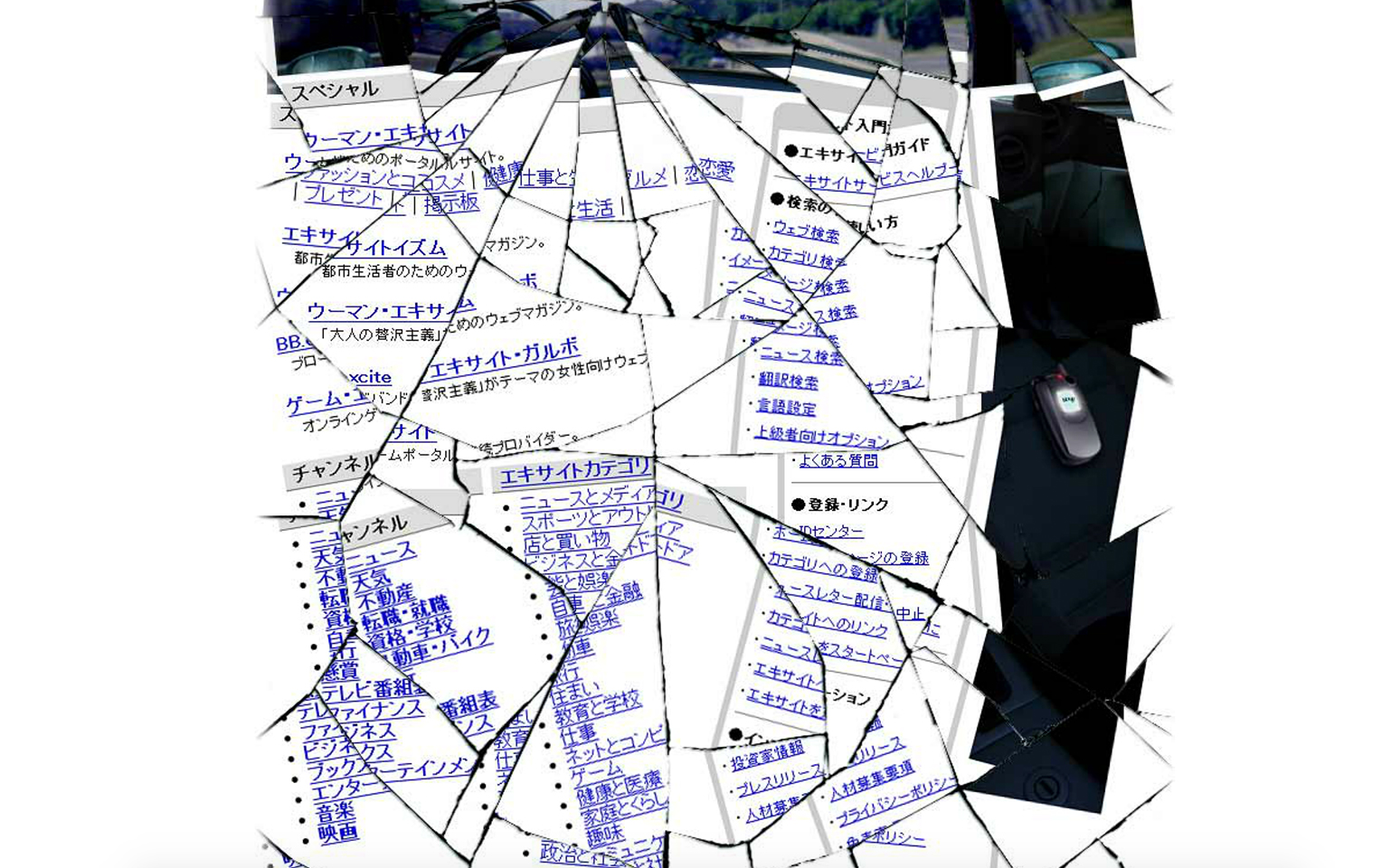 A banner ad that was created by Mr. Nakamura during his time at Dentsu. If a cell phone started ringing while driving and the user held the mouse over the banner, the screen will change to show that the display has cracked just like in a traffic collision. This was to promote safe driving and the dangers of taking one's eyes off the road.
Fukatsu: To me, it seems as though the interactive design of today begins by seeing how much you can raise a reaction via a certain idea pitched. Retweeting and Like buttons may be a form of interaction, but since more and more emphasis are placed in designing the collaboration between the user and the user reaction these days, I had always made sure, since my time creating using Flash, to continue to create a place where something will happen through rules and a design structure. Boku: I'm not saying it is a form of a social experiment, but having to predict how people would react and find out what we could do is part of the fun of our work. This type of thinking does not exist in any other animals, and could be said that it is the most interesting part of what makes up what we as human beings needs and wants. I feel that this is where the core essence of the interactive and creative lie in.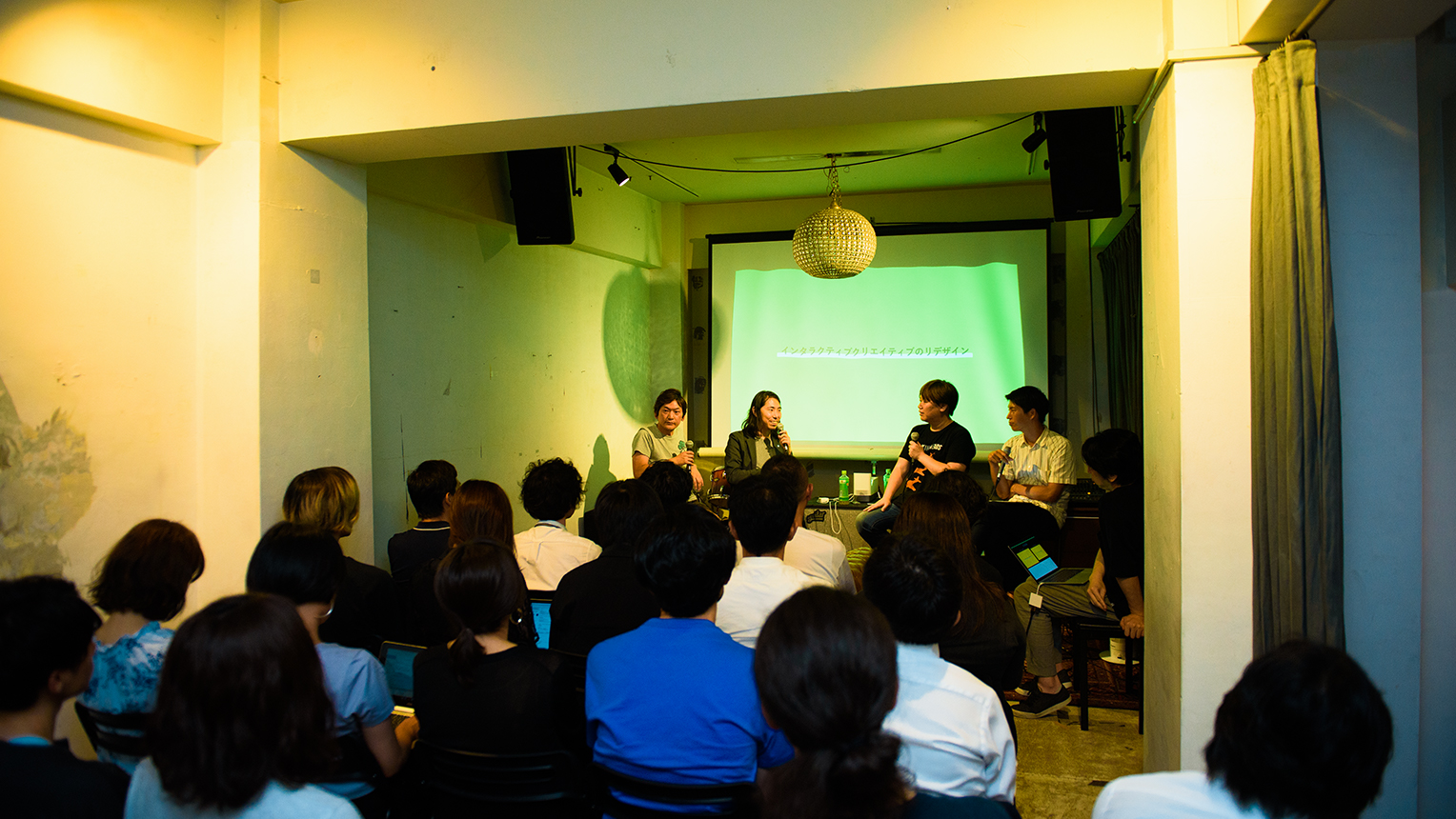 Nakamura: Just like every one else here, I'm constantly thinking about how people would behave when I pitch something. I enjoy having to see what happens when you allow many people to stand in the same field. I feel that every one here not only excels in the technical aspects of Flash, but the behavioral and attracting patterns of the people beyond the screen.
Fukatsu: Recently we often hear words that indicate service towards everything like "MaaS (Mobility as a Service)" and "SaaS (Software as a Service)," and I feel that the next thing we are going to start hearing would be "something-something as a Ecosystem." I think that the interaction designs of the near future would require a study into a certain structures such as a terrarium, something like an ecosystem inside an aquarium or a bottle where life can continue to recycle itself semi-permanently.
Boku: In this age where mobile and IoT technologies continue developing, having a new design to the input side is another aspect to look into. As I mentioned earlier, we have created VR content where illuminations would light up any time a shooting star passes by, or you can play against a pitch by a professional baseball player. Due to the fact that these data contents are routinely updated, the experience will never become outdated and the content itself can continue to be created indefinitely.
VR content developed by Bascule, "VR REAL DATA BASEBALL." By wearing a head-mounted display and controlling via a baseball mitt and bat with built-in sensors, players can experience the challenge of facing a 160km per hour fast ball or a curve ball as either a catcher or a batter.
Pioneering in New Fields
- What is required in a creator wanting to continue pushing forward in the world of the interactive-creative, where dramatic changes are common due to evolutions in technology and devices?
Fukatsu: I think it is essential how many layers or how deep a creator could understand phenomena in abstract terms. For example, any knowledge of computer programming languages such as action script for Flash may no longer be needed with the decline of the Flash platform. But if you have an innate understanding of the programming philosophy of Flash, you can utilize that understanding in another language. Furthermore, like the story mentioned earlier, if you could further your understanding on how people would react to a certain phenomenon, you can utilize it in other interactive advertisement projects. The deeper you dig through, it becomes easier to jump ship laterally.
With the aim of the "Fastest in the World," Mr. Fukatsu began development of what developed into a collaboration project with the "Captain Tsubasa" comic, and later turned into the Comic Viewer with the engineering team from "note." The know-how during Flash days were fully utilized.
Nakamura: As for me, although I'm not very good at objectively speaking about what I did to get accustomed to the times, I always did have a desire to create a sharing experience between players of a game, regardless of the genre. For example, due to my deep fascination with the extremely fun closed-room entertainment called "Real Escape Rooms," I once had the opportunity to create a "Real Escape Room Online" that infused interactive aspects. This made people from all over the world simultaneously join in on the puzzle-solving, and I personally felt it would be interesting not only to see this, but participating as well. I made quite a variety of these games.
Boku: I feel that people who don't focus on borders, and instead place their own personal interests upfront, are the ones who seem to continue thrive to this day. Interactive regulations, which was previously impossible unless on browsers, are now possible everywhere. Within that framework, we first create a prototype and just put it out there for the world to see whether or not the world enjoys what we think is "interesting." If it goes well, we get a sponsor. We stubbornly continue this process. As a result, we often end up with the blunt of the costs involved, but the fact that we actually tried raises eyebrows, and gets the clients that want to be involved in future experiences. Nowadays, we get offers because we are perceived as pioneers of uncharted territory. I feel that opportunities like this are widely opened for creators in the interactive field.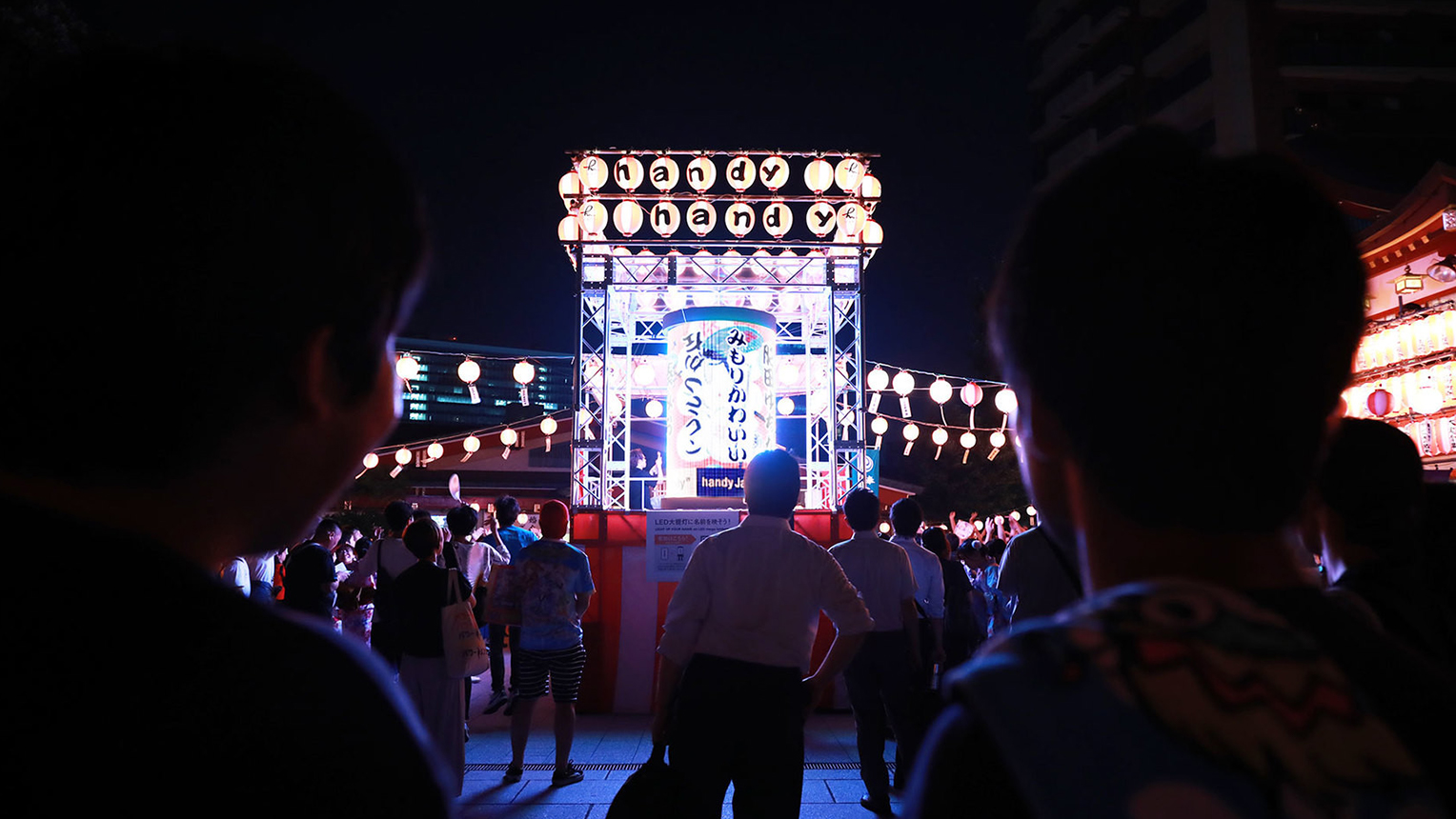 Bascule's "kao.dance" is a large, interactive LED lantern that can display the names and pictures of anybody for free via smartphone control. It recently made in appearance at the Bon-Odori Dancing at the Kanda-Myojin where it greatly excited the festivity.
- Could you share us of any other fields that you are taking notice in, or genres that you want to redesign?
Boku: Before Bascule, I founded a company to create the "longest side-scrolling Website in the world." We received various awards where I posted the catch-phrase of becoming a "New Hero of the Future and Space." It's now been a long time since then, but I actually have started work in the field of aerospace. It's not as if we are that "Downtown rocket (Japanese TV drama; a small factory succeeded in launching a rocket), but we live in an era where even a small-scale company like ourselves can reach for the stars. If we are to redesign something through the interactive and creative, we might as well try and reach that high.
Nakamura: Recently VTubers are gaining a lot of attention, and I want to focus more on the culture of super-anonymity in Japan. I think it is something that Japan can highlight to the world. For example, I am interested in the strange way Japanese people communicate by hiding who they are, but also would find a way to openly expose their repressed emotion, like at Shibuya during Halloween. So I am thinking and slowly beginning to create an avatar platform like a Japanese version of "Second Life."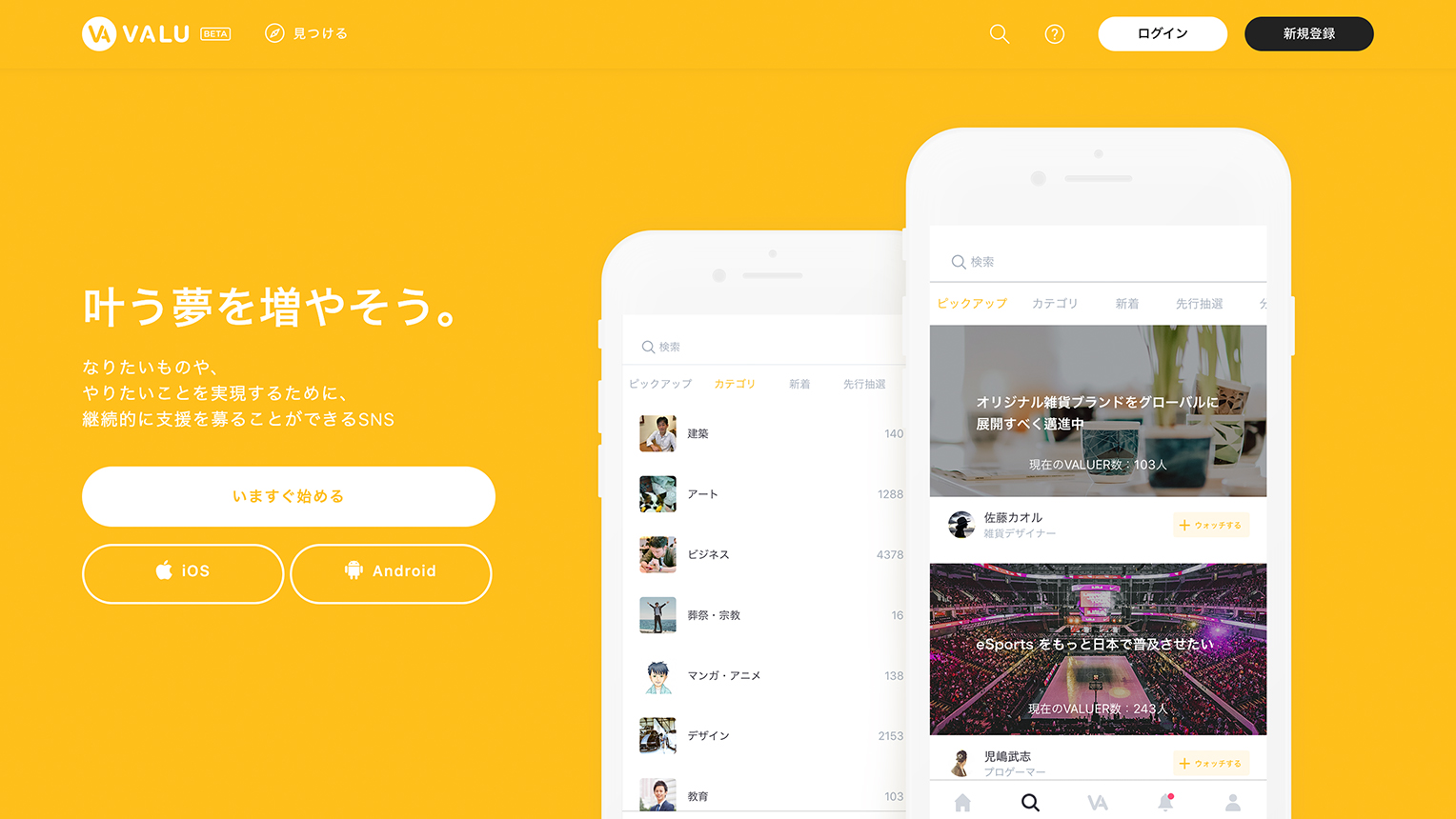 Mr. Nakamura was one of the founding fathers of "VALU." Since its release, it caused quite a stir as a micro trade service for bitcoin transaction with trading individual values.
Fukatsu: Although I am currently in the midst of redesigning the space of speech over the internet at "note," I'm also interested in education and skill-learning in other genres. I myself enjoy learning about new things. Recently, my internet SEO has been acting up, and instead of diving deep into the rabbit hole and getting hit with strange and geeky things, I seem to get affiliate articles about extremely superficial things at the top of my search. This is keeping me from my learning, so I would like to build a system and/or community where you can learn at a much higher level and quality.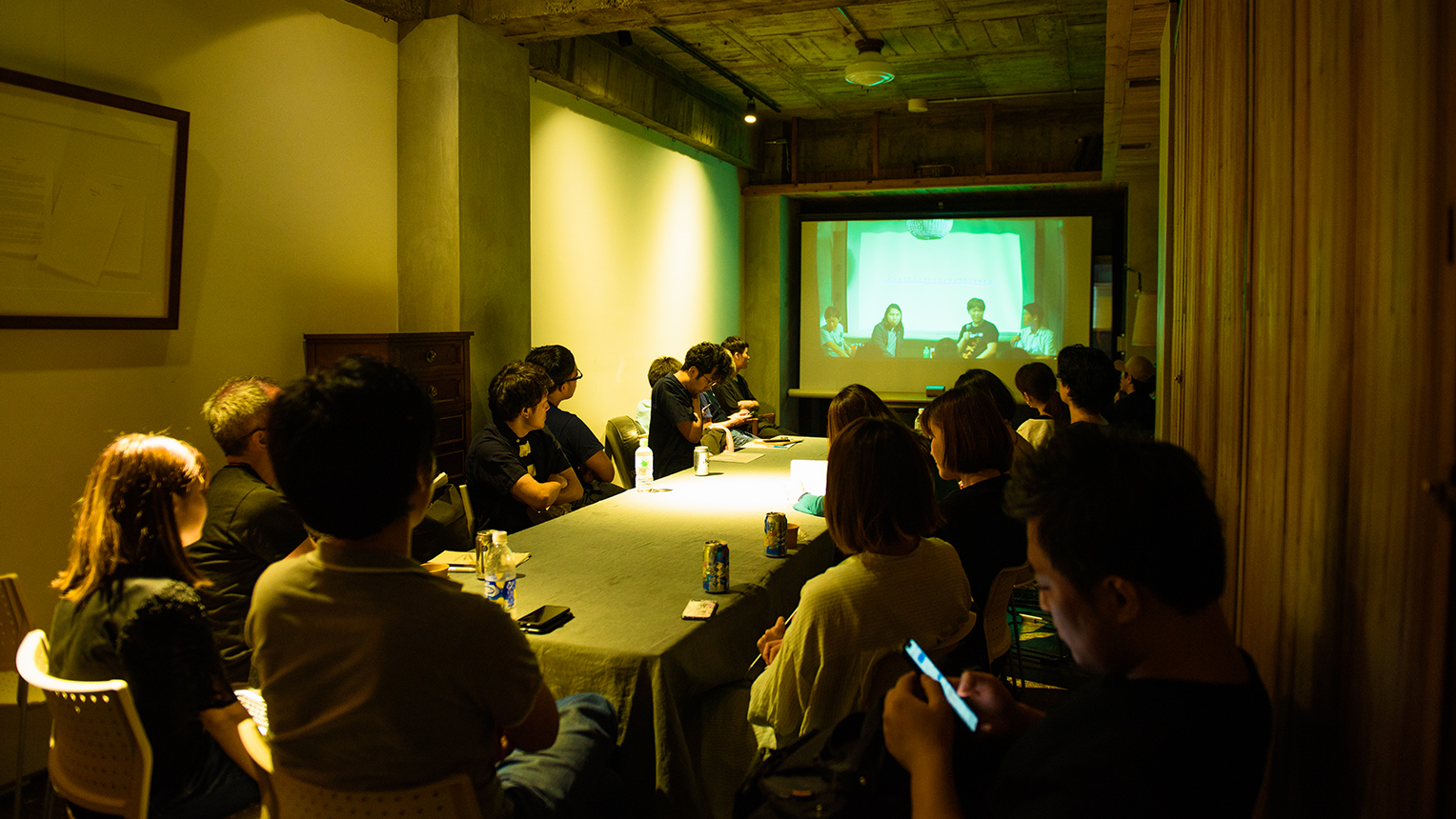 During the day of the event, many seats were added on the other floors aside from the talk-show seats, with many viewers being able to enjoy the talk session in real time.
Linking the Town towards the Future with the Power of Creativity
- The nihonbashi β project continues to be active in linking young creators with Nihonbashi, so are you interested in redesigning the town?
Fukatsu: Before I studied abroad at London, I was a researcher at a laboratory for urban information design at a university in Japan. While there, I was researching how people's life style and behaviors change with IT devices, so I am extremely interested in towns. In addition, we at "note" are really trying to create a Japanese version of TED, and want to own many large venues. So if we can find a place for that in Nihonbashi, which would make us very happy. (laughs)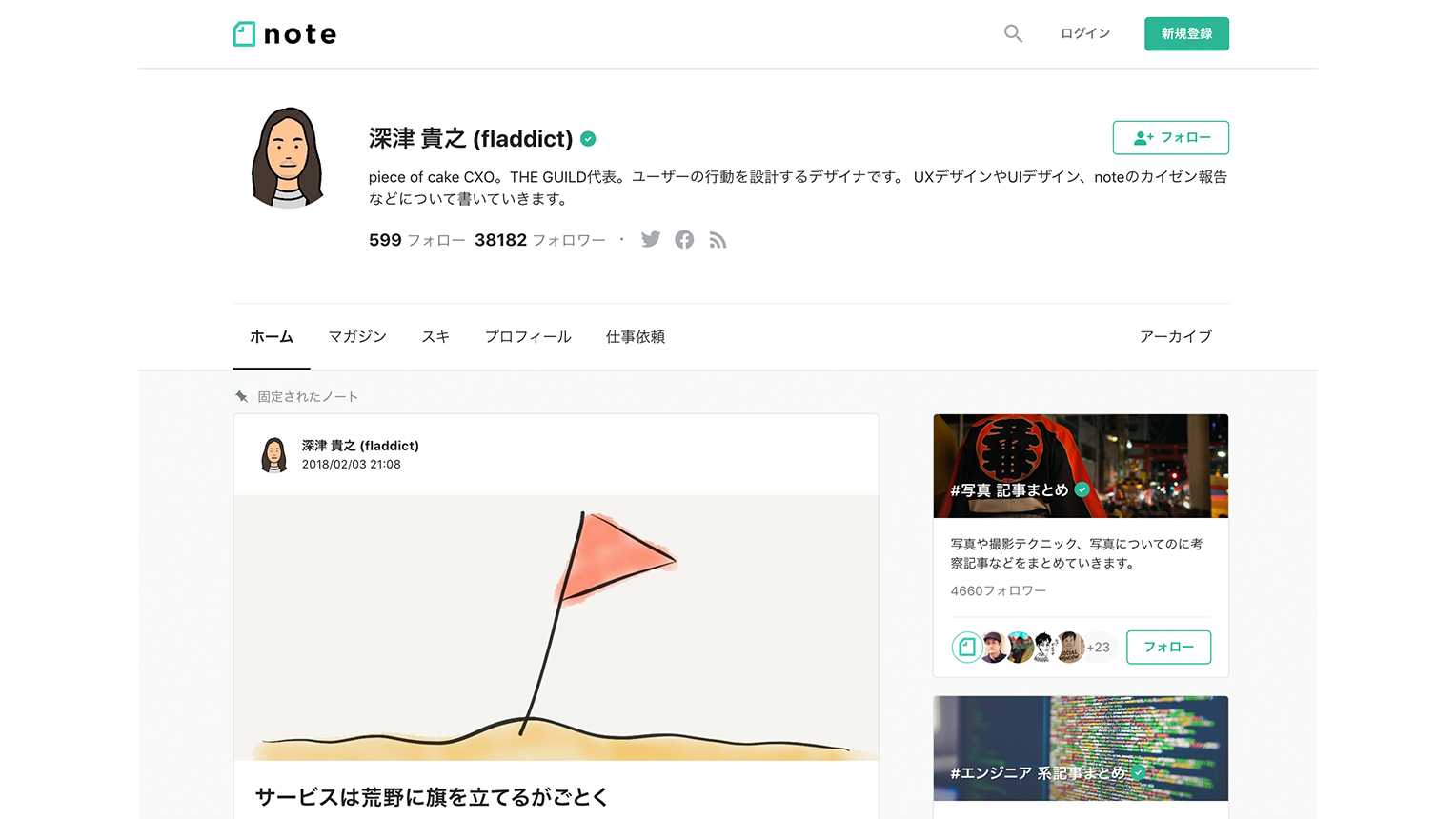 Mr. Fukatsu, the CXO of piece of cake, also supervised the technical aspects of the media platform called "note." In addition to improving the service, he personally contributes to posting various ideas on "note."
Nakamura: In line with the conversation about Nihonbashi, there are many stores here that have over 100 years of history. That is not possible with just one generation. In other words, they are like the great classic literatures that still remain today over generations. It would be great if those aspects could find a way to meet the newest creative technologies. For example, GROOVE X, who is developing robots in Nihonbashi-Ningyocho, really want to turn Ningyocho into a town known for robots. If they can find a way to combine the history of Nihonbashi with the latest technologies, I think that a interesting situation where a new type of culture could be possible.
Boku: In the creative industry, even the most cutting-edge and coolest forms of expression could gone in a split second. I think it would be important to have a perspective on what to leave behind for the future when you are working with people who are active in such a field and trying to understand how to communicate in this town. In that sense, there are so many mediums in Nihonbashi that symbolizes this town like the noren (shop curtains) and lanterns. I believe that by trying to understand how these mediums could be more highlighted and pronounced, it would lead to more creative opportunities.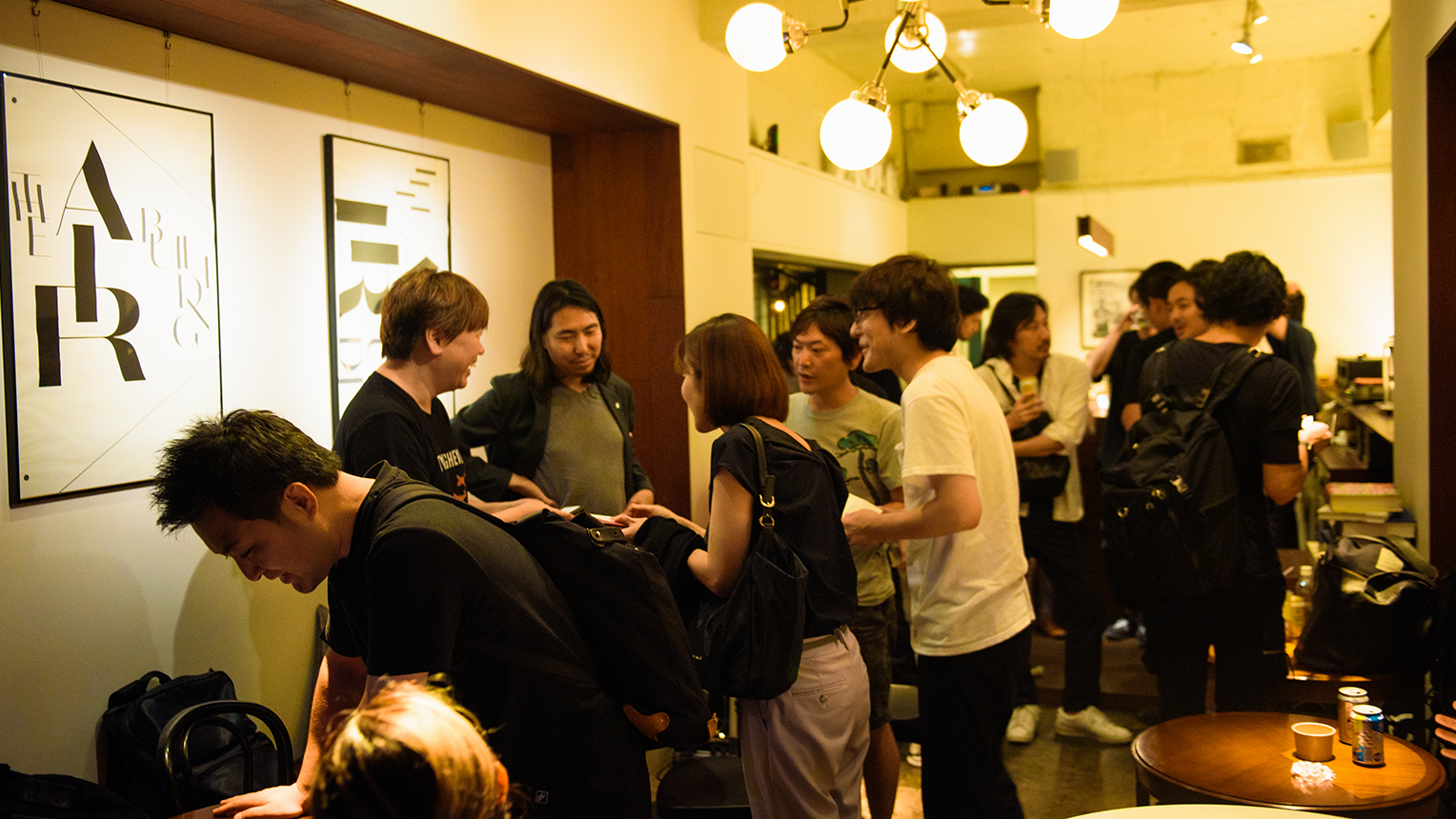 After the event, a get-together was held with the panelists.
Interview and Article: Yuki Harada (Qonversations) / Photos: Daisuke Okamura