2020.02.12
Pairing Handkerchiefs with Stories. Spreading Japanese Craftsmanship from Ningyocho in Nihonbashi.
Pairing Handkerchiefs with Stories. Spreading Japanese Craftsmanship from Ningyocho in Nihonbashi.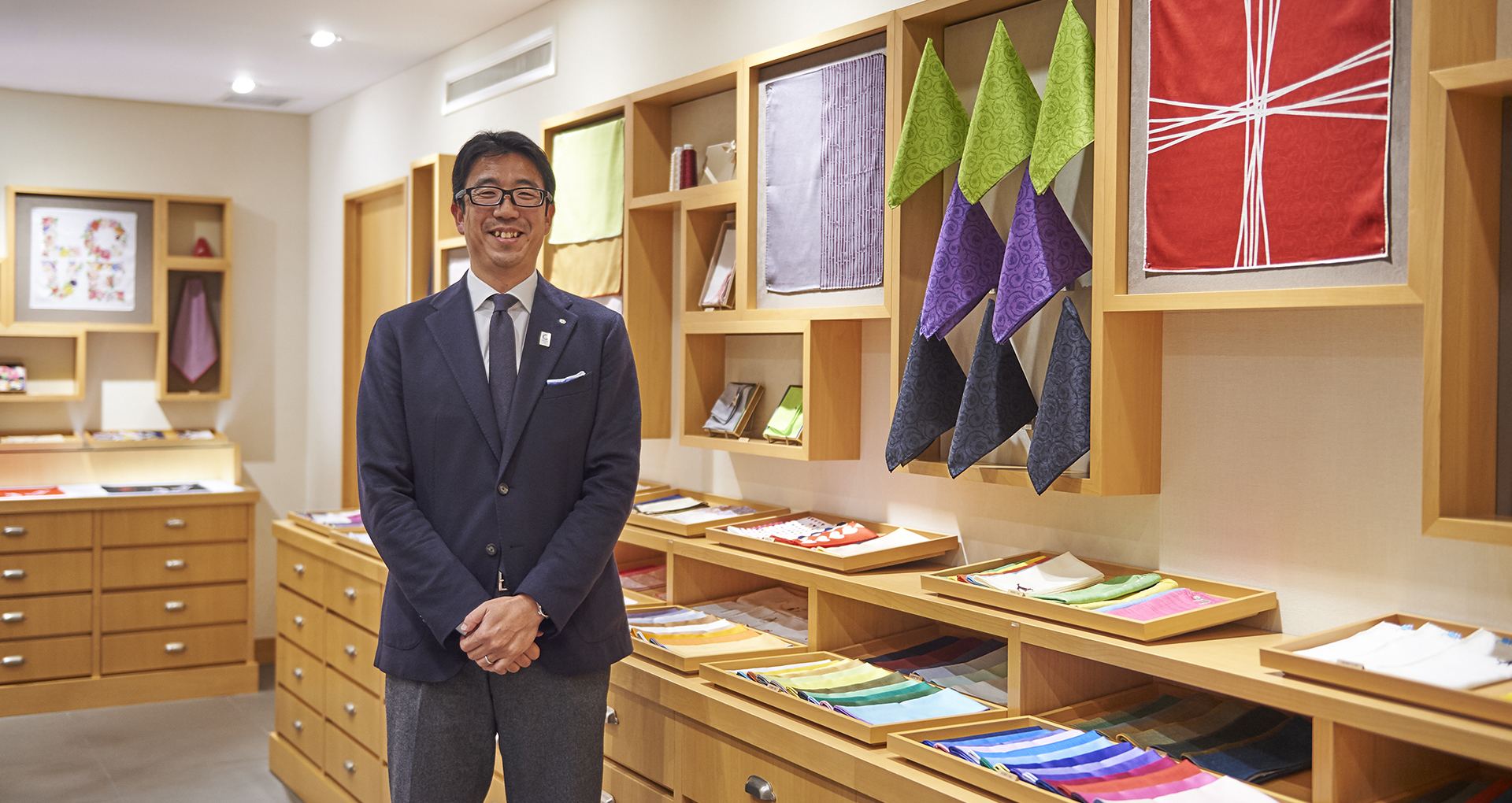 The Nihonbashi area is home to many charming, long-standing businesses that value new challenges as they are handed down over the generations. "CLASSICS the Small Luxury" is one brand born from such a venerable business, as a specialty shop handling "the first and only ones of their kind" handkerchiefs. Why would "Blooming Nakanishi," a company founded in 1879 in Ningyocho, Nihonbashi for imported sundries, choose to open a handkerchief specialty store? What was the significance of continuing "artisanal craftsmanship" in Nihonbashi? We asked their President, Mr. Hajime Nakanishi, the fifth-generation of his family to hold the position.
Craftsmanship with a Story, as Only a House Brand Can Provide.
-"Blooming Nakanishi" was founded in Ningyocho, Nihonbashi, wasn't it?
Yes, our first president, Mr. Gihei Nakanishi founded it as an American and European sundry import business in 1879, under the name "Nakanishi Gihei Shoten," in Fukiyacho, Nihonbashi (modern-day Ningyocho). They apparently sold imported dry goods, initially. Afterwards, they began to develop products with internal color and pattern designs in order to expand their portfolio of items sold. Then they began to sell those to department stores, wholesale.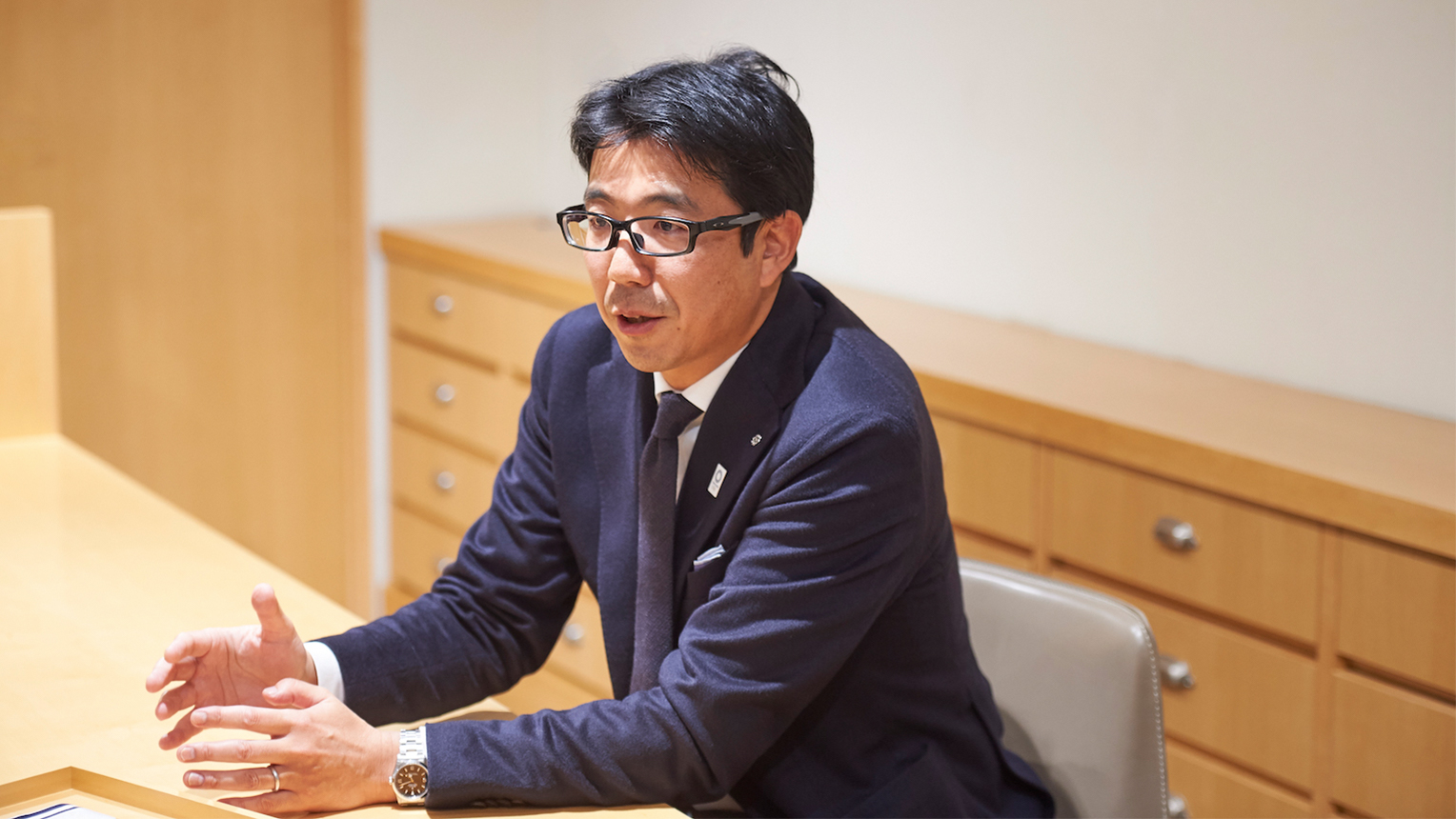 Fifth president of "Blooming Nakanishi", Mr. Hajime Nakanishi
-Were you involved in the retail business in the past as well, then?
We actually once had our own direct sales outlet called the "Blooming Shop," where we sold the items we would otherwise wholesale. But we closed it, since it never really got on-track. Since then, we've focused on wholesale. However, I was approached about opening a handkerchief specialty store when Roppongi Hills was opening, and we took on the challenge of a company store once again.
-What thoughts formed the background to your decision to take on this challenge again, with a company outlet?
At the time, our main business at Blooming Nakanishi was licensed products, making western sundries – with handkerchiefs foremost – via rights licensed from other companies, and that was also contributing to sales. But our head of products at the time – my uncle – was frustrated with making only products tailored to retailer preferences. Because even though we had the setup for artisanal craftsmanship, we were limited in expressing ourselves through materials and methods, given client budgets and requirements. Roppongi Hills approached us as we were facing that conflict, and my uncle took that as our change for "personal craftsmanship." That's why we opened "CLASSICS the Small Luxury" in Roppongi Hills in 2003.
-Was there anything that didn't respond to conventional wisdom in the challenge of shifting to an in-house brand from licensed business?
Indeed there were. There are major differences in the process and story of how products get into customer hands, between the two. The ultimate mission with an in-house brand is giving form to your own thinking, through craftsmanship, service, and even store creation. Meanwhile, addressing client requirements is vital in licensed business. Inversely, fewer parts are responsible for sales success. But that's not true of an in-house brand. Everything relating to whether customers purchase or not is dependent on us. It's easy to blame others for failure to sell when there are clients and markets between you and the event, but you need to solve everything yourself for in-house brands. When we first opened the store, there was a major gap between creators and sellers, but I feel we've made forward-thinking adjustments to employee mentalities.
Through my uncle's pioneering of in-house brand business, all of us at Blooming Nakanishi has discovered this new identity, but I don't think my uncle was the only one who pushed this across the finish line. The in-house brand business did not produce profits initially, and many were worried about it. But even so, I think my father had a major influence as the prior generation's president, as he looked on silently and supported us. So I want to consider things from a perspective of how to take the next step with this brand they were so passionate about, and how to evolve it without constraints from the past. As we do that, I also want us to take on even further challenges in the future.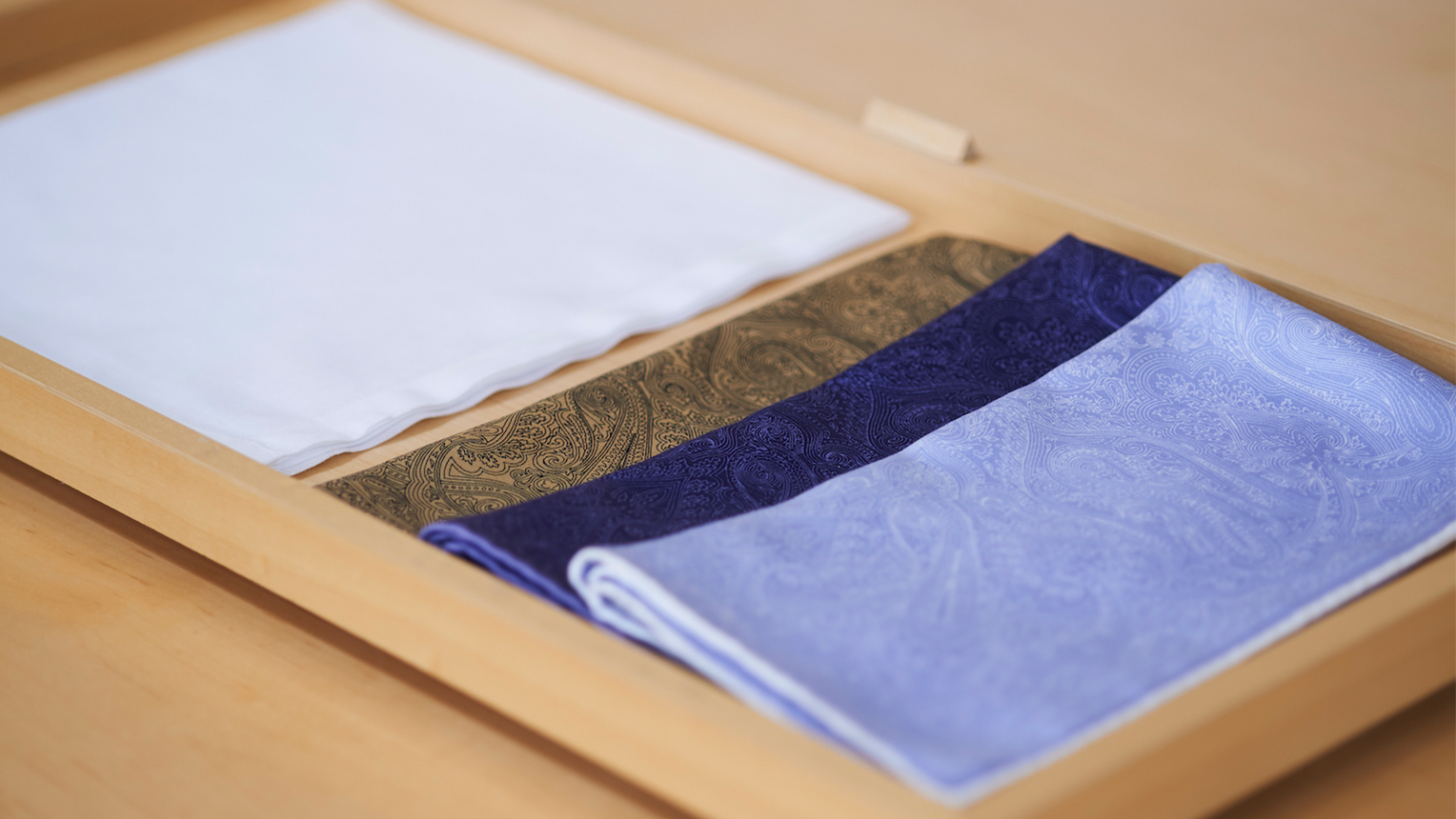 Two types of handkerchiefs that President Nakanishi values the story behind. The paisley patterns were the last handkerchiefs planned before the passing of his predecessor as president. The left, pure-white hemp handkerchiefs remind President Nakanishi of when he was new at the job, and visited hemp-producing regions in Belgium with his uncle
-So you began this brand after forming strong views on craftsmanship. What made you settle on the brand name, "CLASSICS the Small Luxury"?
The name "CLASSICS the Small Luxury" holds the concept of "small luxuries." It's about a concept of a small, luxurious experience filled with select materials, that fits in the palm of your hand.
The two points I value with our in-house brand are that it "uses materials we can fully explain to the customer," and that it "uses production methods in its craftsmanship that we can explain to the customer." Our products convey the feeling that went into them for our customers, and the customers understand that. I want to treasure the "story connection" that arises when someone gives one of our handkerchiefs as a gift, and the recipient takes it in their hand. That's why we were aware the store had to be a place for dialog with customers, and why we didn't spare any effort in creating a space that conveys the appeal of the fabric alongside natural warmth, using the comforting warmth of wood surfaces.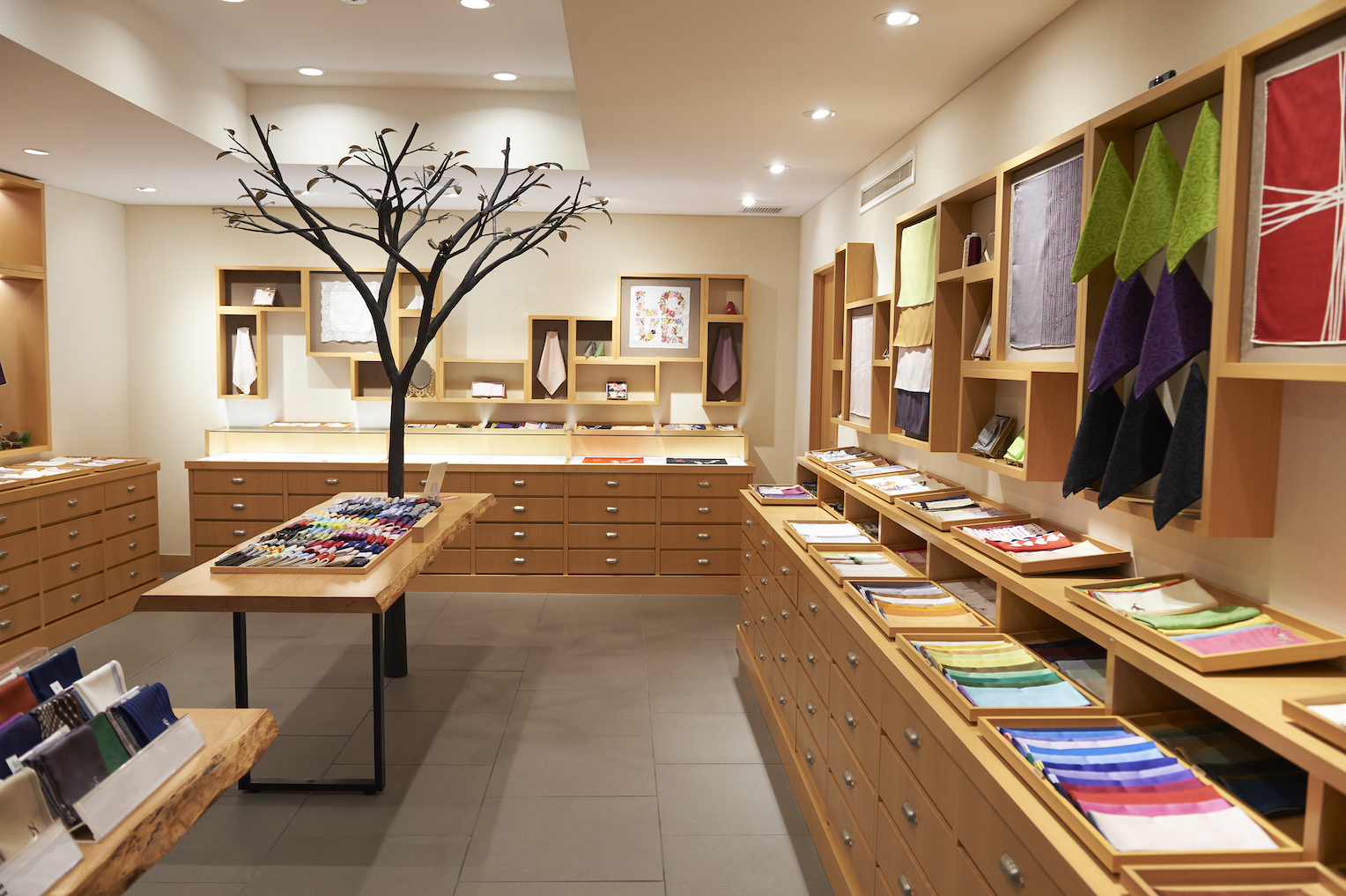 The warm, wood-grain store interior, with neatly-arranged rows of colorful handkerchiefs
The Resolve to do Business in Nihonbashi, and its Advantages
-"CLASSICS the Small Luxury" has expanded to multiple stores since Roppongi Hills. What formed the backdrop to that move?
When we first built a store, we were only planning on Roppongi Hills as a flagship. However, I felt strongly that we should make a real business of it if we were going to do it, and discussed launching an online shop and multiple stores with my uncle. My uncle opposed the online shop initially out of a desire to emphasize face-to-face sales and dialog with customers, but after considering the era and the change in customer thinking, he came around to my view. And we opened our second store in Fukuoka in Kyushu during 2014 due to its deep connections to the company, as the birthplace of our third president. After that, we opened our third store in Ningyocho in Nihonbashi, during 2016, as the site where Blooming Nakanishi was founded.
-Was there a distinct significance from the previous two stores, in opening the third house brand store where the company was founded?
Since I was born and raised in this area, just as the company itself was founded here in Ningyocho, Nihonbashi, I didn't really think of it as "where the headquarters is located." But even before starting to plan a store for Ningyocho, I got a chance to meet people operating businesses in the Nihonbashi neighborhood around 2009 or so. That opportunity and the people I met had a major impact on my thinking. People born and raised in Nihonbashi, who inherited businesses there, and were raising their children in the same place… Hearing them speak, I formed a completely different resolve about doing business in Nihonbashi. I realized it was vital to be determined to see the city head-on if I wanted to do business generation after generation, with roots in the area. At the same time, I also noticed that there was a distinct advantage in spreading ideas internationally when doing business in "Nihonbashi," an area that also bears the name of the country itself (referring to "Nihon," the Japanese name for Japan).
At the time, we were looking for keywords to form a code of conduct for dealing with the world overseas, under a corporate philosophy of "providing luxury and grace for people around the world, through craftsmanship." And that realization gave us a major hint for them. Having gained a sense for our resolve and advantages in connecting with the city of Nihonbashi, we decided to use the phrase "."
However, neither I nor the employees had a clear sense of what to communicate from here, as we only had headquarters functions at this site. Initially, we weren't thinking of having a Ningyocho store, but then we started to think that having "CLASSICS the Small Luxury" here might give everyone an image of the house brand's products shining on the world stage. Or that it might make the phrase "from Ningyocho, Nihonbashi to the world" more real. So we decided to open a store here.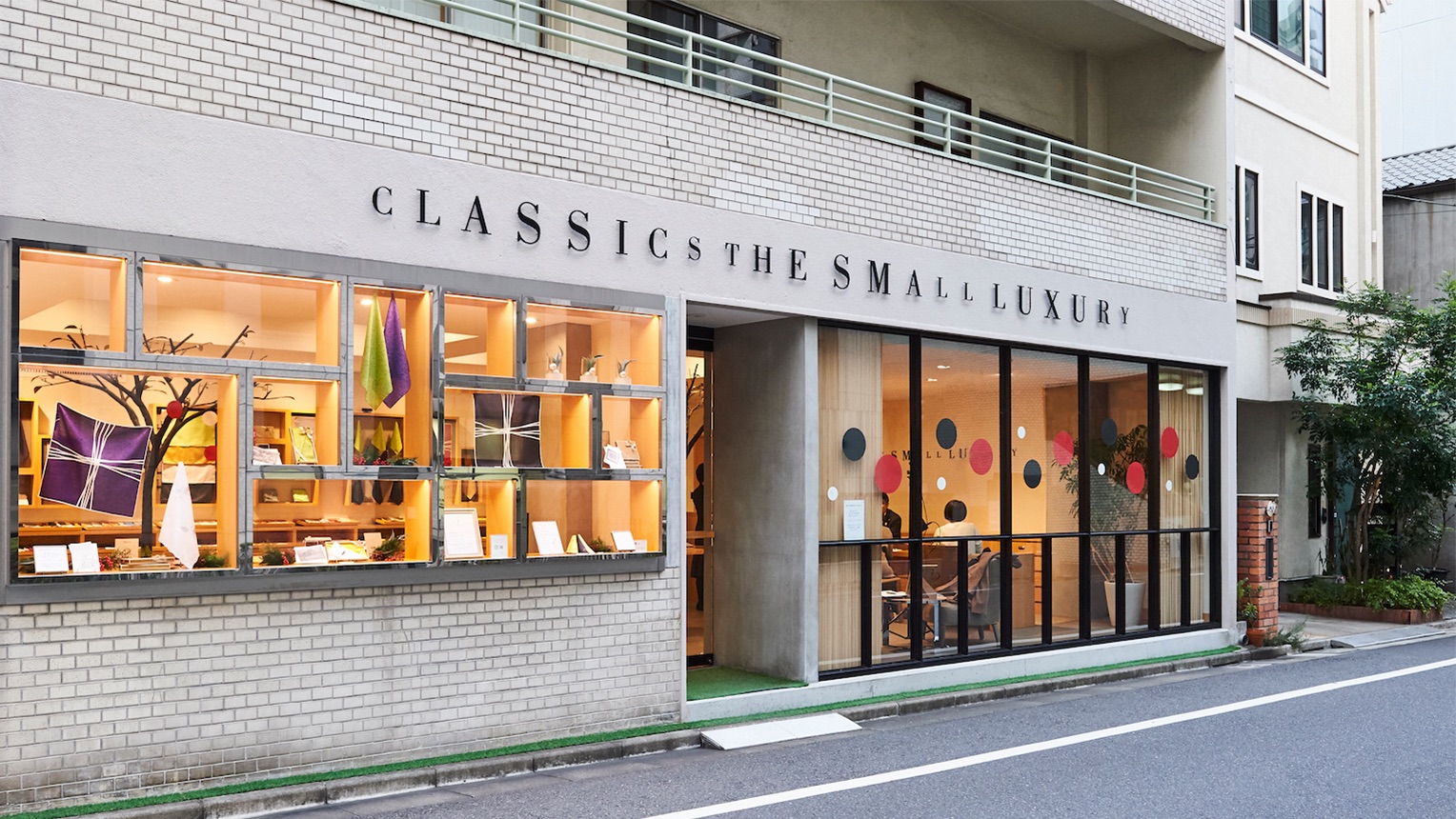 The "CLASSICS the Small Luxury" Ningyocho, Nihonbashi store, located about a 3-minute walk from Ningyocho Station
-That's a very appealing backstory for opening a store. Has anything changed for you personally since opening the store here?
I've grown more eager to pursue "Japanese-ness." After joining the company, I visited a variety of countries with my uncle, and interacted with a variety of stories in those countries, in order to learn about craftsmanship. However, after returning to Japan, I couldn't sense a uniquely Japanese story around me in Aoyama and Roppongi, where I'm normally active. There was a lot of imitation of western culture, instead. I couldn't even sense purely good things, even if they weren't Japanese. But on hearing from people who grew up around Nihonbashi and base their lives here, and on getting to know them, I've come to see a unique Japanese-ness in the area. I didn't grow up in that culture myself, but it made me want to study what Japanese-ness is, and what forms our personal identities.
Also, while a wide range of products are made overseas currently, it turns out that 60-70% of the materials in handkerchiefs are made in Japan. Japan still holds a particular edge in the fields of weaving and dying. In that sense as well, we want to convey the good parts of Japan through the "CLASSICS the Small Luxury" handkerchiefs.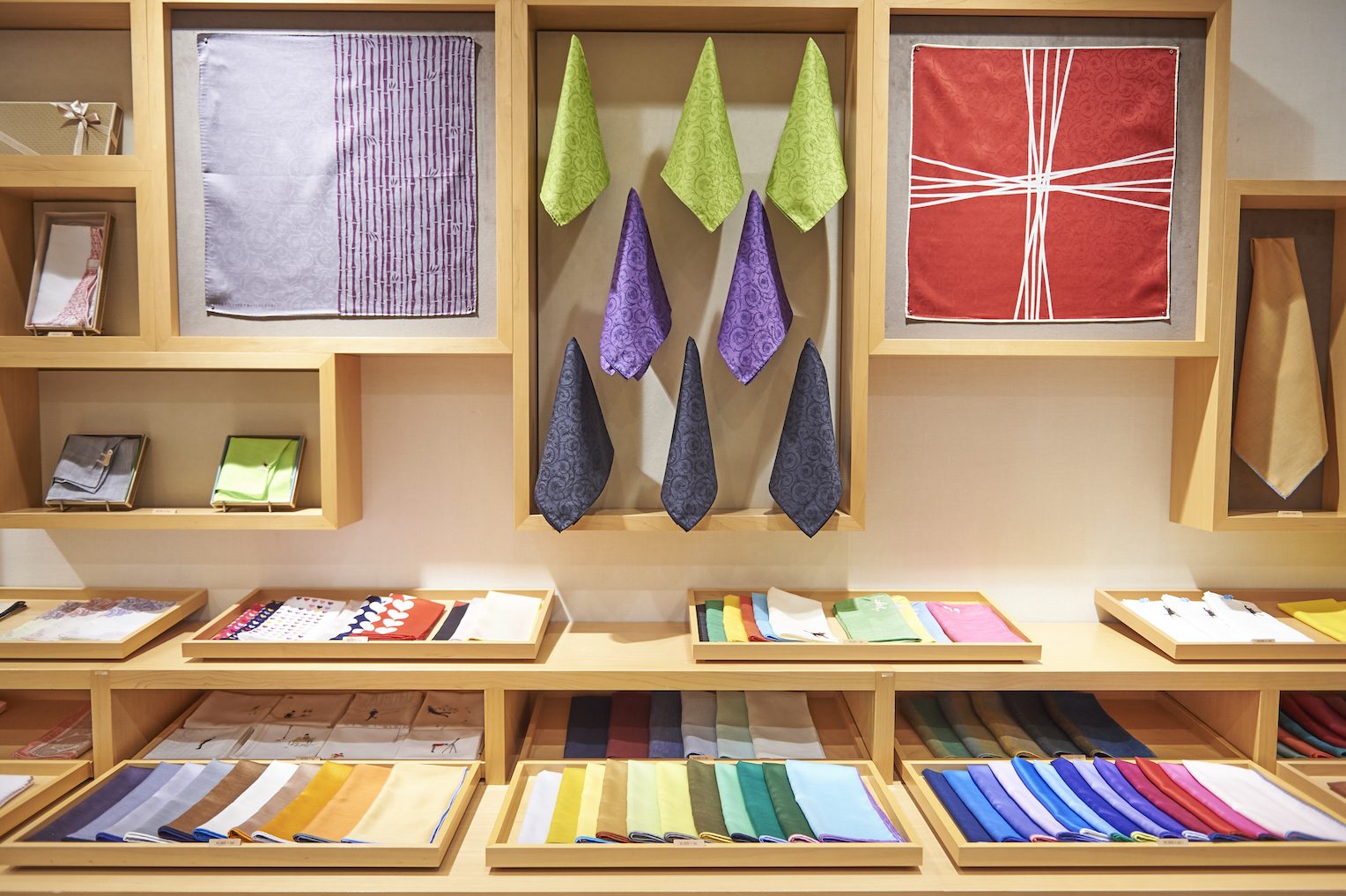 The new "Ho-oh" (Chinese phoenix) Japanese pattern launched at the end of 2019 (center), and the red "Mizuhiki" (a traditional cord art) on the right. Both were inspired by traditional Japanese colorations
Pursuing Truly Japanese Expression and Broadcasting Japanese Manufacturing
-Please tell us about future business developments for "CLASSICS the Small Luxury," and what you want to focus on.
I just touched on this earlier, but I want to face "Japanese-ness" more directly, precisely because we do business in Ningyocho, in Nihonbashi. There is no point in trying to share something with the world if you are just imitating western culture. For example, the media is highlighting environmental issues lately, but since the Edo era (1603-1868) kimonos were originally used over multiple generations until they were eventually reduced to rags. We experienced ecological thinking on a physical level. But with steady westernization, we're losing the sense for these things that we once had. So I feel we need to think on unique, Japan-specific values we once held, and reshape them for the modern era after re-examination.
More specifically, I want to put out products that bring Japanese culture like noh and kabuki theater into a more familiar sphere. I realized that the kimonos kabuki actors wear use colors that we don't have among our products, when I saw a show in the past, and that felt incredibly refreshing for me. The colors used in kabuki have been the same since the Edo era, but have faded away with that era, and don't exist in the pantone spectrum we use for handkerchiefs in the modern era. I want to learn more about that sort of thing that used to be important in Japanese, and express the ideas using handkerchiefs as a canvas.
-It seems like it would be intriguing for you to work on something together with the "city" of Ningyocho, in Nihonbashi.
I'm very interested in a collaboration with cities as such, and we actually are already working on something. For example, we have a store in Kobe, and people in Kobe are very passionate about their city. We wanted to make something that they would enjoy, and hit on the idea of working with the city of Kobe. That's when we were introduced to "Gashouen," a group and theater working to popularize noh theater in Shukugawa, Kobe. We hoped to share new forms of expression for Japanese-ness in partnership with them, and worked on handkerchiefs in collaboration, using patterns used on actual noh stages.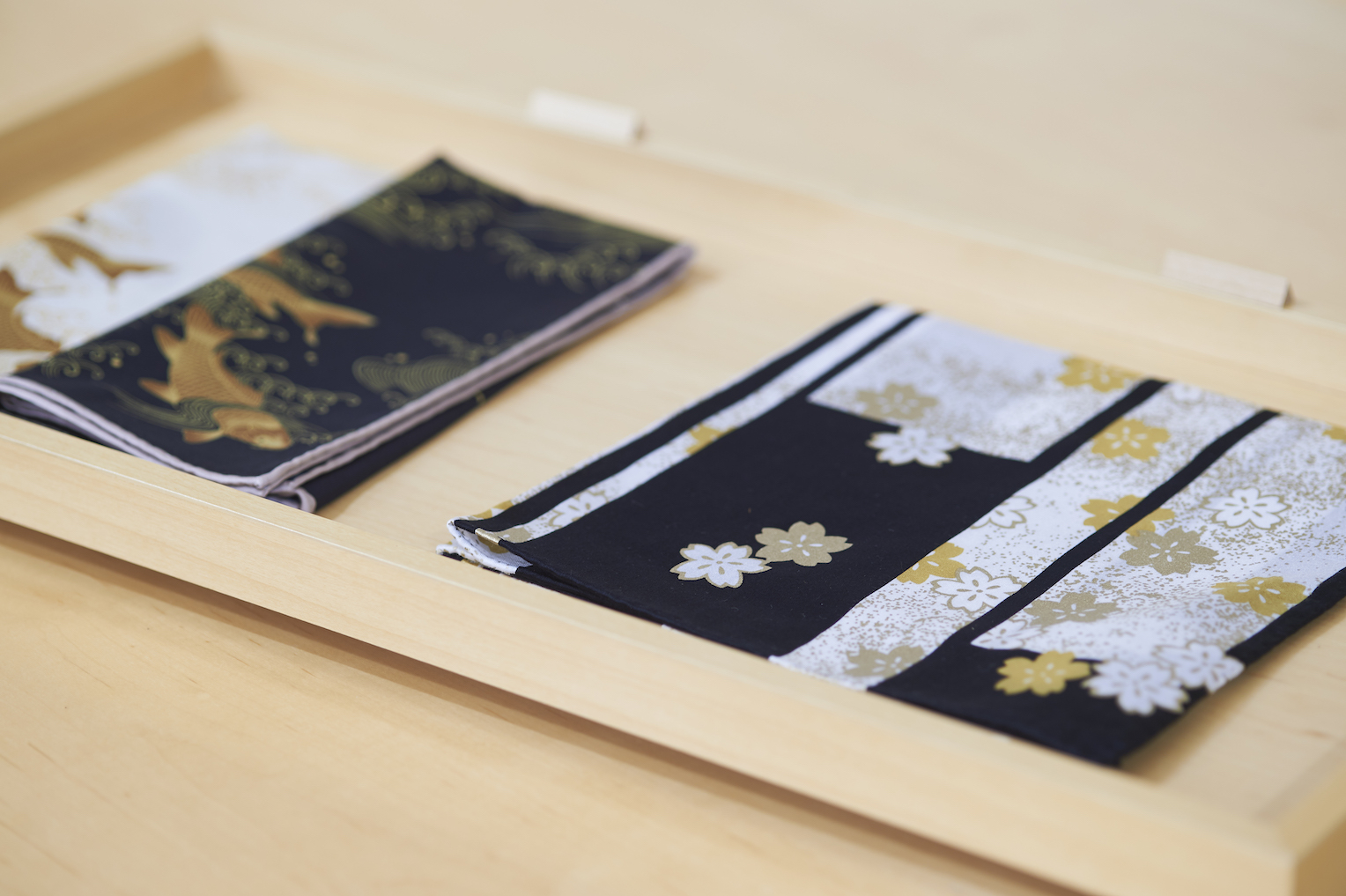 The precious attire worn at Gashouen is hand-printed expressively by first-class artisans. It gave rise to handkerchiefs that blend tradition and history
In that fashion, I want to express the beauty and appeal of Japan more truly, and increase understanding of true Japanese-ness and ancient Japanese values among foreign customers, all by taking on the challenge of craftsmanship that seeks to be true to the Japanese identity.
-It seems like you're set to gain an even more intimate understanding of the phrase "from Ningyocho, Nihonbashi to the world" through handkerchiefs.
I think we must face challenges specific to our eras in order to continue business over the long term in Nihonbashi as a city, and to lay roots in that city. Building something new while making the most of the good, old things. Nihonbashi embodies that approach, and we also want to continue taking on new challenges.
Interview and Text : Kei Furuta (Konel) Photography : Kyoichi Sakamoto (LUSH LIFE)
CLASSICS the Small Luxury
The name CLASSICS the Small Luxury draws on the concepts of proper, refined, and polite, as well as that of a small luxury that fits in the palm of your hand. Since 1879, Blooming Nakanishi has been connected to the creation of handkerchiefs, and now provides carefully-selected quality materials, top-class artisanal techniques, personal orders filled with love for customers, and advanced designs and artwork as a specialty store.