2019.05.17
More open, more flexible - working on creating together. The challenge of "Ninben" on their 320th anniversary.
More open, more flexible - working on creating together. The challenge of "Ninben" on their 320th anniversary.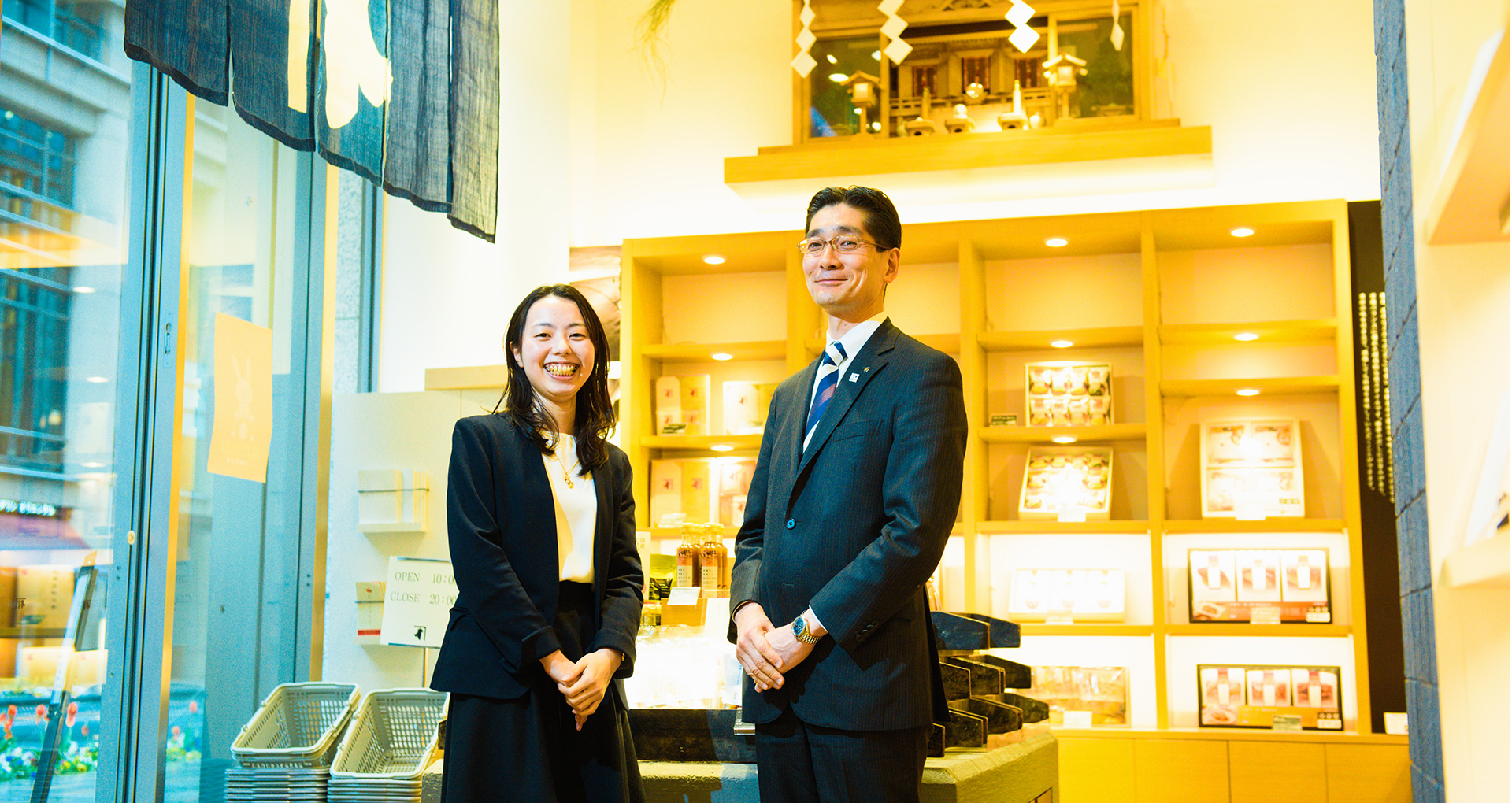 2019 marks the 320th anniversary of the founding of "NINBEN Co.,Ltd." While bringing pride with "Authentic Flavors" utilizing their strong brand of introducing bonito flakes over time, the company has continued to work on various new challenges including collaboration with other companies and fans in order to train their next-generation of employees. Today we interviewed president Mr. Katsuyuki Takatsu, the producer of many new enterprises such as the "NIHONBASHI DASHI BAR," where customers can casually enjoy "Authentic Flavors (of broth)," and Ms. Asuka Tsuda from the General Affairs department who has been actively participating in study meetings and acquiring certificates in trying to find clues to solve the issues that the company is facing.
A town full of "Sophisticated Grown-ups." The DNA of Nihonbashi, which is passed over throughout and beyond stores and businesses.
―First of all, would you tell us about Ninben's history and business.
President Mr. Katsuyuki Takatsu (hereinafter, "Takatsu") : We are a food manufacturer that produces and sells bonito flakes and processed food. Our origin goes back to a wholesale store that specialized in bonito flakes during the Edo era. Since our establishment in 1699, we kept our store location in Nihonbashi. Another feature of the company is that we operate in both manufacturing and retail. Currently a large majority of our business is in wholesale for supermarkets and food stores. Next would be the sales at department stores and food stores. We also operate the "NIHONBASHI DASHI BAR HANARE," a restaurant where customer can enjoy dishes using bonito flakes.
―So you have been engaged in both BtoB and BtoC marketing. The company is famous for having "Cash-Only, No-Credit" policy when it was founded, and Ninben always seems to be a well-established store with much attention on the consumers.
Takatsu : Since the very beginning, we have always valued our corporate philosophy, which is to "Provide Products with Appropriate Pricing." However, we do not refer to ourselves as "long-established." This is something Mr. Yasubei Hosoda (currently the adviser of Eitaro Sohonpo Co., Ltd.) of Eitaro Sohonpo (a Japanese confectionary store in Nihonbashi since the Edo era) has told me, he believed that a company could never truly be a "well-established store" until it is accepted by the customers. He also added that the history will be made as a result of adapting to the changing times and continuing the work to be accepted by the customers.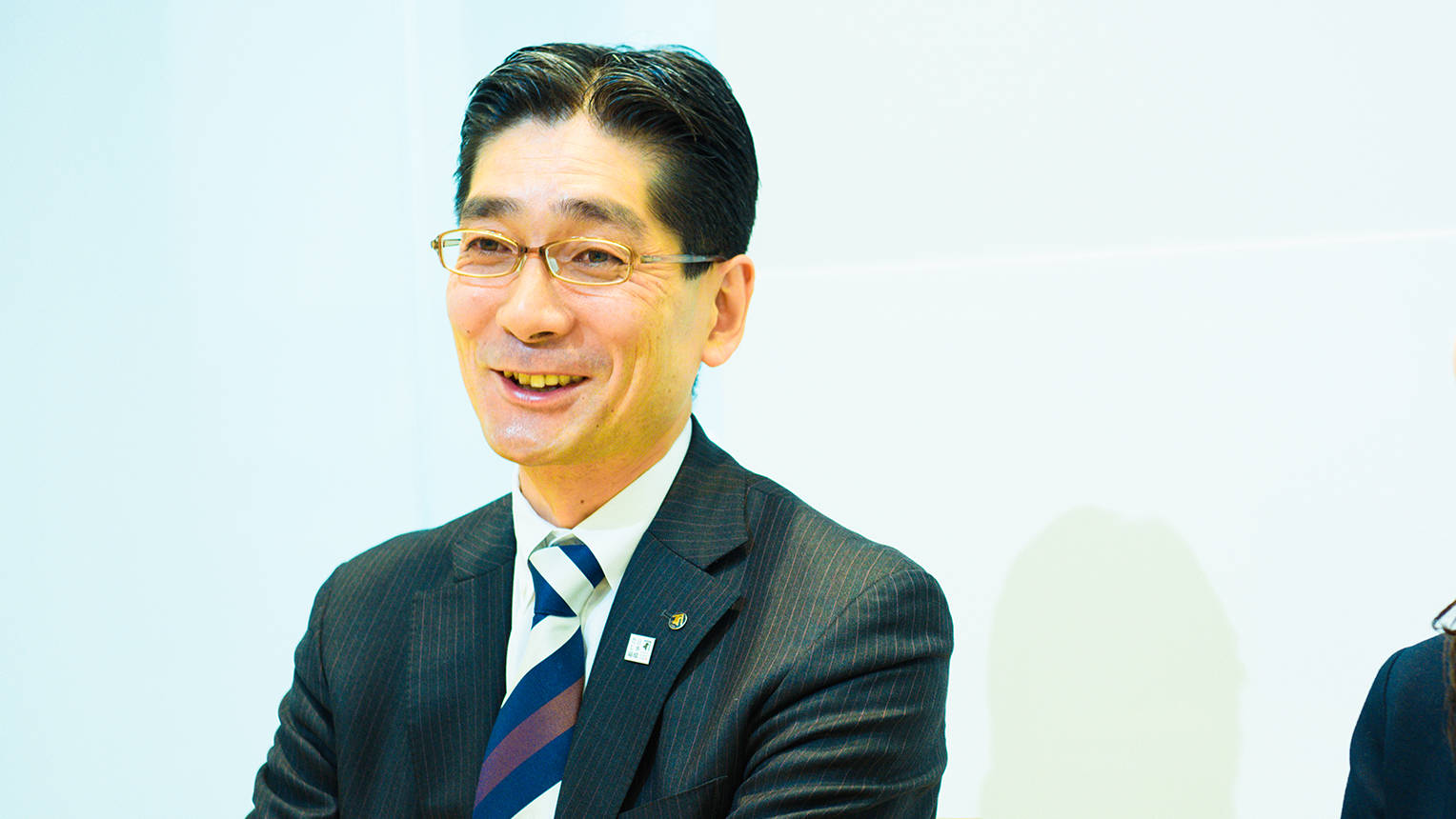 President Mr. Takatsu, the 13th head of the company since its foundation during the Edo era.
―So there are connections between stores in Nihonbashi.
Takatsu : Yep, many old men take care of me pretty well (laughs). Mr. Yasubei Hosoda especially has taught me a great deal. One time I asked him why he took the time to support me, and he said "You're grandfather looked after me. I'm just returning the favor." Although they may not be your actual family members, but in Nihonbashi, there are many people out here that are supportive and have souls like our fathers and grandfathers.
―It's true that I have never heard of stores and businesses collaborating and learning from one another in other places.
Takatsu : Mr. Yasubei Hosada is almost 40 years older than me, but maybe this age difference is a good thing. Since there are numerous stores in Nihonbashi that have long history, each store has owners with a wide range of age. And the elders support and teach the younger generation about the town and the business. If all the owners were of the same generation, there may be the risk of the entire DNA of Nihonbashi suddenly disappearing, but that never happened. This could be the reason why this town has always prospered as a town of commerce.
Project to incorporate "external ideas" into the NIHONBASHI DASHI BAR and the Dashi-Ambassadors.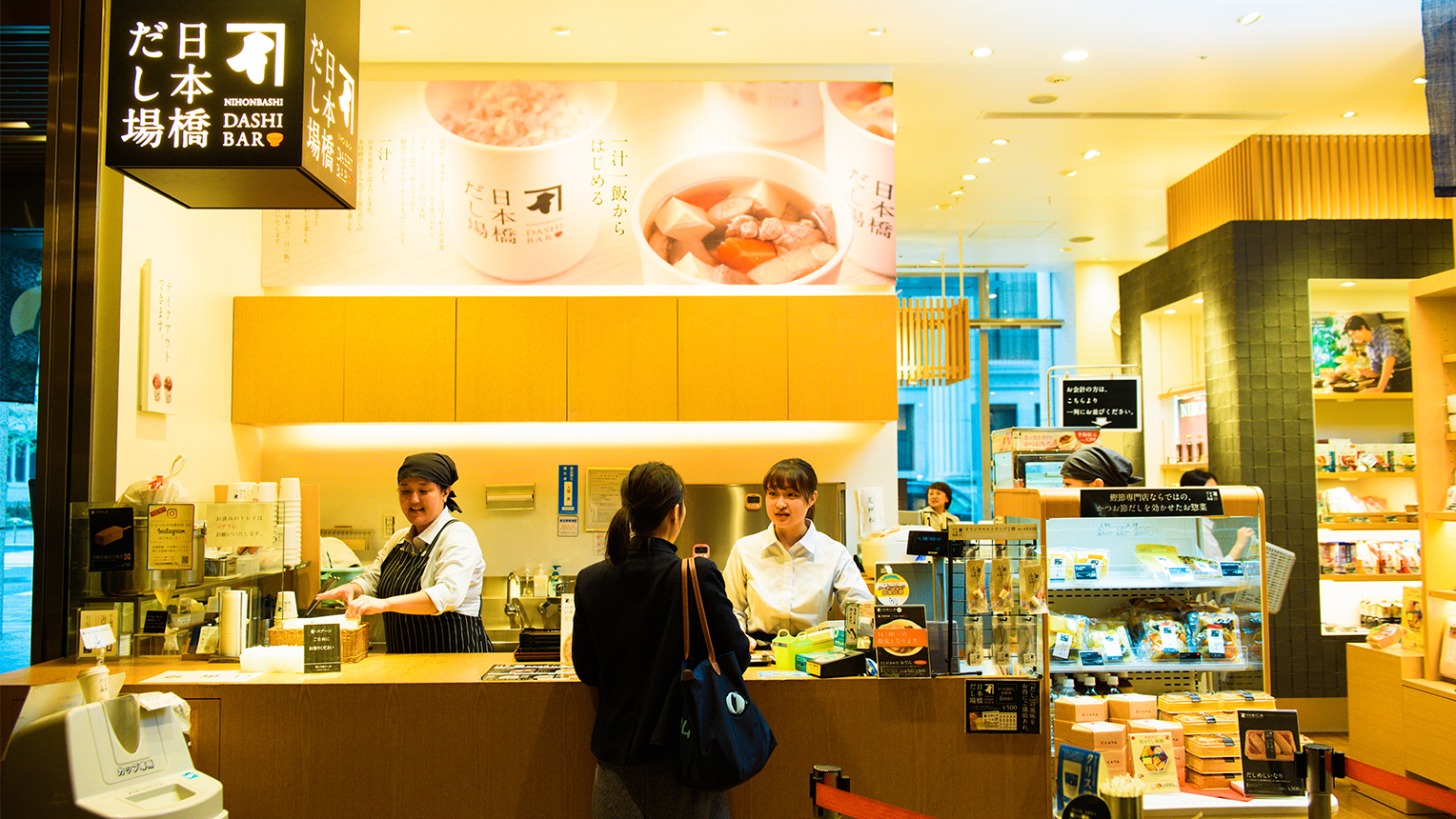 The "NIHONBASHI DASHI BAR," located near the 1F entrance of the "COREDO Muromachi 1." By March 2018, the restaurant hit a milestone of 900,000 total servings of "Bonito Flake Dashi."
―President Mr. Takatsu, after relocating the Nihonbashi Main Shop in 2010, you have launched the "NIHONBASHI DASHI BAR" just nearby. I would guess the project to produce a "casual standing bar to enjoy authentic dashi-broth" must have been challenging?
Takatsu : To be honest, it really wasn't. The current Nihonbashi Main Shop was a temporary location until we can move to a new building, which was under re-development stage of the Muromachi district of Nihonbashi. So we figured we might as well try and test different things. Back then when you thought of bonito flakes, they were mainly purchased as gifts to commemorate the year-end (Oseibo) and mid-year (Ochu-gen). So at our new location, instead of only tasting samples, we wanted a place for our staff to show customers on how to extract flavors from the flakes and utilize them. We just wanted a new approach.
In that, we had an offer from one of the developers in charge, "if it is possible to open a store for tasting freshly-made dashi broth," and that was how this NIHONBASHI DASHI BAR started. After accepting the offer and launching the store, we were overwhelmed with customers - much more than we ever expected. In addition, we made this into a hands-on type of store with dishes using authentic and freshly-shaved high-grade bonito flakes and products for sale. Afterwards, we just decided to keep the temporary location and continue as is.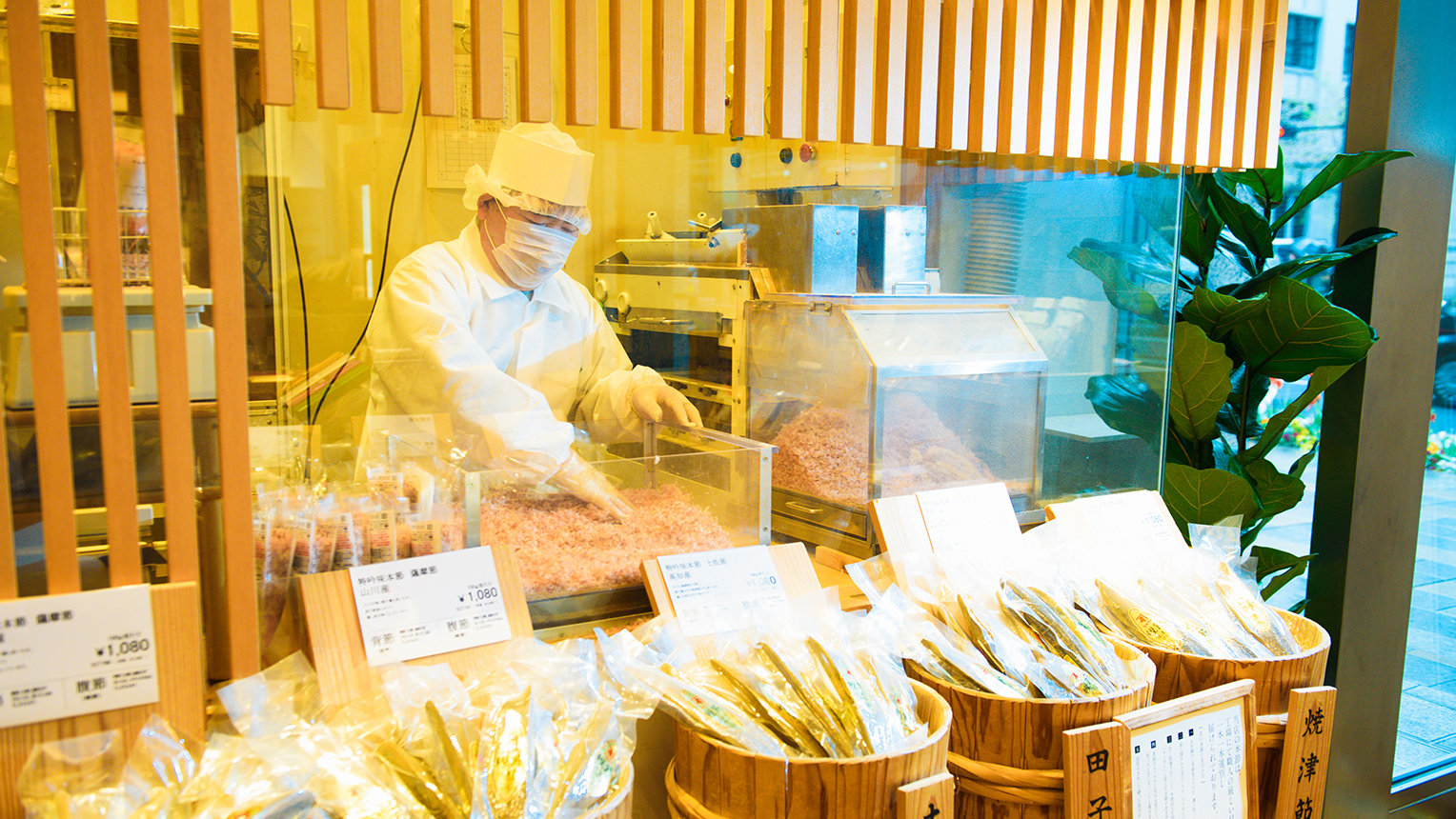 Live shaving performance of high grade-bonito flakes at the "Nihonbashi Shaving Counter" located inside the Nihonbashi Main Shop
―We saw many young customers, who all enjoy dashi like coffee, which is quite impressive. I'm also curious about the activities of the "Ninben Dashi Ambassador," and how they appeal to the customers regarding dashi.

Takatsu : This also began as a project after getting an offer from an outside company. It started in October 2014 to appeal more towards women on how to utilize/cook using dashi broth. We certified participants to our "Odashi Class" and workshops taught by professional chefs on how to cook using dashi as ambassadors, and regularly invite them to product development meetings and skill-up seminars. In addition, we have them PR our products not only through social media, but at their workplace, and also host events as well. We just want them to showcase dashi broth through their own preferred way and style. Currently there are about 200 active ambassadors.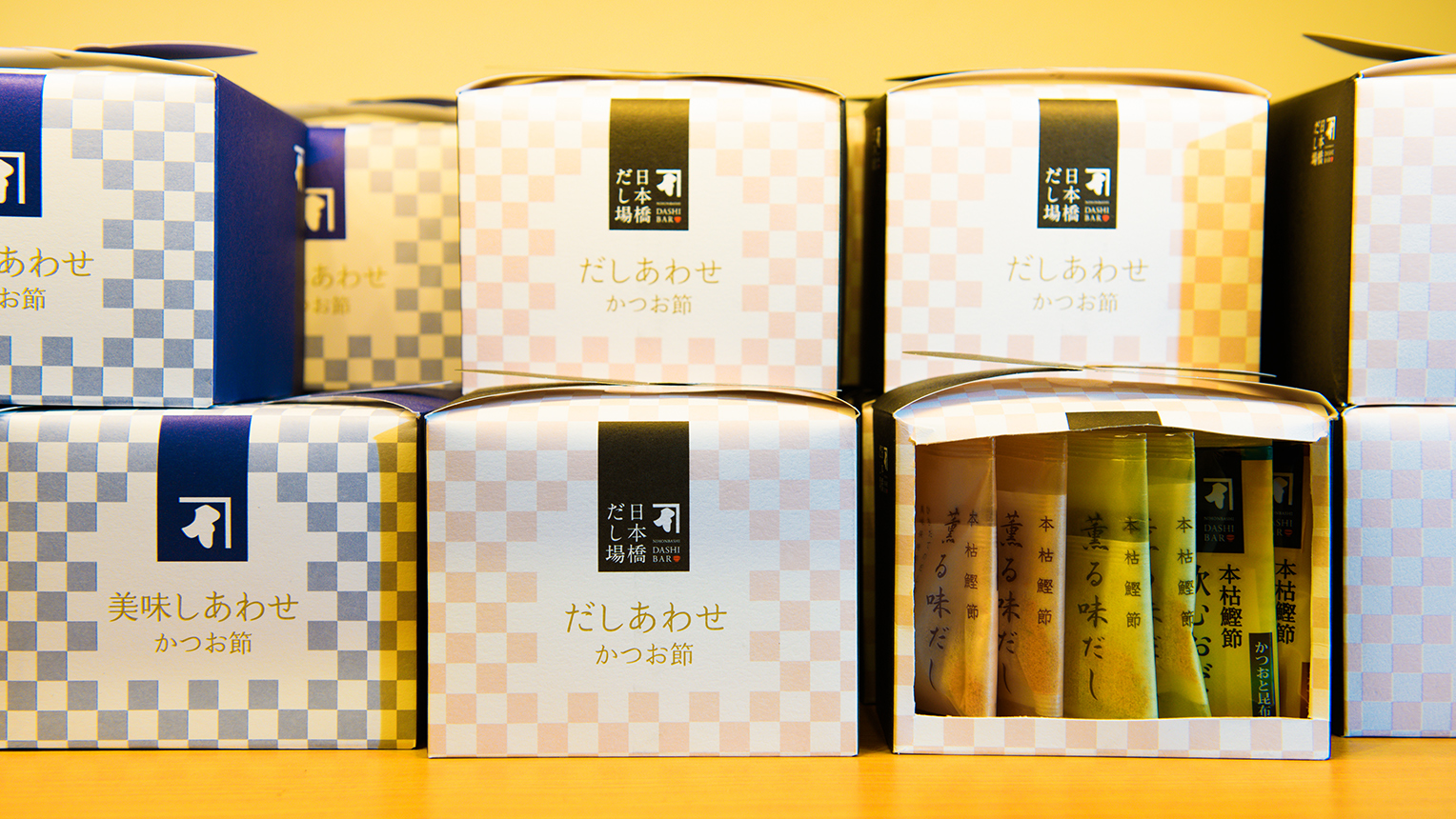 The "Oishi-Awase Bonito Flakes" and the "Dashi-Awase Bonito Flakes" developed with the class of 2nd year dashi ambassadors, were developed as gifts to commemorate small occasions or bridal shower
―200 people? That's about the same as Ninben's employees! And looking at the Instagram of the ambassadors, it looks like they are very active.
Takatsu : At first, we were worried that these activities might be too company-oriented. But after actually starting out, we have actually received more feedback from our ambassadors on how Ninben should PR our products. In addition, we hold hands-on seminars to promote bonito flakes at educational institutions. And we noticed through these activities that there are ambassadors who really wanted to widely promote bonito flakes themselves, and take more proactive approach in promotion. Nowadays, it is the ambassadors who taking charge and passionately promote the importance of dashi in terms of food education, and I feel that there are great interactions being created. This year marks the 6th year of this project, and our next challenge is how we can substantiate the strength of the company that have been re-evaluated by the ambassadors.
―In order to resolve internal issues of the company, there is a need to replace the old with the new, and an outside perspective.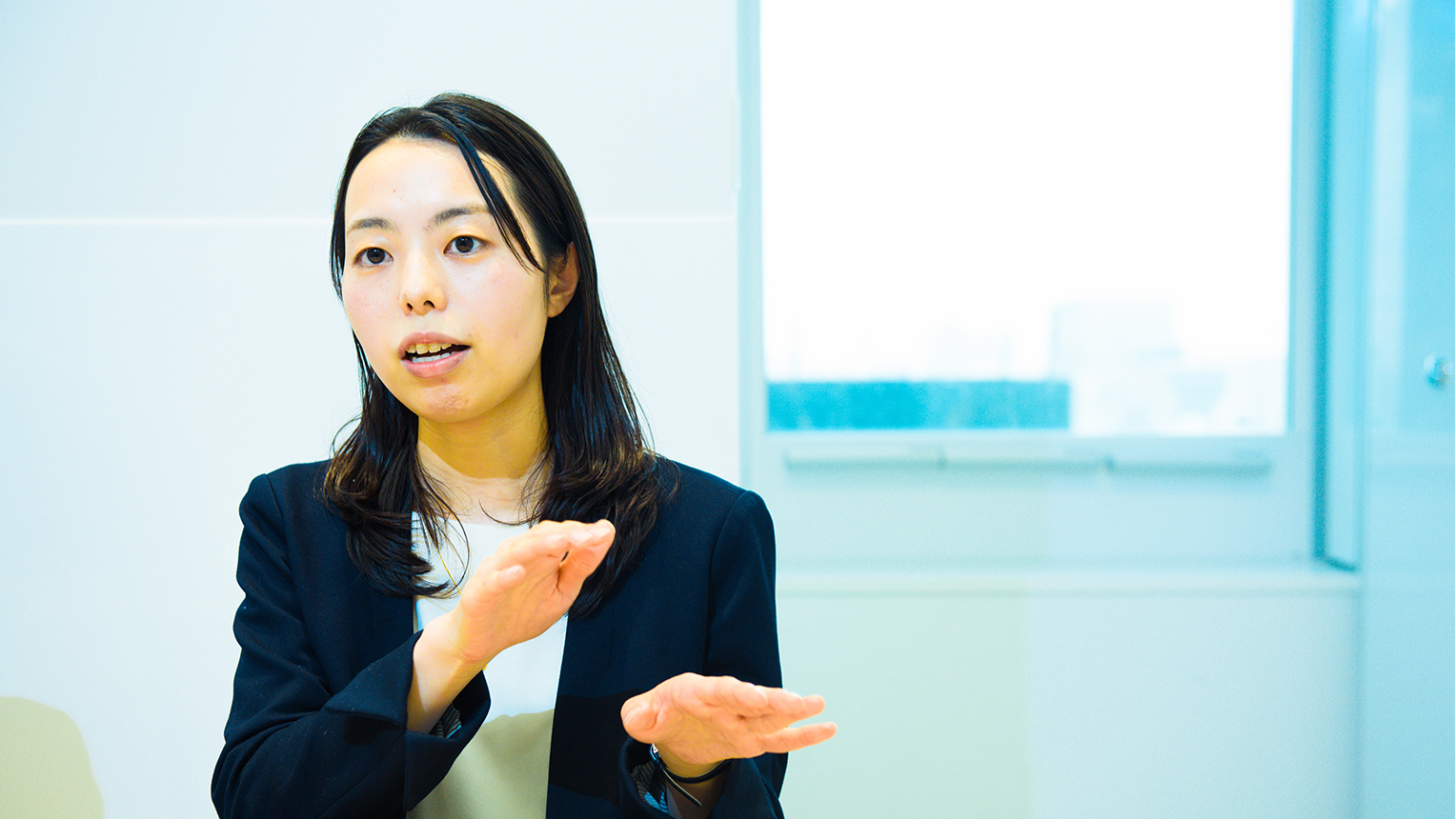 Ms. Asuka Tsuda in the General Affairs Department, going on her 9th year at the company.
―It sounds like there is a very proactive approach in incorporating ideas and opinions from outside. Does the company have a open atmosphere that is conductive for younger employees to speak up?
Asuka Tsuda (hereinafter, Tsuda) : Since the company consists of about 200 employees, not too large so everyone knows each other. And I think that leads to pretty friendly environment where the employees can feel at home, being close to the management. The door to the president's room is always open for employees to walk in and propose ideas, and even during conference meetings, younger members take part positively in the discussions.
Well, when I just started working here, young employees kept their report simple during these meetings, let alone voice an opinion for discussion. But with the recent increase of employees hired mid-career and their positive attitudes, there seems to be more of an atmosphere for proactive discussion, regardless of how long or short one has worked here. This is especially prevalent in departments where its success requires the action of their younger members such as the International Business and Corporate Planning Groups. So employees that are still only 3 or 4 years in the company are actively sharing their opinions.
Takatsu : And in terms of speaking another language, the younger employees are usually much more ahead. In this time with the constant change in the world, we simply can't handle everything with just our own experiences. So whatever we lack in skill, I believe it's much more efficient if we just learn from the younger members or outside of the company who have the necessary knowledge. I want to learn more from them, so as a result, I keep my office "open."
―I have heard that Mr. Tsuda has national certificate of "Career Consultant," and is proactive in participating in external study groups. What is the background behind this or your feeling towards it?
Tsuda : As an issue that the entire company is facing currently is the chronic lack of personnel, even though we are expanding our business. In addition, the average age of our employers is 43.4 years old (as of April 2019), and though we have improved slightly, there has been a need to cover the gap in communication between the younger members. I had been in the General Affairs department since my second year, and during my time handling corporate training, I began to try and see if there are any ways to motivate the younger members to sustain their employment. But looking at them inside the company I knew there was a problem but didn't know what to do, so I was quite frustrated. So when I started handling interviews with new applicants, I tried hard to understand them but I just couldn't be sure if I was helping in any way... So in between all these frustrations, in order to improve my interviewing skills, I decided to look externally for training, and in addition, obtaining certification as a Career Consultant.
―You decided to look "outside the company" for clues to resolving issues.
Tsuda : Right. Regardless of the business industry, there was so much to learn at external seminars that targeted people working in human resources. I still keep contact with the people I met at the seminars, and their opinion as to what they have implemented and what they didn't do so well mean a lot to me, as they come very practical. So when I participated in "nihonbashiβ," a project uniting young creators from various occupations with the town of Nihonbashi, it was an opportunity to gain new discoveries and excitement through hearing about the cutting-edge ideas and opinions of these creators.
This project had an open-assignment to create Noren (traditional Japanese shop curtains) to hang over our Main Shop in Nihonbashi. So when we met up with the creators who we teamed up with, one of the first things they said when they entered the store was how great it smelled inside. To me, that was an eye-opener. We were so used to the aromas by that time so we were barely even conscious of the scent that was flowing throughout the store. After several years working here and having more and more things becoming so familiar, it was an eye-opening feeling to have your head loosen up. Oh, and it was at this time when a member from this project proposed a new approach for another plan we had.
From side character to protagonist! The challenge of building an exciting company from inside and outside.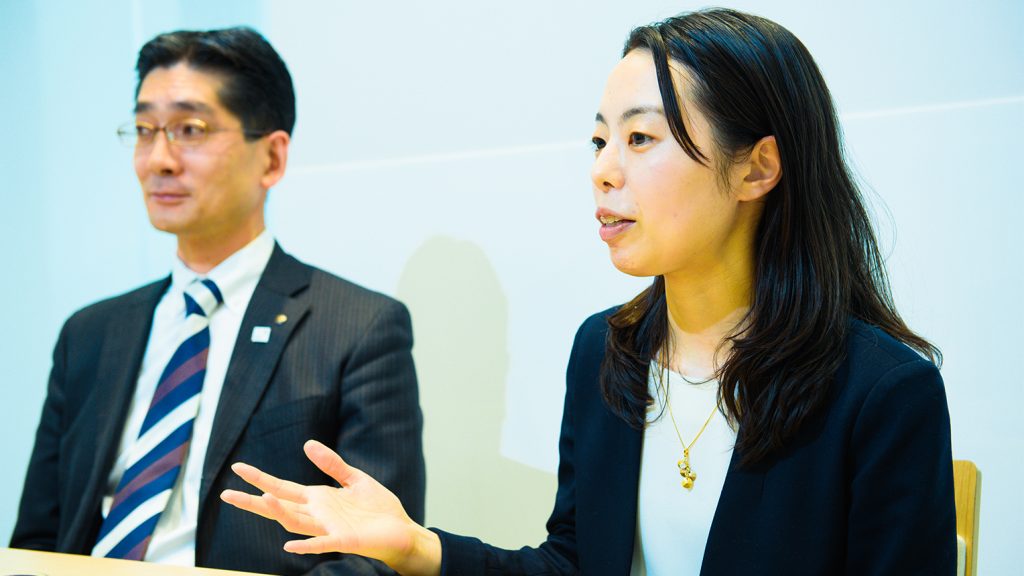 ―Finally, would you tell us about any challenges that you two would like to take part in the future.
Takatsu : Dashi broth has been called "the infrastructure of the flavor", but at the same time it could also mean that it is only a side character. But from now, I want bonito flakes and dashi broth to take the center of the stage. That is the feeling that connects me to these various collaborations, selling side dishes and managing a restaurant. We are currently in the research stage of the development of new products. This was born at a workshop with an outside source last year to "change the smoking wood to add flavor to bonito flakes." I sometimes have to remind myself not to make too many promises, but I do want to continue challenging by incorporating outside input, regardless if it succeeds as a business or not. My feeling is that Nihonbashi as a town is full of stores that specialize in one commerce for a long time, while they continue to challenge in new things.
Tsuda : Since I personally had been able to get a breakthrough from participating in seminars at both this company and outside, I want to further strengthen the career training aspect of the General Affairs department. Upon joining our company, we have a 6-month training period that includes a 2-week hands-on experience at a factory to understand the manufacturing of bonito flakes on-site. We see it as a way to building pride towards the bonito flakes of Ninben in our employees, but after that, there is not a lot of training seminars until you are promoted to section chief and such. Since the first couple of years after joining a company is when many employees feel frustrated, and I want to support them during this period. But just saying "I want to work on something" would be forgotten in the daily hassle, so my challenge is in actually creating the training structure and regulation.
―It's important that you actualize what you can do towards resolving the issues of the company.
Tsuda : I agree. We already talked about the dashi ambassadors, but not too many employees know and can talk in detail about the history or manufacturing process of bonito flakes. On the other hand, we now have the same number of ambassadors as our employees, who feel something special about our company. And after having been influenced from these outside forces and deepening the knowledge of bonito flakes so that they can hold a workshop by themselves, I believe these employees will have a more different perspective in terms of their work. I personally want to learn more about the history of our company, and by establishing a training structure to learn such things, I believe it will become the company that looks exciting from both outside and inside. Although this is long-term, I really want to try to work on this.
Interview and Article: Rui Minamoto (Konel) / Photo: Daisuke Okamura
Ninben Nihonbashi Main Shop
Address: 1F, COREDO Muromachi 1, 2-2-1 Nihonbashi Muromachi, Chuo-ku, Tokyo 103-0022
Phone: (+81) 3-3241-0968
Hours: 10:00 AM - 8:00 AM (Last entry by 7:00 PM for Nihonbashi Dashi Bar)
Closed: according to COREDO Muromachi 1