2020.05.15
The Best Ways to Eat Edo-Style Sushi, According to the Chefs at Established Family Restaurants. -Special Feature: Nihonbashi Dining at Home #2
The Best Ways to Eat Edo-Style Sushi, According to the Chefs at Established Family Restaurants. -Special Feature: Nihonbashi Dining at Home #2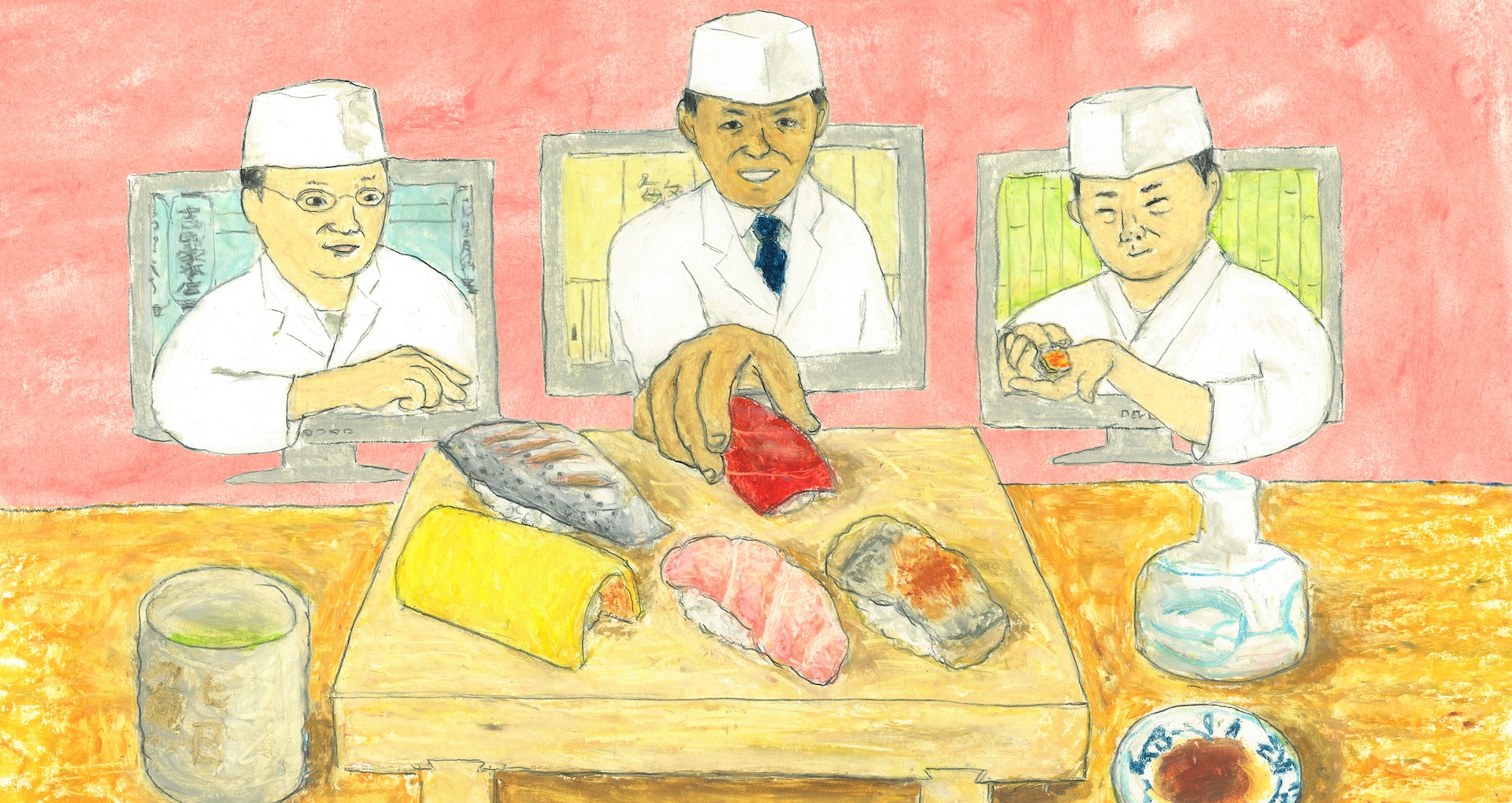 The theme of the second installment of our special tie-in feature with the "Nihonbashi Dining at Home" website focuses on the theme of "Edo-style sushi." Known fondly as "the fast food of the Edo period (1603-1868)" for its convenience, Edo-style sushi now represents Tokyo in the realm of Japanese cuisine. Restaurants that serve the style are clustered in Nihonbashi, an area which once featured a fish market. For this feature, we got a lesson on Edo-style sushi from the chefs and owners of established Nihonbashi restaurants, covering everything from the unique features and history of their establishments, to the best ways to enjoy Edo-style sushi at home. This dialog with typical Edo (Tokyo) native sushi chefs is sure to make the restaurants feel more accommodating, shaking their image of being a bit upscale.[Establishments Interviewed]Shigeno-zushi: 3rd Generation Chef Mr. Ichiro SakumaYoshino Zushi Honten: 5th Generation Chef Mr. Masatoshi YoshinoJanoichi Honten: 5th Generation Chef Mr. Hideharu Takarai[Facilitator]Freelance Announcer: Ms. Shiho Shingu
Q. Could you introduce your restaurants for us, please?
Mr. Masatoshi Yoshino (Yoshino): "Yoshino Zushi Honten" was founded in 1879, and I'm the fifth chef in my family to run it. Our current restaurant is located behind Nihombashi Takashimaya, but we originally began as a stall at the Nihonbashi fish market. We've added contemporary arrangements while holding to our traditions, and work to serve delicious food that suits each moment.
Mr. Hideharu Takarai (Takarai): "Janoichi Honten" was founded in 1889, and we began as a stall, the same as Mr. Yoshino's place. We were supposedly a favorite establishment of the literary giant Mr. Naoya Shiga in the early 20th century, and he's also the person who named the restaurant. We serve (pressed) nigiri-zushi, of course, but a lot of people say our "barachirashi" (assorted sashimi on rice) is famous, and it's quite popular, too.
Mr. Ichiro Sakuma (Sakuma): Our origins were as a fish seller under the name Takaneya, and incorporated as "Shigeno-zushi" in 1949, when the fish market moved from Nihonbashi to Tsukiji. We had been providing fish to the Imperial Household Agency for rituals since our time as a fish seller, and operate as "Imperial Palace Inner Sanctum Purveyors." We deliver every morning before opening up the restaurant, even now.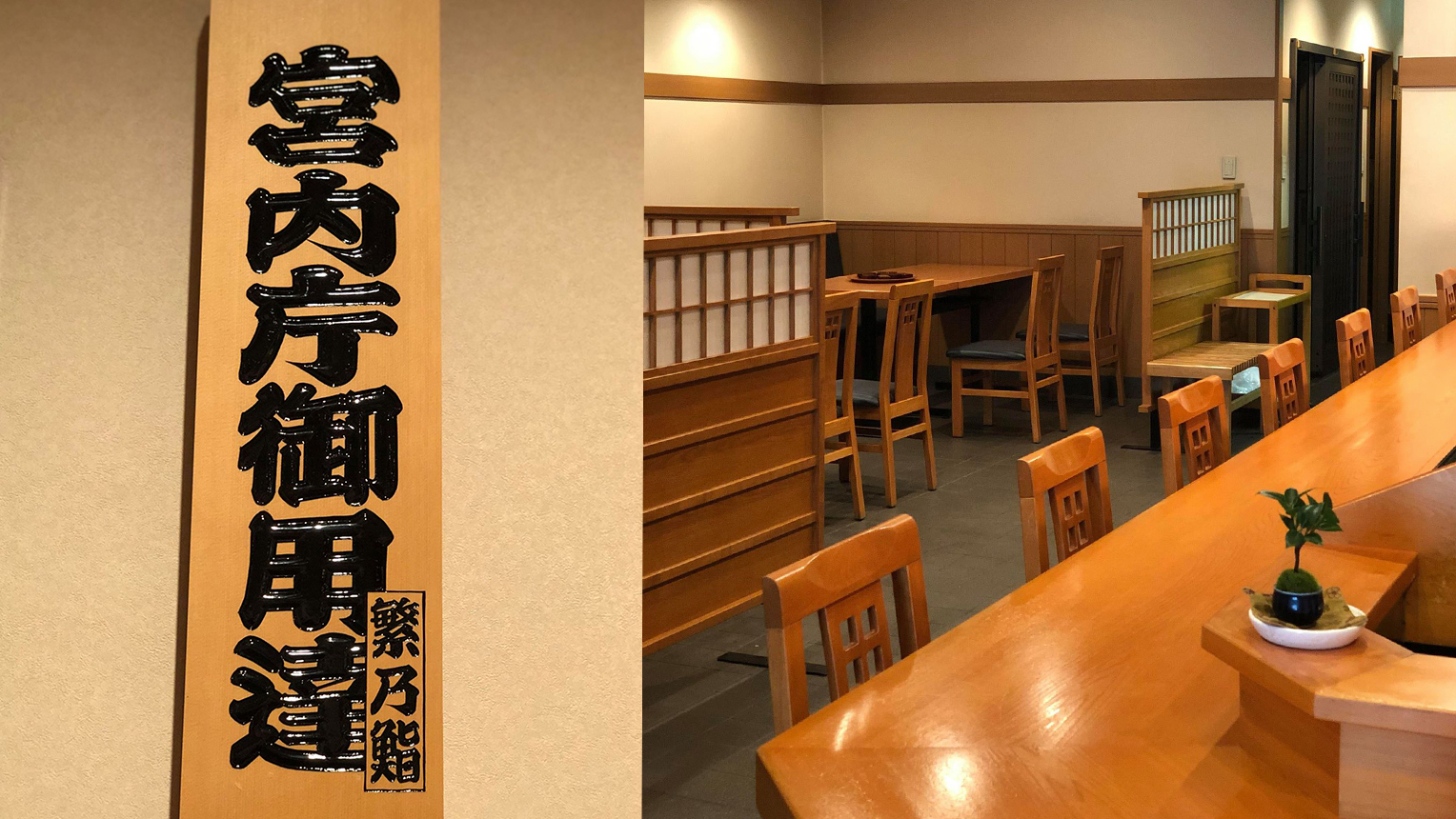 The interior of Shigeno-zushi (Image provided by: Shigeno-zushi)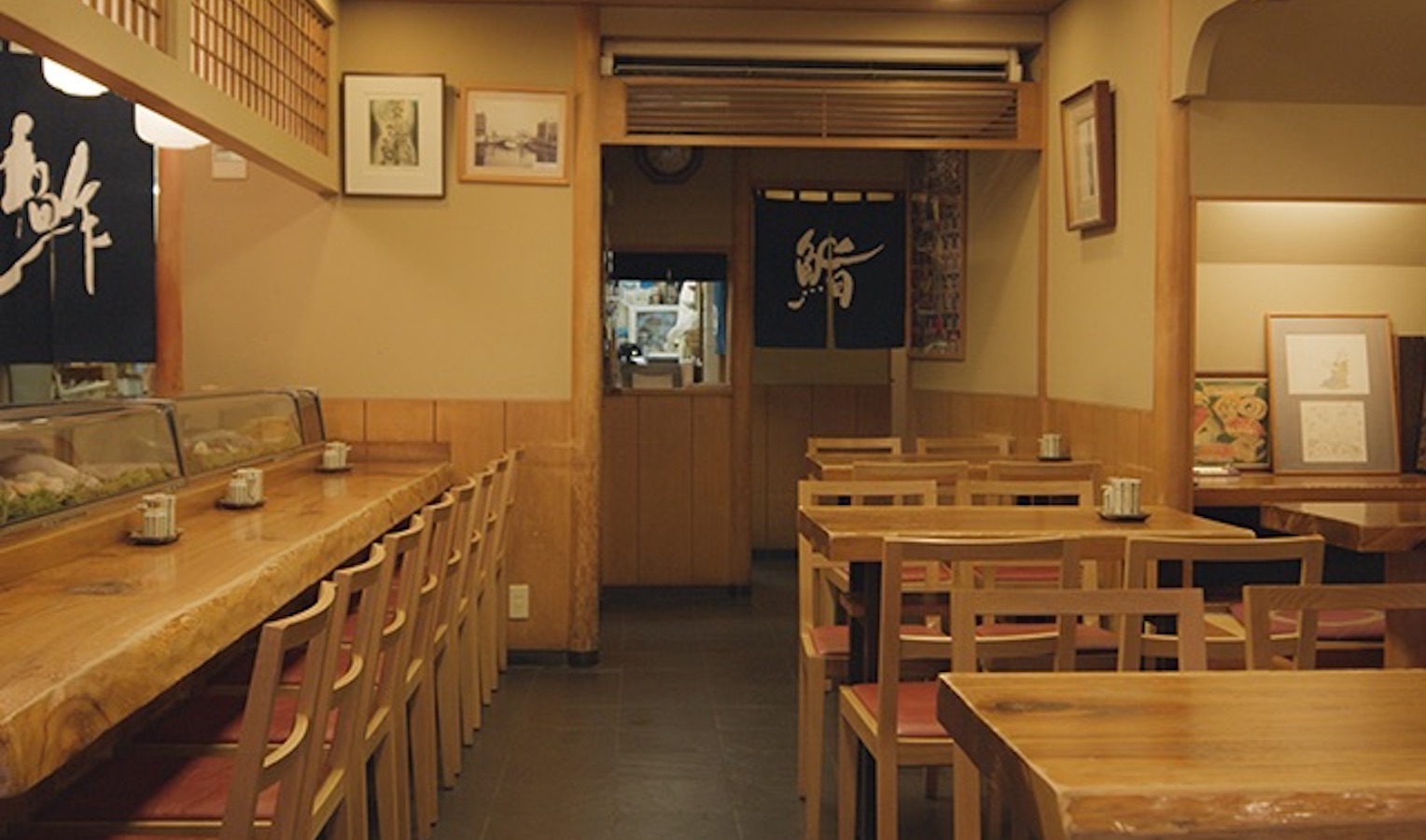 The interior of Yoshino Zushi Honten (Image provided by: Yoshino Zushi Honten)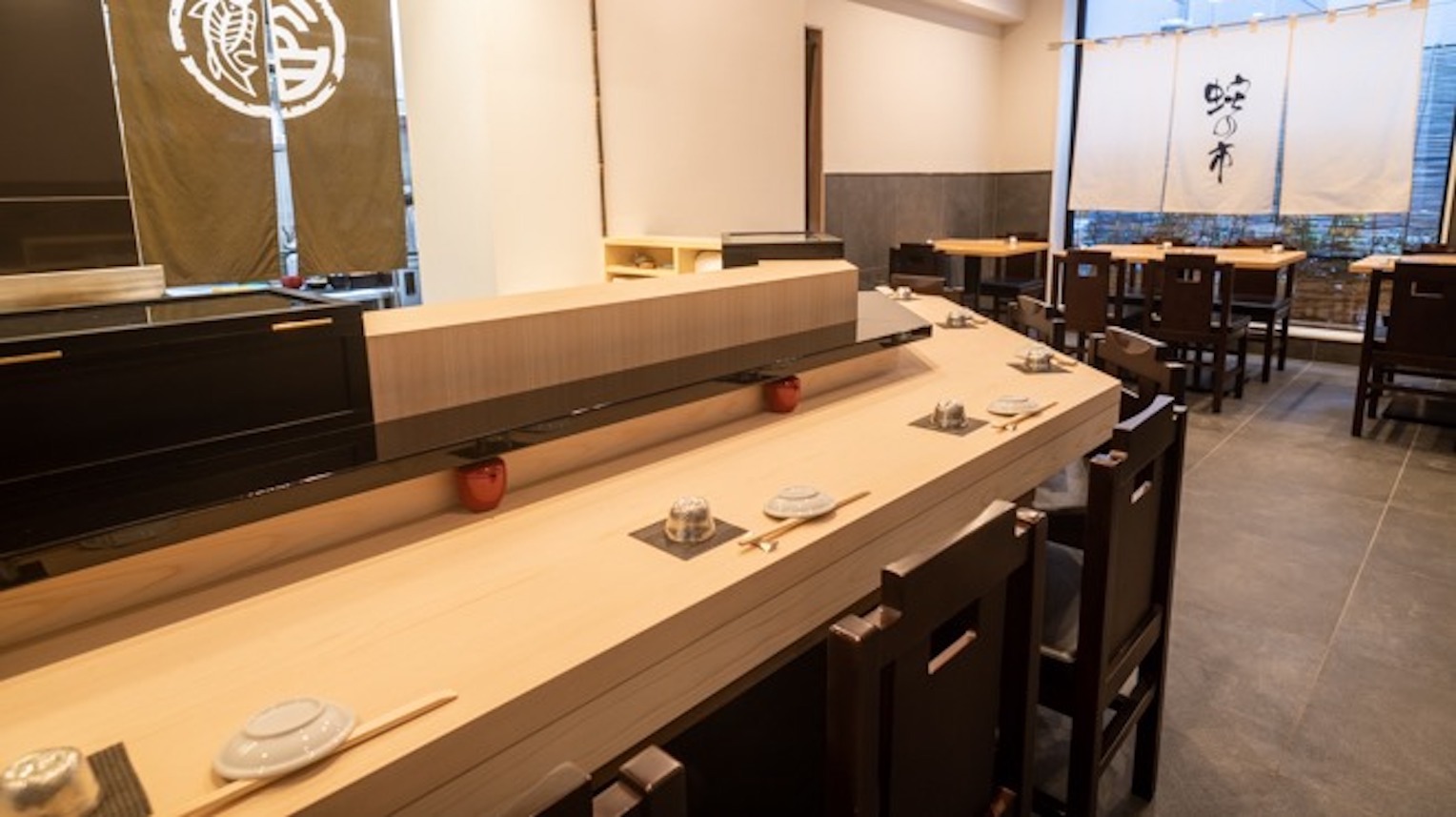 The interior of Janoichi Honten (Image provided by: Janoichi Honten)
Q. Could you introduce each other's establishments for us?
<Shigeno-zushi → Yoshino Zushi Honten>
Sakuma: Our predecessors got along well, and I've been around Ma-chan (nickname for Mr. Yoshino of Yoshino Shushi) since we were children. We also worked ourselves to the bone learning about sushi, together. The foremost, best known dish at Yoshino Zushi Honten would be the toro tuna, and the term "toro" originated from the restaurant. It was just as delicious as I expected when I happened to drop by and have it recently, after a few years without any. I couldn't get Ma-chan to make it personally, though, since they're a busy place. I'd love to next time I'm by, though.
Yoshino: Definitely stop by, I'll make it next time. As for toro, fatty cuts that went off easily were stringently avoided due to the lack of refrigeration technology. So sushi was actually mostly red, lean flesh. But supposedly there was a period when lean meat prices soared, and it became unavailable to us. Back then, supposedly we ended up having to serve fatty cuts to customers since they were all we could get, and they liked that one. We called it "abu" and "dandara" at first, but neither sounded that appetizing, for some reason (laughter). So once, when our second chef was talking with a customer about what to name it, it got its name from the guest saying "it melts in your mouth, like "toroh!"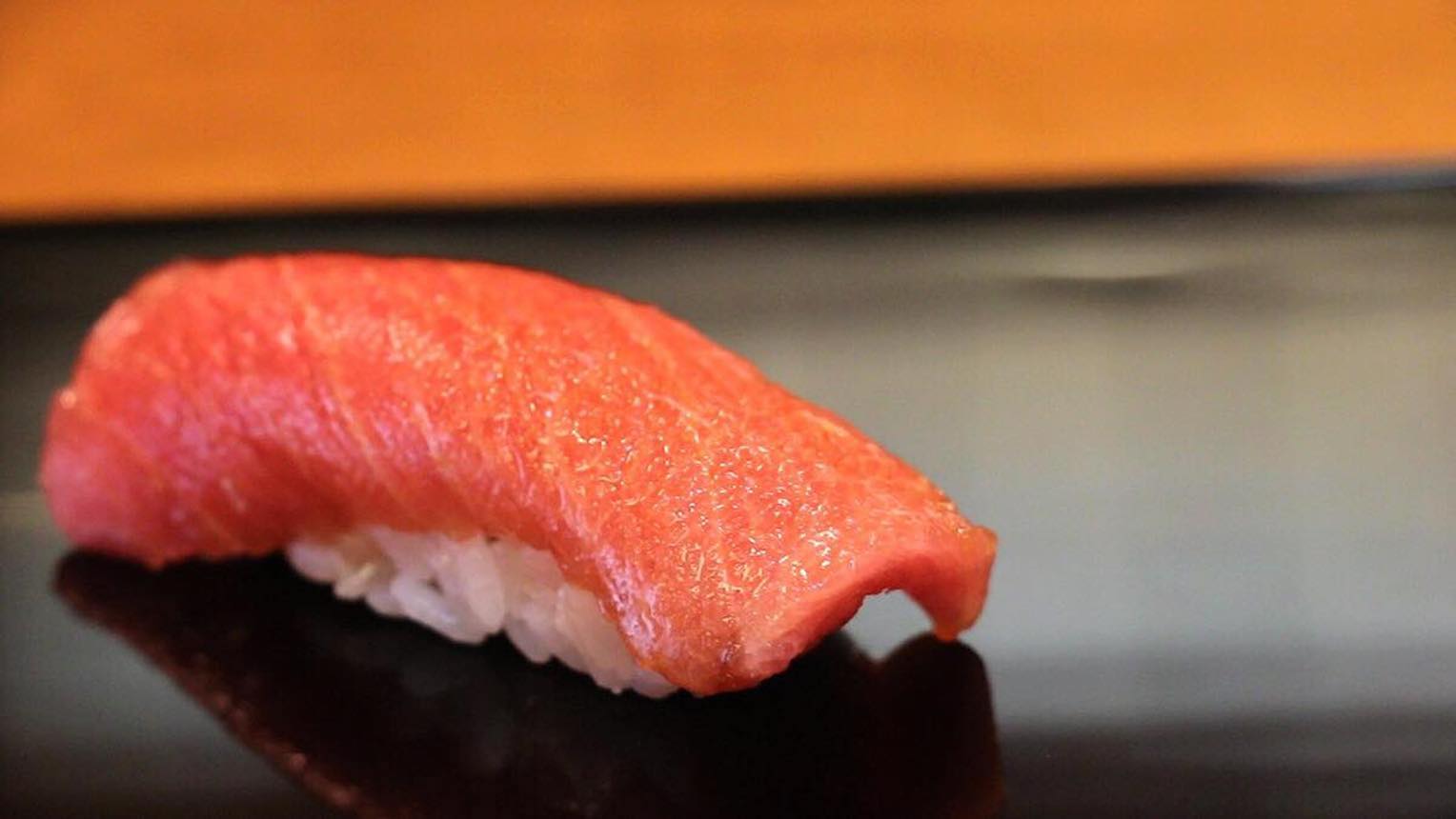 The toro tuna from Yoshino Zushi Honten (Image provided by: Yoshino Zushi Honten)
<Yoshino Zushi Honten → Janoichi>
Yoshino: Janoichi is the type of place that serves truly delicious sushi that makes you want to make a habit of coming. Also, Hide (nickname for Mr. Takarai of Janoichi) is quite the student. He spends every day in search of new ways to serve his customers sushi they'll enjoy, and their best known dish – the barachirashi – is a popular item Hide came up with during his time as chef. Also, it's great that they're open into the night on Saturdays, too. As something of a holdover from the economic slowdown in the 90s, a lot of restaurants in Nihonbashi aren't open late on weekends. With that as a setting, it's nice to be able to go out to eat at night after working on Saturdays. They also got right on launching a takeout system more recently, and always take on new challenges.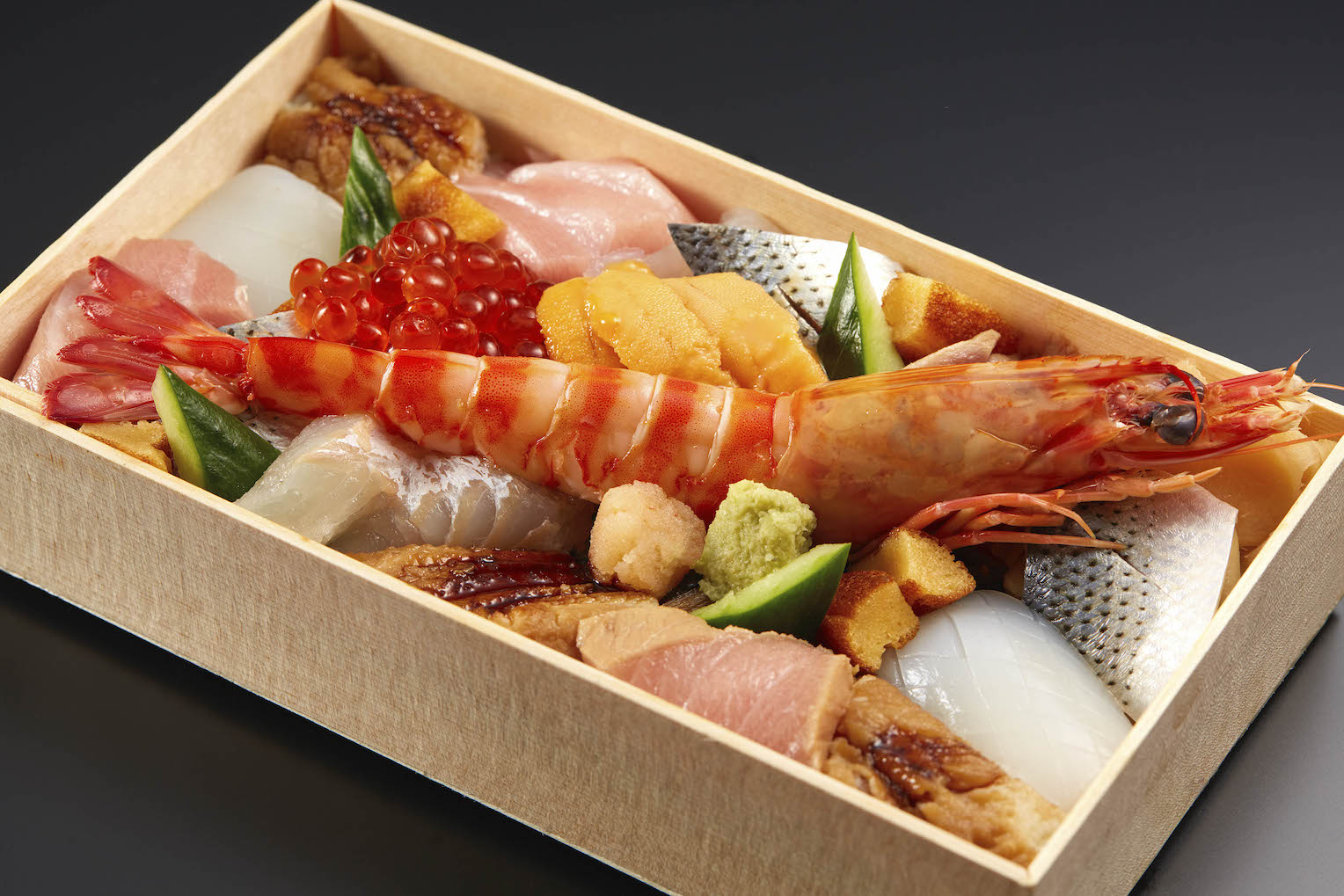 The renowned "barachirashi" is available for takeout now. (Image provided by: Janoichi Honten)
<Janoichi Honten → Shigeno-zushi>
Takarai: For me, Shigeno-zushi comes down to Mr. Ichiro (nickname for Mr. Sakuma of Shigeno-zushi). As a member of the Miyoshi-kai (the youth division of the Nihonbashi Restaurateurs Union), I actually joined out of admiration for Mr. Ichiro, which I feel helped bring me to where I am now. I still want to watch and learn from the way he pulls everyone along with a bright and positive attitude. Of course, the sushi at Shigeno-zushi is also amazing. I visited the other afternoon, and they serve relaxing dishes of the sort my place and Mr. Yoshino's serve, which makes them reliably delicious, where you can go any time and always enjoy the taste.
Sakuma: Thank you very much. Although you're making me blush a bit, I'm happy to hear that (laughter).
Q. Can you tell us about the history of Edo-style sushi?
Ms. Shiho Shingu (Shingu): You all make "the same style of sushi." What points does it have in common, for all of you?
Yoshino: We season similarly, and use similar methods of making sushi rice. We make ours with just red vinegar and salt, without added sugar, and all of us have relatively light sushi rice in a similar way.
Sakuma: We also share the traditional way of eating sushi, probably. We offer courses, too, but the original Edo-style of sushi involves ordering what you want in the sequence you want. That's precisely why it's okay to order just two or three pieces and then leave. Edo-style sushi originally had a sort of casual, fast food sensibility.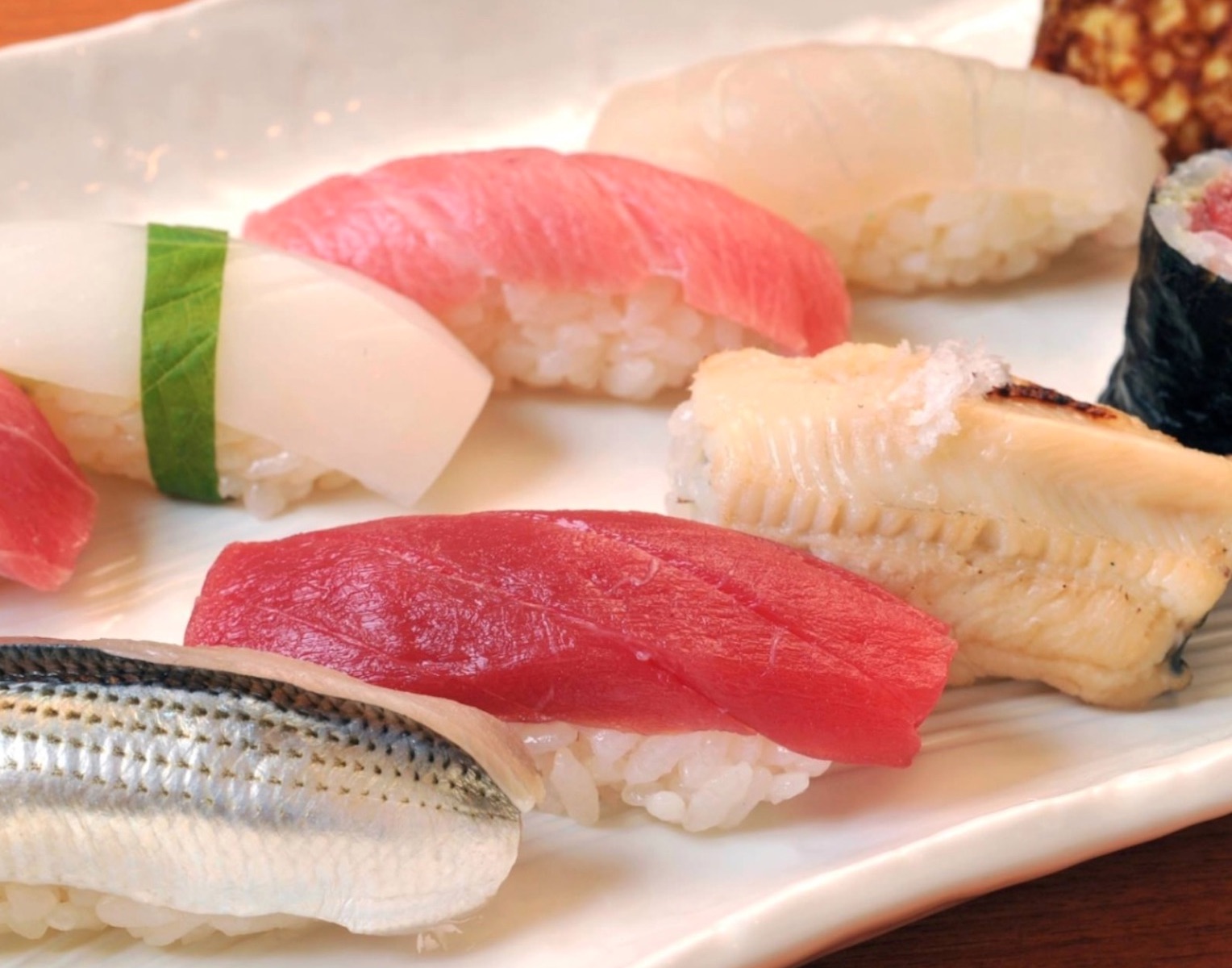 Edo-style sushi is beautiful as well as delicious (Image provided by: Shigeno-zushi)
Shingu: So, how would you define Edo-style sushi in the first place?
Yoshino: It's hard to give a specific definition, and the definition of Edo-style sushi has changed over the years, so I feel that Edo-style sushi often means nigiri (hand-pressed) zushi. Its history is around 200 years in length, and it's newer than the oshi-zushi box-pressed types they had in Kansai.
Unagi (eel) restaurants were the ones that originally used the phrase "Edo-style," and it referred to unagi caught from the rivers that flow "in front of Edo" into Tokyo Bay. Sushi restaurants came to use the term and came to be called "Edo-style sushi," and their main distinctive trait was using a process called "shigoto" to prevent the sushi topping from going off. Without refrigeration technologies, we developed ingenuous techniques of finishing with vinegar and salt, or simmering in order to make sushi delicious.
Shingu: What sort of sushi toppings are Edo-style essentials?
Takarai: I guess it has to be kohada (Japanese shad). Also, shinko (young Japanese shad) are delicious, and the same sort of tiny fish. They're fish you won't get to try often in other areas, but they're quintessentially Edo-style, and are delicious as sushi.
Sakuma: Also anago (sea eel). The Edo-style way to eat it is to simmer the ones from coastal waters in a sweet and savory sauce.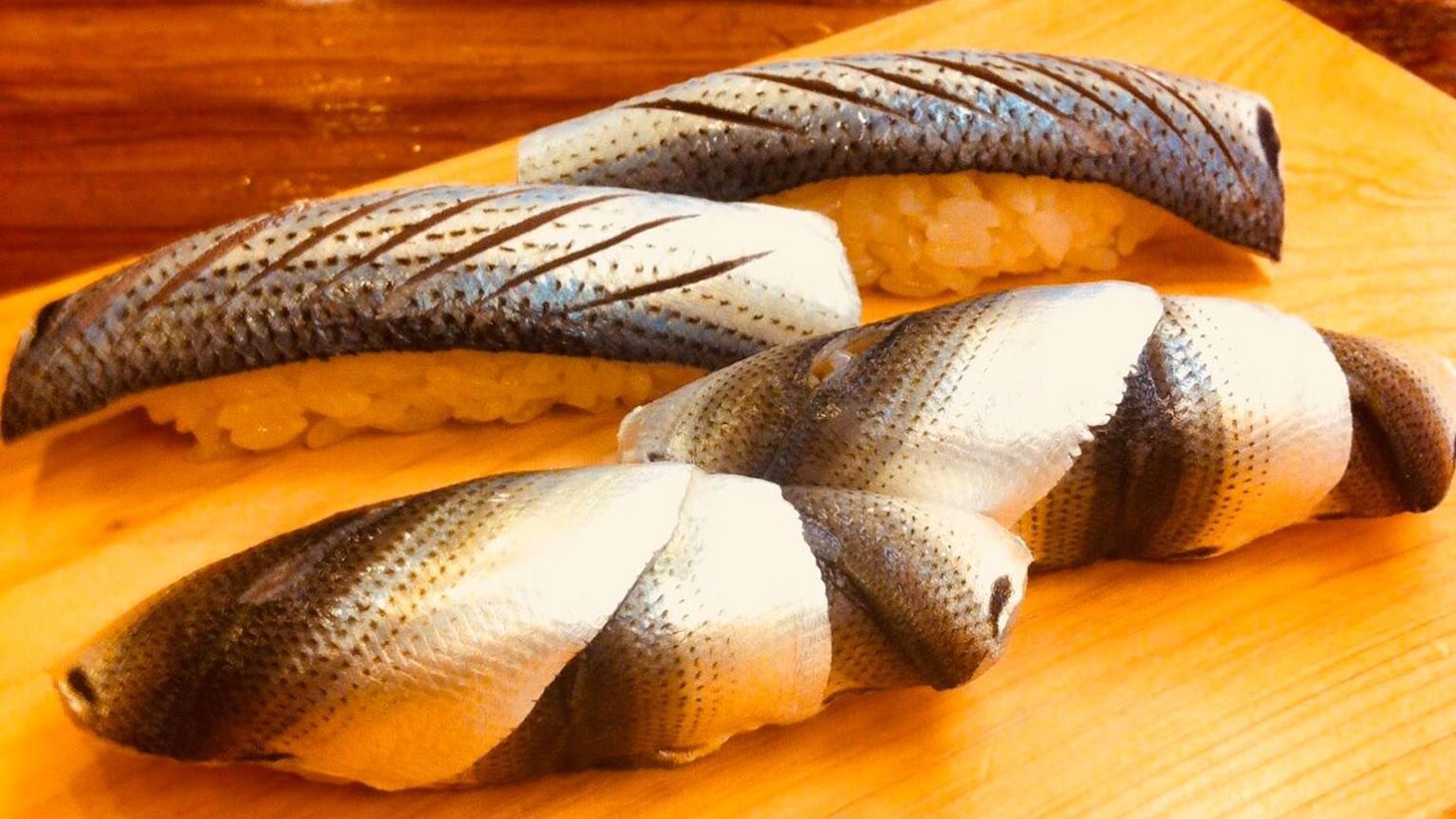 Kohada from Yoshino Sushi Honten (Image provided by: Yoshino Zushi Honten)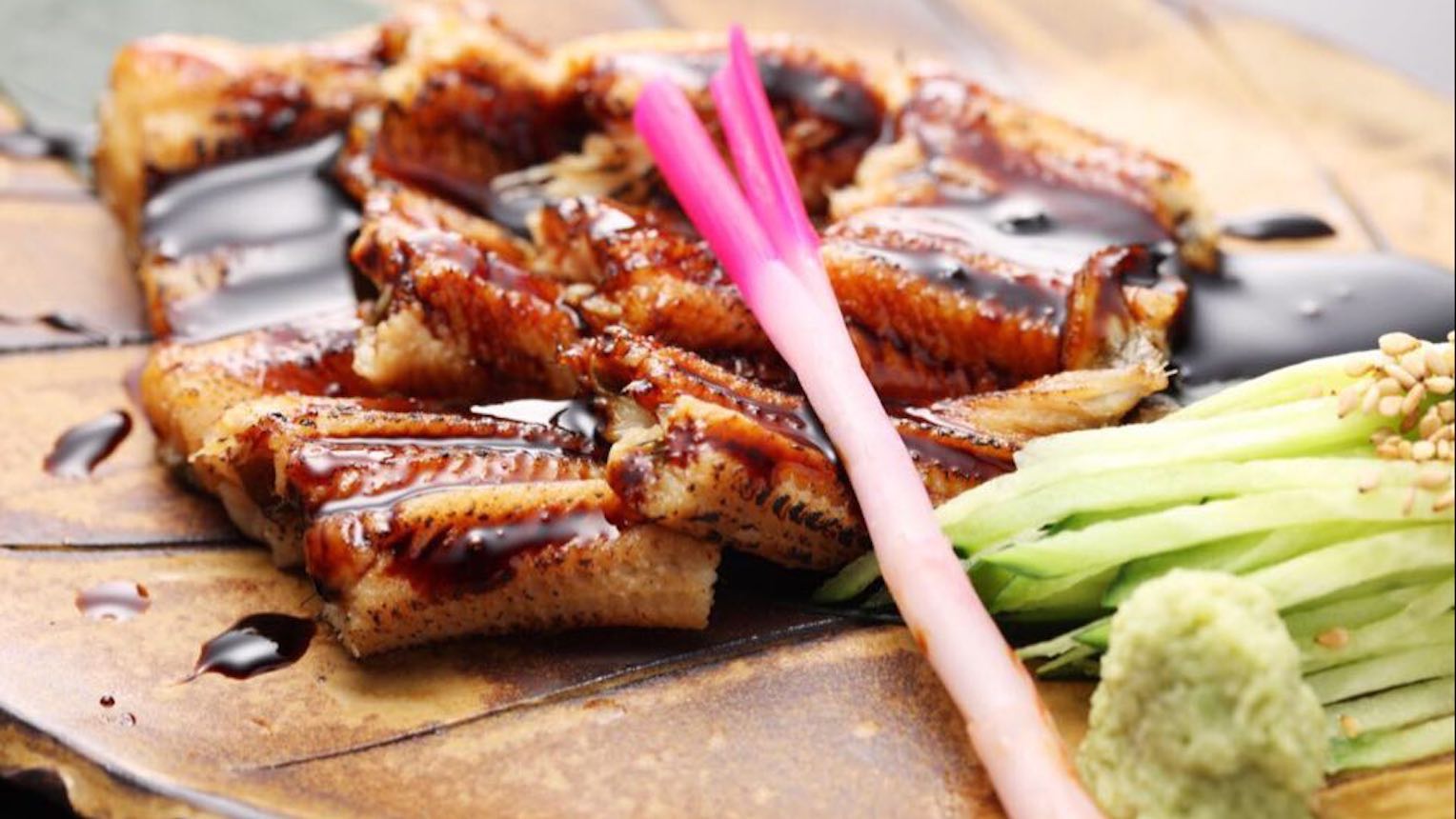 Anago from Janoichi Honten (Image provided by: Janoichi Honten)
Q. What are your tricks for enjoying proper Edo-style sushi at home?
Shingu: It seems that lately, a lot of people want to try making sushi at home. It's fun to make hand rolls at home, but do you have any pointers for people who do? First off, making the sushi rice properly seems to be a challenge…
Takarai: Yes, it's quite a challenge to make at home (laughter). At restaurants, we just season it with salt and vinegar, but that often comes out soggy when you try it at home. On that front, I recommend giving in and using the retail "Sushi-no-Ko" product. It's easy, just requiring you to stir powdered sushi vinegar into fresh-made rice, and it comes out pretty well. Fan it with a fan while stirring as you cool it. Finish by covering with a dish towel or paper towel and leaving it to sit for a while, and the flavor will soak in and it will harden to the right degree.
Also, this isn't about sushi rice, but I recently saw a video from overseas that said mixing mayonnaise into rice and using it as sushi rice produced something delicious. I tried it, and it's surprisingly tasty (laughter).
Yoshino: Now, that sounds like a bit much… But I'm intrigued, as a mayonnaise lover…
Shingu: Don't do it, Mr. Yoshino! You were planning to go on a diet, weren't you? (laughter)
Yoshino: Oh, right, I was. I'll pass for now. (laughter)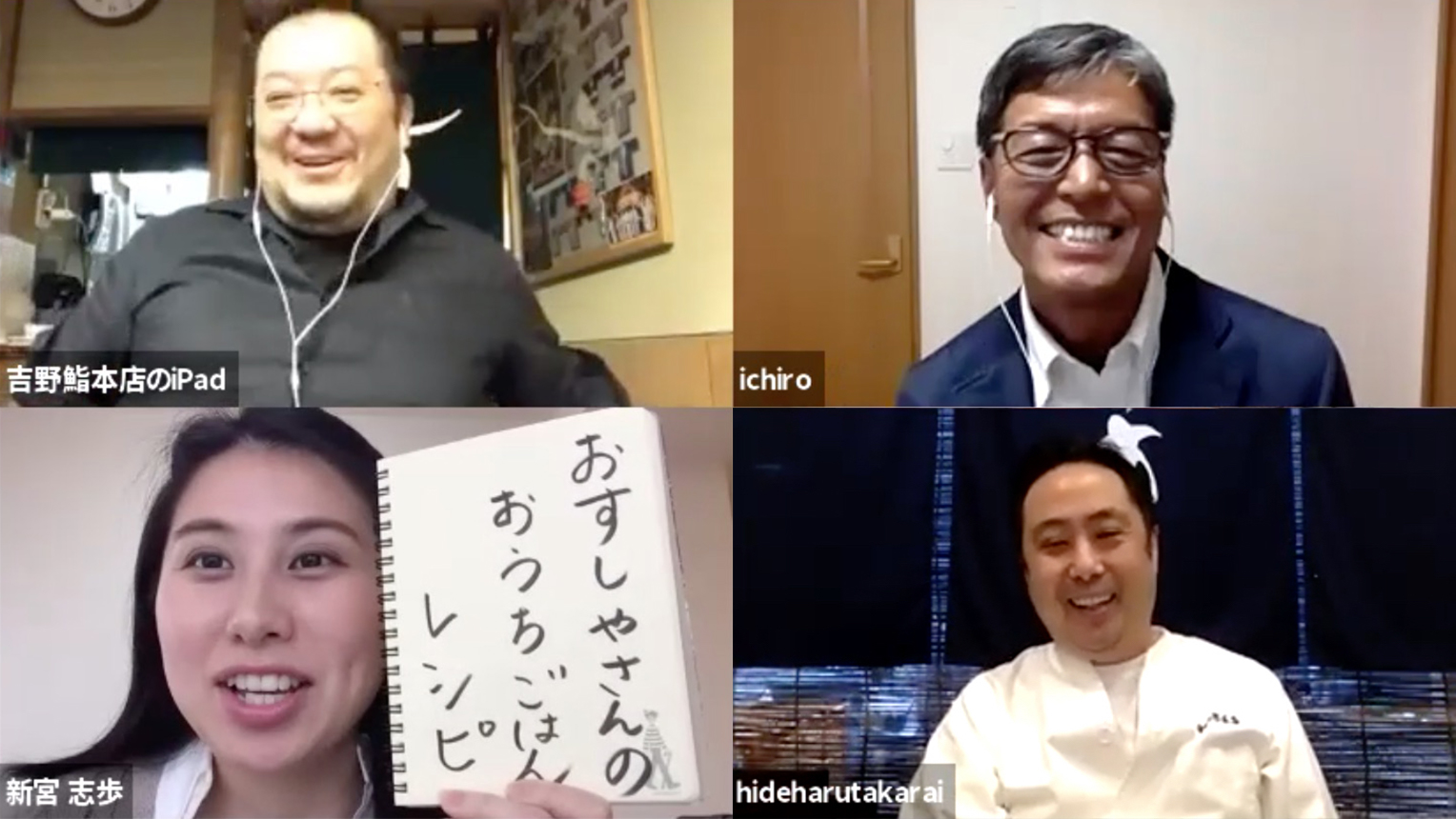 The online interview was friendly and agreeable from start to finish(Image: Bridgine editorial department)
Shingu: Next up is selection of toppings; can you make good sushi with the ingredients they sell at grocery stores?
Takarai: How about pickling your maguro tuna if you're going for Edo-style? For a lively feel, slice the maguro on a cutting board, wrap it in a towel, pour hot water over it, and place it in ice water. Then you make it into an authentic preserve by placing it in soy sauce for 30 minutes or more, after cutting to taste. For the record, the flavor gets heavy if you use regular soy sauce, so the key point is to use a light, sweet soy sauce. Also, while it's not Edo-style, hand rolls with shrimp, mayonnaise, and avocado are easy to make at home, and children love them.
Q. What would you say about the current state of Nihonbashi?
Shingu: I'm sure it's not possible for you to operate as usual under the quarantine; what's your view on the city's current situation?
Sakuma: I grew up in Nihonbashi, and I've never experienced such a long closure of the department stores and restaurants. The city lost some energy in the 90s, after the bubble burst, but the department stores were open, and served as the nucleus of the city. But now, even they're closed… It feels really strange. I've started running in the early mornings lately, to avoid issues with being sedentary, but I only saw two other people on a run all the way to the Imperial Palace this last Sunday. That's how few people are in the city right now. But that's also evidence of how people in Nihonbashi are serious about the situation, and how they're staying in quarantine to help make the city healthy again. Everyone is taking the mature route, since it's a classy city.
On the other hand, Nihonbashi also has a lot of offices, and some people in them have to get to work regardless of the situation. And they don't have many places to go for lunch, now, which is a problem for them. So I'm sure they'll appreciate the restaurants that offer takeout, and us included, all of the local restaurants want to do what they can individually to help. We're all being creative that way. Nihonbashi depends on its workers. We should support one another.
Q. What can you tell us about sales at your establishments, currently?
(*Please see bottom of article for details.)
Shingu: Can you tell us about how sales are currently, at your establishments?
Yoshino: We're currently shut down, and accepting only weekday takeout orders. We hope you'll order some nigiri or barachirashi that way.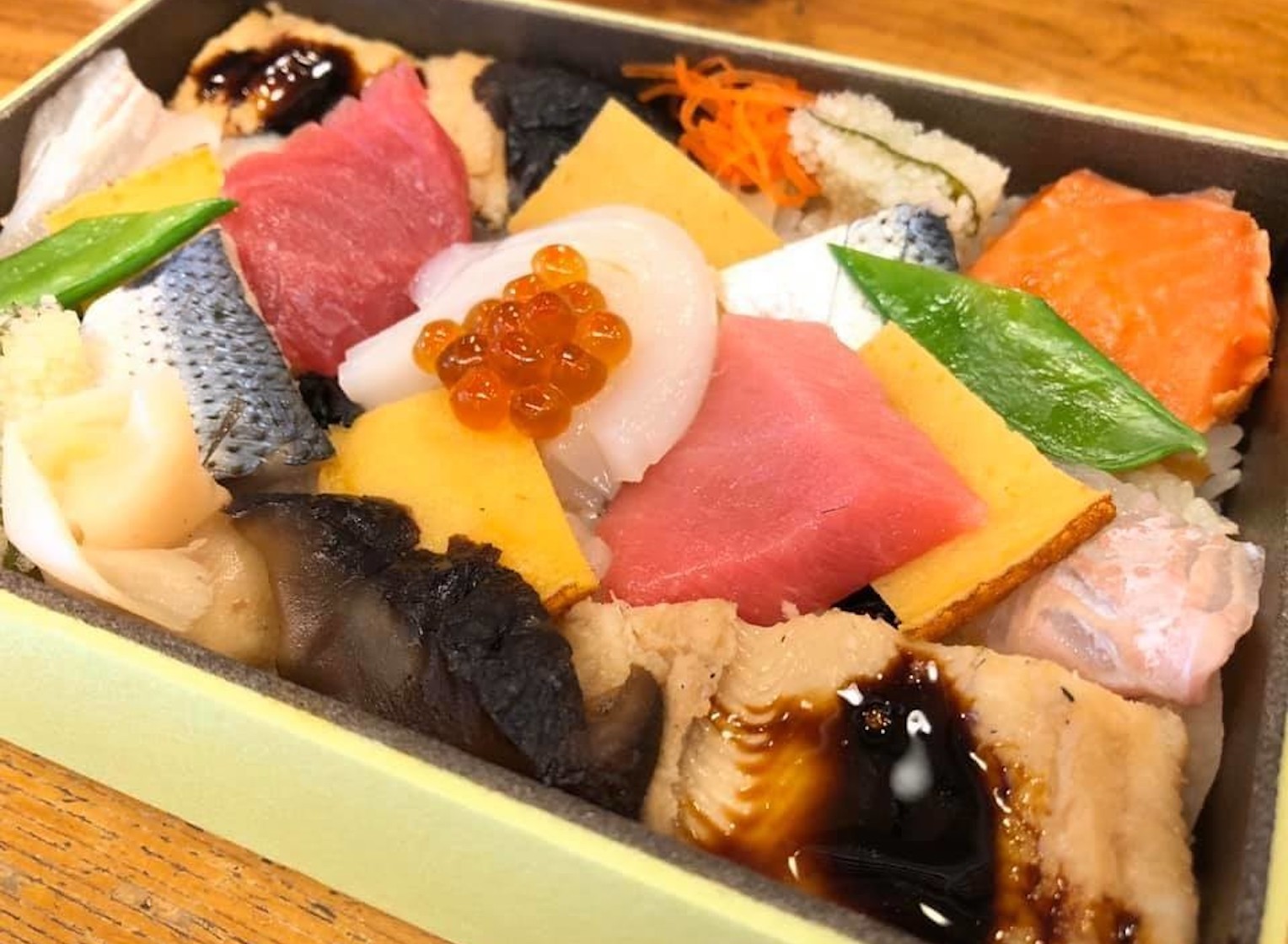 A sample from the Yoshino Zushi Honten takeout menu (Image provided by: Yoshino Zushi Honten)
Sakuma: We're closed until May 7, too, but we're using the period to make planned renovations early. We're currently accepting reservations for dining, and are restarting operations by offering takeout.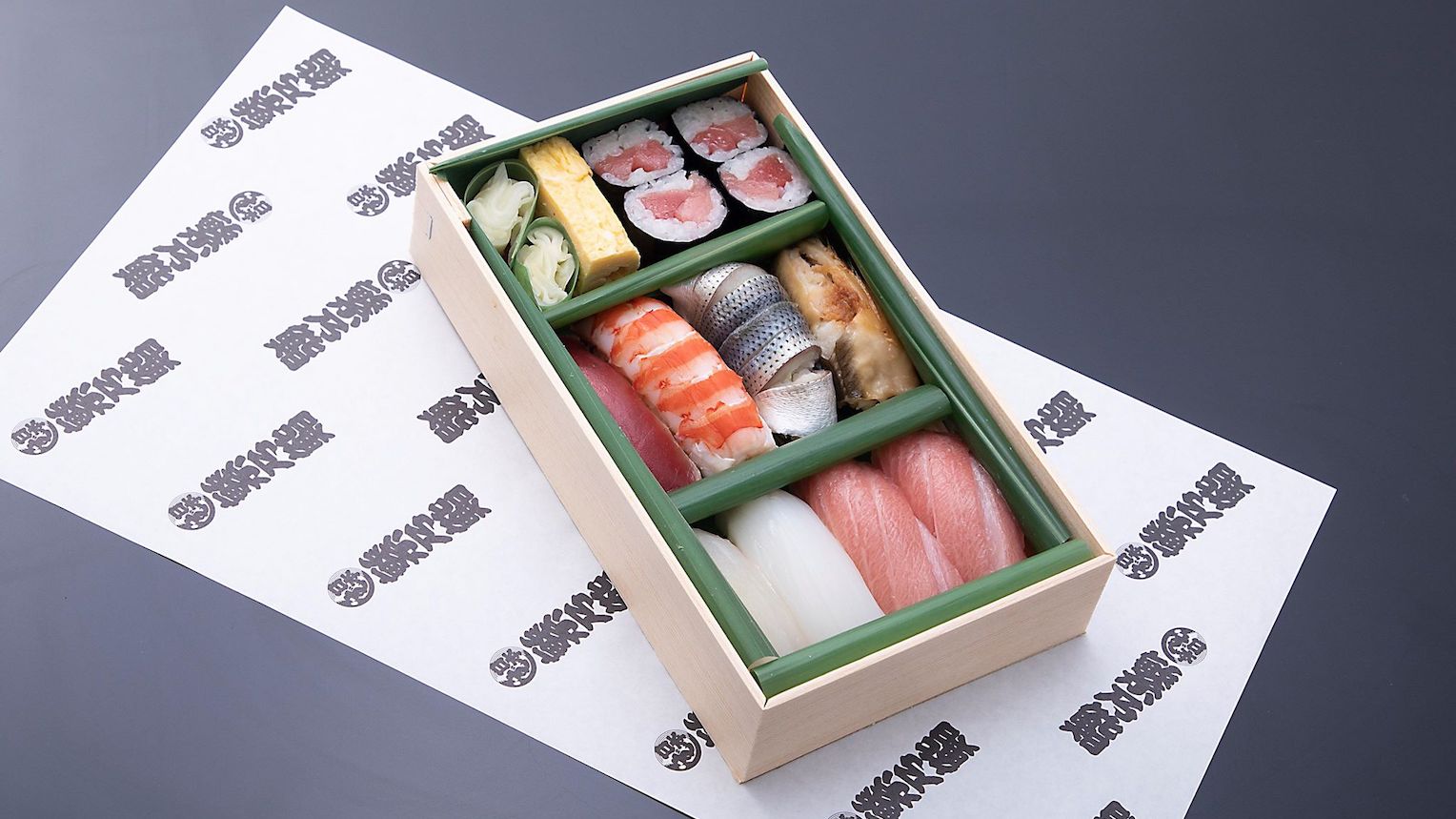 A sample from the Shigeno-zushi takeout menu (Image provided by: Shigeno-zushi)
Takarai: The interior of Janoichi is closed, but we're offering takeout. We have nigiri, barachirashi, rolls, and more, and a special reasonably-priced afternoon menu. We've also tried making a "temaki-zushi set" of rolls in response to our customers' requests, as the neighborhood comes to use us in new ways. (*Janoichi plans to offer the temaki-zushi set until 5/30)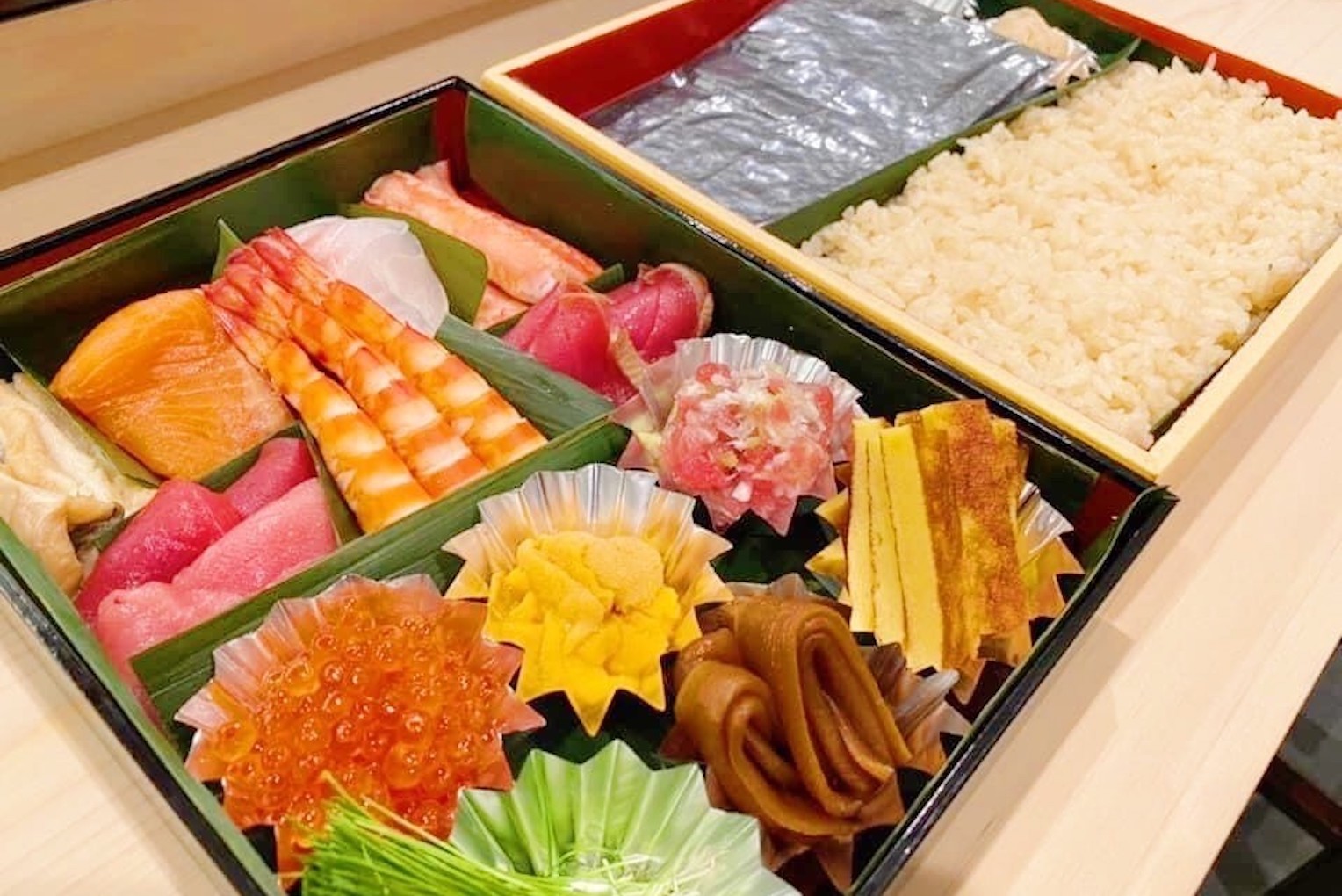 "Edo-Style Temaki-Zushi" takeout from Janoichi (Image provided by: Janoichi)
Sakuma: Oh, that's nice, with the temaki sets! Ma-chan, let's try some. Or let's make some together. (Laughter from all.) We should order about six, and make a feast of it.
Yoshino: (Laughing) But really, seeing those temaki sets reminds me of how happy sushi makes people. I'm proud to serve a food that makes people healthy and lively.
Q. Finally, everyone, please share a brief message for readers.
Takarai: We're only doing takeout currently out of a desire to prioritize everyone's health and safety, but I want to do what we can, within the scope we can. It's precisely in times like these that we need to stay close to our customers through social media and so forth, and challenge ourselves to find ways to make them happy.
Sakuma: I think this is something we all agree on: that we live to serve delicious food. We built our restaurants by thinking foremost about a space that would be soothing and fun for guests from the moment we greet them until they take the leftovers home. So we'd love to have you back inside as soon as things cool down, when we can show you a good time again.
Yoshino: Of course I do feel frustrated not being able to operate as I'd like, but I'm working to learn during this rare opportunity, and aim to serve even more delicious dishes than ever when we reopen. I'm sure we're not alone in feeling overwhelmed right now; a lot of other people do, too. Let's all pull together as a unit and do our best, and pray for the old normal to return. And when it does, try visiting all three of our places, and enjoying some Edo-style sushi!
Interview and text: Minako Ushida (Konel) Illustration:Mame Ikeda