2020.01.29
Placing a Major "Pin" in Kabutocho.
Completion of the "K5" Micro-Complex.
Placing a Major "Pin" in Kabutocho.
Completion of the "K5" Micro-Complex.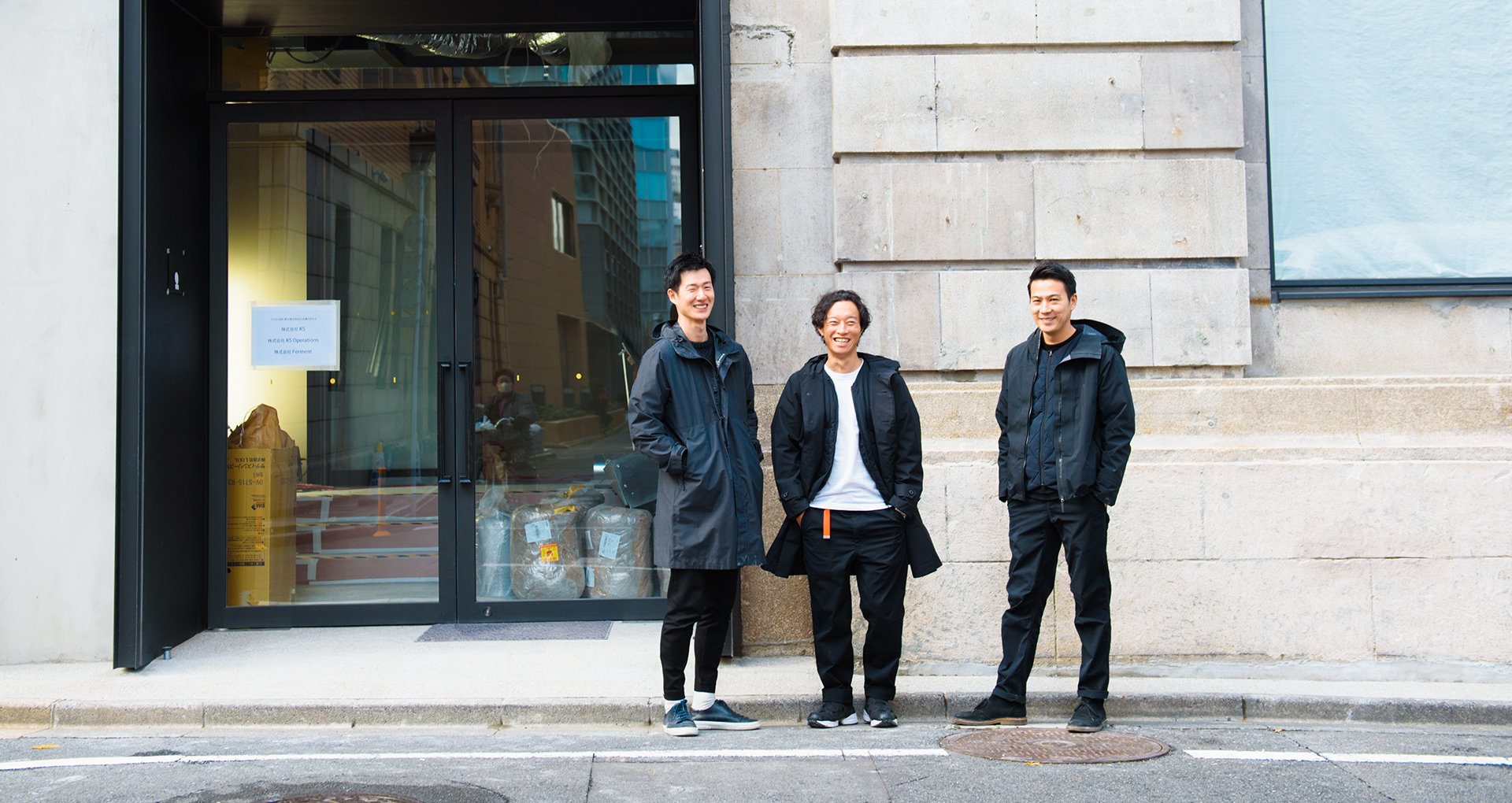 Kabutocho in Nihonbashi is a financial district fit to represent Japan. Located right beside the Tokyo Stock Exchange, the "K5" multiplex facility opened on February 1st, 2020, and features a total of five floors, including one basement and four above ground. Constructed in 1923, the No. 5 Heiwa Building's 2,096.85m2 of floor space has been renovated from its former role as a bank, and is now home to a hotel, restaurants, and more. It was a project by three people: the CEO of Backpackers' Japan and operator of the CITAN hostel in Bakuro-yokoyama, east Nihonbashi, Mr. Takahiro Honma; Mr. Akihiro Mitsui, representing Media Surf Communications, a firm involved in branding and promotional business; and Mr. Yuta Oka, co-founder and representative for InSitu Japan, a firm that plans, develops, and operates hotels. With a close, existing relationship, the three created K5 with a focus on their own tastes. We asked them about their inspirations in developing the facility, as well as the key to producing the best results with a small team.
Toward an era when micro-complexes rooted in the area take the lead for entire cities.
-First, please give us an overview of the K5 facility you've just finished work on.
Honma : K5 is a multiplex facility we developed based on our thoughts about "micro-complexes." Floors two through four are the hotel "K5" – which we produced. The first floor is a dining and drink floor, featuring the restaurant "CAVEMAN" – a new effort by the popular "KABI" of Meguro – a "SWITCH COFFEE TOKYO" from the chain that generated buzz in Meguro and Yoyogi-Hachiman, and "Ao", a bar produced by celebrities Mr. Hiraku Tanaka and Mr. Soran Nomura. The basement floor is a beer hall, as well, and is home to the world's first flagship bar "B" for New York craft beer brand "Brooklyn Brewery".
Matsui : A lot of bars have one or two kinds of Brooklyn Brewery beer, but they have around 20 types here.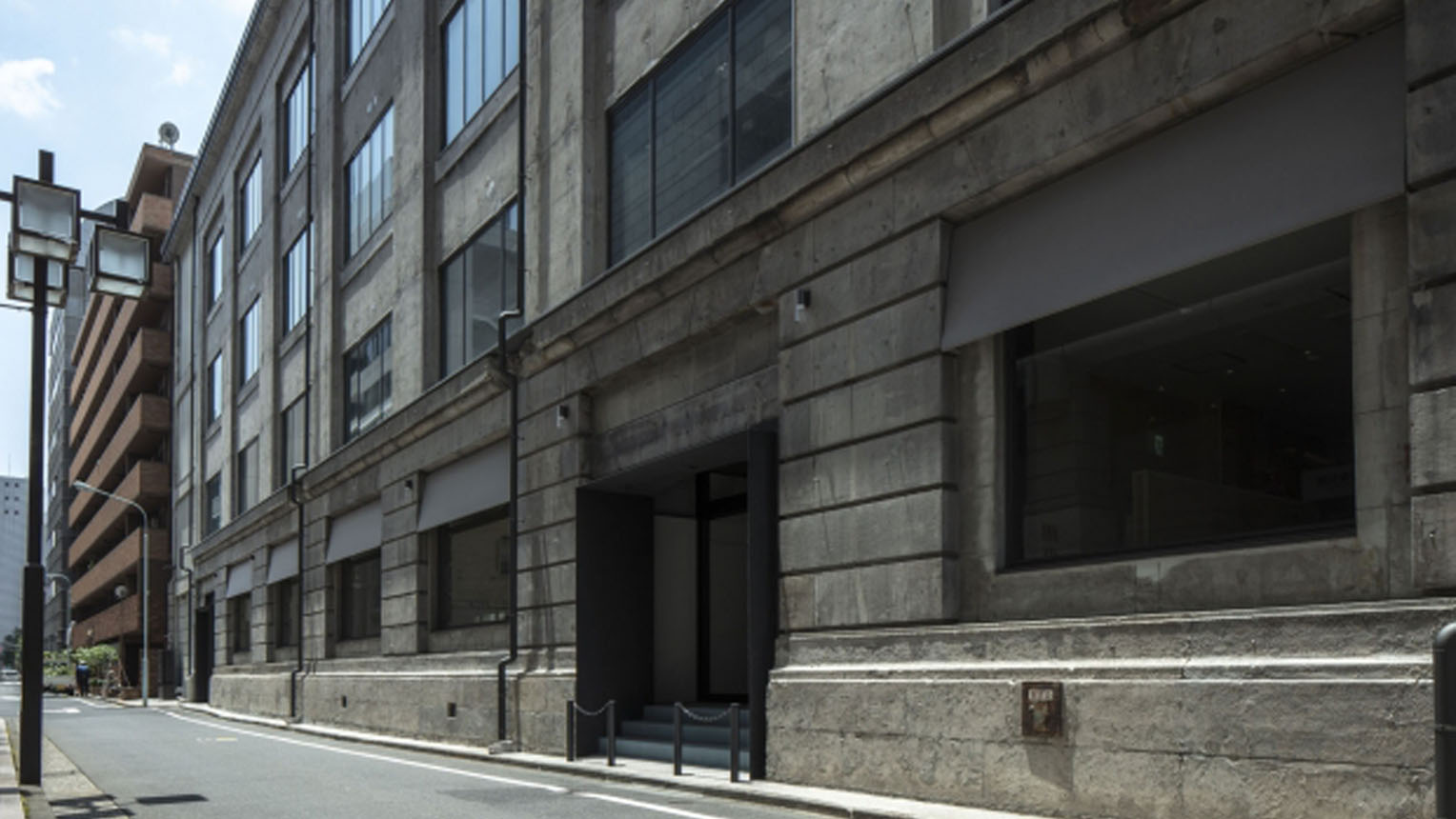 The No. 5 Heiwa Building in Kabutocho (Photo provided by K5)
Matsui : We were very aware of the idea of creating a flow that deeply stimulates visitors. For example, a married couple visited K5, and had a casual drink at beer hall "B" underground while snacking on some tacos. Afterwards, they moved to "CAVEMAN" on the first floor, enjoyed a meal with wine, and finished the night at "Ao," our bar. They stayed at the hotel upstairs that night, then started the morning at "SWITCH COFFEE TOKYO," had breakfast at "CAVEMAN," and checked out. We're thrilled to be able to provide such appealing experiences within a single structure. We planned and curated the entire building with this sort of idea in mind.
-What sort of situations led you to work on K5?
Honma : Heiwa Real Estate is a major landholder in Kabutocho, which owns the Tokyo Stock Exchange building and more. They approached me about making Nihonbashi, Kabutocho into a livelier financial metropolis, and that kicked off this project. I've launched and currently run the hostel CITAN in Bakuro-yokoyama, in east Nihonbashi, and I think that's why they came to me. The concept we proposed at the outset was "Revitalize the city." Rather than calling it complete when the hotel is finished, we want the city to grow healthier over time thanks to the hotel's presence. That was the image we had in mind when we started development. It was a project with a focus on completion and what lies beyond. The phrase "Revitalize the city" grew distant fairly quickly after we got the order, but concepts don't function without concrete aspects. When we thought about how to "revitalize" the city, we had to look into the history of Kabutocho. As a city, it has actually experienced a reduced flow of people in and out with the progress of fiscal technology, as fewer people come to the Tokyo Stock Exchange now.
Matsui : When we thought about what a hotel should be in a city with traffic on the decline, we came up with the idea of a place that energizes city residents and draws in people by providing experiences only available in Kabutocho, physically. That inspiration led to the idea of a "sensuous hotel" that delights all five senses.
Honma : The roots of Kabutocho are in its history as a financial district since long ago, and those roots are very important in a project like this one. They act as footholds for building up the design and concept. I feel there is value in carrying on and updating an ancient legacy.
Stimulating the senses through diametric opposites like "motion and stillness" and "nature and the city."
-How did you want to appeal to all five senses, specifically?
Honma : We incorporated a philosophy of motion and stillness in building up K5. The hotel floors, two through four, are for stillness, while the first and basement floor where people enjoy lively enjoyment are for motion, in concept. The space with motion lets you gain stimulation and draw inspiration from it, even as you relax in the still space. To make a comparison, it's kind of like the cold bath in sauna. Like how switching from hot to cold repeatedly sharpens all five senses. We felt that the sensation of both motion and stillness would be a strong stimulus for human sensitivity.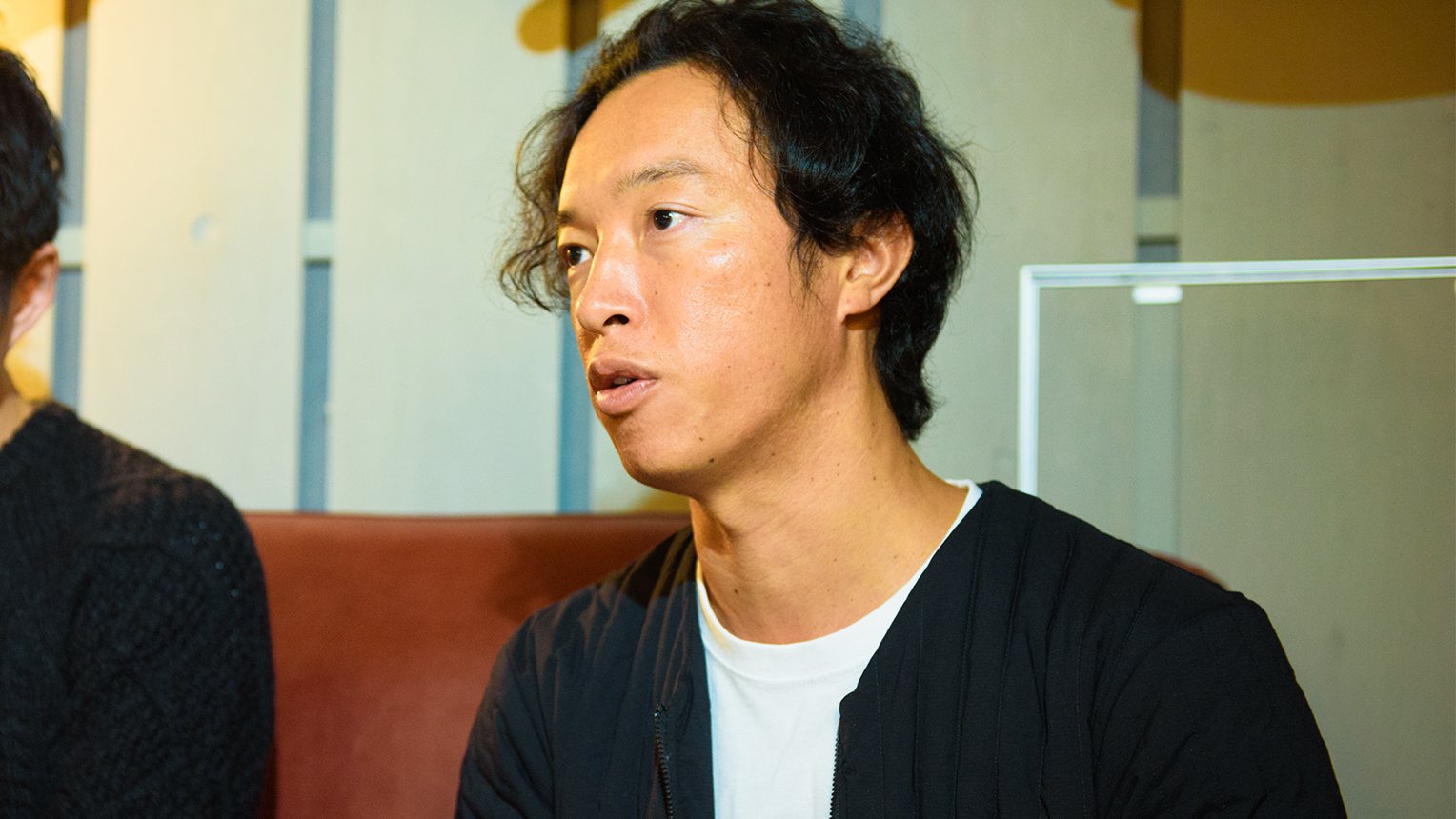 Mr. Takahiro Honma, proprietor of the CITAN hostel in Bakuro-yokoyama in east Nihonbashi
Honma : We also incorporated another theme of "Returning to Nature" in the hotel space designs. The hotel space is primary composed of elements that give a sense of nature's presence. Spreading these natural elements around in an urban space was another effort to heighten the senses of those who stay with us. Toward that end, we hired Mr. Ola Rune, an architect and designer with "Claesson Koivisto Rune" out of Stockholm, to supervise the overall architectural design. In the end, he helped us with very deeply-involved aspects of the design, even including the sofas, tables, and many other products, as well as overall supervision.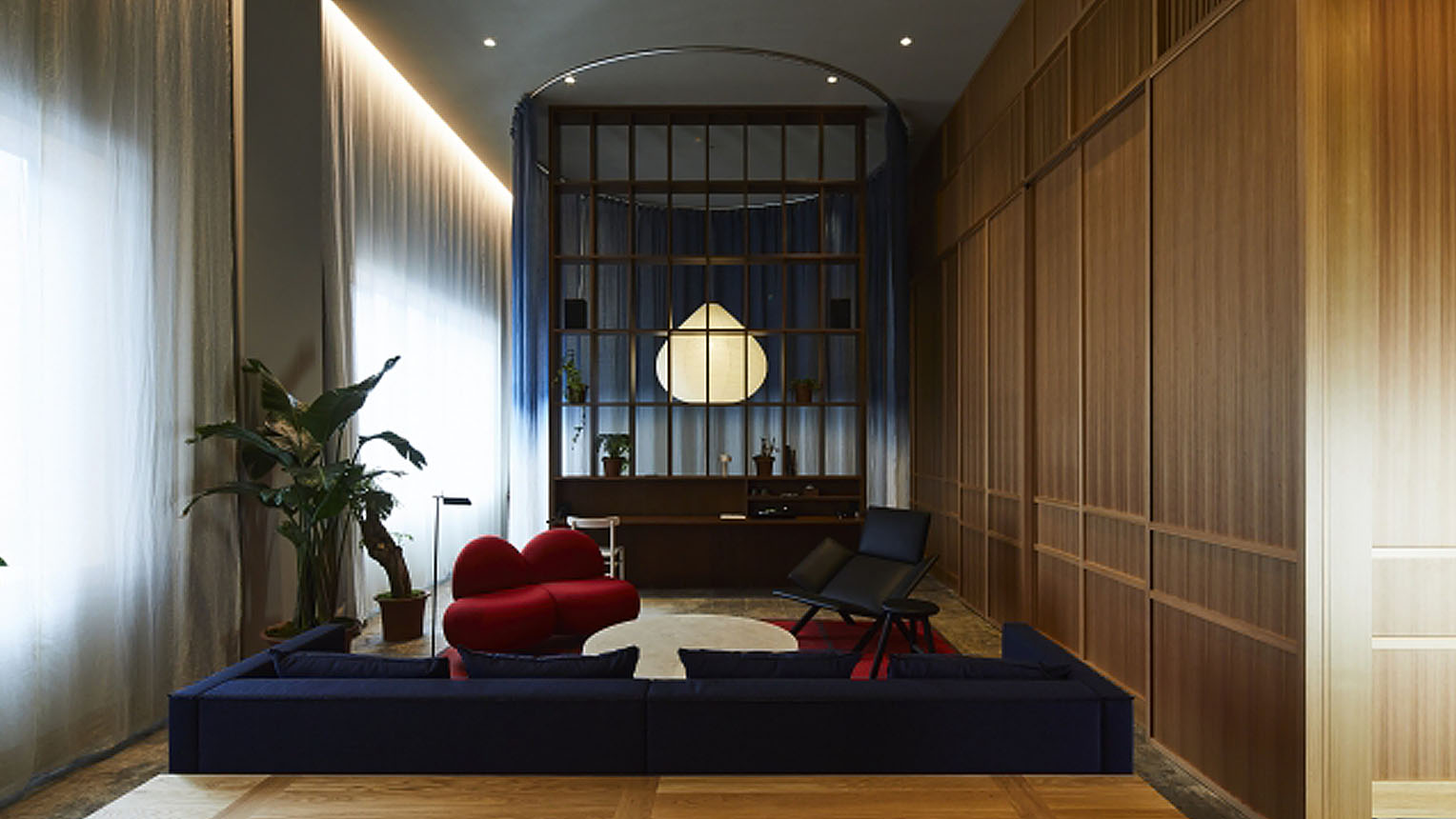 A room designed by Mr. Ola Rune. (Photo provided by K5)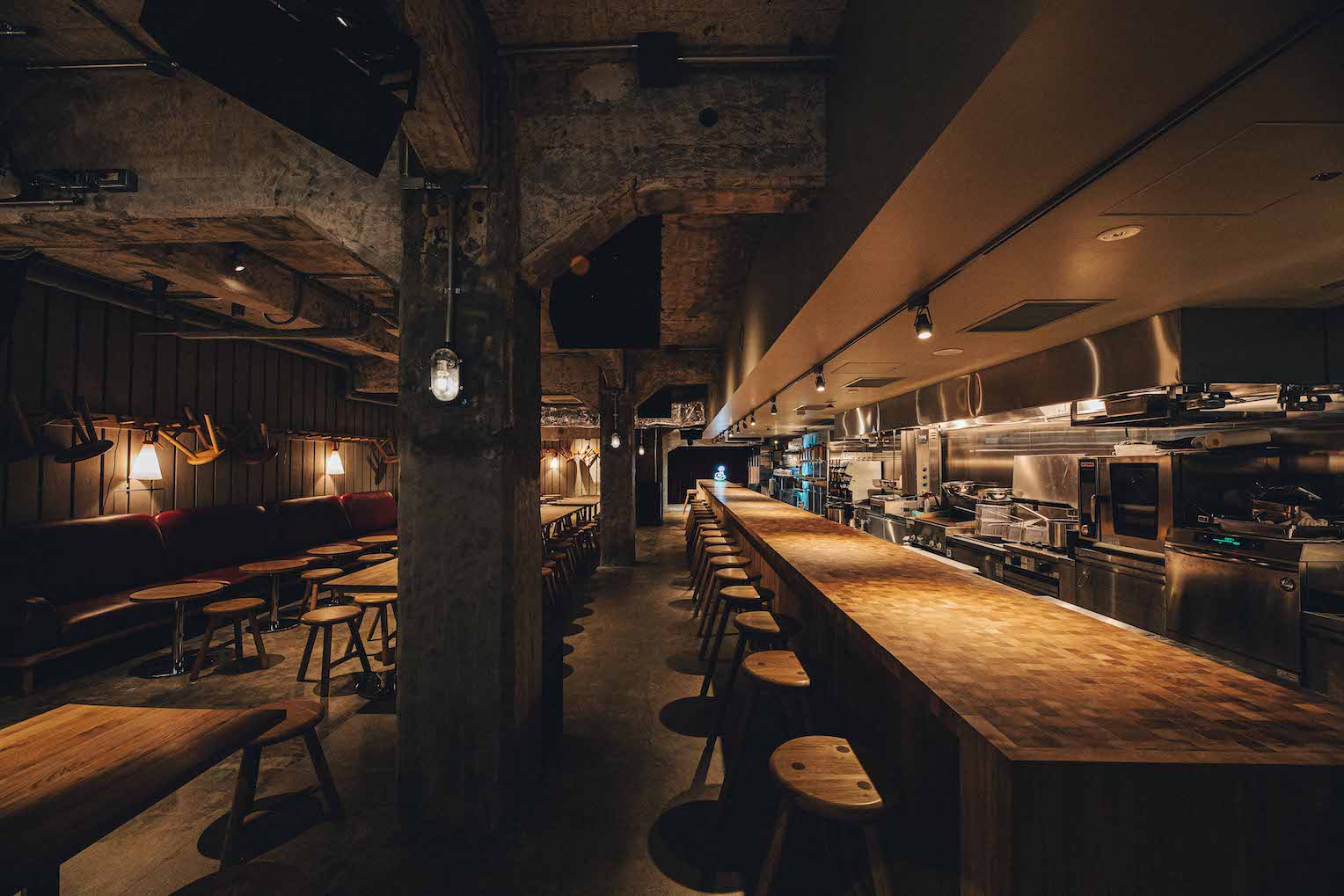 Brooklyn brewery"B" (Photo provided by K5)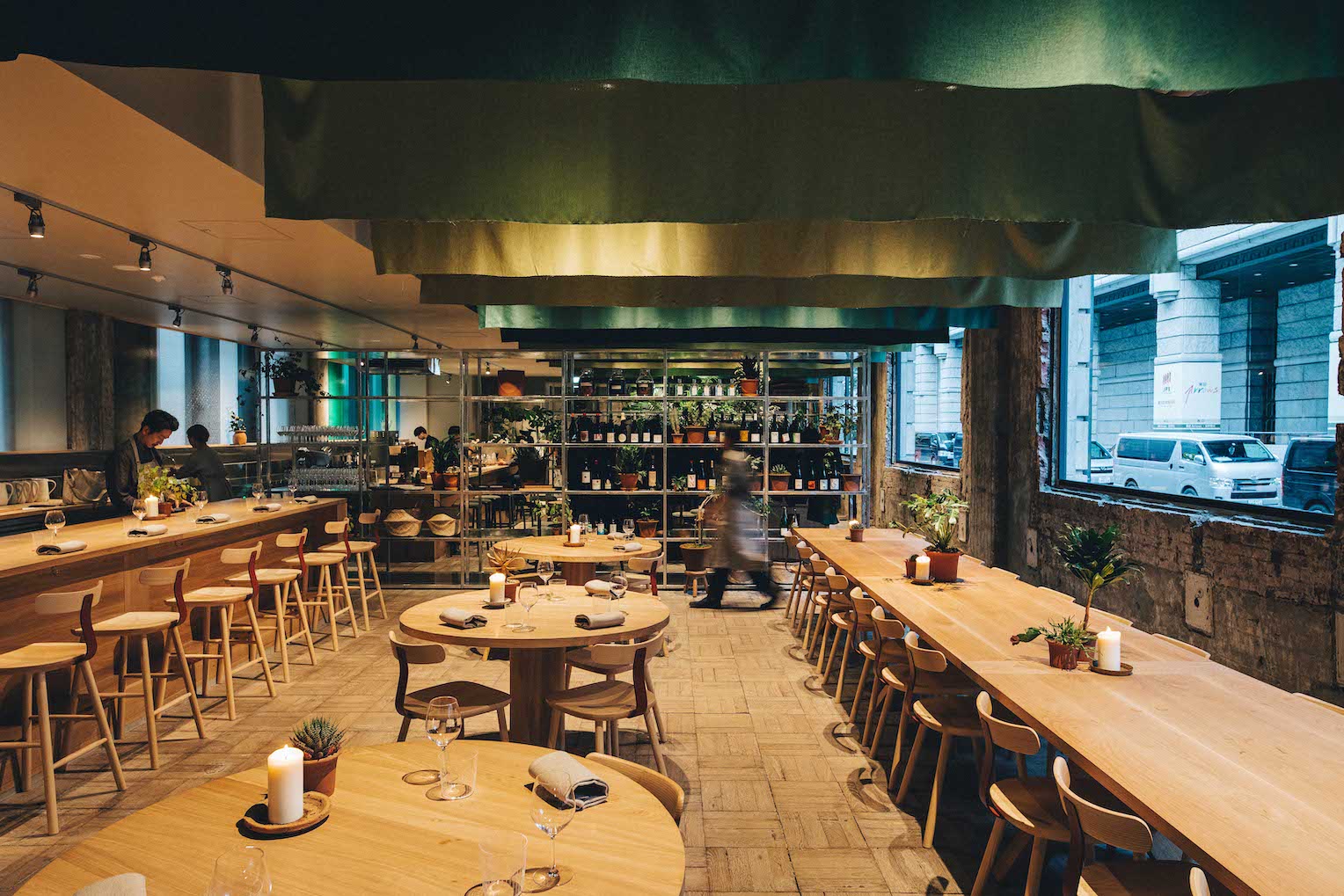 "CAVEMAN" main dining (Photo provided by K5)
-Please tell us more about the term you used earlier – "micro-complexes – as well.
Matsui : There are a lot of massive multiplex facilities in the world. They have their own reasons and purposes, and it's clear that they have major economic roles. But in the coming era, we think the world will need locally-rooted, smaller multiplex facilities as well as larger-scale developments, and thus created the term micro-complex. There are things only a small multiplex facility with close local ties can achieve. In that sense, K5 is a very carefully-curated multiplex with extensive consideration given to the future of Kabutocho. We really have the absolute best tenants for a Japanese setting in our first and basement floors. Also, rather than a single company handling the development, micro-complexes are produced collaboratively by a diverse team that crosses genres, with a common vision. We drew together an incredibly-appealing team for the moment, even for interior design and plantings.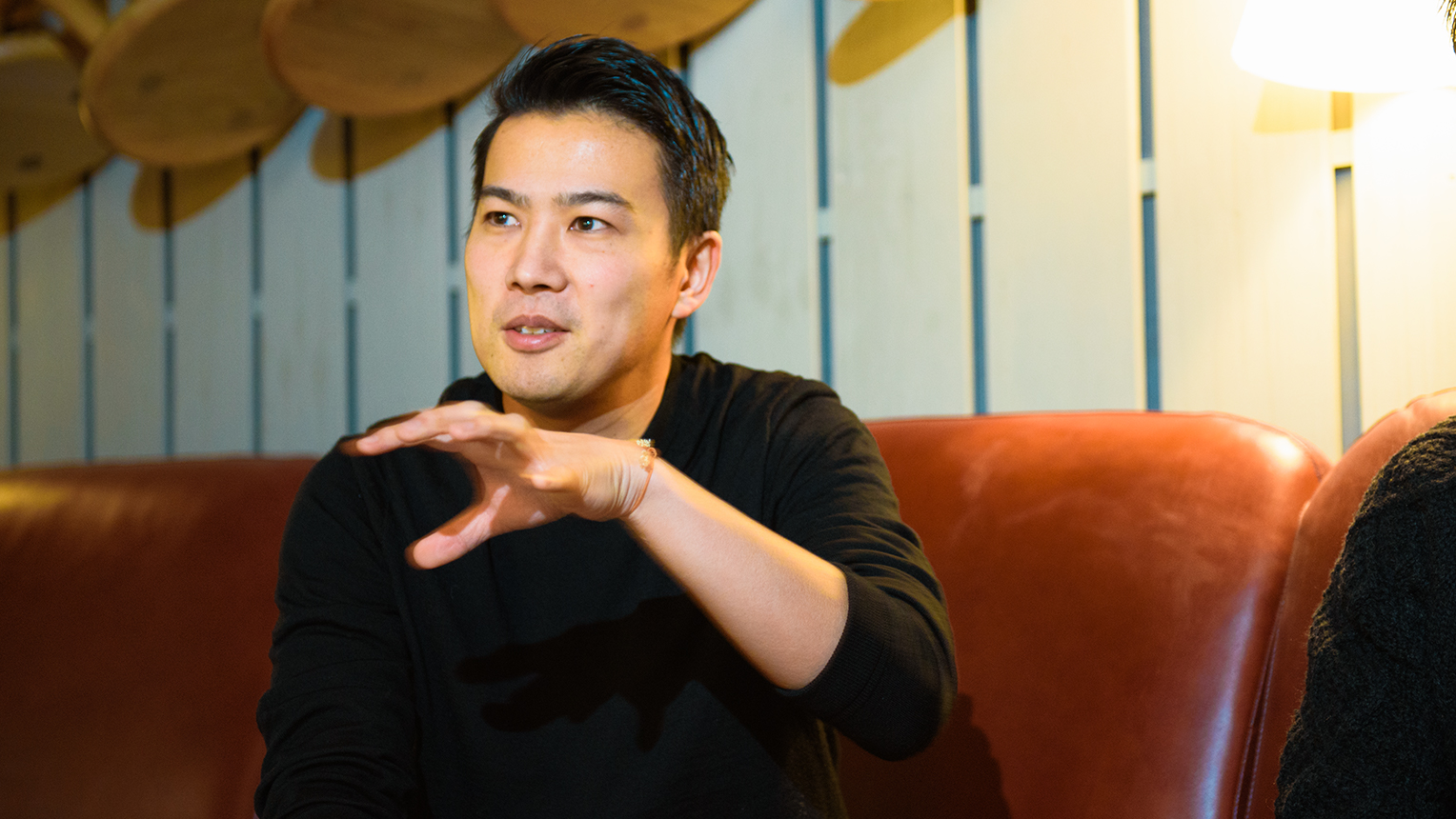 Mr. Akihiro Mitsui, who supervised branding and promotions
Honma : The benefits of collaborative production with a partner who shares your sensibilities on design and plantings are extensive. The curiosity where "this person wants to do it" and where you wonder "what sort of facility would this team produce" is all at the start, so you never get the sort of same-y building that feels like you've seen it before, like you would from market research into trends and popular hotels. We drew on things and people we liked to build the facility, which might be why it feels so unprecedented, and like something only our team could create.
Matsui : Maybe K5, born from a cluster of independent people as it was, can shift the values around the mature field of large-scale developments. I think the philosophy behind micro-complexes is vital in this era, especially.
We made it this far, feeling like kids building a secret hideout together.
-What brought the project team members together, this time?
Honma : One of my former staff members got a job and moved to Mr. Matsui's company, and it all kicked off when they introduced us. After that, we became drinking buddies, and heard about the Heiwa Real Estate project when we were talking about wanting to launch a project. Mr. Matsui encouraged me to talk with them, saying "it might be fun!"
Matsui : We ended up joining after a couple of replies.
Honma : Also, at the same time, this project is larger in scale than the lodgings I've worked on in the past, and we needed foreign design, architecture, and media teams as well as ourselves. We needed a project manager to actually give the hotel form, and so we also brought in Mr. Oka, who can plan and develop hotels. He has worked to actually advance development, organize the team, and realize the hotel on the financial front, as well. He was the ideal choice for our conditions of fully English-fluent, global, and capable of getting along with everyone.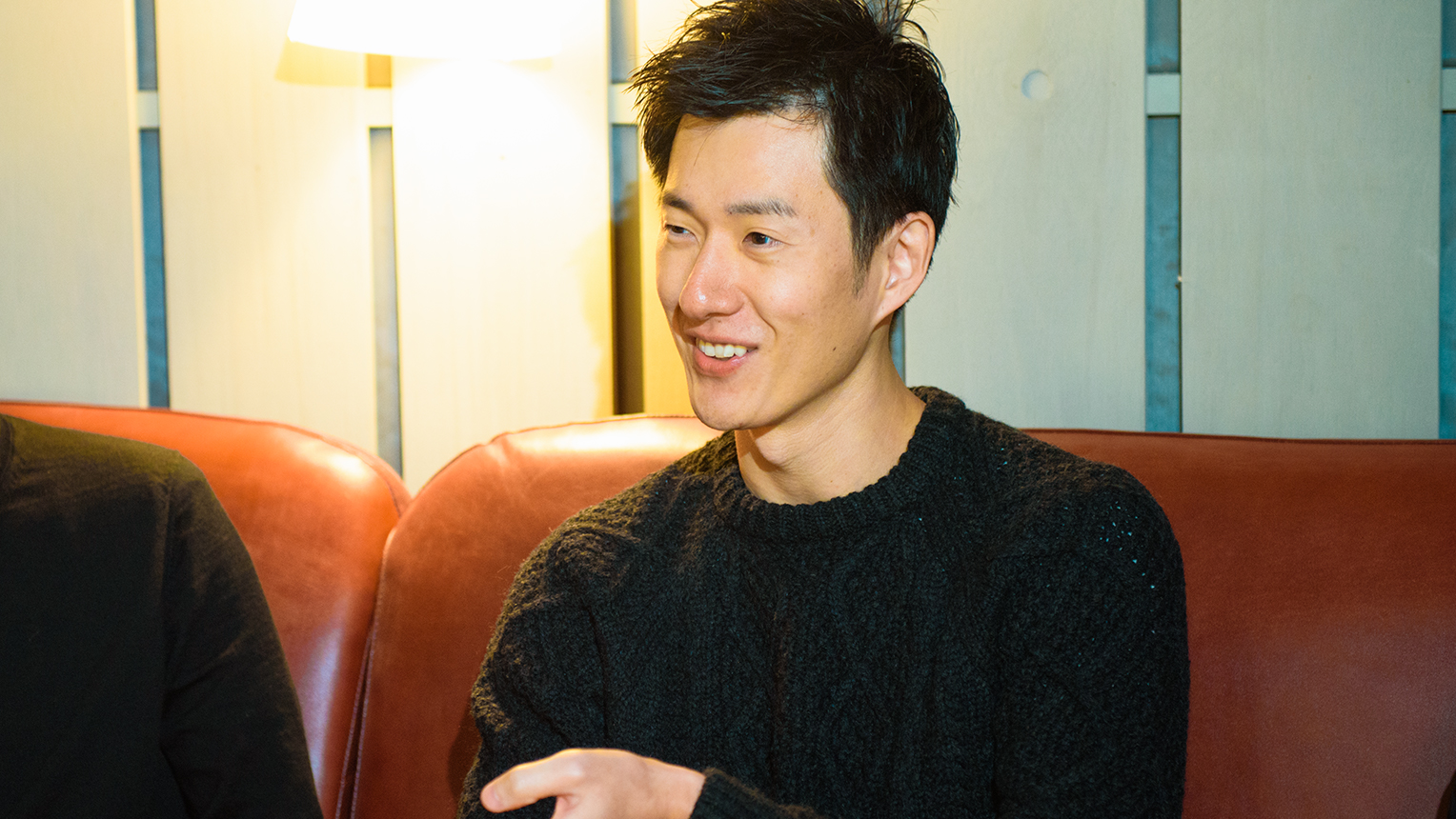 Mr. Yuta Oka, who planned, developed, and operates the hotel
Oka : I joined up in order to organize development, initially, but our staff also currently handle hotel operations, and we're building up an operations team.
-Mr. Matsui, what did you think when you first heard about this from Mr. Honma?
Matsui : When we first spoke about it, he was asking me about maybe doing something together on a non-lodging floor, since lodgings are his main business. But then it evolved toward how if we were going to do it, we should make up organized concepts for the basement and first floor, and floor two and up, and fully brand everything. That's when we started talking about the "motion and stillness" and "nature and the city" themes that came up earlier today, as well as the philosophy of "sensuous, for all five senses." And that eventually progressed toward who we could work this to get an appealing result, and what sort of tenants would be intriguing.
Honma : We had an image focused on revitalization from the outside, but the two of us joined up without any other conditions set. The name K5 was actually Mr. Matsui's suggestion. While Heiwa Real Estate came to me, I wasn't always leading the way.
-You seem like good friends. How did you manage a project of this scale together?
Honma : It was fun, like building a secret hideout together. We both took responsibility for moving things forward, as far as initial divisions of roles go, but we also both spoke out a lot. Imagine it as us having clear responsibilities for thing, but vaguely-defined borders for our roles. We share our opinions even across our borders if it will improve things. But ultimately, our style is that we make the decisions about our own roles.
Matsui : Honestly, handling something this way is a first for me.
Honma : It is for me, too. At the point when we shifted to this style, it was clear to me internally, and Mr. Oka said that "I don't want to join up just as a project manager." I think that was the turning point, when he said "I want to build the hotel together."
Oka : That's why I mentioned earlier that we don't just organize the development; my company is also involved in operations. I feel like we each had a moment when we shifted to a mindset of "building the hotel together" from thinking about "covering the roles we were given." Then we became a unified team. And as a team, you can do thinks like helping out when your teammates seem like they're about to lose control of the ball. We certainly didn't begin as friends building a secret hideout together, and there was a period when we complained to one another, but we weathered it to get to where we are now.
-That makes it sound quite difficult to balance all the relationships.
Honma : It's true that our roles and relationships aren't clearly defined, so that could be difficult, but I think there is value in continuous change. That also shines through in K5. We believe that K5 must always change and shift with the trends and sensibilities of the era. You could say it's premised on changing. We don't intend to clearly define K5 as having one set role. We would rather maximize the potential of our undefined appeal.
Matsui : For the record, the K5 logo's creative concept is tasteless, odorless, colorless, and transparent. It was created with an assumption of fine-tuning in the future, adjustments to thickness, and similar to suit the trends and sensibilities of the future. The current logo was produced entirely in the original English K5 font, as all English text at the facility is. The logo's ultra-minimalist design (Image provided by K5)
Matsui : But we may have handled a few points carefully in order to maintain our relationships. I live in Europe for half the year, and these two also travel all over Japan and the world, so we couldn't physically meet a lot of the time. When we had problems and couldn't meet, we'd make no progress over the phone or messaging, but could resolve the issue in a two-minute conversation in person, a lot of the time.
Oka : It's obvious that we have similar base values and communication styles, but following through to actually meet, sit together, and talk without leaving it all to our base styles was also a major factor on important decisions. We were all determined to actually make time to meet and discuss things, rather than talking on the phone. That might be the trick to having a free-form team work out well.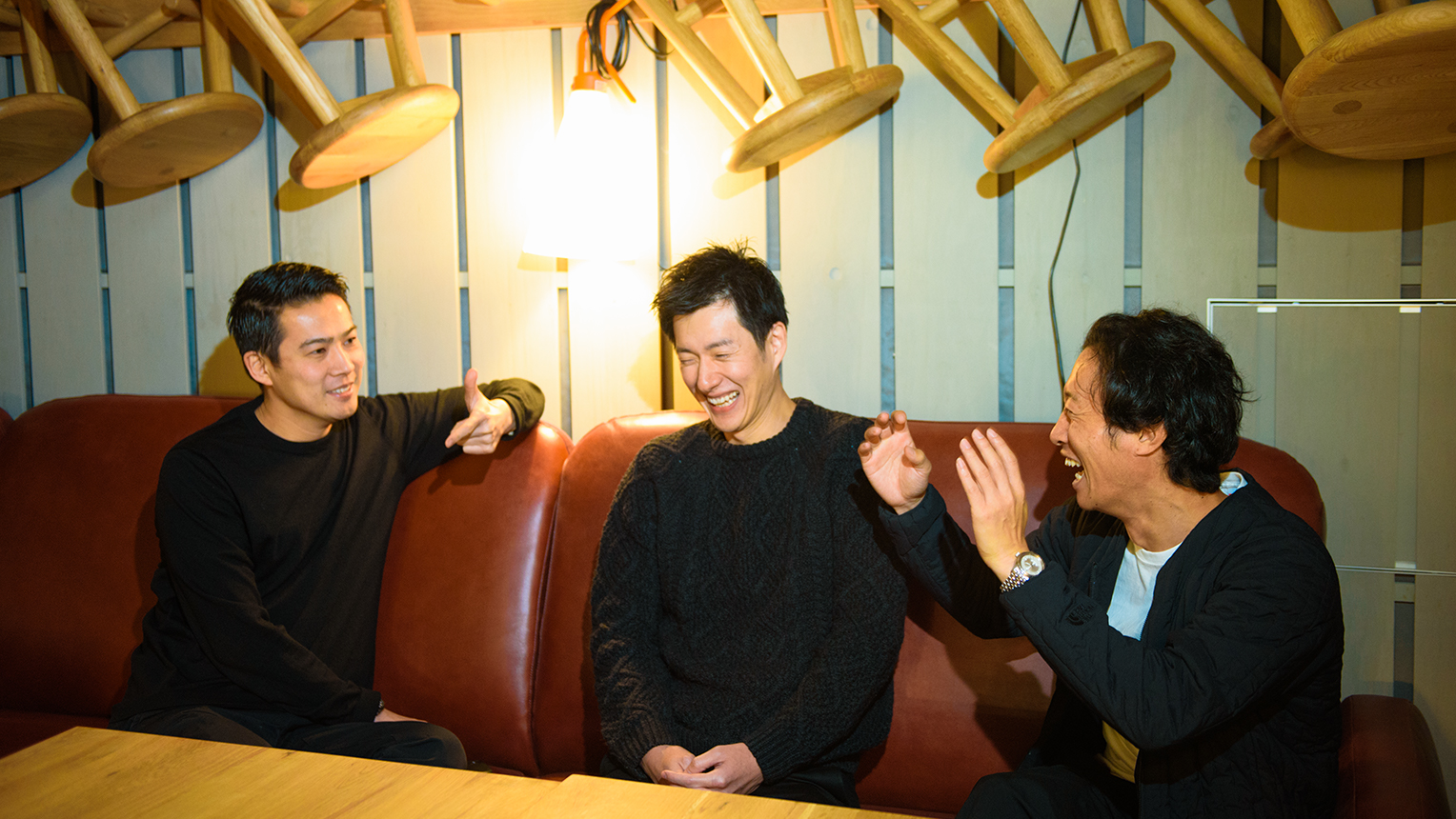 The significance of K5 is in placing a major "pin" in Kabutocho .
-How do you envision the relationship between Kabutocho, Nihonbashi, and K5 in the future?
Matsui : In foreign cities, there's usually a nice place nearby you can switch over to if you try to get into a bar or restaurant and it's full. I think that multiplexex can construct that sort of flow line because they're closely linked with the areas. It creates dynamism, and livens up the area. I want K5 to manifest that energy. For example, people might not get into "B," the beer hall, when it's full, but then could have a nice drink at a place on the first floor. If any business in K5 is full, it's just a short walk to another. If the entire city adopts that style, it produces a habit of being happy to go out in Kabutocho, since people can always get in to somewhere that suits them. That causes people to flow into the city, and I believe that revitalizes it.
Honma : More than trying to actively revitalize the city, I want to place a very strong "pin" in the center of it. I think that letting the surroundings naturally develop more appeal is the real, true way cities should be. So I think K5's role is to be the initial "pin" for that. The city's residents will develop the city into what it becomes. All we can do is put a very strong pin in the right point. I just hope that the results make the city more fun.
Oka : I'm a bit different, and feel that it's okay for K5 to be actively involved in changing the city. Until now, we've lived in an era when people had their workplaces, and had to decide their residence and destinations they'd visit around that. But we're gaining the ability to work without regard to company locations, so it's becoming normal to select where you live and spend time without regard to your school or workplace. That's why people will move to, consume, spend time, and have fun in Kabutocho, Nihonbashi. I think it's important to transform the city into a place like that. Personally, I would like to create opportunities for the city a bit more actively from K5, and act as a starting point for locals to renovate their city.
Matsui : We often have very different opinions on things, but we have the same goals, so we find the best outcomes when we get together and talk. I think that being able to make progress like this is what made this team of friends work out so well.
Interview and Text : Ichiro Yasui (konel)
Photography : Daisuke Okamura
K5
Address : 3-5 Nihonbashikabutocho, Chuo-ku, Tokyo
Access :
5-minute walk from "Nihonbashi Station" on the Tokyo Metro Tozai or Ginza Lines, or the Toei Asakusa Line
5-minute walk from "Kayabacho Station" on the Tokyo Metro Tozai or Hibiya Line

Click here for reservation→