2020.02.26
A Collaboration Between the Mandarin Oriental Tokyo and Hakuza. A "sakura menu" made using gold leaf worked with traditional Japanese techniques. Here, we present the background for the event's production.
A Collaboration Between the Mandarin Oriental Tokyo and Hakuza. A "sakura menu" made using gold leaf worked with traditional Japanese techniques. Here, we present the background for the event's production.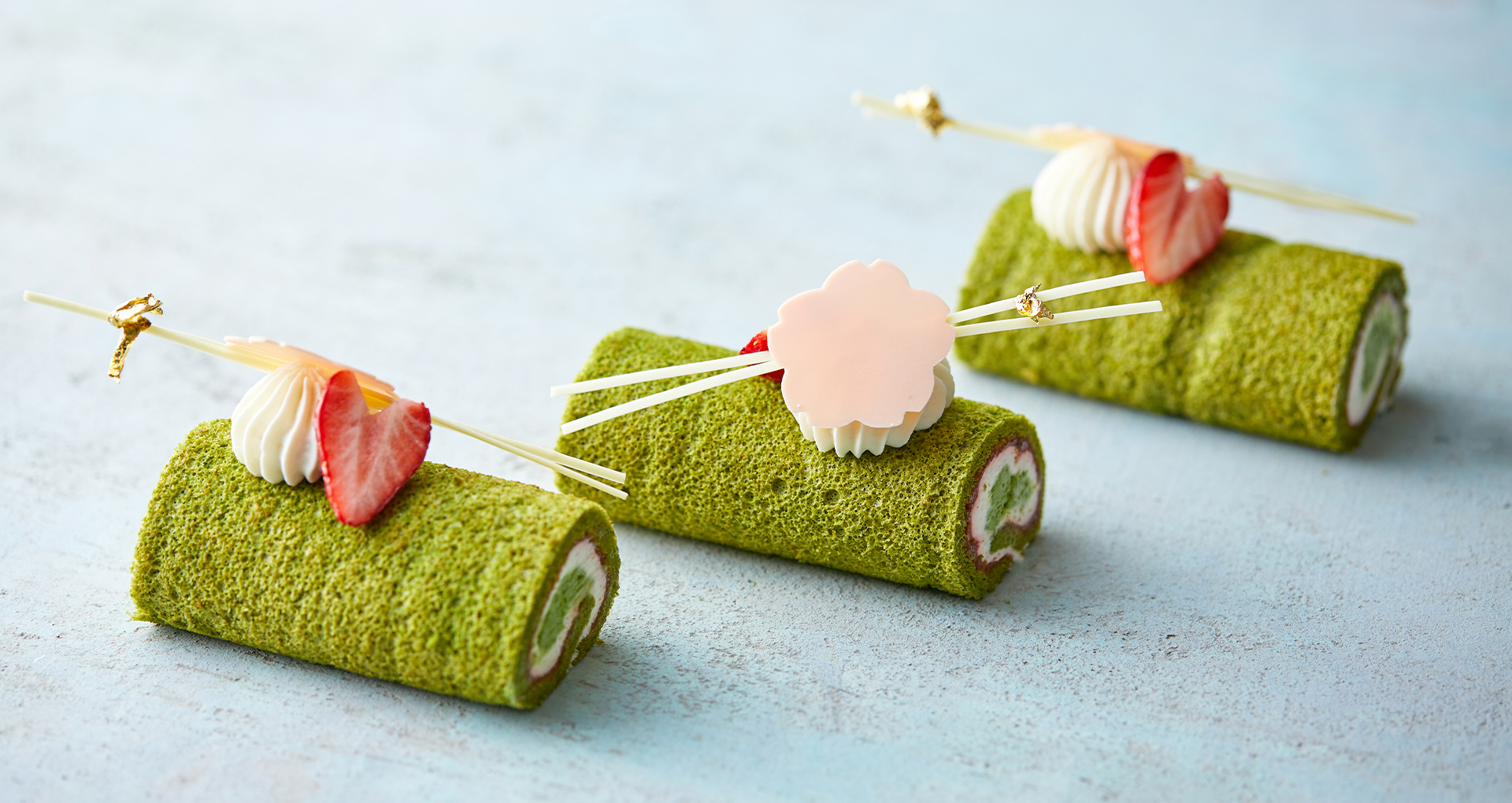 "SAKURA FES NIHONBASHI/OFF TO MEET" is an annual feature of spring in Nihonbashi, held this year on March 15th. The Mandarin Oriental Tokyo – opened in 2005 in Nihonbashi – and "Hakuza" - which opened a store in Nihonbashi in 2010 - collaborated to develop a menu for the event. This report covers the collaboration products born from Hakuza's efforts to share the beauty and wonder of traditional Japanese kinpaku gold leaf, as well as background on the event's production.
A collaboration that began with a desire "to spread the beauty and wonder of Japanese gold leaf from an epicenter in Nihonbashi."
Bridgine previously covered Hakuza Nihonbashi in November 2019. At that time, Hakuza's Representative Director and President Ms. Mina Okada expressed the following to our editors.
"I want to generate collaborative efforts with Nihonbashi stores and businesses, and spread knowledge of the beauty and wonder of gold leaf."
Since opening for business in 2010, "Hakuza Nihonbashi" has developed numerous products in collaboration with long-established Nihonbashi businesses like "Ninben" and the "Eitaro Sohonpo" main storefront, and even now the Hakuza storefront offers an amazing selection of such products. The business has set roots in Nihonbashi in this fashion after expanding from Kanazawa, over a period that will soon span 10 years. During this anniversary year, President Okada wanted to expand the potential of kinpaku gold leaf still further, through joint creation with those in the region.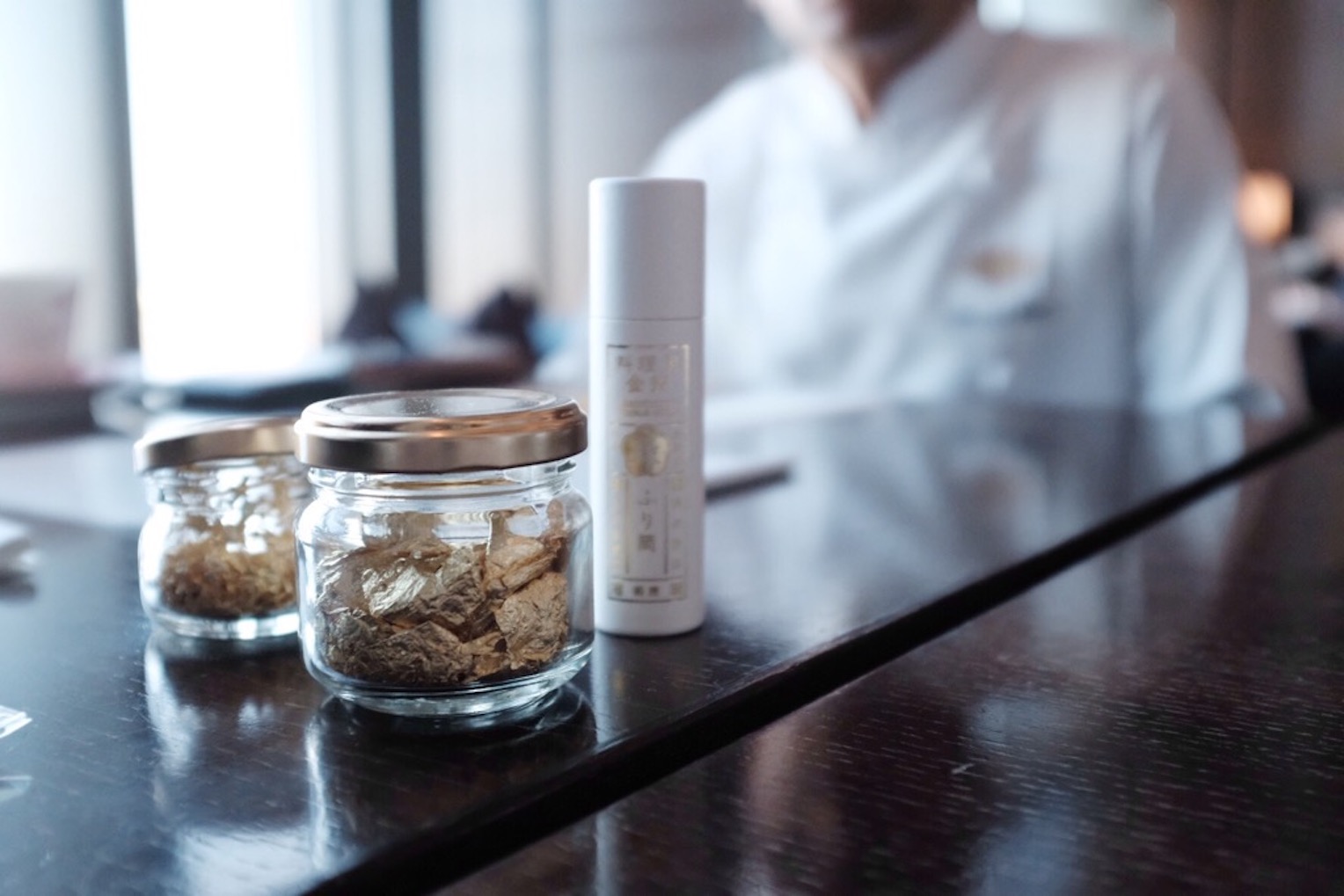 Kinpaku gold leaf holds symbolic significance for "good fortune with money, general good fortune, and warding off evil spirits," and kinpaku from Hakuza is used in numerous buildings of national treasure-level quality. Hakuza also handles every type of cooking-use kinpaku gold leaf you can imagine
When consulted about the point, the editors at Bridgine thought Hakuza seemed highly compatible with the Mandarin Oriental Tokyo , another subject of past coverage as a high-class international hotel. However, the Mandarin Oriental's concept is also "Sense of Place," and the hotel values harmony with the history and culture of its location, and "close links with the area." This made our editors imagine that "with its active efforts in the local community and with longstanding local businesses, the Mandarin has ties to Nihonbashi's history. They should be eager to work with Hakuza as another business carrying on Japanese culture." Given that, our editors met with Ms. Michiko Fujikawa, the marketing director for the Mandarin Oriental Tokyo.
The project began immediately when we brought up the idea of collaborating on the "sakura menu" of cherry blossom items served during "SAKURA FES NIHONBASHI" – an event held every spring in the city – with the reply "Collaborations with Nihonbashi businesses are a wonderful idea. Let's do it, definitely."
Touching on the Culture and Techniques Involved in Kinpaku Gold Leaf.
Once the decision was made to develop a collaborative menu, the first meeting took place soon after. Initially, the meetings included Ms. Akiko Kitajima (manager of Hakuza Nihonbashi), Mr. Daniele Carson (head chef at the Mandarin Oriental Tokyo), Mr. Akira Uchizaka (beverage department manager), and Ms. Fujikawa, and began with a lecture on edible kinpaku gold leaf.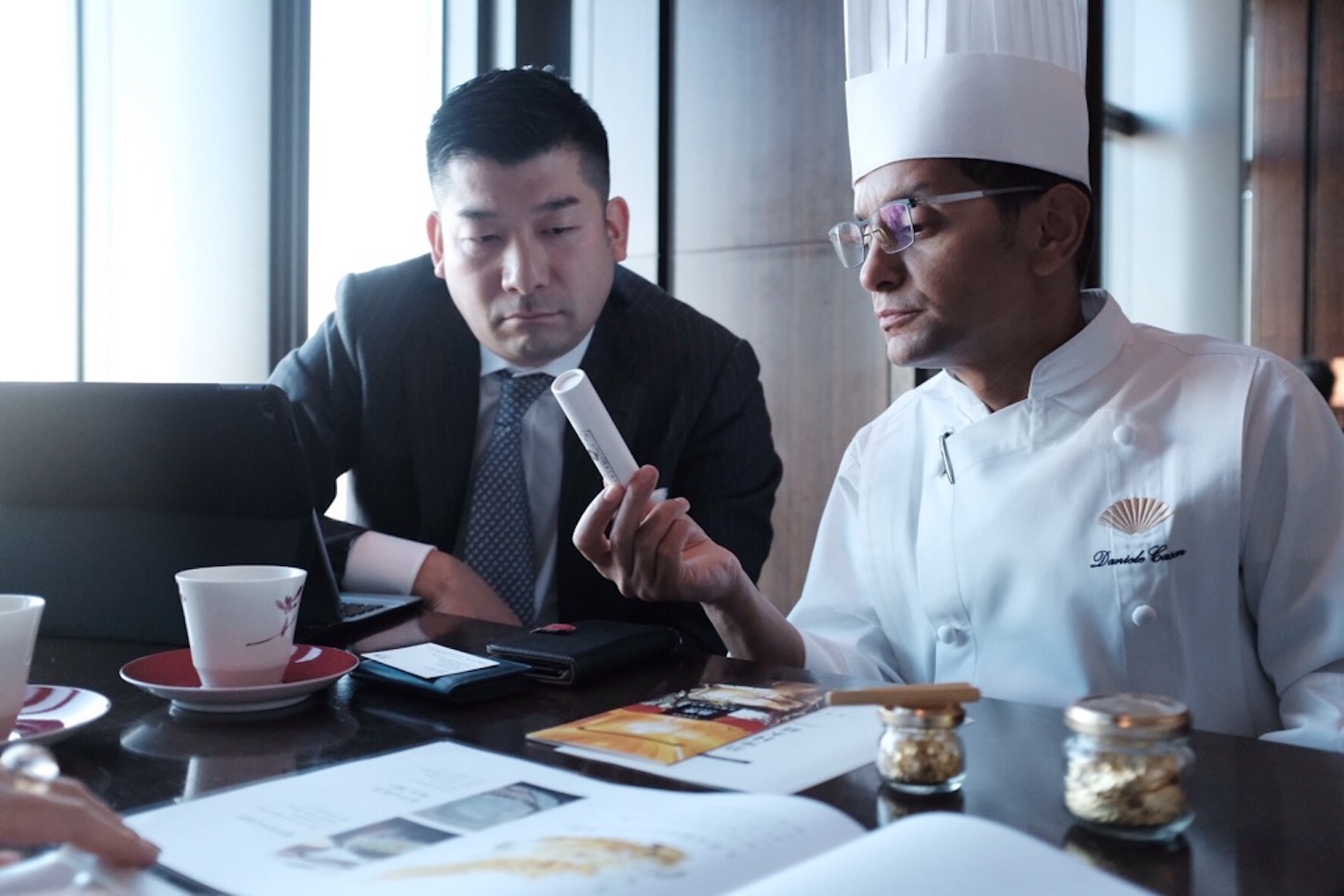 Head chef Mr. Daniele Carson holding one of Hakuza's kinpaku products while listening to an explanation (right), beverage department manager Mr. Uchizaka (left)
Hakuza sells an edible kinpaku gold leaf product series named "En," written using the Japanese character for "connection," which is made with natural materials using ancient, traditional kinpaku production methods. It is only possible with artisanal techniques that involve wrapping gold in washi Japanese paper and hammering it to a uniform 1/10,000 mm in thickness. Both Mr. Carson and Mr. Uchizaka were fascinated by the explanation of this labor-intensive process.
Moreover, Hakuza also produces made-to-order products as well as their existing edible kinpaku gold leaf items. Based on the samples Ms. Kitajima brought, Mr. Carson's imagination swelled with menu ideas.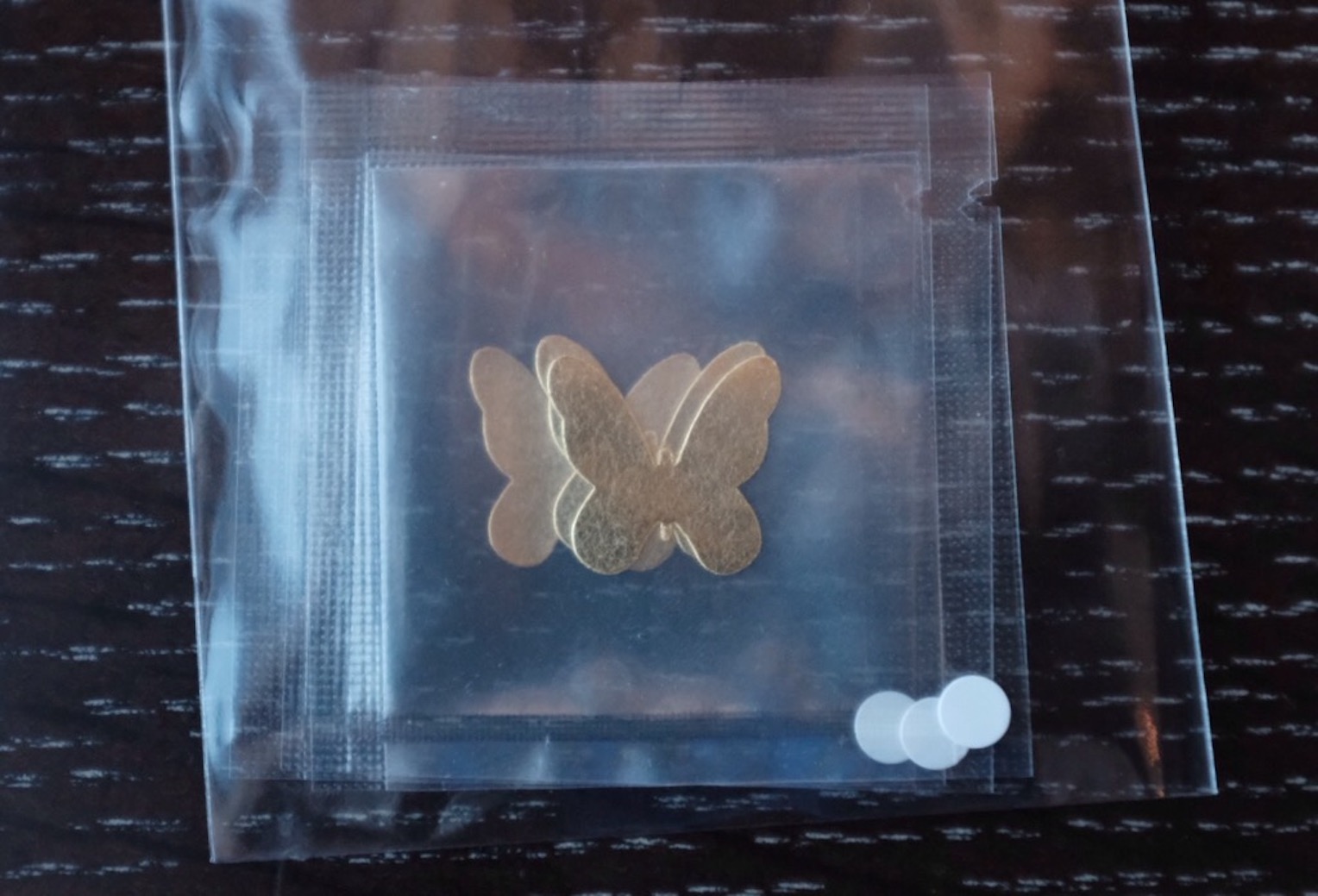 Hakuza also offers processing into original shapes. Having heard that Mr. Stephan - the pastry chef at the Mandarin Oriental Tokyo – liked butterflies, Ms. Kitajima brought butterfly-shaped samples from Hakuza on the day of the meeting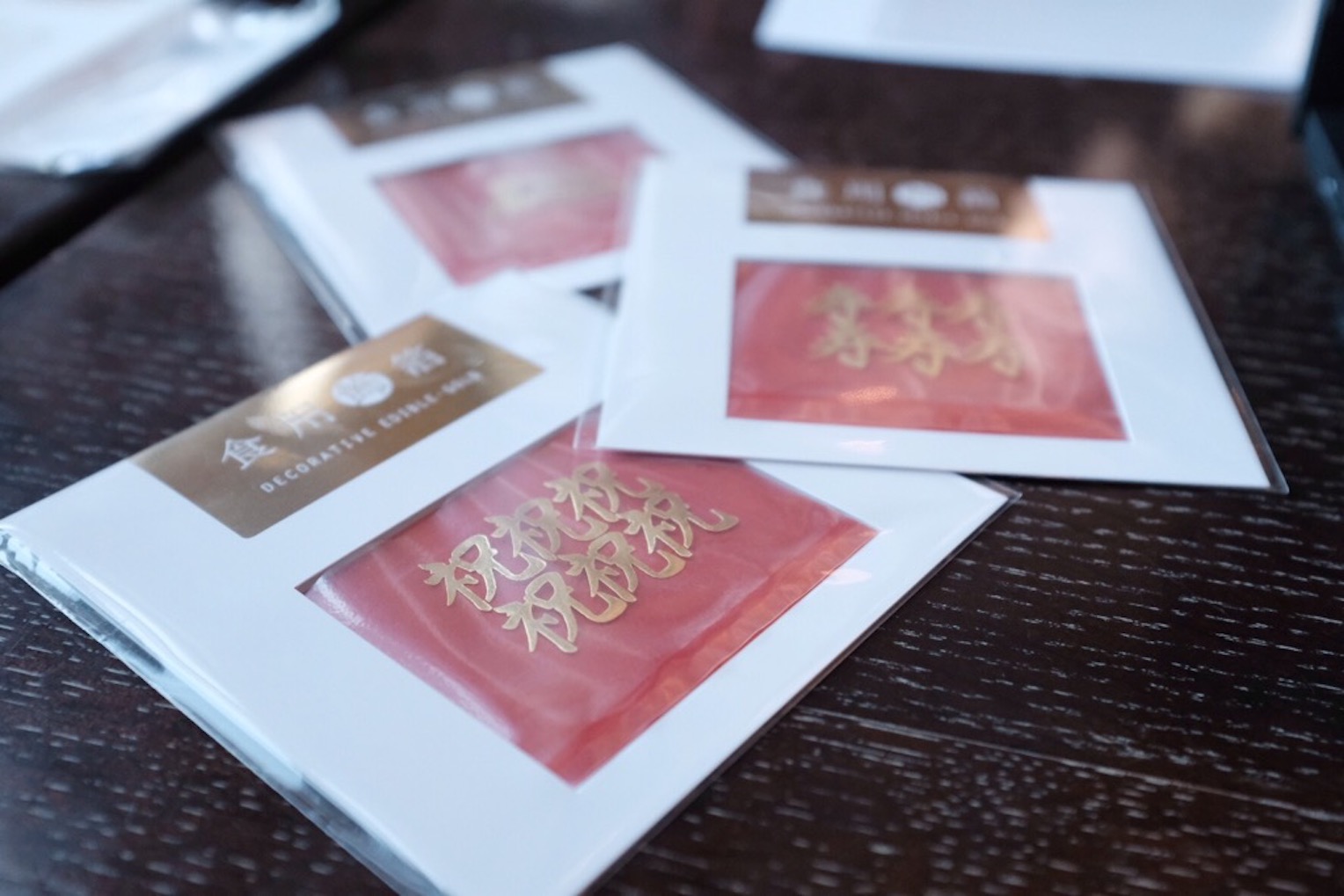 The designs can depict original shapes or fine-print text
At the meeting, Mr. Carson produced a stream of widely-varied ideas, such as use in macarons and other sweets, or in the dishes for multi-course menu items. In the end, attendees took kinpaku samples in a variety of shapes home with them, then planned to submit proposals after thinking further on menu ideas.
Creating a menu that makes proper use of the materials.Finding the perfect shape through trial and error.
Two weeks after the initial meeting, the Mandarin Oriental Tokyo side offered their menu proposals, specifically "Swiss roll cake" and "risotto."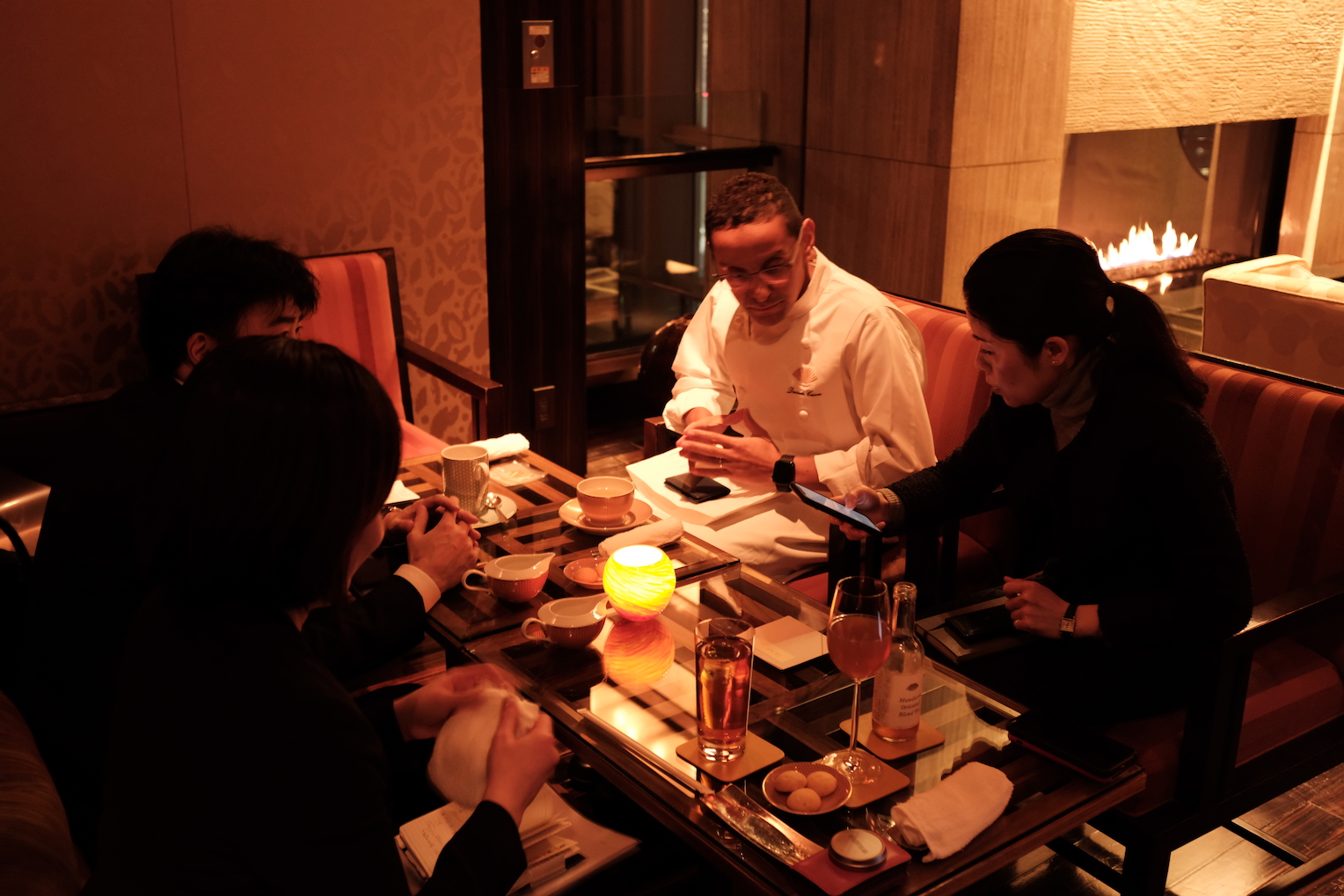 The second meeting, when the menu was decided
When we asked about how they came up with these two menu items, Mr. Carson replied that "we've always used matcha green tea in Swiss roll cakes. So I felt that there was some inevitability to the idea of combining matcha – an ingredient that symbolizes Japan – with kinpaku gold leaf – an item made with traditional Japanese techniques. As for risotto, there's a dish in my native Italy that pairs gold leaf with saffron risotto. I used that recipe as a reference."
On hearing the menu, together, Hakuza senior director Mr. Masanori Oya and Ms. Kitajima commented that "both menu item ideas are incredible, and appreciated. The saffron risotto idea was particularly impressive. (Given that saffron was once more precious than gold in Italy of the distant past) this luxurious pairing will further emphasize kinpaku gold leaf as a valuable item. We are absolutely delighted."
Next, the group resolved to use sakura blossom-shaped kinpaku on Swiss roll cakes, and squares on the risotto, then moved quickly onward to producing samples.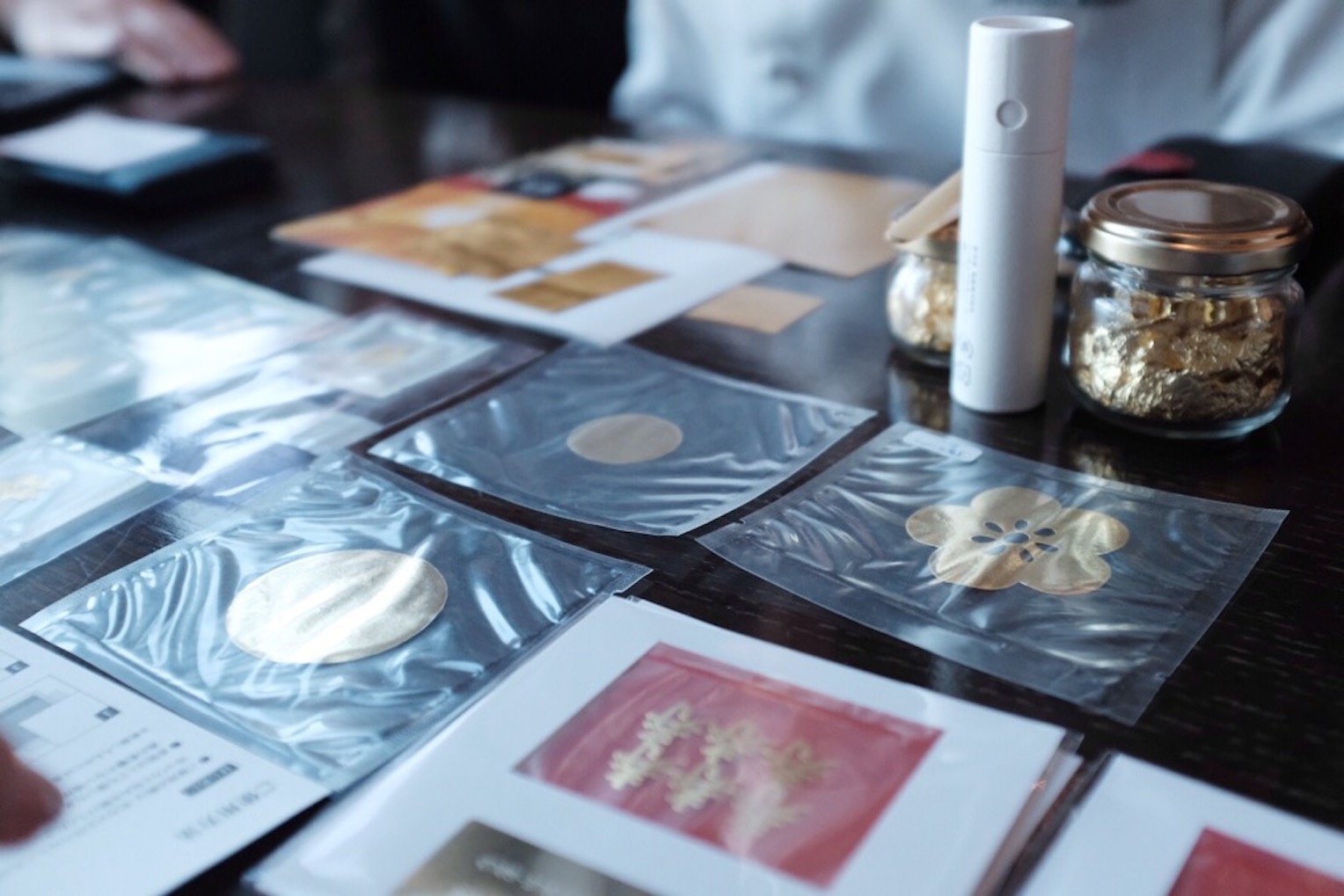 The kinpaku gold leaf for mold creation originally intended for use (center rig)
However, once samples creation began for Swiss roll cakes, they discovered a problem. The moisture and heat from cooking caused the sakura blossom shapes to shrink, and lose their forms. Given their desire to emphasize the cuisine while maintaining the beauty of the kinpaku gold leaf, they considered other methods of use. After a process of trial and error, they changed direction from placing the sakura blossom-shaped kinpaku atop the cake, and instead arranged the gold leaf around chocolate portions, which yielded a smooth final form. Next, they completed the risotto dish, finalizing the collaboration's menu.
The original collaboration menu was completed for sale from March 15th through April 5th.
The completed menu items became the "Sakura Jam and Matcha Swiss Roll Cake Adorned with Kinpaku Gold Leaf," sold at The Mandarin Oriental Gourmet Shop on the 1st floor of the hotel, and the "Kinapku Gold Leaf and Sakura Shrimp Risotto Milanese" served at K'shiki, an Italian dining establishment on the hotel's 38th floor (*1).
*1: The "Kinapku Gold Leaf and Sakura Shrimp Risotto Milanese" is served as part of a multi-course meal.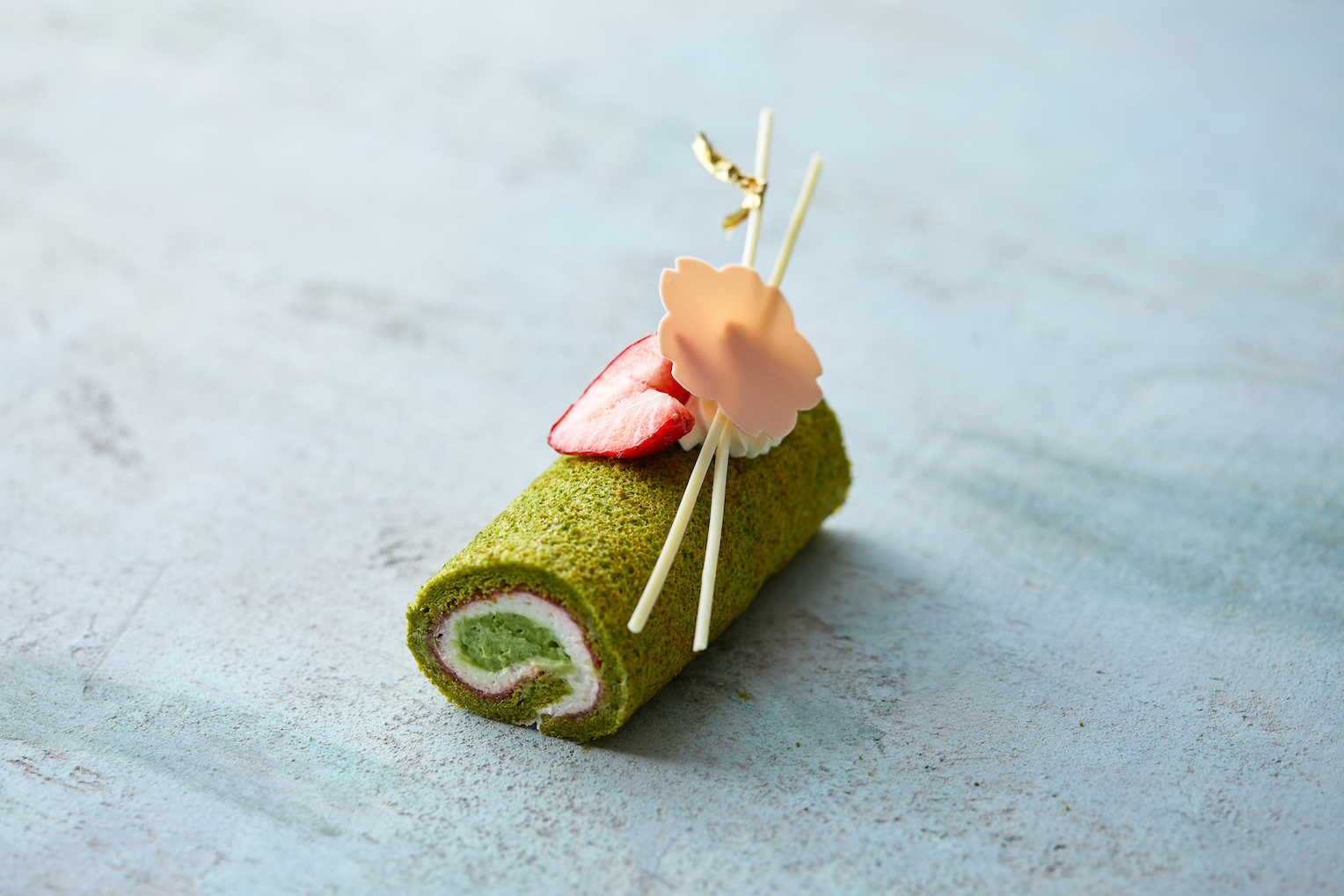 The team eventually decided to arrange kinpaku gold leaf elegantly around the chocolates atop Swiss roll cakes
The "Kinapku Gold Leaf and Sakura Shrimp Risotto Milanese," made using saffron
Mr. Carson notes that "the Swiss roll cakes are also great with Japanese teas, with their elegant kinpaku gold leaf accents over fluffy cake and thick, rich cream with the aroma of matcha. I want a wide range of people to try it, both Japanese people and overseas visitors. The risotto is an extrapolation from saffron risotto, a traditional dish in northern Italy, with highlights of kinpaku gold leaf from Hakuza. You could call it a Japanese-Italian collaboration, as well. I would love it if a lot of people got to taste this dish, as well."
Looking back on this latest effort, Hakuza's Ms. Kitajima commented that, "kinpaku gold leaf can express many different emotions as a material, depending on its interplay with the other materials used. I would be delighted if we could continue to work to draw out new beauty and wonder from precious metal leaf together with the Mandarin Oriental Tokyo and in tune with their sensibilities. I would love to work with businesses in Nihonbashi – with the Mandarin Oriental Tokyo foremost – around important occasions and events, like Christmas, Valentine's Day, and more, to 'make Nihonbashi exciting!' together."
The "nihonbashi β" co-creation project between "Collaboration Magazine Bridgine," the city of Nihonbashi, and various creators will continue to advance collaborative projects around the city in the future, as well. We welcome inquiries from businesses and establishments that are interested in collaborative projects.
Reporting and  Article: Aya Sakamoto (Bridgine Editorial Department)
The Mandarin Oriental Tokyo
The Mandarin Oriental is a Japanese-founded hotel, and opened for business in Nihonbashi, Tokyo on December 2nd, 2005. The hotel has achieved the Group's philosophy of "Sense of Place = creating hotels that pay respect to the culture and character of their locations" in both tangible and intangible senses. The interior design incorporates Japanese tastes around a motif of "forests and water: the natural world of Japan," creating a luxurious space that is both stylish and deeply soothing.

Address: 2-1-1 Nihonbashi Muromachi, Chuo-ku, Tokyo-to 〒103-8328
Phone: 03-3270-8800
https://www.mandarinoriental.co.jp/tokyo/
Hakuza
A kinpaku gold leaf specialty store that produces the kinpaku used to repair national treasures and important cultural properties like the Chusonji Temple Konjiki-do golden hall, and Nishi-Honganji Temple. While preserving techniques for "En-zuki traditional kinpaku" through production of 99% of all Japanese gold leaf from their headquarters in Kanazawa, Hakuza has also developed innovative metal leaf like their "pure gold and platinum leaf," made with an alloy of pure gold and pure platinum. The company promotes the creation of high added value products, unique services, and expressive metal leaf spaces, broadcasting the appeal of Kanazawa leaf metals in a manner than spans wide-ranging categories.

Hakuza's edible kinpaku is made using "Enzuki traditional kinpaku" methods in the "enzuki production style." Kanazawa is the only place in the world where this method is used, for even greater peace of mind in edible uses. The "enzuki production style" is a production method with over 400 years of history, and is critical for repairs of national treasures and important cultural properties. In 2014, it was certified as a selected conservation technique by Japan's Agency for Cultural Affairs given its status as a cultural asset in the form of a technique.
Hakuza Nihonbashi: COREDO Murmoachi Floor 1-1, 2-2-1 Nihonbashi Muromachi, Chuo-ku, Tokyo-to
Phone: 03-3273-8941
Hakuza Co., Ltd. (HQ): 1-30-4 Moriyama, Kanazawa-shi, Ishikawa-ken
Phone: 076-253-0893