2020.04.28
Let's meet again with a smile next spring. "The Tree of Light feat. Kotringo" showcases sakura in full bloom and hope with a streaming concert.
Let's meet again with a smile next spring. "The Tree of Light feat. Kotringo" showcases sakura in full bloom and hope with a streaming concert.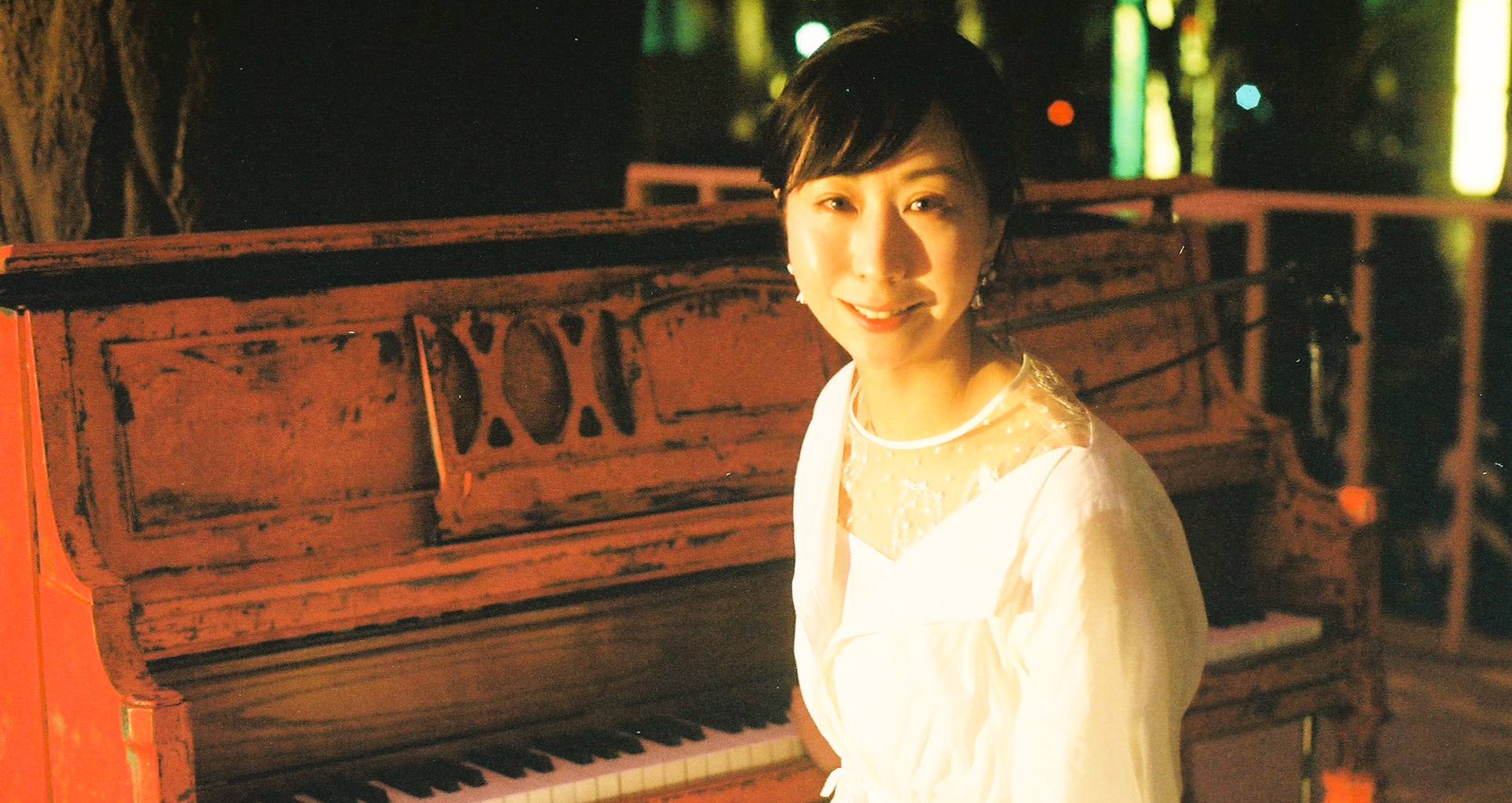 The streaming concert "SAKURA MUSIC NIGHT – The Tree of Light feat. Kotringo" was held this recent March 28th. Initially, a live concert by Ms. Kotringo was planned in front of a 9-meter-tall otherworldly digital artwork titled "The Tree of Light" atop the COREDO Muromachi Terrace rooftop space. However, given current circumstances, the concert was ultimately brought to fruition as a streaming event from a Tokyo studio, after hasty changes. The performance opened with Ms. Kotringo performing "Rainy Days" as if to forecast the day's dreary weather, after a shy but friendly greeting to fans from Ms. Kotringo in extravagant attire. The performance spanned roughly an hour, providing a pleasant and soothing experience to ease our worries during the stressful Novel Coronavirus Pandemic. After the performance, Bascule, Inc. video director and organizer of music festivals such as the "Gampeki Music Fes" Mr. Masaki Ueda and sound designer Mr. Tatsuru Takeishi of the same firm – both members of The Tree of Light ("TOL") team that organized the streaming concert - held an interview with Ms. Kotringo. That interview is presented here, alongside scenes from the concert.
Pictures of sakura arrived from all across Japan! A special stage charged with living energy.
The concert's highlight was a woodwind duet featuring Mr. Naomu Soeda, with lavish variety via saxophones, clarinets, and more. Video of "The Tree of Light" was also recorded in collaboration at Nihonbashi before the performance, for a moving, intimate co-performance between the light and musical ensemble. Ms. Kotringo was charged with living energy as she embellished the performance with stomps and glockenspiel notes while smoothly playing piano solos. She moved on to the last track – "hanabi" – after an intro from the MC entreating us all "let's meet again with a smile next spring," performing against a screen showing images of sakura blossoms and tweet text sent to the "SAKURA FES NIHONBASHI" social media account. While the nation self-quarantined through hanami cherry blossom viewing season this spring, Ms. Kotringo's music and the blossoms in their full splendor undoubtedly helped inspire hope in people across Japan. Her performance of "hanabi" at the concert is available on YouTube, and recommended for anyone who missed out.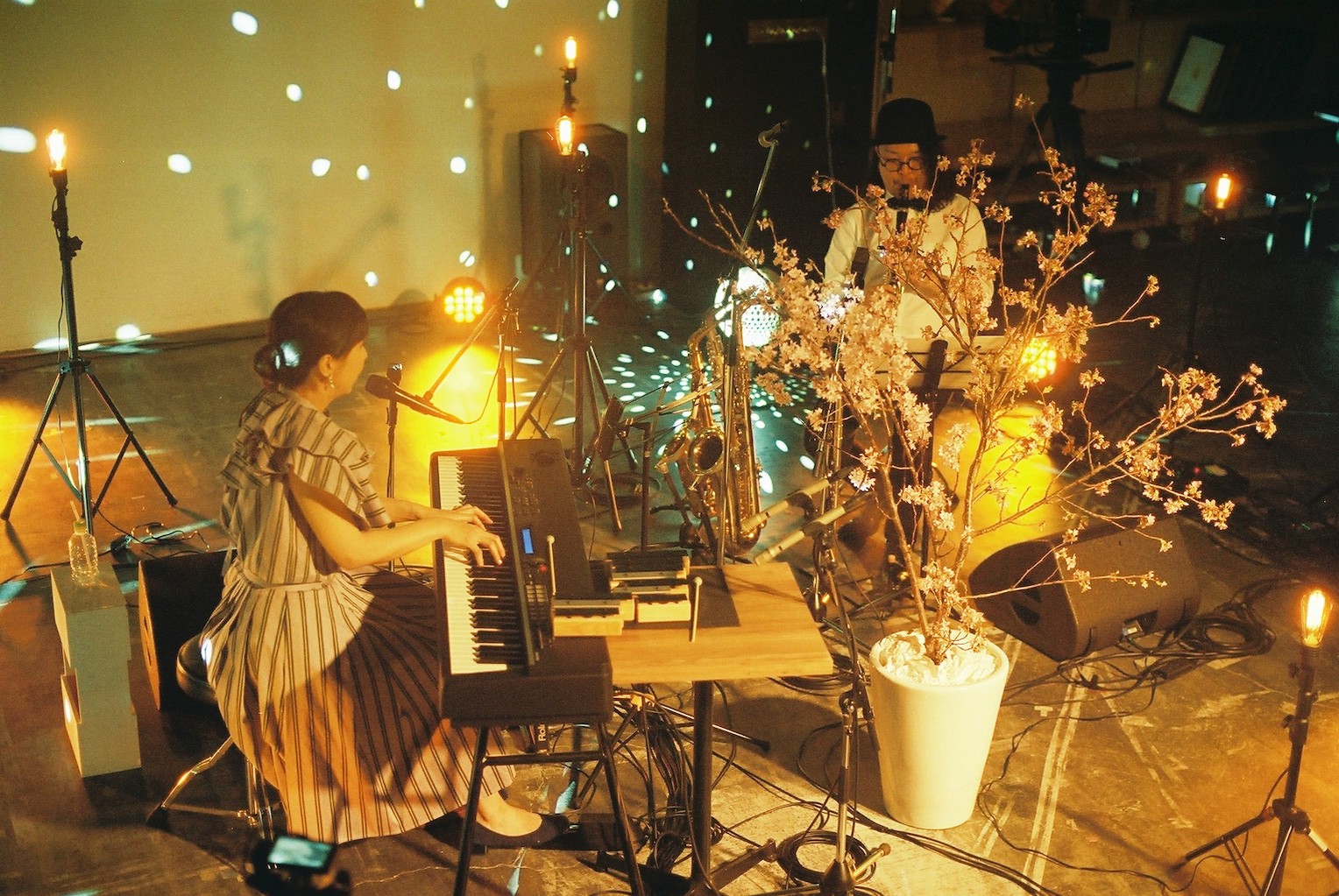 Ms. Kotringo (left) and Mr. Naomu Soeda on woodwinds (right) performing for "SAKURA MUSIC NIGHT"
We wanted to showcase Ms. Kotringo's songs alongside the "spring" we are all yearning for.
-Thank you for the wonderful stage show. You've just finished a "streaming" performance in this current period of rapid change; how do you feel at the moment?
Mr. Masaki Ueda (Ueda): I'm getting emotional at the outset here, but you saw the projection of sakura blossoms our listeners sent in on Twitter, on the screen behind us during "hanabi" at the end? When I saw that… Well, I cried a bit (laughter).
Ms. Kotringo (Kotringo): Wow!
Ueda: The lyrics <<oh, let's meet again / next year again / all of us here>> resonated more than ever. Things are tough right now, but I felt how universal spring is when I saw those photos. I could sense that spring will come again, and was glad that I did the concert. I was watching the YouTube Live comments, too, and there were a lot of great ones and clapping (*emoji comments showing clapping for the video posted), while I didn't see a single negative opinion.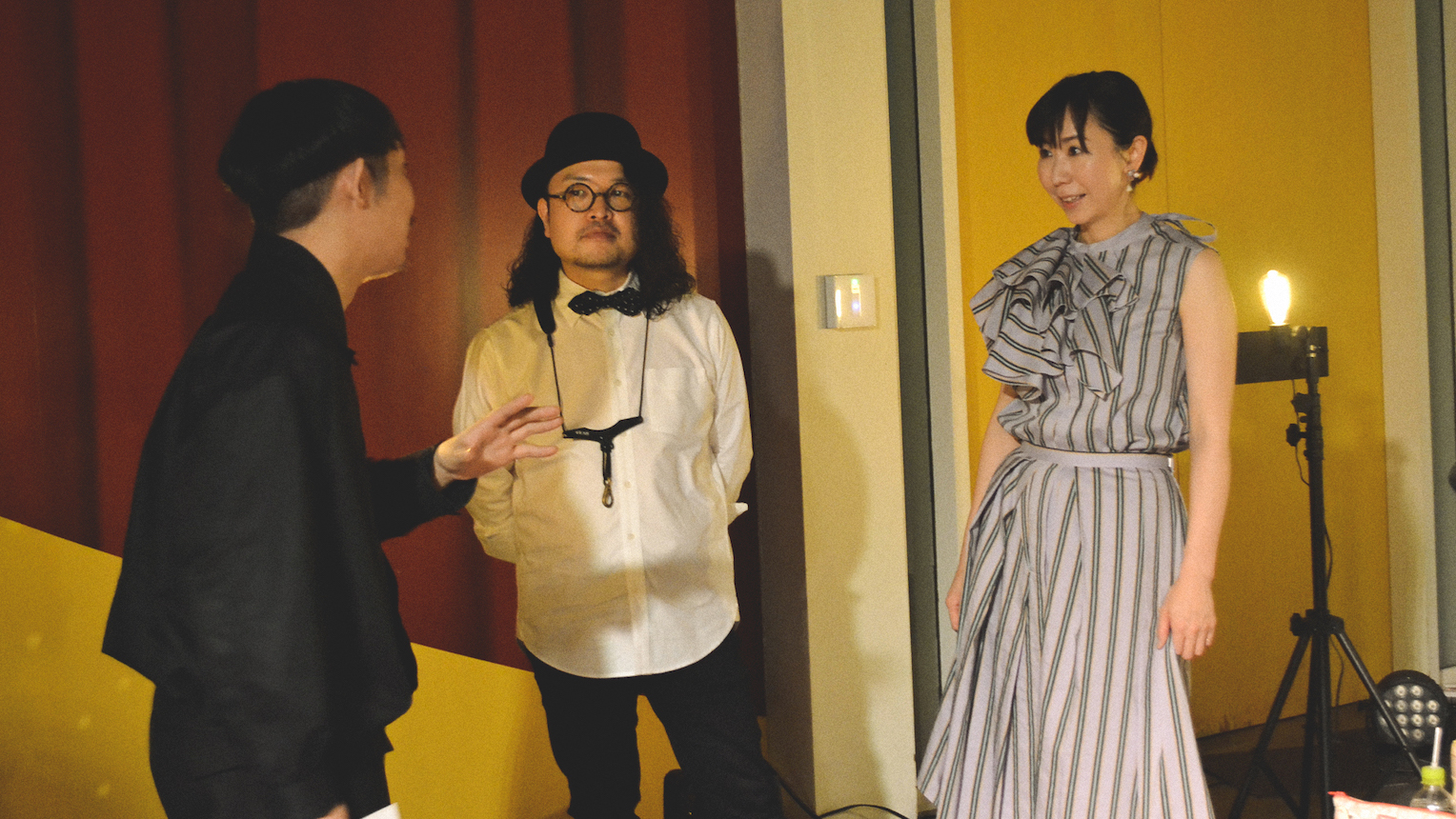 From left, video director Mr. Masaki Ueda, Mr. Naomu Soeda, and Ms. Kotringo
Kotringo: I had a good time performing, too. Of course, live streaming doesn't convey the acoustics of the location, and the sound comes through directly, so there's a different tension from what you'd feel at a typical concert.
-Was it encouraging to have Mr. Soeda there with you, on the woodwinds?
Kotringo: I should have had him join in sooner (laughter). I had only performed in a duo with Mr. Soeda for two songs at a screening of the animated film In This Corner of the World (2019), but it went so well that I asked him about this one, too. The bassist of my band originally introduced us, and as a player, he can handle all sorts of instruments.
Ueda: He used four different instruments today, too. He has so much range it's almost like having six or seven band members, and the hour went by in a flash.
-Ms. Kotringo, you have a "rainy" image, and your first song matched our weather today when you played "Rainy Days." What sort of thoughts went into the set list, and what sort of messages were you trying to get across?
Kotringo: It was sort of an extension of the content for my usual live performances. "Rainy Days" is kind of a song I use to soothe myself, and lately I always perform "It Rains Sometimes" after it, so I felt like I might try sandwiching "Foreboding" between the two today… I have several piano instrumental tracks, but I chose the "Light Up Nippon Theme" (produced by Kotringo as the main theme for LIGHT UP NIPPON, a documentary about the 2011 Tohoku earthquake and tsunami) because in my mind, this situation without a visible exit overlapped with earthquakes.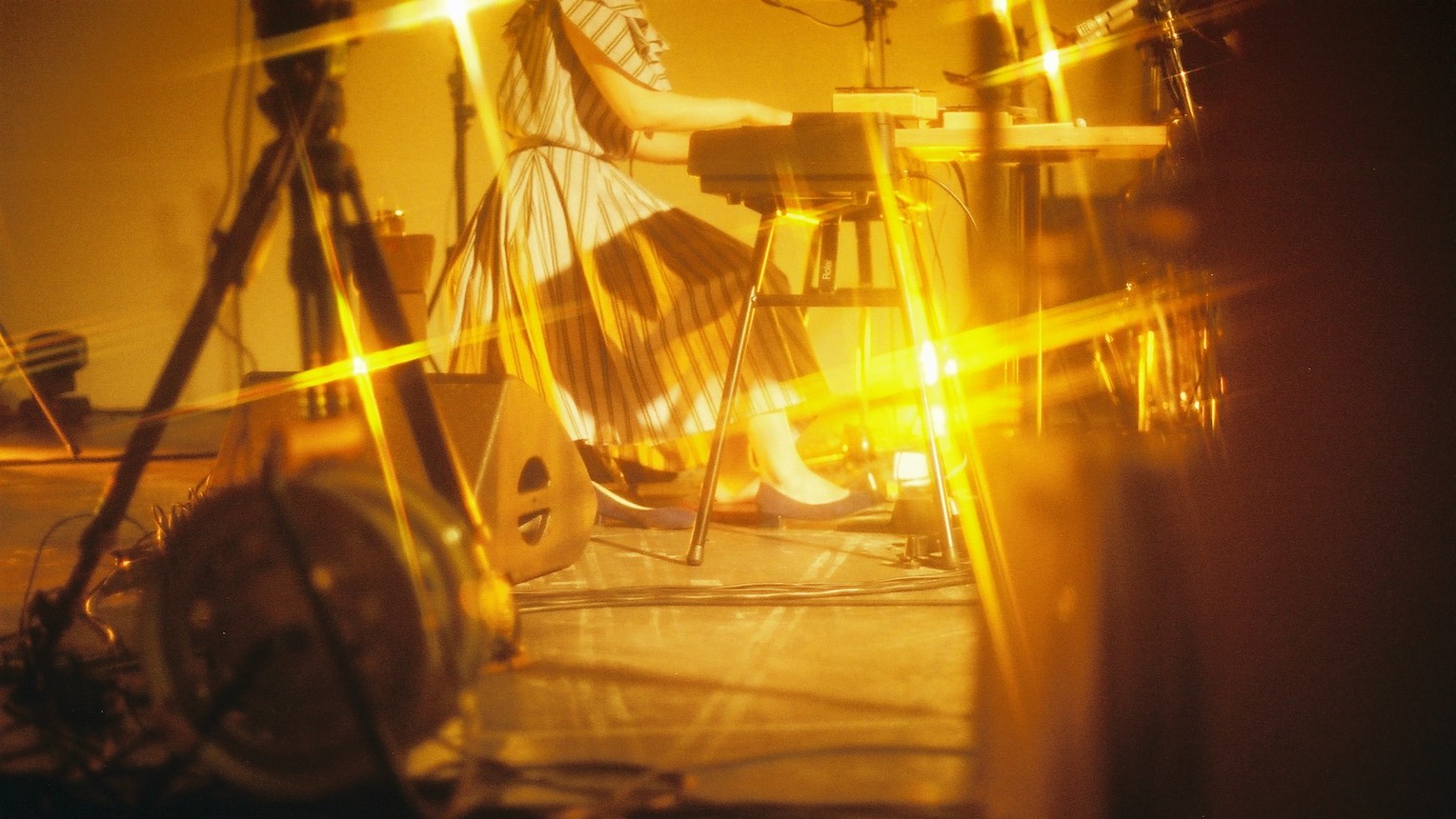 A scene from "SAKURA MUSIC NIGHT"
Ueda: The track list was compact, but it really had a story to it. We actually planned to have firework lights going off from "The Tree of Light" digital art installation in Nihonbashi during the performance of "hanabi."
All of our listeners who tuned in to Ms. Kotringo's songs are bright points of hope. Then we ended with the sakura in full bloom. Society's situation cancelled our plans that way. So I was glad about how perfectly "hanabi" fit with the photos of sakura today, as a performance.
-I've heard the plan for the sakura photos was quite hastily implemented. What sort of events gave rise to the idea?
Ueda: The recent self-quarantine orders made it unacceptable to go outside, so how do we go a performance indoors, and reproduce our outdoor plans for it? We started out thinking about that. Everyone was in a quarantine mood for the hanami viewing of sakura blossoms, so we thought it would be great to show the "spring" we all longed for alongside Ms. Kotringo's songs. So we did some hasty efforts to get photos sent in two days before the concert (laughter). We were worried we wouldn't get any, but ultimately received around 350 photos from across Japan. A lot of people sent encouraging messages like "I hope Ms. Kotringo's performance goes well!" alongside the photos, so we decided to also project the tweets along with them. We're also sharing some of the photos our listeners posted through the "SAKURA FES NIHONBASHI" Instagram account. https://www.instagram.com/nihonbashi_sakurafes/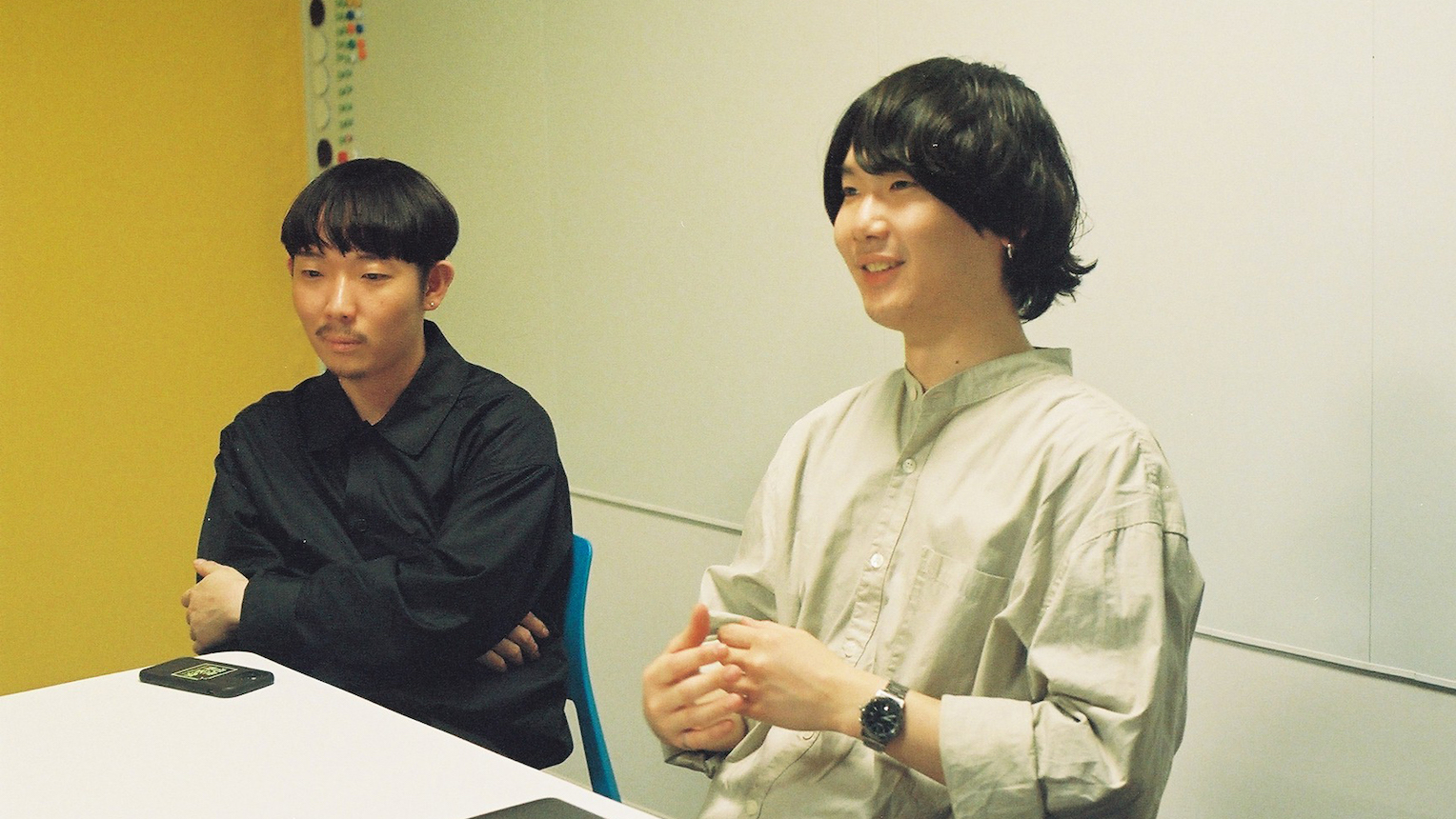 From left, video director Mr. Masaki Ueda, and sound designer Mr. Tatsuru Takeishi
Mr. Tatsuru Takeishi (Takeishi): Yeah, in an archival sense, we recorded solely the keyboard MIDI data (digitized performance information for music that can be replayed on electronic instruments and computers) of Ms. Kotringo's performance today.
Kotringo: Huh?! I made mistakes today, please fix those. (laughter)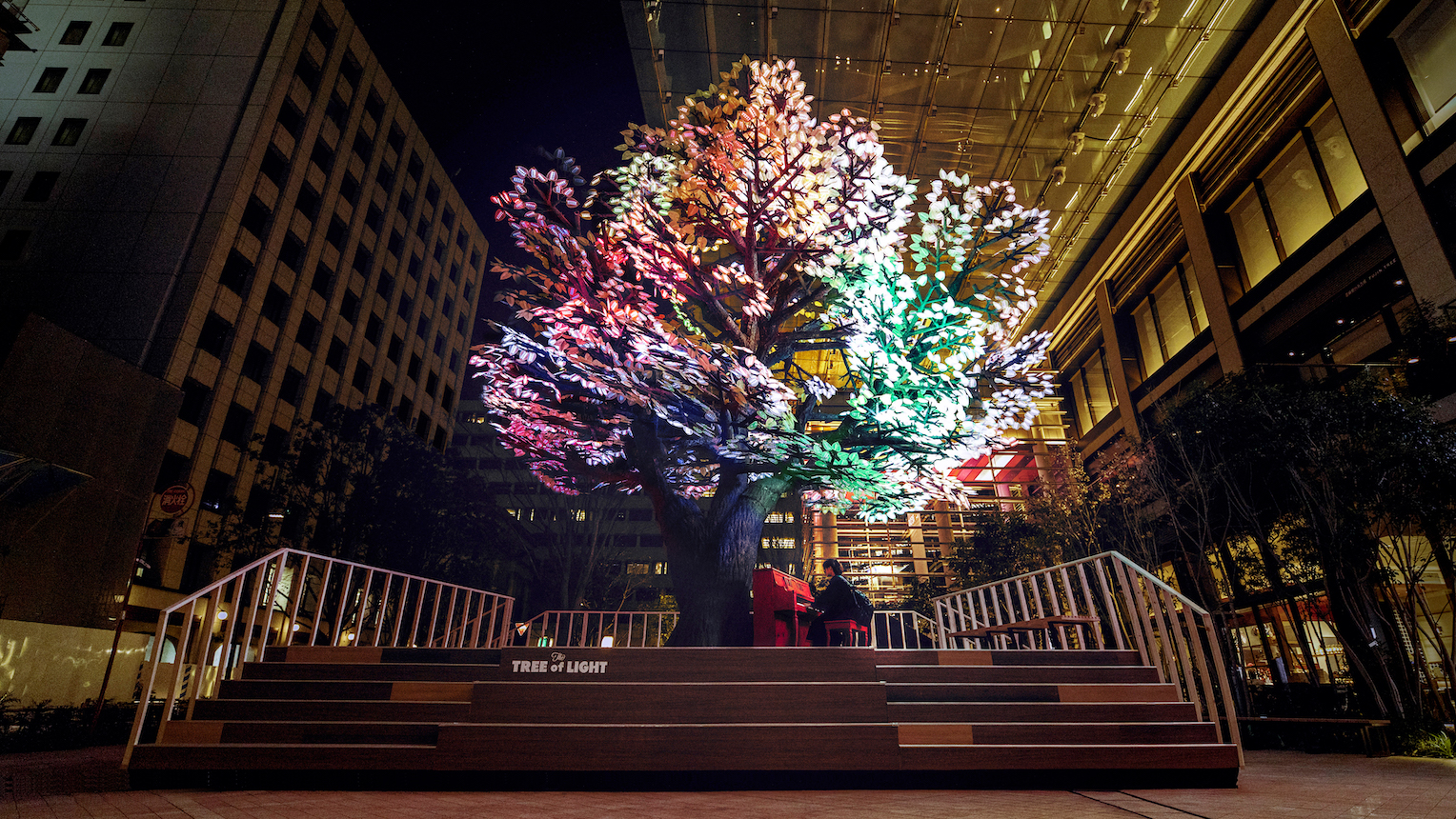 "The Tree of Light" installed in the COREDO Muromachi Terrace rooftop space. It is an otherworldly, interactive exhibit that responds to sounds and wind with the LED lights embedded in each individual leaf
Takeishi: (Laughter) I actually wish we could've played today's performances for the final day of "SAKURA FES" with a player piano. Or that we could've at least simulated a performance with the tree, for all that we couldn't be outside. So long as it's connected to a network, it can be remote controlled.
Ueda: But it will be interesting to see all sorts of people across Japan get the data for that piano performance and see if reflected through the tree (*A period of free play was set for the street piano under The Tree of Light). I wanted to create a situation where… Where people across Japan were connected, even at a distance, through music and our instruments.
The creation of a new opening/community in the form of "music" in Nihonbashi through The Tree of Light.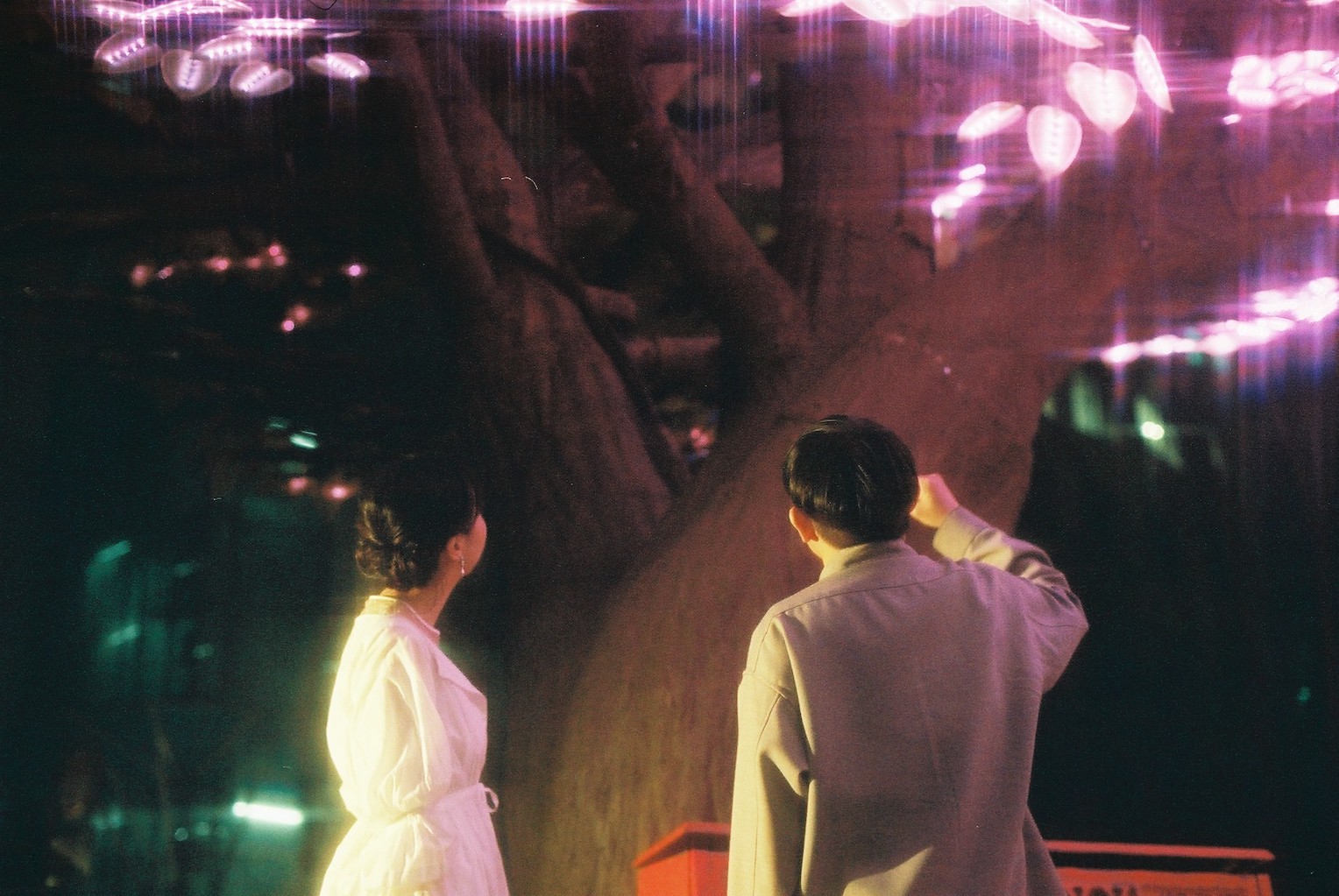 Ms. Kotringo also checked out "The Tree of Light" before the event
-Could you go over the way that Ms. Kotringo and the ToL team came to work together for this event, again?
Ueda: This is our second live performance project, and was already set for March 28th. Since about six months beforehand, we were discussing what to do about artists for 2020. When we talk about spring, we should think of a period when people are nervous as they take first steps in new things. That's the sort of time when we draw the strength to take first steps from songs and artists. Nihonbashi is an area with a lot of adults, working at everything from traditional companies to startups, and it has lots of offices. People come to Nihonbashi full of hope every April. I felt that Ms. Kotringo's music would give everyone strength, and asked her to perform.
Kotringo: I remember Mr. (Shuta) Hasanuma's band members telling me "a director called Mr. Ueda wants to talk to you!" when I took part in "SAKURA MUSIC NIGHT" last year (laughter). I looked over the video for last year, got intrigued when I saw how pretty the tree is when it lights up to a piano performance.
Ueda: The piano was Takeishi's idea. He thought we could create a new "expressive space" that transcended piano music by pairing a piano-linking mechanism made by a company called invisi with the TOL mechanism we made.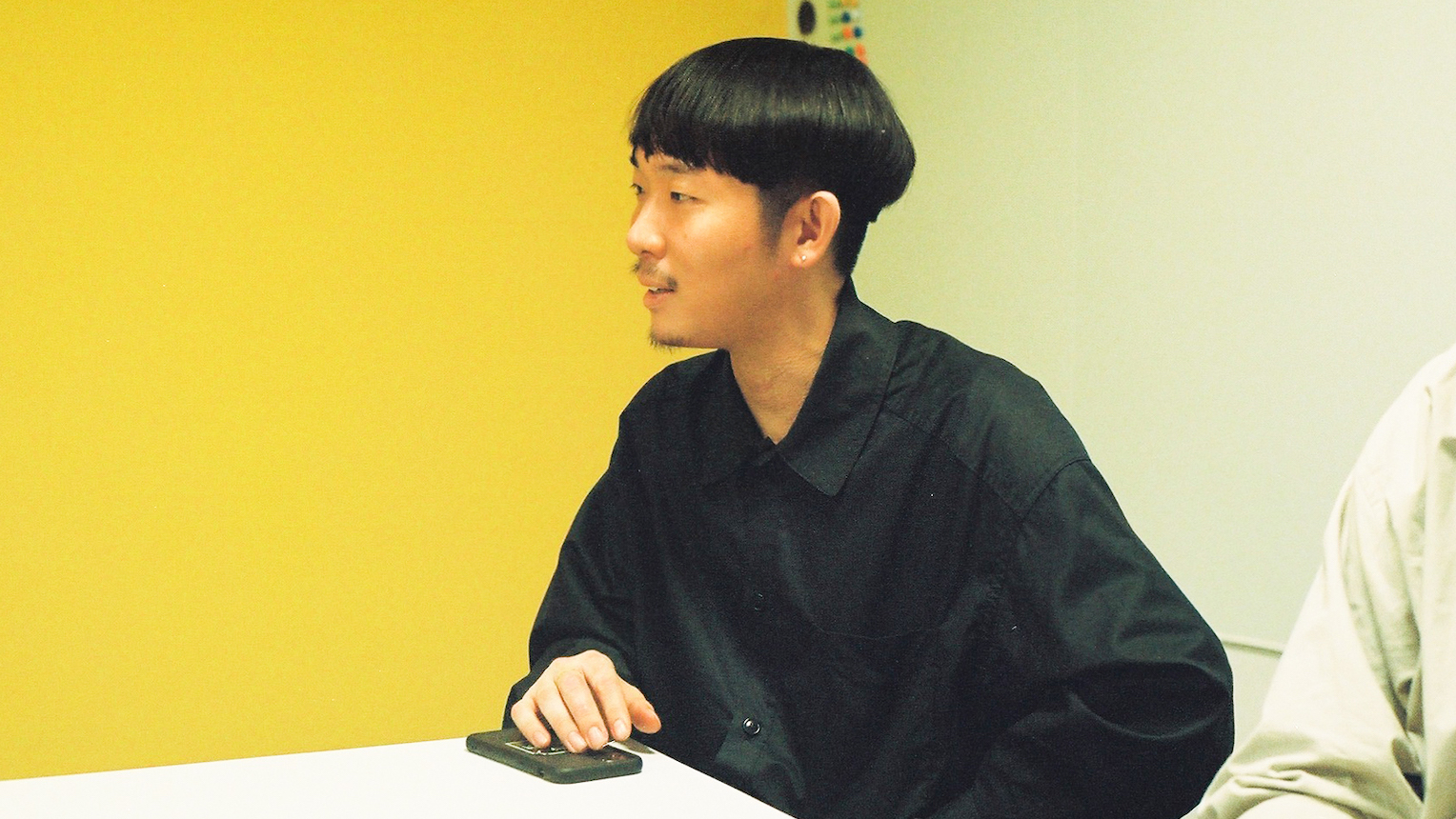 Video director Mr. Masaki Ueda telling the story of how the offer to Ms. Kotringo was made
Takeishi: The tree responded to wind at last year's performance, but it seems that it wasn't as clear as I hoped… (Sarcastic chuckles). So we tried installing an interface to link the tree with "human hands." The red vintage piano suits the tree's form, and I was thinking it would complement the city's landscape in the daytime for our listeners, but I had no idea it would fit so perfectly. It has a different side in the day and night, so it also was a place for piano players to connect.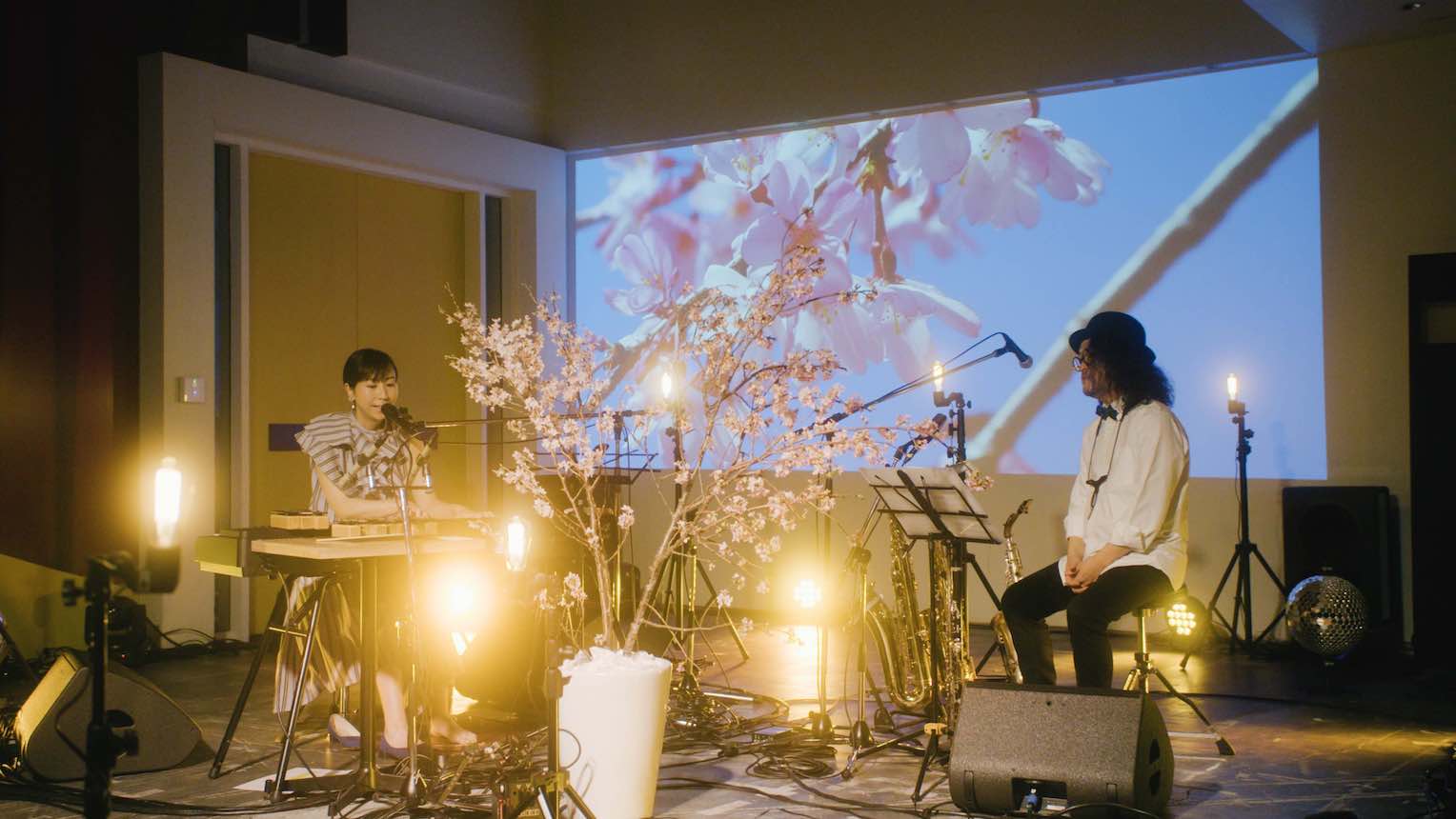 A scene from the performance of "hanabi" in front of a projection of sakura blossoms
Ueda: It's fascinating that adding music to the city produces new communities. Ms. Kotringo, you actually played "The Tree of Light ("ToL")" too; how was it?
Kotringo: It was a powerful experience. There was a big line, and it felt like everyone was thinking "let me play now!" I wish I could've played outside today! If I had been playing on the scene, I bet everyone would've been looking at the tree instead of me (laughter).
Takeishi: Personally, I was amazed to find that that "I can play the piano pretty well!" There's apparently a Facebook group called the street piano neighborhood, and they somehow found the video of me trying out the piano the day before we opened. They acted like I beat the master instructor of a martial arts dojo on my first day… (laughter). People in cars were even opening their windows to film me with their phones.
Ueda: There was actually another reason we invited Ms. Kotringo, which was the amazing reverb that might come from the venue (the COREDO Muromachi Terrace rooftop space) being sandwiched between skyscrapers. The buildings vibrate, too, so it's only suited to skilled artists. That's why I envisioned Ms. Kotringo's voice rising above the buildings.
-Some of ToL's success may be thanks to Nihonbashi itself. It might help to have a place with a mix of offices and commercial buildings.
Ueda: I think it was intriguing seeing the birth of a community around music, when Nihonbashi didn't have an opening for one before. Ms. Kotringo's concert this time got a lot more people newly interested in ToL, and I think it's great for music to grow as a community that way. Ms. Kotringo, are there any stage shows you remember in particular in a sense of them letting you "play music in the city"?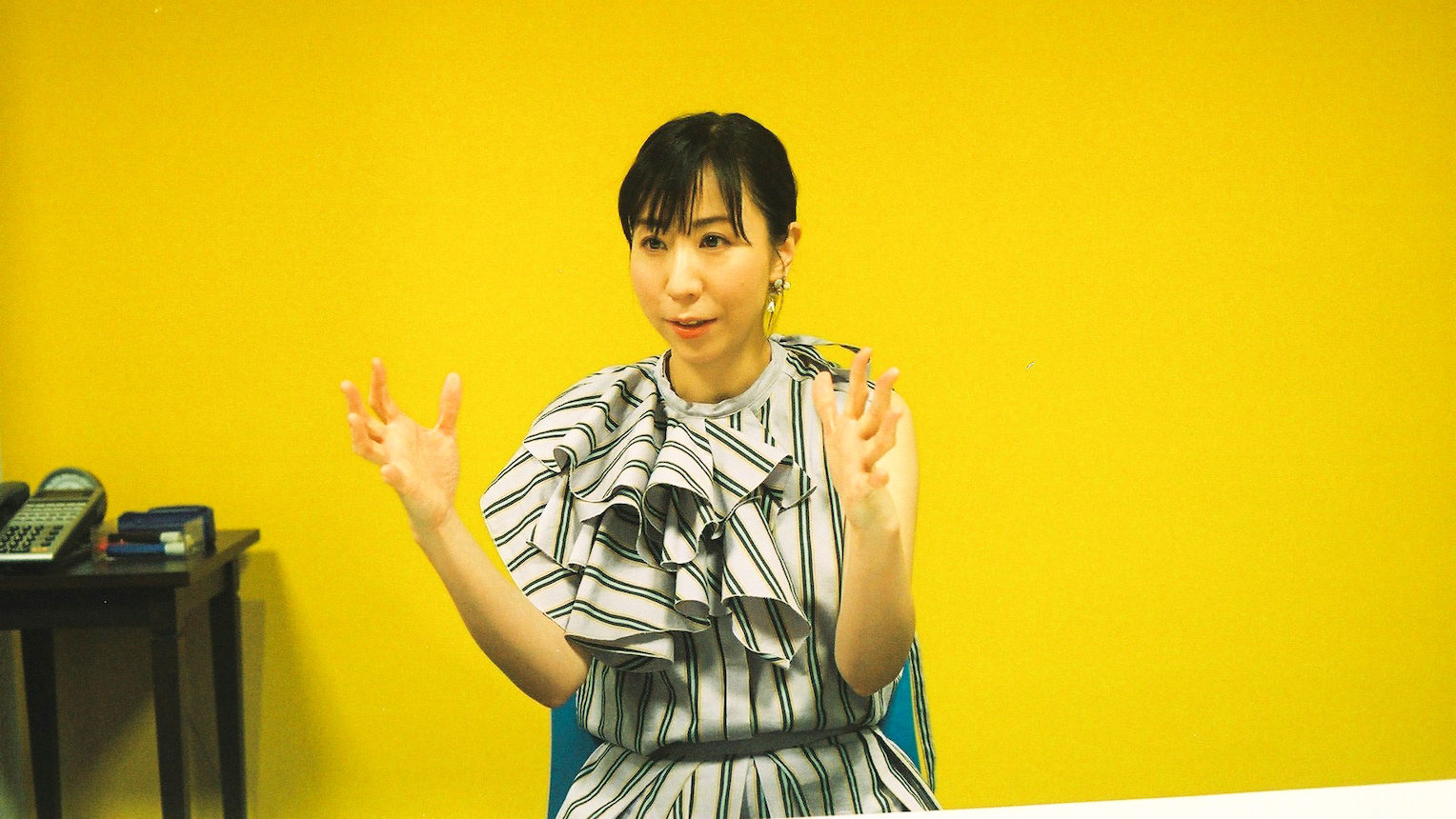 Ms. Kotringo wore an ensemble from the brand "PANORMO" by violinist Ms. Yuki Hanai for the event day
Kotringo: When I performed at "MUSIC CITY TENJIN" in Fukuoka last September, and in shows like that, I was literally right outside of the city hall. It was basically me singing facing a building, and I remember the acoustic being nice. But the weather really has a big impact, as you'd expect. When I played "Slow LIVE" at Ikegami Honmon-ji Temple, they brought a grand piano to the venue, but when I played for KIRINJI in 2015, it rained on the piano… As performers, we have to take care of our equipment, but I performed that time while thinking about how rare a scene it was (laughter). I'm sorry. But that sort of thing is just part of the music when you perform, like the construction sounds I heard in Nihonbashi the other day. We jump when someone sneezes near us, but background noise is actually nice when you perform. What sort of situations do you want to hold ToL during, in the future?
Takeishi: I might like to try it in a forest, for a change.
Ueda: For me, in a cave. I actually planned to perform at the Shimazaki Shuzo brewery in Tochigi (known as the "cave brewery" for its over 600 meters of caves in Tochigi Prefecture) for a festival called "CAVE TOUR 2020," with band members from the Gampeki Music Fes. There would've been about 20 bands and artists, including Mr. Seiho. The acoustics there are incredible too, and all else aside, they overshadow even the music. When I visited with other artists on the hunt for locations in the past, we mostly talked about how to overcome that. Unfortunately, we had to postpone this time. It's always cold there, at about 10 degrees Celsius, but it's dry and crisp, so it's good for dancing at day or in the night (laughter). http://cavetour2020.cs8.biz/
Doing what we can precisely because of the circumstances.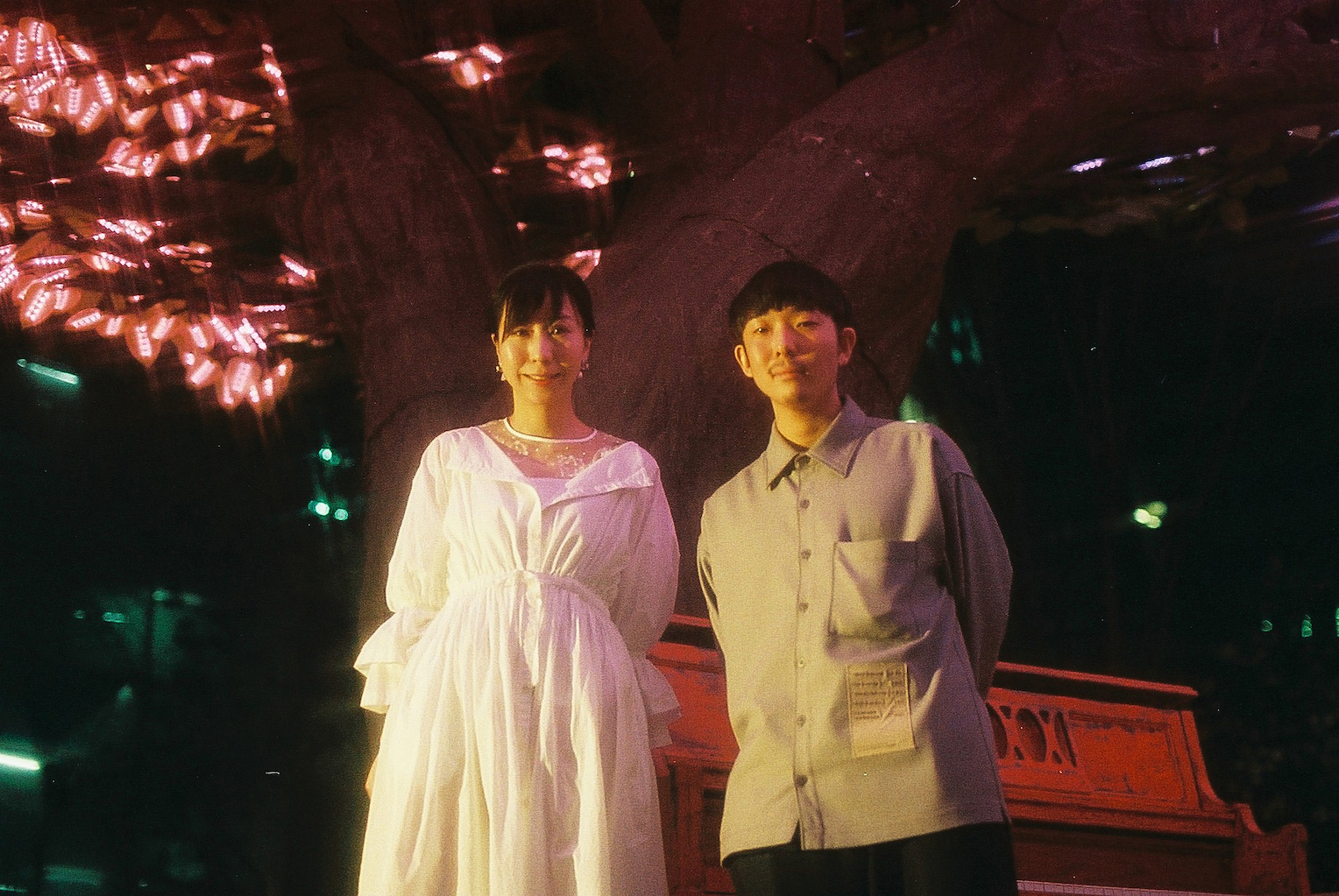 In front of "The Tree of Light"
-The sakura cherry blossom trees are a symbolic presence that encourages people around the world, as well as in Japan. How does the sakura season make all of you feel?
Ueda: Well, I'll start. We always meet new people in spring each year, and that might be part of why we're nervous in spring. But looking at the sakura photos today, I felt that "the nervousness is just part of the hope." The sakura bloom no matter what, so there's no point to nervousness with them. It's fun to look at them, too, and puts us in a good mood. The sakura are great!
Kotringo: It puts me in a good mood to see the sakura in bloom, too, and they have a special energy to them. I'm usually too busy to watch natural phenomenon closely, but the sakura always bloom in spring, even when things are bad for me. They're a presence that always turns me back toward basics, or maybe… I feel like this is an opportunity to enjoy spring in silence.
-Are there any hanami flower-viewing spots or sakura trees where you live?
Kotringo: There's a river right outside my home, with sakura trees along its banks. There's also a little park in my neighborhood with a single large sakura tree, which is right at full bloom now. Nobody was around when I went for a walk recently, so I got some quiet time there all to myself. Oh, I meant to send a picture of it, but then I forgot to (laughter).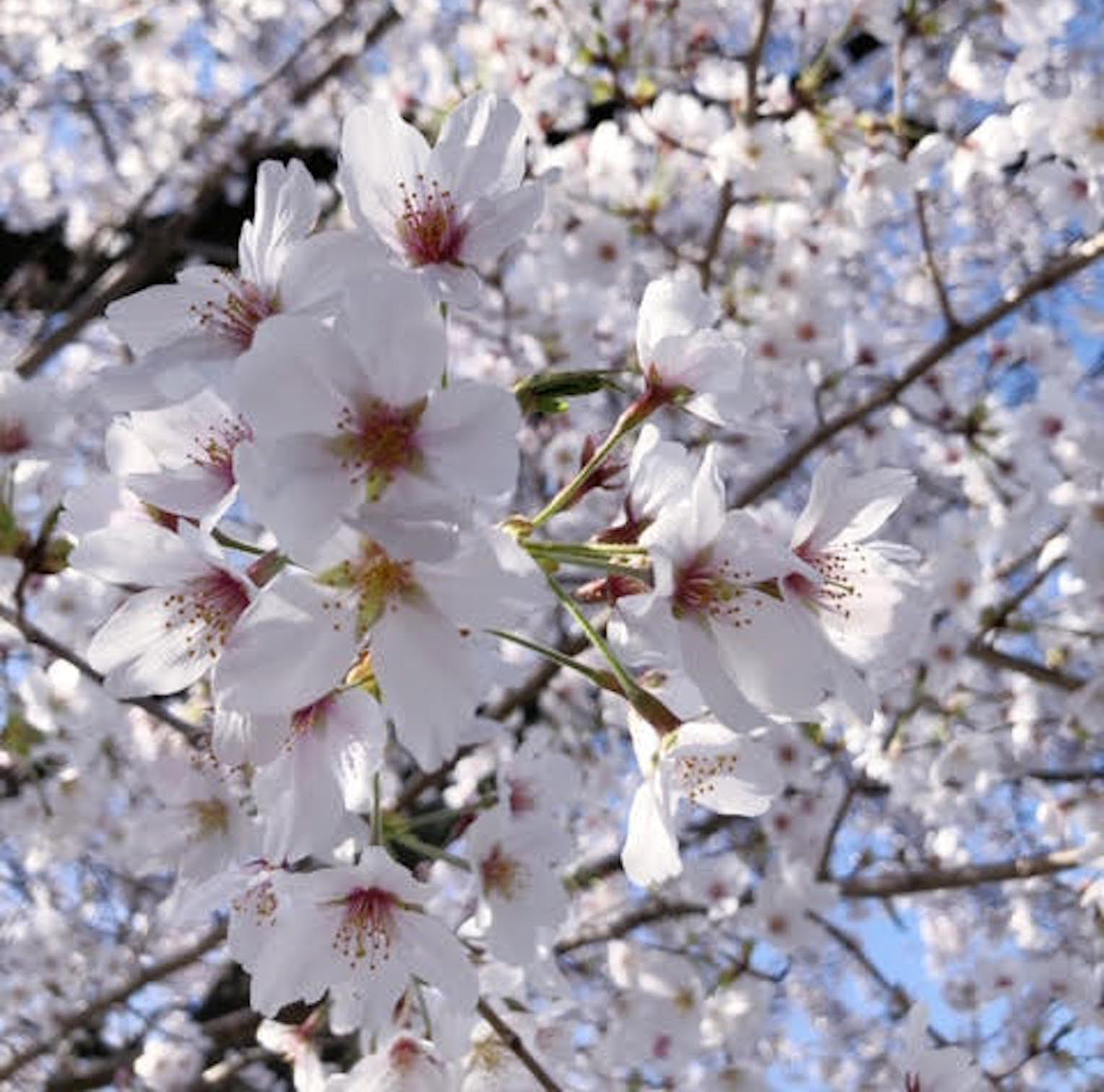 A sakura tree photographed in a neighborhood park (Photo by Kotringo)
Ueda: The world is fascinating through your eyes, Ms. Kotringo. What sort of times inspire you to write your music?
Kotringo: I rarely "get visions" like composers in stories do, and mostly work in the bath, lately. Maybe because it's good for blood flow? I often find sudden inspirations when I take a bath after being stuck while composing. But I forget those when I get out of the bath (laughter).
Ueda: I really get that (laughter). I go to onsen hot springs when the ideas won't come to me.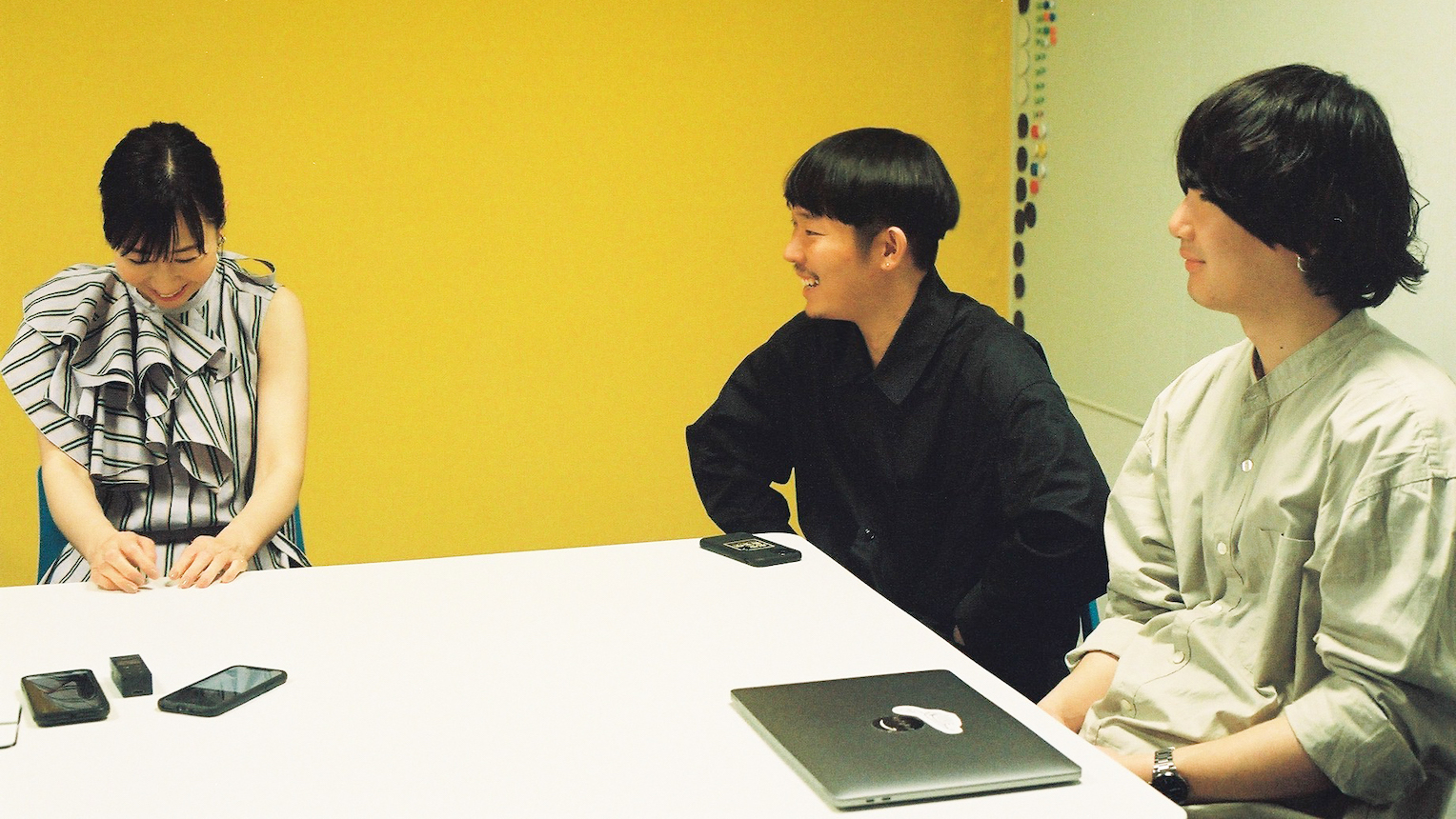 -For the record, you haven't written any songs directly themed around "sakura" yet, have you, Ms. Kotringo?
Kotringo: That's right. I actually thought about changing the word <<hanabi>> (fireworks) in the song "hanabi" to the word <<sakura>>, but I was too timid to go through with it (laughter).
Ueda: But it's true that there are similarities in "hanabi" and "sakura," with how they both fade away in an instant.
-I feel like your music soothes us during difficult times, Ms. Kotringo, like your performances at disaster area aid events right after the 2011 Tohoku earthquake and tsunami in the summer, or your work on a film about daily life during war with In This Corner of the World, and now with your streaming concert amid the self-quarantine moodiness. How do you think of your work, when you look back on it?
Kotringo: I tend to scare easily, so I panic if I watch the news too much. Some people say escapism is unhealthy, but I think it's also vital to shut out information beyond the minimum you need, to protect your feelings… What saved me back in 2011 during the quake was music by Ms. Mari Nakamura, and bread from the "PARADISE ALLEY" bakery that my friends gave me. After not being able to eat for a while, I suddenly realized how delicious bread could be. So I'm very happy if I helped people that way, even a little. Personally, I start crying if my lyrics match too well with the current situation. But today I was able to rise above it a bit more than usual for my performance.
-It was painful to hear "Too Sad to Finish" today, given the current circumstances.
Ueda: But possibly thanks to Mr. Soeda's amazing performance, it came across hopeful instead of sad. All the songs were heartwarming.
Takeishi: It gave me courage.
-Do you have anything to say to our audience as they approach the major turning point that spring can be, after your concert?
-Ueda: I'm repeating myself here, but there will definitely be a day again when we can all gather in groups, and spring will come again many times, like the lyrics to "hanabi" say. Things are tough in a lot of ways right now, but if we stay positive and focus on the future, there are fun times headed our way. I feel like Ms. Kotringo taught me that, today.
Kotringo: Recently, I was shocked to hear someone on the street say they had seen news about the Olympics being postponed. But shouldn't the athletes be the ones who are most disappointed, really? Still, their comments were very positive, to the tune of "I just have to do what I can for now," and that lightened my mood a lot. It's important to wash our hands to prevent the pandemic from spreading, and to worry about the future… But I want everyone to try doing what they can for now, and spend the time without worrying.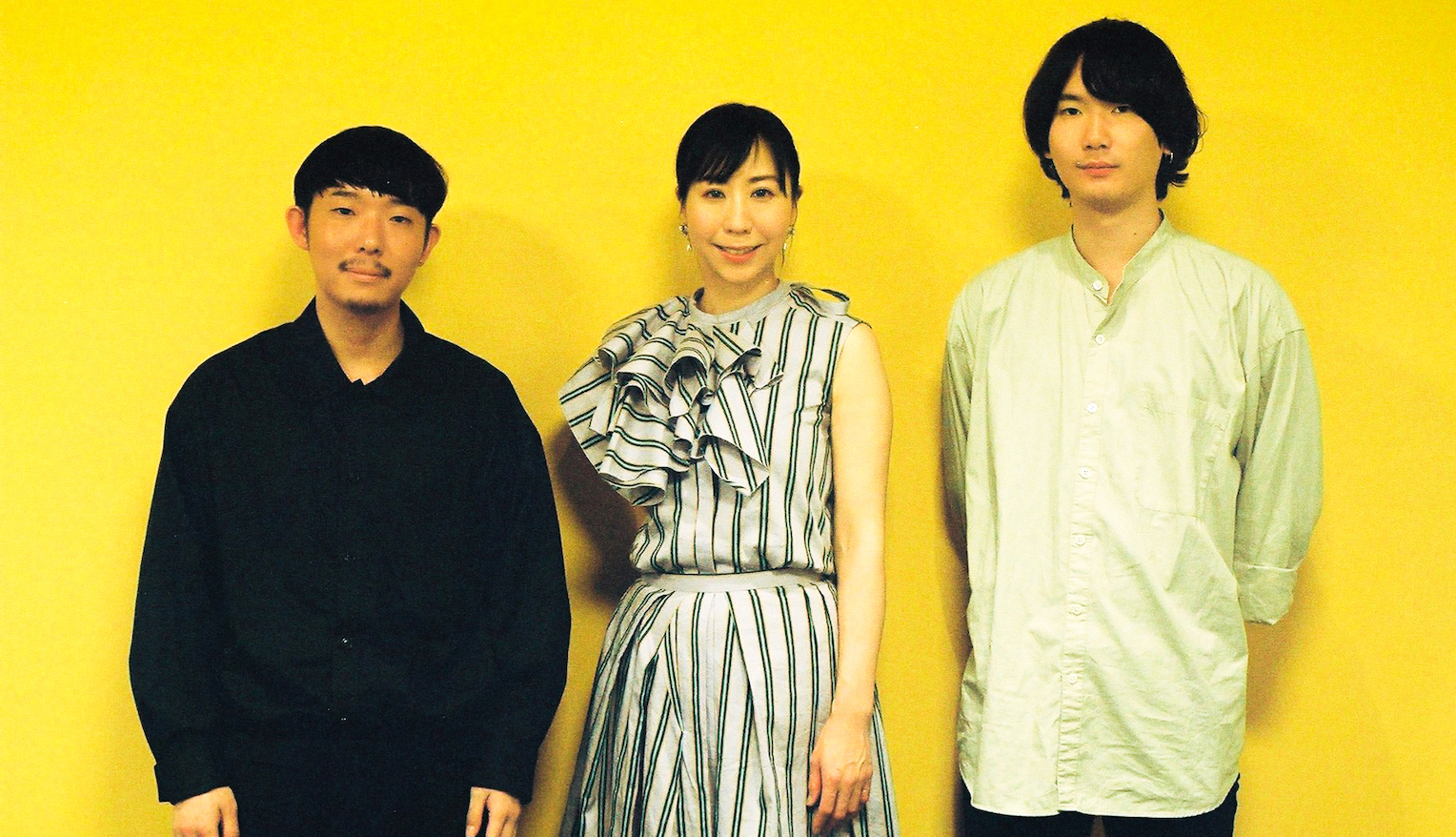 Interview and text: Kohei Ueno (Konel), photography: Kotetsu Nakazato
Kotringo
Began playing piano at age five. Studied abroad at Berklee College of Music, majoring in jazz composition and performance. In 2006, she first performed the song "Waiting for Sunday" – which would later become here second single – on air for the audition segment of Ryuichi Sakamoto's J-WAVE "RADIO SAKAMOTO." The same year, she would also make her Japanese debut with the release of her single "Hello, See You Tomorrow," produced by Ryuichi Sakamoto, after appearing at a "LOHAS CLASSIC Concert" also produced by Sakamoto. Since then, she has released 11 solo albums and seven soundtrack albums as of this writing.
Her first original album was "Rainy Miniature Garden," released in 2017. She also handled all background music and soundtrack and theme music for the long-running hit animated film In This Corner of the World as announced in November 2016, winning the 40th Japan Academy Prize for Outstanding Achievement in Music, the 71st Mainichi Film Award for Best Music, and the 2017 Osaka Cinema Festival Music Award. She currently works on film, television program, and animation soundtracks and commercials, deepening her expressive range through orchestral arrangements as well as performances and receiving high praise as a musician. She has also expanded into vocal expressions such as narration in recent years.