2019.04.22
A One-Night Only Collaboration Between "Team: Shuta Hasunuma" and Kaho Nakamura Sakura Music Night: Live Report and Interview
A One-Night Only Collaboration Between "Team: Shuta Hasunuma" and Kaho Nakamura Sakura Music Night: Live Report and Interview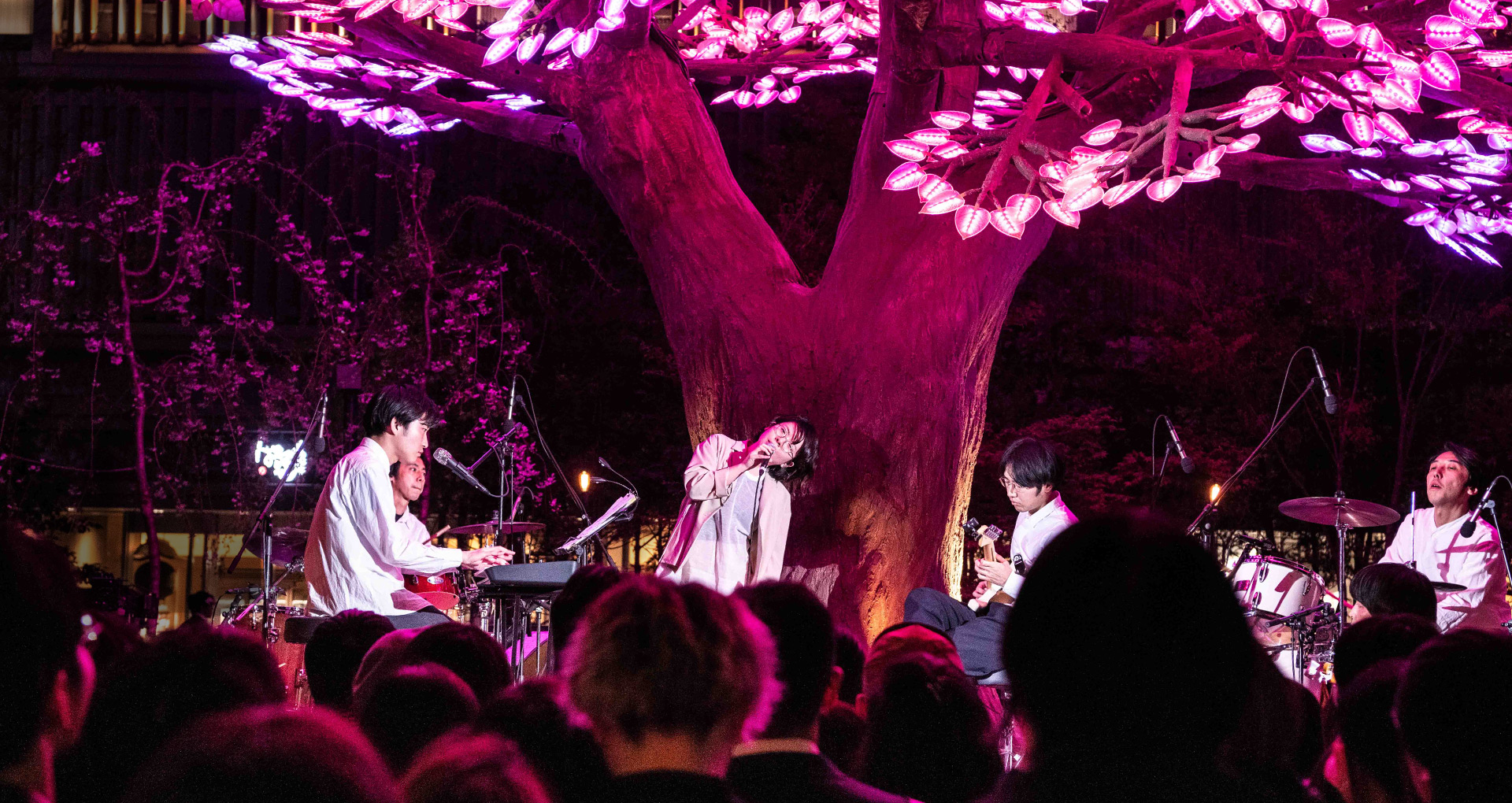 Mr. Shuta Hasunuma, a musician and songwriter whose ventures include creating musical works, production, art, film theater, dance collaborations, even with a philharmonic orchestra. And, Ms. Kaho Nakamura, a singer-songwriter who expresses a new world through her constantly changing performances, be it solo, a duo, or a band. Both continue challenging themselves and influencing many people across different genres with their musical expression. On April 5th at the "Fukutoku Garden" in Nihonbashi, Tokyo, a special live performance of these two artists were held. Regarding their collaboration as something that took "3 years in the making since their first encounter," we looked back through archive videos of their fantastical performance interwoven with digital art in the theme of the Sakura. And with that, we would like to now present our interview after their performance.
Note that the minimal ensemble of "Team Hasunuma," as they perform their latest song "CHANCE" for the first time under the glowing Sakura lights.
April 5th, 2019 was a day we felt the warm but fresh spring breeze after a spell of cold days. A live event, the "Sakura Music Night," featuring the performances of Team: Shuta Hasunuma and Ms. Kaho Nakamura was held. At the Fukutoku Garden in Tokyo, the venue of the event, hundreds of people gathered more than an hour in advance. In addition to the 225 supporters who were selected from the lottery which allowed only 25% of the entire participants, neighboring business persons also noticed the sudden stage setup under the cherry blossom made of digital art that appeared before the plaza near the shrine. There were people stopping by and asking "What's going on?"
This was the closing event of the "Nihonbashi Sakura Festival 2019" that began from March 15th. As the 8m tall "The Tree of Light -Tomoshi-Sakura-" begins glowing organically, as it did throughout the event period, everyone began clamoring for the appearance of the artists and the venue gained excitement. "Hello, everyone. We are Team: Shuta Hasunuma." Mr. Hasunuma appeared.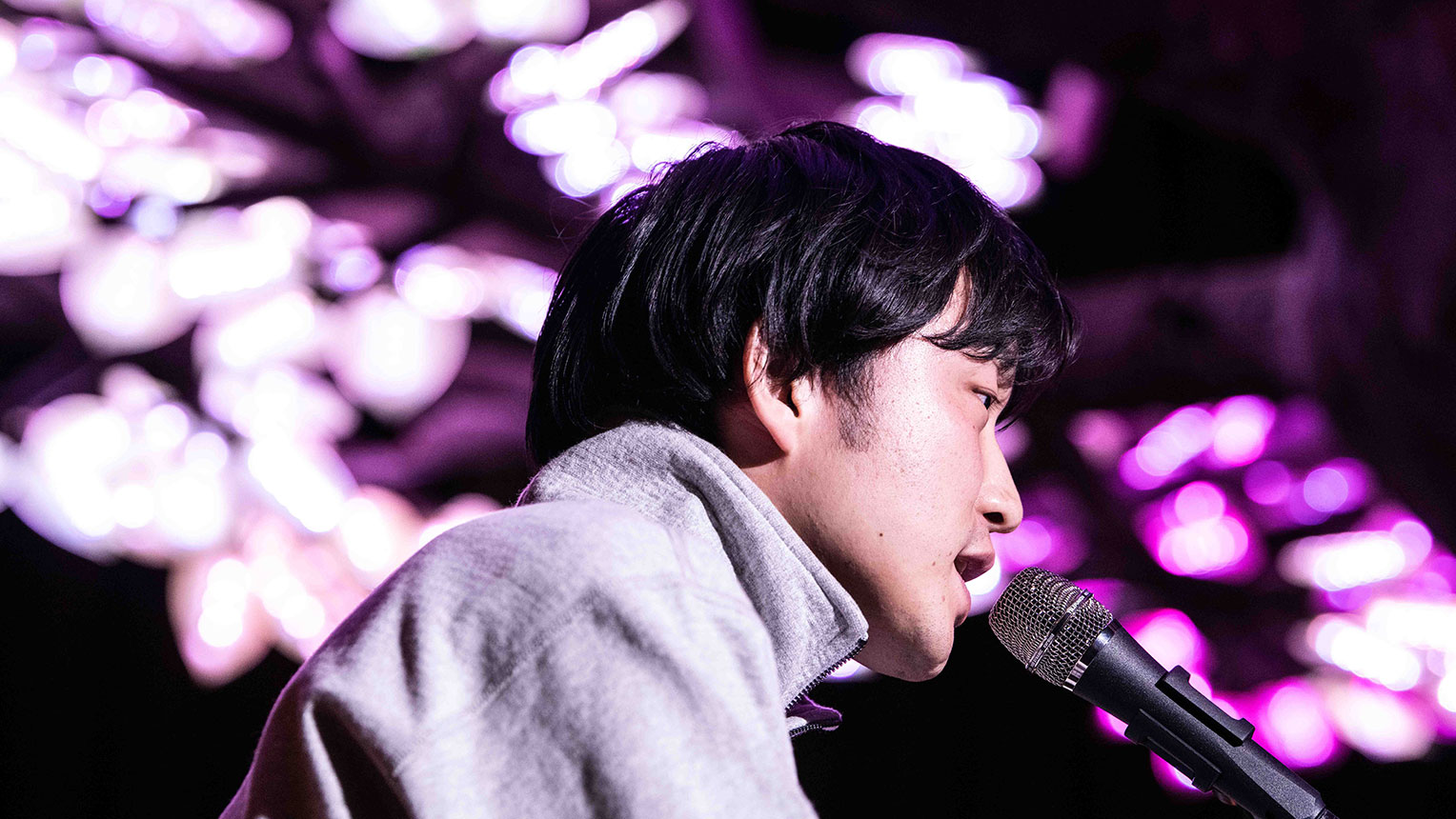 Mr. Shuta Hasunuma
The Team: Shuta Hasunuma, came as a twin-guitars and drums setup, with Shuta Hasunuma, Shuta Ishizuka (Guitar), Ryosuke Saito (Guitar), Ito-Ken (Drums) and Jimanica (Drums). They began their stage playing "ONEMAN," a popular song from the large 16-band "Hasunuma Philharmonic Orchestra."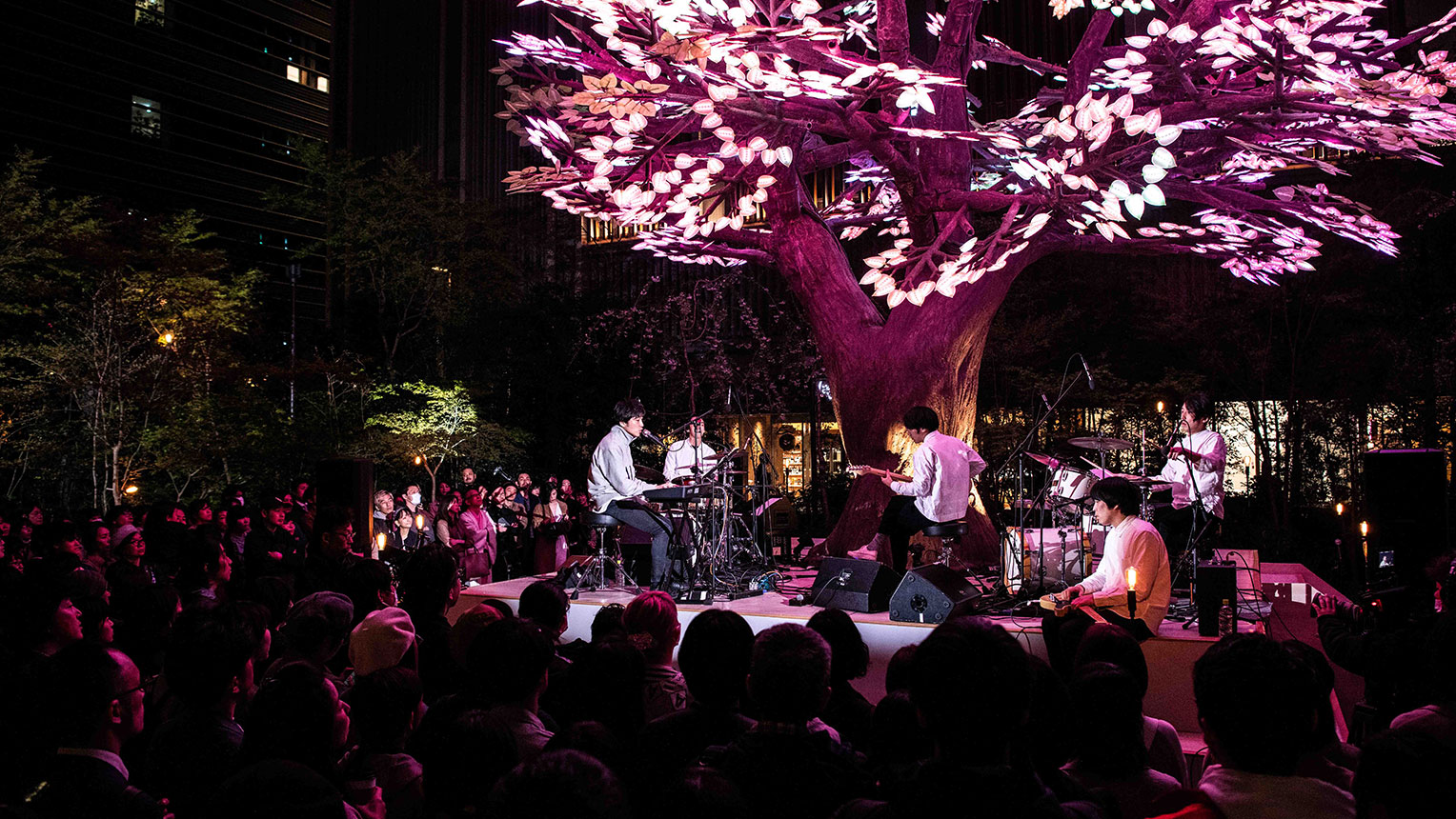 Team: Shuta Hasunuma
"Is everyone with us today? The Sakura lights are gorgeaous." Under the guide of Hasunuma-san, the minimal ensemble continued their performance through all of the popular songs from the Hasunuma Philharmonic Orchestra. Under the direction of The Tree of Light, with its leaves that change color in time with the music, we say many visitors swaying comfortably along with the music.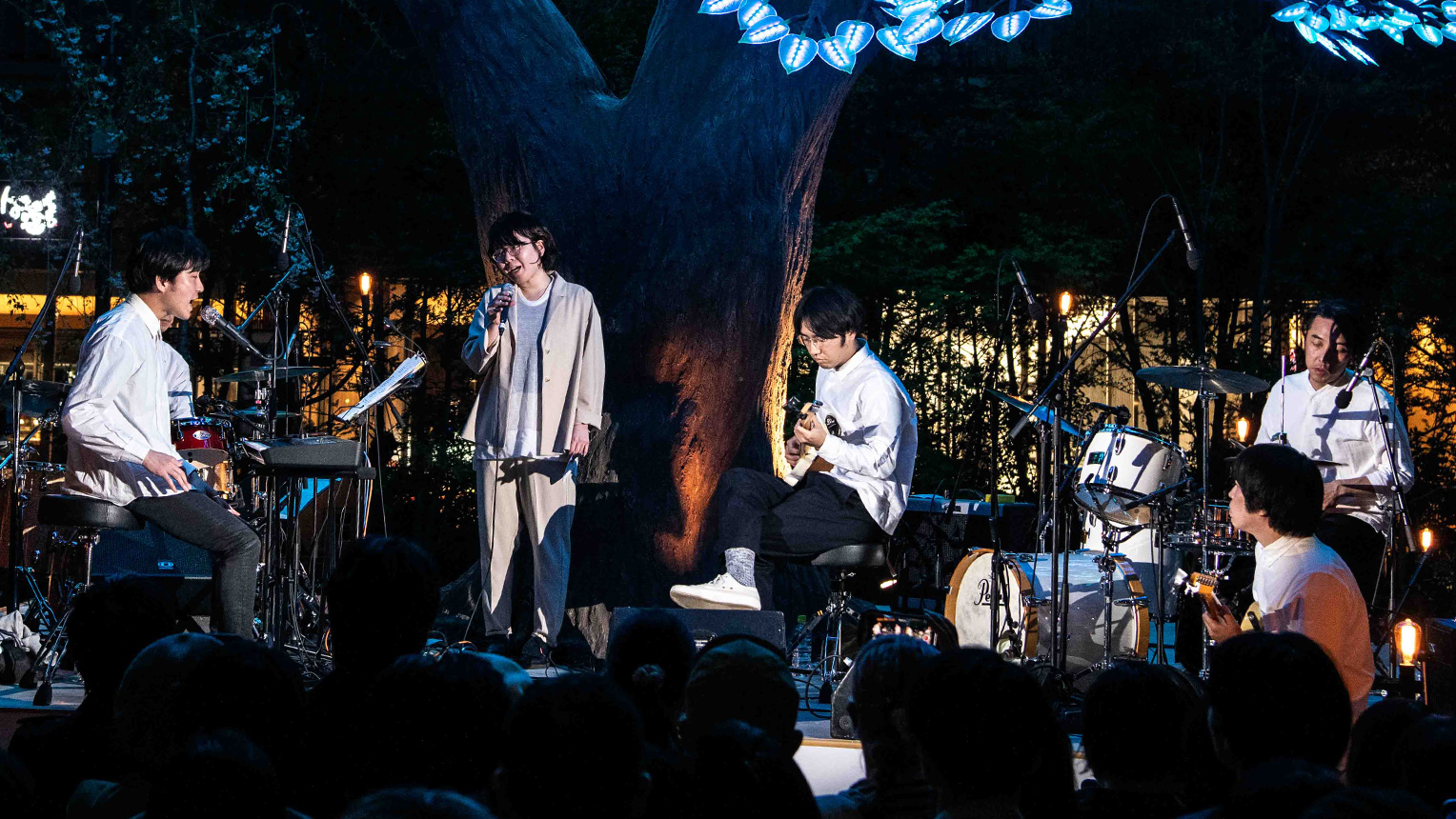 Team: Shuta Hasunuma and Ms. Kaho Nakamura
"Now, we have a guest who is joining us!" says Mr. Hasunuma, and there comes Ms. Nakamura. They then performed a new song called "CHANCE," recorded at the end of last year. As they performed, the entire venue was engrossed in the two vocals by Mr. Hasunuma and Ms. Nakamura. It was almost as if the audience was uplifted by the lyrics "if we can fly along this way..."
"So pretty it's almost like a miracle" There were even some ad-lib lyrics about Nihonbashi.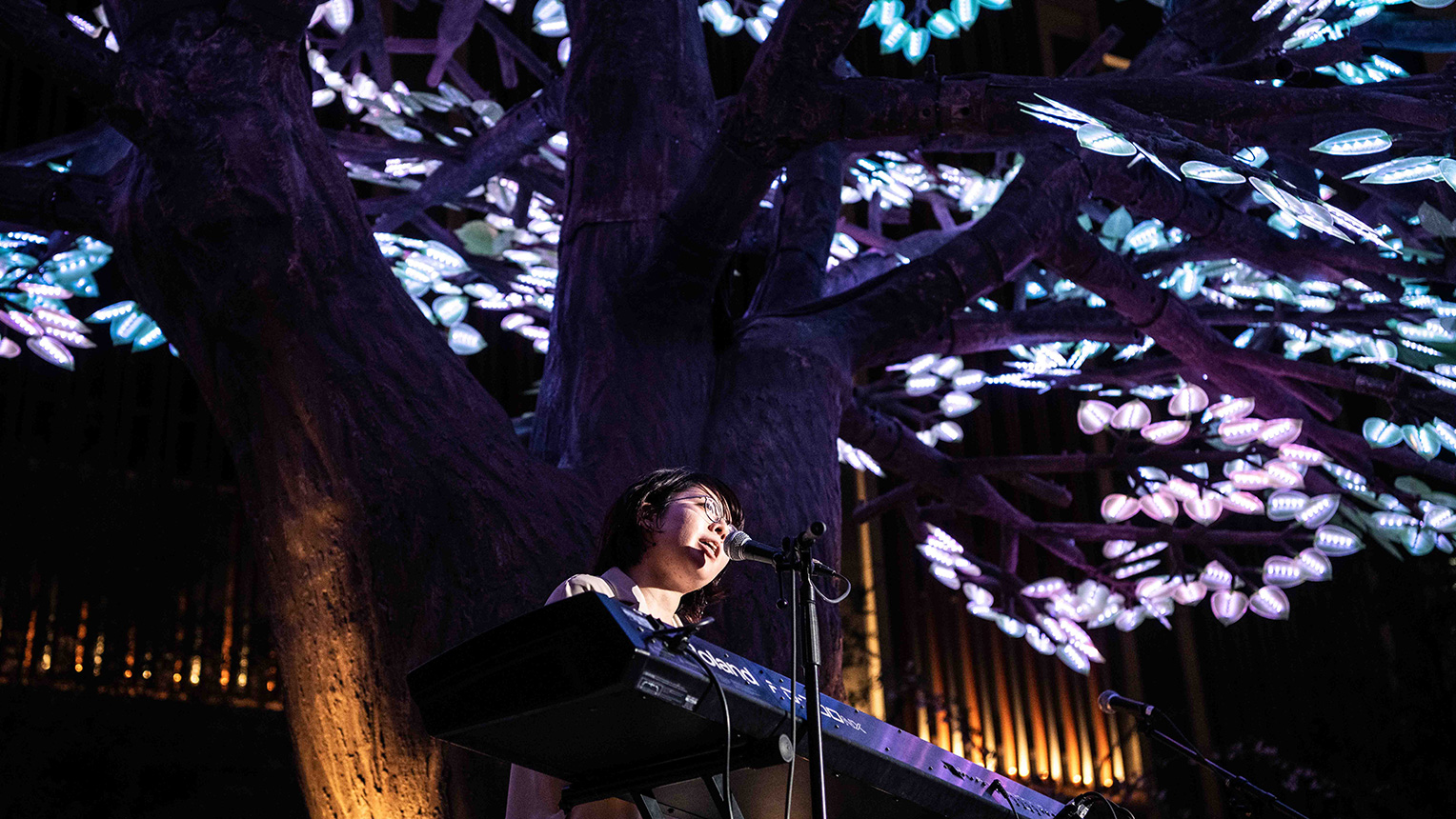 Ms. Kaho Nakamura
Continuing on, Ms. Nakamura took over stage. "Playing at a place like this is probably a once in a lifetime opportunity." She said as she began her performance softly, almost as if she was talking to each audience member. As she gradually began playing her keyboards, she looked above her head full of glowing vibrant Sakura lights. She then turned her sights over to the surrounding buildings as she adlibbed: "Still working over time?" and "There's are still people behind every light I see from here."
And as she humorously introduced herself to liven up the audience, she further added, "There's a lot of things we all think about, but never understand. Music, most of all. We don't get it, but it's beautiful, almost like a miracle." As she talked about her thoughts on music, she built upon them as part of her performance. It was as if her performance was a collaboration between the town of Nihonbashi, and everyone there at the moment. The venue now was full of pure and gentle feelings of togetherness.
Oddly enough, the night was when the Hasunuma Philharmonic Orchestra and Ms. Nakamura found out that they are invited to perform at the "FUJI ROCK FESTIVAL '19". When Ms. Nakamura sang "Kuchi-Utsushi-Romance (Lips-to-Lips Romance)", the same song she performed in 2016 at the said festival, she noted "I think I sang better than 3 years ago." The audience concurred with their applause.
Later, as a special chorus member for this event, she called upon senoo ricky, a drummer, and T.A.M.M.I. With their gentle harmonies, they sang songs from their newest album "AINOU."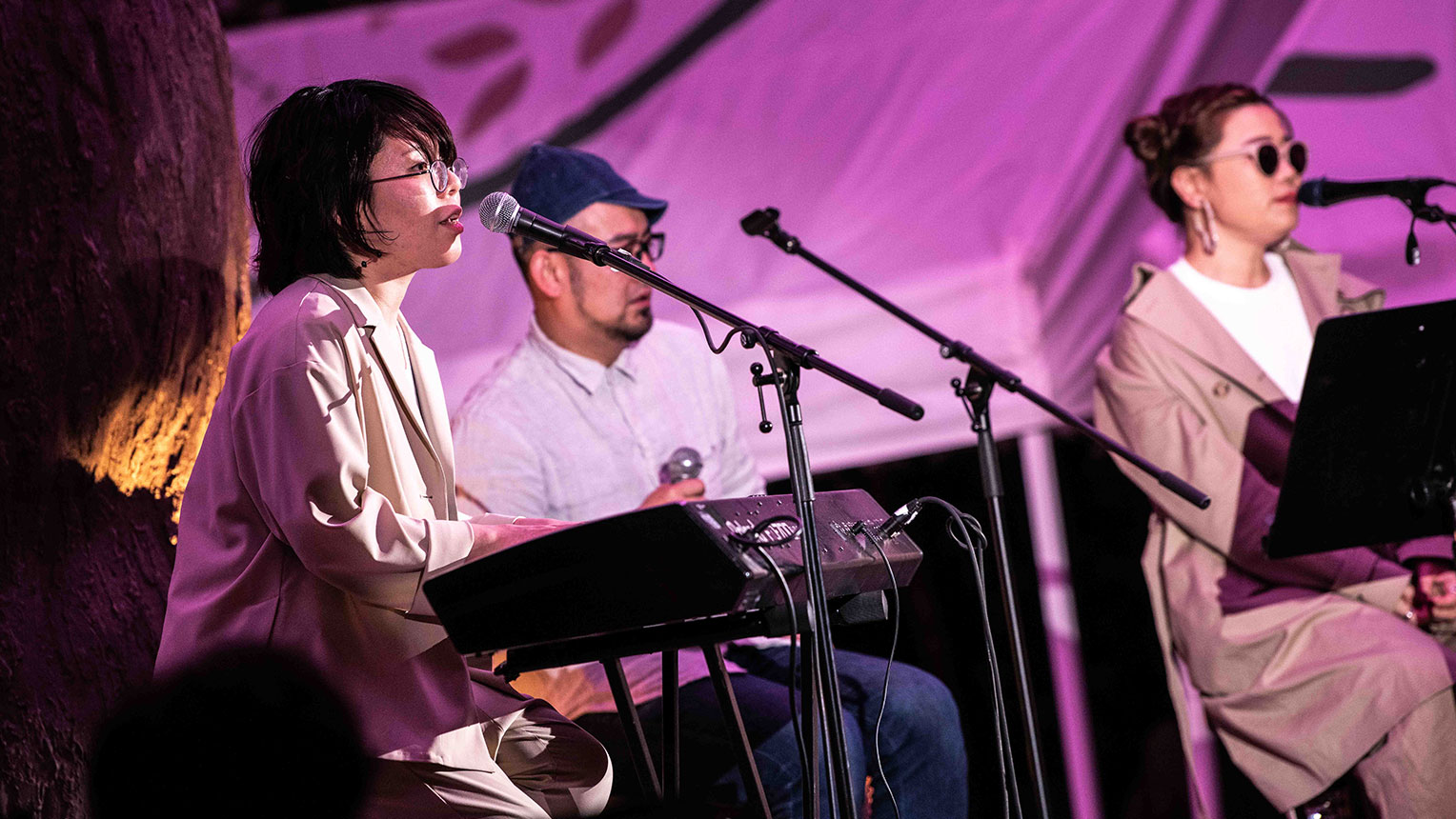 Ms. Kaho Nakamura, senoo ricky, and T.A.M.M.I.
Finally, she finished her set with her own favorite "Kittone! (Maybe!)." With T.A.M.M.I's skillful adlib and senoo ricky's deep voice, she exited the stage, saying "Hope to see you all again."
<Interview after the performance> A collaboration after 3 years between the two artists unafraid of taking the "First Step"
—I understand that the collaboration began with a request from Mr.Hasunuma. It was also mentioned during the performance, but you two first met, way back when Ms. Nakamura was a student?
Ms. Kaho Nakamura (hereinafter, Nakamura) : Yes, that's right. During college, I heard from Ms. Riona Inoue (VJ handling, Ms.Nakamura's performance) that Mr. Hasunuma was coming to our school. So I skipped my class to go meet him at a visual art course building, which was not my major. From then on we kept in touch through social media, but we weren't exactly keeping in close contact. So I was a bit surprised he contacted me 3 years later.
Mr. Shuta Hasunuma(hereinafter, Hasunuma) : When I met her I heard that Kaho was "doing music." Through Riona, I saw some live performances and PVs, and I just remembered the transparency in her voice. She had everything I never had, and I kept that in mind. So when we had the opportunity to go to a studio together last year, I figured this would be a good time for a collaboration.
—What do you mean by everything you never had?"
Hasunuma : This might sound weird, but I don't consider myself a singer-songwriter. I just write songs as a songwriter, which I just happen to sing. So I really respect and look up to singers. How they can honestly and push out from themselves, what they feel and think in that moment.
That's why I also look up to freestyle rappers who can collaborate with the situation and environment to express themselves. The adlib and improv that Kaho did at the beginning tonight is a perfect example. To put music on top of that with melody, to see that firsthand up close is truly overwhelming.
Nakamura : Uhhhh, I don't think I'm that great... First of all, every time I get an offer for a project, I always do multiple simulations in my head to start with. I think about the overall structure. For this project I figured that if I concentrated on having the audience focused on hearing the songs under the cherry blossom, they will have a great time. At the same time, there are also things that you won't get unless you see and feel the actual environment. Tonight when I came to Nihonbashi, I saw that there were Jinja-shrines nearby and buildings stretching throughout....so seeing all of that I just adlib whatever fills my head.
I myself personally, have always respected Mr. Hasunuma's openness of collaborating musically with various people. And your ability matches projects with various ensemble patterns like the Hasunuma Philharmonic Orchestra, the Hasunuma Band, and today's Team: Hasunuma. Plus you always bring your best bands. That sense of balance I really admire. As for me, I really never can set the concepts until I actually see my audience on the day of my performance. That's not something I'm particularly proud about.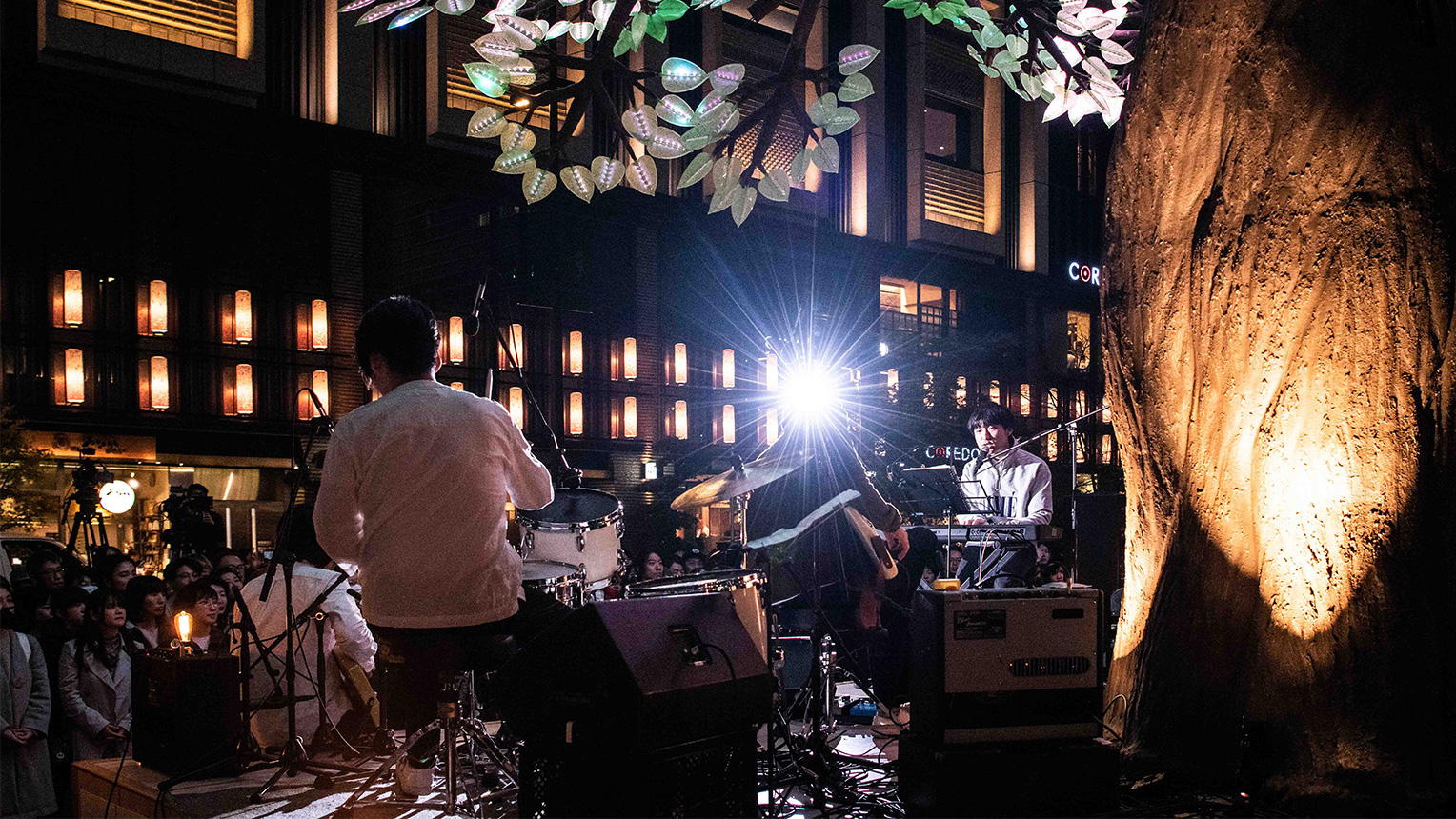 Members of Team: Hasunuma, and why Mr. Hasunuma considers them all "more seasoned and experienced than me"
Hasunuma : Really? I think that's a good thing. I haven't done Team: Hasunuma with the twin-guitar and twin-drum ensemble for years. And until we actually started, I didn't really know how that would turn out. As for me, instead of being more detailed and concrete before playing, I'd rather be more free-flowing. To be more in the moment to challenge the thrill, or so to speak. Even tonight, aside from the new songs, and although they are all arranged, they are all mostly played adlib. We just made sure of the basic song structures, and freed ourselves to play around inside.
—Ms. Nakamura's ensemble today was a first-time right?
Nakamura : Yes. I asked senoo ricky and T.A.M.M.I from Kyoto to join me. I really like people who have a strong personality. I wanted performers that could steal away my spotlight the moment they start singing. I like those kinds of thrills. T.A.M.M.I has been singing mostly around clubs while Ricky was a rare case where he is both a great singer and a drummer. I wanted to collaborate with these two who were from completely different genres.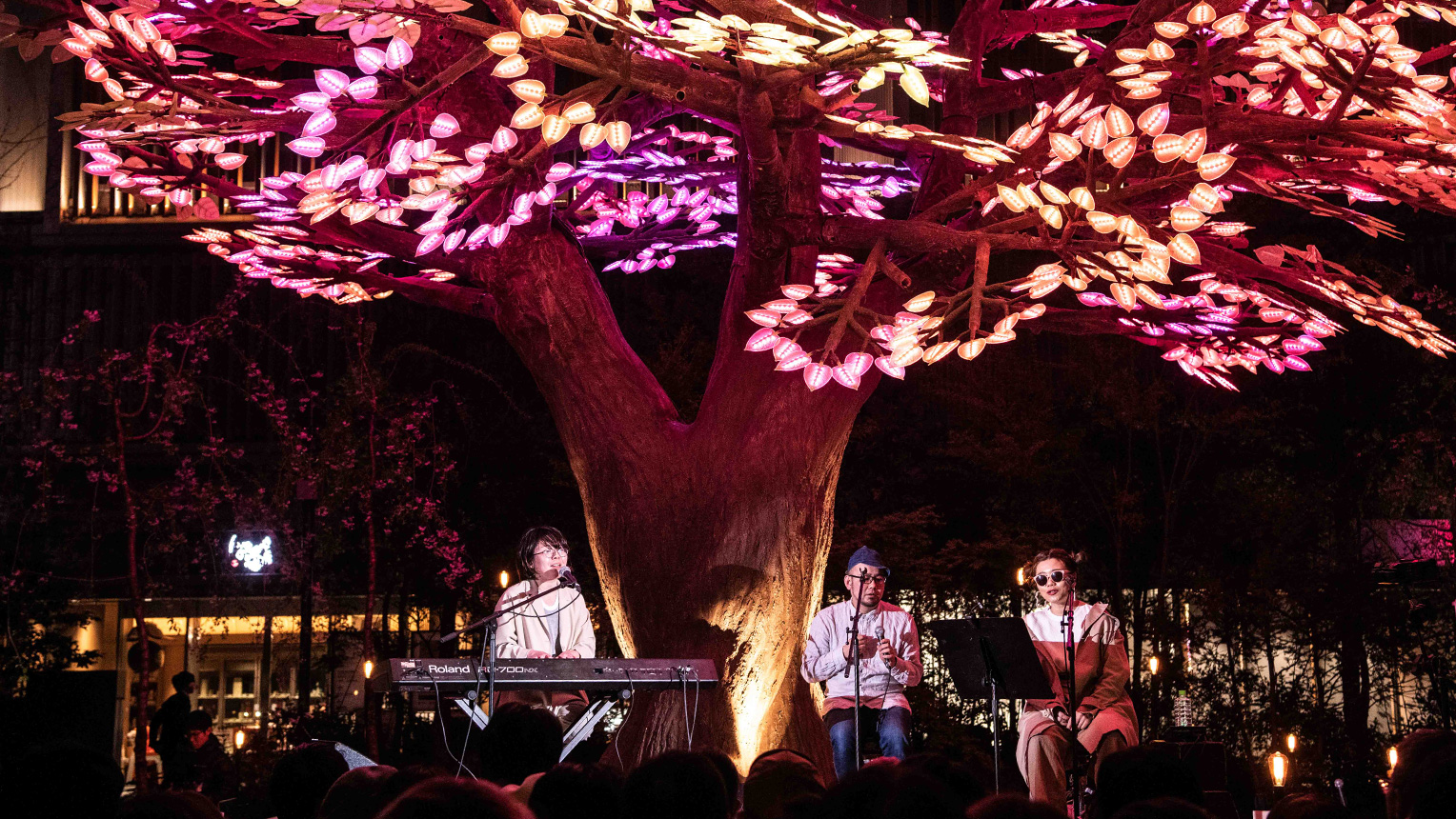 Ms. Nakamura looks back on how she chose songs that would highlight the two chorus performers
—Today you sang together the new song "CHANCE" that you both wrote.
Hasunuma : This one that almost didn't make it. But we figured, hey if it sounds bad during rehearsal we'll just cancel it. At the end of the day, "treasure every opportunity and meeting." So it's all about whether it's interesting or not after we start performing. And it sounded good so we went ahead and played it tonight.
Nakamura : I really so much fun. And there are always things that you'll only notice on that day. Are there more women or men in the audience. Do they look excited? There are differences between audience as well. Are they packed like sardines on the train, or is there enough space? Even stuff like that would change what songs I would play.
—It must have been a pretty peculiar atmosphere tonight, you were playing with the light production from the Tree of Light.
Hasunuma : I was a little too occupied playing the keyboards, singing and having eye contact with the members the whole time during the session so the cherry blossom production was completely out of my head (laughs). But I did get to enjoy the entire production when Kaho took over. What I saw firsthand and the YouTube visuals (in addition to the performance being live streamed on YouTube, there was a public viewing at several stores in the Nihonbashi area) uploaded to were both equally beautiful.
Nakamura : I saw the camera work over by the monitors and I think it was 4K? or could have been 8K? The quality was incredible even for just playing some music video. There was this vaaaaaaast shot overlooking a forest that added something different to a standard live visual. Hopefully people who watch the archive footage will get the feeling that we all had a great time tonight.
Hasunuma : I don't like to repeat the same thing over and over, so I tend to go after new things, but I'm not all like pushing myself too hard for a new challenge. But, there might be an aspect where I feel that I get to "challenge myself naturally." I think that the world we live in right now, there is this common standard that if someone orders something and it doesn't come out exactly the way it was ordered, it becomes an issue. But instead of boxing yourself into those kinds of preconceived notions, there are people out there who will accept you as you take good, honest action. I believe it is challenging itself and important that you don't stop and continue.
For example, at Hasunuma Philharmonic Orchestra, we create music in collaboration with a variety of instrumentalists. Within the limit of performing among people, trying to enjoy our time interacting with one another is something interesting to me as a songwriter who seeks artistic expression. --Kaho, are there any challenges that you are working on now?
Nakamura : My challenge is "everyday." It's like my job entails finding people that could liven the live performances and festivals going on everyday. Imagining everyday about a stage on the day of the performance and what kind of audience would be the perfect match. That's why it is a challenge in itself that I always keep my eyes open towards anyone that might be fun to interact with, and face those people at moments under various conditions. Not only moments like tonight and FUJIROCK, but also the stage is what keeps me growing. I hope that I can find even more interesting people this year.
—Finally, since spring is here, can you give a shout out and a message towards everyone who is starting a fresh new stage in their life?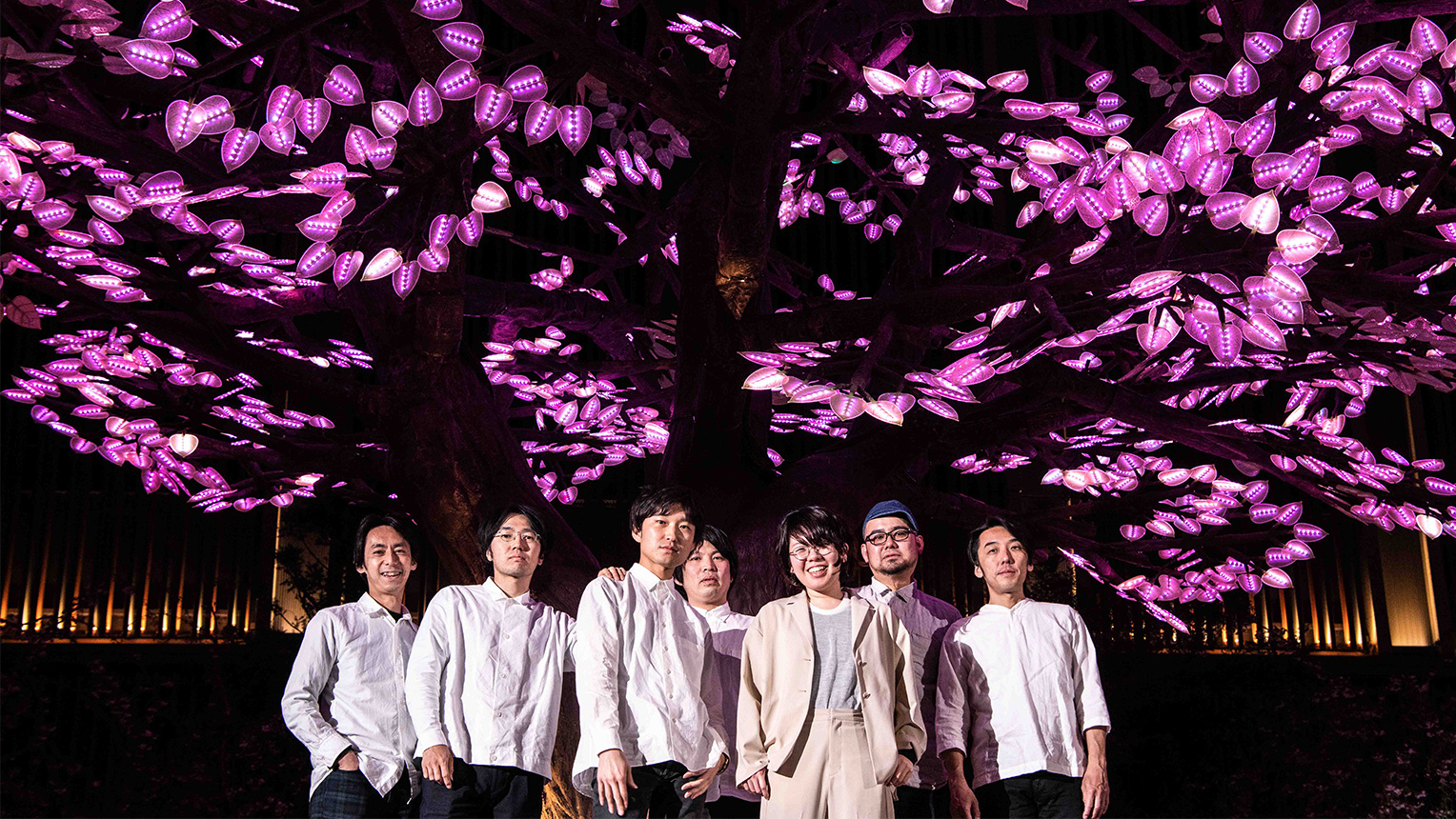 Hasunuma : This is going back to the topic of challenges, and whenever you start something new, there's always anxiety involved. Not all things lead to success. But not all is a failure too. Hopefully they can keep moving forward not worrying about failure, and regardless of being right or wrong. If there is anything that Kaho and I have similarities, it's that we are not afraid of taking that "first step." Hopefully, I'm not the only one thinking that way (laughs).
Nakamura : No, I'm very honored. I also feel that the environment is important in how you mature. Just like how your character changes if you're at the office than if you're alone, you change in accordance with the environment you are in. So don't worry too much about focusing on a single side of you, and don't get too worked up trying to fit in somewhere too.
Of course, you get to choose your own environment. By always continuing to work on the choices you make in those moments, that's how you evolve. You can modify to change your environment. Just like the people I saw today that were enjoying their visit to the Jinja-shrine, feel more free to jump into new environments and just enjoy it.
Interview and Article: Rui Minamoto (Konel) / Photo: Junya Igarashi
Shuta Hasunuma
Born in Tokyo, 1983. Organized the "Shuta Hasunuma Philharmonic Orchestra" and in addition to performing concerts in Japan and overseas, takes part in various musical productions such as film, theater, dance, commercial jingles, musical producer, etc. Brand new album from the Shuta Hasunuma Philharmonic Orchestra, "ANTHROPOCENE" out now from NIPPON COLUMBIA 2018. In addition, by utilizing "songwriting" as his tangible form of artistic expression, creates sculptures, visuals, installations, projects for exhibition. Active in a wide range of methods, mainly utilizing the sound medium. In 2013, accepted as a grantee to the Asian Cultural Council and traveled to New York. Appointed as a Cultural Envoy of East Asia by the Agency for Cultural Affairs in 2017, and active in both Japan and in overseas. Famous exhibitions include "Compositions" (New York, Pioneer Works 2018), "~ ing" (Tokyo, Shiseido Gallery 2018), etc. Awarded the 69th Art Encouragement Prize for New Artists by the Minister of Education, Culture, Sports, Science and Technology.
Kaho Nakamura
Ms. Kaho Nakamura is a Kyoto-based musician that gained accolades of her voice, music, and her presence through appearances at numerous events and festivals. She continues to expand her musicality through various ensembles, be it solo, duo, band, etc. Never the same performance, always something new. She continues to be active in expanding her circle, not just in Japan but also overseas.
Performance at the "FUJI ROCK FESTIVAL" in 2016. Appeared in the tofubeats "FANTASY CLUB" album in 2017, imai (group_inou)'s "PSEP" album and the PETROLZ's "WHERE, WHO, WHAT IS PETROLZ?? -EP." In 2018, she founded her own label, "AINOU" within Space Shower Music, later releasing her similar-titled album "AINOU" on November 7th.