2020.09.16
Digital Educational Tools: A New Challenge for the Fourth-Generation President of an Established Blackboard Maker
Digital Educational Tools: A New Challenge for the Fourth-Generation President of an Established Blackboard Maker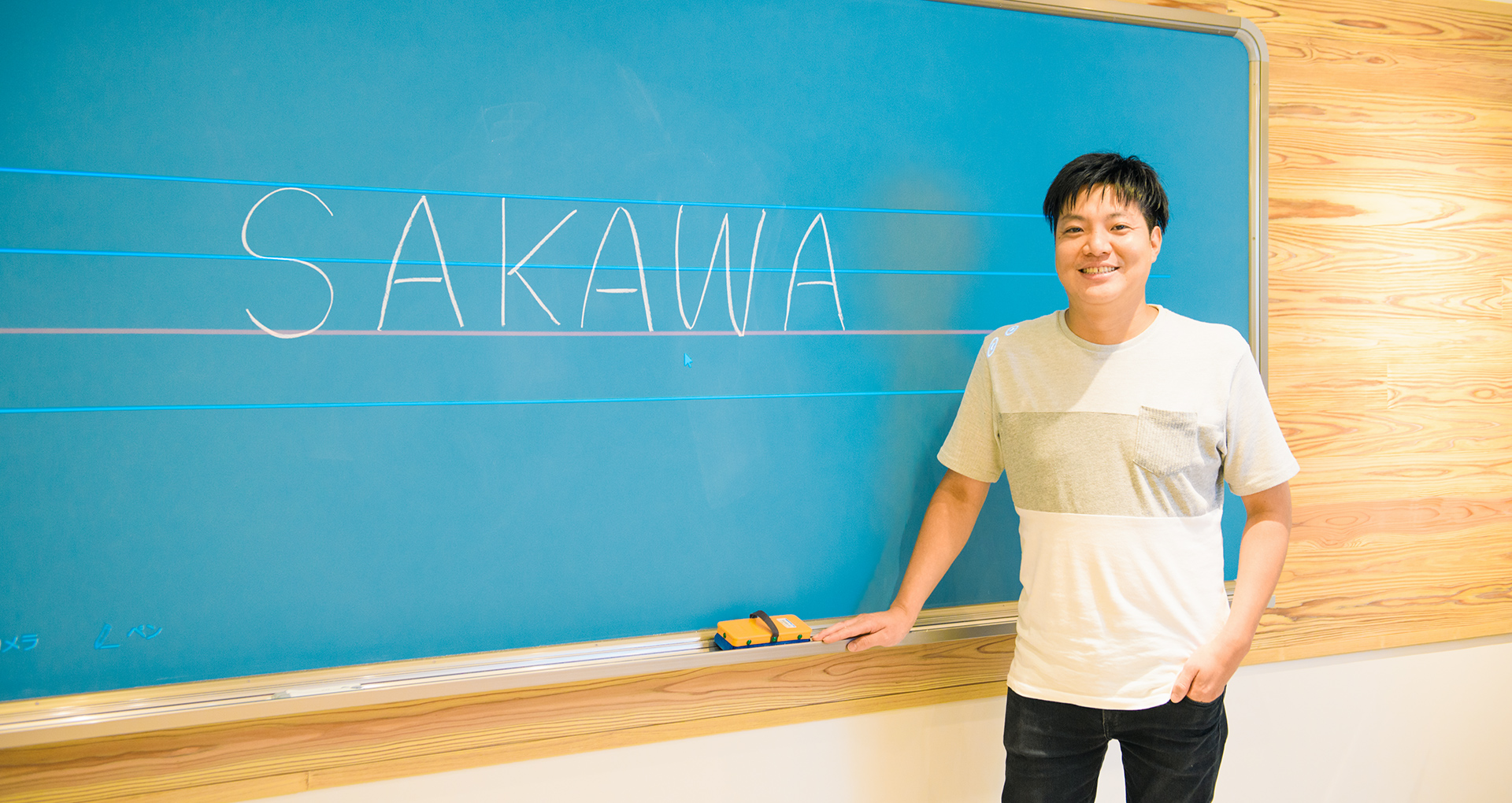 Sakawa Co., Ltd. is a longstanding blackboard maker that celebrated the 100th anniversary of its founding in 2019. While based in Ehime Prefecture, the company moved its Tokyo office to Higashikanda and expanded them this July. In addition to serving as a showroom, the new office is filled with company-original ICT equipment to support the classrooms of the future, as well as conventional blackboards. With a philosophy of "providing the 'ultimate weapons' for the people who will truly shape our future," the company produces one innovative solution after the next in order to reshape the field of education and its numerous issues. For this issue, we spoke with the company's fourth president, Mr. Toshitada Sakawa, about their efforts and the background that shaped them.
A policy of "always taking on challenges and contributing to society," passed down over a century
-First, could you please tell us about your journey as a company so far?
Sakawa was founded in 1919 in Ehime Prefecture, and our roots go back to the lacquer industry. Our founder thought that we could apply lacquer technologies to other ends, and found we could apply it to school blackboards, when demand was on the rise at the time. That's where our original incarnation started, as "Sakawa Blackboard Factory." As the era shifted, we stopped using lacquer as a technique. We incorporated new technologies and focused on blackboards, and changed to our current company name in 1988, as "Sakawa Co., Ltd." After that, we continued expanding into Tokyo and Hiroshima, and we currently have three pillars to our business: blackboards, education-related ICT, and woodworking.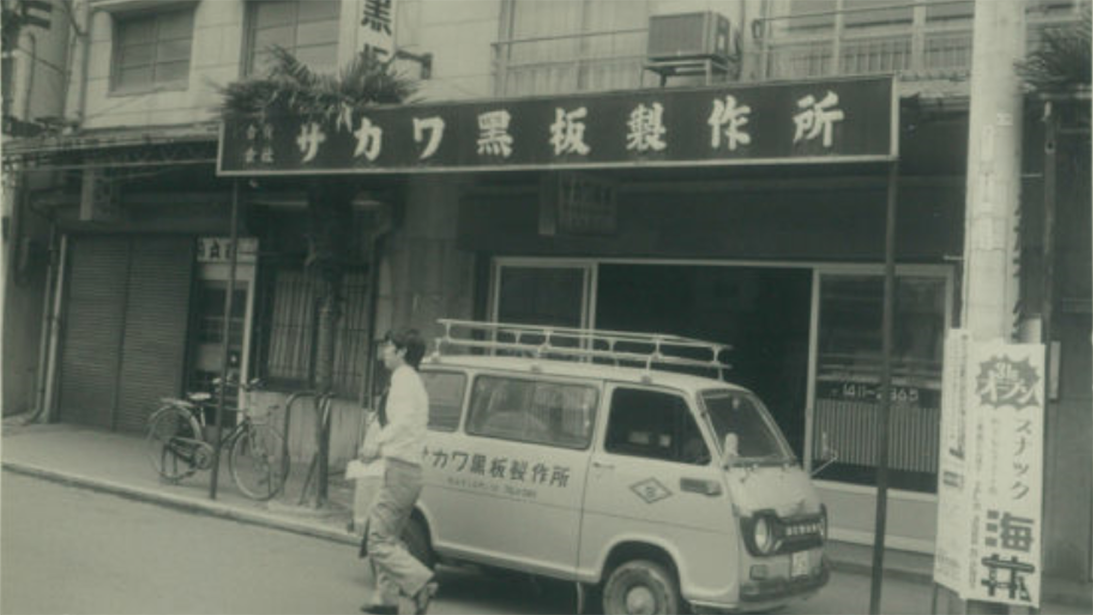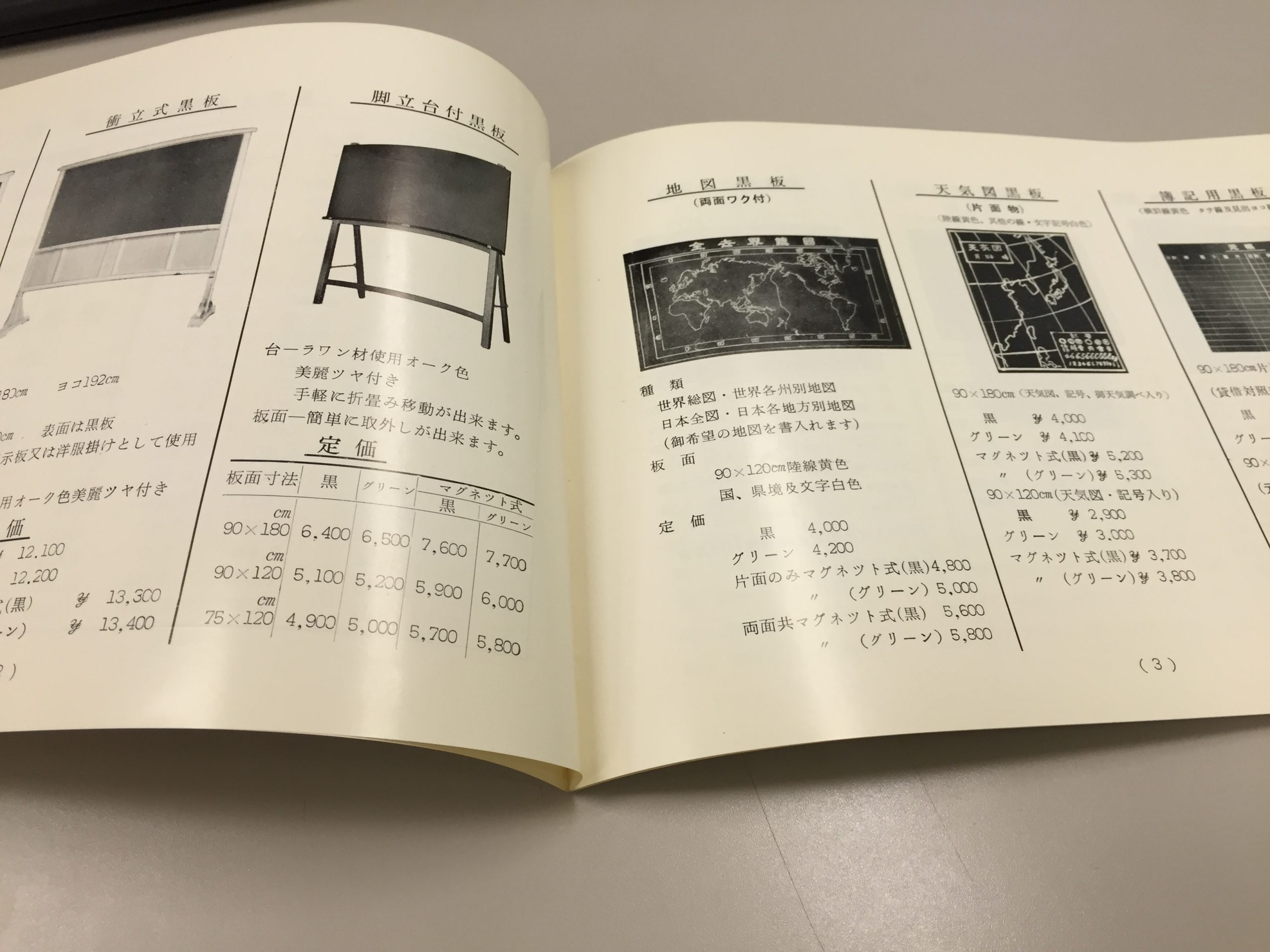 A catalogue for and the exterior of Sakawa Blackboard Factory, the original incarnation of Sakawa (Image provided by: Sakawa)
-So you've expanded business into general education, centering on the blackboard industry. What have you held as a core value over your long history as a company?
There are two main points. One is to "always take on challenges." Over our 100 years of history, we've occasionally taken on incredible challenges that surprised everyone. We took on lacquer blackboards right from our founding, when no one else was making them, and even after that, we updated our technology to match the times while also leading the industry in putting out products with new approaches first.
The other thing we've held as a core value is our stance of "contributing to society as a company, not just increasing corporate profits." We started out in the field of blackboard making out of a desire to contribute to education for the children who are our future, so we've carried on that spirit while working to contribute to society in various other ways, using our professional expertise. We've even done things like donating blackboards and building schools in Cambodia, and offering part of a factory's grounds to assist in restoration of artist Taro Okamoto's "Myths of Tomorrow," a massive mural.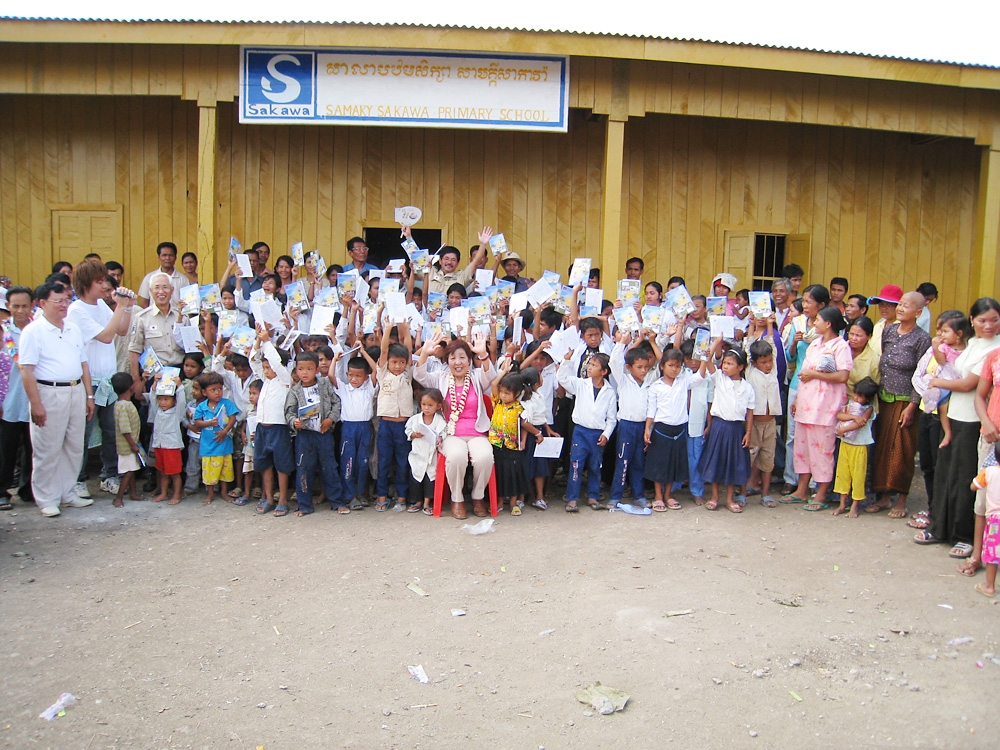 Samaki-Sakawa Elementary School, constructed in 2008 in Cambodia. At the time, it was still rare for individual companies to construct schools as a means of contributing to society (Image provided by: Sakawa)
-Your initiatives to contribute to society are large-scale. I feel like the initiatives themselves are challenges; is that right?
Yes. There are lots of tricks to keeping a company running for a long time, but I think that "contributing to society" and "challenges" are the two pillars that gave us the Sakawa of today. We've made it through a century by staying centered on contributing to society, while changing the way we did that time after time.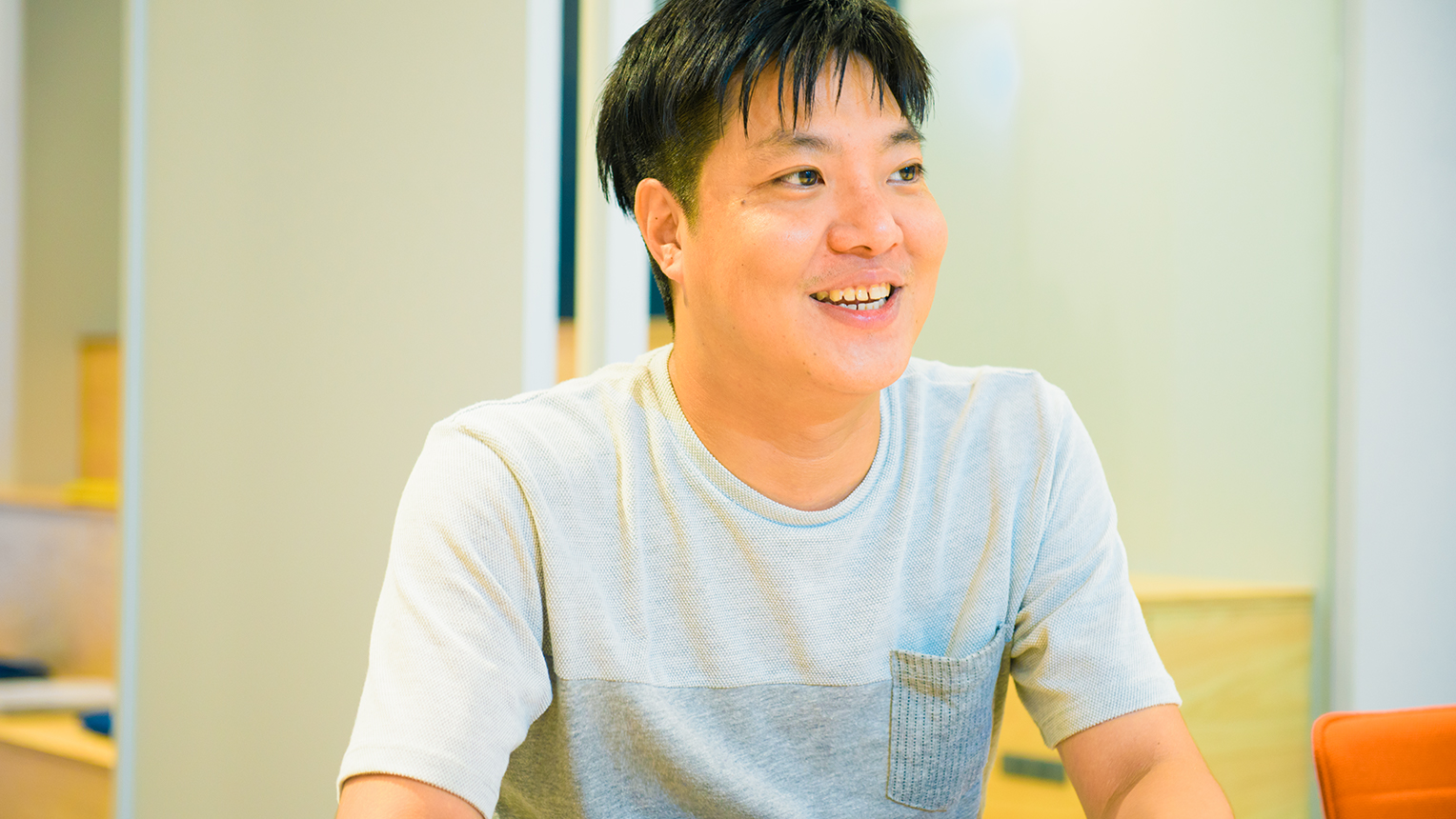 Sakawa Co., Ltd. President, Mr. Toshitada Sakawa
Business expansions and rebranding: first initiatives as president
-So you've been strengthening your ICT educational side since you took over as president in 2018, Mr. Sakawa?
Yes. In taking over the company, I was strongly aware that we had to expand the sectors we do business in, as a company. You could say that blackboards are an industry in decline amid declining birth rates and mechanization, and if we did nothing, it could've led to price competition in the industry and declining revenues. So several years before taking over, I started initiatives to focus in the ICT educational sector, where we expected future market growth. I probably could've just taken over by carrying on the policies of the last generation without making changes, but I had a sense of urgency that the company might not make it if we didn't fully change right then, and a sense of duty to build a future for the company. I also knew I would need to change thinking within the company in order to revolutionize it, so I also worked on a renovated corporate philosophy.
-And what was it, specifically?
Our original corporate philosophy was , and while it resonated with me, it also felt a bit abstract and hard to act on. I felt like it could evolve further, while carrying on the spirit of challenges and social contributions we've always had. So I resolved to go all-in for rebranding on our 100th anniversary, renovating the corporate philosophy, logo, and website all at once. For the renovations, we brought together team members from inside and outside the company to discuss what kind of company Sakawa is, and what kind of company we want to become, creating space to revisit the company as such. That led us to our current corporate philosophy . I was worried that "weapons" was a bit too pointed of a term, but we want to be sincere here, and decided to go for strong phrasing.
We also set as our code of conduct alongside the corporate philosophy, and I feel like we've clarified how each individual should be taking action, ideally.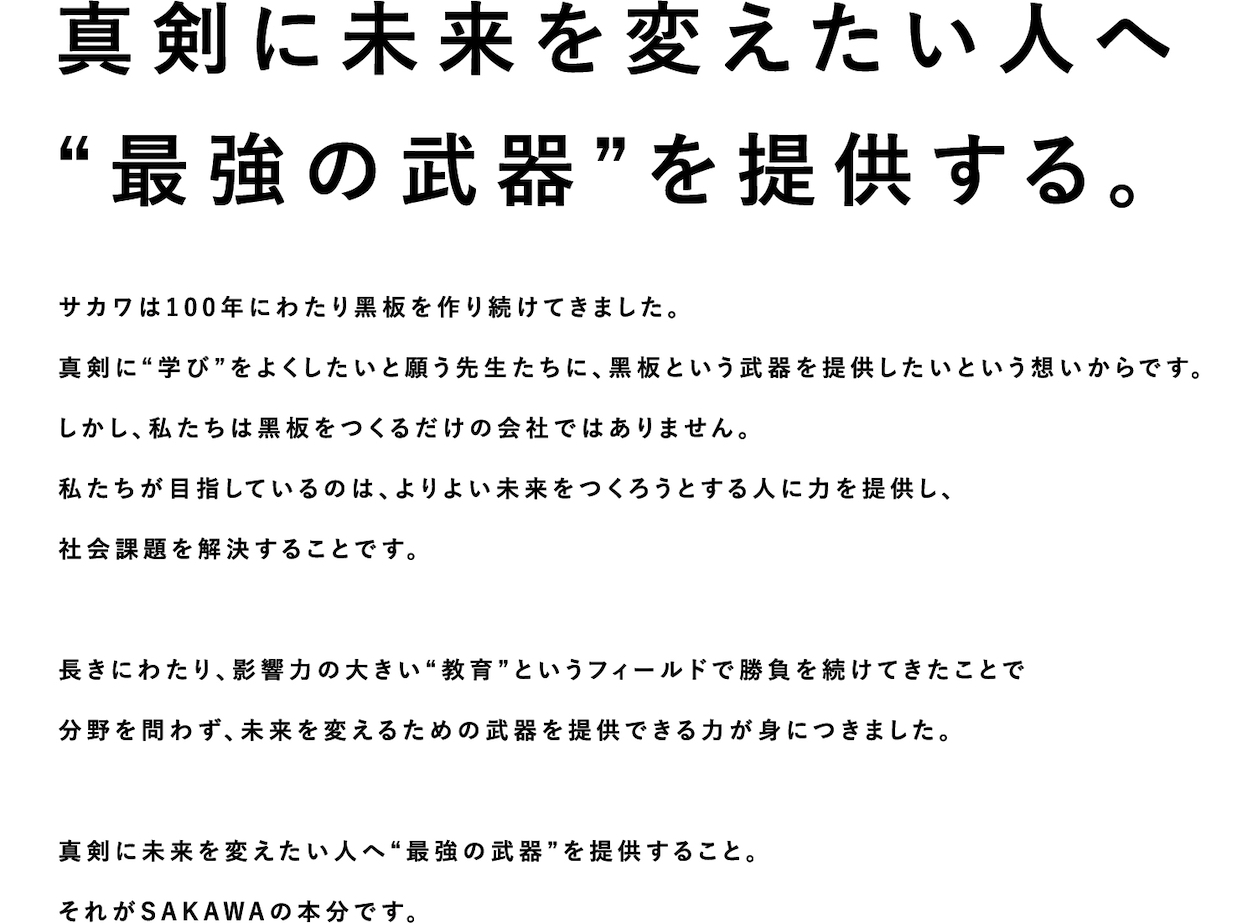 サカワの新しい企業理念(画像提供:サカワ)
-I would think that even for a company, business expansions and rebranding at the same time would be a revolutionary change; were there any struggles involved?
Yes, as you might expect, it wasn't simple (laughter). We had a lot of senior, veteran employees, and people don't fully grasp revolutionary change right away. But I feel that anyone who takes over a company should bring their own unique field to the company. I would just be compared to my predecessor directly if I kept doing the same things, and people would definitely things were better before, since we tend to view the past with rose-colored glasses. Given that, I felt I could change the field for that by taking on a challenge no one ever had before, and create a chance for the company to change. It seemed like two birds with one stone, so I pushed ahead with it.
The blackboard maker enters the ICT educational tools development field
-I'd like to get more details about your business in ICT education. What prompted you to strengthen the company in the field?
I first started thinking about the ICT education field when smartphones suddenly exploded in popularity and presence, around 2014. We were suddenly in a world where children viewed it as natural to have ICT devices like computers, tablets, and smartphones around. But at school, class styles and blackboards hadn't changed in decades. I worried that if we didn't change that immediately, the information as schools would be more limited, less current, and less interesting that what kids had at home, and was inspired to strengthen our offerings in the field. I felt that we had to search out ways to develop tools that fit the digital era better.
-I've heard that you personally created the company's first product in the field, Mr. Sakawa, with the Kocri app to use blackboards.
Yes. I felt it would be good to try creating a smartphone app for casual use by active teachers. As the name implies, it projects text and images from a smartphone onto a blackboard, allowing innovative hybrid use of the two.
-I'm sure it's rare for a blackboard maker to work on app development. Am I right?
It's an extremely analog company suddenly making apps (laughter), so every single part was a first, and it was quite hectic. I struggled to persuade people inside the company, and searched for companies to outsource development to on the Internet, and eventually ended up with a finished service. But the response from teachers was amazing, and we got a sense of the rewards for reinforcing our ICT capabilities.
-So you've continued releasing new products and services since then?
That's right. Our ultra-short-focus project is a product that represents us, and we came up with it from requests for an easy-to-use projector for wide blackboards. Thanks to those requests, a lot of schools have adopted the projectors. We're also warming up a variety of other projects, even now.
Popular for its fusion of handwriting on blackboards and digital functionalities, more than 2000 units of are currently in use across Japan
-Hearing about it, I get the feeling that you develop products from a perspective centered on actual teachers.
Yes, we do. We listen to teachers, and prioritize creation of things that are "useful on-site." There's no point in creating an amazing product if people won't use it because it's hard, or not user-friendly. We still create products from a product-out concept in a lot of cases in the education sector, but we want to create things teachers really want, by absorbing the education market's needs organically.
-I feel like you move up to product release quickly; do you have any secrets that let you do that?
One reason we're so quick is that our employees are younger, again. It has been five years since we released , and we've hired a lot of young employees since then, bringing our average ago down to around 30. Younger employees work faster and are more flexible innovators. For example, we appointed a sales representative who likes YouTube as our company YouTuber, and had them make fun videos with our products. They made several just like that, and they get more views than you'd expect. Then I realized it's a more efficient way of doing sales than visiting each potential client individually.
Also, I think that our code of conduct is part of why we're quick, since it's as I mentioned earlier. We've had three project teams working on product development since this May, and they've all produced good ideas, so I want to release all of them as products within the year. I'm not sure if they'll sell… But I feel like a culture is taking root, saying "First, take action" when you think you have a good idea.
-It seems like speed will be more important than ever with the world changing steadily due to the coronavirus pandemic, doesn't it?
I think it will. I feel like Japanese companies take too long to make decisions in general, after all. Things you'll never be sure of via discussion are best handled by putting them out in the world and letting the world decide. Do that, and also repeatedly make improvements based on user feedback. I think we should take the initiative and put that into practice.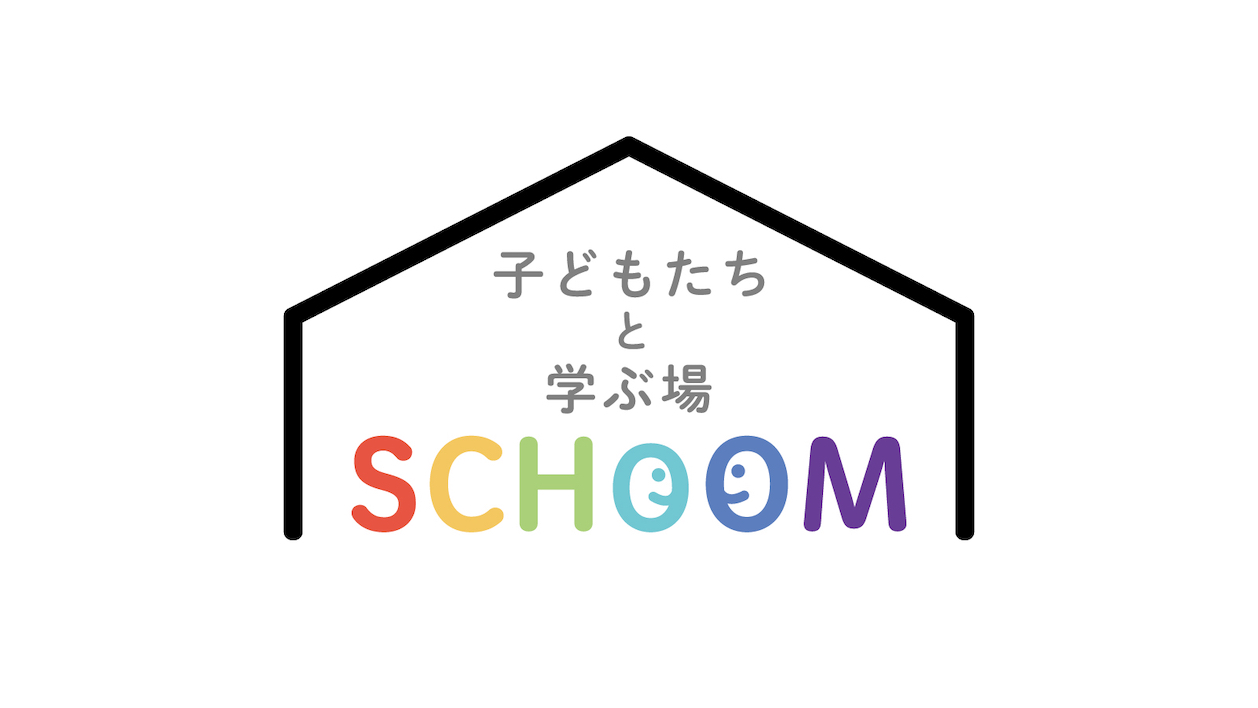 During the coronavirus pandemic, Sakawa was quick to launch the online learning platform "SCHOOM" (Image provided by: Sakawa)
People will need reasons to want to go to offices in the future
-You moved your Tokyo office and showroom to Higashikanda in July; could you tell us what led up to that?
First, we were a bit tired of Shinagawa, where our last office was located. We were renting a space in a big office building near the station, and I felt that the city and office were both inorganic, during my work. When the move to quarantine even for going to work came up during the coronavirus pandemic, all of the employees stopped coming to work. We recommended remote work as a way to counter the coronavirus, of course, but since people didn't go back to in-office work afterwards, I feel like we all realized there wasn't any value in going to that office (laughter).
-So did you give the new office showroom functions in order to make sure there was value in going there?
I had always wanted to have a showroom in Tokyo, but the coronavirus pandemic made me realize that there wasn't any point in having a headquarters in this era if it wasn't a place that people had a reason to visit. So that made me want to build a location that employees and customers were both comfortable visiting. The Nihonbashi area really stood out when we were searching for cities and real estate that people would want to take the time to visit. It has the same manufacturing atmosphere as Akihabara, and also a commercial atmosphere given it's a wholesale district. We found an open-plan property with roadside exposure here, so we felt it would be great and settled on the location.
The open-plan showroom, opening onto a major street
-It has been about a month since you opened after relocating; how do you feel about coming to our city?
The first thing that surprised me on moving here was how diverse the people are. All we saw in Shinagawa was businessmen in suits and ties, but in Higashikanda, you get people in suits, casual wear, work clothes, foreigners, local residents… There are all sorts of people. It's close to a river, and the city feels open – maybe because there aren't too many tall buildings – and even the air itself feel relaxing.
-How have your customers and employees responded to the showroom?
Our customers stick around longer than the used to. We've been able to create a relaxed atmosphere where we can talk over tea and relax, like at a cafe. It's also much more efficient to have clients visit our showroom and see our outlook than to take heavy items to them, for our employees, so it lets us be more in-depth with sales. Overall, the response is positive.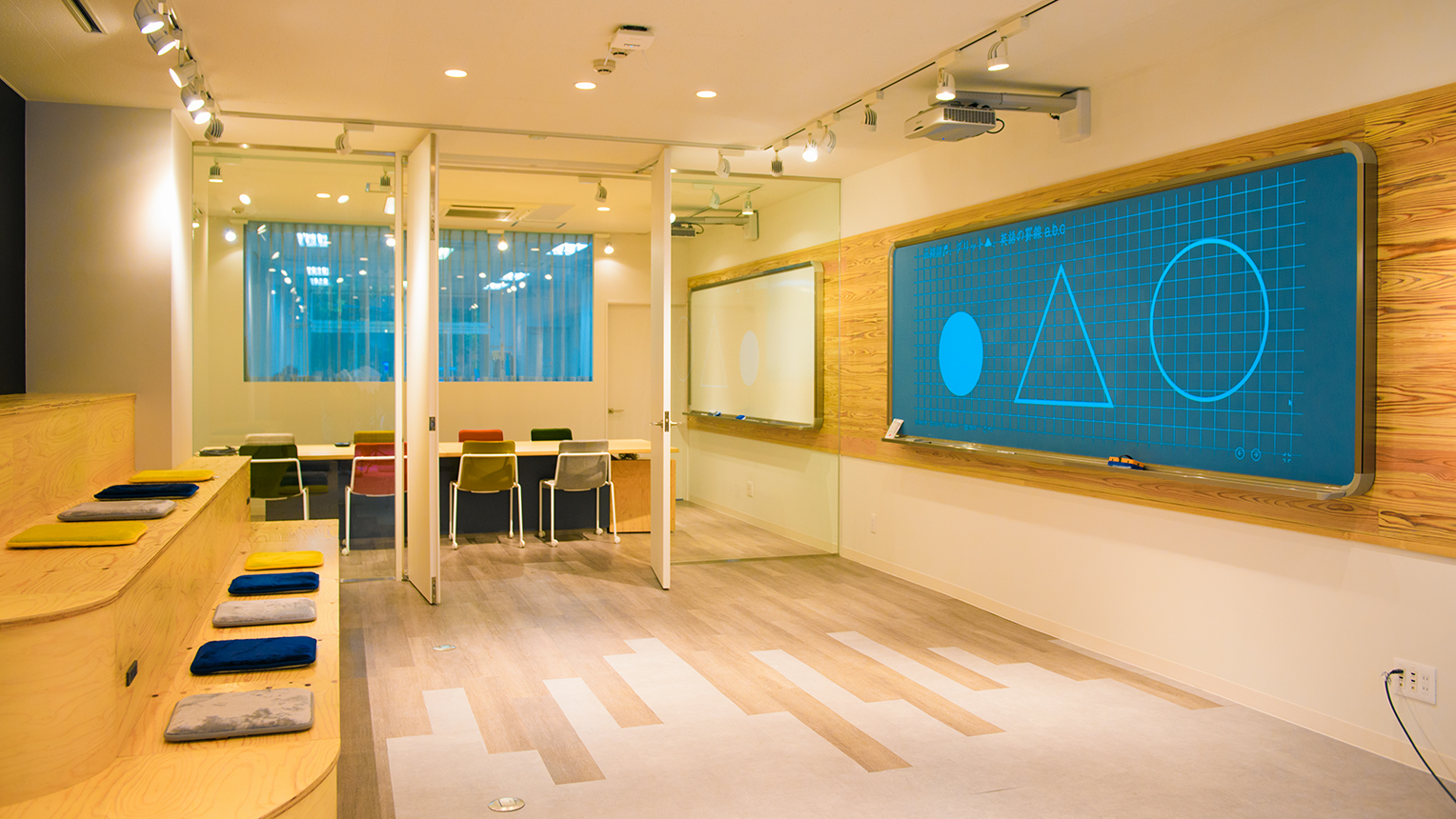 The relaxed layout allows visitors to sit on wooden benches and view demo exhibits such as this blackboard using
One step toward the future at a time, starting with an update for handwriting on blackboards and notes
-Are there any projects you want to do in the city, or is there anyone you'd like to collaborate with, here?
I'm still not an expert on the city, but there's a blackboard coating company nearby, stationary maker King Jim is located nearby, so I feel like there is a surprisingly high number of education-related colleagues around. I feel like there's major potential for us to collaborate with manufacturing and creative firms as well as with those in education, so I'd like to start with a big party with everyone nearby, regardless of their industry (laughter).
Also, I'd like to coordinate with the schools and educational institutions in the city eventually. In the coming era, schools will be more than places for studying, and I feel like local companies like us should build stronger relationships with them as public facilities. I think it would be great if we could collaborate in a uniquely local way, like with events or worshops.
-Finally, are there any new challenges you want to take on in the education field in the future, at Sakawa?
The issues with education in Japan are wide-ranging and deeply-rooted, and it would be hard to change things overnight… But we're working on what we can, starting with "eliminating handwriting on blackboards and notes from education" as a goal. In order to cultivate a desire to learn and curiosity by securing the time that really should be spent at school, we want to eliminate time that was taken for granted with transferring notes to a blackboard after writing them in a notebook. We want to use our ideas and technology to help update how we use that time.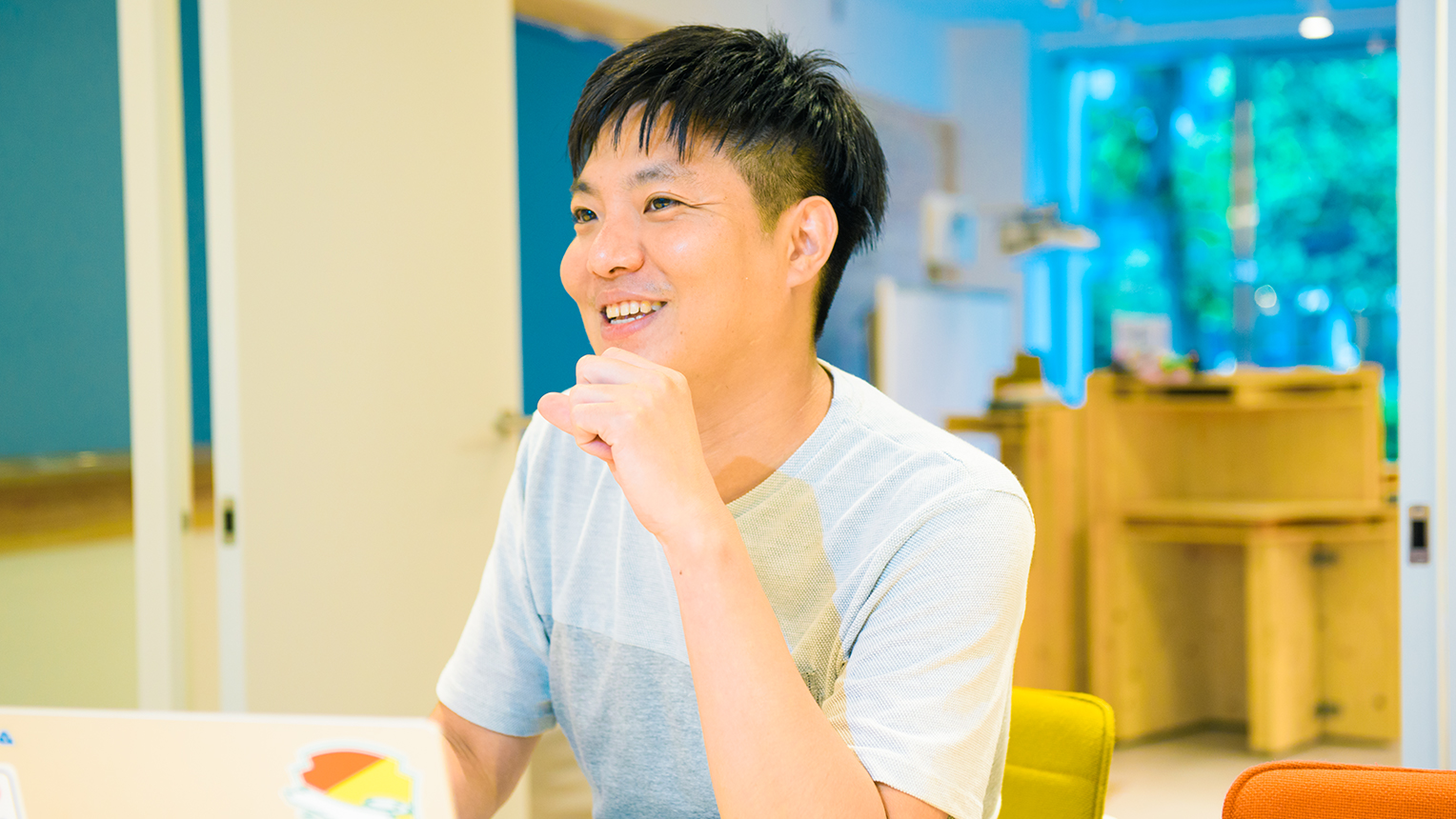 Interview and text: Minako Ushida (Konel), photography: Daisuke Okamura
Sakawa Co., Ltd.
A blackboard maker founded in 1919. While focused on blackboard and whiteboard production, the company has recently begun emphasizing electronic blackboards and ICT educational business. They are notably quick at development of timely products, and have released hardware including the ultra-short-focus projector, software such as the hybrid blackboard app , and the online educational support platform, to address the coronavirus pandemic. The company's Tokyo branch moved from Shinagawa to Higashikanda in July 2020, and now features a showroom as Sakawa continues to expand.