2020.08.07
Nihonbashi's Restaurants Build Bridges: The Thought That Goes Into the Cuisine That Connects Producers With Guests.
Nihonbashi's Restaurants Build Bridges: The Thought That Goes Into the Cuisine That Connects Producers With Guests.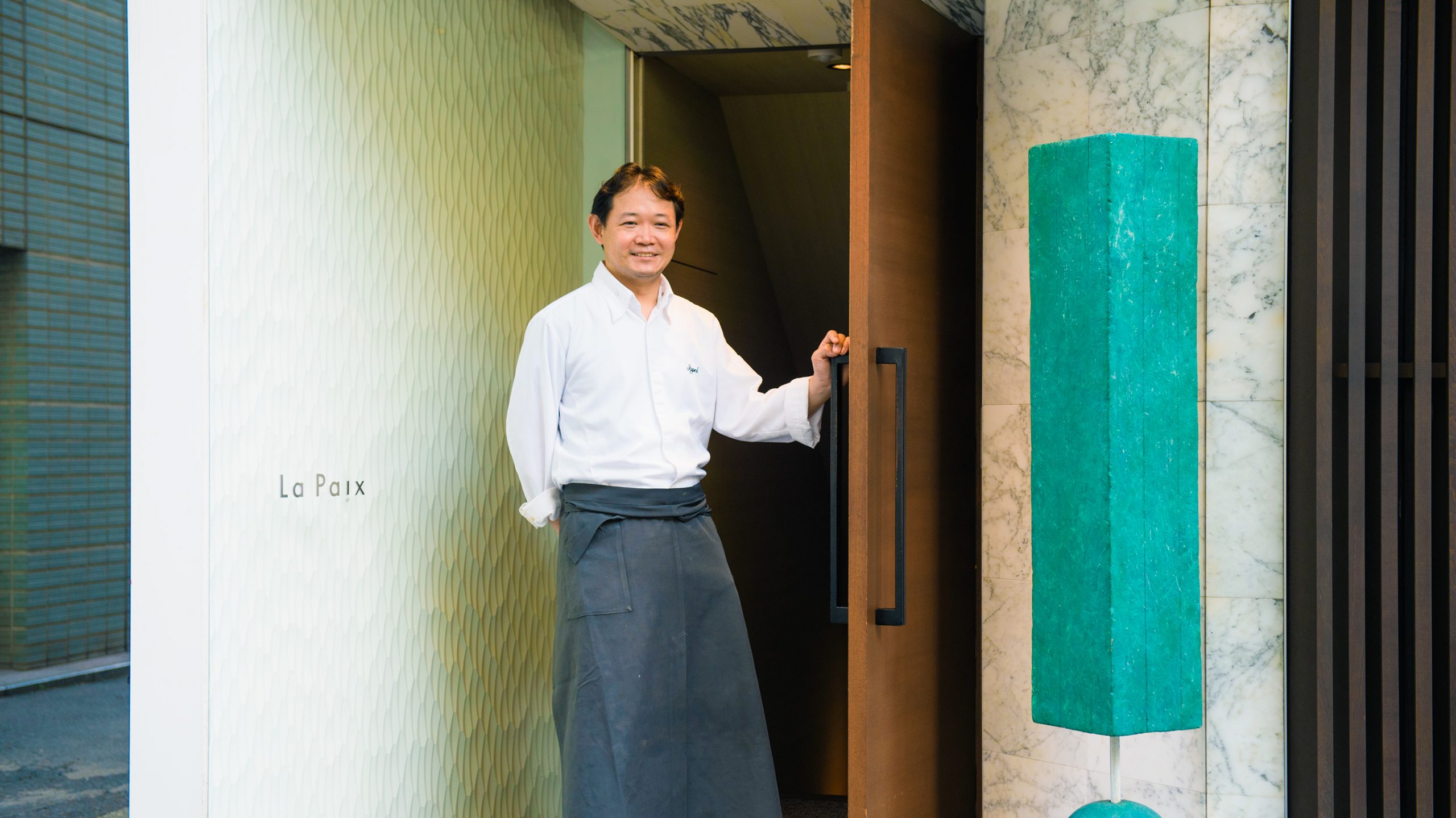 "Lapaix" is a French restaurant in Nihonbashi that has received a Michelin star. It has a large fan base drawn to its chef's-original French cuisine that incorporates the essence of Japan. This menu is made using fresh, seasonal ingredients stocked directly from producers, and the restaurant is renowned for being so popular reservations can be hard to come by. For this issue, we spoke with their chef - Mr. Ippei Matsumoto – about his vision for the future and the present situation for this Nihonbashi-style restaurant located "at the crossroads of the five highways of medieval Japan," after the establishment touched off a movement to connect producers with diners through cuisine.
Sharing "Japanese French Food" From Nihonbashi: A Crossroads for Diverse Cultures New and Old
-Could you please tell us about your work history, Chef Matsumoto?
My family runs an oden hot pot restaurant in Wakayama, and since I loved cooking and eating ever since childhood, going into cooking was a natural path for me. I studied cooking in trade school, then worked at a French restaurant in Tokyo for about five years after graduating. After that, I also trained while working at a Belgian one-star restaurant for a year to broaden my perspective. After returning to Japan, I helped out at my family's oden restaurant while serving French lunches before the restaurant properly opened, each day. The odd combination of French food and an oden restaurant helped win over customers, and even led to media articles about us. I was planning to run a restaurant in Wakayama, from there, but all sorts of people brought up how "you even went and trained overseas." So I ended up working as the understudy chef of a French restaurant in Kojimachi that contacted me. Two years later, that restaurant launched a sister establishment called "Au gout du jour - Merveille" in Nihonbashi, and after 10 years as the main chef there, I went independent in 2014 and opened "LaPaix." That brings us up to now.
-Please tell us more about the restaurant and cuisine's concept.
We operate on a concept of "sharing French cuisine from Japan." I settled on that after a local chef asked me "why do Japanese people want to learn French cooking?" during a visit to France. As a foreigner, he probably found it confusing that Japanese people would need to learn cuisine from other countries, when Japan has its own food culture. That question made me re-examine Japanese ingredients and cuisine, and I decided I would fuse the good parts of Japan with French food when I opened my own place. LaPaix actually uses Arita-yaki Japanese ceramics for dishes, and Japanese cutlery and glass, as well as ingredients from all over Japan, and we've focused on the essence of Japan throughout our interior, too.
-Does that all form the backdrop to your decision to open a restaurant in Nihonbashi?
Out of all of Tokyo, Nihonbashi is always evolving while holding onto its Japanese-ness, so I feel like it fits with our concept of sharing Japanese-ness. Also, French food has this unavoidable west Tokyo image, while the east is more tempura, sushi, and other established Japanese restaurants. In that sense, we don't have many rivals (laughter), and it's an easy place to take on challenges in. That's another reason. Moreover, the area accepts diverse cultures, and has a mix of old and new businesses, so I felt it was a good place to take on the challenge of new "Japanese French cuisine" given our fusion aims.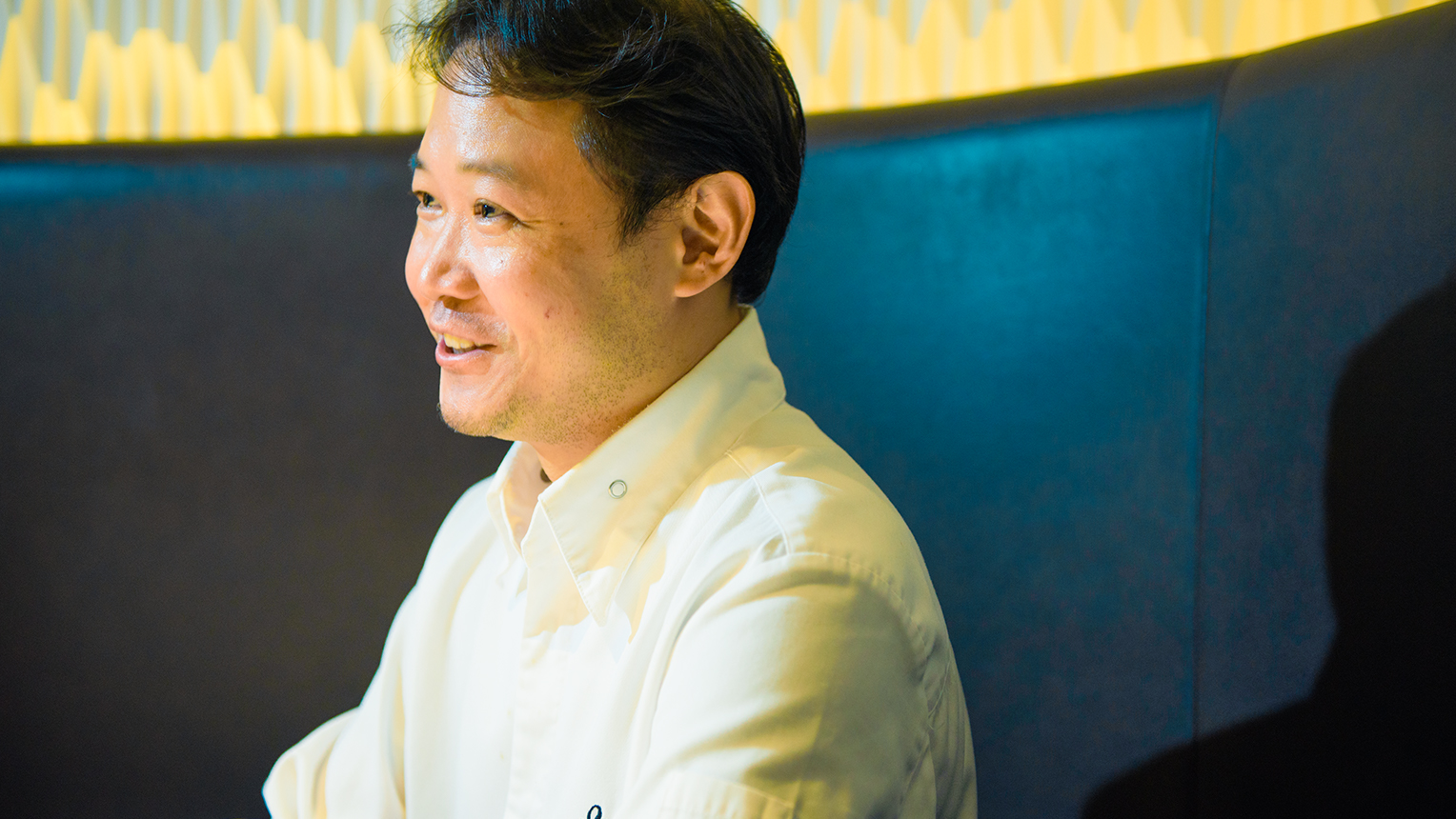 Chef Matsumoto's philosophy for "LaPaix" consists of five words: "Japan, harmony, spirit, connections, and senses."
I want our relationship with producers to elevate both sides.
-You're very focused on the ingredients for your "Japanese French cuisine," aren't you, Chef Matsumoto?
Since long ago, I've always wanted to stock ingredients directly from producers once I had my own restaurant. There are two reasons for that. First, there are no brokers like at a market, and my money for stock goes directly to the producer, so I can directly support producers who have select ingredients. And the other reason is that your ingredients stay fresh longer if you stock directly.
A key point is that there are concerns over unstable supplies due to annual climate fluctuations when you use a limited range of suppliers, but having a nationwide stocking network has allowed us to handle emergencies and unexpected turns. For example, we buy from about five or six fish suppliers over the year. Doing that lets us stock the ingredients we want each season from the best producer, and serve customers ingredients at their best.
-How do you select the ingredients you use, and their growing regions?
Of course, I go out hunting for them myself sometimes, but a lot of the time I get interested after an introduction from another producer. For example, Kanenaka Suisan is a fish supplier in Wakayama operated by someone who used to be a chef, and they've introduced us to people for game meats and farmers in Wakayama prefecture. Despite being from Wakayama, I didn't have a lot of experience with the local ingredients. So getting to know the producers they introduced me to has reminded me of the quality of Wakayama ingredients. I really treasure those connections.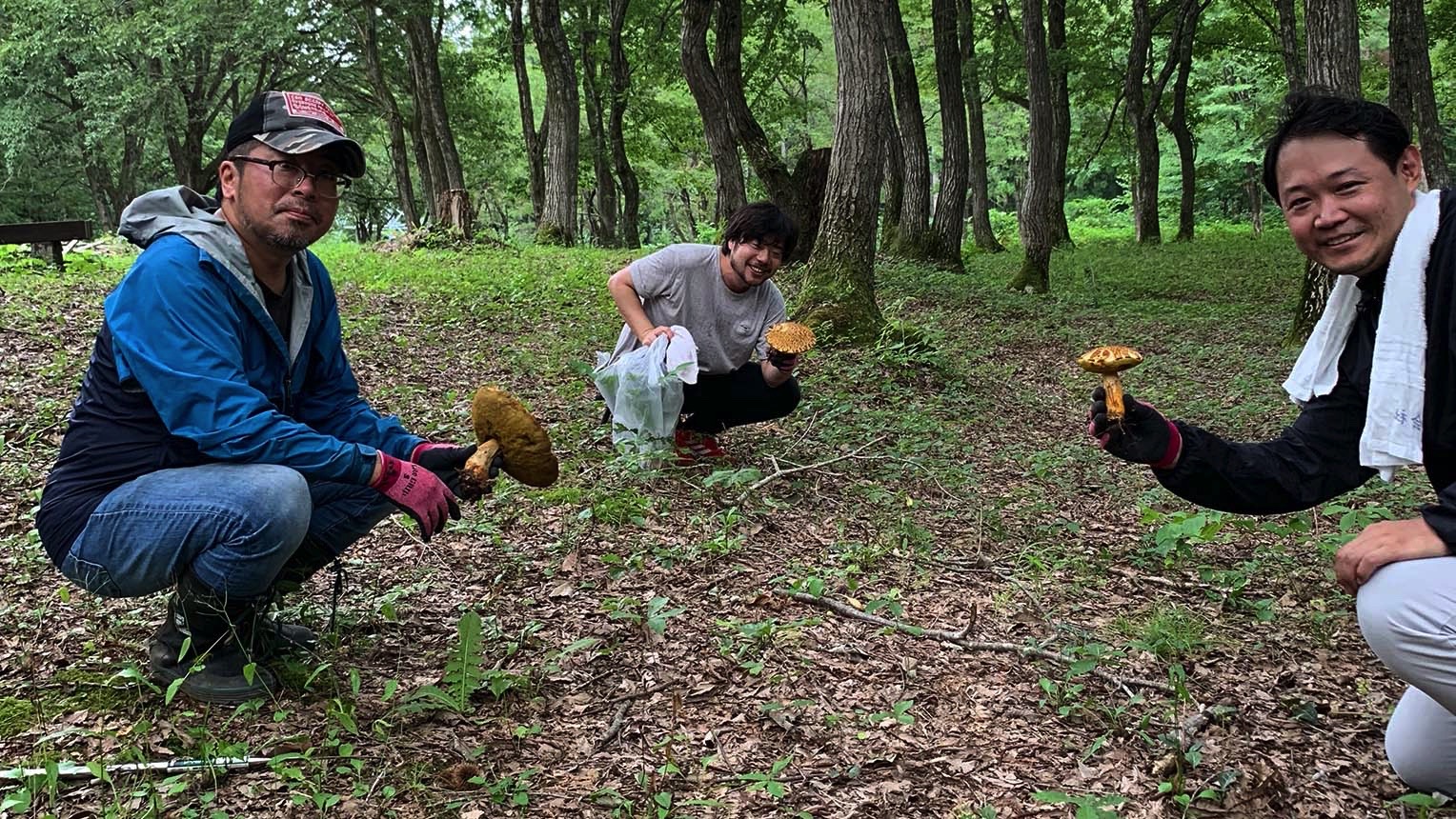 Chef Matsumoto even goes out to growing areas during harvest time. His collaboration dinners are popular, and he invites producers to the restaurant for them(Image provided by: LaPaix)
-Were there any struggles involved, up until you got your current stocking system in place?
It took us time to build relationships with the first producers we worked with. They sometimes get fraudulent orders via email, so a lot of them are cautious with partners they haven't met in person. That's why I go to meet producers as much as I can to directly convey how we want to serve customers new dishes, which are what they really want. Speaking face to face is important in itself, and I think that restaurants and producers should be talking and sharing our opinions on equal footing, going beyond just placing or taking orders. That lets us build relationships that elevate us both, so I want to energize the dining industry through good partnerships.
"LaPaix Boxes" – inspired by a message from a producer
-Do you ever draw inspiration or stumble on ideas while communicating with producers?
That happens a lot. Most recently, I got the idea for the "LaPaix Boxes" we sold during the coronavirus quarantine from a message from a producer.
The message was just a line about how "times are tough, but we wish you the best" that was included with some ingredients we received just before the declaration of a state of emergency. While we were both struggling, it made me really happy to see they went to the trouble of writing that. And I realized we should do more to tell customers about the producers that support our cuisine, and how hard they work.
If we had gone into quarantine with things as they were, it would've had a huge impact on our producers as well as us, and we couldn't even communicate that our producers existed through cuisine. After thinking about moves to make that would be good for everyone, I came up with the idea of the "LaPaix Box." They're a LaPaix multi-course meal that covers two days, for customers to eat at home.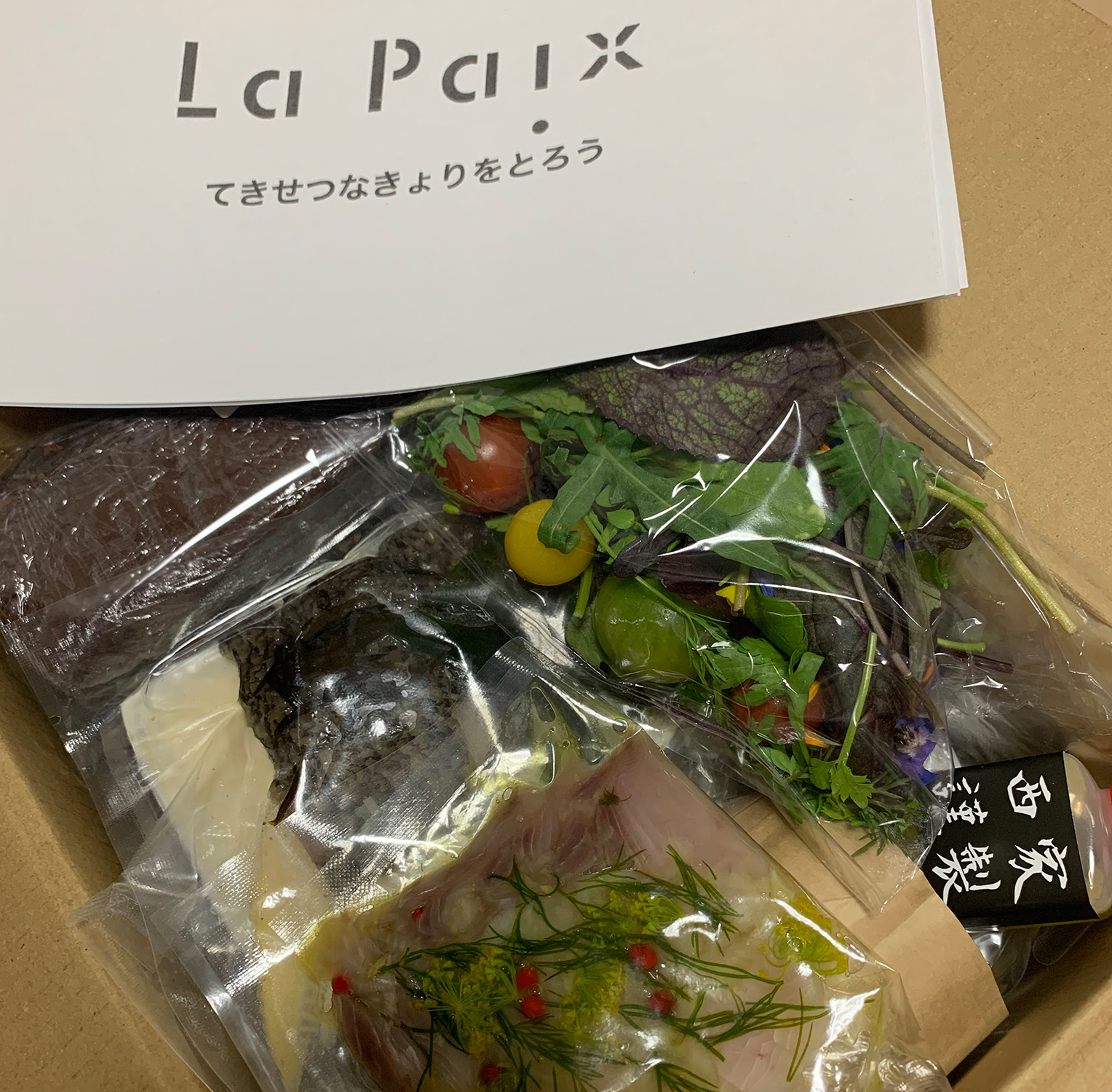 ngredients in carefully vacuum-packed, individual form. They were assigned numbers by item, allowing customers to enjoy them in a casual format at home(Image provided by: LaPaix)
-That's quite distinct from other restaurants, isn't it? Doing a "multi-course dining delivery" instead of takeout.
As chefs, we can make anything, so we stocked ingredients we never had before, and could even adjust the price. But doing that would reduce the value of the restaurant, which we've been building all this time. So I of stocking the ingredients we always had from the same producers as ever, cooking similar things to what we'd serve at the restaurant, and delivering that to customers.
-Were you nervous at all about taking on a new challenge, compared to running the restaurant?
It really did test my courage to try new things while keeping my staff safe during the coronavirus pandemic. I was nervous about our price points, and had no idea how much customers would buy, so at first we made a limited run of 30 (with one box serving two for two days, and costing ¥15,000 including delivery), and tried advertising it on the restaurant's social media. Then we got a better response than we expected, fortunately, and sold through them smoothly. That led to a sudden increase in numbers the next week.
New potential born from customer's views
-Are you very inventive with packages and things for them, as well as your food?
When running a restaurant, you constantly think about how to make things more enjoyable for the customer, and how to serve customers. However, that doesn't work when we can't see the customer in person, with the "LaPaix Box." So instead, wanting to add value, we worked out creative ways to introduce our ingredients and give detailed explanations of menu items.
I was particularly focused on properly conveying information on the ingredients used. I thought about creating connections between customers and producers, putting QR codes in menus to link to producers with their own sales websites so that customers could buy ingredients from them directly. Customers have actually bought from those sites because of the links, and the producers were happy about that. I went at it wanting it to be good for everyone instead of just us, so I was glad to see it go well. There was a back and forth where producers gave us some bigger deliveries than usual to thank us, and we sent them "LaPaix Boxes" back, and so forth.
-It's also full of ideas customers would enjoy, isn't it?
I wanted the customers who got their orders to smile during that period more than ever, so we tried a bit of a parody design with the carboard packaging, and published videos of us cooking and plating dishes on social media during the sixth or seventh delivery cycle.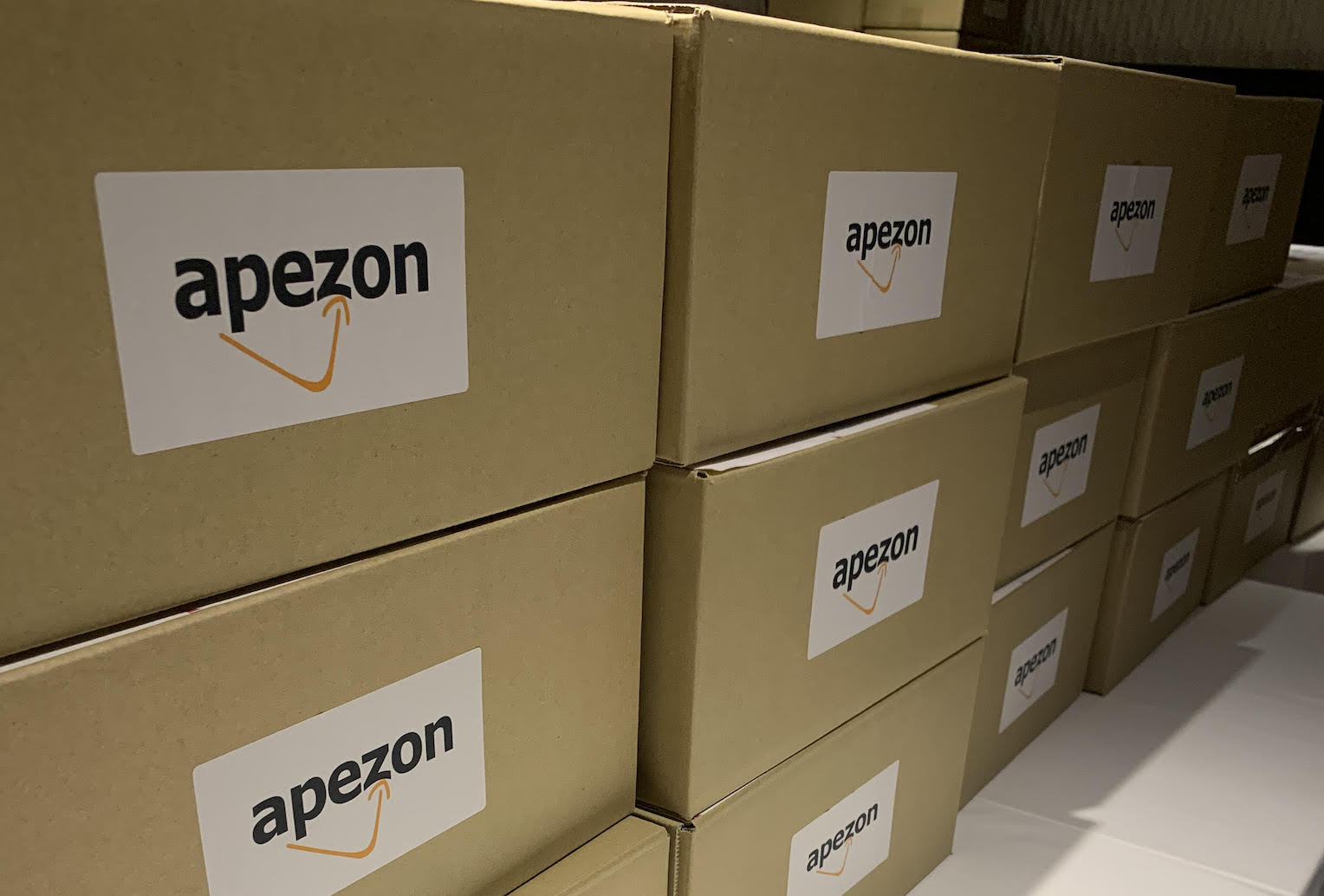 The carboard boxes, featuring a "LaPaix-style" play on a major online shopping website's logo. Customers who received them often chuckled at the sight (Image provided by: LaPaix)
-So they evolved each time you did them?
Yes. I was always focused on making small improvements and flourishes to improve them. In that sense, "LaPaix" often creates new menu items and services based on customer opinions. We also got a lot of ideas for improvements from messages that customers sent after getting "LaPaix Boxes," or after seeing our pictures of food on social media. Customer social media was what inspired the cooking and plating videos I mentioned earlier.
-Do you have any stories that made an impression on you, regarding menu items and services that sprang from customer opinions?
There's the "peach course" we offer every summer, currently, which actually came about when a regular requested it. I felt like it was a waste to let it end with just them, so when we expanded it and kept serving it, we formed a summer tradition around it. Nowadays, it's so popular people ask us when the peach course will start for half the year until it does.
Just thinking about things on your own when you start something new can sometimes result in hitting a wall. Customer opinions help me out a lot in times like that. For example, I feel like even a minor point might take form and turn into something that expands my personal horizons and the restaurant's. The videos I mentioned are a great example, where we first tried making videos, then steadily got more creative, and ended up selecting background music to suit each menu item (laughter).
A drive to value "connection" and energize the restaurant industry, precisely given the era
-Could you tell us about challenges you want to take on in the future, Chef Matsumoto?
Honestly, we don't know how long the coronavirus will have an impact, and it's hard to predict things currently. But having taken on delivery of multi-course dishes with the "LaPaix Boxes," I think we have a lot of areas we could grow into.
When I think of our staff arrangements at the restaurant, I feel like it will be hard to keep operating as usual (as of July 8th) and continue offering "LaPaix Boxes" routinely, so I'm thinking of selling them as an event item in the future. For example, I've always been interested in traditional Japanese osechi New Year's dishes but have never managed to do it, so I'm thinking about trying that. Having gained experience with the "LaPaix Boxes," it feels like I could make something as an extension from that.
-It seems like a lot of customers will be looking forward to getting them again, wouldn't you say?
A lot of customers took pictures of their "LaPaix Boxes" and posted them on social media, which told a lot of people about us, including those who had never been here, or people who couldn't come due to being in distant areas or having small children. And a lot have said they'd love to buy another "LaPaix Box." Also, possibly because they learned about it from that project, a number of companies have asked us to work on supervising their cooking and so forth.
Furthermore, people in the restaurant industry have also asked me to tell them about the project. Things are tough due to the coronavirus, but I think it's good to value that sort of positive sign and generally energize the restaurant industry, while also showing friends a new approach they can take.
-Finally, please tell us about any ideas you might want to try using the city as a stage, in the future.
I'd love to have a restaurant that served cuisine that incorporated more "Japanese" elements. Since my parents ran an oden restaurant, I convert "LaPaix" into "Taira-chan's Oden Restaurant" (drawn from the chef's name) for a week every winter. I even sold "LaPaix" boxes with one of the two days an oden set, one time. That was popular too, and we got responses about how people wished both days could've been oden. That's a complicated feeling to process, for someone at a French restaurant (laughter). It would synergize well with Ninben – a company that handles the dashi broth that forms the heart of oden's flavor - and other established businesses in Nihonbashi, and I secretly want to take on a challenge in the Japanese cuisine sector by evolving "Japanese French cuisine" even further.
Interview and text: Kei Furuta (Konel) Photography: Daisuke Okamura
LaPaix
A restaurant that serves Japanese-influenced seasonal French cuisine that uses authentic ingredients from producers all over Japan, while pairing the lightness of modern cuisine with the history of traditional cooking. Received a Michelin star in the 2018 edition of the Michelin Guide.
B1F, 1-9-4 Nihonbashi Muromachi, Chuo City, Tokyo
050-3196-2390
Closed:
Thursdays (Closed two unscheduled days each month)