2020.05.27
This is Precisely the Time to Master Dashi Broth. What's the Secret to Making Delicious Japanese Food at Home? -Special Feature: Nihonbashi Dining at Home #3
This is Precisely the Time to Master Dashi Broth. What's the Secret to Making Delicious Japanese Food at Home? -Special Feature: Nihonbashi Dining at Home #3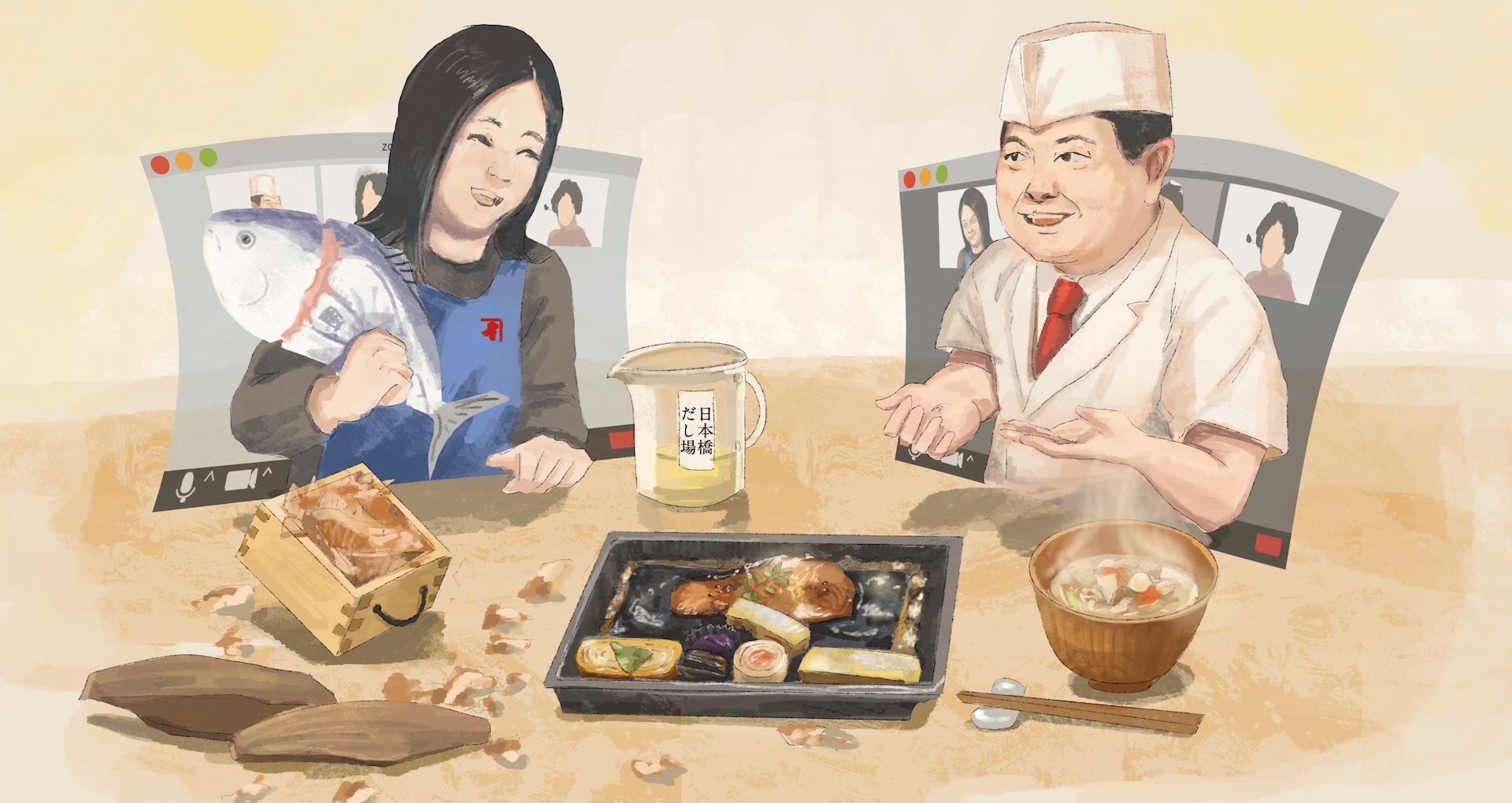 Our theme for this third installment of the "Nihonbashi Dining at Home" (part of a special partnership with the "Nihonbashi Dining at Home" website) is "dashi" broth. With everyone spending more time at home lately, it seems a lot of us are working hard to improve our home cooking. One useful tool in that effort is the "dashi" broth that forms the hidden powerhouse of dishes, dramatically enhancing flavor. For this installment, we spoke with two qualified specialists about easy ways to make dashi, how to use it, and their recipe recommendations. We hope their massive lineup of rapid-fire cooking pointers can serve as a reference for everyone.
[Establishments Interviewed]
Nihonbashi Yukari: 3rd Generation Chef Mr. Kimio Nonaga
Ninben Co., Ltd.: Public Relations Manager Ms. Takumi Nakamura
[Facilitator]
Freelance Announcer: Ms. Shiho Shingu
Q. First, please introduce yourselves.
Mr. Kimio Nonaga ("Nonaga"): I'm Nonaga, the 3rd chef in my line to run "Nihonbashi Yukari" since its founding in 1935. I trained by working at the "Kikunoi Roan" establishment in Kyoto for six and a half years after graduating from the Hattori Nutrition College, and only joined Nihonbashi Yukari after in-depth study of Japanese cuisine. So I incorporate good points from Kyoto and Tokyo both in my cooking. I've actually even won on the TV show "Iron Chef" in the past! I've worked in a wide range of food-related roles, such as judging cooking and as an honorary Japanese cuisine ambassador and more.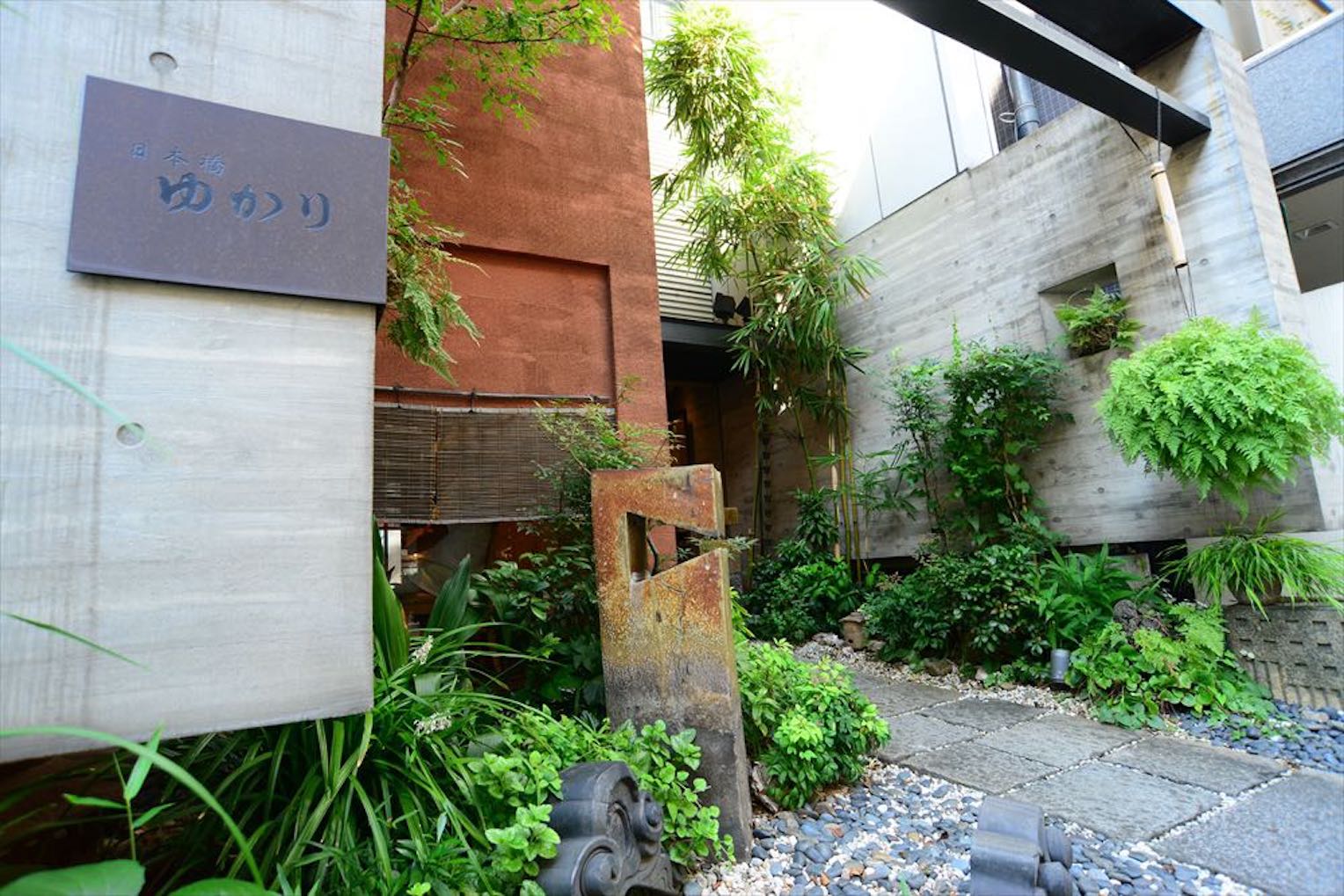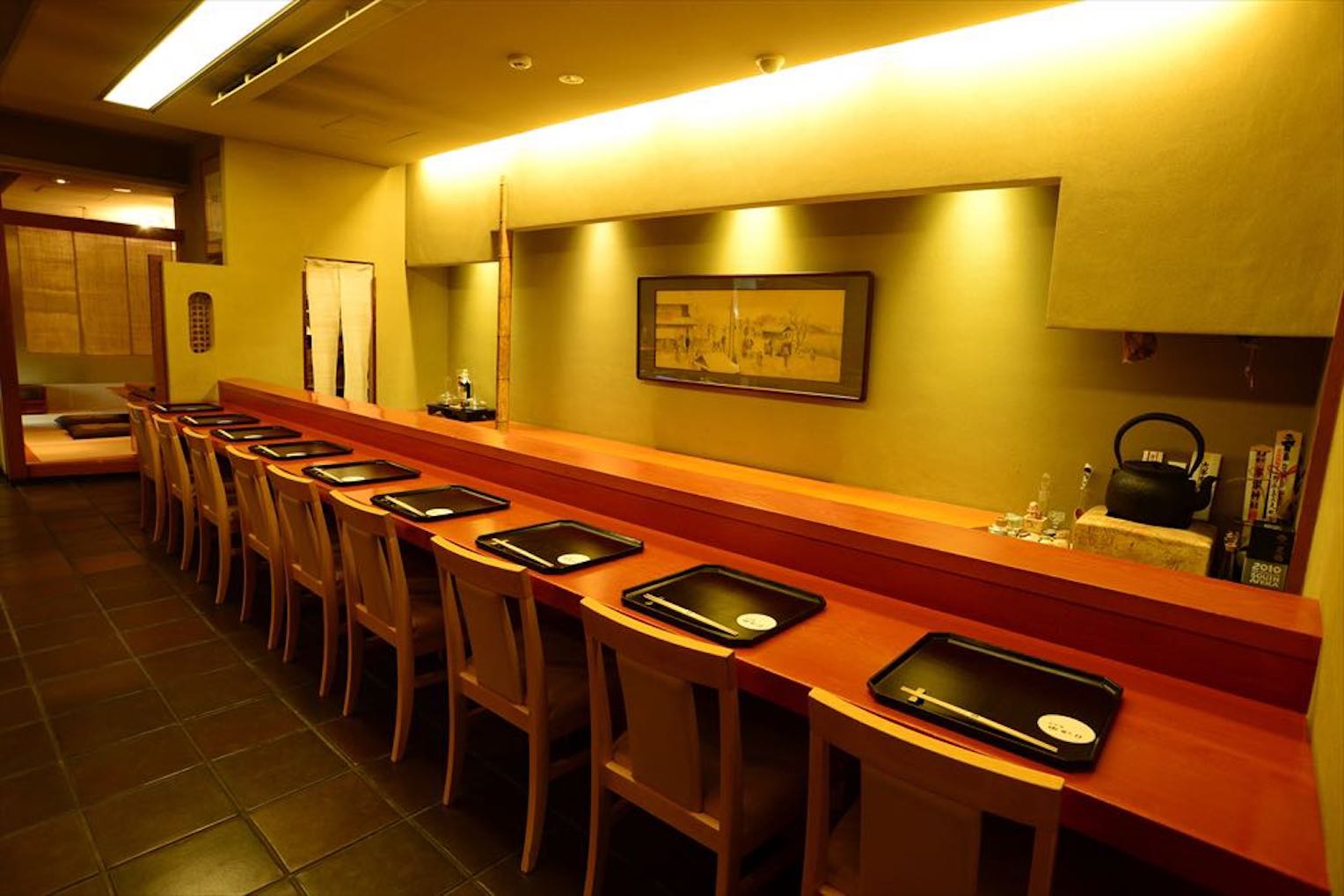 The Nihonbashi Yukari establishment (Image provided by: Nihonbashi Yukari)
Ms. Shiho Shingu ("Shingu"): You've been involved in diverse activities, and collaborated with a lot of people.
Nonaga: One of the reasons I take part in these varied food-related roles is that it bothers me to see Japanese people moving away from Japanese cuisine. I think that behind that move away from it, we'll find a lot of people who feel Japanese cuisine is hard to make. That's why I announce that it can be easy to make, and why I want to make Japanese food exciting.
I think it's fine to have bread at breakfast, too, but just rice and an ingredient-packed miso soup can make for a delicious, filling, and nutritious breakfast even if you aren't focused on the perfect veggies for it. I want people to incorporate Japanese cuisine into their daily lives easily like that, so I take on all of the challenges I do, like publishing the book "Japanese Cuisine With Just a Frying Pan" and developing simple recipes in cooperation with Ninben. Oh, yeah, and lately I've been trying to become a YouTuber, and streaming cooking videos (laughter).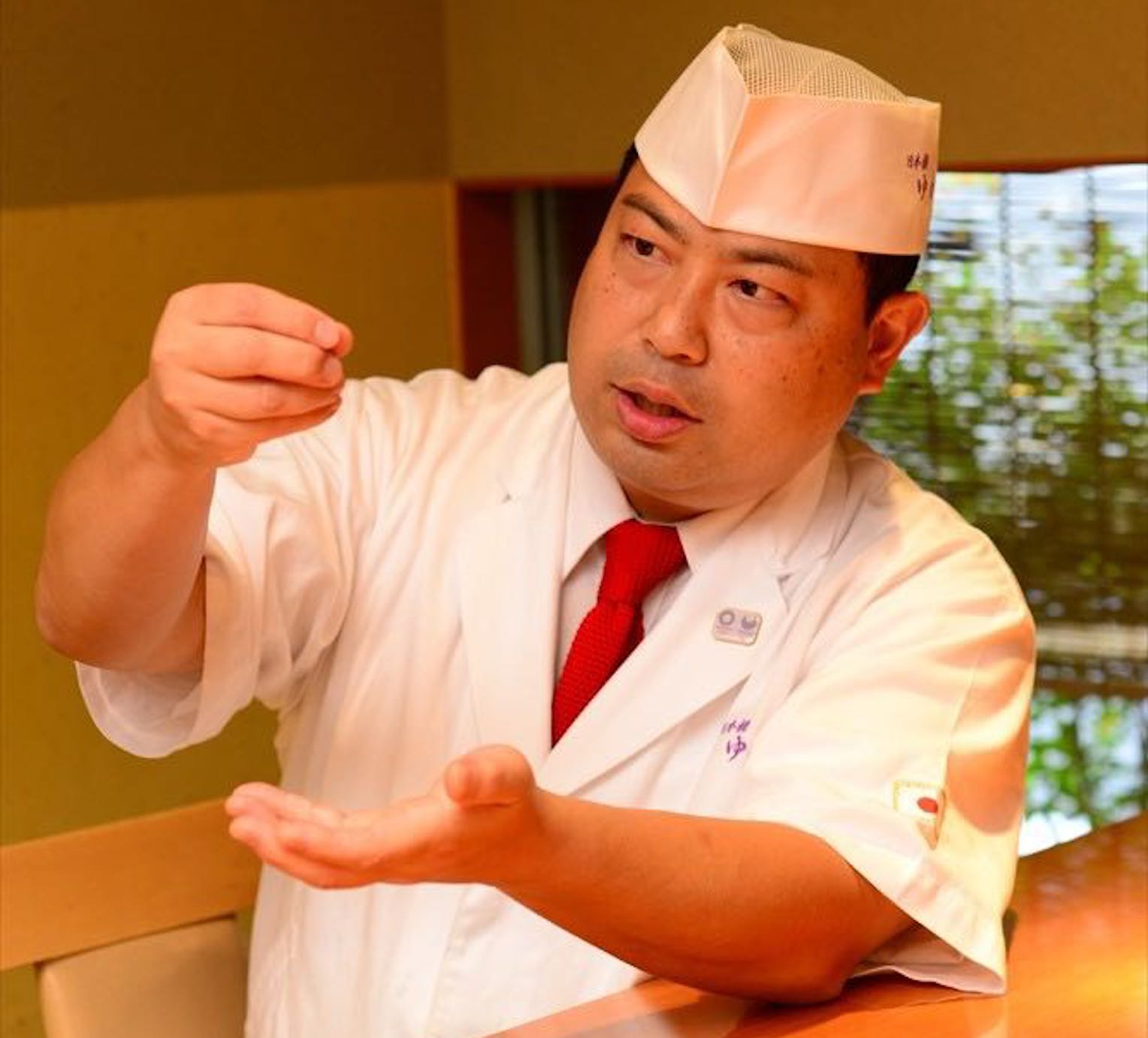 The 3rd Chef to run "Nihonbashi Yukari," Mr. Mikio Nonaga (Image provided by: Nihonbashi Yukari)
Ms. Takumi Nakamura ("Nakamura"): That's novel, the YouTuber owner/operator of a renowned Nihonbashi restaurant (laughter). A lot of people are into cooking videos right now, so I think that would be fun for them.
Nonaga: I hope so. Ninben does a lot to enlighten people about Japanese cuisine and the culture of dashi broth, too.
Nakamura: Yes, we do, thank you! I mainly manage public relations and food education, and part of my mission is to convey and spread the culture and appeal of dashi, centering on katsuo-bushi (dried bonito flakes) as well as "Ninben" products, as you'd expect. Ninben was founded in Nihonbashi in 1699, when our first president … put out katsuo-bushi and other dried fish from his doorstep for sale. We're primarily katsuo-bushi specialists, but we also opened our "Nihonbashi Dashi Bar" at the same time that we transferred out headquarters to "COREDO Muromachi 1" in 2010, so we we've also started up in the restaurant business. The idea of dashi experiences has been popular among customers for how new it is, and that has given us the opportunity to focus on spreading dashi culture. We're always taking on new challenges tailored to the times, such as creating Dashi Bar-branded products, selling foods as bento lunch boxes, and more.
Ms. Shiho Shingu ("Shingu"): You're both here in your restaurant uniforms, today. Mr. Nonaga, you're quite used to a white chef's coat, aren't you?
Nonaga: Of course. This is my personal formal wear.
Nakamura: I was sure Mr. Nonaga would be in formal wear, so I wore a Ninben apron, too! I also brought along this "pull-apart katsuo doll," too (laughter). We use them in food education workshops and so forth, and you can pull away each cut, so it teaches people about the process for making katsuo-bushi.
Nonaga: A pull-apart doll! We have one at the restaurant, too.
Nakamura: Actually, you can also buy them from the Ninben Internet shop. They're a lot more expensive than our katsuo-bushi products, but anyway… Definitely, please let me promote them (laughter).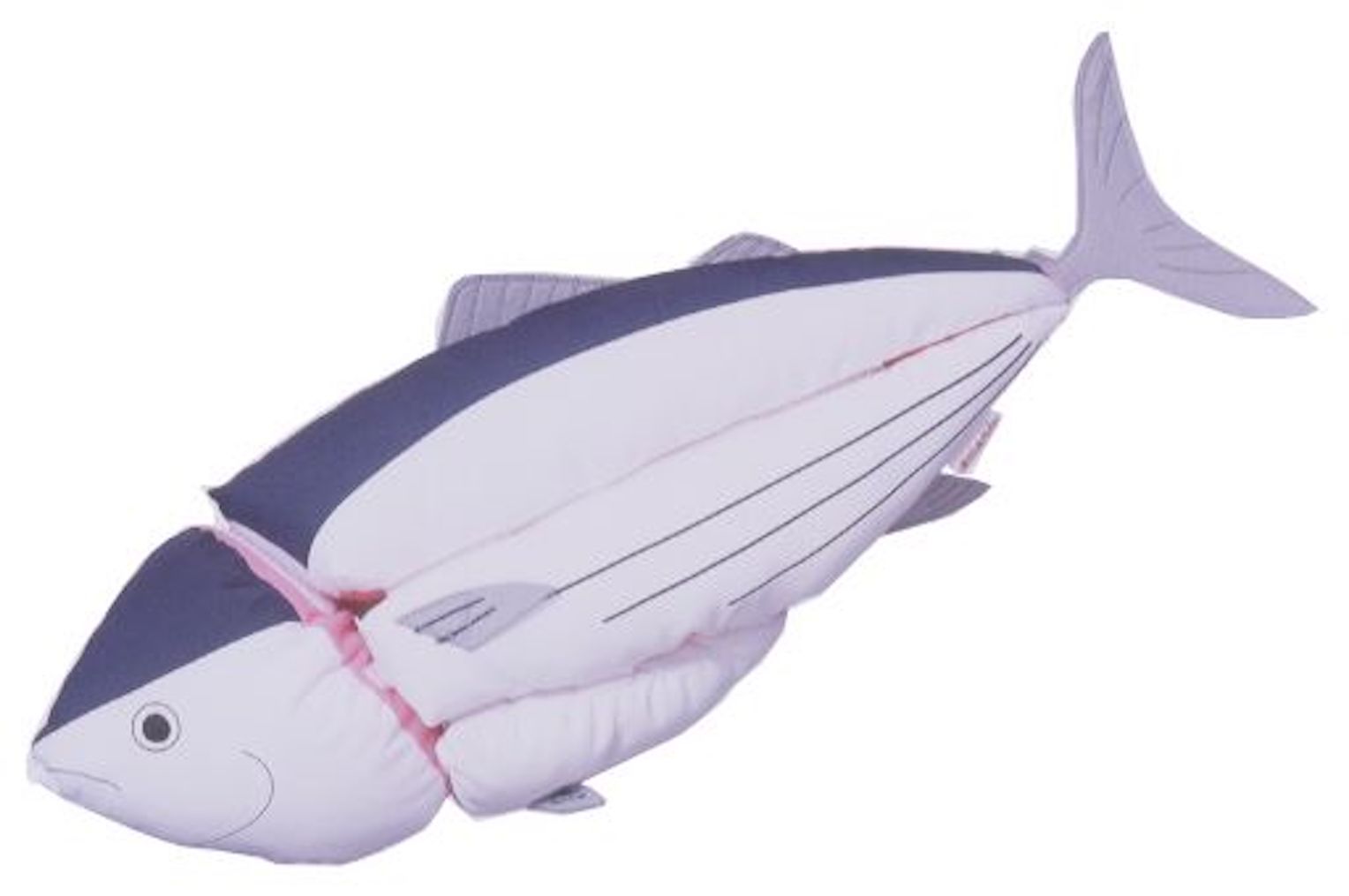 A Ninben "pull-apart katsuo doll" (Image provided by: Ninben)
Q. What's a simple way to make dashi at home?
Shingu: I've heard that there are a lot of people who really want to master cooking right now, since they have more time at home. But at the same time…there are high barriers to clear in using dashi properly in routine cooking. Is there a simple way to enjoy dashi at home?
Nakamura: At Ninben, we sell a product that makes dashi with a simple recipe, called the "Dashi Pot." It's very handy when you want to make dashi as you prepare and season other dishes. To use it, you add 18 grams of katsuo-bushi and 600 mL of water, then just head for seven minutes in a 500 W microwave. We also offer katsuo-bushi for the Dashi Pot.
Nonaga: It takes longer than using a gas burner to make katsuo dashi the usual way, but it's handy to be able to use the microwave for it while you make other dishes.
Nakamura: Exactly. The Dashi Pot is suited for "cooking while doing," and we recommend it for people who want to use both burners for other things, or those who want to avoid flame whenever possible due to having small children.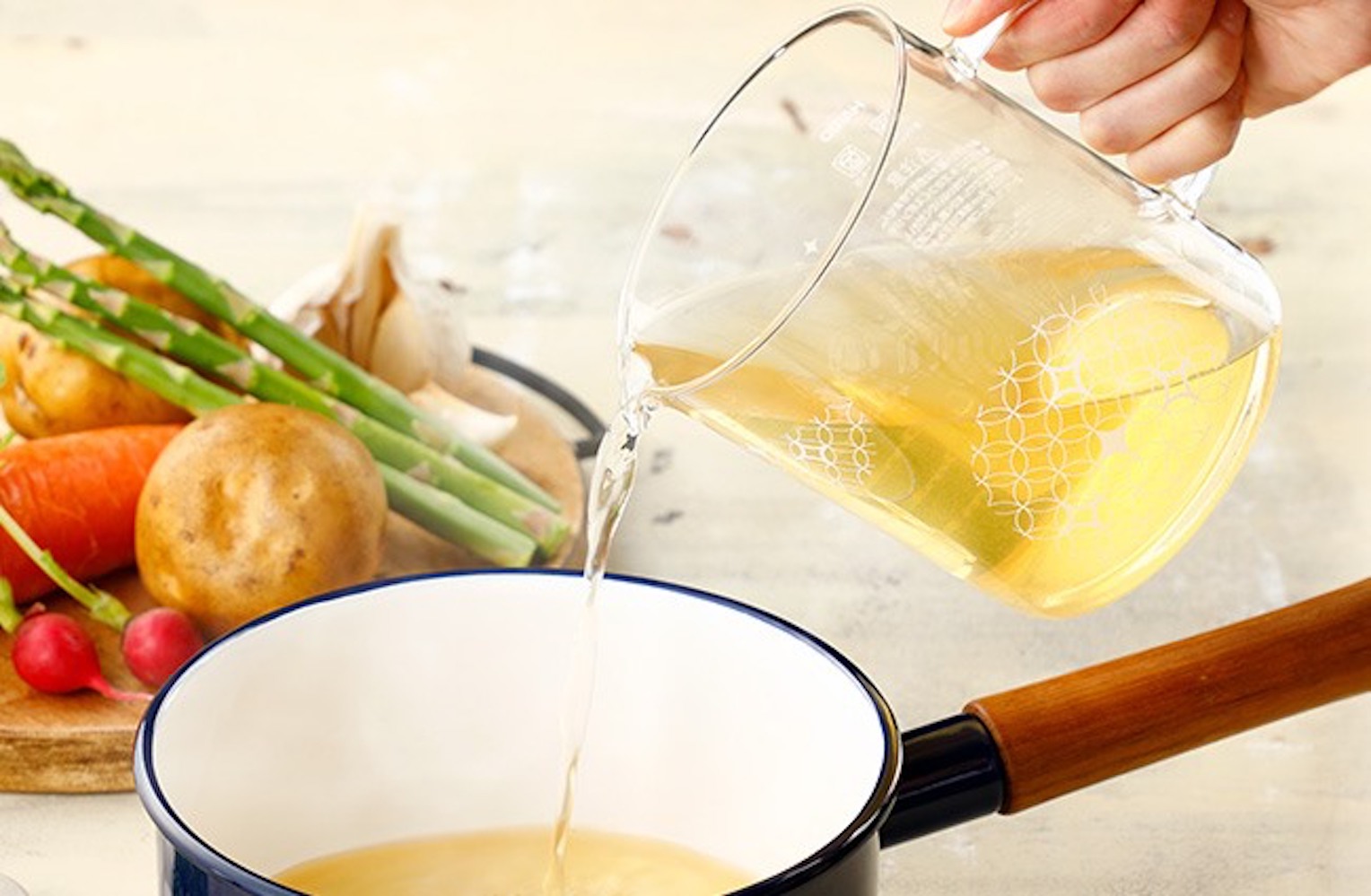 Ninben's "Dashi Pot" (Image provided by: Ninben)
Shingu: Do you have any ideas, Mr. Nonaga?
Nonaga: We make fresh dashi every day using water, konbu kelp, and katsuo-bushi at the restaurant, but it would be hard, and would take a lot of time and money to do at home. Even I don't make it at home (laughter). I think it's best when home cooking can be made simply with dad helping out. The important point is to remember the significance of dashi. For example, even a plain miso soup won't turn out well if you just put the chopped ingredients in water, boil, and add miso. Because it doesn't have dashi in it. Dashi makes a huge difference in how Japanese cuisine tastes, and foods that gain savory umami flavor from dashi are better for it. That's the significance of using dashi. If you at least understand that, then I think you're fine using whichever you like without worrying about it, whether that's store-bought dashi packs, white shiro-dashi, or Tsuyu-no-Moto condensed dashi.
Shingu: Dashi packs definitely are handy, aren't they? I use them often, too; what sort of products from Ninben would you recommend?
Nakamura: We have several hundred product varieties, so my recommendation depends on your goal…but today I want to introduce our "Kaoru Aji-Dashi" (aromatic flavor dashi). It's a touch pricey at ¥540 for a pack of six, but it's made to replicate the restaurant flavor, using domestically-produced katsuo-bushi and Hokkaido konbu. Oh, I guess it does seem a bit presumptuous to call it the restaurant flavor in front of Mr. Nonaga… (laughter) But we're that focused on quality for it! It's also unique in being made with just dashi ingredients, salt, and soy sauce, with no additives.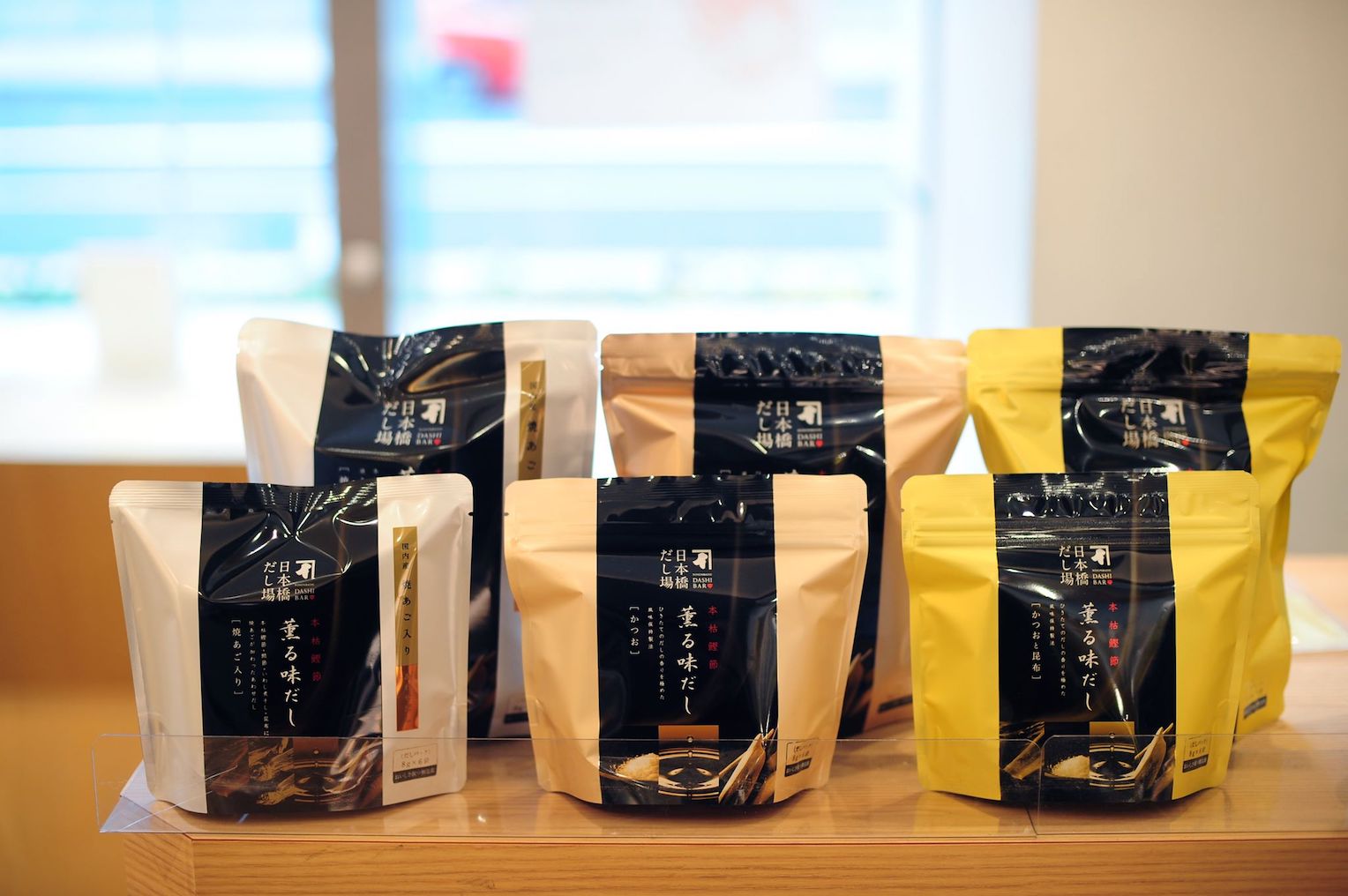 The "Kaoru Aji-Dashi" Mr. Nakamura recommends (Image provided by: Ninben)
Nonaga: When you feel like you don't have the handy dashi item you need, you can make dashi from scratch at home, of course, and simply at that. For example, if you want to use konbu and katsuo-bushi to make dashi, it's very easy to prepare. You just put 25 grams of konbu into 1800 cc of water before you go to bed. The extended time in the water lets the umami slowly seep out, and increases the flavor. Then when you wake up, you put it on ultra-low heat and slowly raise the temperature, keeping it at about 60 to 70 degrees Celsius for 30 minutes. Heat it slowly and add 20 grams of katsuo-bushi all at once right before it starts to boil, and you'll have dashi that beats even restaurant versions. Use that to make your morning miso soup for the ultimate breakfast. For the record, the dashi used in cooking improves food more the stronger its umami flavor is, so I'd recommend konbu with a solid flavor, like "ma-konbu."
Shingu: How should we preserve dashi when we've made a lot of it?
Nonaga: That's true, you definitely couldn't use all 1800 cc in one use. It's okay to store dashi in ziplock bags after it cools, then freeze it. It doesn't take up much space if you flatten it first, and it thaws quickly, so it's easy to use. Aim to use it up over about a week.

The online interview for this feature included a rapid-fire series of ideas (Image: Bridgine editorial department)
Q. Please share some simple recipes that use dashi.
Nonaga: My top recommendation would be ton-jiru pork and vegetable soup, because it encapsulates all the fun of Japanese cuisine. You get to select all sorts of colorful ingredients, cut them creatively to the thickness and shape you want, boil them with dashi, and add miso to finish. You get to enjoy seeing the dish transform while learning the tricks to Japanese cuisine using all your senses, with ton-jiru. For the record, I recommend adding powdered cheese at the end.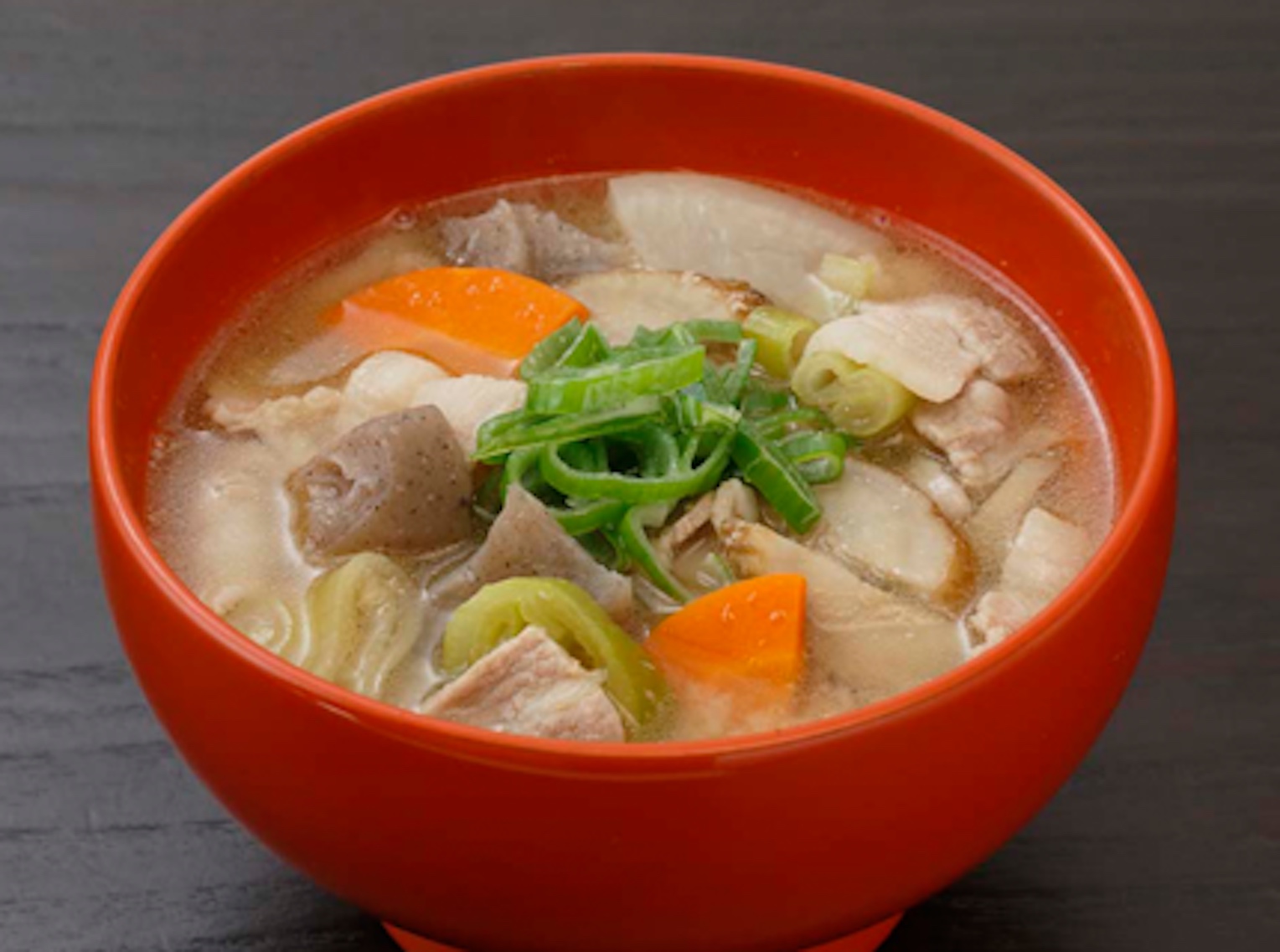 The "Ingredient-Packed ton-Jiru" recipe collaboration from Mr. Nonaga and Ninben (Image provided by: Ninben)
Shingu: Did you say cheese with ton-jiru?!
Nonaga: It might be shocking (laughter), but miso and cheese both use lactic acid fermentation, so they go together surprisingly well. Also, the classic way to eat ton-jiru involves pairing with rice, but it also suits bread, which is a carbohydrate in the same way. In the past, we sold ton-jiru topped with powdered cheese and with baguettes in France, and recommended using it as a dip. People loved it.
Nakamura: That sounds nice. I think the ideal is to savor dashi however you like it, precisely that way. In that sense of freedom, wouldn't topping a dish with katsuo-bushi be a way of enjoying dashi, too? Instead of always actually making dashi. That lets people who feel like making dashi is too much still casually enjoy "follow-up katsuo-bushi," and I think it's still a way to full enjoy the umami savor of dashi. Topping sliced onions with katsuo-bushi is amazing around this time of year, and the katsuo-bushi also add protein.
Nonaga: Exactly. It's also good to top curry with katsuo-bushi, and you can make a nice Japanese-style coleslaw by using katsuo-bushi and sesame oil as an accent.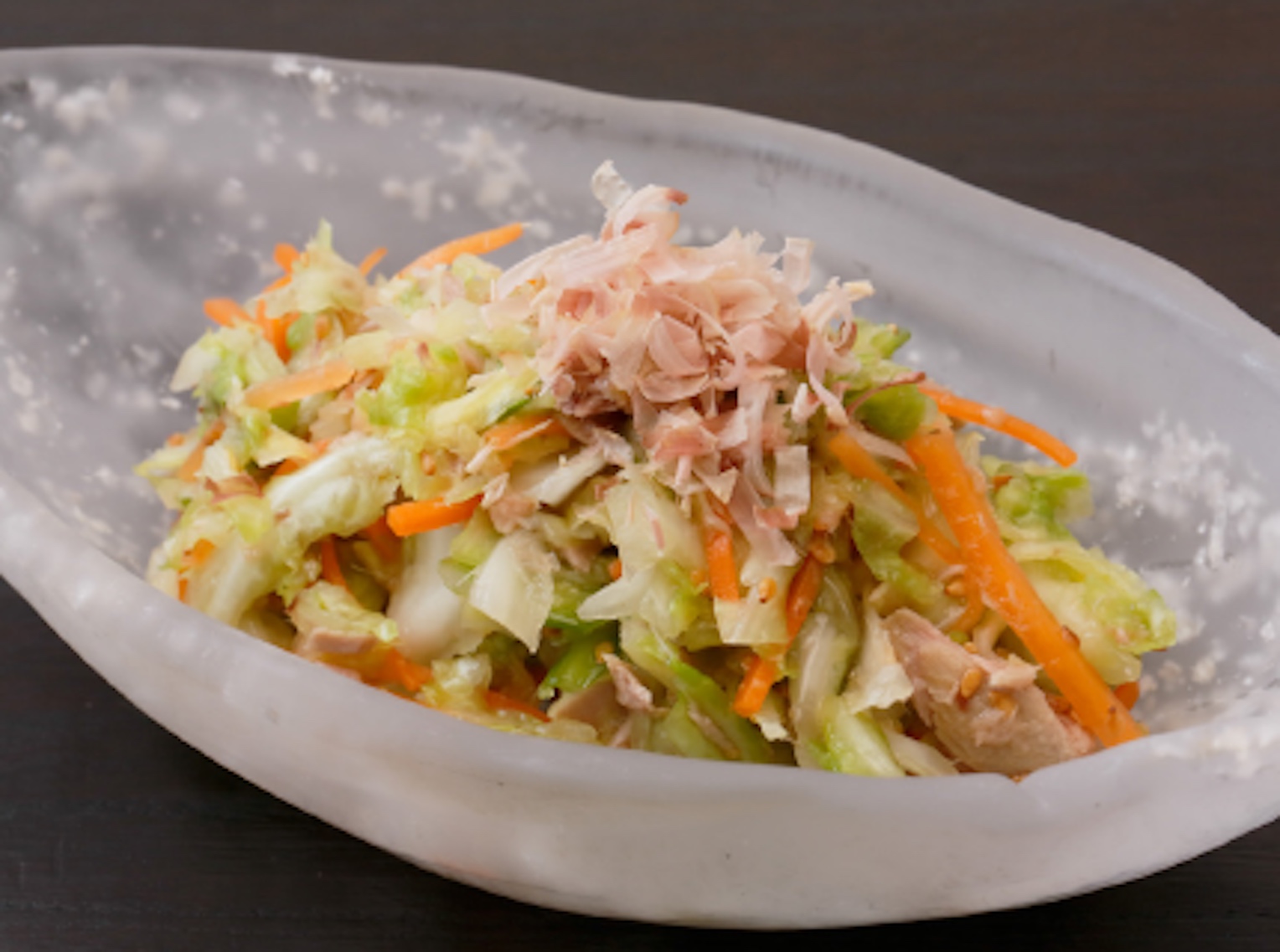 The "Japanese-Style Coleslaw" recipe collaboration from Mr. Nonaga and Ninben (Image provided by: Ninben)
Nakamura: Speaking of cabbage dishes, I recently taught a friend my "cabbage ball salad" recipe and got a good reception for it. You mix light soy sauce, yuzu pepper, and olive oil with thin-cut spring cabbage and fresh onions, then finally add katsuo-bushi for a simple salad. Still, the katsuo-bushi do their job well in it, and it's a delicious, umami-rich dish.
Nonaga: That does sound good. If you're going to use katsuo-bushi as a topping, I recommend putting in a bit of effort and simmering them over medium heat. It makes them more aromatic, and supports the dish's flavor.
Q. Could you introduce some of your online sales and takeout products?
Shingu: You're currently serving a special bento boxed meal menu at Nihonbashi Yukari, aren't you?
Nonaga: Yes, we're serving several types of limited-edition bento boxed lunches. Our "Simmered and Fried Pork Bento" uses kakuni-style simmered Tokyo X pork belly that has been batter-fried, and our "Nihonbashi Nori-ben" uses natural spring trout in a saikyo-yaki (pickled and then grilled) style. Those are our main bento options. We focus on ingredient quality as well as flavor, and our nori-ben uses nori seaweed from Inoue Nori in Nihonbashi, while the katsuo-bushi under it are from Ninben. Our theme is "Team Nihonbashi," and we worked with all sorts of people to conquer the challenge of "how delicious a nori-ben can be." Our "Tokyo X Refreshing Sudachi Citrus Ponzu Sauce Bento" is another recommendation, which also uses Ninben's katsuo-bushi as a secret ingredient. I'd love for people who haven't dined at Nihonbashi Yukari to try these out, so they're all priced at ¥1,000.
Shingu: That sounds delicious… And it's amazing it's just ¥1,000. That makes me hungry (laughter).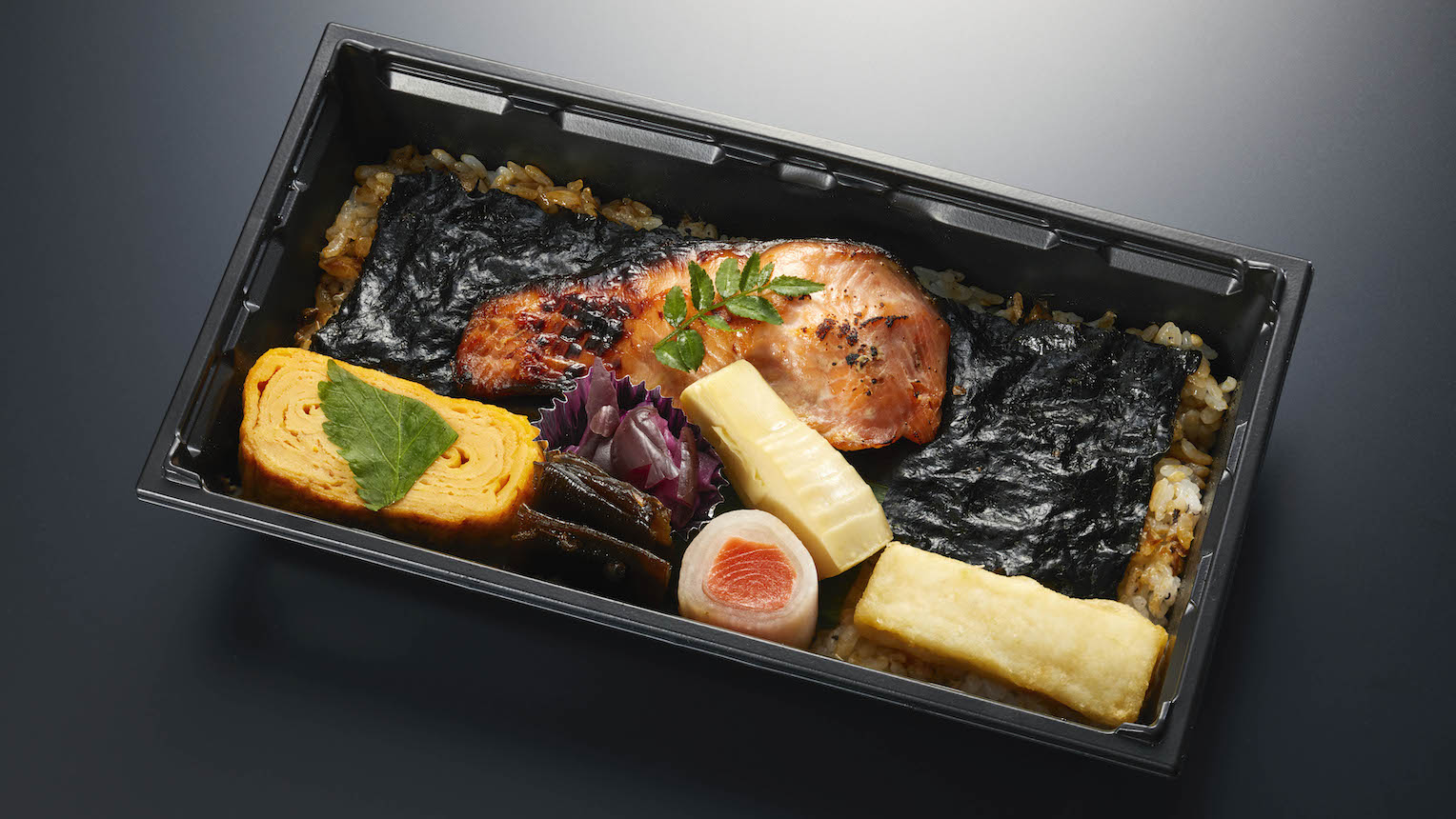 The "Nihonbashi Nori-Ben" (Image provided by: Nihonbashi Yukari)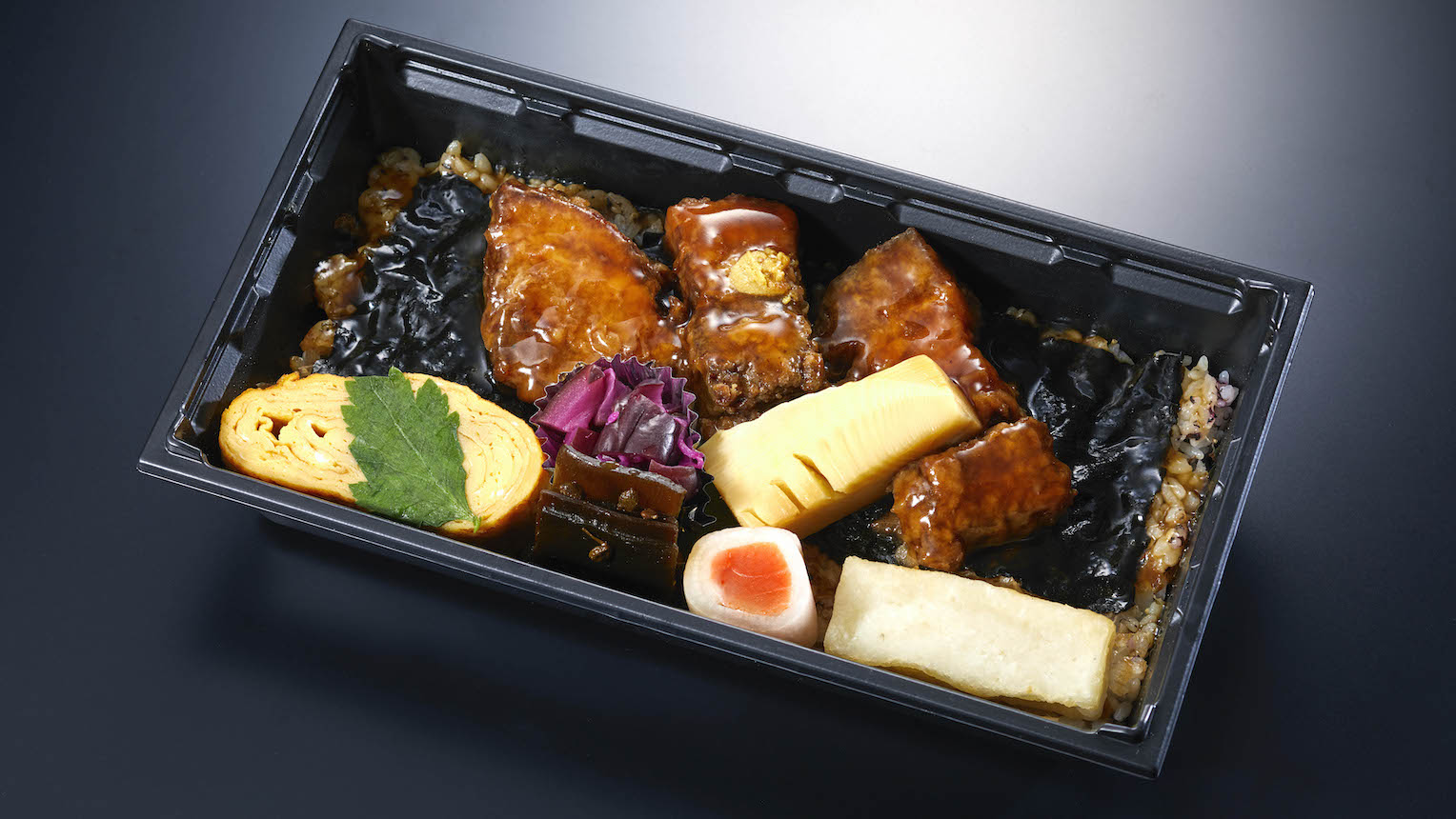 The "Simmered and Fried Pork Bento" (Image provided by: Nihonbashi Yukari)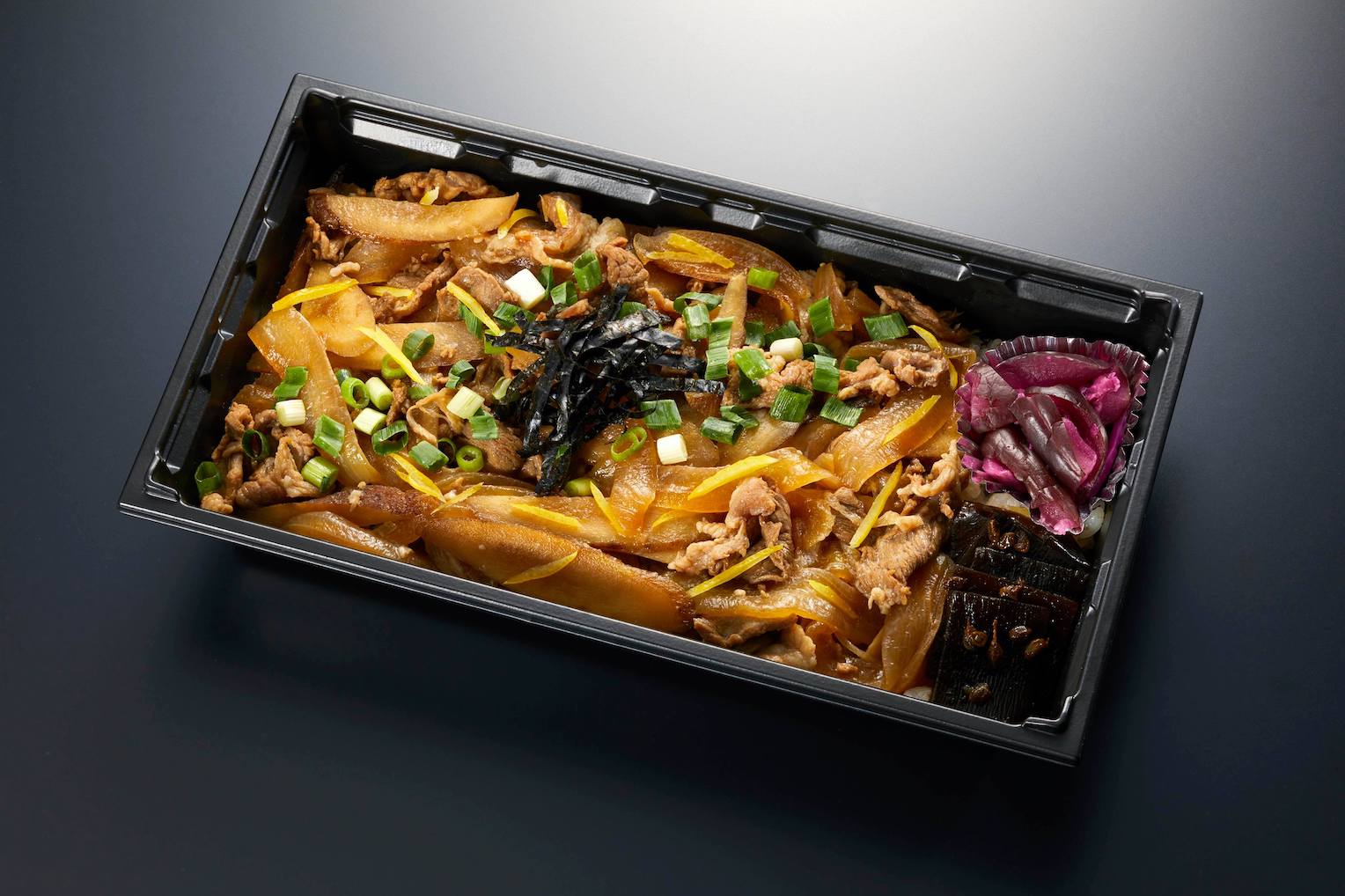 The "Tokyo X Refreshing Sudachi Citrus Ponzu Sauce Bento" (Image provided by: Nihonbashi Yukari)
Nakamura: At Ninben, we sell all sorts of products through our online shop, including katsuo-bushi, dashi, and more. We offer the katsuo-bushi and pot I mentioned earlier as a set, too, so please check them out. We also offer Internet-exclusive miniature-sized "Tsuyu-no-Moto Gold" series bottles (300 mL), which are our recommendations for trying it out casually. Since you can check out our "Nihonbashi Dashi Cookbook" with recipes we developed in collaboration with Mr. Nonaga, we also recommend deciding on the ingredients to use while looking over a recipe. Mr. Nonaga's recipes really are very easy to put together, and I think even children will love them.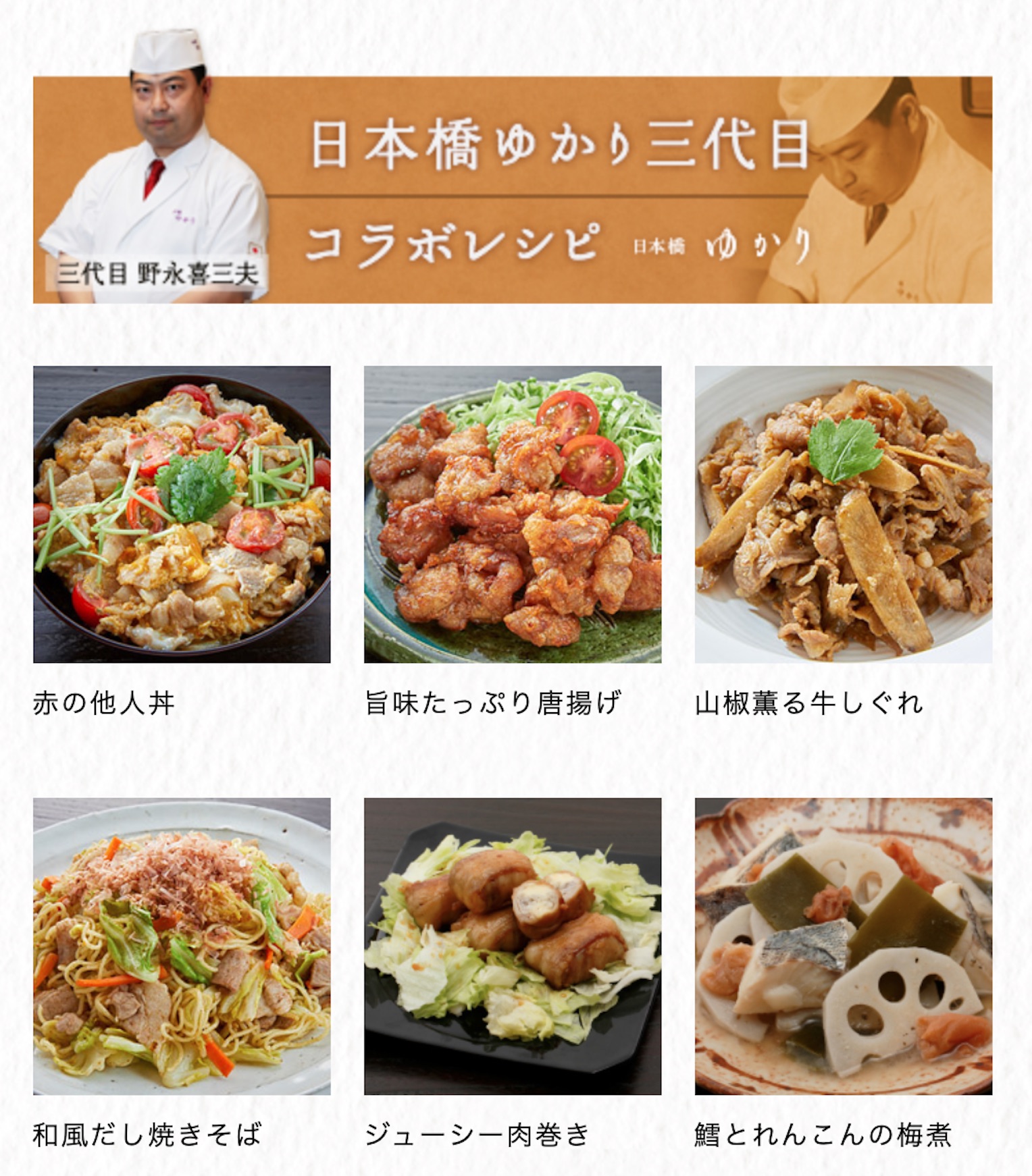 The "Nihonbashi Dashi Cookbook" compiled collaboratively by Mr. Nonaga and Ninben(Image provided by: Ninben)
Nonaga: It's all simple recipes that are easy to make at home. And there are a lot, so please try out all sorts.
Q. Do you have any final messages for our readers?
Nakamura: Spending more time at home also reminds me personally that "eating delicious food is emotionally fulfilling." I want home cooking to be a good stress release for everyone, and I'd be thrilled if Ninben products were useful in making that happen.
Nonaga: I found the food and drinks at home to be a bit too tasty, and I've put on weight and gotten round again (laughter). Overeating isn't great, but it's important to eat delicious, seasonal dishes in order to keep your immune system strong. I also think it's even better to incorporate a lot of fermented ingredients into Japanese cuisine with a digestive activity and detox mindset. They say it might even be the reason for Japan's low mortality rate. If you want to live a fulfilling life of Japanese cuisine with all those benefits, please check out our recipes to start with!
Interview and text: Minako Ushida (Konel) Illustration: ajisa(Konel)