2020.09.04
Snack Time Evolves Through Technology:
The Challenges snaq.me Takes on in Providing Subscription Worry-Free Snacks
Snack Time Evolves Through Technology:
The Challenges snaq.me Takes on in Providing Subscription Worry-Free Snacks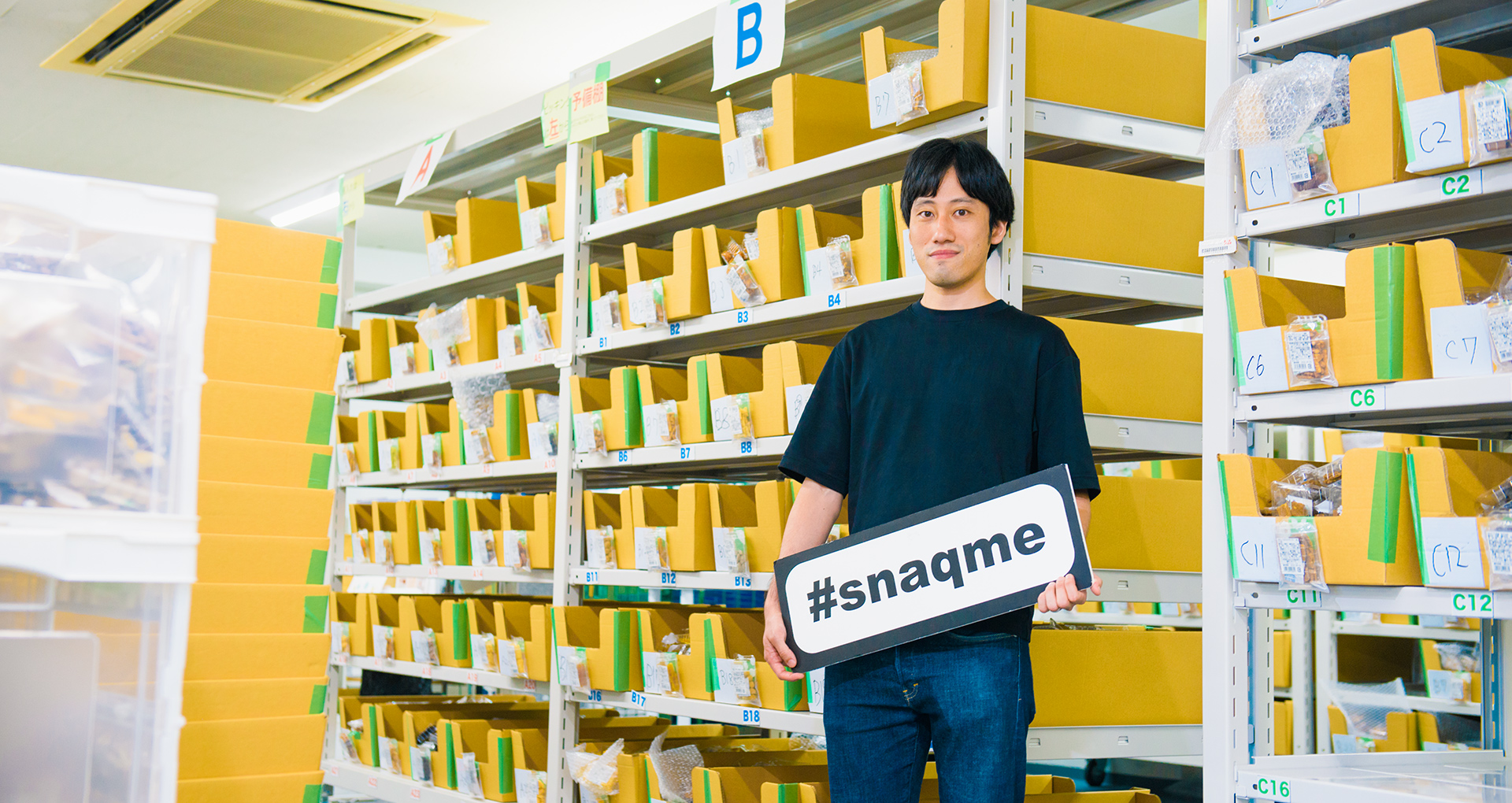 The subscription service "snaq.me" delivers routine packages of quality snacks and treats to patrons. From offices are located in Hakozakicho, Nihonbashi, the company uses reviews, impressions, and other data from users to optimize the products it delivers. The data also plays a role in new product development and measures to prevent food loss, helping to put the company in the spotlight both within the snack industry and as a new trend. For this issue, we spoke with the company's CEO, Mr. Shintaro Hattori, about their initiatives to "offer new snack experiences through technology," as well as their future plans.
Diving into the food industry from outside, in search of worry-free snacks
-First, could you tell us more about what sort of services snaq.me provides?
We call snaq.me a "snack experience box." It's a subscription service, where each user customizes the contents to select eight varieties out of about 100 for routine deliveries. Users take a "snack diagnosis" in Q&A format online before their first shipments, and we get a general idea of their preferences before we send things out. Then they enter requests and whether they liked the items they got, from their member pages, saying whether they'd "want this again" or "want this instead." We repeat that cycle, with each shipment more personalized than the last.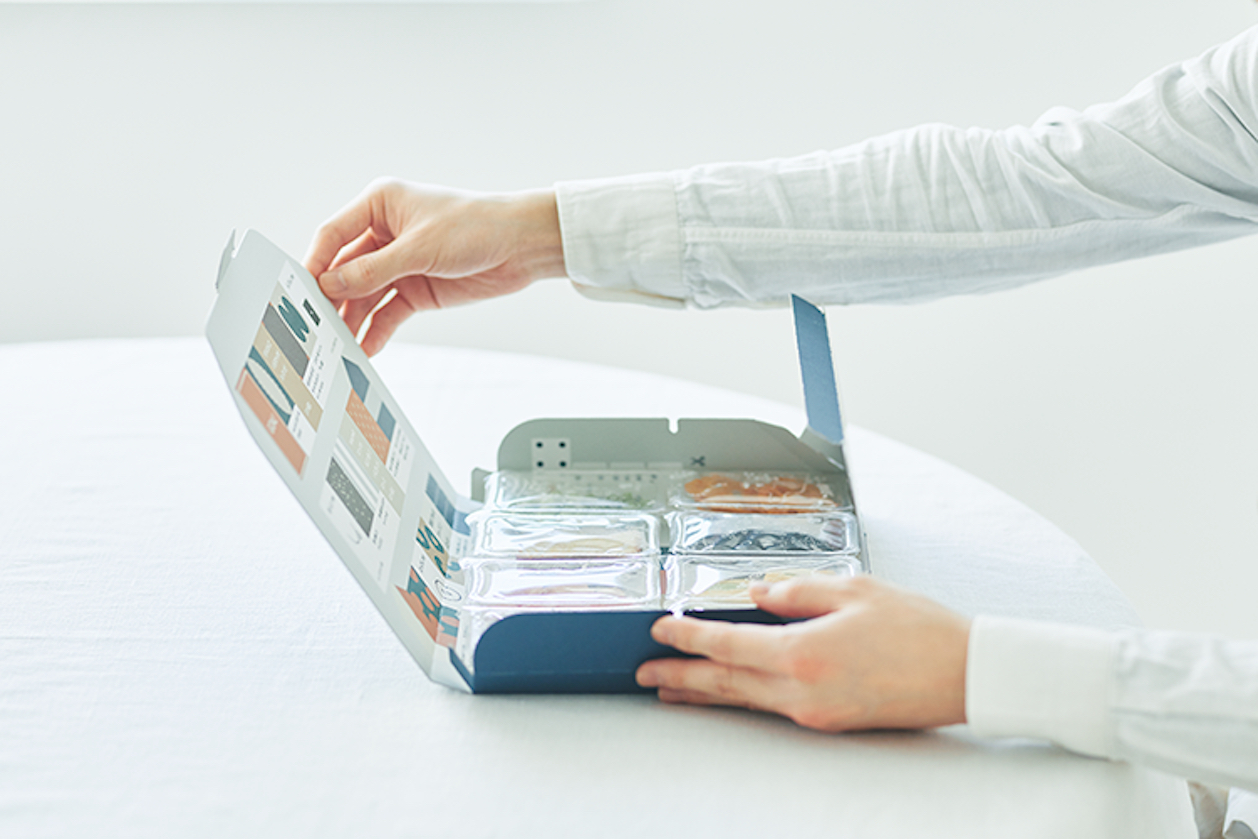 Specialty boxes arrive filled with eight types of snacks (Image provided by: snaq.me)
-What made you want to start a business like this?
The biggest reason was that I wanted it, myself. I've always had a habit of snacking over the day, and while I didn't think about it much when I was single, I've started to turn over packages and check the ingredients at the supermarket, since having a kid. That made me start to feel a bit concerned about the number of additives I don't know much about. At the same time, there are a lot of good snacks out there with just three ingredients that taste really good, if you look around at stores like Marche on the weekends. But I don't get that many chances to go shopping at Marche. So I wanted to make it easy and convenient to buy that sort of thing using my background in Internet business, and that moved me to launch snaq.me.
-You've had a CTO (Chief Technology Officer) at snaq.me since the company's founding, which is rare for candy companies. Where did you get the idea for personalizing snacks using technology?
There's an incredible variety of snacks out there, so it can actually be pretty difficult to find the ones you like. And that's why I thought up the idea for making the work of selecting snacks digital, based on survey results and user feedback. At first, we printed out user survey data on paper and lined up about 20 different snacks on our desks, then read over the data and selected what each person should get. After about a half year of that, we had a lot of data, so we decided to switch over to the system. And we built the entire system ourselves, too.
-I've heard that the subscription format and technology at snaq.me help reduce food loss. Is that true?
The snacks sold at retailers and convenience stores go through wholesalers, and get returned to the source when their expiration dates approach. There, the snacks are destroyed, and become food losses. Meanwhile, the snaq.me service buys only an amount we can be certain people will consume, based on snack reviews and requests users enter into the system. I think you could safely say its structure has less food loss than conventional logistics.
-You started out in online business, Mr. Hattori. What sort of projects did you work on before launching snaq.me?
I worked at DeNA, managing investment in what you'd call startups and ventures. The other two people who launched snaq.me with me were also both from other industries. Mitamura, our Chief Operating Officer (COO), had always worked at JTB – the travel company – in corporate sales. After that, he was a product manager in the app industry, then launched snaq.me. Miyoshi, who manages our system and technical development as CTO, was originally in architecture.
-Do you use your experience and knowledge from other industries at snaq.me? Could you tell us about that, if you do?
We really might not use them that much, directly (laughter). But I feel like the mindset of "creating something new" from my work with startups is still alive. At the same time, I also feel like not knowing anything about the food industry had a major impact on us. Precisely because we didn't have any industry experience, we didn't let the industry's rules hold us back, and were able to build up a user-centric service starting from scratch.
Speedy product development based on user reactions
-Do you do internal development for the products you handle at snaq.me?
We focus on products we produce and have manufacturers create, but we also stock some products directly.
Right now precisely, we're focused on products we produce, but initially we envisioned solely personalizing products we stocked. We went out to Marche on weekends to buy products, then put them together and sent them out.
But as we did that, we started to get a lot of customers who genuinely wanted things more one way or another. During the process of trial and error as we tried to satisfy them, we ended up producing and arranging manufacturing of our own products, in a natural flow of events. We hired patisseries that knew a lot about making snacks, and developed a system to address user needs with precision.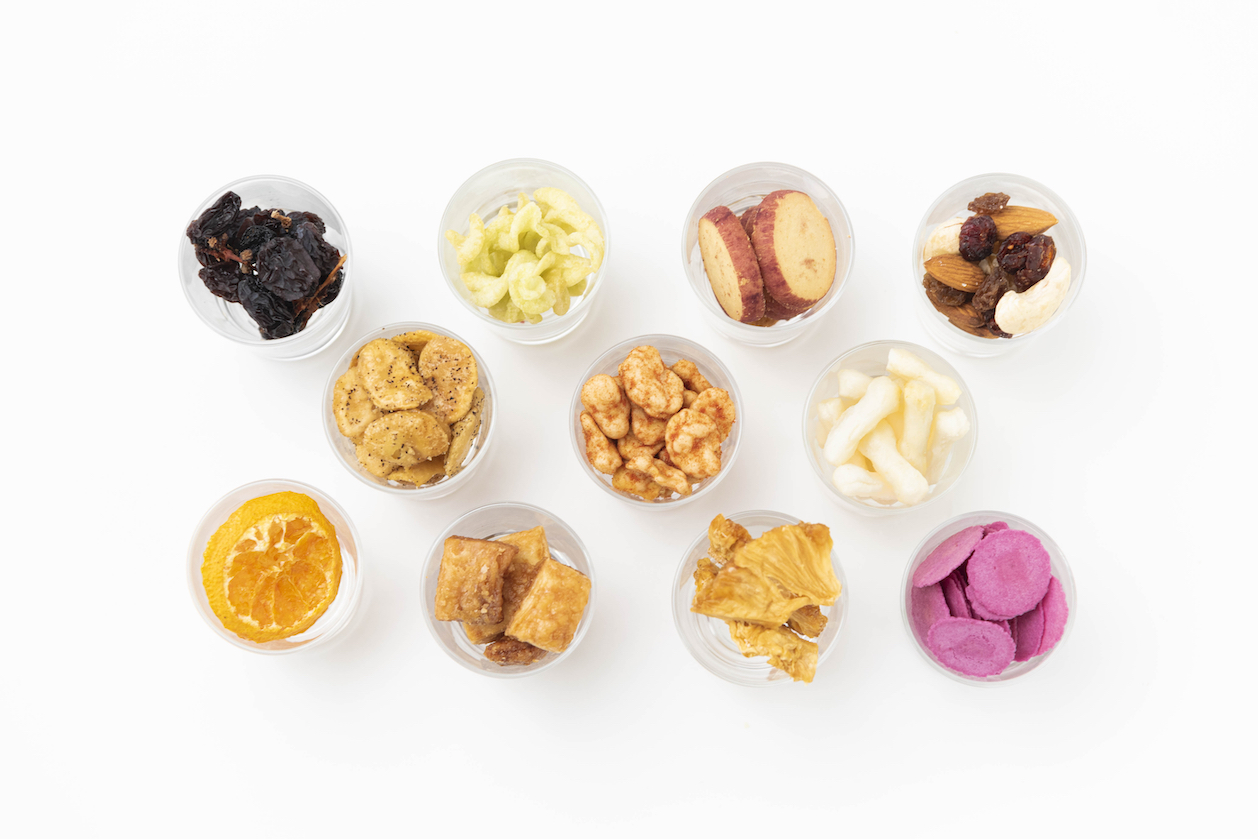 Dried fruits, roasted arare mochi, baked sweets, and more make up snaq.me's portfolio of around 100 different snacks (Image provided by: snaq.me)
-Could you give us details on the flow from production through product completion for the items you produce at snaq.me?
We have buyers and patisseries that form the core of our product planning, and since snaq.me is still just a company of around 20 people, all of our employees brainstorm for ideas together. We share that we found something new when we run into quality products outside the office, and expand on ideas while sharing information in a casual atmosphere. The buyers and patisseries make samples quickly, based on those ideas, and then we progress with product planning.
But we don't have our own production line, so we have to team up with snack producers all over Japan for actual manufacturing of original products. We call someone who makes quality snacks, negotiate what we want to make… We expand on ideas in cooperation with partners, with that sort of back-and-forth. It might be a bit of an analog way of doing things, but we feel like that sort of communication is important, since the manufacturers are partners in creating our products.
-I get a feeling that you're light on your feet and quick to develop employee ideas into products.
Yes, we are. I think we have a short turnaround from planning to product completion. We almost never even get together as a full group of staff and executives about new products, in the first place. Like I just mentioned, we're a casual environment, and people just post to Slack when they have ideas. People get more formal when you have a conference, and there's pressure to meet a quota, like always submitting something. That tends to produce ideas people have sort of forced together. If you want only quality ideas, I think a venue like Slack is good enough for sharing them.
We do sample tastings occasionally, too, but we rarely decide anything based on them. We think it's more accurate to see how users respond than to taste things and rate them ourselves. We tend to pass it off as, "if you're not sure, make both, and leave the ratings to the users." We currently handle around 100 varieties of snacks at snaq.me, and about 20-30% of those change each month, so there are even more, really. So we want the process up through product completion to be as simple as possible, and we prioritize speed in that sense as well.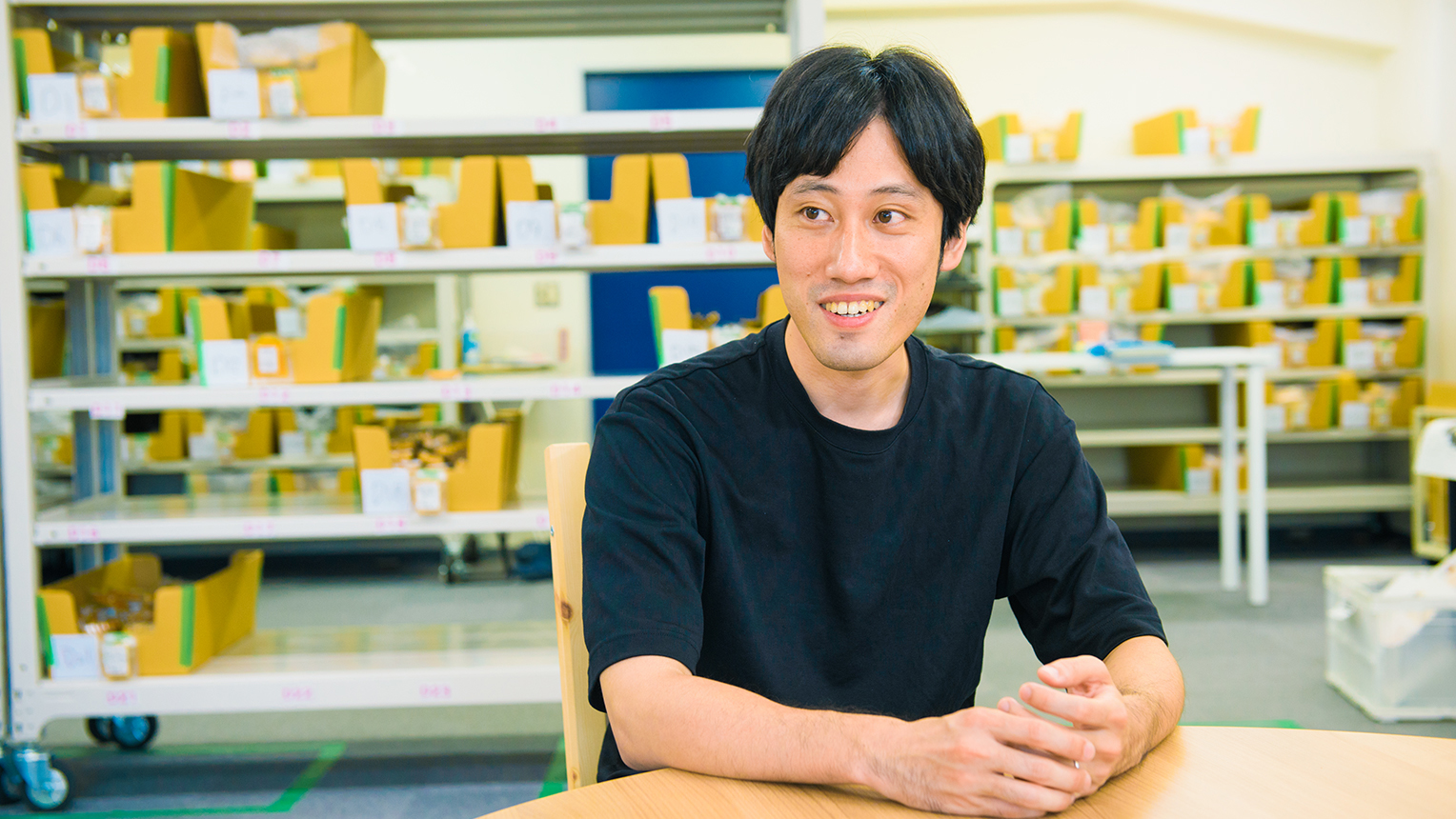 Rows of snacks awaiting shipping, behind the CEO, Mr. Hattori. He says his daughter is also a big fan of snaq.me's products
Using genuine user reactions as marketing data: a corporate strength
-You really seem to value your relationships with manufacturers, too. Are there any struggles in developing products via business partnerships?
We have a lot of relationships founded on trust now, but before our service contents were widely understood, a lot of people felt like "sure we can make it, but can you really sell it?" It was a new type of service that didn't exist before, so it was hard to get people to understand. We negotiated on ingredients given our priority for "worry-free snacks," but it really didn't go well.
-How did you build deeper relationships with manufacturers under those circumstances?
I think that the biggest thing was them coming to understand the benefits of participating in snaq.me. There are two main benefits, with user feedback as the one they enjoy most. We can assess user ratings in points and comments instead of sales, so we can give them marketing data from a customer perspective on what users who actually ate the product thought. Conventionally, logistics stands between manufacturers and consumers, and it's hard for manufacturers to get access to unfiltered customer views. But with snaq.me, they can see that directly.
And the other big benefit is the ability to make relatively niche products using that data.
Snacks that make it into standard distribution can't be too adventurous in flavor, in order to sell to as many people as possible. But we can provide manufacturers with information on how "this product doesn't have mass appeal, but there are this many users on snaq.me who would like it." We once actually talked with an arare mochi business that had wanted to make new products but held off on starting development due to the barrier of mass-market appeal, and said, "let's try making the mentai roe and mayo-flavored type without additives. We'll buy it, we have this much demand for unusual flavors." That led to the creation of a new product.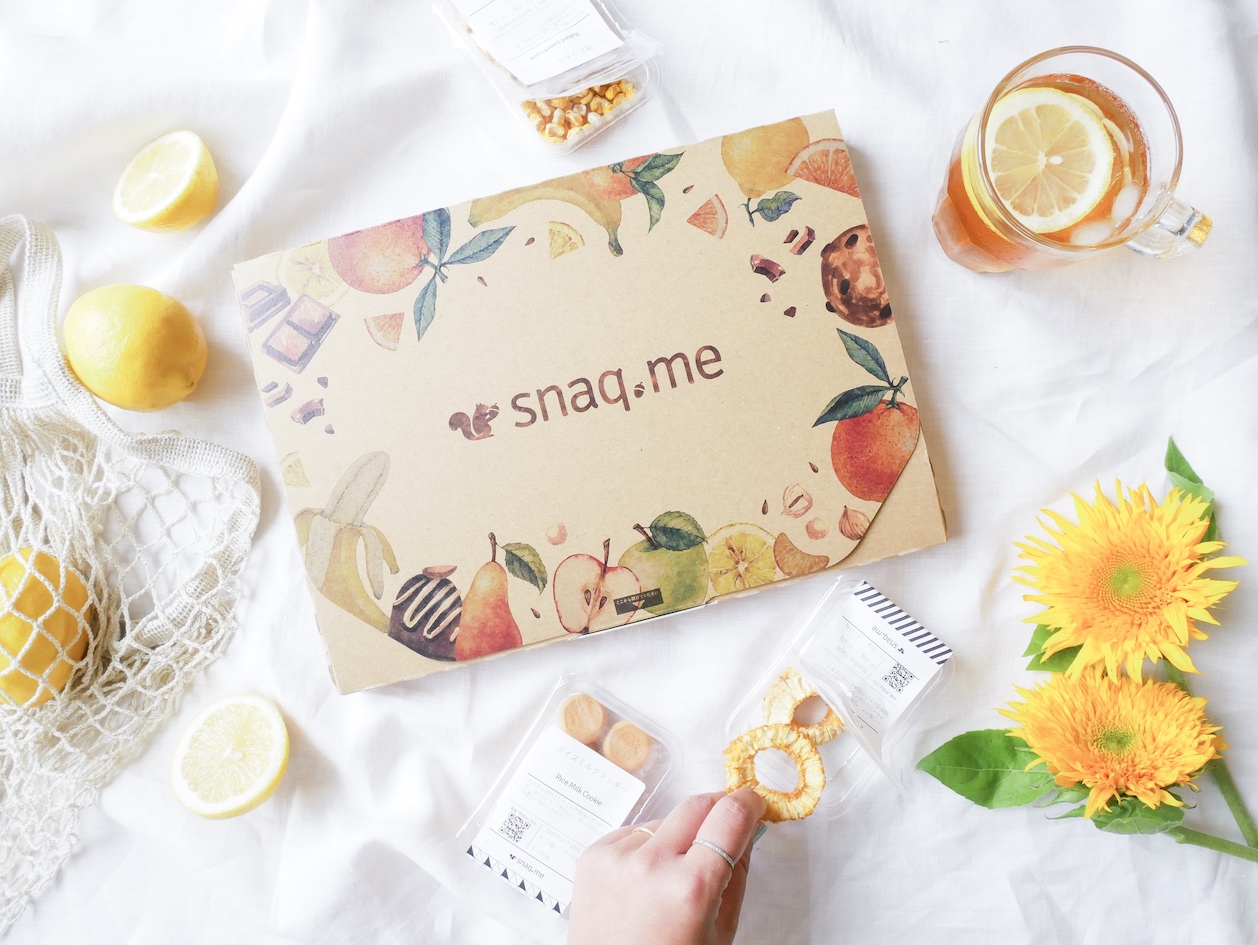 The original snaq.me package. The design has since been revised many times based on user trends (Image provided by: snaq.me)
-Have any user opinions left a major impression on you?
The exchange with one mother of a high school-aged daughter really sticks with me. Her daughter was an exceptionally picky eater, so much so that she would end up not buying anything even after looking for a major fraction of an hour when she went to the convenience store to get a snack… This seemed to cause her mom a lot of stress over their day-to-day meals, as well.
With that going on, she learned about snaq.me and started using us… Then we had several exchanges over what snacks to include to suit the mother and daughter's tastes, and went through a process of trial and error to align with the daughter's preferences for food. Then one day, we got a letter from the mother saying that "my daughter wouldn't eat snacks from the convenience store, but she loves the snacks from snaq.me." That made me really happy. Then another six months later, we got another letter saying, "I worked hard to study for the entrance exams while eating food from snaq.me, and I got into XX university!" That really brought home to me that "oh, I'm glad to be doing this."
Wanting to create chances for people to experience snacks from snaq.me in physical stores
-The snaq.me office is currently located in Hakozakicho, Nihonbashi. How do you see the Nihonbashi area?
Our office was in Monzennakacho before we moved to Nihonbashi, and I live in Taito City, so I like the relaxed East Tokyo atmosphere. I see Nihonbashi as having a lot of established businesses and stores, and as having lively festivals.
-Nihonbashi also has a variety of food-related manufacturers, doesn't it? Are you involved with any of the local ones?
Nearby, we work with a company in Koto City, but we find manufacturers on a product basis, so we're not really aware of who's local. Recently, we've been able to handle development exchanges remotely, so geography is often irrelevant in that sense, as well. But now that you mention it, there are a lot of good potential partners in this area. There's even a ningyo-yaki castella cake business near our office. I had never thought about visiting our neighbors on business before, but it might be good to try it.
-Are there any challenges you hope to take on in the future?
One thing I'm thinking of is a store and café that sells snaq.me snacks. The initial barrier to entry is high for food subscriptions, and you don't know what you'll get until you try it. So I think it would be good to have a place people can actually try snaq.me foods. I want a place where you could buy just a single type of snack we sell, and where you could enjoy our snacks with coffee or tea at the café. I personally love coffee, so I'd love to provide the time value people get from tea times with a delicious coffee or tea. It would be ideal if it could adjoin our office, but that wouldn't work with our current office, so I think it might be nice to have the storefront somewhere nearby in the Nihonbashi neighborhood.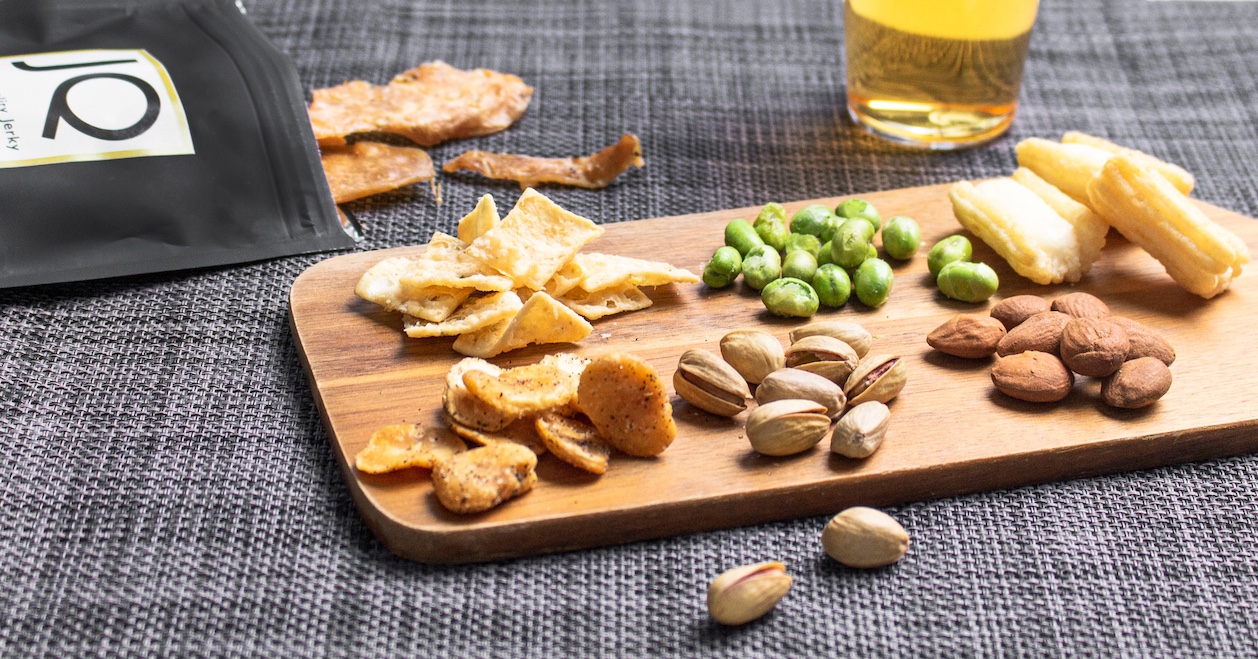 "Otsu-mami" (savory snacks) for pairing with drinks, a need that is on the rise with the coronavirus (Image provided by: snaq.me)
I'd also like to put more effort into the field of otsumami savory snacks. In the past, we once sold a limited-quantity box called "otsu-mami" in the field. The first was meant to go with beer, then the second with wine, and then the next after that was meant for craft beer in particular, as a concept. And the coronavirus pandemic created a need for people to drink at home, so it was extremely well-received. I want to put more effort into our selection that goes with drinks, in the future, and I also somewhat would like to get involved in the drinks themselves.
Beyond that, I also want to consider expanding into the breakfast field. We handle granola products at snaq.me, which are quite compatible with breakfast. Like people in the US eat hot dogs as snacks, we want to define snacks broadly as a source of nutrition, and consider light meals of all sorts as our market, leading with breakfast. I want to expand into other potential that derives from the core snaq.me service, while ensuring that service grows smoothly.
Interview and text: Yuri Nakashima, photography: Daisuke Okamura
snaq.me
A startup founded in September 2015. With "creating new snack experiences and increasing the value of snack time" as its theme, the company offers its "snaq.me" subscription service for natural snacks without unexpected additives. They are also involved in a variety of other initiatives, such as development of special products that use ingredients that would end up as food losses otherwise.